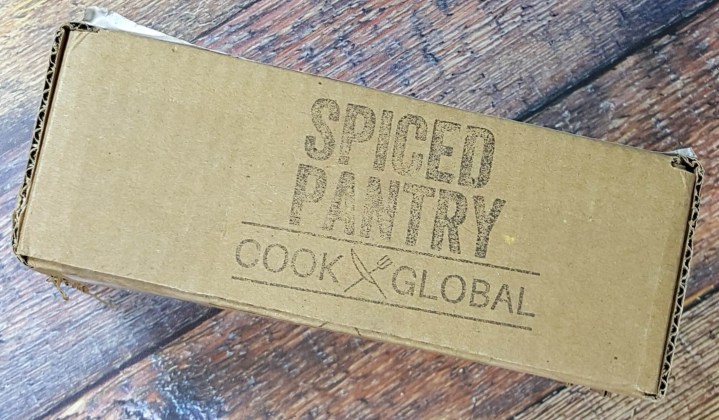 Spiced Pantry is a monthly food subscription box that features a different foreign cuisine each month and then sends 4 items and 4 easy to follow recipes to help you prepare dishes using those ingredients. It is $19.00 a month (plus $3.75 shipping – currently US  only).  You may choose from the standard or vegetarian plan, and your subscription will renew monthly until you cancel. You can also gift a 1, 3, or 6-month plan which also renews after the original term so if you only want to send 1 (or 3 or 6) box(es) make sure to cancel before the next shipment.
مرحبا بك في المغرب  Welcome to Morocco! I've always been intrigued by camels. Maybe one day I'll get a chance to ride one.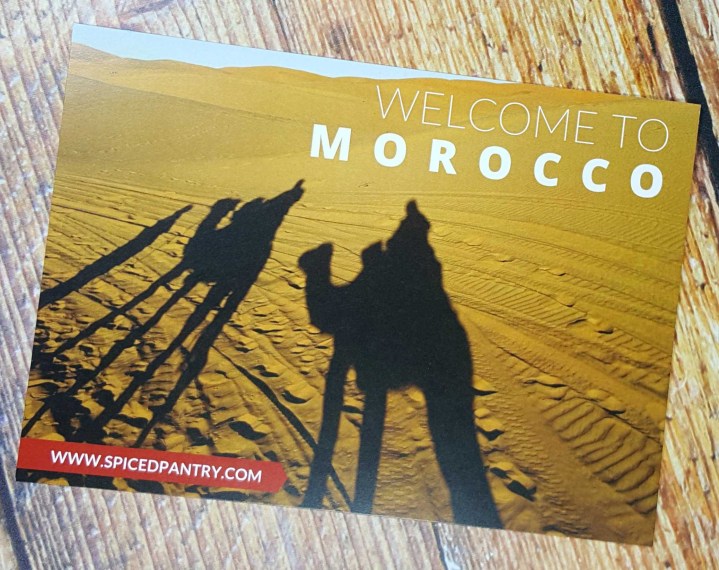 DEAL: If you haven't tried it out yet, you can save 15% on your first month's box with coupon code SPICED15.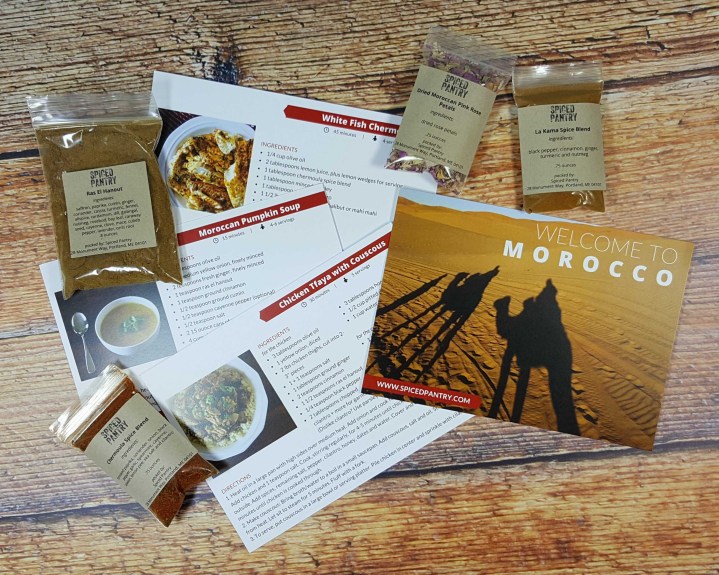 Here's the October box. I received 4 spice/herb packets and 5 recipes. Ingredients may include custom spice blends, unique grains, legumes, dried fruit, nuts, or other dry goods. Spiced Pantry provides enough product so that you can make each provided recipe at least once, with extra spices so you can experiment with other recipes you may find on your own. You can also visit the Spiced Pantry Pinterest page for recipe ideas.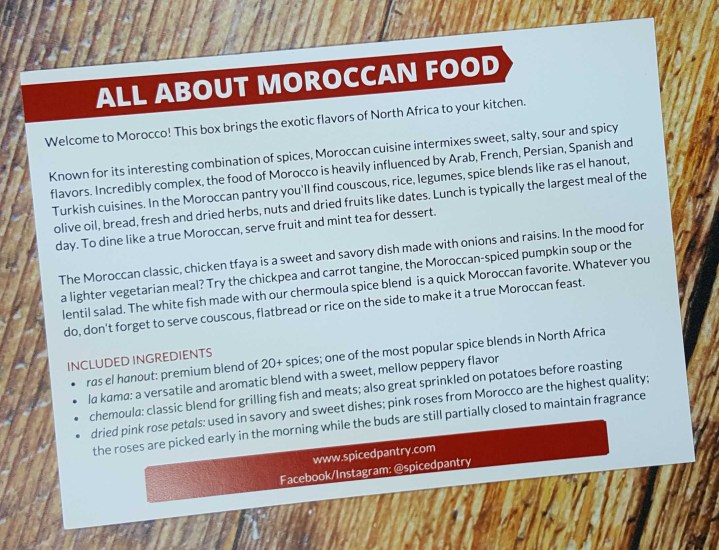 The information card provides an introduction to the month's cuisine, as well as notes on the ingredients included.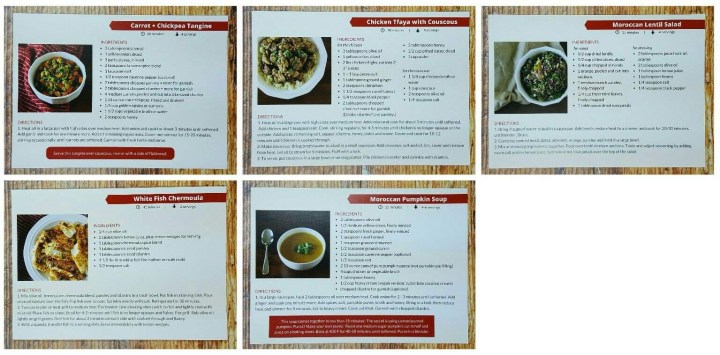 Recipes
Recipe card #1 – Carrot + Chickpea Tangine: A tangine is a dish named after the clay pot that it is cooked in. This version makes a hearty meal if you're looking for something lighter or vegetarian.
Recipe card #2 – Chicken Tfaya with Couscous: This is a classic Moroccan dish, featuring sweet and savory flavors, made with onions and raisins.
Recipe card #3 – Moroccan Lentil Salad: Another vegetarian dish. Like the previous recipes, this one also features a combination of sweet and savory flavors.  Plus, it is packed with protein.
Recipe card #4 – White Fish Chermoula: There are many different chermoula recipes that use different spices, and the proportions vary widely. In most recipes, the first two ingredients are garlic and coriander. It is the original seasoning for grilling meat and fish in Moroccan cuisine.
Recipe card #5 – Moroccan Pumpkin Soup: A warm and savory soup to heat you up during cold nights. I can't wait to try this out this winter season.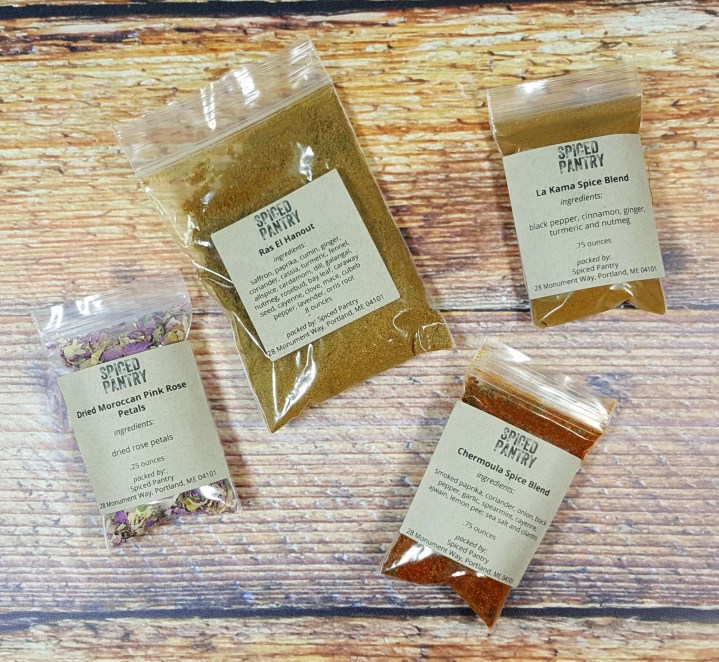 Spices/Ingredients
Dried Moroccan Pink Rose Petals: This is a 0.25 oz. of rose petals. Rose is used in both savory and sweet dishes throughout Moroccan cuisine.
Ras El Hanout: This contains a blend of 20+ spices and is one of the most popular spice blends in North Africa; it is similar to garam masala in Indian cooking. I received a 0.8 oz. bag.
La Kama Spice Blend: This is a mix of black pepper, cinnamon, ginger, turmeric, and nutmeg. This is a 0.75 oz bag.
Chermoula Spice Blend: A mix of smoked paprika, coriander, onion, black pepper, garlic, spearmint, cayenne, ajwain, lemon peel, sea salt, and cilantro used to season grilled fish or meats. It is also great sprinkled over roasted potatoes.  Another 0.75 oz bag.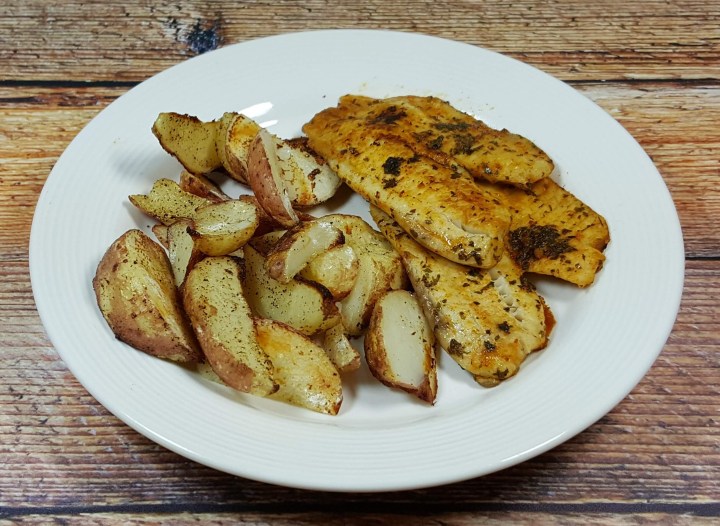 My Completed Dish
With the lemon peel in the chermoula mix and the fresh lemon in the marinade, I was expecting this to have a stronger citrus flavor. However, it was surprisingly light. The mild flavor and easy preparation made this a winner. I plan on trying this with some other fish varieties to see which is my favorite. There weren't many side dish pairings for this that I could find (other than couscous, rice, or flatbread), so I stuck to roasted potatoes.
This is a fun box if you're looking to broaden your culinary horizons.  They provide more than enough spices to make the recipes at least 2 times.  Spiced Pantry makes it easy for you to have a taste of other cultures all from the convenience of your own kitchen.  Spice up your dinner menu and let me know what you think about this subscription.
Sign up by October 25th to receive the October box.