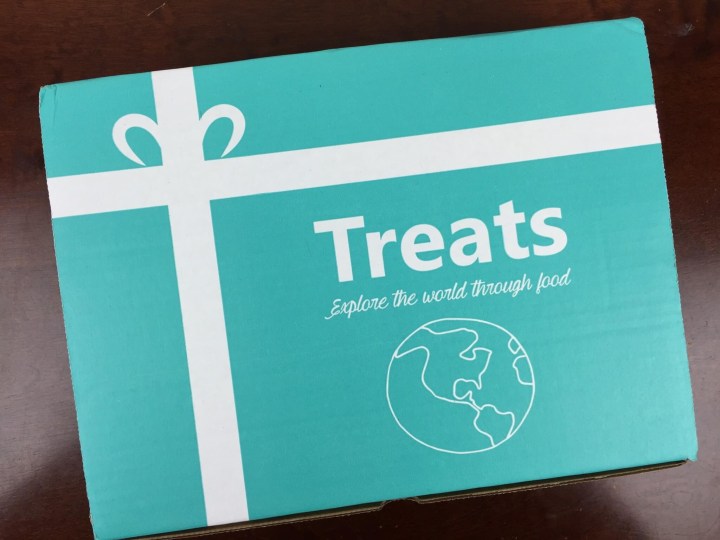 Treats is a monthly snack subscription full of snacks from around the world.  You can expect to receive eclectic and interesting snacks that you've never sampled before (unless, of course, you've lived in the featured country recently)!  The Standard Pack offers 4-5 snacks, while the Premium box offers 8-10.  This, of course, is the Premium Box.  It's quick to enroll, and you'll get your first box within a few days of when you subscribe.
The packaging is simple and elegant.  Tissue paper keeps the contents a surprise until you are ready to immerse yourself in the destination country's food culture.
The box is filled to the top with goodies and crowned with a beautiful postcard welcoming us to this month's Treats destination.
This month, we journeyed to the beautiful European country of Poland!  The back of the card has a welcoming message that points out some of the items with distinctly local and traditional character.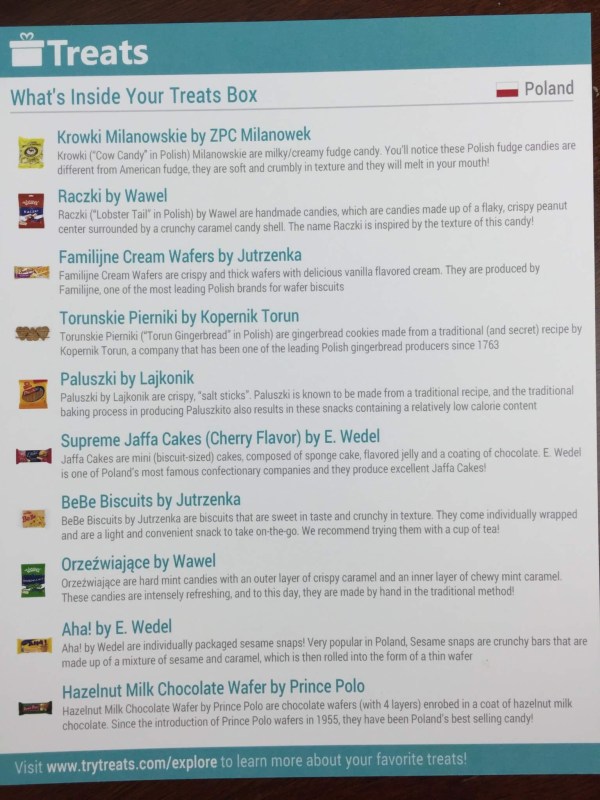 There is also a handy info card that gives the name and maker of each treat, as well as a short description of each.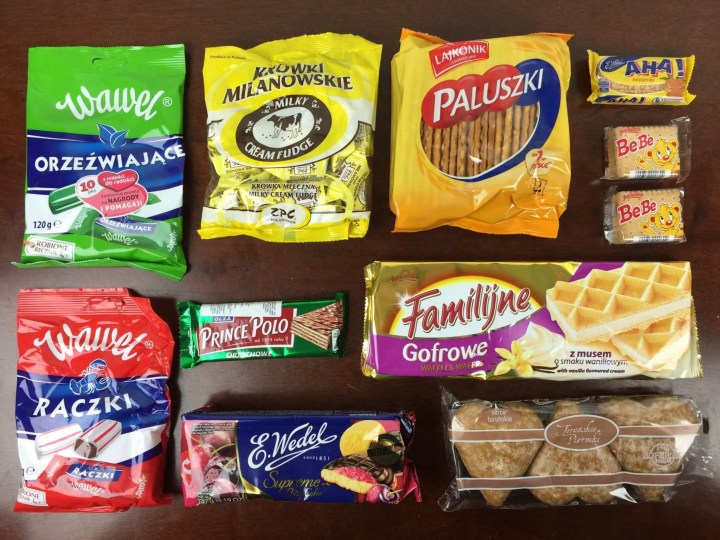 Everything in the box.  The composition of each Treats collection depends on the local snacking culture, but there is usually a good mix of sweet and savory and individual and family packs!  Our Polish collection definitely trended to the sweet side.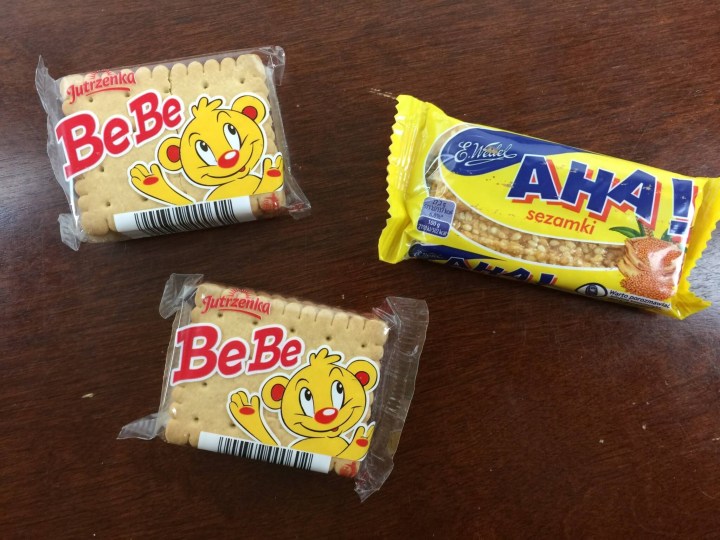 Jutrzenka BeBe Biscuits:  Sweet tea biscuits ideal for noshing at tea time or dipping in coffee.
E. Wedel Aha!:  These sesame snaps are made from sesame seeds bound in a light caramel.  The resulting wafer has a crispness from both the hardened caramel and the crispy seeds themselves.  The combination has a great sweet and savory balance.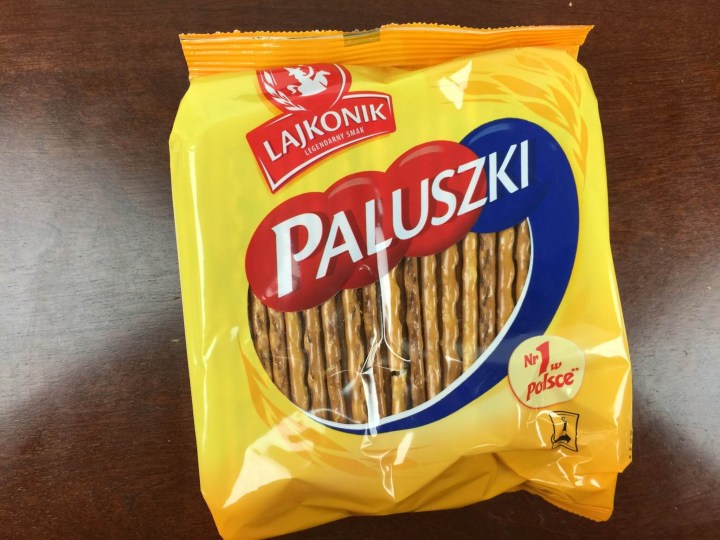 Lajkonik Paluszki:  Apparently known as "salt sticks" locally, these are your classic snappy pretzel stick.  This is a multi-serving size bag.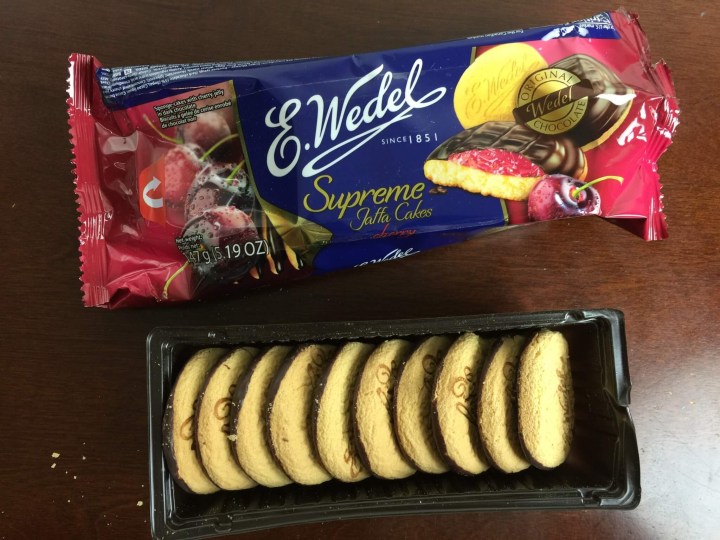 E. Wedel Supreme Jaffa Cakes in Cherry Flavor:  These cakes were so tender, that I actually had difficulty picking them up out of the tray without breaking them.  They look like a cruchy cookie, but they are incredibly soft.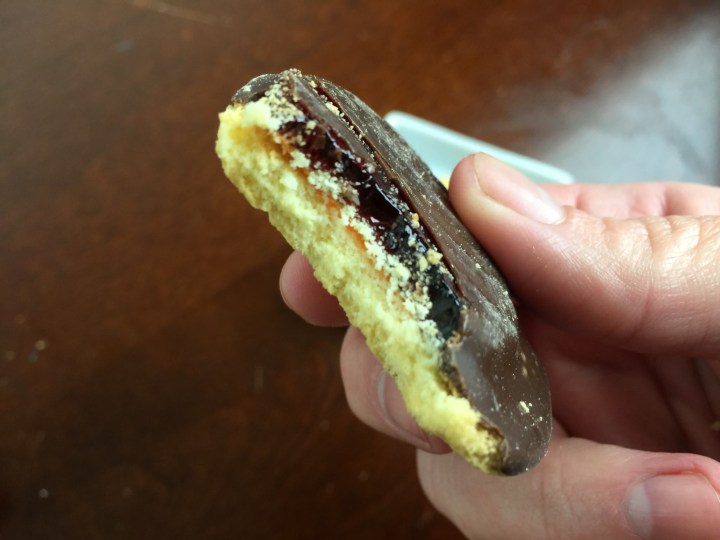 The inside of the cake has a thick cherry jelly that is sealed onto the cake by layer of chocolate.  No doubt, this filling helps maintain the moistness of the cake and prevent it from drying.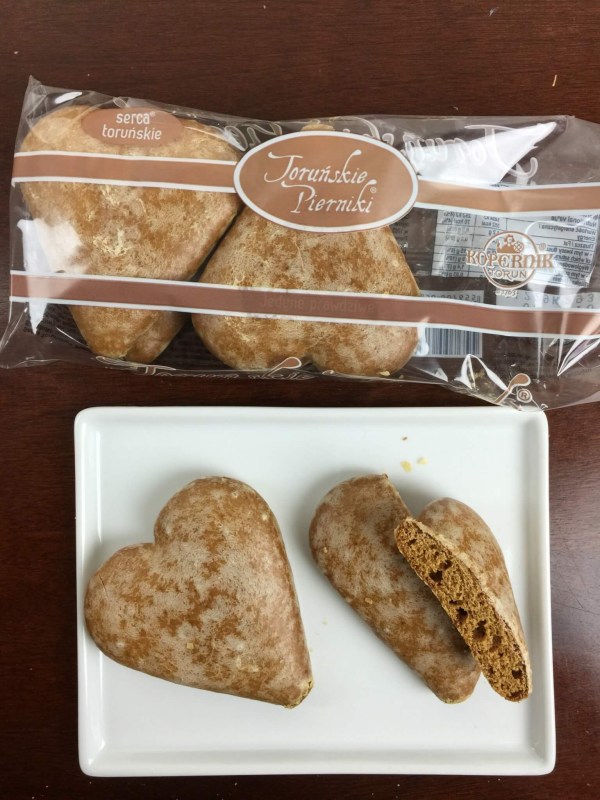 Kopernik Torun Torunskie Pierniki:  Heartshaped glazed gingerbread cookies.  Well, kind of cookies — they are more of a bread than a cookie, soft and airy.  They have a pleasant, light ginger and molasses type flavor, and they reminded us of German lebkuchen.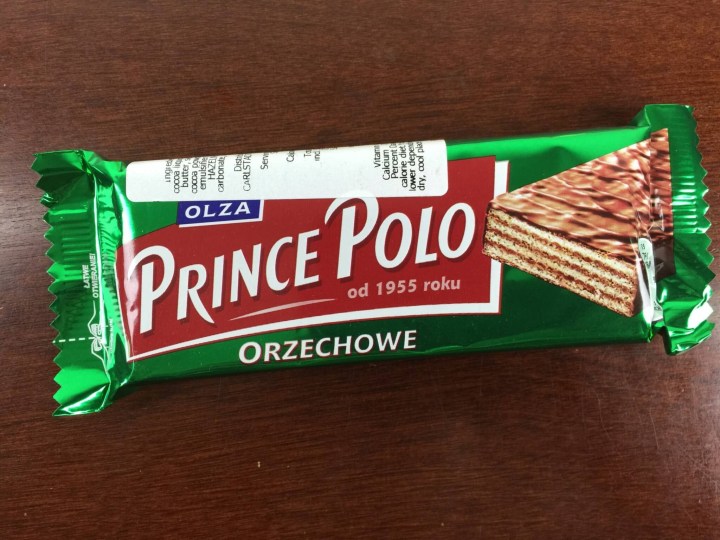 Prince Polo Hazelnut Milk Chocolate:  A chocolate coated wafer bar with hazelnut and milk chocolate creme within the wafer.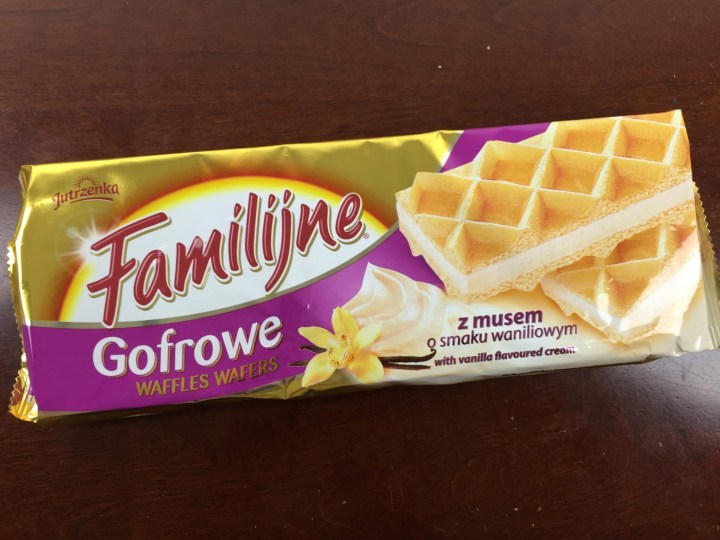 Jutrzenka Familijne Cream Wafers:  These crispy wafer sandwiches are filled with a vanilla creme.  These came in a large, multi-serving package.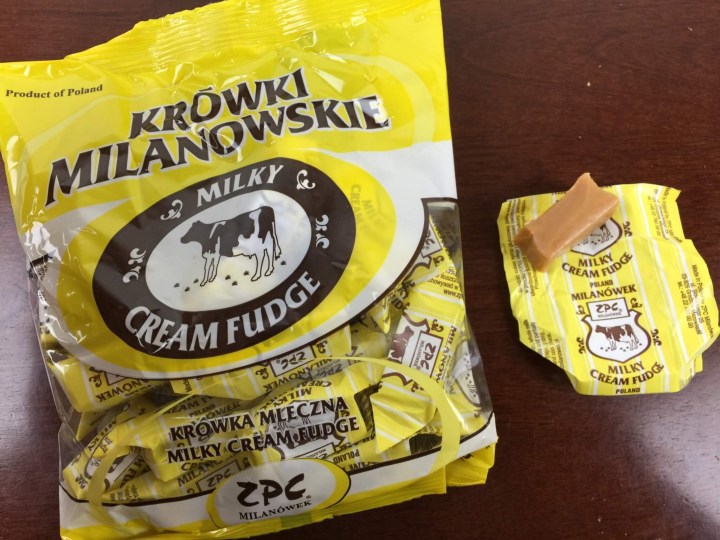 ZPC Milanowek Krowki Milanowskie:  Krowki are Poland's candy claim to fame, though they are copied throughout Eastern Europe.  Krowki, or little cows, are a caramel-flavored, super-soft fudge (they contain no cocoa).  The flavor is very sweet and not overly cooked, retaining a very light character and flavor.  We received a nice, big bag of the Polish classic. Our toddler is wild about these!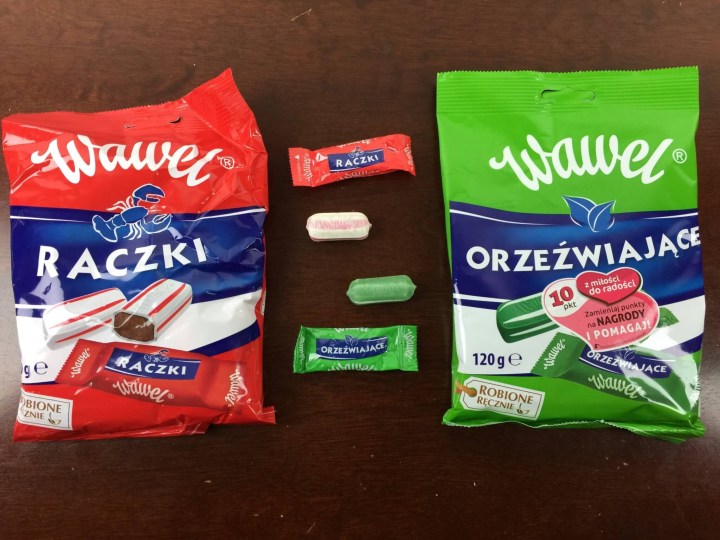 Wawel Raczki:  This candy resembles a peach blossom candy, comprising a peanut butter candy center with a crispy shell.  They are termed Raczki, or lobster tails, because of their appearance, not their taste!  Other producers of this candy orient the stripes so they run the width of the candy instead of the length — those versions resemble an actual lobster tail much more closely.
Wawel Orzezwiajace:  Constructed similarly to the Raczki, these are filled with a potent mint.  They make a nice breath freshener, with a crunchy and chewy texture instead of the chalky mints typically seen.  Both of the Wawel products came in large bags of individually-wrapped candies.
Treats is one of our very favorite discover-foreign-foods boxes because nearly everything is appealing (nothing too weird included merely for shock value).  This edition was light on savory items, but the sweets were so good that I understand loading the box with them.  The selections in this box seemed very appropriate and rooted in place — they were traditional items with great local popularity and not just local versions of items popular everywhere.
Have you tried Treats yet? What did you think of the box? You can save 15% on your first month with coupon code HELLO15.
Visit Treats to subscribe or find out more.
The Subscription
:
Treats
The Description
: Treats is a subscription service for international snacks. Every month they will prepare a box of snacks from other countries and ship it straight to your door. Explore the world through food, a new country every month!
The Price
: $12.95 per month for the standard pack, $24.95 per month for the premium pack.  Shipping to Canada is $11.62.