Try The World is a bimonthly international food subscription box – every month you'll get new treats and delicacies delivered from a new destination! Every Try The World box includes 7-10 artisanal food items, a card describing each product, and a culture guide & recipes! So far they have curated boxes from France, Japan, Brazil, Italy, Turkey, India, Thailand, and the UK with the most unique and authentic products you won't easily find where you live (they directly import many of the products featured in their boxes). Every box includes $60+ of delicious food from a different country. Boxes are $39 – lower with longer subscriptions!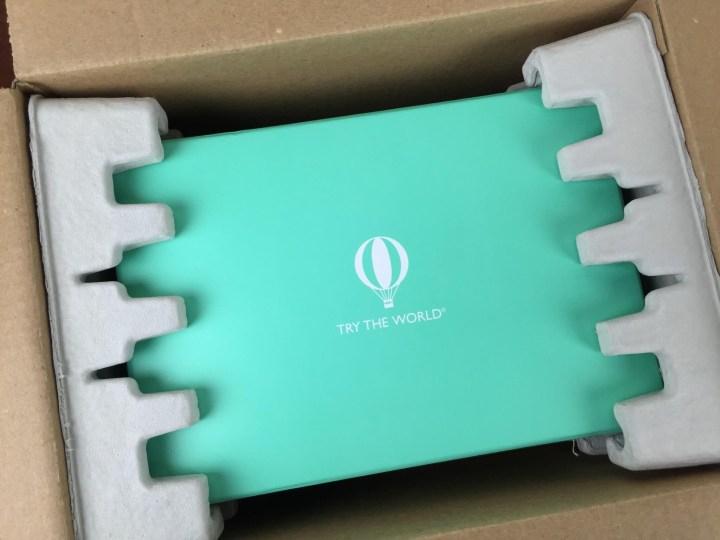 The box has a new look and feel, although the outer box is the same, the shape is a bit different!  This is one of the few subscription boxes that comes in a truly reusable box — it's both sturdy and attractive enough to use as a keepsake box.
So gorgeous and they really packed everything in!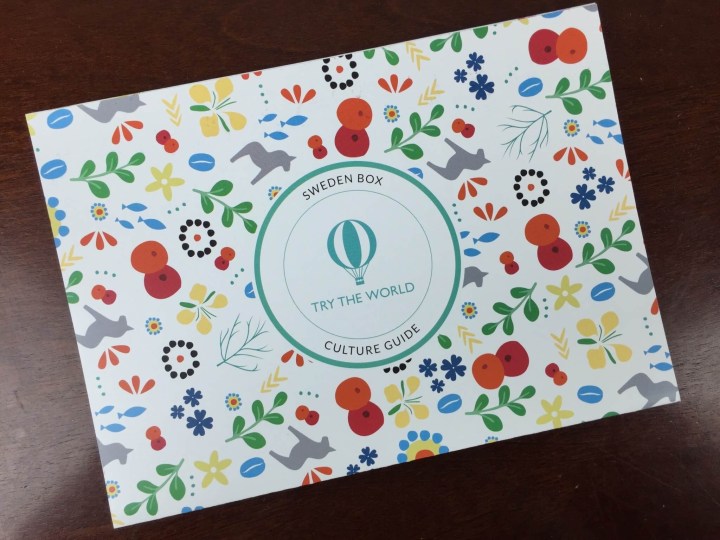 The included Culture Guide will give you tips and ideas on how to immerse yourself in the culture represented in the box with recipes and travel inspiration.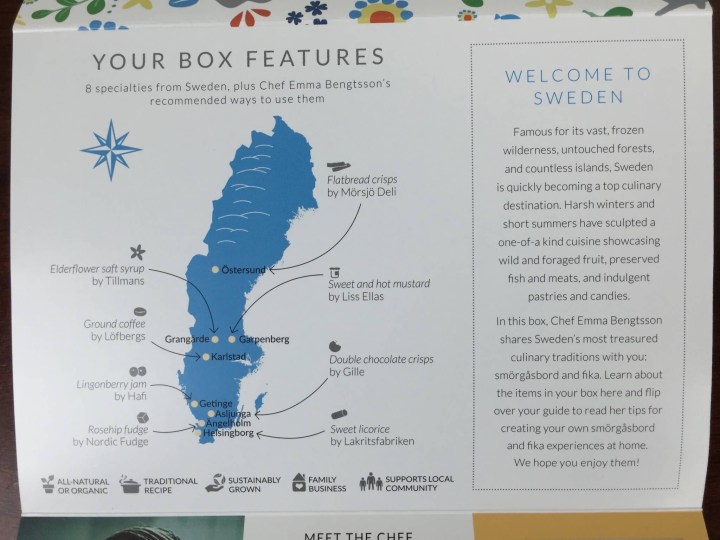 The Culture Guide has a map that shows the geographic origin of each item in the box.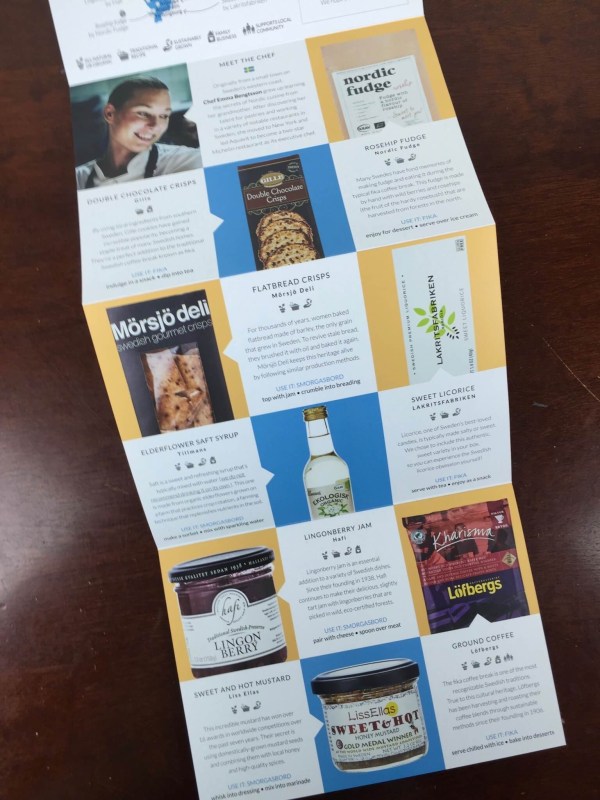 The information card gives the facts on every item in the box. There are small icons indicating whether the item is produced by a small family business, supports local community, is a traditional recipe, or is natural or organic or sustainably grown.
SMÖRGÅSBORD!!!!!!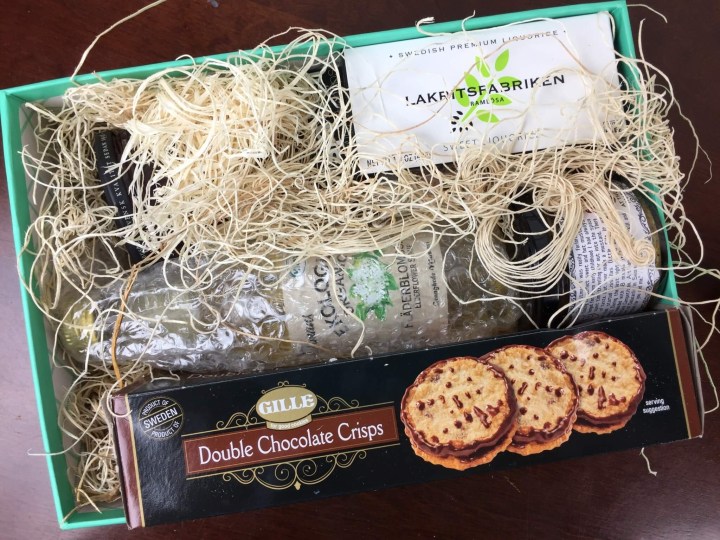 They employed packing ninjas for this box!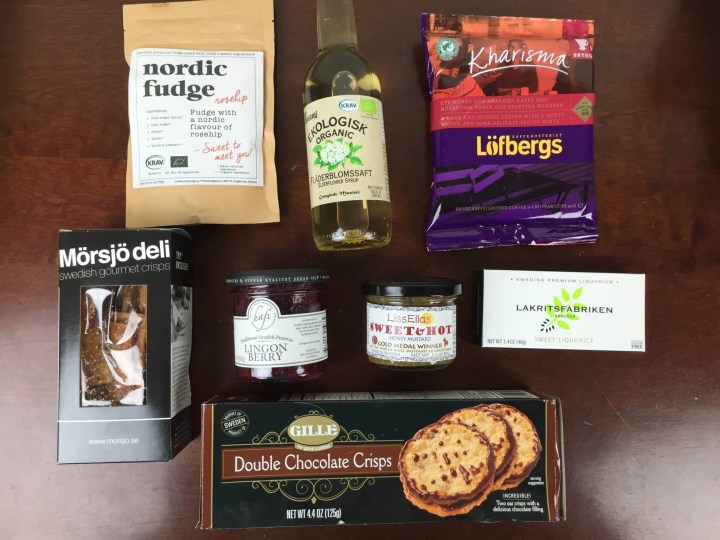 Everything in the Sweden box! Having plowed through more of my fair share of Ikea meals and marketplace food items most of the items were somewhat familiar but a few were new to me – and of course these are gourmet versions!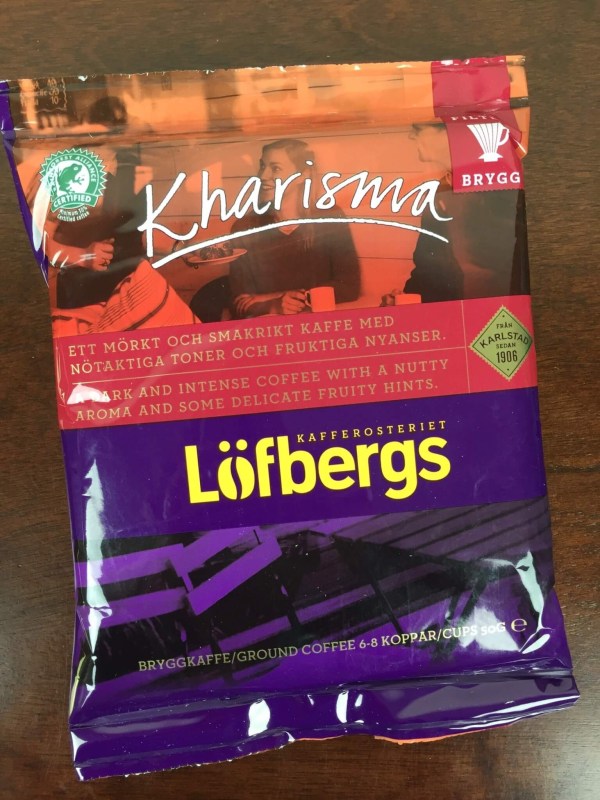 Lofbergs Kharisma Ground Coffee ($1.30) "Dark & intense coffee with a nutty aroma and some delicate fruity hints." It's great to include some coffee in the box! This one is ground, which is appropriate for a non-coffee subscription box. My husband is looking forward to giving some Swedish coffee a spin.  This is an after-dinner (or dessert) coffee so it's perfect for downing after your giant Swedish meal.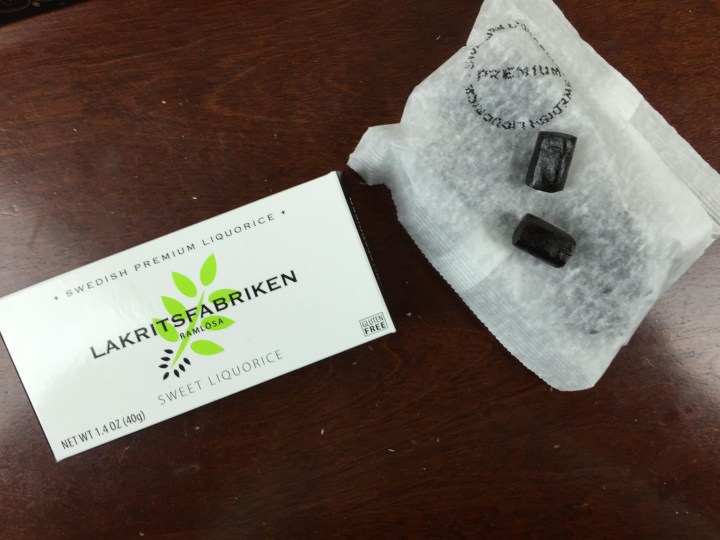 Lakritsfabriken Sweet Licorice ($5.95) This is probably the softest licorice I've ever encountered. I'm not a licorice fan but I gave it a try anyways.  It's very good licorice. This is completely natural "liquorice" (which is why it's nice and soft) and made with rice flour instead of wheat flour – and gluten-free!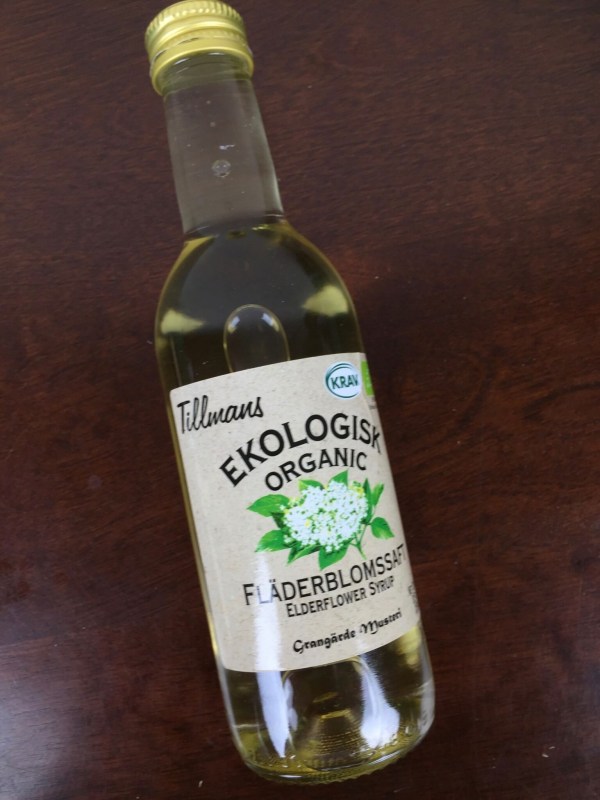 Tillmans Organic Elderflower Syrup – Fladerblomssaft ($7.5)  After having received no less than 3 elderflower items in our subscription boxes this past week, I think it's safe to say that this is the flavor of spring 2016! We tried this out mixed with some cool white wine and club soda and it's fantastic – it really enhances your beverage and brings a lovely taste to it – -just heavenly and summery!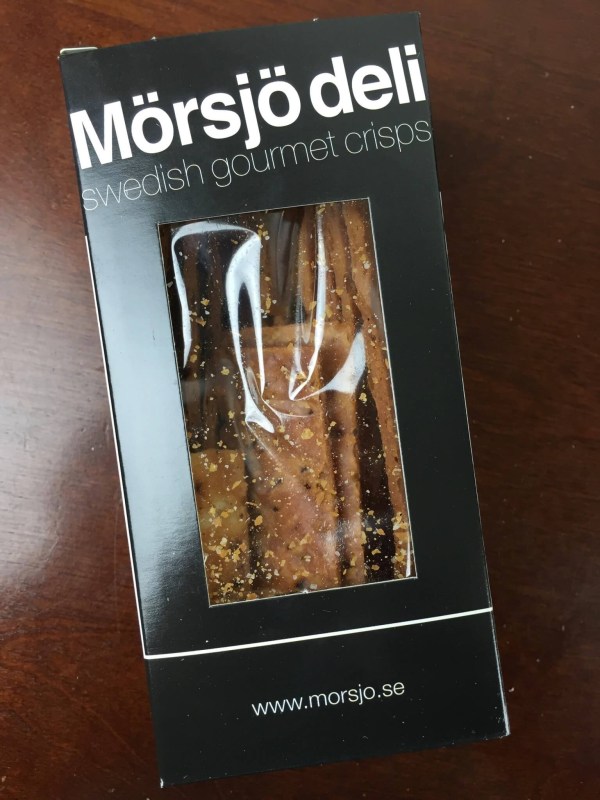 Mörsjö Deli Flatbread Crisps ($6) These are AMAZING! They taste like pita chips but a million times better, and are absolutely delicious (and sadly, long gone – I need to find a bulk source for these so I can eat them constantly – they're like Swedish carb crack).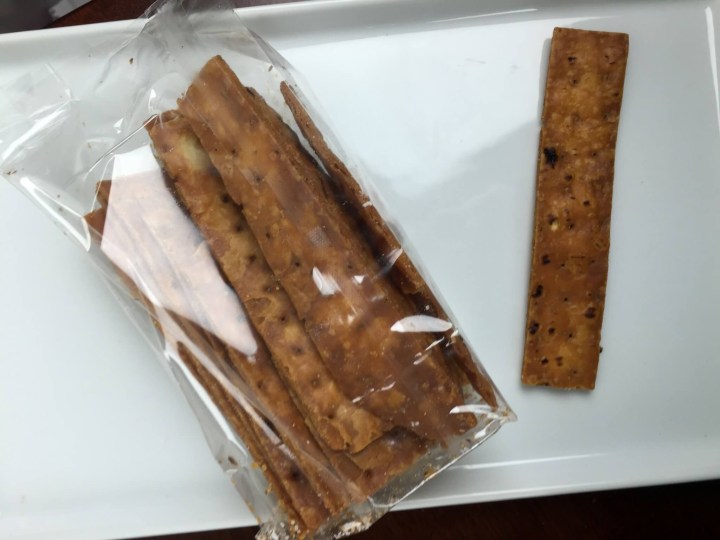 Flatbreads cut up and deep-fried. It's no wonder they're so tasty! They also feature a light salting that just sets off the flavor beautifully.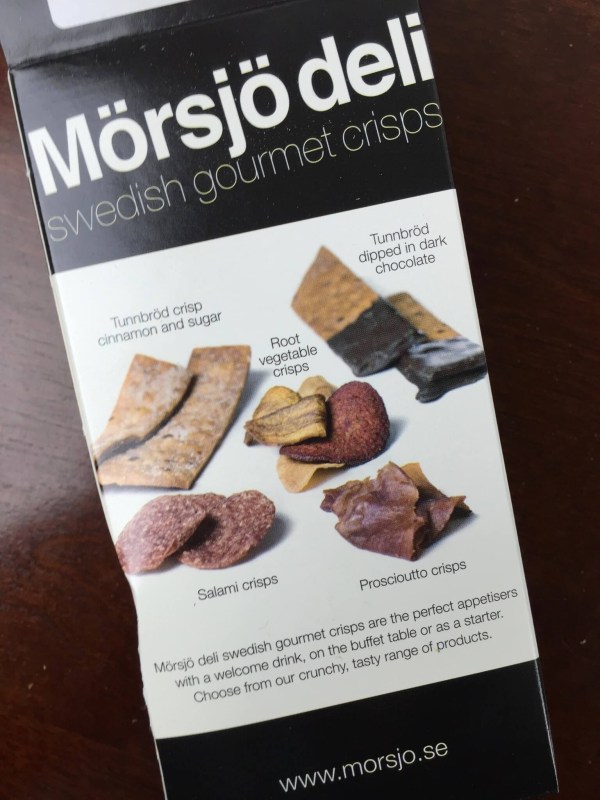 The back of the package showed what other items they sell. Seriously, meat crisps. I am loving the Swedes, this is crazy and awesome. I need to try all of them.
The ingredients are simple – I think the rye flour must add the extra oomph that makes them so much better than pita chips.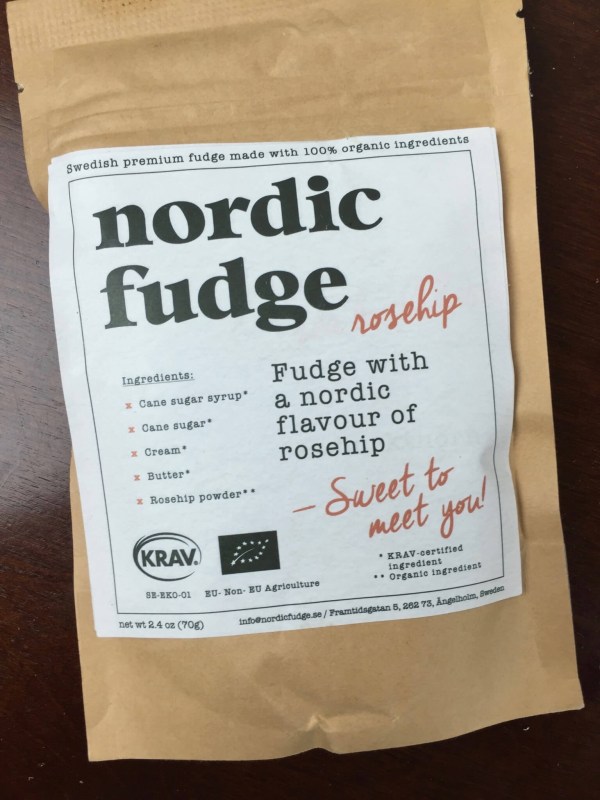 Nordic Fudge Rosehip Fudge ($5) Real Swedish organic fudge. This artisan makes multiple flavors and this is authentic – they don't even have an English website. There are only 5 ingredients: cane sugar & syrup, cream, butter, and rosehip powder.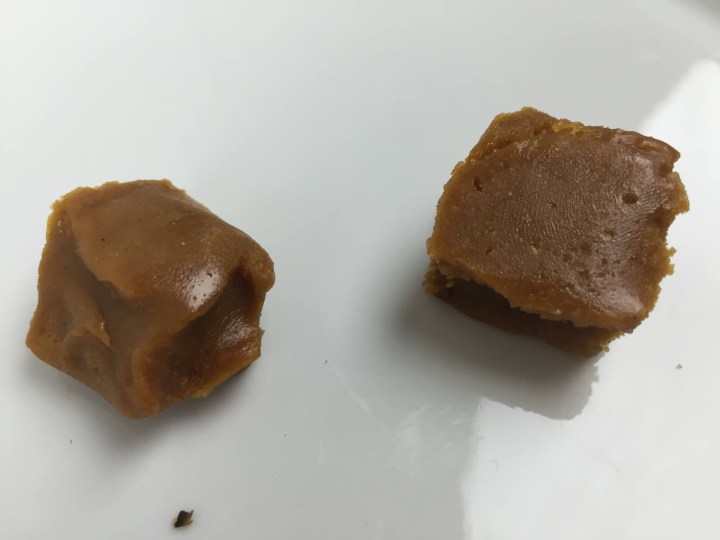 This is more of a really soft caramel than a fudge (because there's no chocolate). I'm curious if they have anything like American fudge! This was very tasty and unusual and very sweet!
Hafi Lingonberry Jam ($6.50) It wouldn't be a Swedish box without lingonberry sauce, which my family is exceedingly fond of – we always serve it with meatballs and creamsauce, and sometimes whenever we have mashed potatoes. We'll put this on anything because it really adds a great dimension to an otherwise savory meal.
These lingonberries are wild-grown and are fairly produced.  Yes we do eat it with mashed potatoes – so good!
Liss Ellas Sweet & Hot Honey Mustard: This mustard is totally deserving of it's World Wide Mustard Competition gold medal!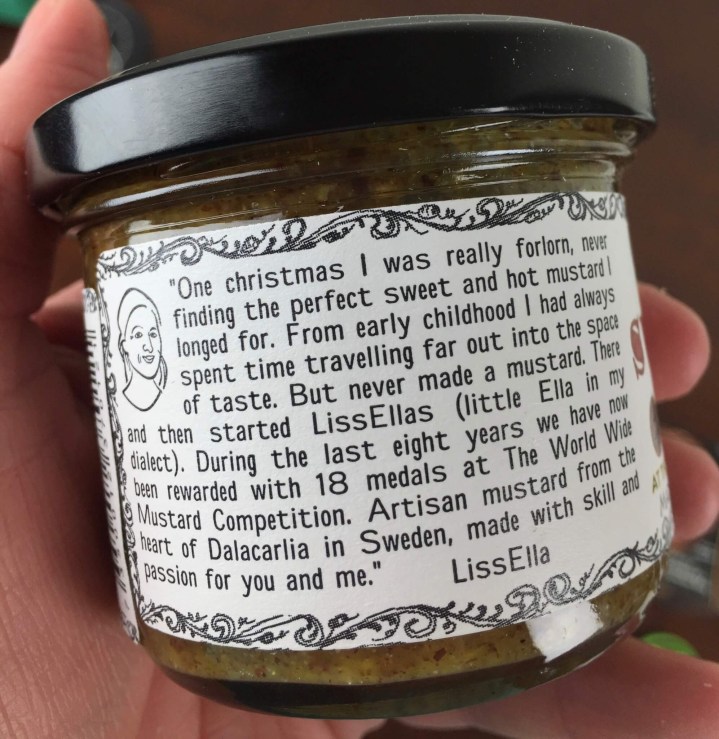 The back has a little letter from LissElla.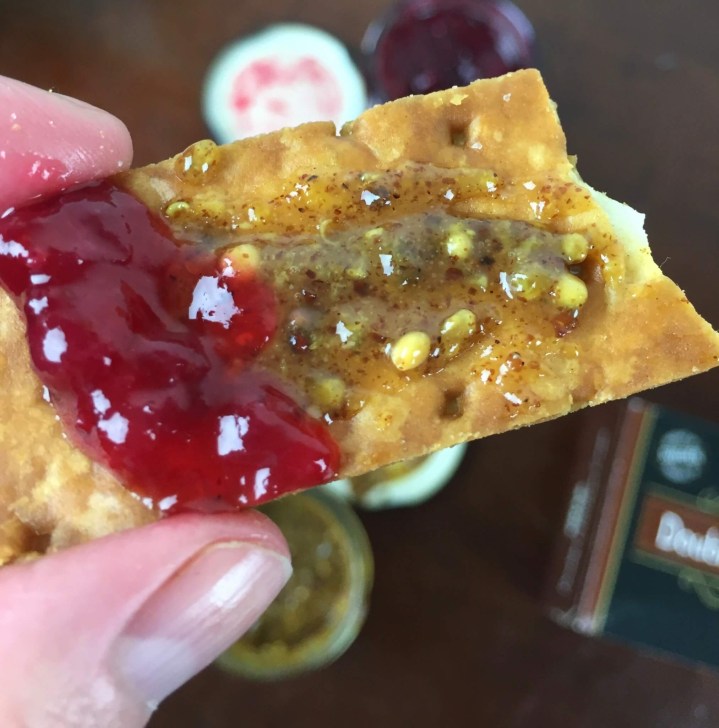 I had to crack into these two condiments immediately – and what better vehicle than those delicious flatbreads?! 
Gille Double Chocolate Crisps ($2.27) These are oat cookies ("biscuits") with dark Belgian chocolate and a traditional Swedish treat!
This box was a veritable smorgasbord in itself – with a fantastic variety of products. Even without actually making a big spread (yet! we're planning a fun Sweden night soon) I got a great look into Swedish cuisine and flavors. This box is available through May and June, and you can start your subscription with a free box! Also, FYI – you can see the whole Sweden collection at Try The World here. All the products from Try The World are always high-end, and they also tend to be popular brands with a wide following and rich history.
Visit Try The World to subscribe or find out more. Save 15% off all subscriptions and gift orders with coupon code  HELLOSUBSCRIPTION15. Or, get a bonus box free with your first month – just use this link! Currently its the Thailand box (amazing – see my review here)!
The Subscription
:
Try The World
The Description
: Try The World delivers the best products coming from the greatest cities in the world, to your door! Go on an incredible journey across continents delivering some of the best products from the most exciting places on the planet. This box is delivered every 60 days!
The Price
: $39 every other month