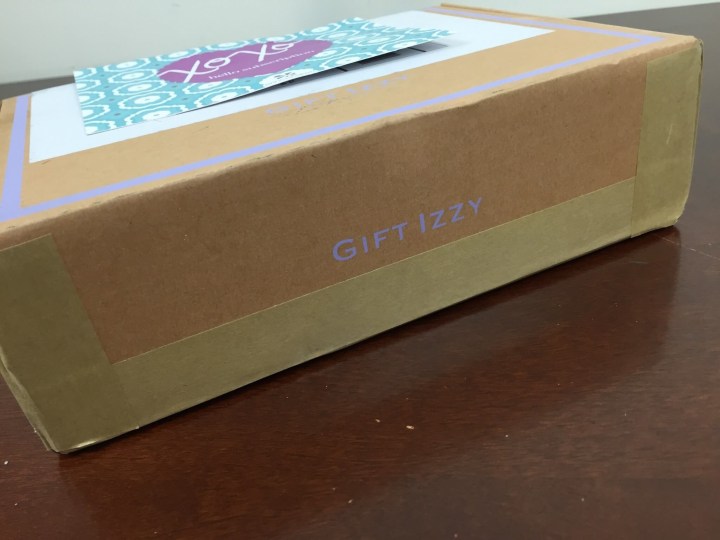 Gift Izzy is a bi-monthly subscription box that delivers unique and stylish fashion items – "a luxury boutique in a box"! The subscription costs $69 every other month and each box includes luxury jewelry and accessories from designers around the globe.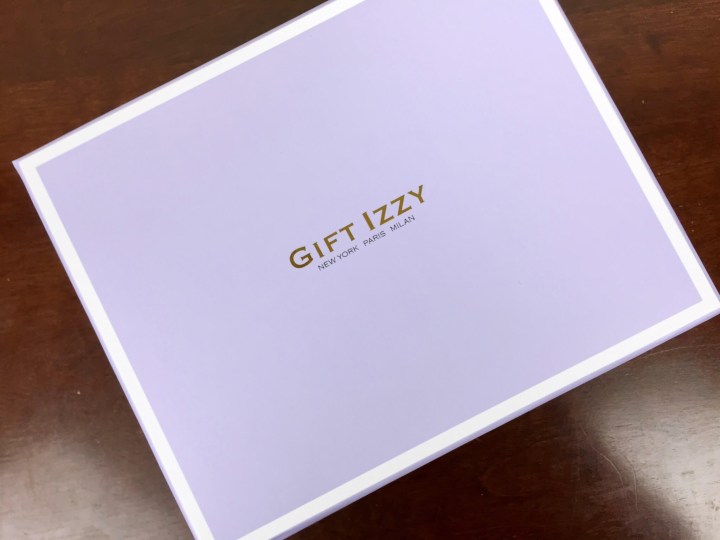 I love the lilac box, which is perfect for reuse. This one's a keeper!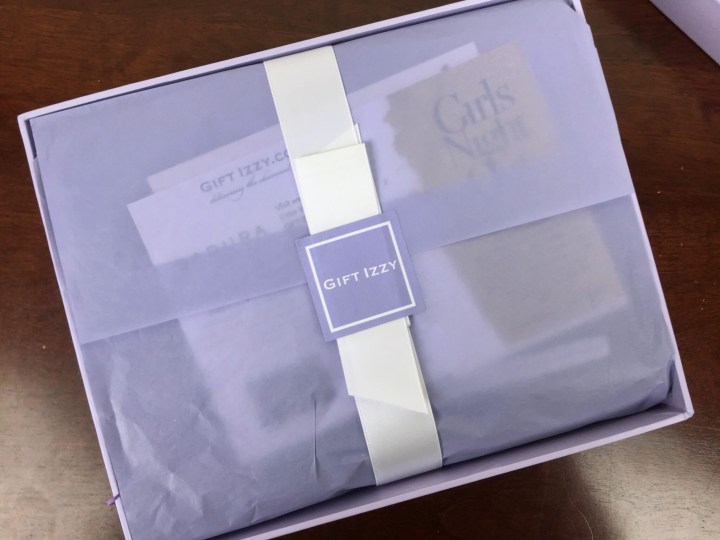 All the items in the box are beautifully wrapped in lavender tissue paper. The items are also secured with lavender squiggles inside.
The theme for the Gift Izzy May-June 2016 is Girl's Night Out! The information card also provides a brief description of the items included in this box.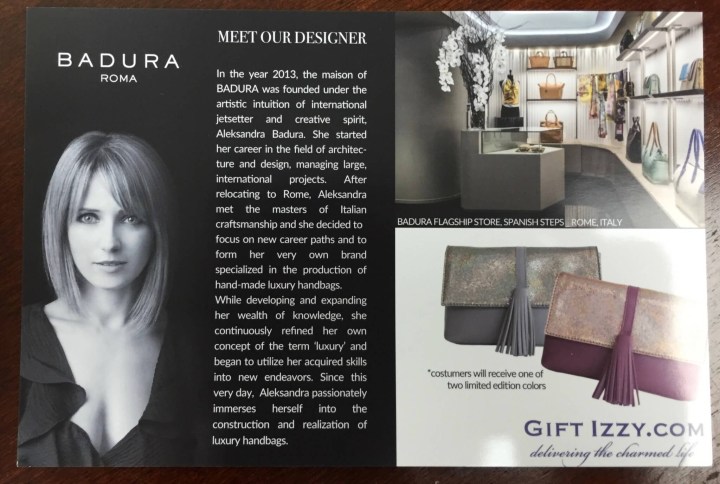 Another card provides details about the designer of the bag included in the package.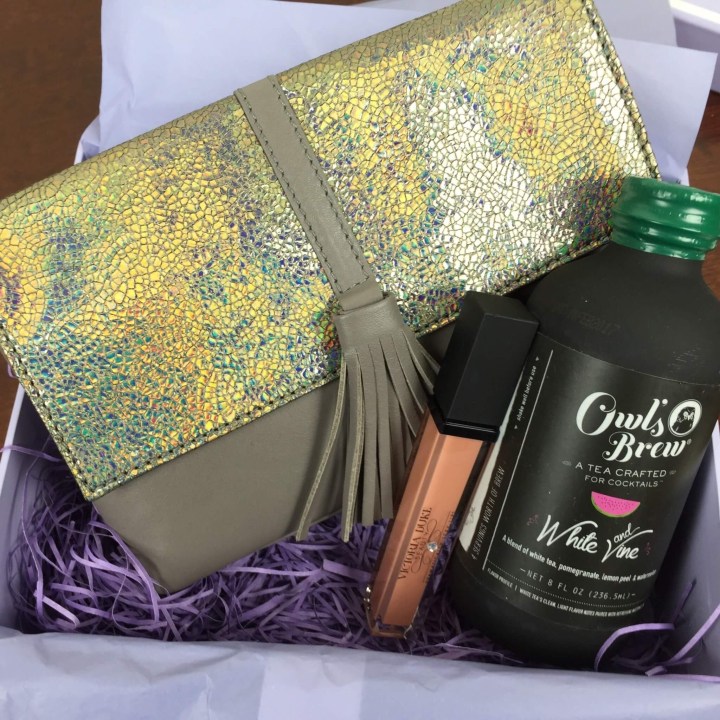 Everything inside the box!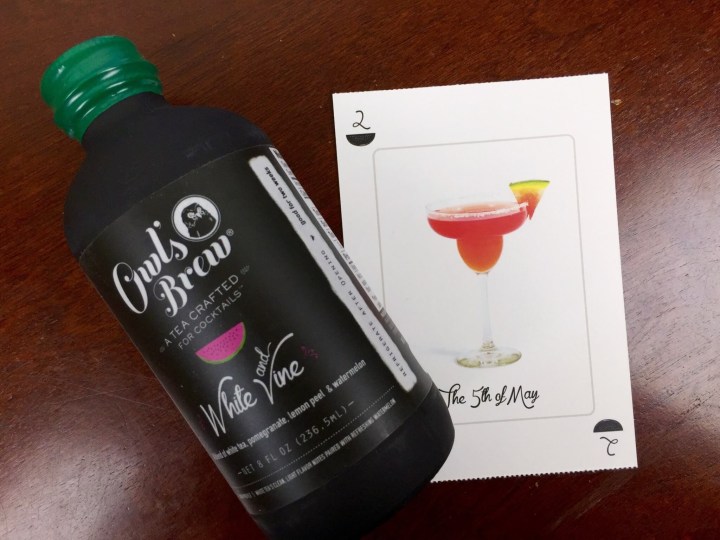 Owl's Brew White & Vine ($10) I've tried this tea-based mixer before. Although I'm not a tea drinker I love it! White & Vine is made with white tea, pomegranate, lemon peel, and watermelon juice in small batches.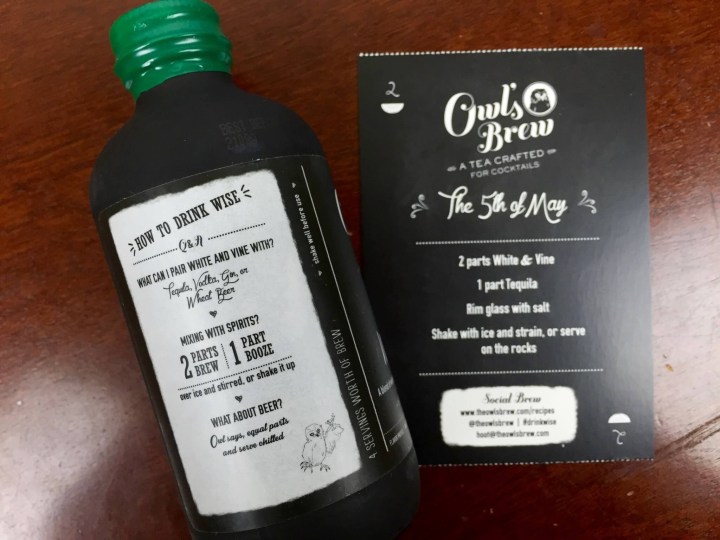 There's a recipe card included to make the perfect Cinco de Mayo cocktail, plus a brief guide on the back of the bottle – pair with tequila, vodka, gin, or wheat beer. I'm not sure what I'll try with it first, but it sounds like I have lots of taste testing to do 🙂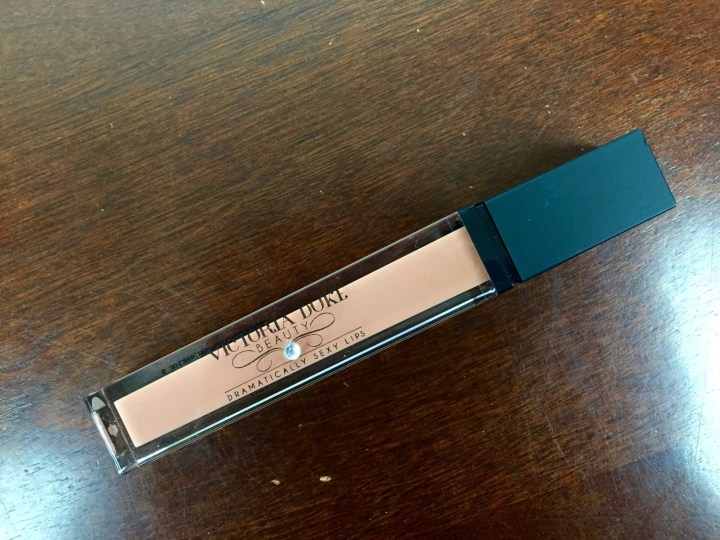 Victoria Duke Beauty Dramatically Sexy Lips ($21) I have never heard of this brand before, so I was intrigued – especially because the package is so cute with the little crystal and the label claims it will give me dramatically sexy lips!
The first thing I noticed when I tried out the gloss is that it's tasty. Like vanilla cupcakes can I eat my lipgloss tasty. It turns out that this brand offers a "personalized flavor bar" so you can have your color in your fave flavor. I think that's fabulous! The gloss was non-sticky and has a little brush applicator. The peachy nude color should work great with so many skin tones. It's a great product for this subscription and a new brand discovery for me.
Badura Roma Clutch Bag ($200-300) And the star of the show! This clutch is totally to die for – there are 2 variations – a pretty purple and this gorgeous fawny grey with purple undertones. It's constructed from super soft leather with a great metallic crackle flap. This clutch was designed exclusively for this box. It's pretty impossible to value this bag – Badura sells most of its purses for $1200+. Their small accessories (think business card cases) go for $115-200. So I think $200-300 works! It's insane to put this much value in the box.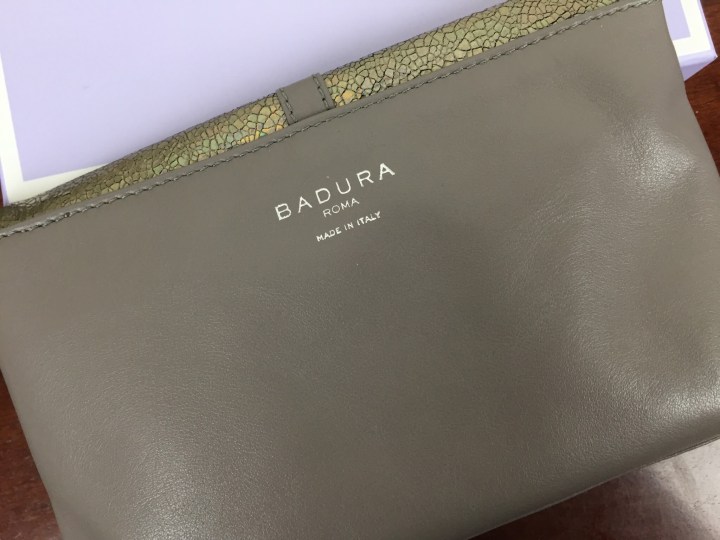 The back bears the designer's stamp.
The inside features a mustard yellow suede, which is perfect for fishing out items in low light (I envision this as perfect for date night).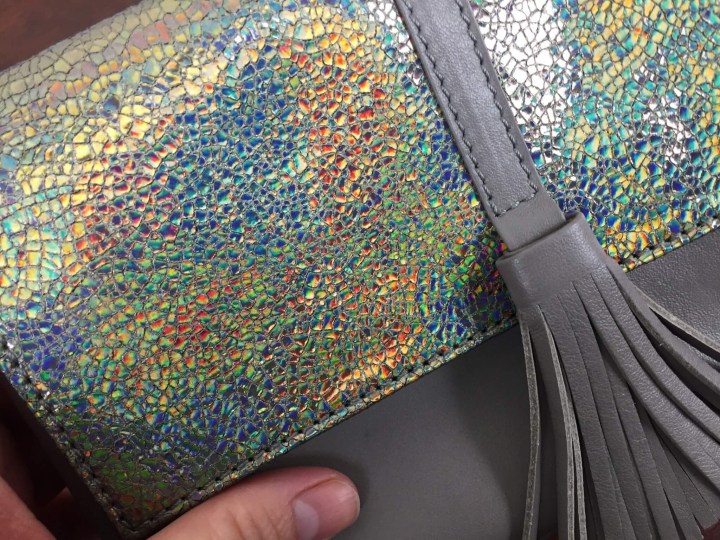 A closer look at the iridescent flap. I don't know how they did it, but that part is soft too!
This box is super lovely! I loved each of the items, and they're all perfectly matched to the Girl's Night Out theme. A little gloss, a fun clutch, and a great mixer that is perfect to share with your besties before going out. FYI – when I checked in with Gift Izzy this box was still available! The amount of value in this month (mostly in a totally covetable item like the bag) is mind blowing!
What did you think of Gift Izzy?
Visit Gift Izzy to subscribe or find out more! Save 10% on your first box! Use coupon code HELLO10.
The Subscription
:
Gift Izzy
The Description
: We send you a box bi-monthly with an exclusive Limited Edition stylish and unique gift of luxury fashion, jewelry, and accessories from talented artisans around the world. Each artisan is vetted to the highest quality and design. We hold ourselves to an impeccable standard to bring you stylish gifts that you deserve. Gift yourself or gift an Izzy to a friend.
The Price
: $69.00 every other month