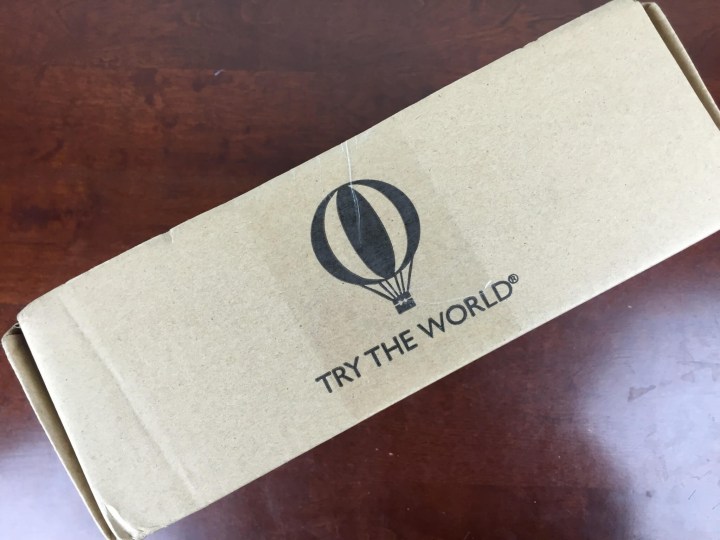 Try The World is a bimonthly international food subscription box – every month you'll get new treats and delicacies delivered from a new destination! Every Try The World box includes 7-10 artisanal food items, a card describing each product, and a culture guide & recipes! So far they have curated boxes from France, Japan, Brazil, Italy, Turkey, India and the UK with the most unique and authentic products you won't easily find where you live (they directly import many of the products featured in their boxes).. Every box includes $60+ of delicious food from a different country. Boxes are $39 – lower with longer subscriptions!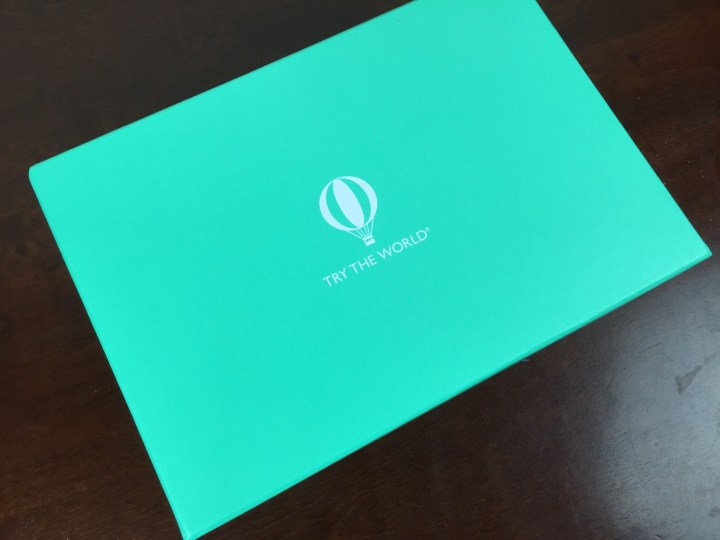 The box has a new look and feel, although the outer box is the same, the shape is a bit different!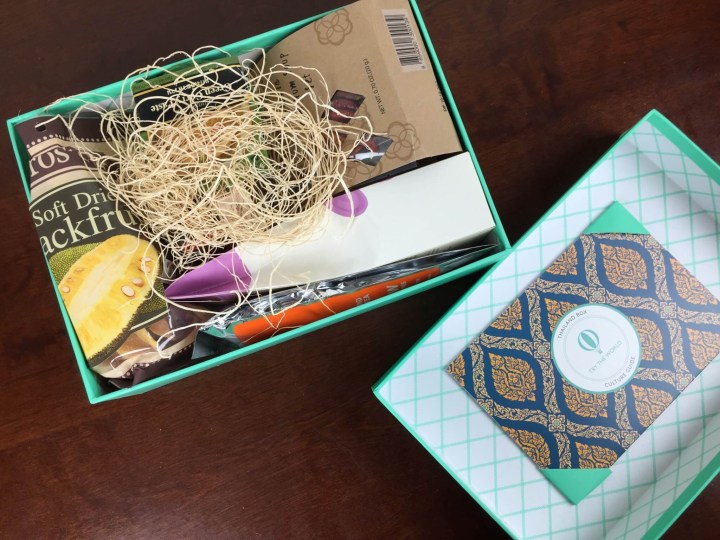 So gorgeous and they really packed everything in!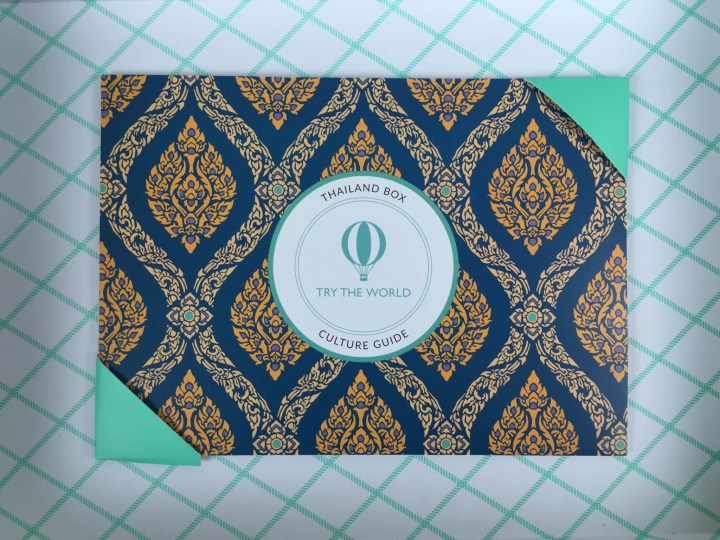 The included Culture Guide will give you tips and ideas on how to immerse yourself in the culture represented in the box with recipes, a playlist, and travel inspiration.
The Culture Guide has a map that shows the geographic origin of each item in the box.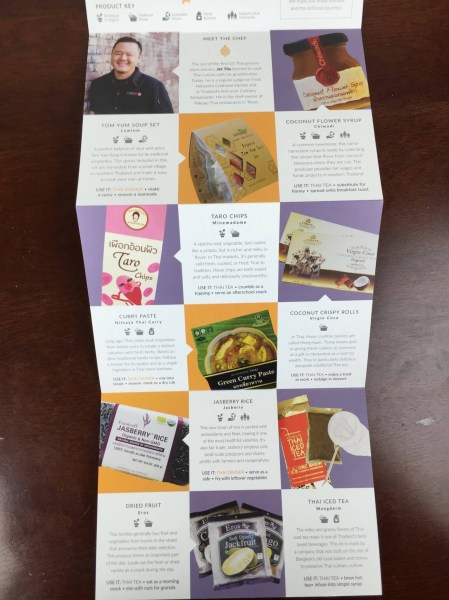 The information card gives the facts on every item in the box. There are small icons indicating whether the item is produced by a small family business, supports local community, is a traditional recipe, or is natural or organic or sustainably grown.
There are recipes on the back and some local flavor too!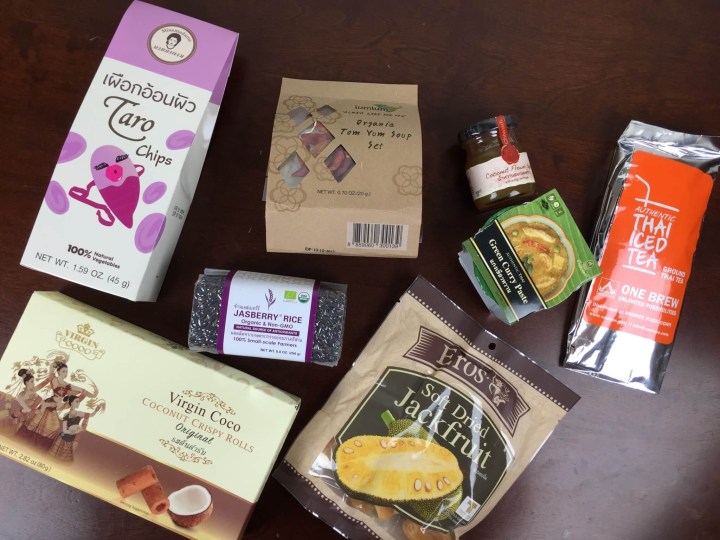 Everything in the Thailand box! The items in the box will provide "A Thai Afternoon" and "Thai Dinner for 4."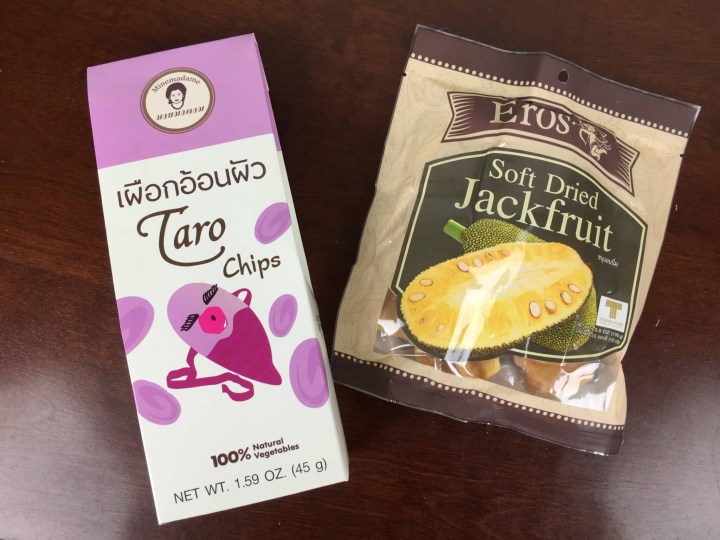 These two items start our tea with some nice snacks! Unfortunately for my husband, who adores Thai Iced Tea, I was quite hungry when I wrote this review and blew through half the snacks.
Minemadame Taro Chips: Taro is naturally sweet but the chips make them salty, it's a good flavor combo!
Eros Soft Dried Jackfruit: This is unbelievably good. It's sweet and tropical and tastes maybe like a banana'd pineapple. It's very very good.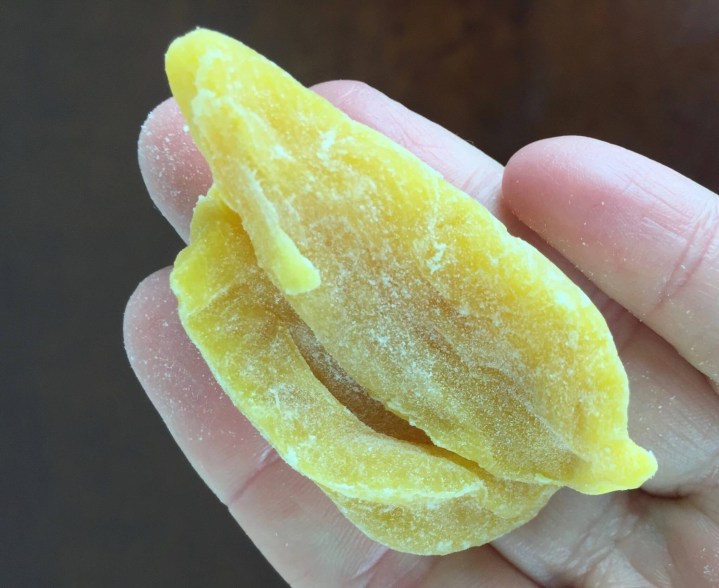 My husband is whitening his teeth and he's super mad that I'm here chowing down, but it's SO good.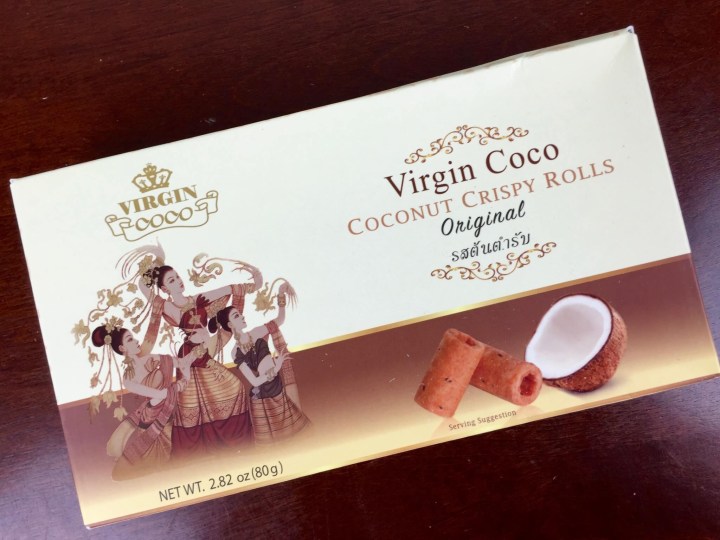 Virgin Coco Coconut Crispy Rolls: These are really excellent, and it's a nice large pack. They're crispy and delicious but not quite as sweet as I thought – they have black sesame seeds in them, which provides a unique nutty flavor.
I totally ate everything you see here, and more. My husband is not happy at all. Did I mention I love Thai flavors? They also make these half-dipped in chocolate, which I must find and consume immediately.
Coconut Flower Syrup: Use this to sweeten your tea or as a honey substitute! It's hand harvested from coconut blossoms and has a gorgeous flavor.
Vasinee Thai Iced Tea Mix: I'm sure my husband will enjoy this with some sweetened condensed milk over ice! The included card said to serve with the flower syrup + condensed milk, and that was one translational fail – use evaporated milk! But I'm taking the coconut flower syrup for other lovely things.
For the dinner for four we have soup, green curry chicken, and jasberry rice pudding. Unfortunately you do need kaffir lime leaves and tamarind paste (plus fairly readily available fish sauce) to complete the second dish. Unlike a few years ago, you can actually buy the lime leaves on Amazon – keep them wrapped in the freezer.

lumlum Organic Tom Yum Soup Set: Looks delicious! 
One of the ingredients in this is 15 g lemonade, which must be lemon juice, although it's not called for in the recipe. If anyone reads Thai, I'd be happy to send photos along and post a good translation.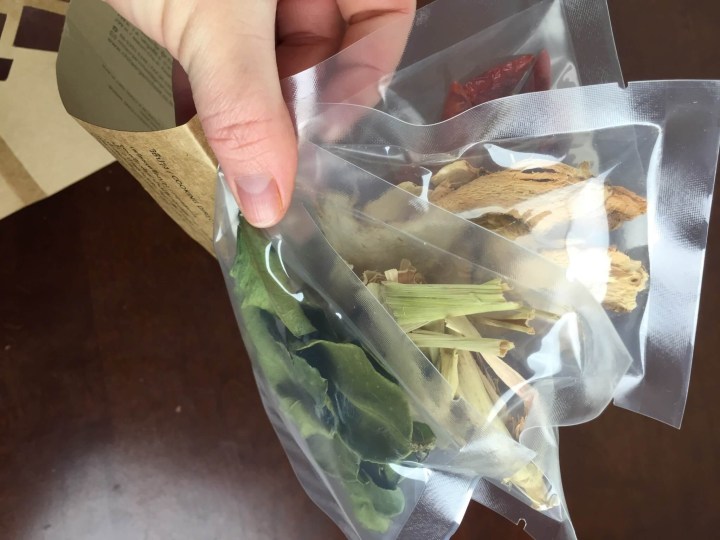 The included ingredients are dried chilis, kaffir lime leaves, galangal, and lemongrass.
Siam Organic Jasberry Rice: This is a new strain of rice with more antioxidants than 2 servings of Green tea and a serving of Blueberry! It's grown organically by small-scale farmers at fair prices and turns out purple when it's cooked! This is a really neat product and something I've never heard of before. The recipe for jasberry rice pudding is served with mango – yum. I probably haven't mentioned that my first serious boyfriend was half-Thai and I sure do miss his mom's food. Twenty years later, still thinking about it!
Nittaya Thai Curry Green Curry Paste: Fresh, vacuum-packed curry paste. I love the green variety, which was originally a Thai-Indian fusion concoction but now a Thai staple. I think Thai cuisine is one of the most exciting and interesting in the world. I haven't tried this one but I'm excited to!
We will definitely be making a great Thai meal with these ingredients, but I can pretty much guarantee the snacks and the tea will be gone ASAP. I thought this was a really fantastic box and I'm still kicking myself for not being able to add a jaunt to Thailand while in Singapore a few years back. It's at the top of our list of great places to visit and eat, but this box makes it a teeny bit easier to get some of the flavor without the trip, which we will definitely do someday, but not this month! We love traveling the world with our tastebuds!
Visit Try The World to subscribe or find out more. Save 15% off all subscriptions and gift orders with coupon code  HELLOSUBSCRIPTION15.
The Subscription
:
Try The World
The Description
: Try The World delivers the best products coming from the greatest cities in the world, to your door! Go on an incredible journey across continents delivering some of the best products from the most exciting places on the planet. This box is delivered every 60 days!
The Price
: $39 every other month