Disney's Tsum Tsum Subscription Box is a monthly subscription box with 2 official Tsum Tsum plush. The subscription includes one small plush and coordinating mini plush Tsum Tsum that is exclusive to the subscription delivered right to your doorstep for $24.95.  The small plush size is a new size and not exclusive to the subscription (but currently only available in this box), but the mini will always be an exclusive to this box and not sold anywhere else.
This is not a high value subscription but it's a fun way to get new Tsums! The medium size is normally $12.95 and minis are $5.95. If small ends up retailing for $10.95 the value will only be $16.90, so you pay a nice premium for the box. This box is really for the diehard Tsum Tsum collector and/or trader (and some of them are super hard to find!) or anyone who just wants a fun adorable surprise. I have a fairly extensive Tsum Tsum collection (for a casual collector) and so do my kids. We all love them.
FYI – this box ships in an outer cardboard box. It's a super cute box and you could totally build a whole Tsum Tsum house from them if you wanted to!
This month's box includes characters from Disney's Alice in Wonderland! It's perfectly timed for the theatrical release of Disney's live action Alice Through the Looking-Glass!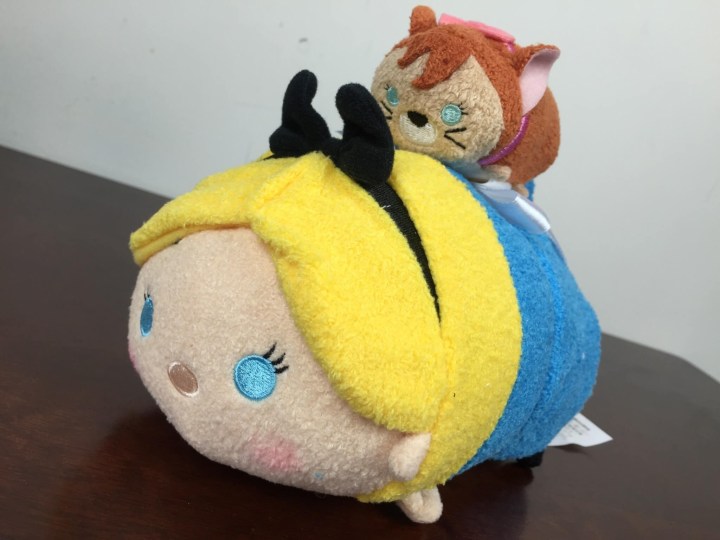 I saw the spoilers for this last night and squealed and excitedly showed my husband. I'm an Alice in Wonderland (all of them) superfan! I was so excited! No kids, can't have them, they're MINE! (I will dutifully purchase more Tsums at the current sale to justify keeping them from my children).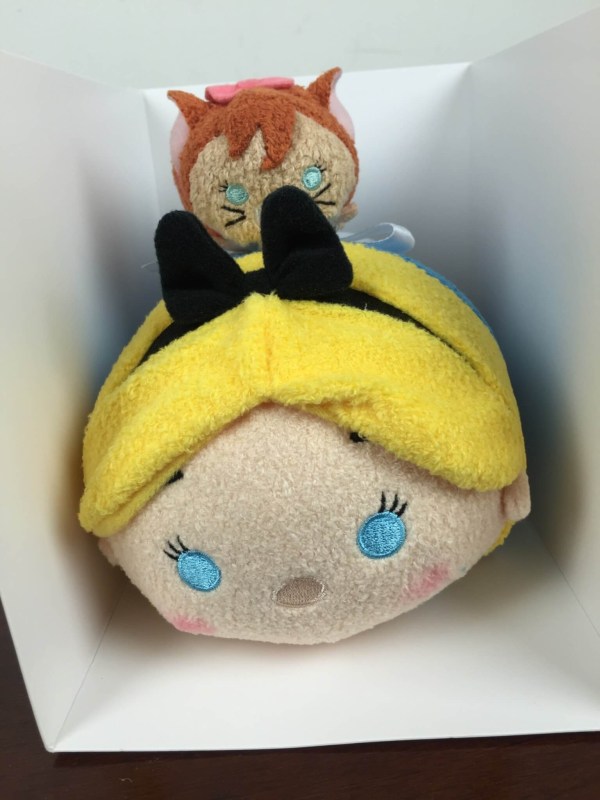 The Tsums come stacked together by clothing tags and also to the tray inside.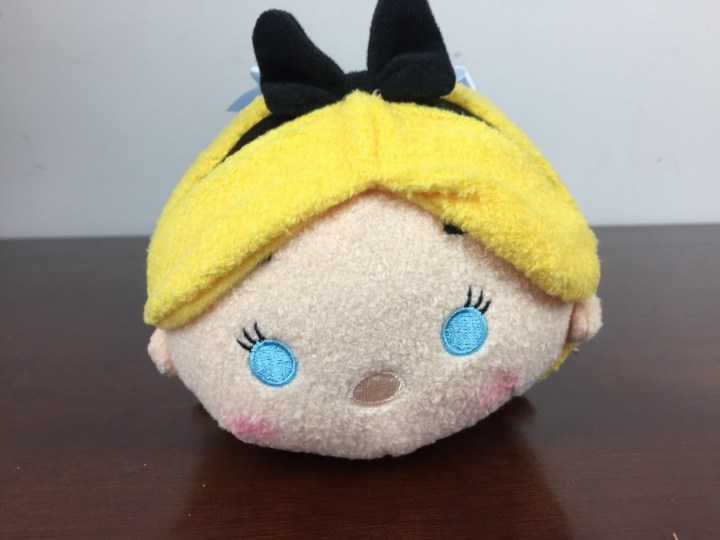 It's Alice! Alice has sweet pink cheeks, beautiful blue eyes, and her traditional hairbow and sash!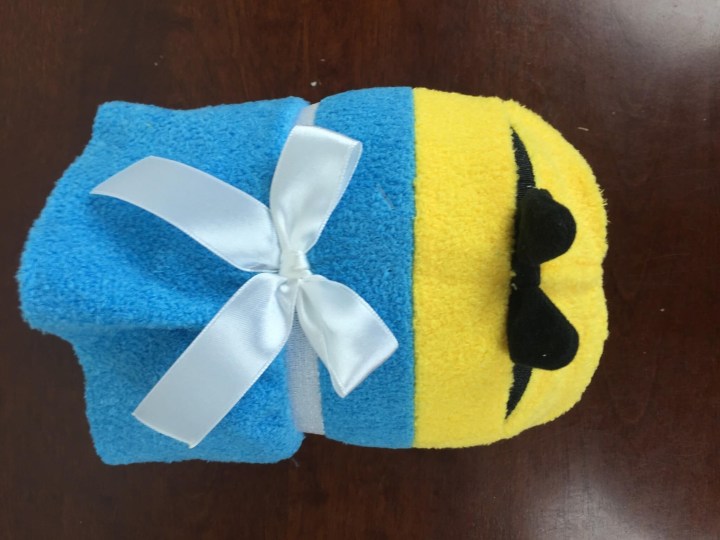 She's perfect! I'm so glad she's the larger one of the two because obviously these two go together!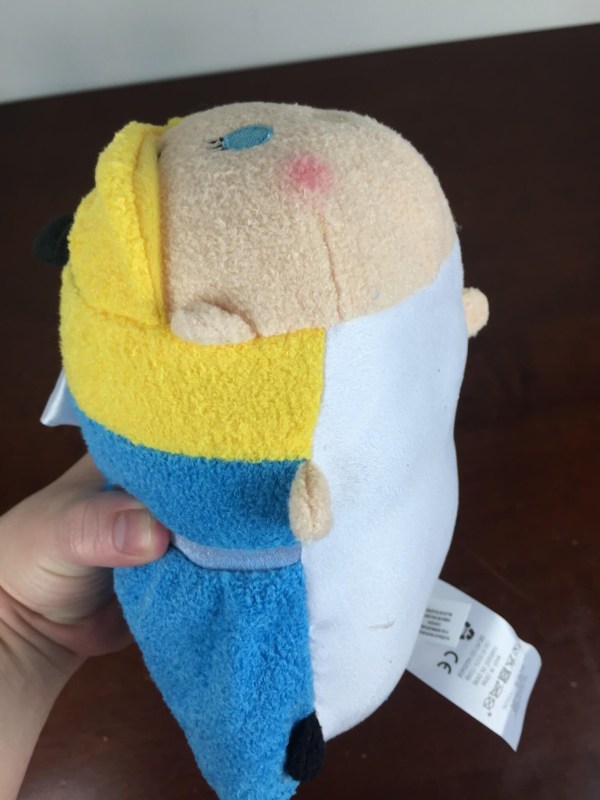 She has a white belly to represent her apron/pinafore and little black shoes.
As you can see Alice's dress is separate from the body.
Dinah! She's really spot on with a pink collar, turquoise eyes, and sweet peach and orange fur.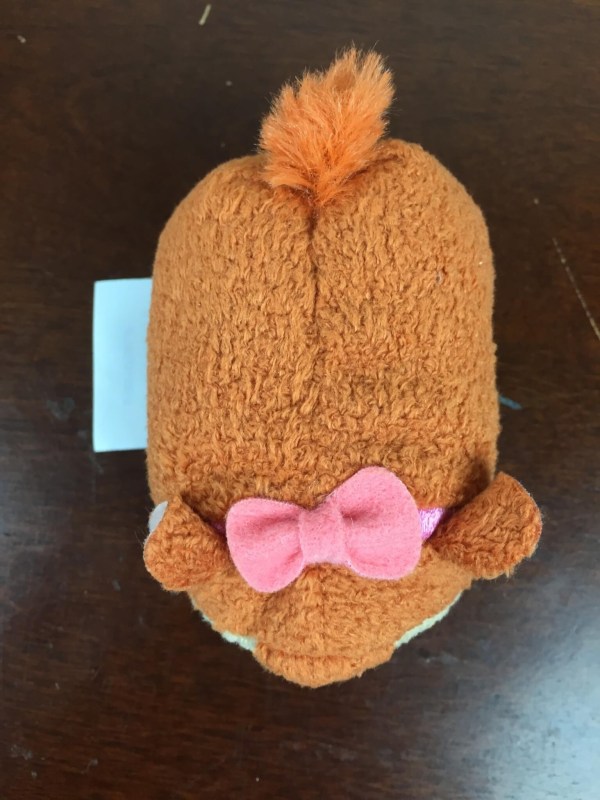 And of course a bow and her fluffy little tail!
'And who is Dinah, if I might venture to ask the question?' said the Lory.

Alice replied eagerly, for she was always ready to talk about her pet: 'Dinah's our cat. And she's such a capital one for catching mice you can't think! And oh, I wish you could see her after the birds! Why, she'll eat a little bird as soon as look at it!'

This speech caused a remarkable sensation among the party. Some of the birds hurried off at once: one the old Magpie began wrapping itself up very carefully, remarking, 'I really must be getting home; the night-air doesn't suit my throat!' and a Canary called out in a trembling voice to its children, 'Come away, my dears! It's high time you were all in bed!' On various pretexts they all moved off, and Alice was soon left alone.

'I wish I hadn't mentioned Dinah!' she said to herself in a melancholy tone. 'Nobody seems to like her, down here, and I'm sure she's the best cat in the world! Oh, my dear Dinah! I wonder if I shall ever see you any more!' And here poor Alice began to cry again, for she felt very lonely and low-spirited. In a little while, however, she again heard a little pattering of footsteps in the distance, and she looked up eagerly, half hoping that the Mouse had changed his mind, and was coming back to finish his story. –  A Caucus-Race and a Long Tale, Alice's Adventures in Wonderland, by Lewis Carroll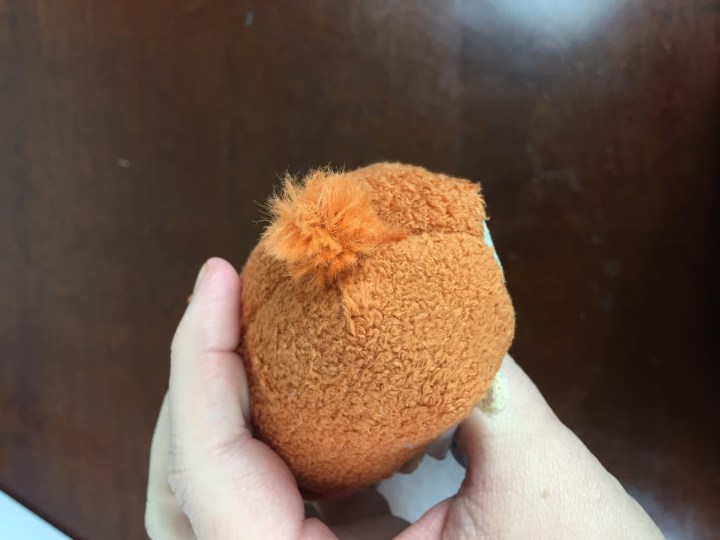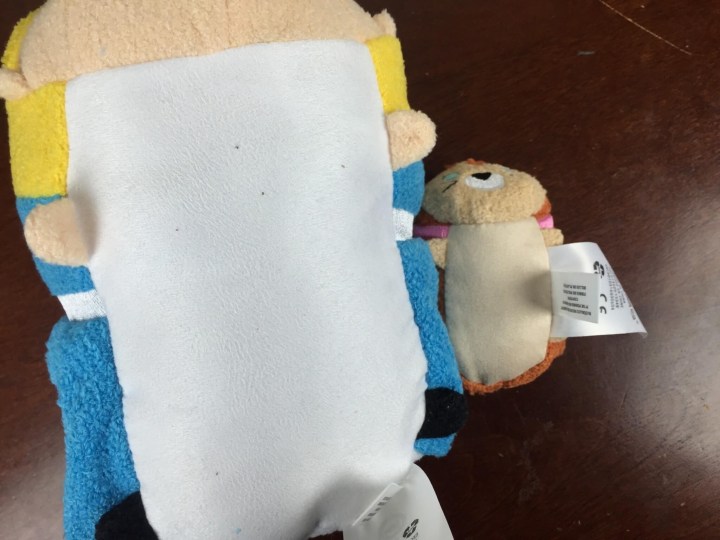 Nice fuzzy bellies! I loved this month and these two will take prime spots in our collection! I thought they were absolutely delightful.
FYI – if you check out with your Disney Visa and spend $50 you'll save 10% on your order with code DRVCMEMBER. I am sure it only applies to the first order. You can also check out all our Disney Park Pack: Pin Trading Edition Reviews or everything Tsum Tsum at the Disney Store, or more photos of the outside of the box in our initial Disney Tsum Tsum Subscription review.
Visit Disney Tsum Tsum Subscription to subscribe or find out more!
The Subscription
:
Disney Tsum Tsum Subscription
The Description
: Each month a stack-staculer parcel will arrive at your doorstep. Receive one small plush and a coordinating subscription exclusive mini plush !
The Price
: $24.99 per month