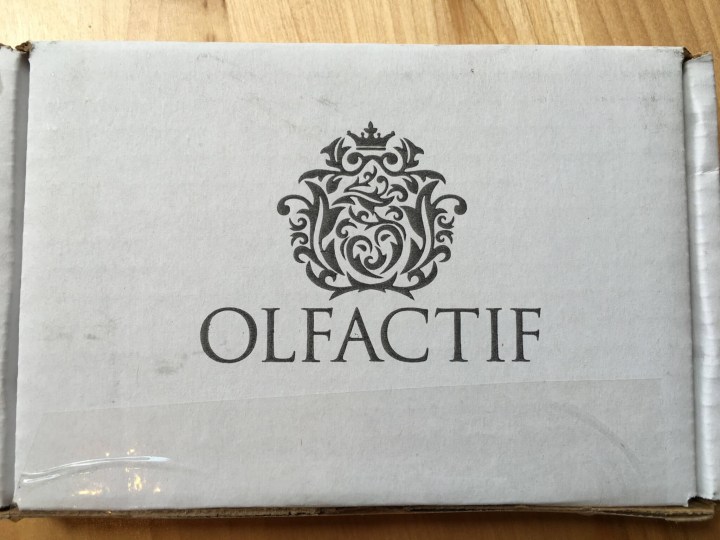 Olfactif is a monthly fragrance sampler subscription box. Every month you'll receive 3 samples, each of which contains 15-20 applications of an independently designed perfume. Along with every $18 subscription box you receive, your account will be credited with an $18 voucher to use on fragrances from the store. Thus, if you purchase a full bottle of perfume each month, the subscription sampler is free.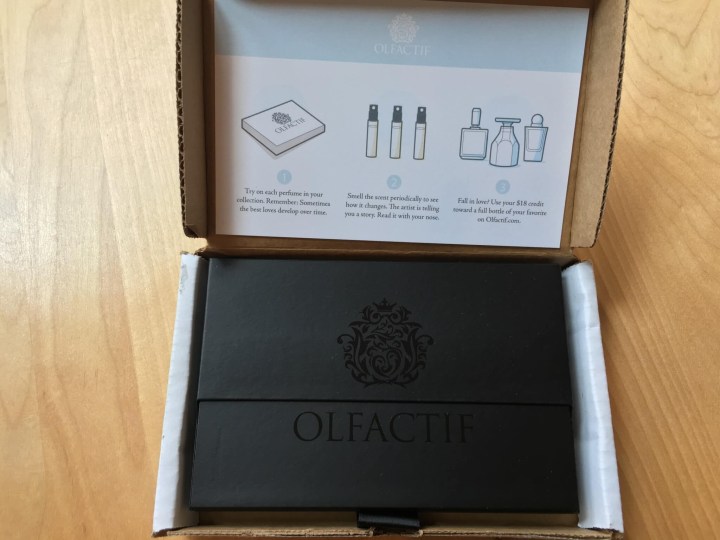 Olfactif focuses on niche fragrances, unique scents produced with higher quality and harder-to-find ingredients than you would encounter in a department store. They offer both a unisex scent sampler (this one!) and a men's fragrance sampler.  You can check out our reviews of Olfactif Men here.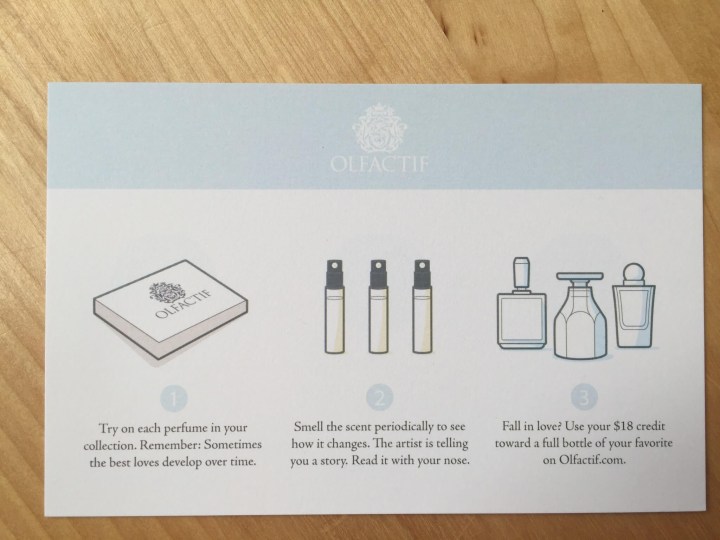 Each sampler contains a card that offers suggestions on how best to appreciate the fragrances: since scents develop over time on the body, don't just assume your first experience will be your last! Spritz the fragrance on and smell it at different times to fully appreciate all that the artist intended to express through the scent.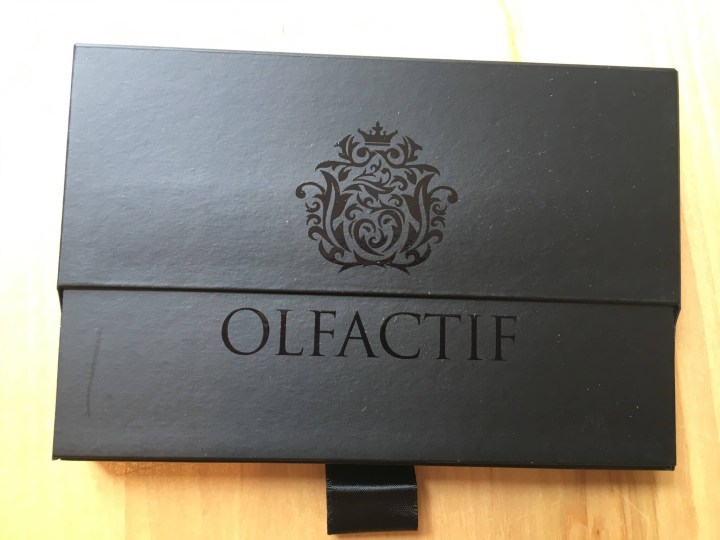 I love Olfactif's little black slide-out box! It's sexy and intriguing all at once–just the way I hope I smell when wearing their scents!
Each month, Olfactif includes an information card about the fragrances. The theme for May is chromatherapy.
As if you needed any more convincing that the sense of smell is a wondrous thing, here's proof: Three perfumes that spritz invisible molecules into the air and quickly explode into flashes of color in your mind.

First we delight in nature's shades of green and the color of wet spring earth. Then we see–and nearly taste–crisp, golden-white wine in a cold glass. Finally, we experience a brilliant yellow, as though sunshine could be made opaque. And it all comes from this glorious alchemy that is perfume.

Don't believe us? Smell them. You'll see.
The information card gives the general gist of each perfume, as well as the notes.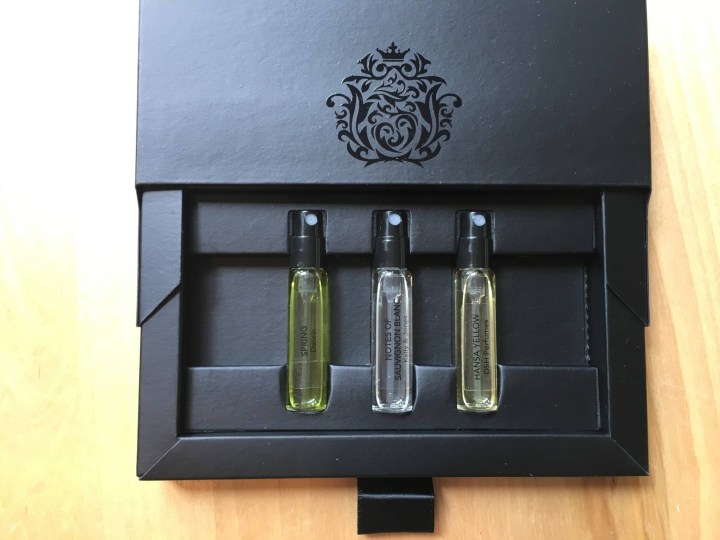 Olfactif May 2016 Chromatherapy (all prices listed are for full bottles, available for purchase from Olfactif):
Spring by Dasein ($95). This grassy scent had undercurrents of flowers and dirt. It's what I'd expect to smell after a spring rain in my backyard. Produced by Sam Rader at Dasein in Los Angeles, who is known for recreating scents found in nature, this one contains notes of vetiver, violet, sandalwood, rose, yuzu and black pepper.
Notes of Sauvignon Blanc by Kelly & Jones ($50): This scent is the positive result of an unfortunate experience: After being chastised for wearing a scent to a wine tasting, Kelly Jones returned to her studio to create a new line of scents that, without smelling just like their namesake wines, complemented them. Here, notes include yuzu, grapefruit, starfruit, green apple and camellia and evoke the essence of a glass of clear, crisp Sauvignon Blanc, the perfect wine for a warm summer day.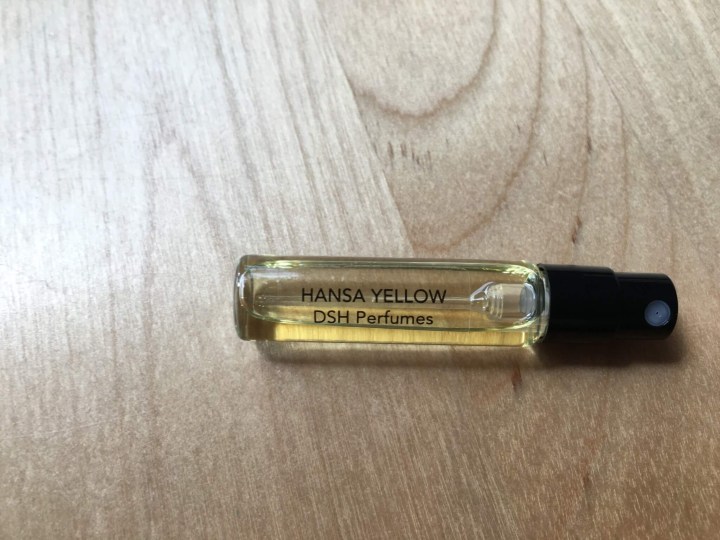 Hansa Yellow ($100): This gorgeous scent reminds me of what I would smell drinking honey lemonade poolside on a beautiful spring day in my own back yard. I can picture it now–the jasmine would be blooming, adding a luxurious aroma to the sunny breeze. Containing notes of lemon essence, green banana peel, Tunisian neroli, grandiflorum jasmine, ylang ylang, orange blossom, butter,  Tahitian vanilla and Australian sandalwood, this wonderful ode to yellow evokes bright, happy notes framed by the creaminess of butter and vanilla.
While this month my clear favorite was Hamsa Yellow, I always enjoy trying out the new scents that Olfactif sends me each month. I haven't had so much fun trying new scents in years. Thanks, Olfactif!
Visit Olfactif to subscribe or find out more!
The Subscription
:
Olfactif
The Description
: Get 3 niche, unique fragrances curated around a theme. Purchase a full bottle that month and credit your box price against the cost of the fragrance.
The Price
: $18.00 per month