Herb Stop is a locally owned small business out of Pine, Arizona that offers a monthly Essential Oils Subscription Box.  Master Herbalists Leilah Breitler and Natalie Hajdu strive to ensure that all their ingredients come from reliable and ethical sources.  Love that!  And, all their essential oils are 100% pure.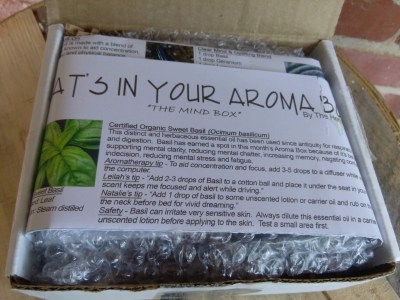 Everything came carefully packaged in paper crinkles and bubble wrap.  I appreciate that when the product is oils in glass.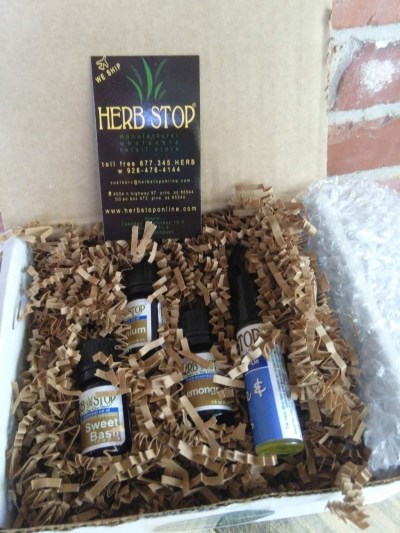 For the phenomenal price of $19.99 (including shipping!!!!) you get 4 bottles of essential oils(1/3 oz or 1/6 oz each), essential oil blends or roll-on essential oil  blends.  Along with your aromas, you will receive a description of each oil, 3 tips on using each oil, as well as any safety information.  I can't get over that price………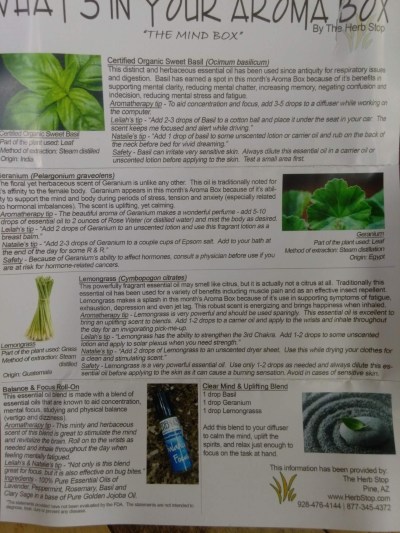 This card stock sheet gives you a detailed description of each of the oils.  Each oil is described then it gives you an aromatherapy tip, a tip from Leilah (the Master Herbalist), a tip from Natalie (the other Master Herbalist), and any safety precautions.  There is a nice color picture of each herb and the details are easy enough for the newest essential oil enthusiast to under stand (I'm referring to myself here).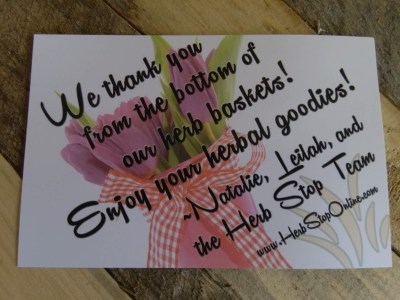 This cute postcard from Natalie, Leilah, and the Herb Stop Team welcomed us to the box.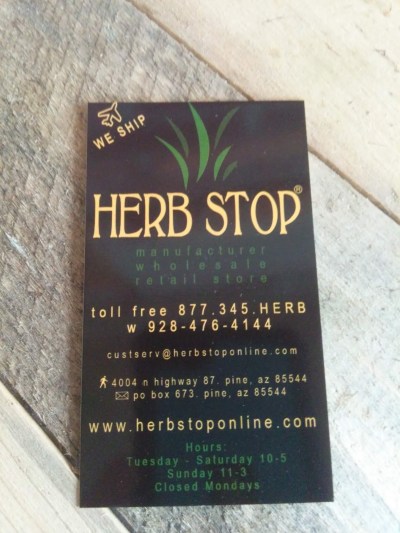 This business card with all the Herb Stop's pertinent contact information was in the box.  They have a retail, wholesale and manufacturing location (if you are in Arizona) or you can satisfy your herb shopping needs at www.herbstoponline.com .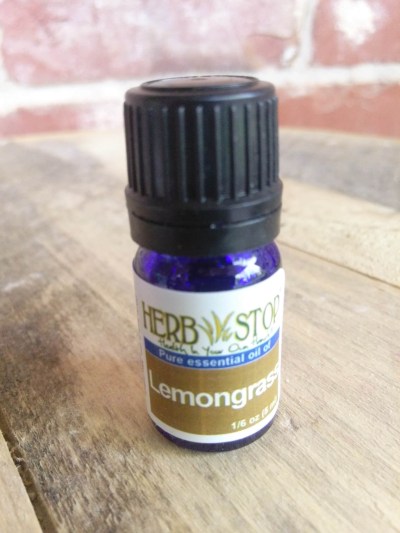 The first essential oil in the box was Lemongrass oil.  From the description sheet, "This powerfully fragrant essential oil may smell like citrus, but it is actually not citrus at all.  Traditionally this essential oil has been used for a variety of benefits including muscle pain and as an effective insect repellent.  Lemongrass makes a splash in this month's Aroma Box because of it's use in supporting systems of fatigue, exhaustion, depression and even jet lag.  This robust scent is energizing and brings happiness when inhaled."    It really does smell like oranges, but not overpowering.  It is a very clean smell.  It had a mind clearing effect. It felt like the clearing feeling you get when you eat something with spicy heat, but without the pain.  I especially liked Natalie's tip to add it to an unscented drier sheet.  This is a 1/6 oz size, you can purchase a slightly larger 1/2 oz size on their website for $11.20.
The next essential oil in the box was Geranium oil.  The product sheet describes this oil, "The floral yet herbaceous scent of Geranium is unlike any other.  This oil is traditionally noted for it's affinity to the female body.  Geranium appears in this month's Aroma Box because of it's ability to support the mind and body during periods of stress, tension and anxiety (especially related to hormonal imbalances).  The scent is uplifting, yet calming."  – My interpretation, it helps with PMS.  They recommend you add 5-10 drops to Rose Water (or distilled water) to make a perfume.  It has a nice woody floral scent.  I think it would make a great perfume and can't wait to try it.  This same size (1/6 oz) retails for $11.30 on their site.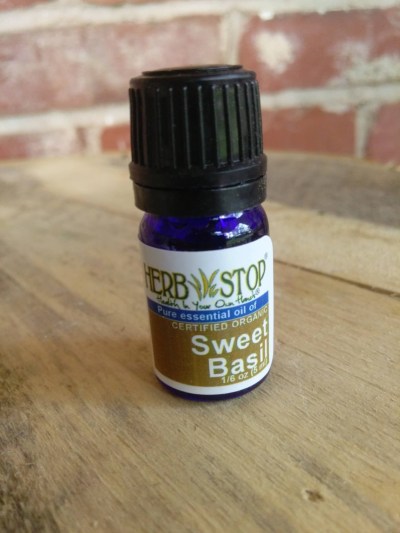 The next essential oil in the box was Sweet Basil.  The product description tells us, "This distinct and herbaceous essential oil has been used since antiquity for respiratory issues and digestion.  Basil has earned a spot in this month's Aroma Box because of it's benefits in supporting mental clarity, reducing mental chatter, increasing memory, negating confusion and indecision, reducing mental stress and fatigue."  I expected this oil to smell like Italian food for obvious reasons, but it smelled more like anise to me.  I liked Leilah's tip on this one, "Add 2-3 drops of Basil to a cotton ball and place it under the seat in your car.  The scent keeps me focused and alert while driving."  Hopefully it also helps mask the scent of the soured sippy cup that got left under the back seat for a month……
They have a slightly larger 1/3 oz size on their website (you get 1/6 oz size in the subscription box) for $13.10.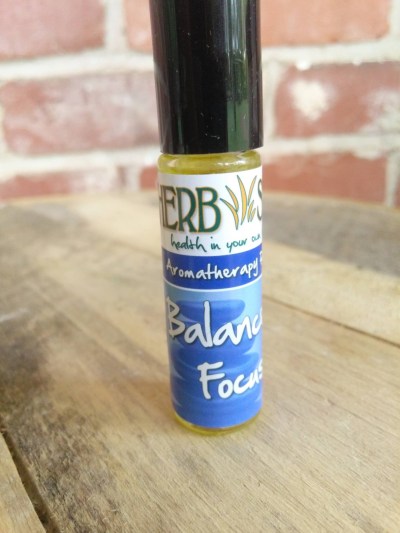 This is the coolest thing.  It's an essential oil blend in a ready to use roll on.  This blend is called Balance and Focus. (I so need more of these two things in my life.)  The blend contains the 100% pure essential oils of Lavender, Peppermint, Rosemary, Basil and Clary Sage in a base of Pure Golden Jojoba Oil.  The benefits of this blend include aiding concentration, mental focus, and physical balance (vertigo and dizziness).  Plus, it smells really good.  I have been wearing this one since the box rolled in and I am in love.  You roll it on your wrist and take a whiff when you need a little pick me up.  It retails for $11.95 on their website.
Just the oils in this box have a minimum retail value of $39.00, plus you don't have to pay shipping!  At $19.99 for the Aroma Essential Oil Monthly Subscription box that's nearly half price!  I love a deal.  This subscription box is a great way for a newbie like me to try essential oils because of the fabulous price, but the quality and variety of the oils should also attract those who are old hat at this.
What did you think of the Aroma Box? Save 15% on your first box with coupon code HELLO15.
Visit Aroma Box by The Herb Stop to subscribe or find out more!
The Subscription
:
Aroma Box by The Herb Stop
The Description
: The relaxing scent of Lavender, the uplifting aroma of Sweet Orange, the deep base notes of Vetiver – aromatherapy evokes memories, emotions and healing effects. Want to try different essential oils and experiment with different blends? Our Essential Oil box includes a variety of 4 essential oils/blends/roll-ons delivered to you every month. Along with your aromas, you will receive a description of each oil, 3 tips on using each oil, as well as any safety information.Essential oils can be added to carrier oils, lotions, salves, soaps, massage oils, bath salts, or used in an aromatherapy diffuser. The options are endless!All of our essential oils are 100% pure. The Herb Stop has been operating since 1992 and we have cultivated many relationships over the last few decades – with distillers and companies that represent them. Only our precious oils, such as Jasmine, Rose, Neroli, Sandalwood, etc. will be blended with Jojoba Oil for your Aroma Box.
The Price
: $19.99 per month