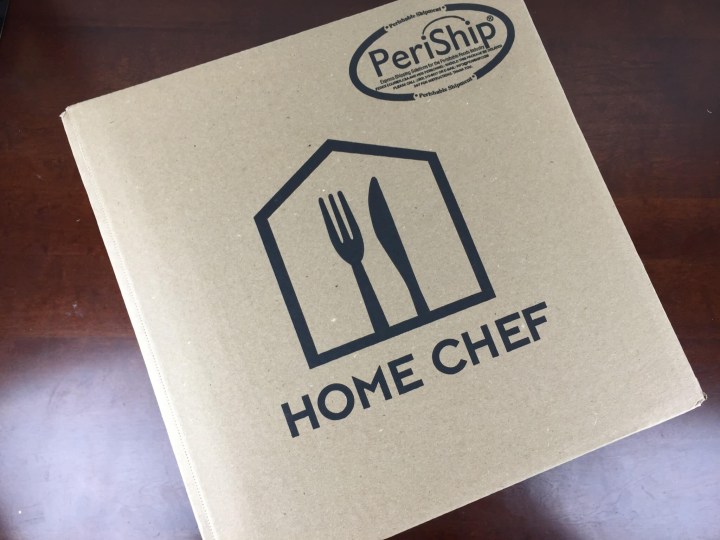 This week's Home Chef was all about pairing flavorful proteins with exciting preparations of common vegetables.  Home Chef is a meal in a box subscription – every week choose from a variety of recipes and have all the ingredients and preparation instruction delivered to your door.  It's similar in concept to other weekly meal delivery services, but it has its own unique features and perspectives.
When you sign up you fill out a mini profile of your family and tastes so Home Chef can automatically suggest a weekly menu for you, which you are welcome to change. The selections for this meal subscription are much larger than what is available for other meal kits.  While most meal kits focus on a handful of elegant dinner entrees and the occasional desert, with each designed for two people, Home Chef offers an incredible 10 selections available for 2, 4, or 6 people, a breakfast choice, a smoothie choice, and a fruit basket selection.  The plethora of great choices has us loving this subscription — currently this is the least expensive and has the most choice out of any similar major subscriptions (for 2 people).
Each weekly parcel has nearly every ingredient needed to make your selected meals.  Home Chef usually requires very little from your own pantry — while every box has you provide a couple tablespoons of cooking oil and salt and pepper, Home Chef goes above and beyond, including liquid egg when needed (other boxes often expect you to have an egg or two on hand), and they even sent a bottle of oil when we were shallow-frying our hushpuppies in a previous box.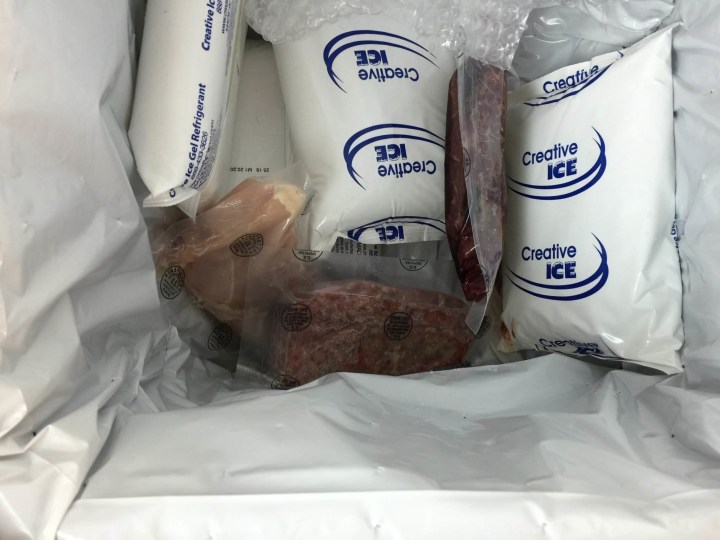 Everything arrived within well-insulated cooler padding, atop ice packs. The meat is placed in the bottom of box and packed with several ice packs.  I suspect there are enough to keep it cold for a long time, even when summer arrives.
Home Chef has far more meal options than other meal kit subscriptions.  The meals were more accessible than the other meal kit subscription boxes, which tend to cater to the foodie crowd.  This subscription has plenty of flavor and variety, but it uses more familiar ingredients.
The recipe cards that come with each box have all the info we like to see — prep time, difficulty, and allergen and nutrition info.  They also included a drink pairing suggestion (something other boxes have dabbled in but not stuck with), and a "best cooked by" time frame.
The back of the card has the actual recipe guidance, complete with pictures and boldfacing of ingredients, and an inventory of everything provided.  The recipes usually have a pro-tip or explain some cooking terminology.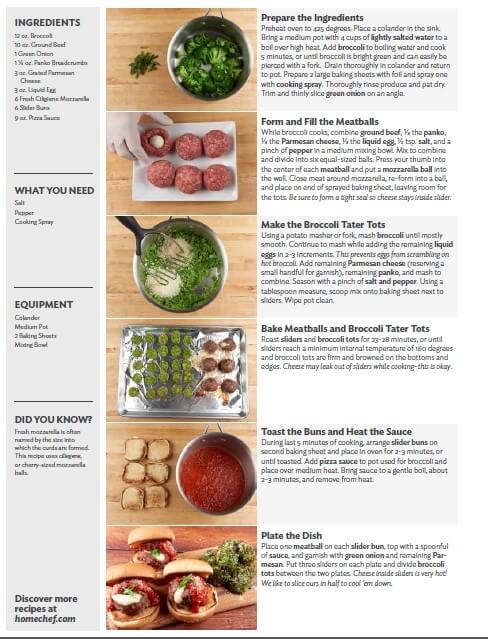 The cards adhere to a standard prep order (i.e.:  preheat oven, chop veg, prep meat) — but we often switch up the order to optimize our prep time. The recipe cards have pre-punched holes so you can store them in a recipe binder.
Each recipe was packed separately, and neatly, in its own bag. We like to unpack a bit, separating the refrigeration-required and pantry-permissive items. Each of the pictures of prepared food below show one of two servings made by each recipe.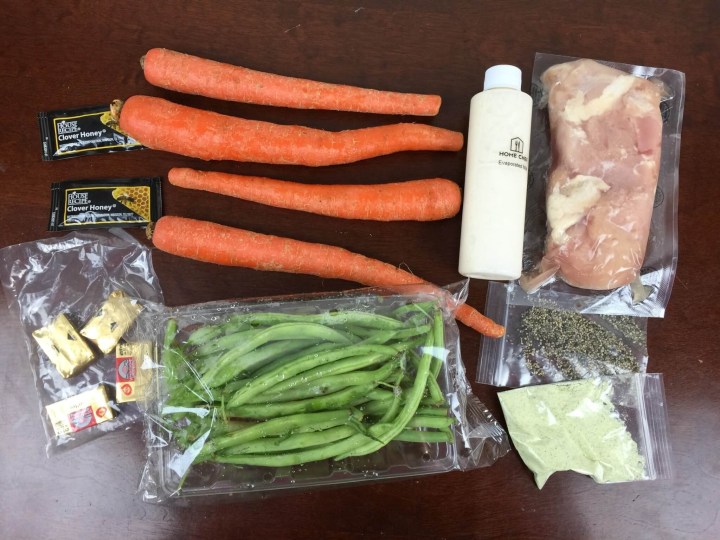 Buttermilk Ranch Chicken With Honey-Butter Mashed Carrots. 35 mins, easy, 614 cal.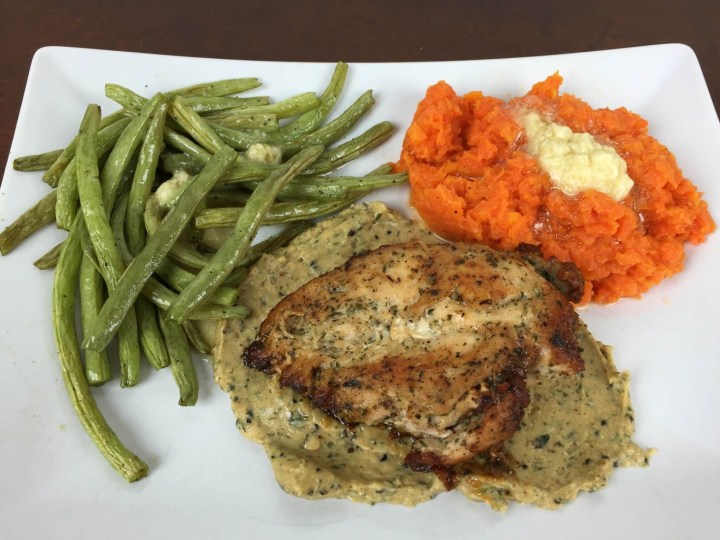 The ranch seasoning packed tons of flavorful, and it made the chicken incredibly delicious.  The recipe split the seasoning evenly between the chicken (marinade) and the pan sauce — the seasoning was a little salty in the sauce — I would go 2/3 in marinade and 1/3 in sauce if making this recipe again.  The natural sweetness of the carrots was pumped up by the honey butter, but it was actually their great texture that make them a real winner.  This dish gets points for being really easy to put together.
Brandy: the mashed carrots were amazing!!! Everyone should make these!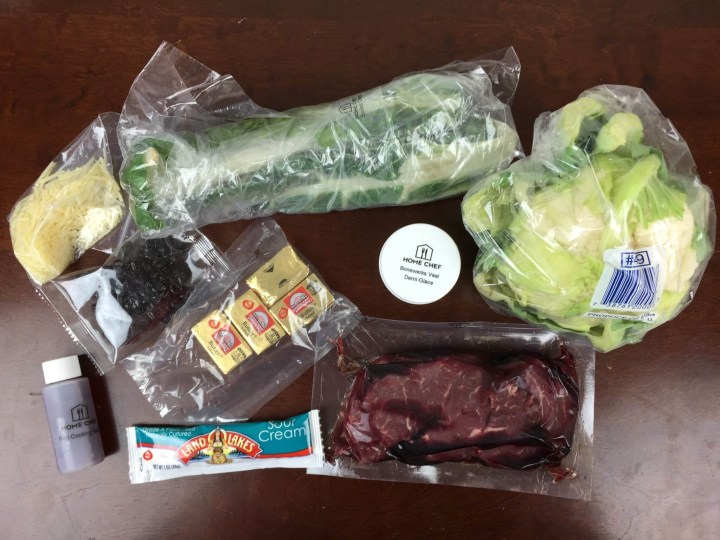 Sirloin Steak with Cherry Bordelaise With Chard and Asiago-Cauliflower Gratin. 40 mins, intermediate, 616 cal.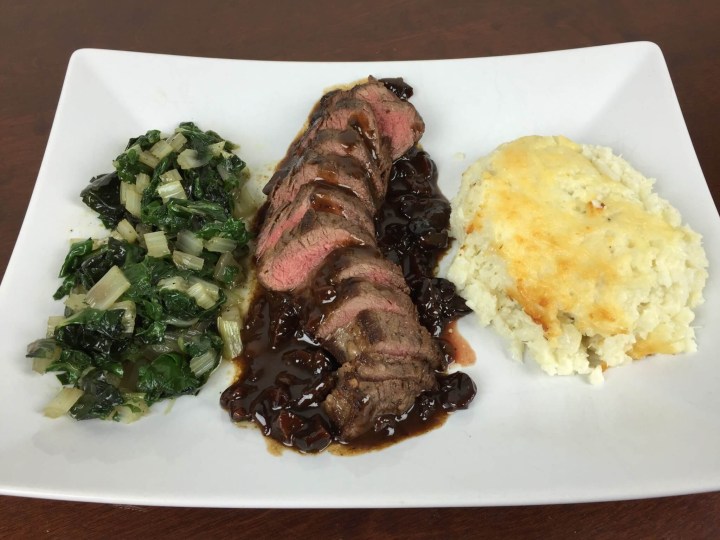 This beautiful Bordelaise could make any dish stand out, but it went particularly well with this flavorful cut of beef.  The collards needed some trimming, but the cauliflower was quite lovely.  This sauce was powerfully rich and sweet, and it paired nicely with the gentle bitterness of the greens and the fluffy, cheesy mash.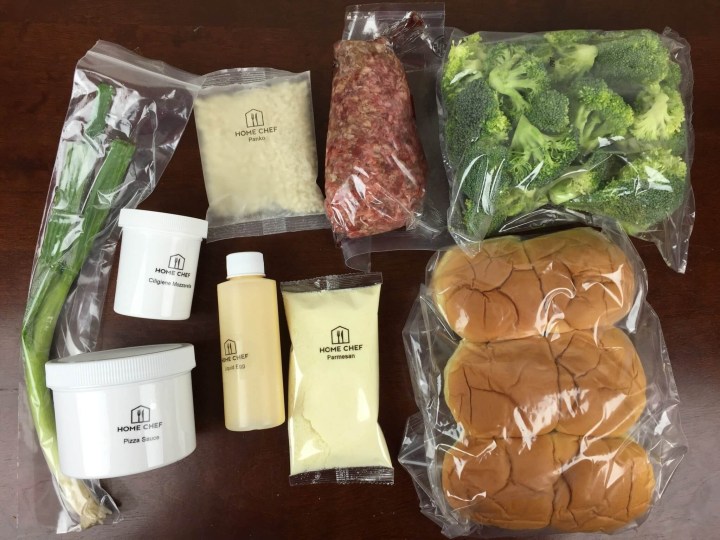 Mozzarella-Stuffed Meatball Sliders With Broccoli Tater Tots. 45 minutes, intermediate, 912 cal.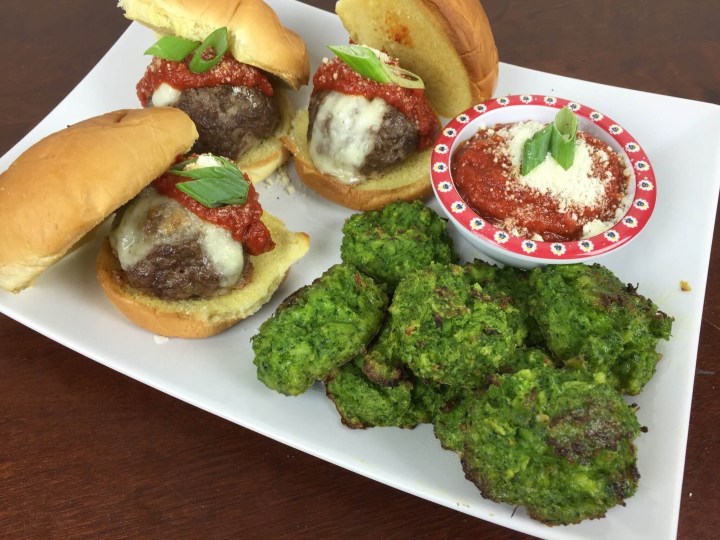 Brioche-style hamburger rolls made it all-too-easy to chomp down these simple, but yummy Juicy Lucy style meatball burgers.  The meatballs were as delicious as we anticipated — but the broccoli tater tots were surprisingly tasty.  They had the delicate flavor of broccoli with a creamy interior and slightly crispy exterior — a fun way to eat your five a day!
Home Chef has been an incredibly enjoyable subscription for us — the food has been great, and relatively easy to prepare.  The hardest part is picking out our meals from so many delicious options, and not overeating, because the portions are very generous!  We are also loving that they offer breakfast selections (we grab one for a weekend breakfast most weeks) and a fruit basket, since we are often too busy to spend much time shopping for those, either.
Visit Home Chef to subscribe or find out more! Get $30 of free food when you sign up – just use this link to get the deal!
The Subscription
:
Home Chef
The Description
: Receive fresh ingredients and visual, step-by-step recipe cards on your selected delivery day every week. Cook like a seasoned chef in your own kitchen with ease.
The Price
: $60.00 every week