Our latest Kiwi Crate really got our kids revved up — it was Race Day!  Kiwi Crate is a kids' craft and activity subscription and it comes with everything you need to complete two great projects, usually a pair of crafts that can be used as toys or playtime props.  This box is geared for ages 3-7, and the projects are always age-appropriate, though some require more parental assistance than others.   Kiwi Crate is the most popular craft and activity subscription box for kids.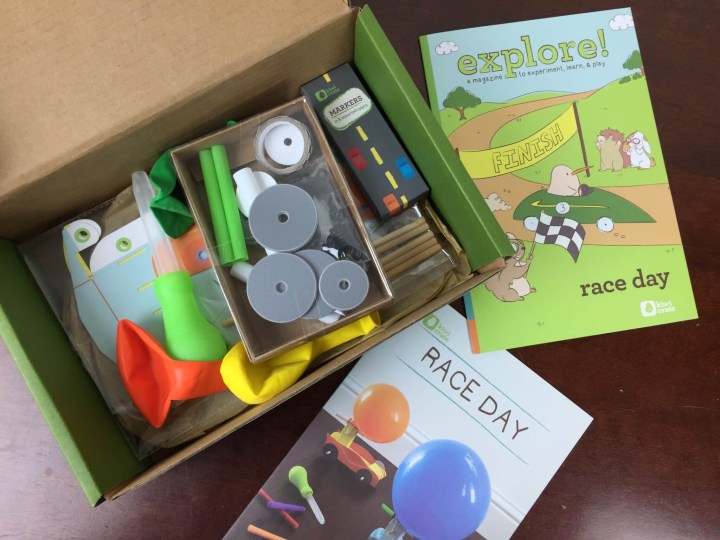 Kiwi Crate includes all necessary supplies for the featured activities, plus explore! magazine.  You really need very little from home to do the crafts. Usually, you only need a pair of scissors (which is sent to you with a new subscription!), but often the pieces are pre-cut, scored, or otherwise prepared for you already.  The crate includes self-adhesive items or glue/glue dots if needed for the crafts.
All the supplies for the two activities:  airbrush art and building race cars!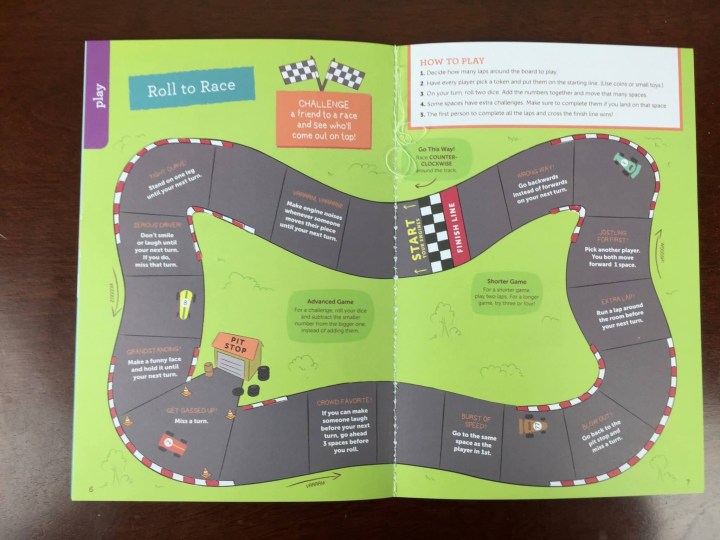 Each issue of explore! magazine features a short comic, experiments and puzzles or picture or word find type games — this issue had a racing board game, too.  My son likes to complete the explore! activities cover-to-cover before proceeding to the crafts. Every issue has a comic featuring Steve and his pals going on an adventure that fits this month's theme.  It has additional information and crafts and activities you can complete with household supplies to keep the fun going — an extension activity even detailed how to create a quasi-hovercraft using the same balloon propulsion mechanism we used for the cars.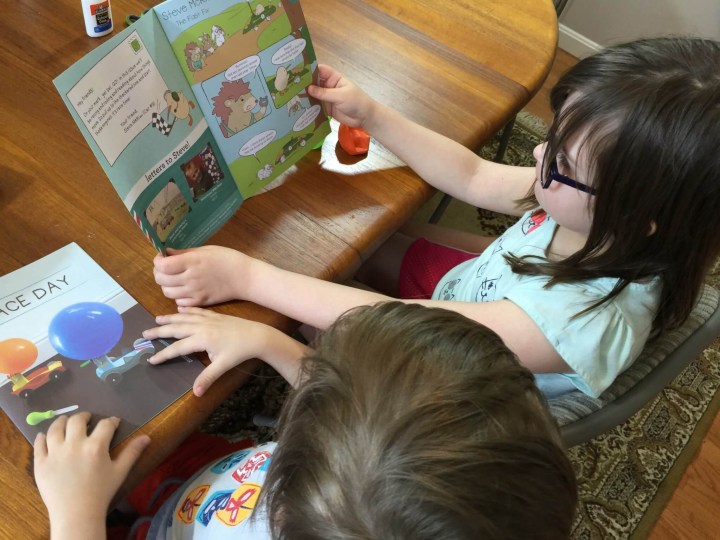 Our daughter sneaks the book out first and reads the entire thing to her brother!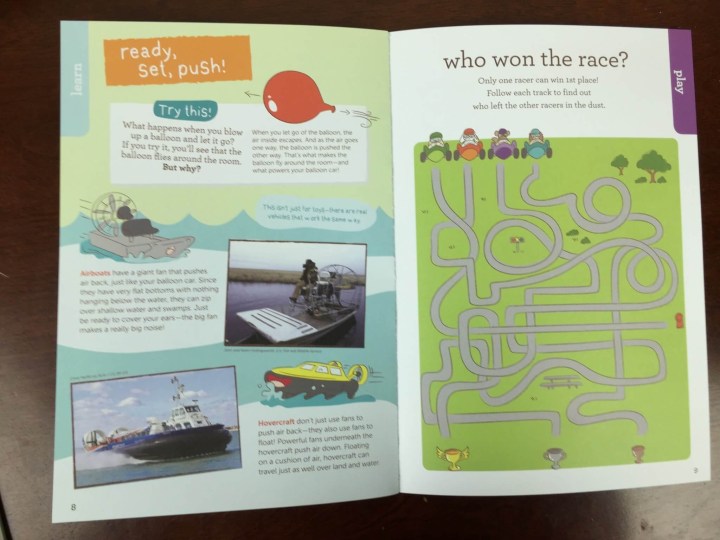 explore! has read, draw, learn, explore, eat, and make designated activities.  Each is an extension on the theme of the box and include factoids, drawing activities, and even recipes. This box featured a close analog to our balloon-powered cars, the hovercraft.  For parents, the activities are also a great way to keep your child entertained while you peruse the contents of the box and take a peek at the instructions for the crafts (it only takes a peek — they are always very clear and simple)!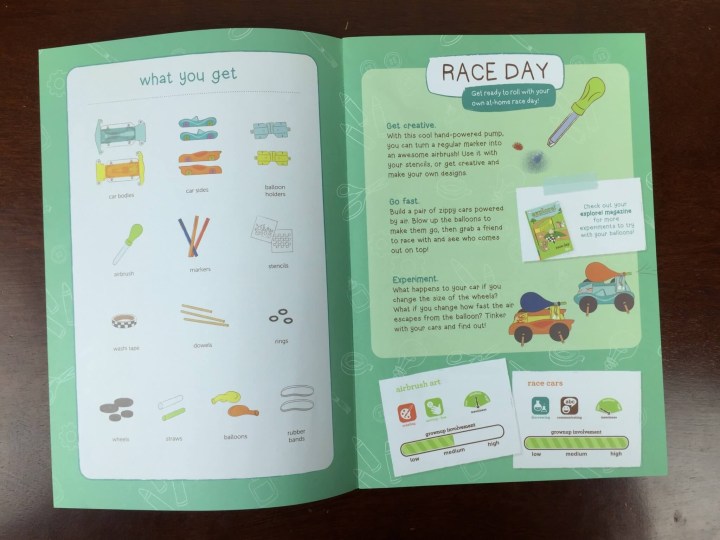 The instructions for the two main crafts.  The two crafts were thematically related but stressed different creative aptitudes.  One is usually very mechanical and process oriented, the other is more artistic or crafty.  As always, the box included a theme-specific Steve sticker for our overloaded poster!
The first craft in the box was making airbrush art, one potential decoration for our racers.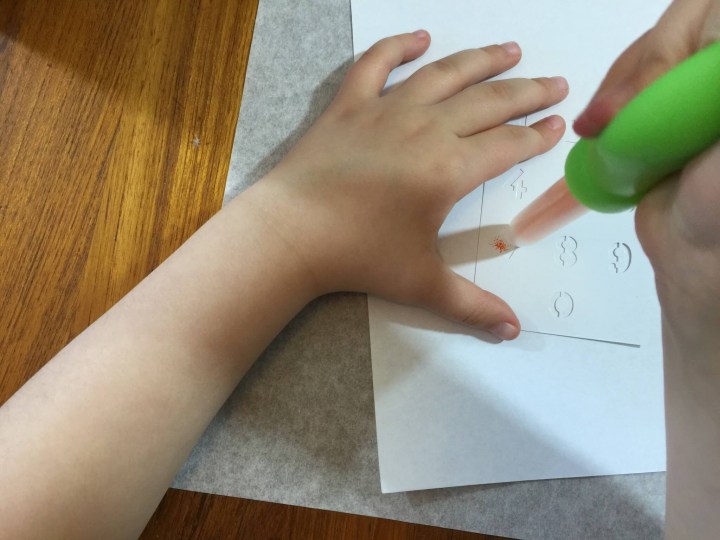 This activity was ingenious in its simplicity.  We inserted a small marker into a tiny turkey baster — forcefully squeezing the bulb produced a blast of paint mist that we could direct over stencils or washi tape patterns.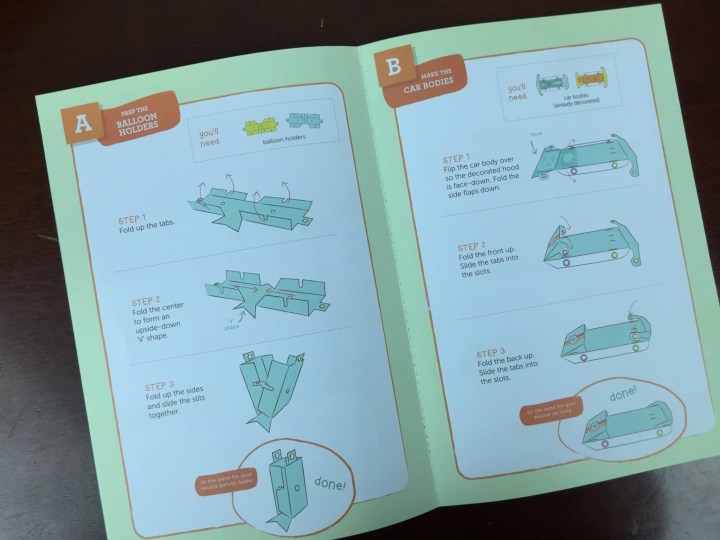 The second project was actually decorating, constructing, and racing our two racers.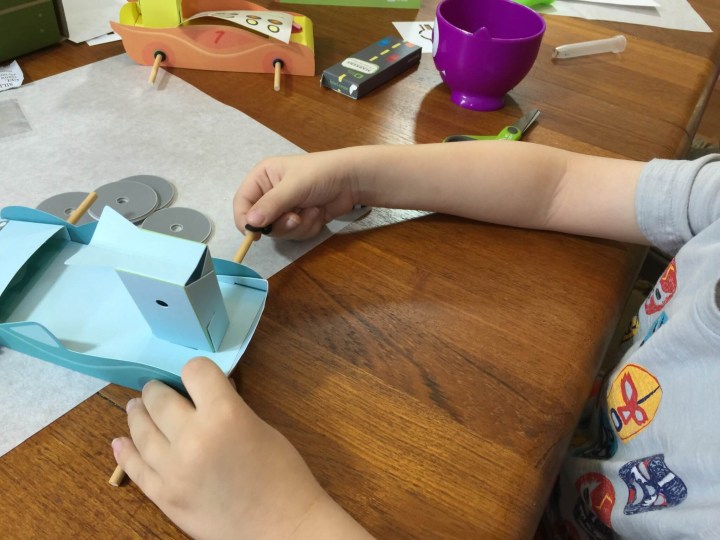 The cars were assembled without much difficulty, though grown-up assistance definitely speeds up the process and is a big help for interpreting the folding diagrams.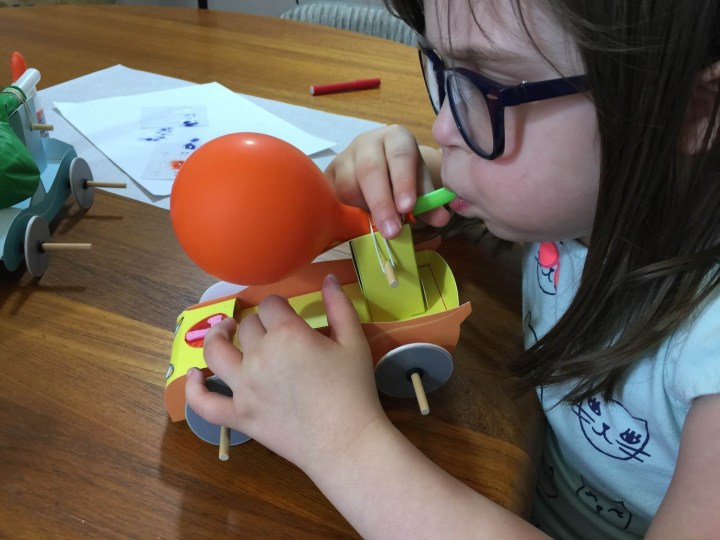 The cars are so high-tech that they come with breathalyzer ignition locks — just kidding — the completed racer is really simple to operate, as the plastic tube makes filling and discharging the ballon less tricky.
The hardest part is fine-tuning the wheel positioning, as the powerful air blast wreaks havoc with a slightly off-center alignment (but makes for an exciting race)!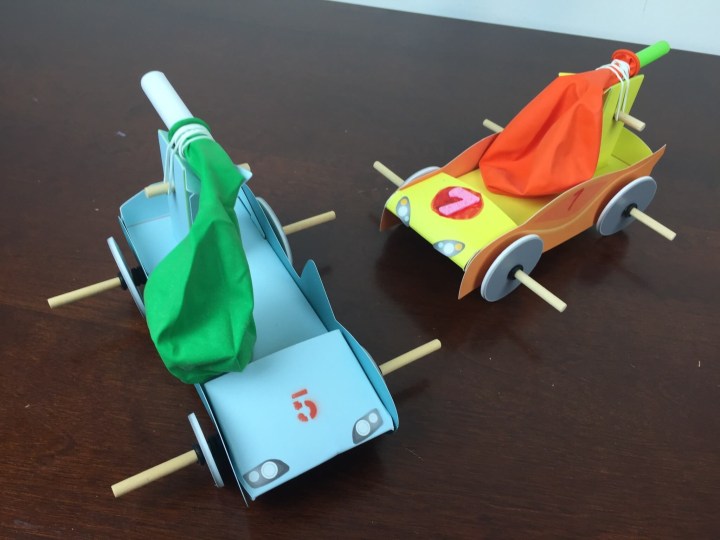 Our completed racers.  The number 5 car has smaller tires on the front — the kit comes with two tire sizes and two different gauge straws to encourage experimentation and modification.
We always have a blast with Kiwi Crate.  Our kids love Kiwi Crate because it is the best box in the Kiwi family for them both to do (they are five and seven), and the racers in this kit had them particularly eager to get building.  The activities and instructions are generally very simple, but the kit always includes some factoids and extension activities that keep our older child interested.
Visit Kiwi Crate to subscribe or to find out more about this fantastic kids' craft subscription box! Use coupon code MS30 to save 30% on your first box of Kiwi Crate (or KiwiCo family subscriptions Tinker Crate, Koala Crate, and Doodle Crate ).
The Subscription
: 
Kiwi Crate
The Description
: Arts, crafts, and science activities subscription for kids ages 3-7. Get a monthly subscription filled with all the materials and inspiration that will let your child explore, imagine, and create, all centered around a fun monthly theme!
The Price
: $19.95 per month, down to $16.95 per month on a year long subscription