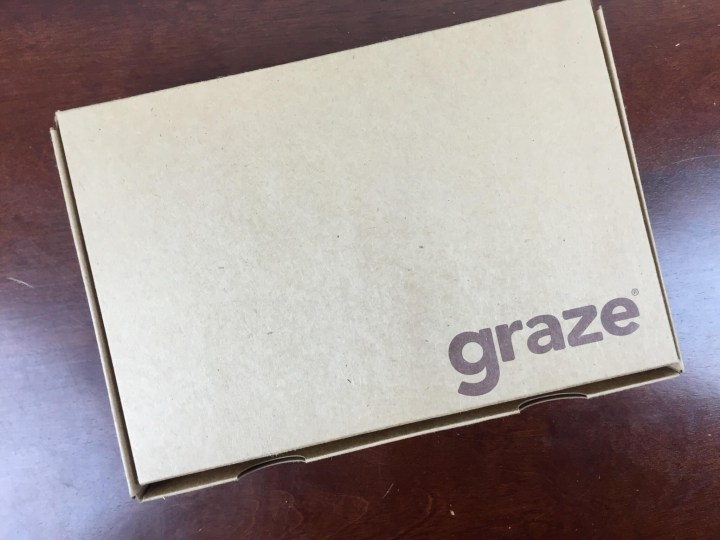 Graze is a weekly snack box (you can opt to get it bi-weekly too or every month) with 8 individual servings of prepackaged fresh and healthy snacks. Here's how it works:  once you sign up, you "like" the snacks that interest you on the Graze website.  Your next scheduled box is then assembled from some of your likes, so you never get something you don't want to try.  You can snag your first snack box free with this link ($1 shipping).
Note that you'll get a 4 count box, but can no longer order it on a subscription – only 8 count boxes now here in the US.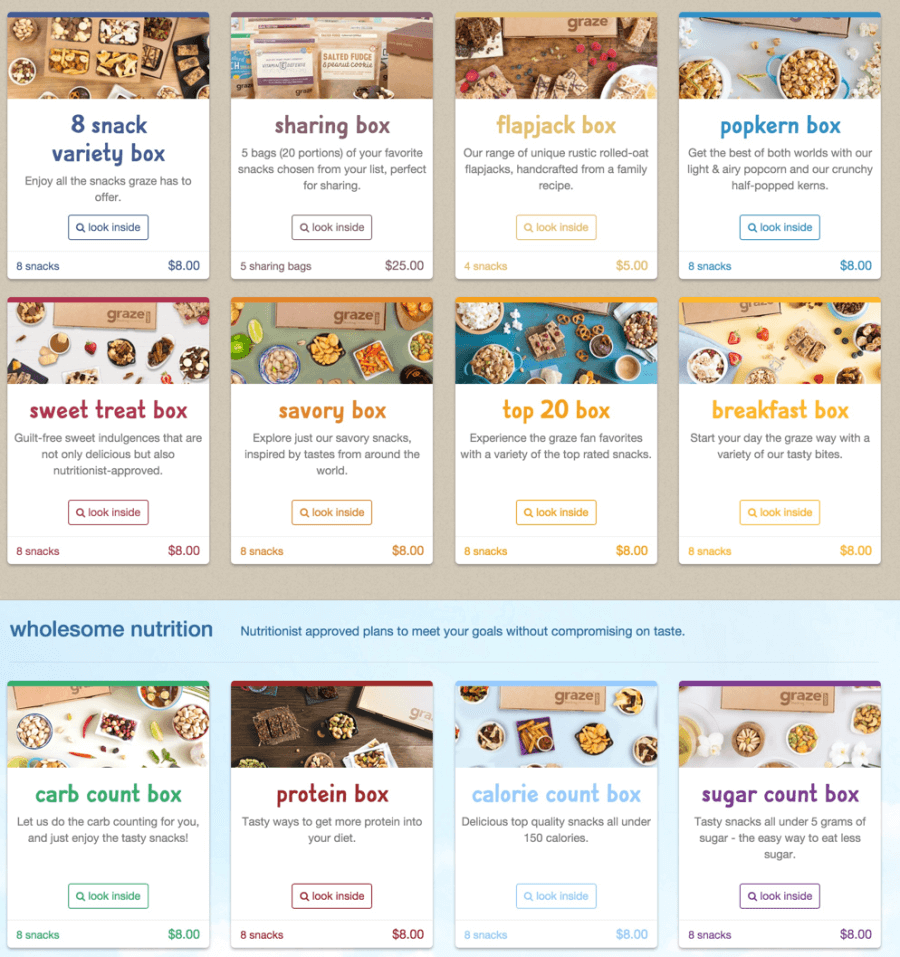 Graze also has all sorts of themed boxes that help you whittle down your snack preferences into the box that you really want!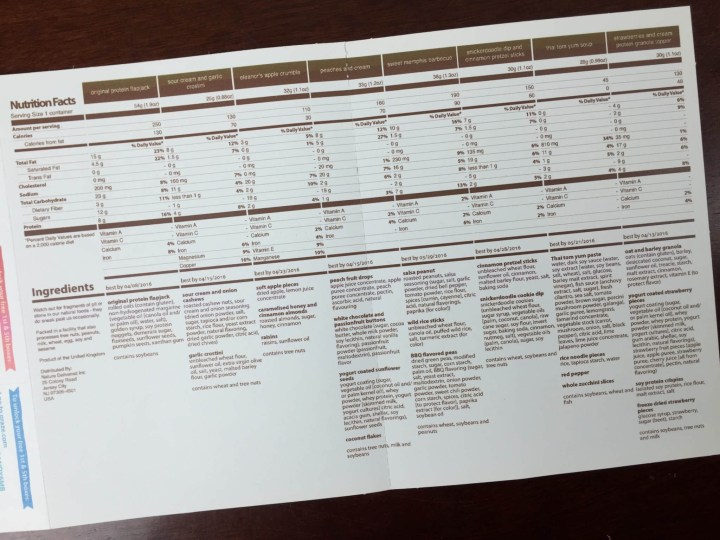 Nutrition info is included on each of the selections.  You will see a host of healthy ingredients and no weird stuff.  When they sweeten dried cranberries, for example, it is usually with fruit juice rather than corn or cane sugars.  We have our favorites, but we like that we see some new stuff in every order.  There is something for everyone, though — bars, granolas, trail mix style blends of high-end nuts and fruits, cookies, seasoned party mixes, biscotti with dips — all kinds of tasty snacks!
Everything is packed in neatly!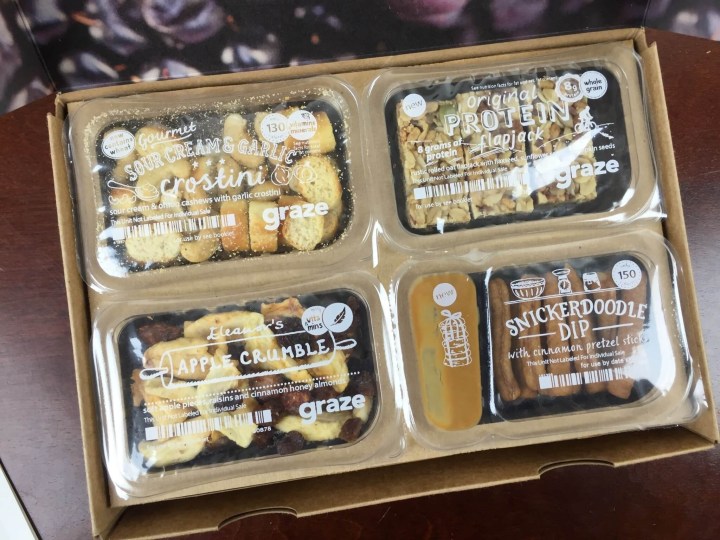 Sour Cream & Garlic Crostini: this was a nice surprise because the sour cream is actually the cashews!!! YUM.
Eleanor's Apple Crumble – soft apple pieces, cinnamon and honey almonds and raisins. Our youngest has really taken to dried fruit, and he and my husband will share this I bet (it also has cinnamon honey almonds).
Original Three-Seed Protein Flapjack: This is pretty good, and I like that it has 8 grams of protein. Unlike everyone else I'm not nuts about the Graze flapjacks but I do like the protein ones!
Snickerdoodle Dip with Cinnamon Pretzel Sticks: These are SO good! I trashed them so I wouldn't get them last box, then un-trashed so they would come back. The dip is like biscoff dip and very thick, but not so thick to break your sticks.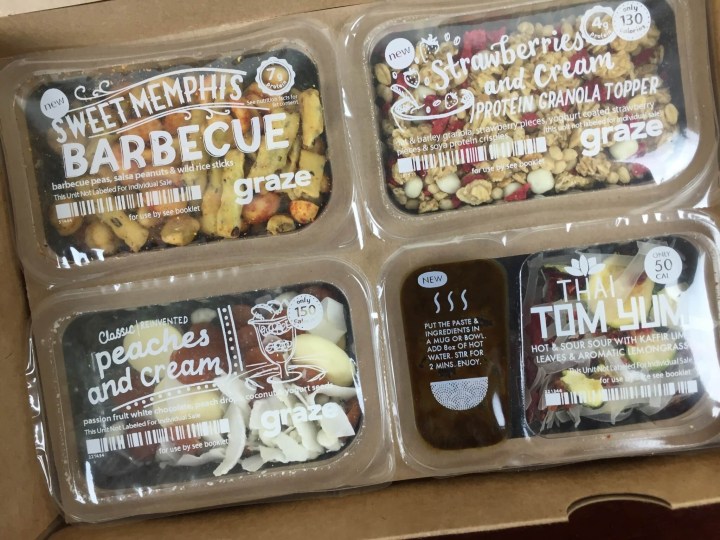 Sweet Memphis Barbecue: This is a husband item because he loves those barbecue fried peas! It also has salsa peanuts and wild rice sticks. A good savory carb fix.
Strawberries and Cream Protein Granola Topper: Our whole family loves Graze snacks and our daughter has dibs on this one as a snack treat for school! I love that they snuck in some protein crisps into a traditional carb item!
Peaches & Cream: I didn't try this one, because my husband is nuts about white chocolate, and this is passion-fruit flavored! along with peach drops, coconut, and yogurt seeds (no hydrogenated anything).
Thai Tom Yum Soup – spicy tom yum soup with aromatic lemongrass and kaffir lime leaves served with zucchini, red pepper and rice noodles! I do not get this item nearly enough – I absolutely love it – it's delicious and natural. I reset this to a "love" item!
I'm honestly surprised that we're still trying new Graze snacks! They have so many and we all have our faves. We might grab a sharing box next, we're kind of crazy about snacks around here. I'm checking out my love/like/try/trashes now and resetting some of them – sometimes we get certain snacks too often and trash them, and now I want some of them back (and to hide others!).
Graze is wonderful for mindful snackers who can control themselves from eating all the snacks at once.  It's really perfect for travel snacks — or like me, put one in your purse for work snacking.  You can get an individually sized (4 count) box free for your first box in a Graze subscription ($1 shipping).  Canceling is easy online but we just tend to move around our ship date and take advantage of their seasonal dollars-off offers.
After you get your free box, pick up more free and almost free subscription boxes here!
Visit Graze.com to subscribe or find out more! .
The Subscription
:
Graze
The Description
: Graze offers a weekly sampling box of 4 little snacks.
The Price
:  $11.99 for 8 count box, $25 for sharing box.
The Coupon
: Get your first box free!
Click here to activate!