Hawaii Snack Box is a monthly snack subscription full of Aloha and a taste of the Islands straight to your door! Every month this subscription sends 5-7 snacks from Hawaii, plus a little culture on the side!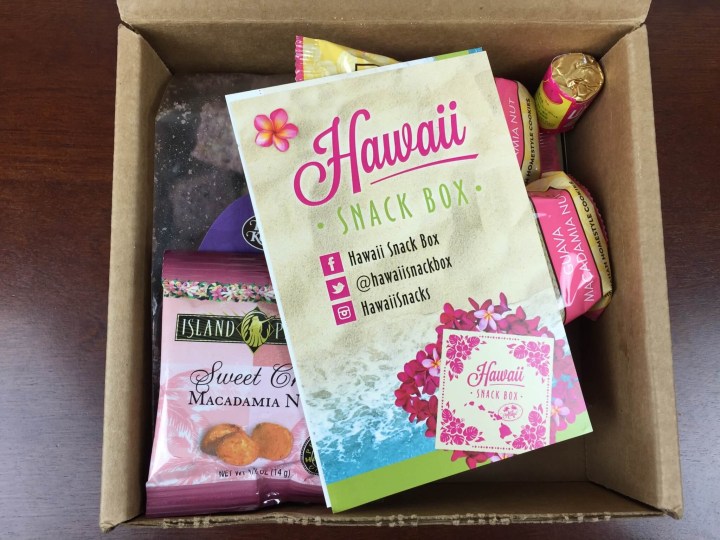 We just heard about the new Disney princess Moana so to say our daughter was excited about this is probably an understatement. (Moana is a "Polynesian" princess – and Hawaii was first settled largely by South Pacific islanders about 1500 years ago, though it's safe to say now has its own culture that is closely related to other Polynesian cultures but is unique and distinct!). Anyways, this would be a fun box for anyone who loves Hawaii (or Lilo, Stitch, and Moana!).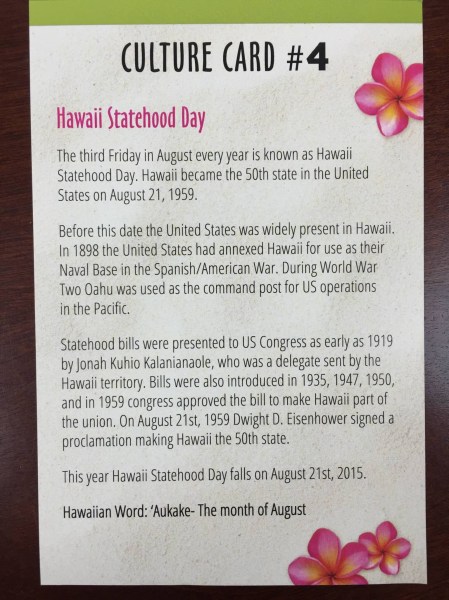 Hawaii snack box comes with a fun culture card, which is a great way to learn some fun facts about our 50th state and its unique culture.

The information card gives the details on the items, and even more flavor (the dried pineapple is "so ono"!).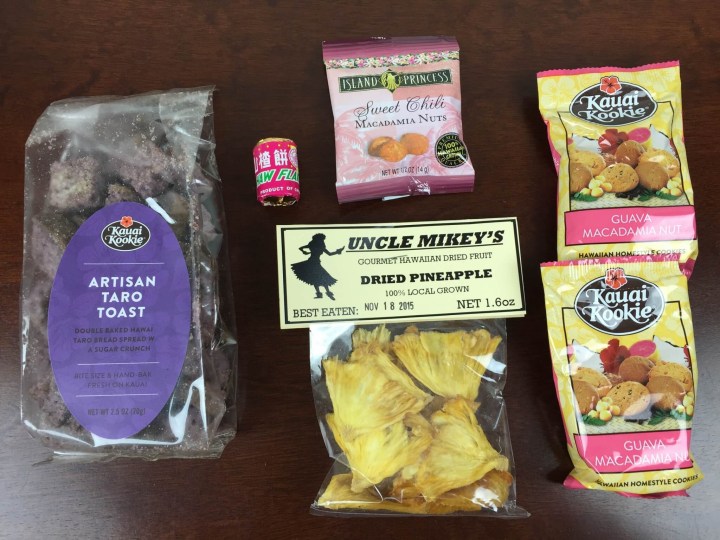 Everything in the August box!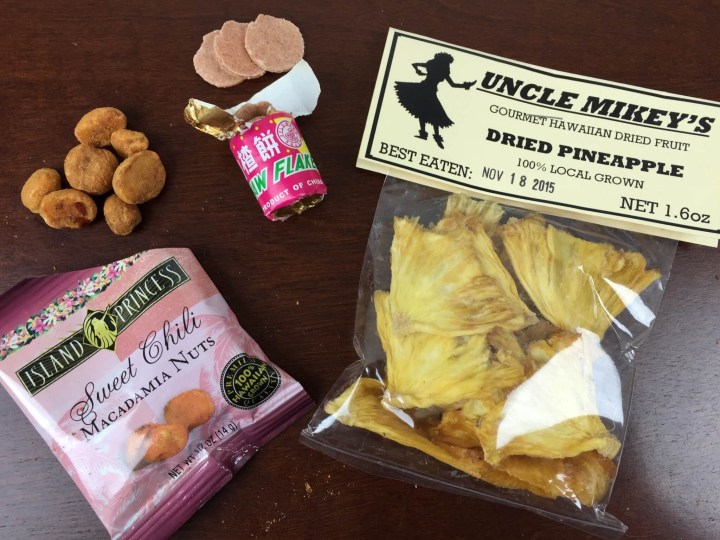 Island Princess Sweet Chili Nuts:  Hawaii's famous nut gets some added flavor.  The creamy macadamia pairs well with the sweet spice.
Haw Flakes:  Hawthorne, a berry found throughout China, is sugared and pressed into these unique disks.  Because of the large Chinese influence on Hawaii, these have become a favorite on the island, too.  Slightly sweet and tangy, the thin disks have a gently firmness like a humidified NECCO.
Uncle Mikey's Dried Fruit Pineapple:  Pineapple is the only ingredient, so these big fans of Hawaiian-grown pineapple are sweet but not sugary.  Chewy and delicious, with "no weird stuff added."
Kauai Kookie Taro Sugar Crunchies:  These little numbers are even sweeter than the cookies!  Taro gives the bread an enchanting purple hue and a unique flavor accent.  The bread is give the biscotti treatment, coated with some sugar and baked a second time.  The result is a very light and crunch, super sweet crouton that is highly addictive.  These would be great to serve along with a fruit plate or dip in whipped cream.
Kauai Kookie Guava Macadamia Nut Cookies:  Founded in 1965, Kauai Kookie has become the signature cookie of Hawaii.  Extremely crisp, these sweet treats have a delightful crunch and great guava flavor.  The juice imparts an adorable pink hue to the cookies (brightest on the interior), and they are dotted with chunks of macadamia.
This box was highly anticipated at our home and it didn't disappoint!  With the exception of the haw, the items are made in Hawaii, so this box is not just a theme, is is actually a taste of Hawaii's most beloved treats. We do wish there was a macadamia nut add-on though. We know they're expensive and can't have a big bag in every box – but we think many subscribers would pay for a premium bag of ultra-fresh macs delivered to your door in addition to the great treats!  It's impossible to pick a true favorite, but if I had to – it would probably be the Taro Toast – it's so unique (like sugared croutons) and delicious!
Visit Hawaii Snack Box to subscribe or find out more.
The Subscription
:
Hawaii Snack Box
The Description
: A monthly box that lets you sample local Hawaiian treats every month while receiving a taste of the culture, along with a fun word, phrase or recipe that teaches you about Hawaii.
The Price
: $19.95 per month
The Coupon
: Use code
HELLO
for $5 off your first box!