Bean Box has a cool concept that is a little different than the other coffee subscriptions.  Instead of a scatter-shot of coffees from many roasters or a single roaster's selections, Bean Box takes an intermediate tack — well-respected roasters from Seattle, the Mecca of the craft coffee renaissance, each offer up a selection.  It's good to know there are more than two coffee roasters on the west coast.
This month's Bean Box features selections from Broadcast, Tin Umbrella, Keala's, and Ladro Roasting — the enclosed card tells a little about each outfit.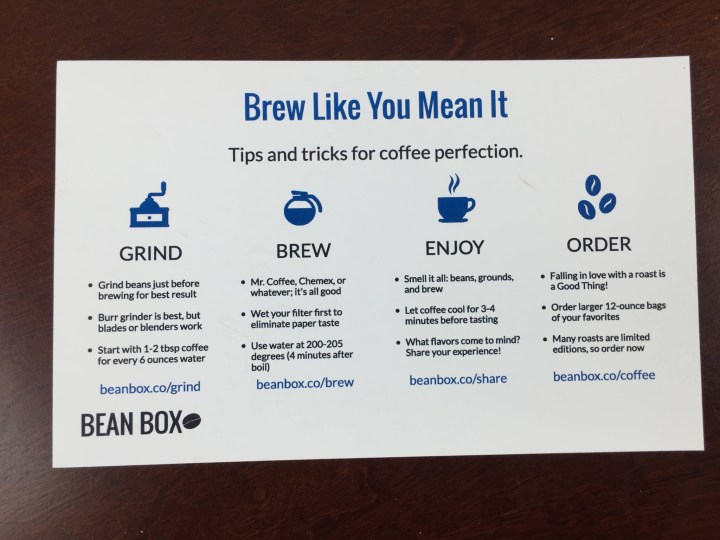 Brewing tips for the uninitiated.
The bags have more detail on the specific bean selections from each roaster. The back of each bag shows the roasting date.  Some tasting notes from each selection:
Broadcast Coffee Roasters Colombia Las Margaritas:  Cola, licorice, and chocolate notes emerge from a caramelly-smooth body.  Surprisingly nuanced for a Colombian coffee, this is a wonderful treat.
Tin Umbrella Coffee Roasters Hilman City Global Blend:  You don't see a lot of blends in coffee clubs, the assumption being that "single-malt" is the more refined approach.  But they started blending whiskeys, and coffees, for a reason:  to create a a harmonized and palatable product by harnessing the attributes and mellowing the eccentricities of the component parts.  The Global Blend accomplishes just this, providing a balanced brew that retains much of the character of it's constituent beans.  The earthiness, boldness, spiciness, and fruitiness of the Sumatran, Brazilian, Nicaraguan, and Ethiopian contributions all come through in the highly-enjoyable finished product. Tasting notes suggests you look for milk chocolate, sugar cane, spiced raisin, and sweet fruit.
Keala's Coffee Hapuna Espresso Blend:  The rich, dark flavor you expect from Kona beans is mellowed and sweetened in this blend by the addition of maple syrup and citrus flavors from Indonesian and African beans.  I prepared it as a straight coffee, not espresso, but the bold and balanced roast would please in either preparation.
Ladro Roasting Ethiopia YirgZ No Defect:  This is a great exemplar of the Ethiopian coffee tradition, the oldest in the world.  Fruity, chocolate, and floral notes linger in equal proportion.  Distinct notes of rosehips, bergamot, and bittersweet chocolate are readily discernible.
"Zero defect" (the Z in YirgZ) means this coffee is triple sorted by size, color, and density until it reaches a point of near perfection.
A little something extra.  The box came with a couple sweet treats — the Rip van Wafels traditional stroopwafel, and a Seattle Chocolates Mimosa truffle.
These Seattle selections show that there is more than one way to roast coffee, and the coffee for which Seattle is known is perhaps not that for which it should be known.  The level of roast suited the beans well and accentuated, rather than overpowered, the natural flavors of the bean.  The tasting notes were pretty accurate, and the flavors were distinct, identifiable, and very pleasant.
Bean Box is offering 2 options for Father's Day, or you can check out the regular subscription.
Visit Bean Box to subscribe or find out more.  Get a free trial with this link and $3.49 shipping. You can also check out all the coffee subscriptions in the directory, or more subscription boxes with a free trial.
The Subscription
:
Bean Box
The Description
: Bean Box features freshly roasted coffee from Seattle's top artisan roasters. Each box contains four unique samples from different roasters every month.
The Price
: $20 per month
The Coupon
:
Free trial!
Just pay $3.49 shipping.