Paleo Life Box is a monthly subscription box full of great-tasting paleo snacks every month. Each month they'll send 8 to 10 snacks – a few new and other returning favorites, so you can be sure to get the snacks you want on a regular monthly schedule. You can expect a mix of meat snacks, bars, cookies, veggie chips, granola, chocolate treats, seed and nut mixes, dried fruit and more – but never grain, gluten, legumes, or artificial ingredients.
Each snack is described briefly on the information card.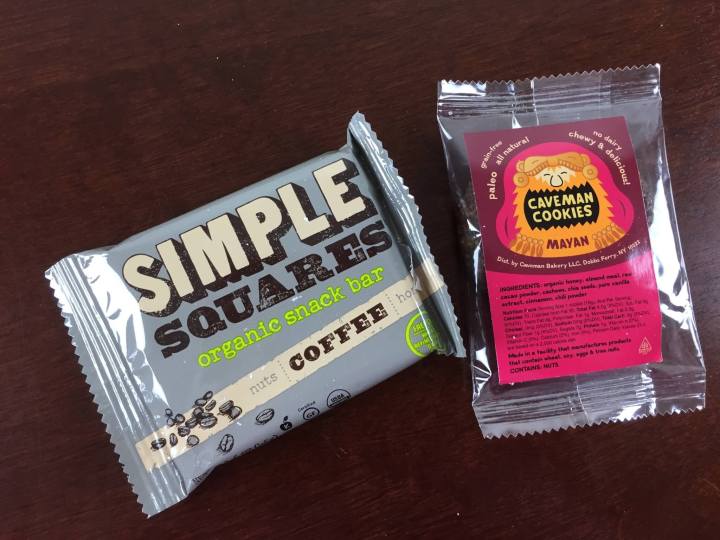 Simple Squares Coffee Organic Snack Bar ($2.50):  More of a chewy nut bar than a coffee bar.  The bar itself is tan and sweet, with cracked coffee bean fragments adding a little kick of flavor.
Mayan Caveman Cookies ($1 – bonus item):  I love it when you receive some extra surprises in a subscription.  These make a nice little snack — the Mayan variety is a bit like Mexican hot cocoa, with chilis, cinnamon, and cocoa added to a honey almond base.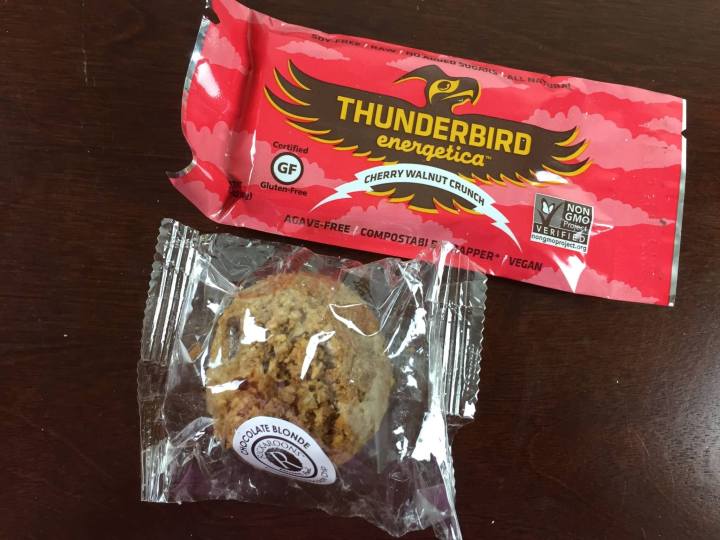 Thunderbird Energetica Cherry Walnut Crunch Bar ($2.15):  Very rich and chewy, this bar is sweet and satisfying without having any sugars added.
Rickaroons Chocolate Blonde Macaroon ($2) A nice chewy treat that lacks the sugary, greasy hit of traditional coconut macaroon recipes.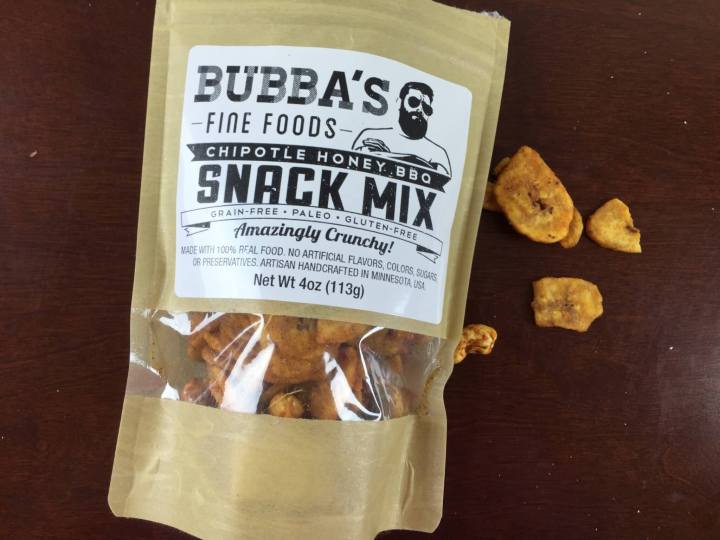 Bubba's Fine Foods Chipotle Honey BBQ Snack Mix ($9)  Absolutely loved the sweet chipotle flavoring on this snack, though a plain variety wouldn't be bad, either.  Mostly banana chips (nice and crisp) and sweet cashews, with some pecans tossed in for good measure.  Hits all the right notes and the crisp and crunchy is a welcome break from the "chew" of paleo snacking.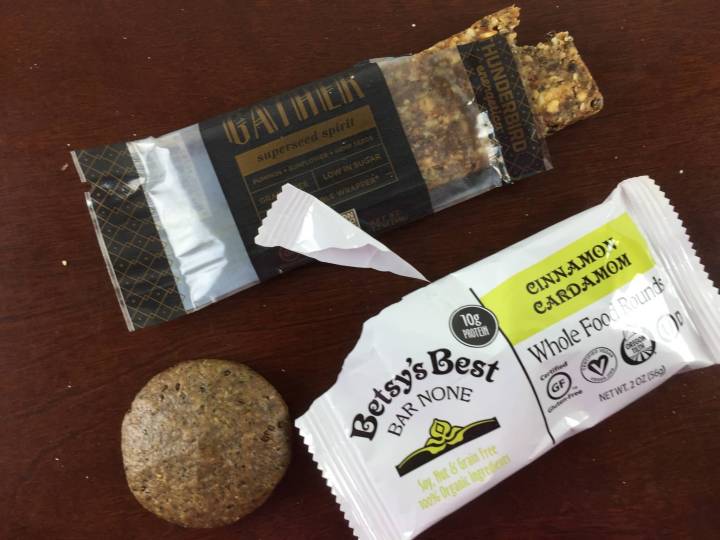 Thunderbird Energetica Superseed Spirit Bar ($2.15):  Crispity and chewy, this is meant for seed lovers.
Betsy's Best Bar None Lemon Coconut Whole Food Rounds ($3):  Kinda like a molasses cookie?  These little rounds (2 per pack) pack 10 grams of protein and the hearty warmth of cardamom.  The hearty flavor quickly grows on you, but there is no mistaking that you are eating a "whole food" product.
Braaitime Grass Fed Beef Biltong ($10) Biltong is apparently the most popular snack in South Africa and is made of grass-fed beef that is seasoned and dried into a tender jerky-esque snack.  Paleos believe that eating grass fed beef is best, because grazing on grass instead of conventional feed gives the meat a better fat profile.  The Biltong does not have the toughness associated with jerky, and it has a slight cured-meat taste like a good salami.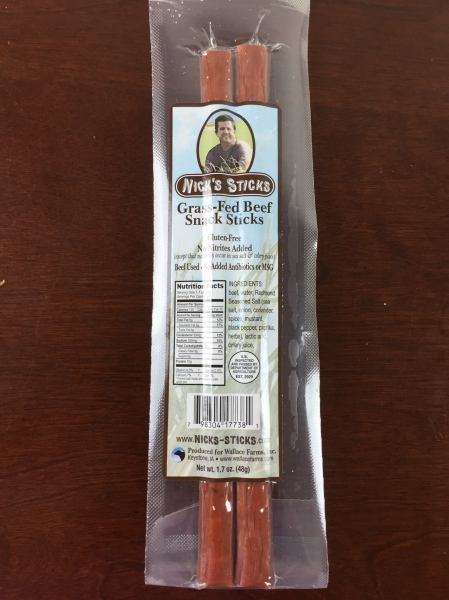 Nick's Sticks Grass-Fed Beef Snack Sticks ($3.25):  A much healthier, natural version of the popular snack, these Jims ain't that slim.
Epic Beef Habanero Cherry Bar ($2.50):  The fruit and meat combination tasted better than anticipated.  The beef is 100% grass-fed and each bar packs 13 grams of protein.  Epic has many different bars available, and they feature meat from all manner of livestock and poultry (chicken, turkey, pig, lamb, beef, bison + BACON).
This box came in around $38, but that doesn't include the effort and expense of purchasing all the snacks individually – and there were very many expensive snacks in this box – and is still a good savings. The selections were varied and of course focused on meat, though we were happy to see quite a few grain-free varieties of sweet and savory snacks that didn't pretend to be "paleofied" straight food.  Whether you're paleo  or not, if you're looking for a protein focused snack box this is an excellent choice.
Visit Paleo Life Box to subscribe or find out more. Use coupon code HS15 for 15% off your first box.
The Subscription
:
Paleo Life Box
The Description
: Paleo Life Box is a convenient box of paleo snacks! We deliver the best snack products to your door each month to give you a unique tasting experience that fits within the confines of your diet and is still a great bang for your buck. We ship on the 1st of each month, so join today and fuel your body with the good stuff!
The Price
: $35 per month
The Coupon
: Use coupon code
HS15
for 15% off your first box!