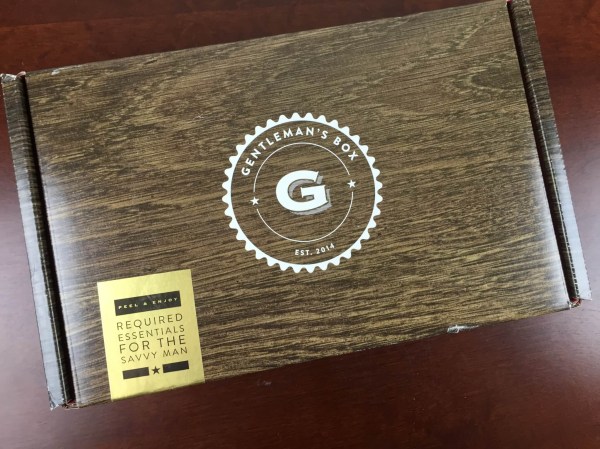 Gentleman's Box is a subscription box for men – including the required essentials for the savvy man. Every box includes the latest issue of GQ and selected items ranging from style to grooming. 
The theme for February honored "Our Favorite Godfather."
Simple informational card.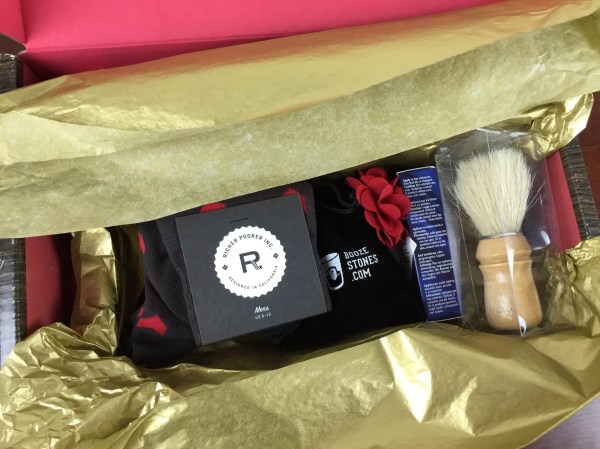 This month's items.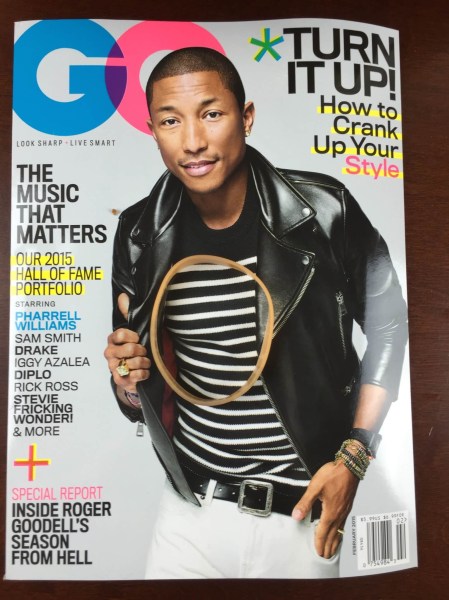 Gentlemen's box includes a copy of GQ ($6) for informational purposes, as well as grooming products and fashion accessories.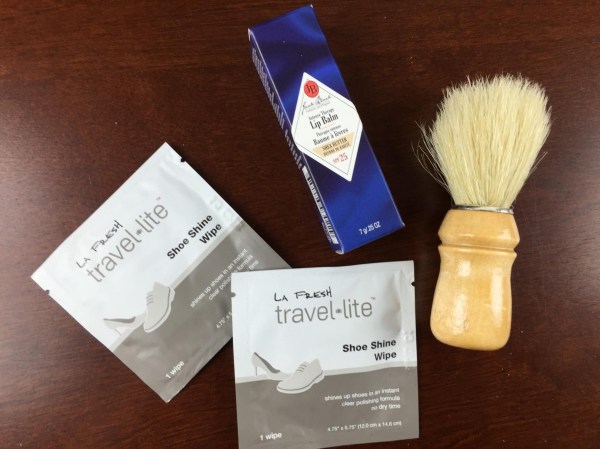 Wooden Badger Shaving Brush ($15) This brush stiffer than my present one; it took some getting used to at first (to avoid throwing foam all over), but I like it quite a bit.
Jack Black Lip Balm ($7.5) With shea and sunscreen, it's like a mild, natural carmex, but with UV protection was the other grooming item.
La Fresh Shoe Shine Wipes ($1.66) These work on all-colors, so they are perfect for any non-suede leather shoe.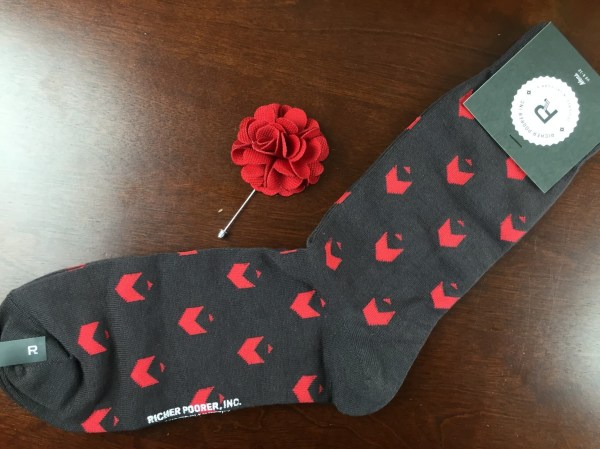 Clothing accessories
Richer Poorer Socks ($12) I like the brown as a color choice; most box socks are pretty loud. [Note from Brandy – He also said #TheDress was blue, so we cannot trust my husband's color notes. Nevertheless he liked this fun yet understated socks]
Red Flower Lapel Accessory from Harrison Blake Apparel ($10) Definitely appropriate for the Godfather theme, as well as a February date night. Harrison Blake has a monthly men's accessories subscription club who need regular deliveries of dapper items.
This months fun lifestyle item is a set of Boozestone's Whiskey Stones ($10).  Although whiskey should be tasted with a drizzle of water to unlock the flavors, you don't want your glass getting more watery as you go.   These are an awesome item if you like your booze slightly cool but not watered own,  particularly if your ice cubes tend to smell or taste off.  Totally psyched about these!
The value of the February Gentleman's Box was over $62. The theme was excellent and the items were well-chosen.  This is my favorite box yet, largely due to the Whiskey Stones, and I'm definitely looking forward to seeing the March box.
Visit Gentleman's Box to subscribe or find out more. You can see all my Gentleman's Box Reviews or more subscription boxes for men in the directory.
The Subscription
:
Gentleman's Box
The Description
: Gentleman's Box is a subscription box for men providing the essential elements suited for today's
gentlemen.Items
from grooming supplies to wardrobe accessories – each selected to complement your lifestyle and align with a monthly theme. Four to five hand-selected products for men, accompanied by the latest issue of GQ Magazine, are delivered right to your doorstep – with the content's value always exceeding your monthly cost.
The Price
: $25 per month.