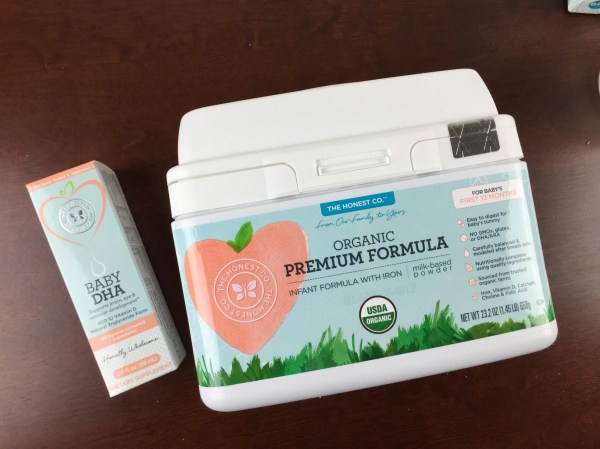 Honest Company has introduced the new Honest Company Feeding Line – which is totally non-descriptive until you realize that it's feeding products for babies. Most importantly, they've debuted the new Honest Co Organic Premium Formula. Hooray! None of my babies were able to breastfeed so they are all formula fed. You can read the Honest Co info on breast/formula/combo feeding. I love their honestly judgment-free perspective! I was excited to see an organic baby formula in BPA & PVC-free packaging. I wasn't sure what to think on the separate DHA.
The new Honest Feeding Line includes options for breast, combination, and formula feeding.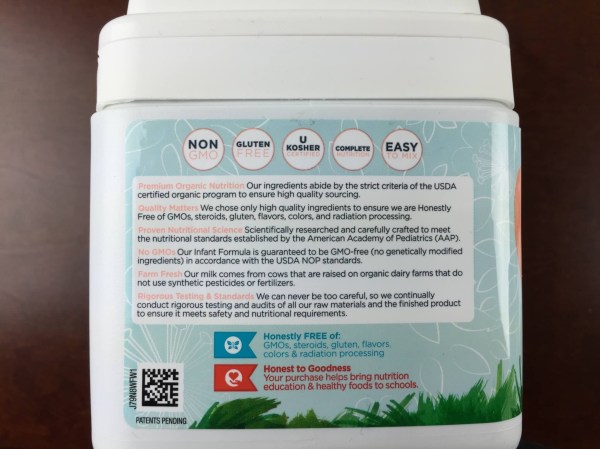 Because we are formula feeders, I ordered the new Organic Infant Formula + DHA Bundle ($119.95). You receive 4 tubs of formula plus a bottle of DHA. Right now my baby would go through a bottle of the DHA in about a month (he's very large – in 12 months size), so in later months we'll order extra DHA if necessary. The bundle is a $20 savings over the individual prices, and you can add on additional items from the "gear & more" category as well as the "feeding" category. The Infant Formula alone costs $29.95 per tub.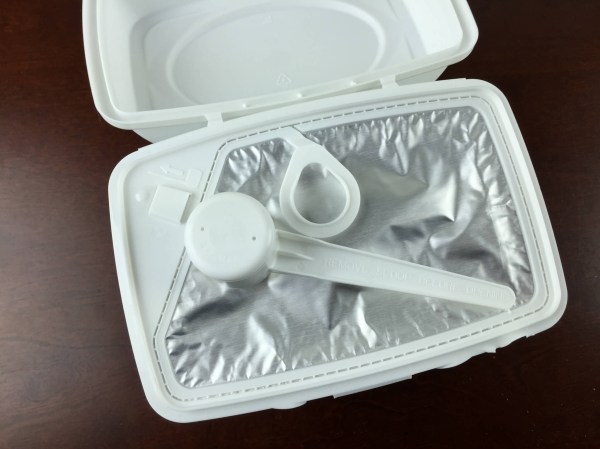 Like all baby formula sold in the US, the Honest Company Organic baby formula adheres to all FDA standards for baby formula, plus to the standards for organic products.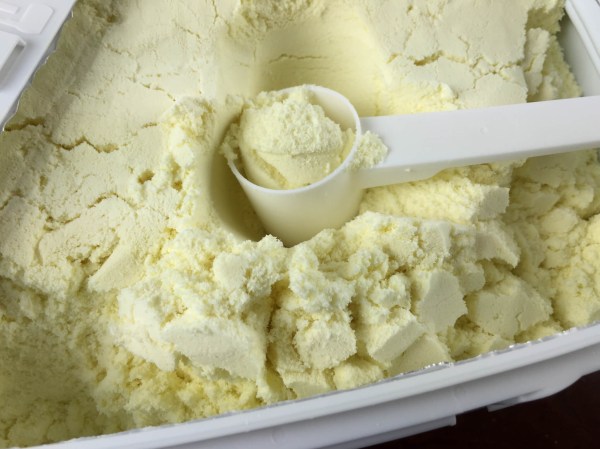 It mixes well and was palatable to my baby. I really can't say more than he liked it just as he likes all other baby formula and he had no gastric issues. I do prefer brand name formulas (including Honest) over generics because they mix better – they are more finely milled.
Honest Company Infant Formula is
FREE of artificial growth hormones, high fructose corn syrup (HFCS), antibiotics, steroids, gluten, flavors, colors, peanuts, tree nuts, radiation processing and potentially harmfully pesticides or herbicides. We purposefully left out DHA/ARA and instead offer Baby DHA, a liquid supplement sourced from pure, premium fish oil that also contains Vitamins D3 and E.
Honest Company shares quite frankly a lot of details on their infant formula here. I particularly liked that they source all their milk from the United States (part of the container is sourced in Canada, and the palm oil is from outside the US, otherwise everything is sourced domestically). I love that this product has zero HFCS – found in way too many baby formulas. I believe that Honest Company formula is manufactured by the Vermont Organics factory, which has been operating for over 30 years and is FDA approved.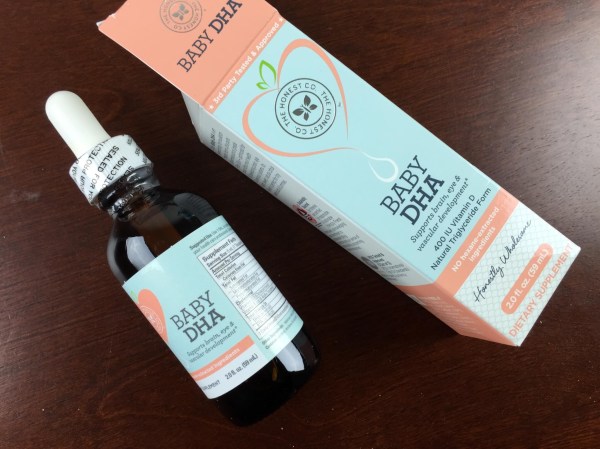 Honest Company Baby DHA ($19.95, free in the bundle) I have to admit I scratched my head over this one, but now that I understand why Honest Company doesn't include it in their baby formula, I agree! There is no requirement to include DHA in formula, but the one that is approved (yes one) uses hexane extraction methods. Algae is harvested and then the DHA is extracted by drying it out with hexane, a gas-refining byproduct. Then the hexane is removed but may leave some level of residue. This is obviously the subject of much debate. I did find one toddler formula with hexane-free DHA (it probably cannot be used in infant formula).
The Honest Company Baby DHA has a light citrus flavor (tangerine oil) and uses rosemary extract as a preservative.
Honest Company Natural Feeding Baby Bottle ($14.95) This is a silicone bottle that's BPA free. The bottom part is squishy!  These are a nice bottle and an excellent easy to clean choice.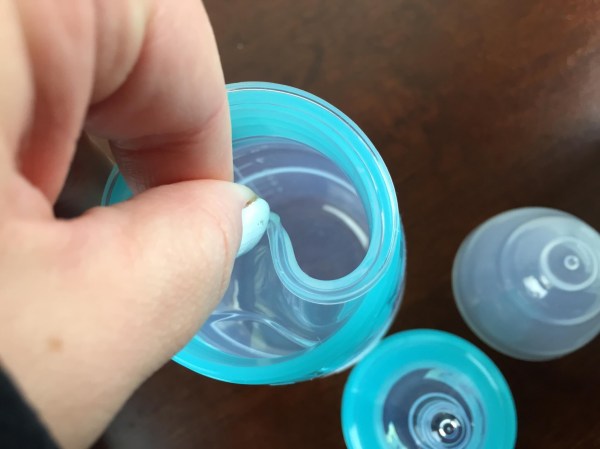 It includes a silicone covered plastic collar so no plastic touches the milk (it's necessary otherwise you wouldn't be able to screw on the cap). We had no problem heating it in our Dr. Brown warmer (the best one ever seriously – buy it! I have two and they're worth every penny!) though the fit was a bit snug. The bottle includes 2 slow flow nipples and I forgot to order bigger ones (baby uses Dr. Brown's number 2) so I asked Honest to stick them on an upcoming diaper bundle.
My husband got super cute and duded baby F up in his little Honest Company onesie. Yes, we regularly use the towels as a bib. We just lay it on him. We're easy like that.  If you look closely you can see a pack of Honest wipes on the floor too. Pretty ridiculous. BTW, Honest has new swaddle patterns in stock!
So happy!
If you haven't tried Honest before, you can also get a free trial of the health & wellness bundle, the essentials bundle, and the diaper bundle for $4.95 shipping!
Check out the new Honest Feeding Line and the new Organic Infant Formula + DHA Bundle!
Read all our Honest Company Reviews. you can also see our Honest Company Diaper Bundle Review or check out the Honest Company Coupons & Promo Codes page to see if there are any current savings! If you haven't joined Honest Company, click here for the free trial offers and a coupon for $10 off your first $50 purchase. Please note, Honest Company trial offers enroll you in an ongoing subscription. They are easy to cancel but you must use the phone.