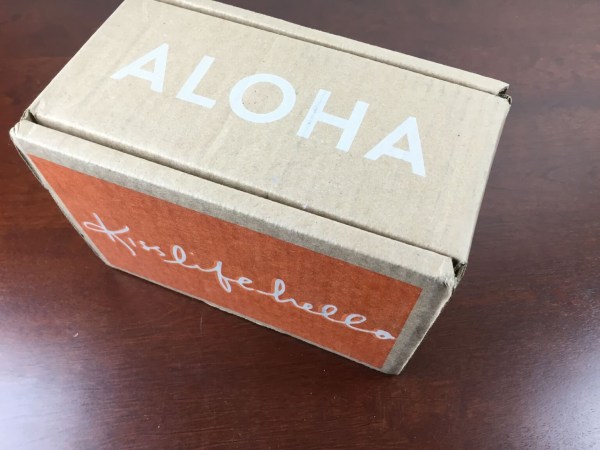 ALOHA is a relatively new nutritional enhancement company offering subscriptions on their unique supplements that help you maintain a healthy lifestyle. ALOHA products are vegan and free of gluten, wheat soy, dairy, soy, nuts and peanuts, GMOs and the Top 8 Allergens. Aloha doesn't include dyes, sweeteners, natural and artificial flavors, artificial colors, maltodextrin or fillers of any kind. I think the easiest thing to say is that if Honest Company made food, this would probably be it.
ALOHA
's Product Philosophy
We believe that the best nutrients come from whole foods, but even the most health conscious among us aren't able to get everything our body needs from food alone. ALOHA provides the nutritional support you need to help maintain your already healthy lifestyle — plus a little extra all-natural oomph just for good measure.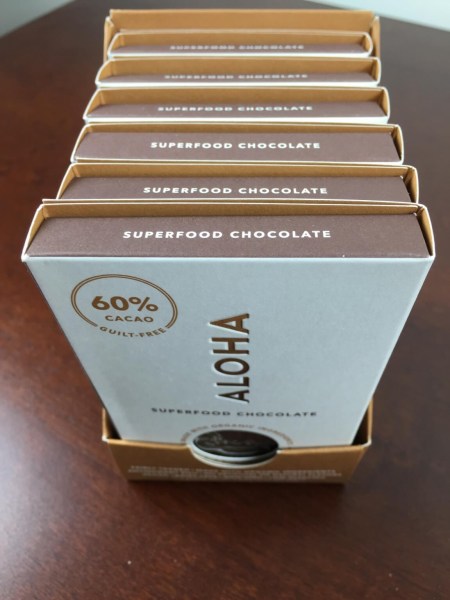 ALOHA currently manufactures:
"The Foundation" – A 5-capsule vegan daily vitamin & mineral supplement including omegas & antioxidants
"Daily Good Greens"- Powdered high quality whole food ingredients and fiber equalling 2 servings of veggies and fruits to mix into your diet. Original, berry, and chocolate flavors!
"Superfood Chocolate" – stone-ground Peruvian fair-trade organic cacao with nutritious superfood greens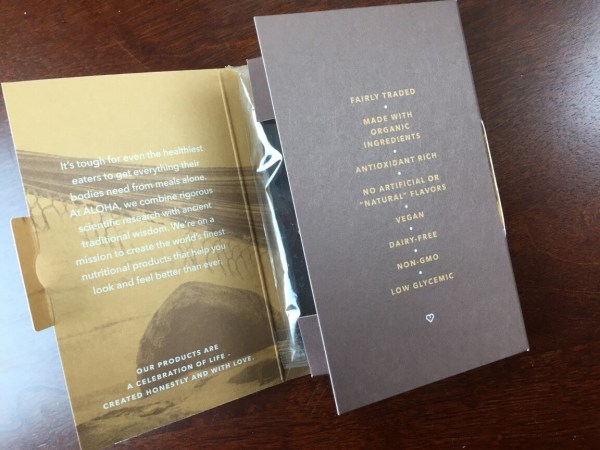 This is a fun chocolate bar. I love the imprint!
This is a lower-glycemic chocolate (it's sweetened with coconut sugar). It's a bit pretentious to show the origin of each item, but OTOH, it's also nice to see.
The taste of this bar is very fruity and light for a dark chocolate. It's definitely packed with antioxidants – more than açai berries – I have to admit, the first bite isn't great if you're used to eating regular chocolate. The texture is a little odd, because it contains not only stone-ground cacao, but also the good greens blend, as well as coconut and cashews. However, you do get used to it, and if you want to satisfy a chocolate craving in the healthiest way possible, this is a great choice.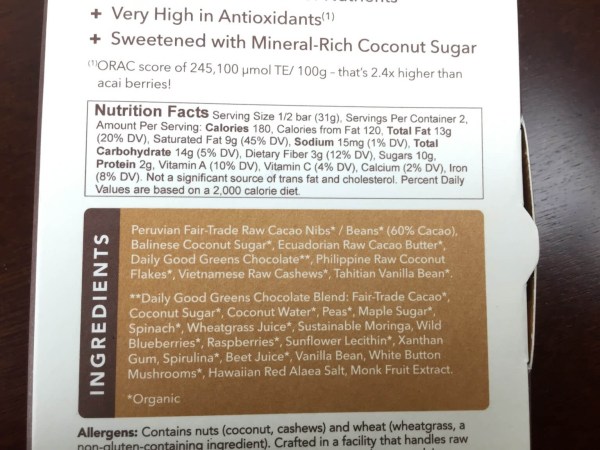 I gave a piece to my daughter and she absolutely loved it, exclaiming, "Now that's chocolate!" I would say that if this is a product that interests you, go ahead and get the free bar (it's $2.79 and you will be automatically enrolled in a subscription, which you can cancel online).  It's a superfood chocolate bar for juicers, for vegans, for health nuts, for believers in the power of antioxidants.
I compared the nutritional information on this bar to a 60% dark stone-ground Taza bar, the closest thing I could think of to the Aloha Superfood Chocolate Bar. The calories, fat, carbs, and sugar are all roughly the same. Taza bars also feature fair trade cocoa, non-GMO, gluten-free, vegan, etc qualities. Those bars are $7.50 for 85g, these are $9 for 62g (you save on a subscription). I don't particularly care for the texture of Taza bars either! I also would not be surprised if Aloha contracted with Taza to manufacture the bars given that they have the operations to source the ingredients and manufacture the bars.
I definitely get a rush from eating this, but I generally do from chocolate! The taste and texture have grown on me but I'm not sure how often I'd order them!
Visit Aloha to find out more or to get a free trial superfood chocolate bar (you'll pay $2.79 shipping).  You can see more free subscription box deals here.
The Subscription
:
Aloha
The Description
: Offers a range of super-food based supplements: daily nutrient pack, superfood powder and superfood chocolate bar. No specific diet to follow, can be used to enhance a whole-food based diet that focuses on avoiding artificial sweeteners.
The Price
: varies with selections
The Coupon
: Free trial available –
sign up for it here
. Or get the
free trial of superfood chocolate
.