Slightly sweet and perfectly woodsy! The Pura has released the October 2023 Fragrance of the Month and it's Paddywax's Pomegranate + Spruce! And ICYMI, Pura Fragrances now lasts 20% longer with Puralast™!
Get transported to forest trails with this refreshing, cool-weather scent. A base of spruce, pine, and cedarwood creates a familiar woodsy scent, but then surprising notes of ripe pomegranate and a bit of orange peel create something wholly new. Touches of cinnamon and clove finish off the fragrance for the most cozy feel.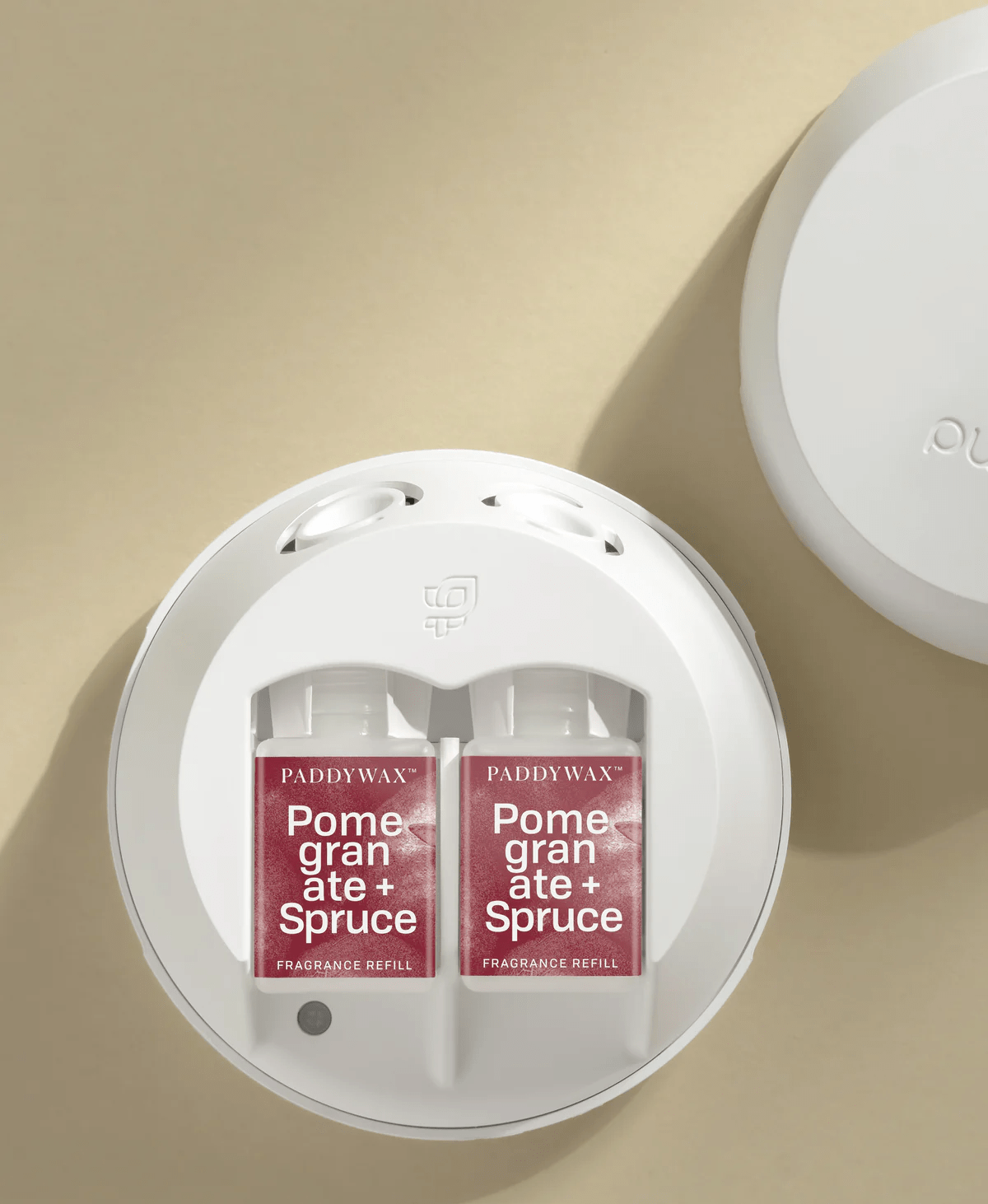 DEAL: Get 15% off your first order! Use this link and the coupon code HELLOSUB at checkout. You'll get FREE shipping with 2+ items in your order (that's one smart device and one fragrance) plus 20% off subscription items!
The Pura Smart Device is $44.99, and allows you to customize your scent experience with premium, designer grade home fragrances from the convenience of your smartphone. The fragrances are non-messy, and pet and kid friendly! The diffuser holds two fragrances so you can switch from one mood to another with one easy tap.
They've also just launched Pura 4 ($49.99), which brings a host of new features like Auto Vial Detection, Scent Remaining, and Adaptive Diffusion. With the all-new Pura 4 device, this experience is now more attainable and delightful than ever before. Pura 4 takes smart home fragrance to a whole new level with its innovative features and cutting-edge technology.
Puralast technology makes Pura the ultimate smart fragrance diffuser. It customizes your scenting journey with innovative features. New smart vials hold fragrance-specific data, ensuring precise scent dispersion. Tailoring scents to your preferences, Pura adjusts for room size and intensity, scenting your space intelligently for up to 120 hours. Learning from your feedback, Pura becomes attuned to your likes. This personalized approach ensures your space smells exactly how you want it. Notably, Puralast extends scent longevity by 20%, offering a lasting aroma experience. Pura and Puralast redefine home fragrance, making it a breeze to enjoy continuous, customized, and enduring scents.
You can get Pura fragrances refilled on subscription and they're from brands like: Antica Farmacista, Apotheke, Brooklyn Candle Studio, Capri BLUE, Ellis Brooklyn, LAFCO, NEST – and with can't-miss collabs like Disney! Check out our full Pura review to find out more about this awesome home fragrance device & subscription!