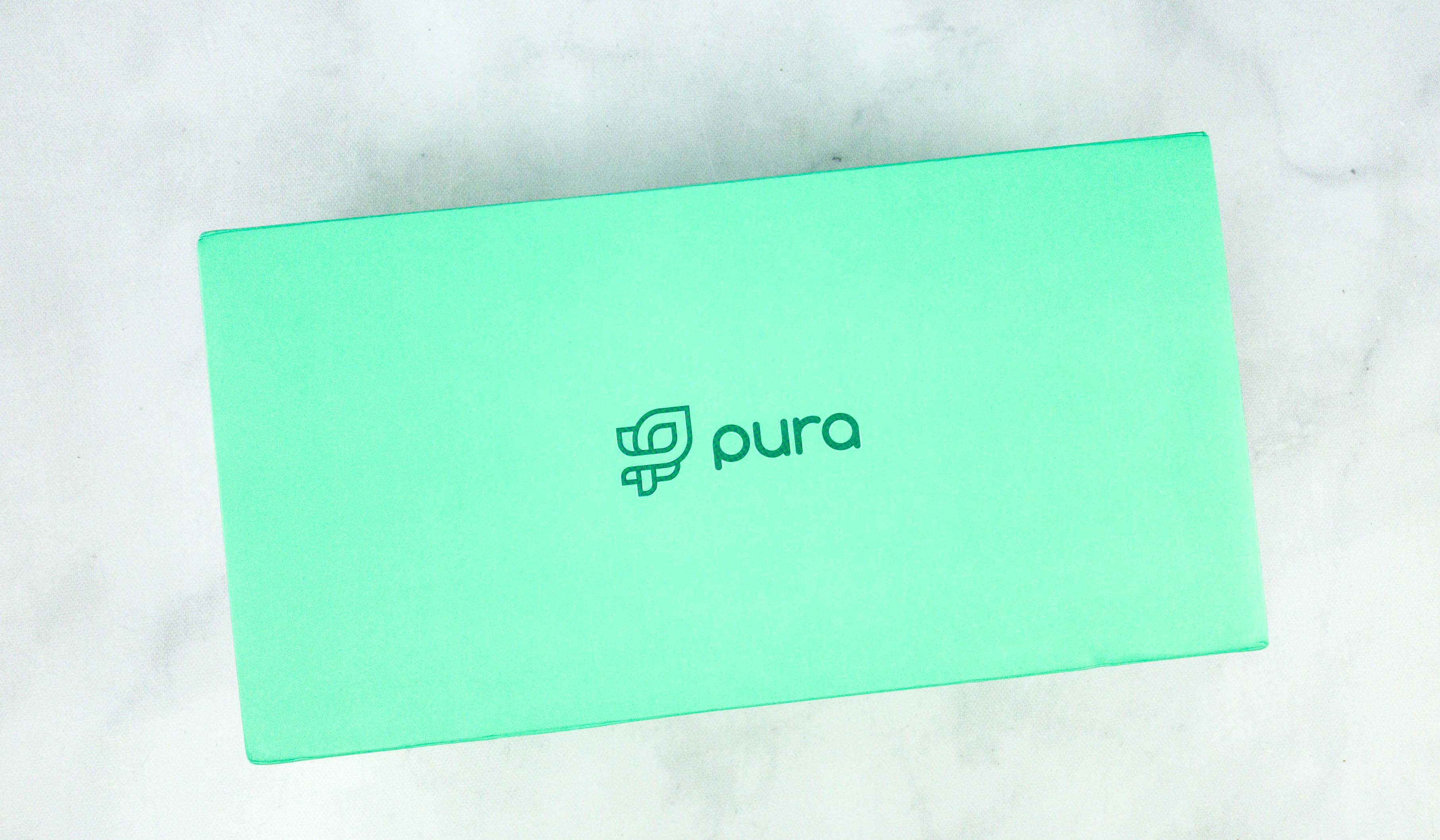 Pura offers a smart home air freshener, which allows you to control the scent of your home from your phone. You can buy the Pura Smart Home Fragrance device for $44 and then subscribe to get new luxury fragrances to your door monthly. The subscription price depends on the chosen fragrance, which varies from $12-$20. Aside from getting access to Pura premium fragrances, subscribers will also get a 30% discount on any of the fragrances selected. When you subscribe to 2 or more fragrances, shipping is free! You can even choose the frequency of your fragrance subscription: every month, 2 months, or 3 months. When the diffuser and fragrances arrive at your door, just download the Pura app and connect it to the device before loading the vials to manage the scents! You can also get this device at Anthropologie but it's less expensive with the code at Pura. YES, you can get the Capri Blue Volcano scent at Pura!
DEAL: Get 15% OFF your order! Use coupon code HELLOSUB.
The box sleeve contains a brief product overview and a list of items inside.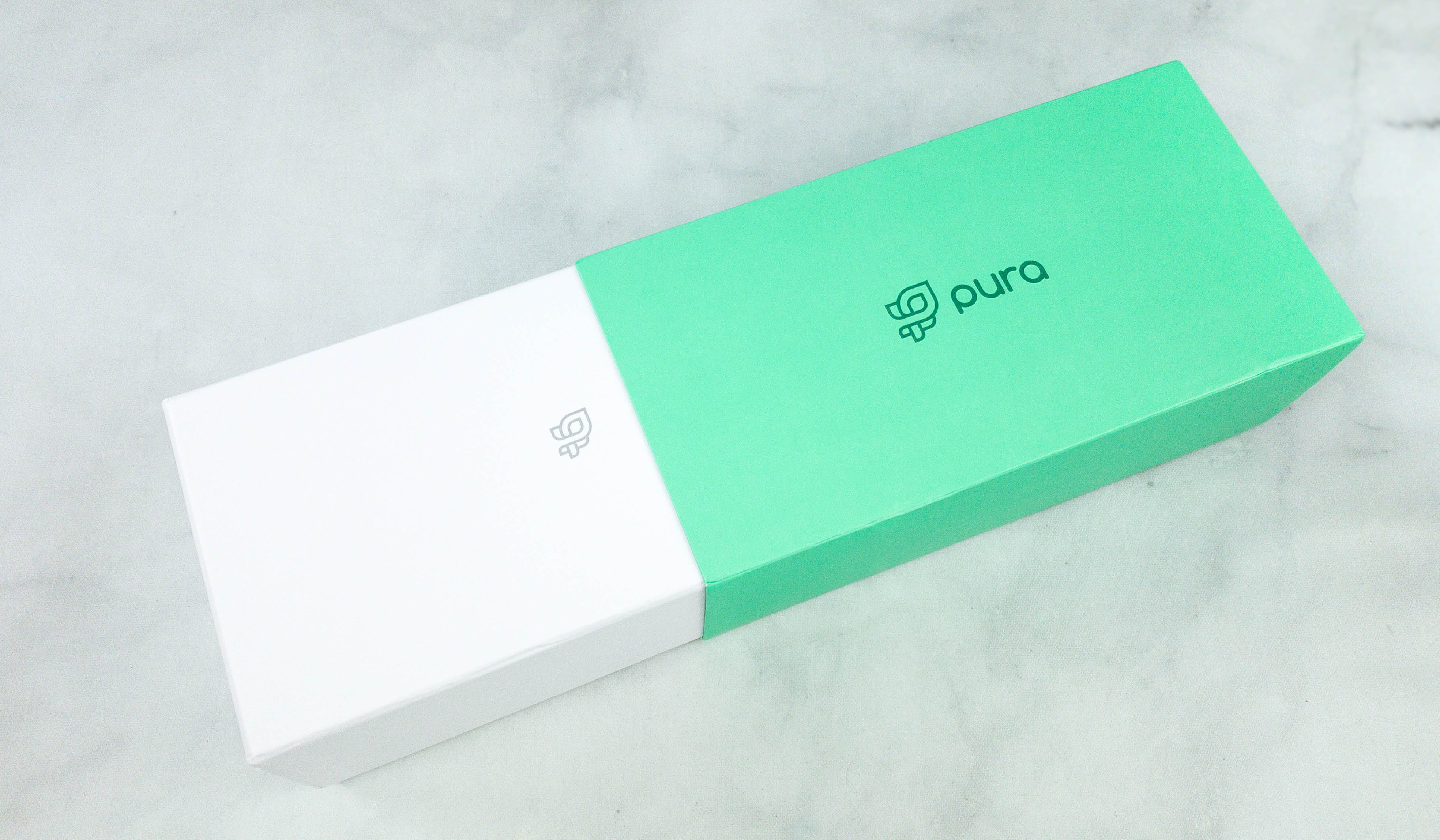 The box looks so clean and the mint green sleeve is so refreshing to the eyes!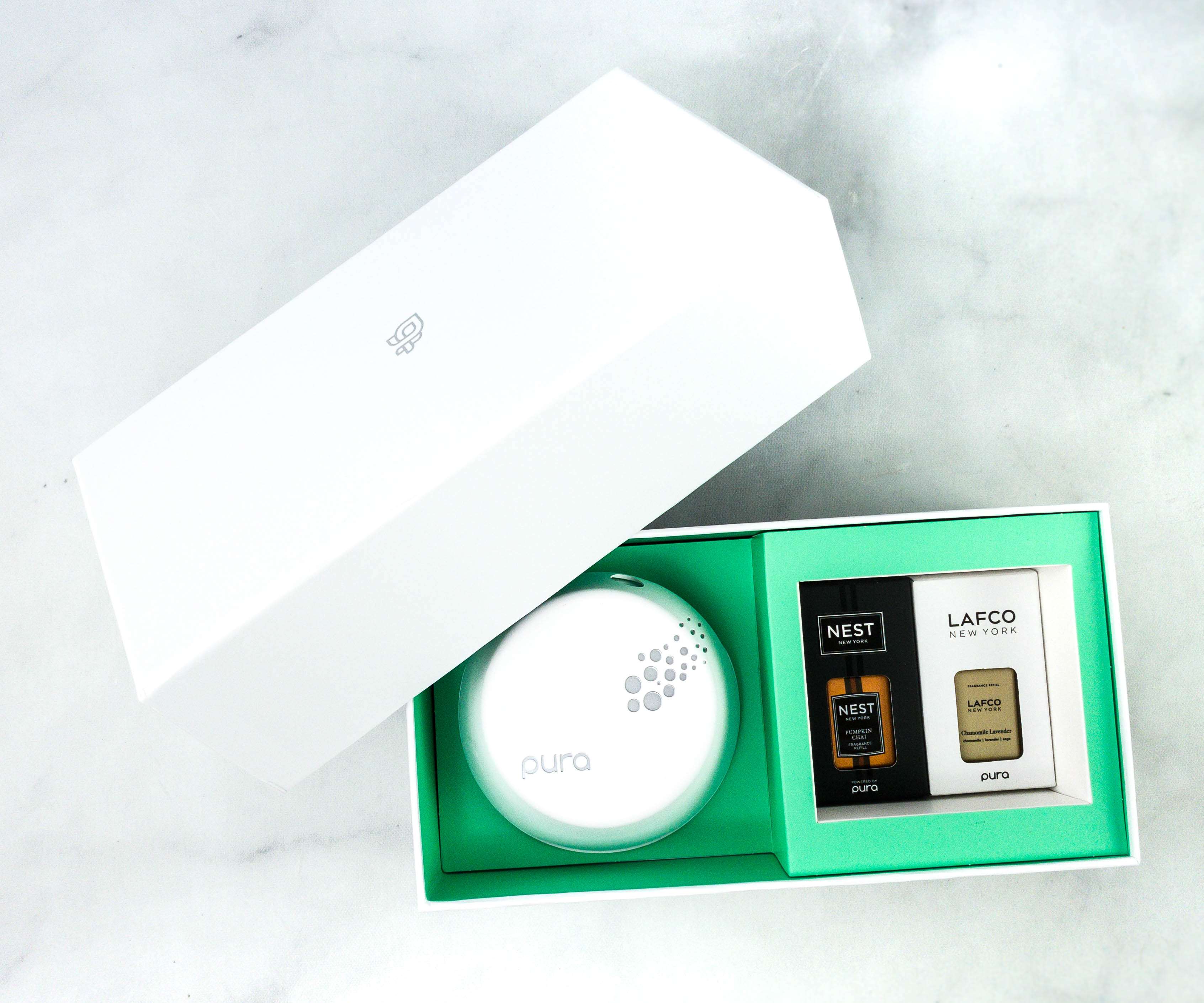 The smart home diffuser and the fragrances were nestled in a custom packaging to prevent them from moving around during shipping.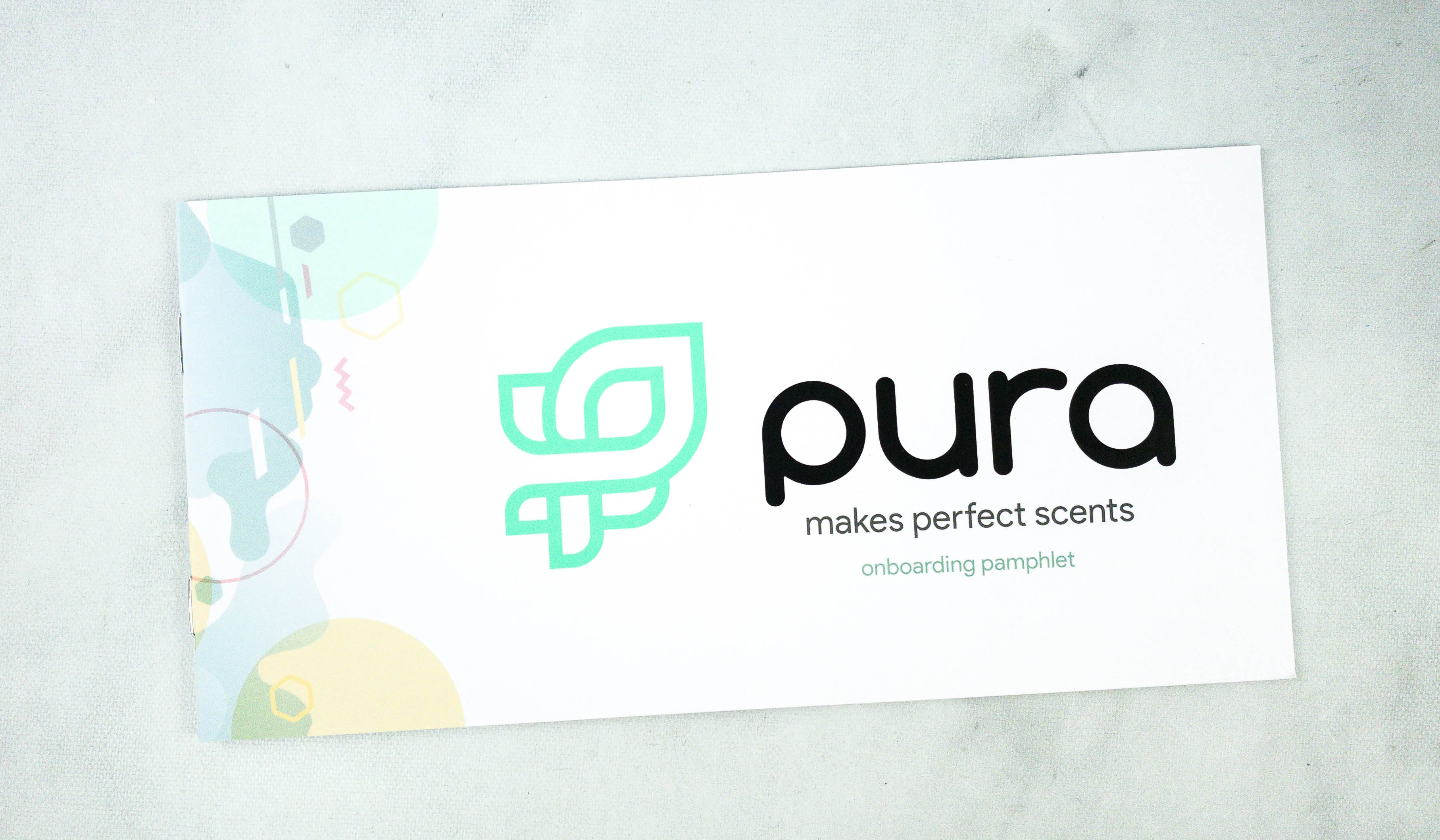 There's also a pamphlet that discusses what Pura is all about.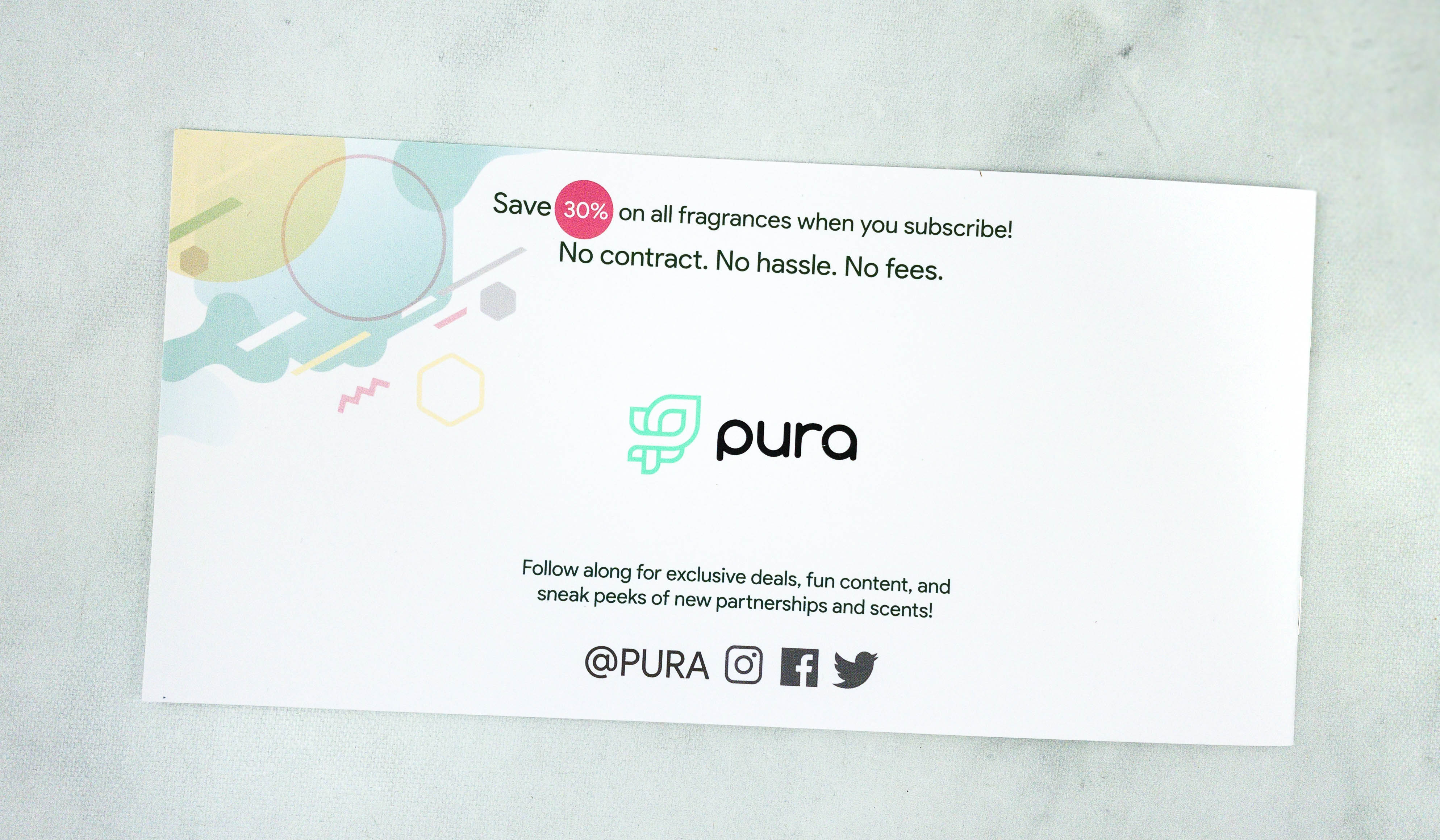 At the back is a list of their social media handles and a reminder that fragrances are 30% off on subscription. You can swap them around, it's really easy to do, and I recommend it!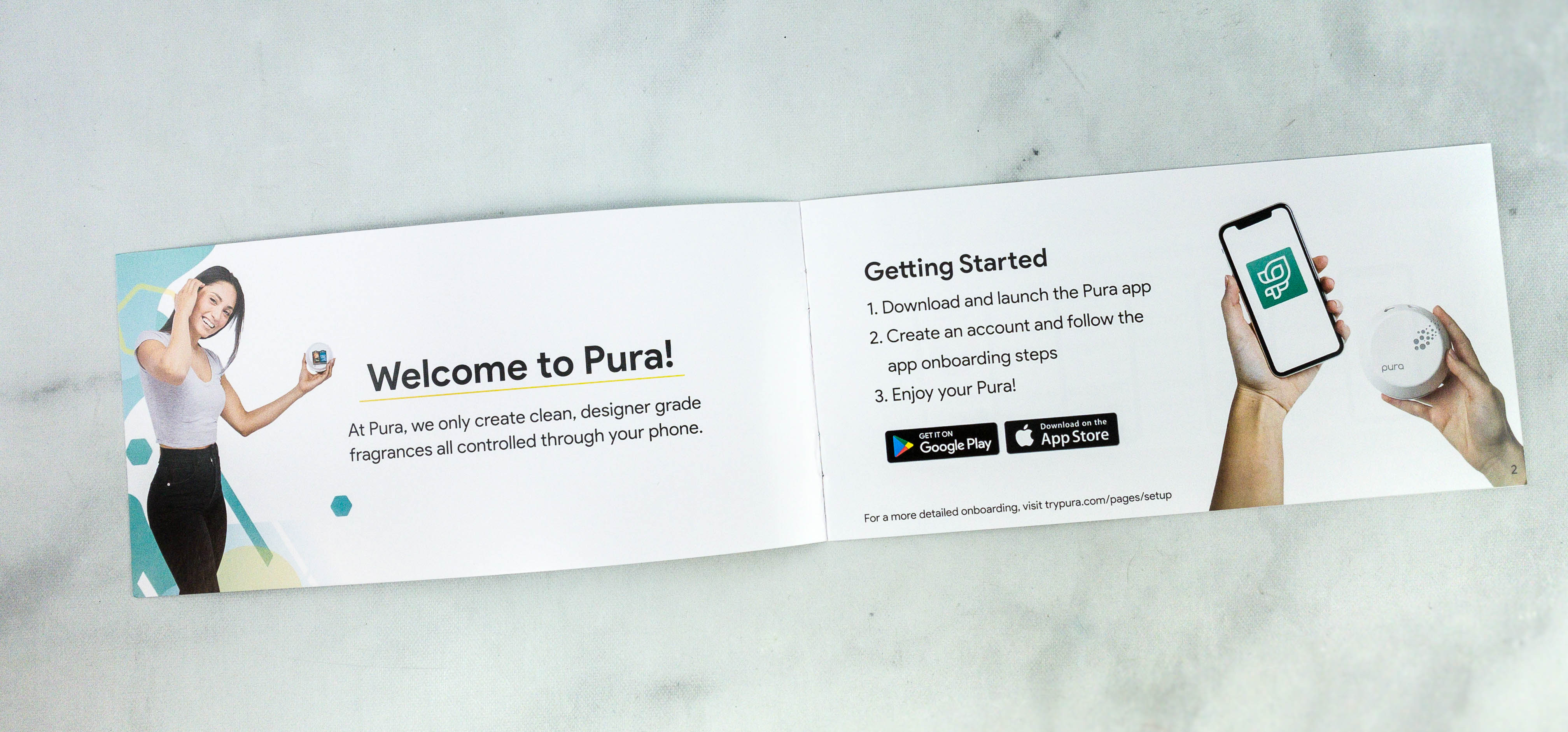 There are instructions on how to use the Pura app with the device. The app is available on Google Play and the App Store.
Getting Started

1. Download and launch the Pura app

2. Create an account and follow the app onboarding steps

3. Enjoy your Pura!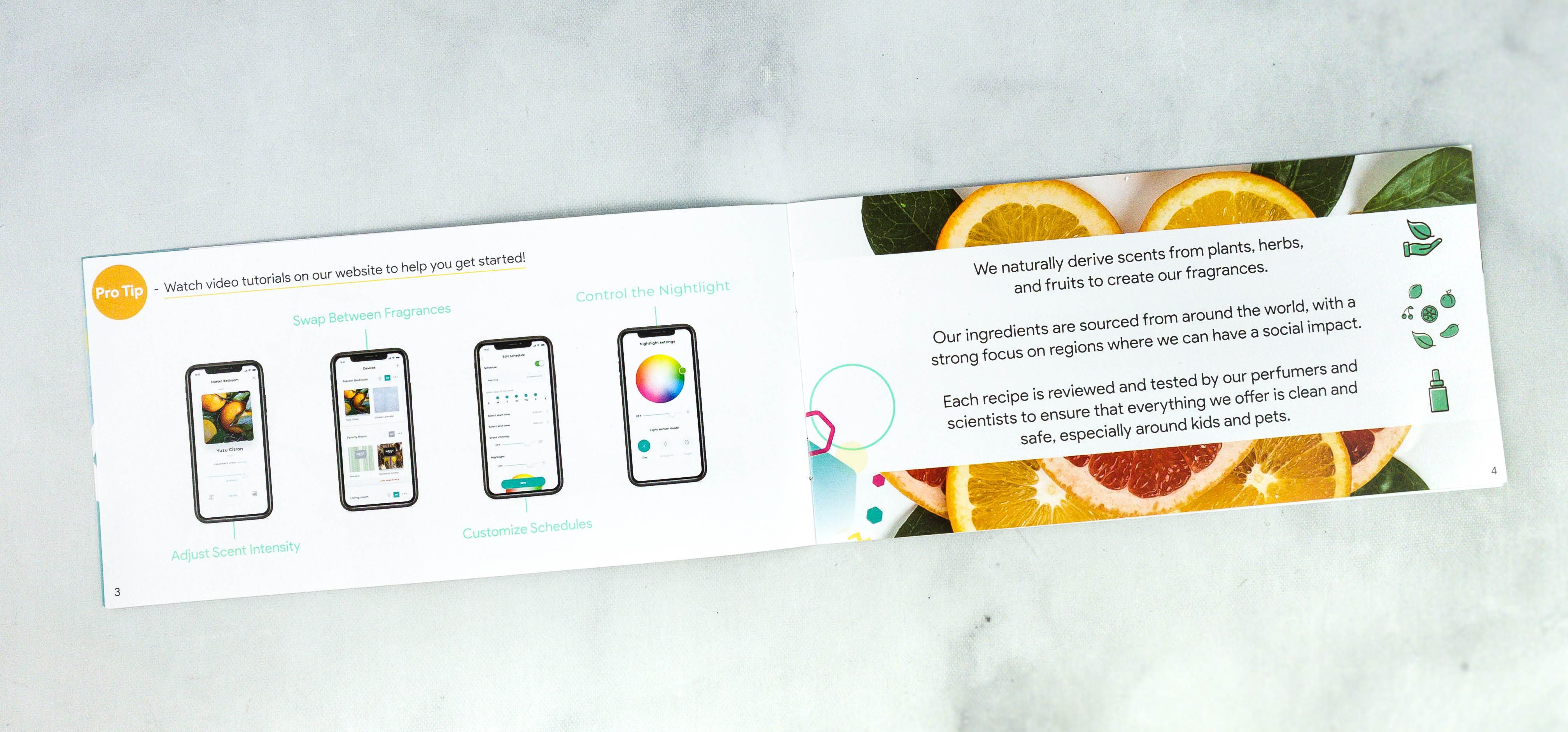 In case you need more help in managing your device, they have video tutorials on their website as well!
Pura only partners with Premium fragrance brands to bring fragrances you know and love to your home in a new and innovative way. All fragrances available in Pura must complu by Pura's strict, clean fragrance standards to ensure you get only the best.
This is such a nice, helpful booklet!
This part of the booklet provided tips and tricks, as well as FAQs about the product.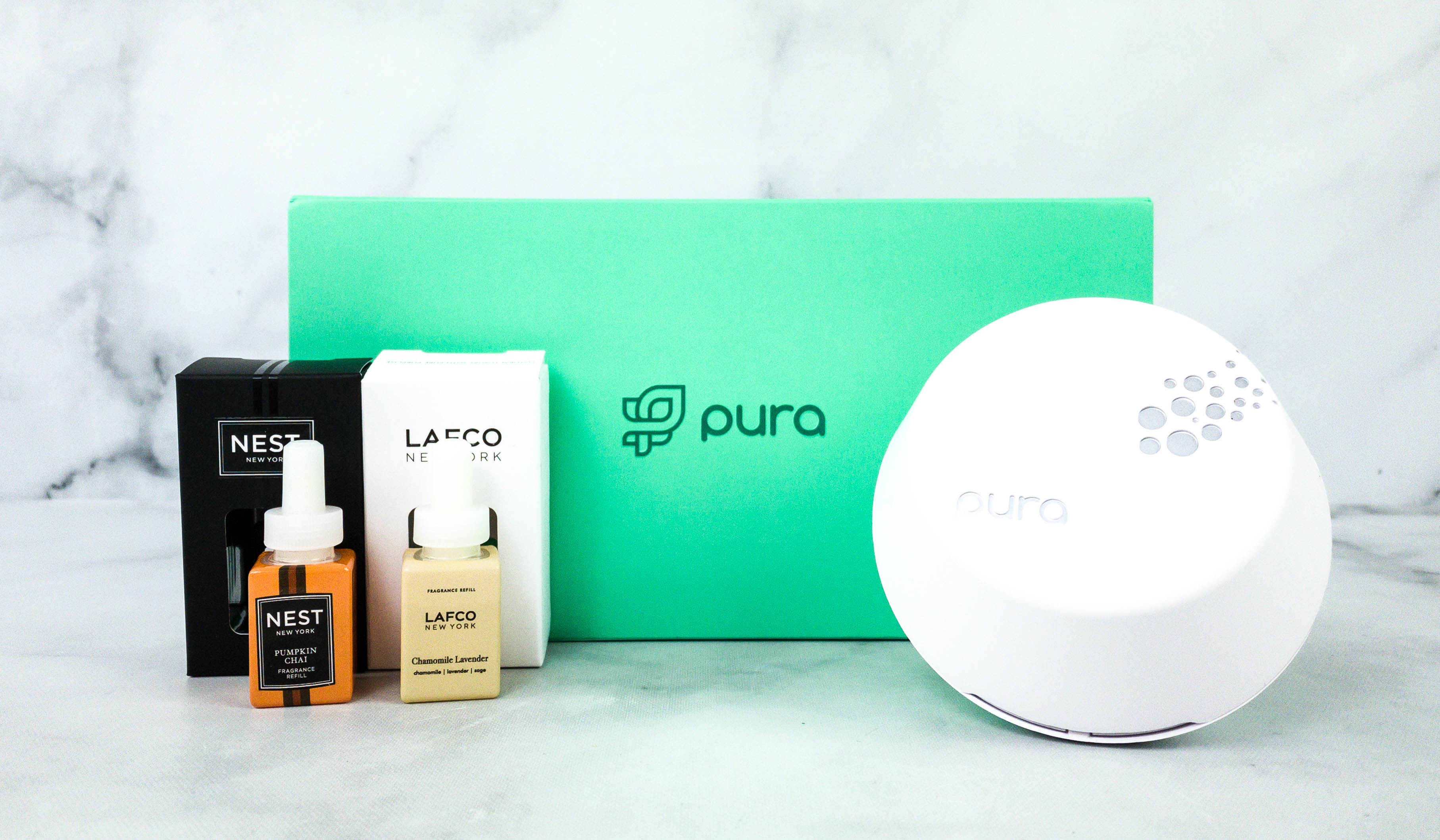 Everything in my box!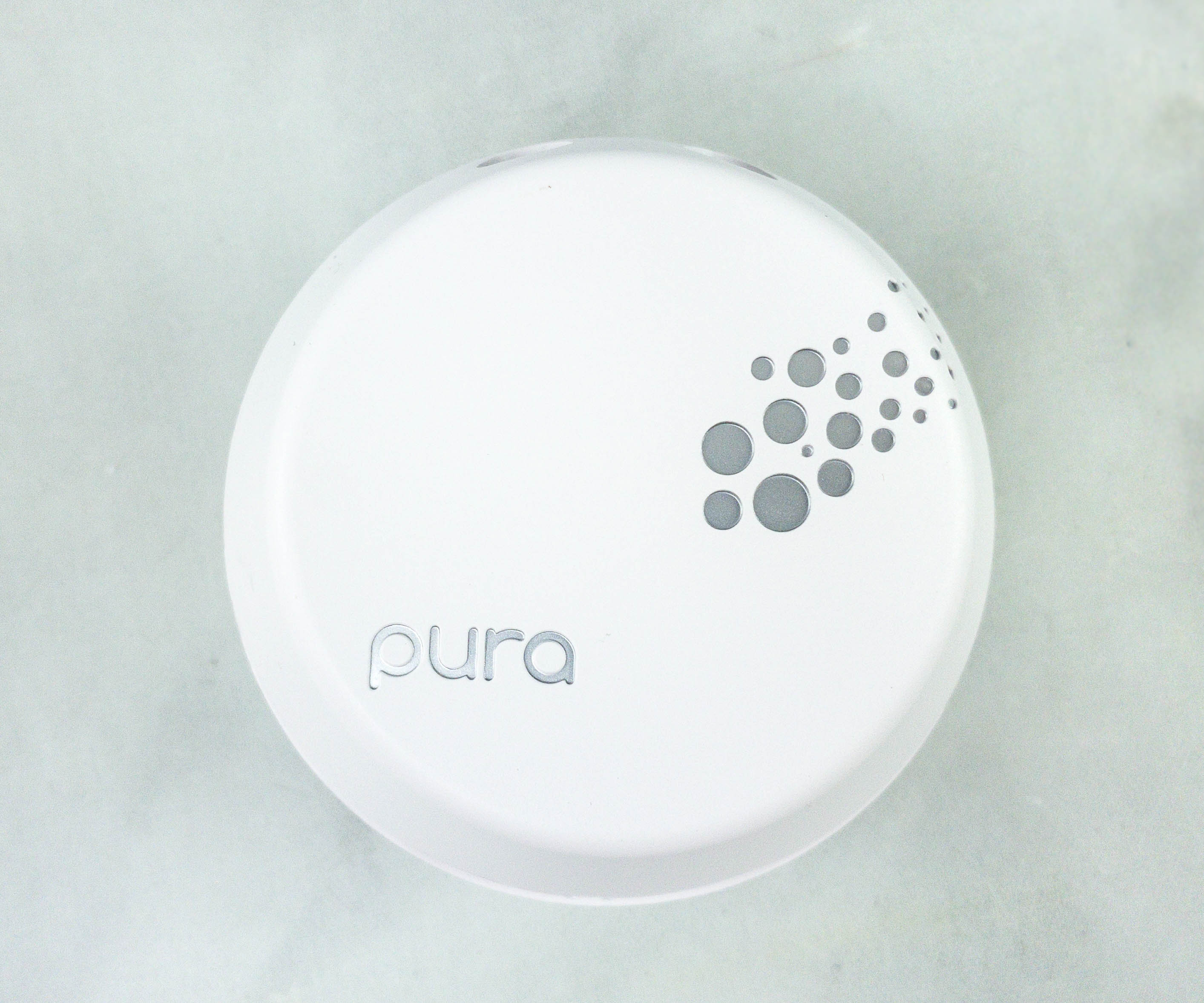 Pura Smart Home Fragrance Device ($44) This personalized scent diffuser is everything I need to keep my home smelling fresh all the time! Its three main customizable features include scent intensity, custom schedules, and the away mode, and you can control all these within the Pura app. Compared to using traditional diffusers, this is more efficient and helps you maximize the fragrances. It even comes with an LED ambient nightlight!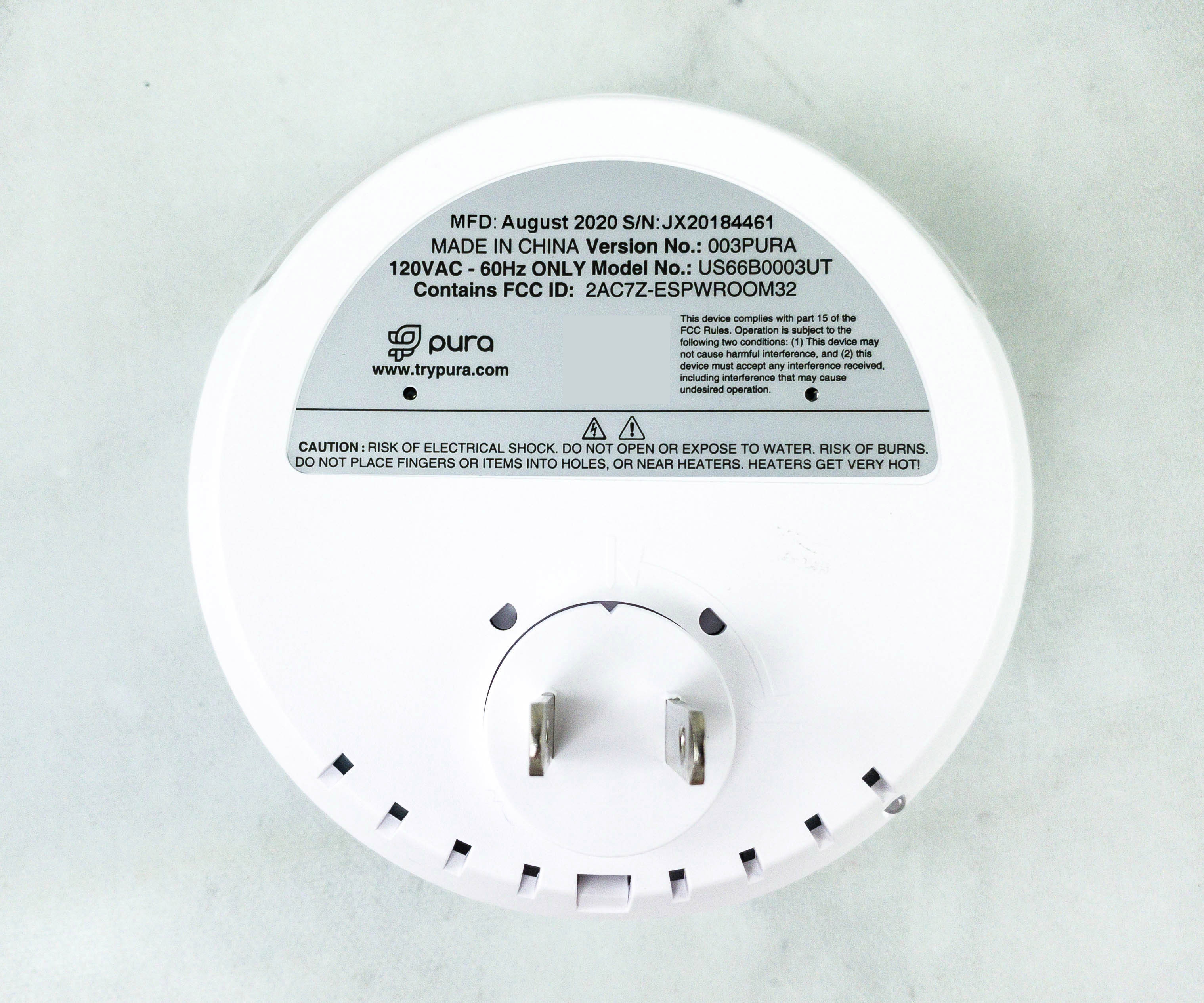 At the back, there's a reminder for safety and proper use of the smart diffuser plus the QR code that you would need to scan when setting up your device.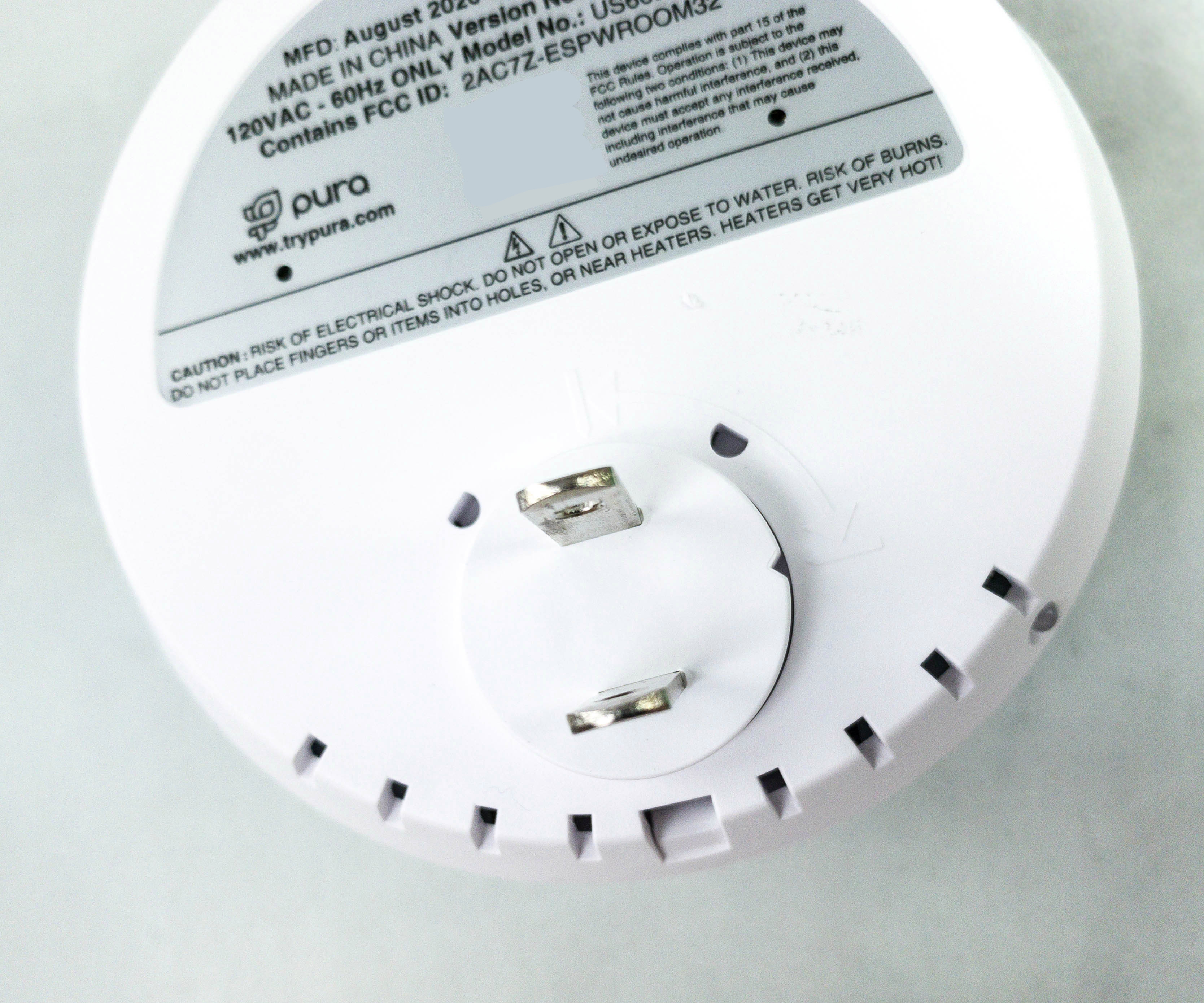 It uses a traditional outlet plug. You can plug it into an outlet that has 120VAC – 60Hz.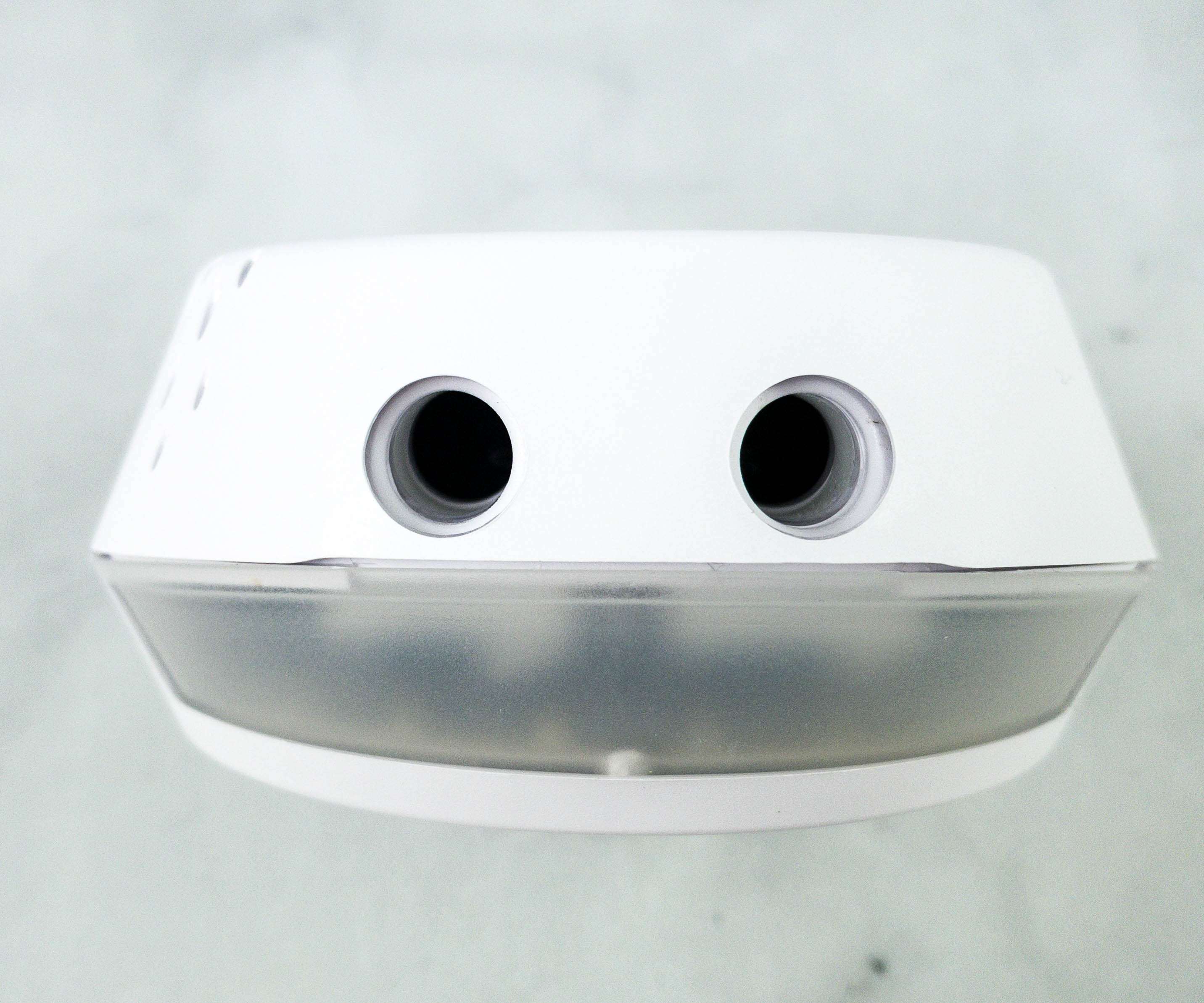 These airholes serve as the outlet of the scents from the vials.
You should order at least 2 fragrances with the diffuser! The smart device can hold 2 and you can switch the scents using the app. The diffuser box has room for four but you can order as many as you want. But get at least two, otherwise you won't be able to do the scent switching magic!
According to Pura, they only offer fragrances made without toxic chemicals. These scents are pet-friendly and kid-friendly as well!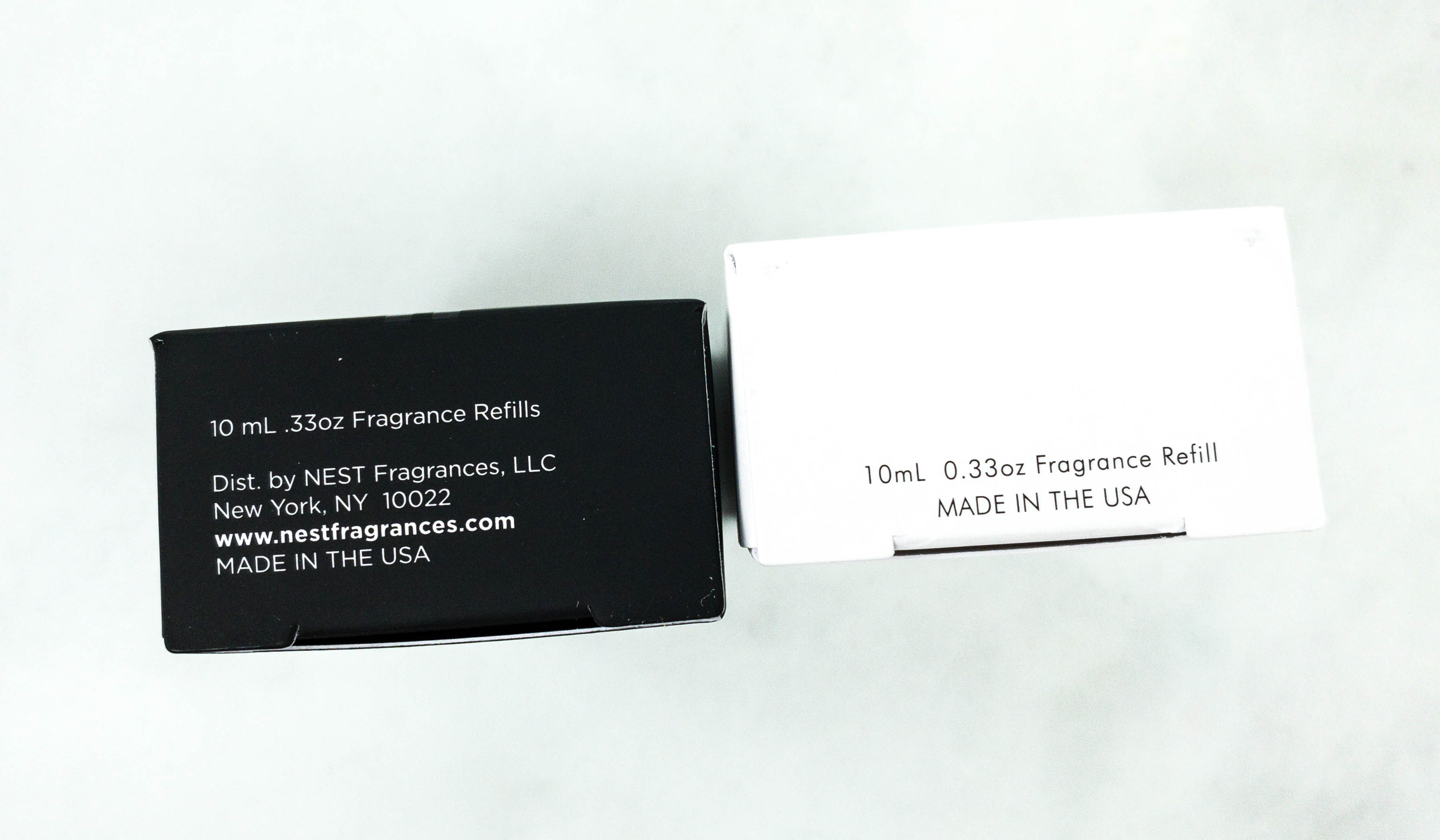 Each vial contains 10ml of premium fragrance. It lasts approximately 350 hours or 15 days on a medium scent intensity. You can also recycle the vials once they become empty!
NEST New York Pumpkin Chai ($18) This fragrance has a luscious blend of warm notes, including wild pumpkin, spicy Masala chai, cardamom, ginger, and cinnamon. It fits the fall season really well!
LAFCO New York Chamomile Lavender ($18) My second scent this month is a calming blend of chamomile, patchouli, eucalyptus, and hints of sage and rosemary to help me feel relaxed at home.
Using this smart device with the app is really easy. After creating a login, you just have to scan the QR code on the device, then plug it in and connect it to your home wifi.
The app provides an illustration of how to properly position the diffuser when in use. The device should be upright at all times, not upside down or sideways.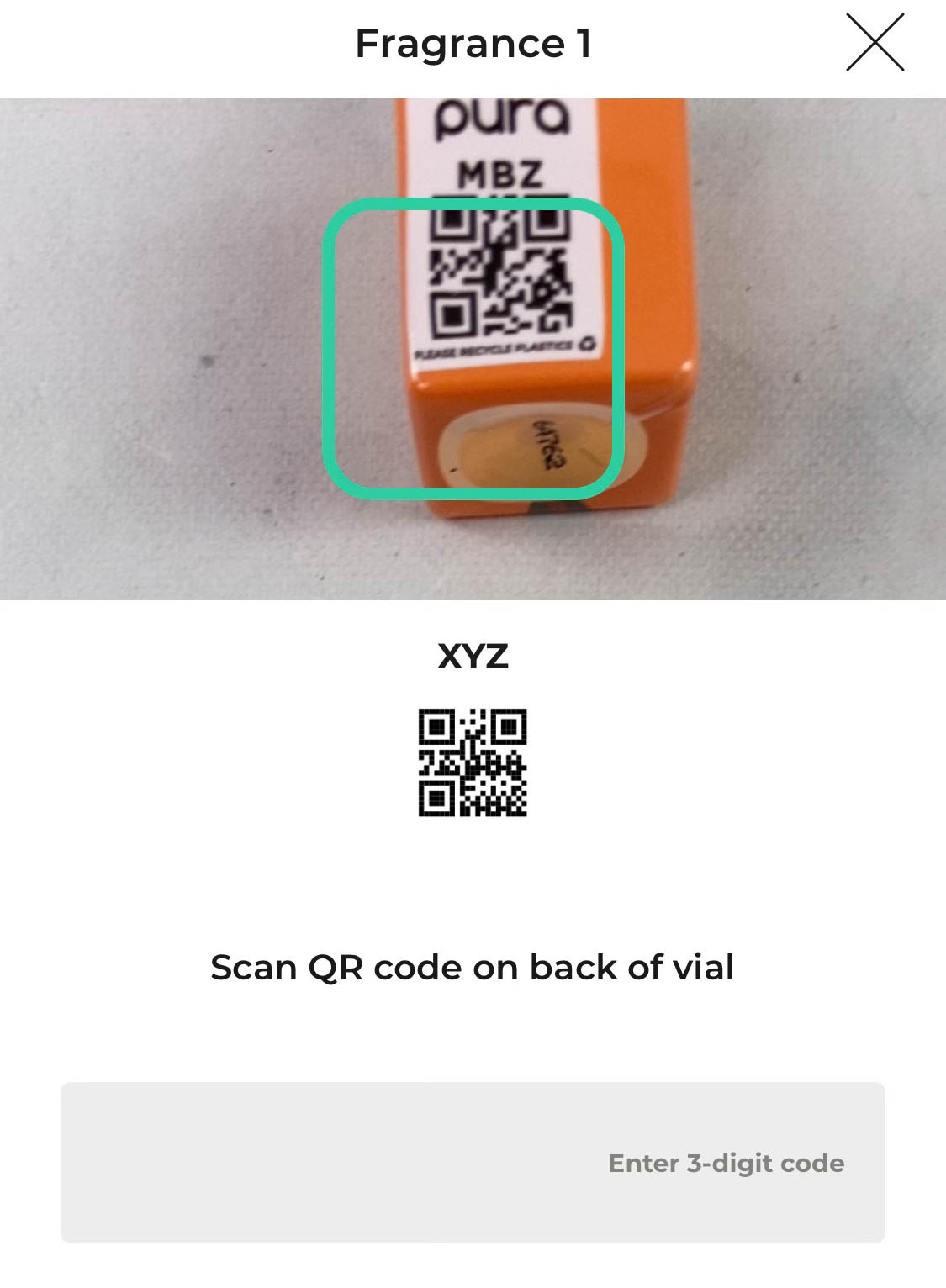 Lastly, before inserting the vial, scan the fragrances so you can register them to your app.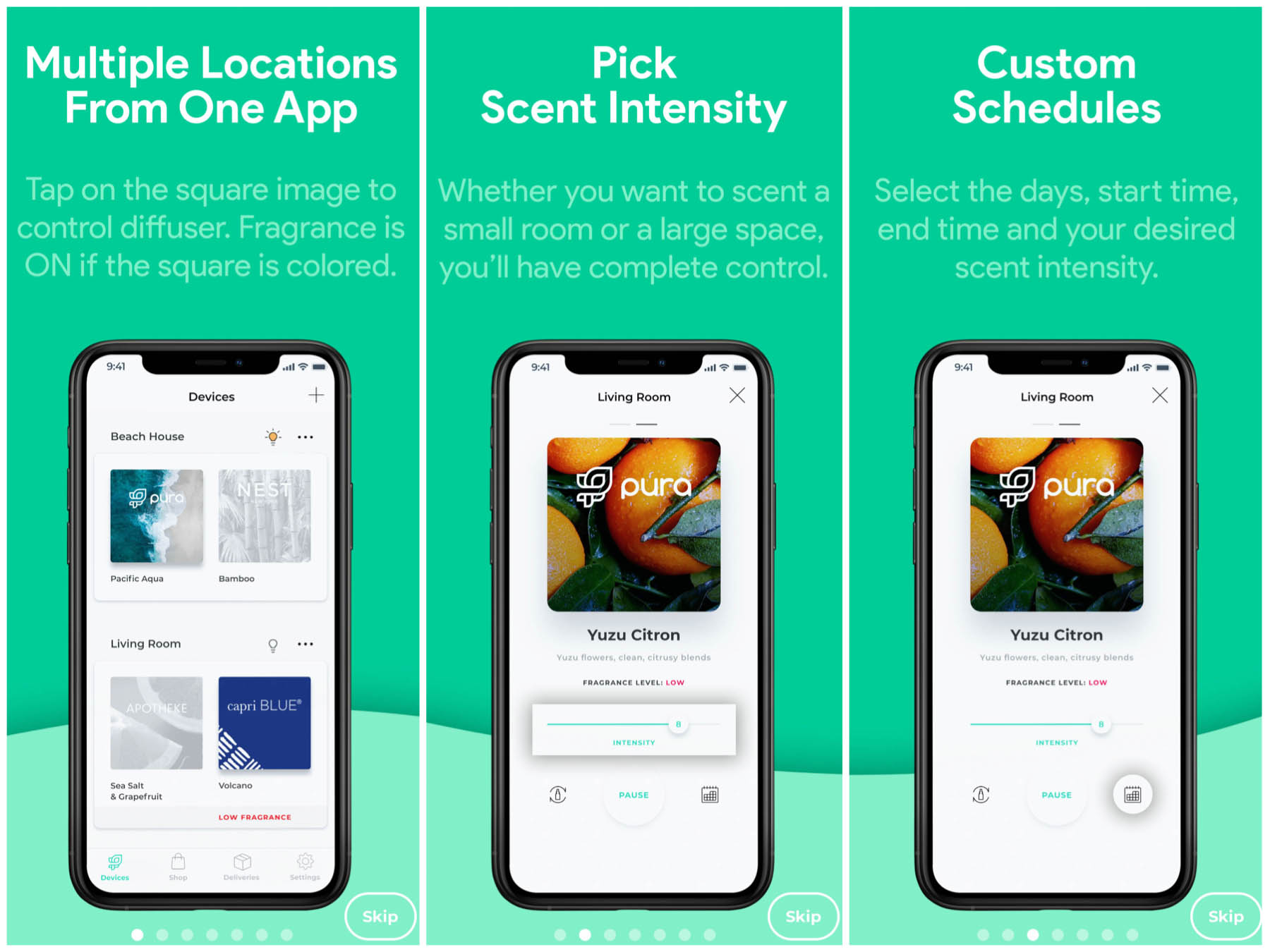 For new users, the app will show different ways on how to control the smart device using the app. You can register multiple locations in one app and you can also choose the scent intensity, from light to strong. You can even set custom schedules for your desired scent intensity.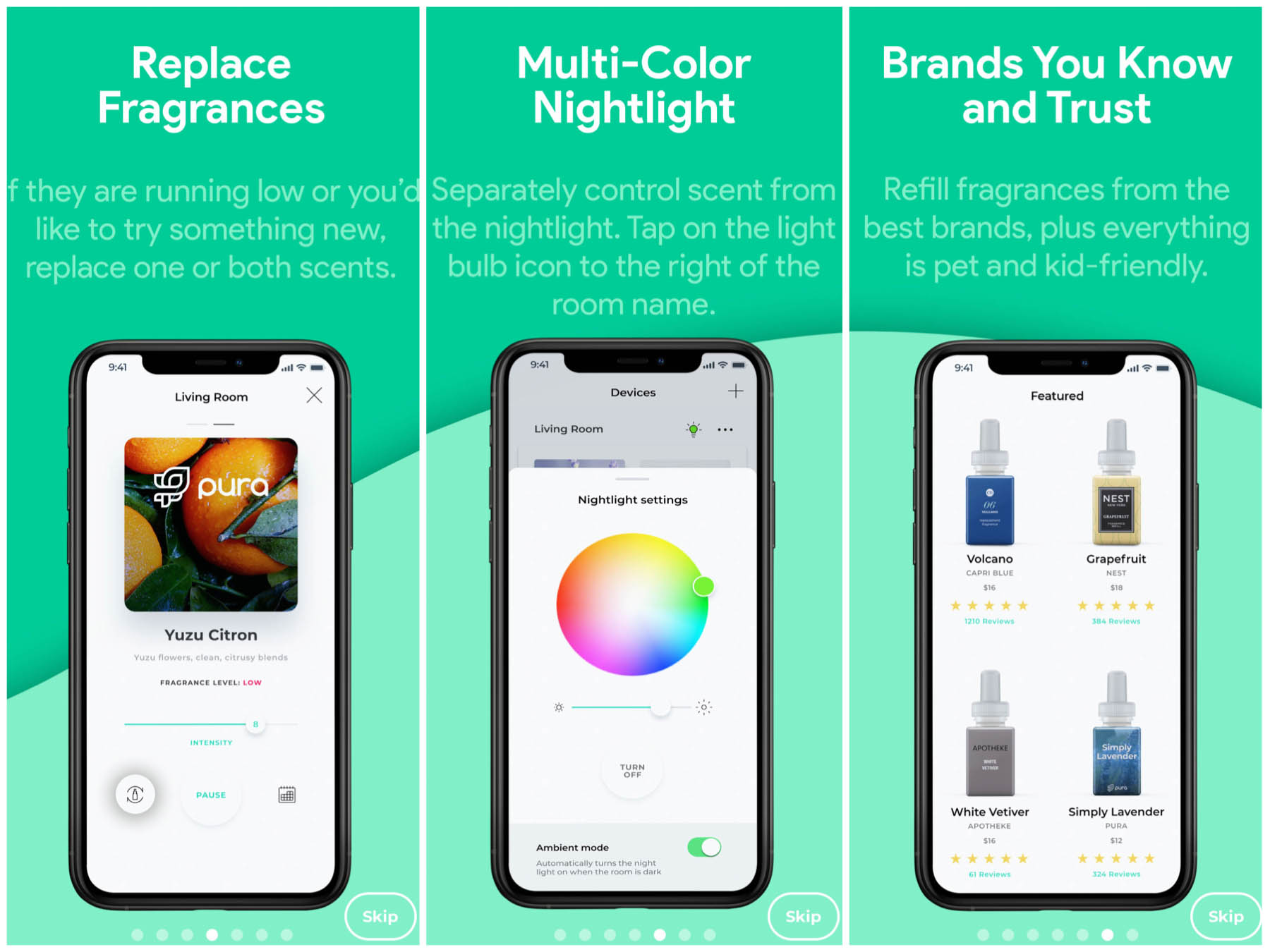 The app indicates when the fragrance level is low and you already need to replace it. You can also control the nightlight using the app, and choose your preferred color to help you set the mood in any room in your home! Other available scents are also featured on the app.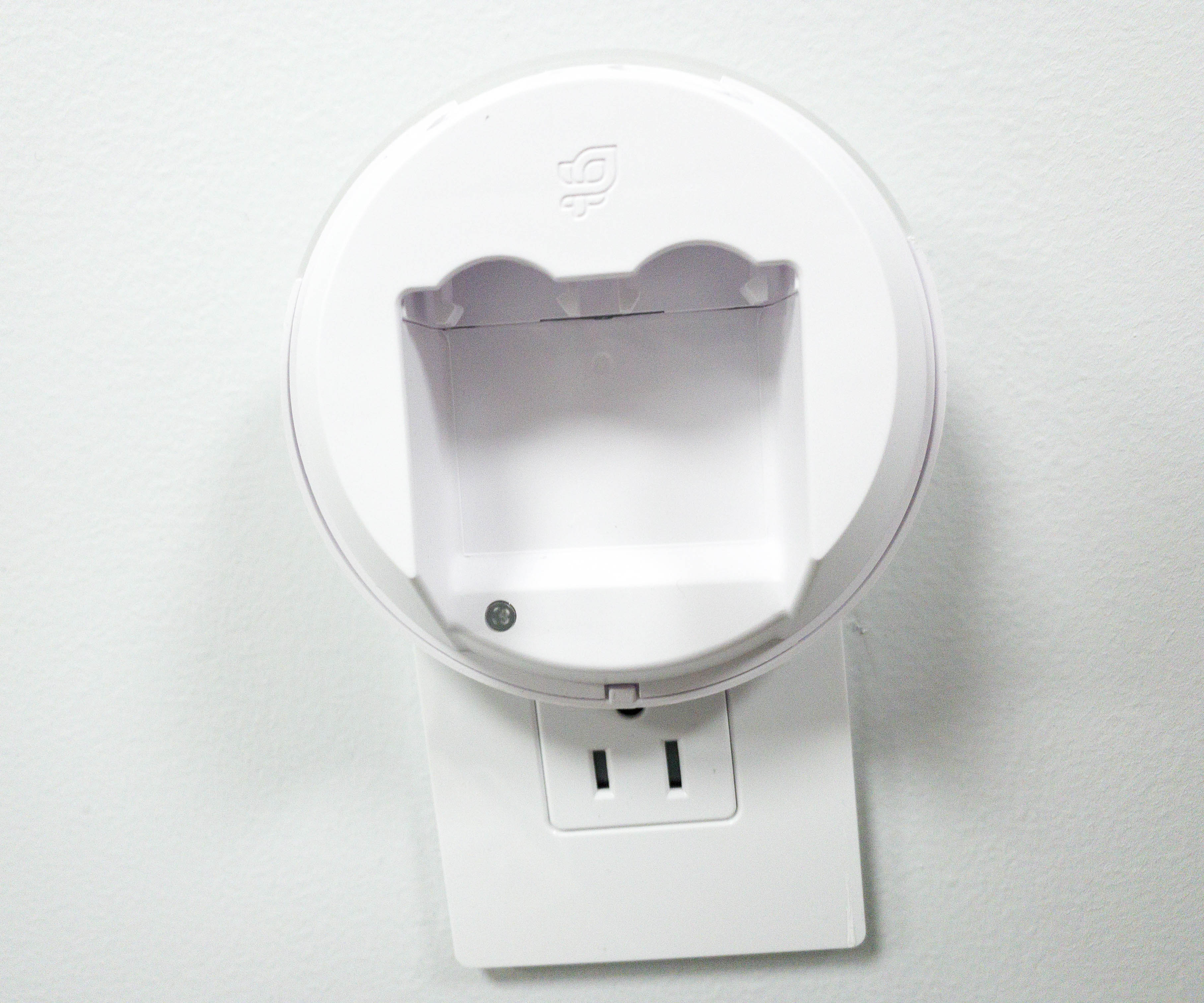 When you remove the cover, it will reveal the space for the vials. As I mentioned earlier, this smart diffuser can carry up to 2 vials and you can easily switch scents whenever you want to using the app!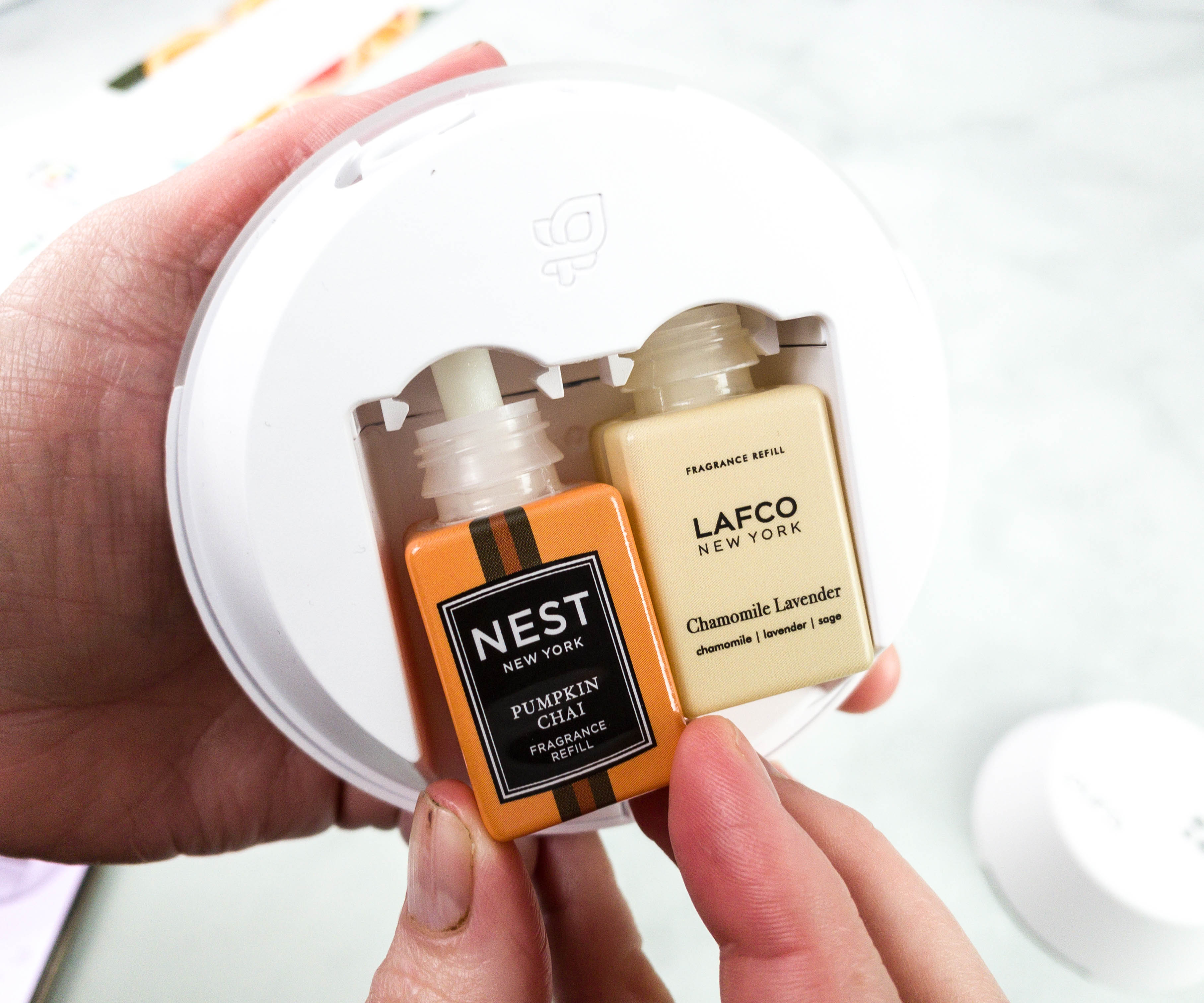 The cover was easy to remove and to attach, so I had no problems setting it up. Attaching the nozzles of the vials is also effortless. They're secured by a lock to keep them in place. No mess at all!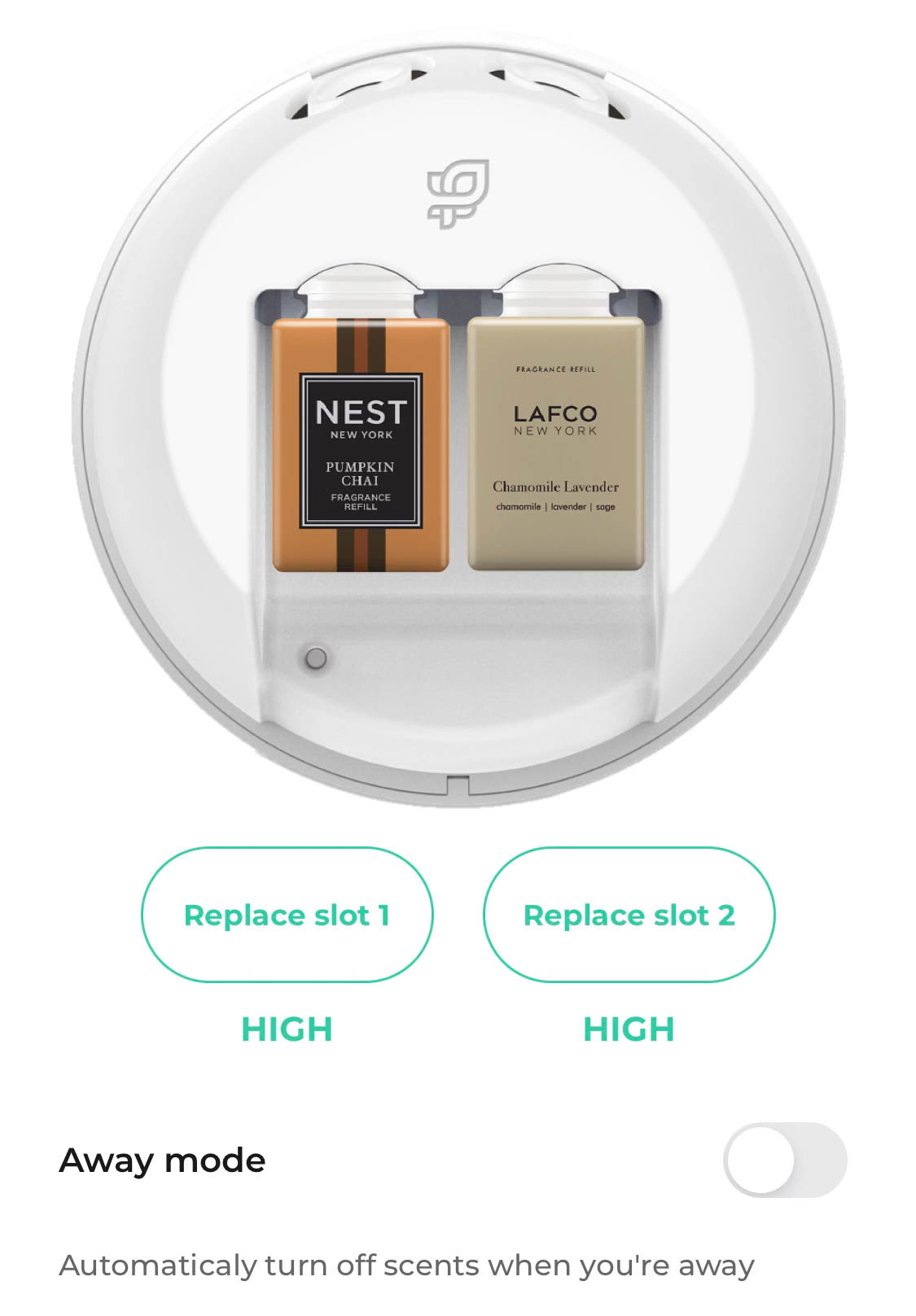 It's done! My app already recognizes the scents! There's an indicator for the fragrance levels, so I know when to change them. When I'm not at home, I can simply choose the Away mode and the device will automatically turn off the scents! This is a great feature that makes sure that no scent goes to waste.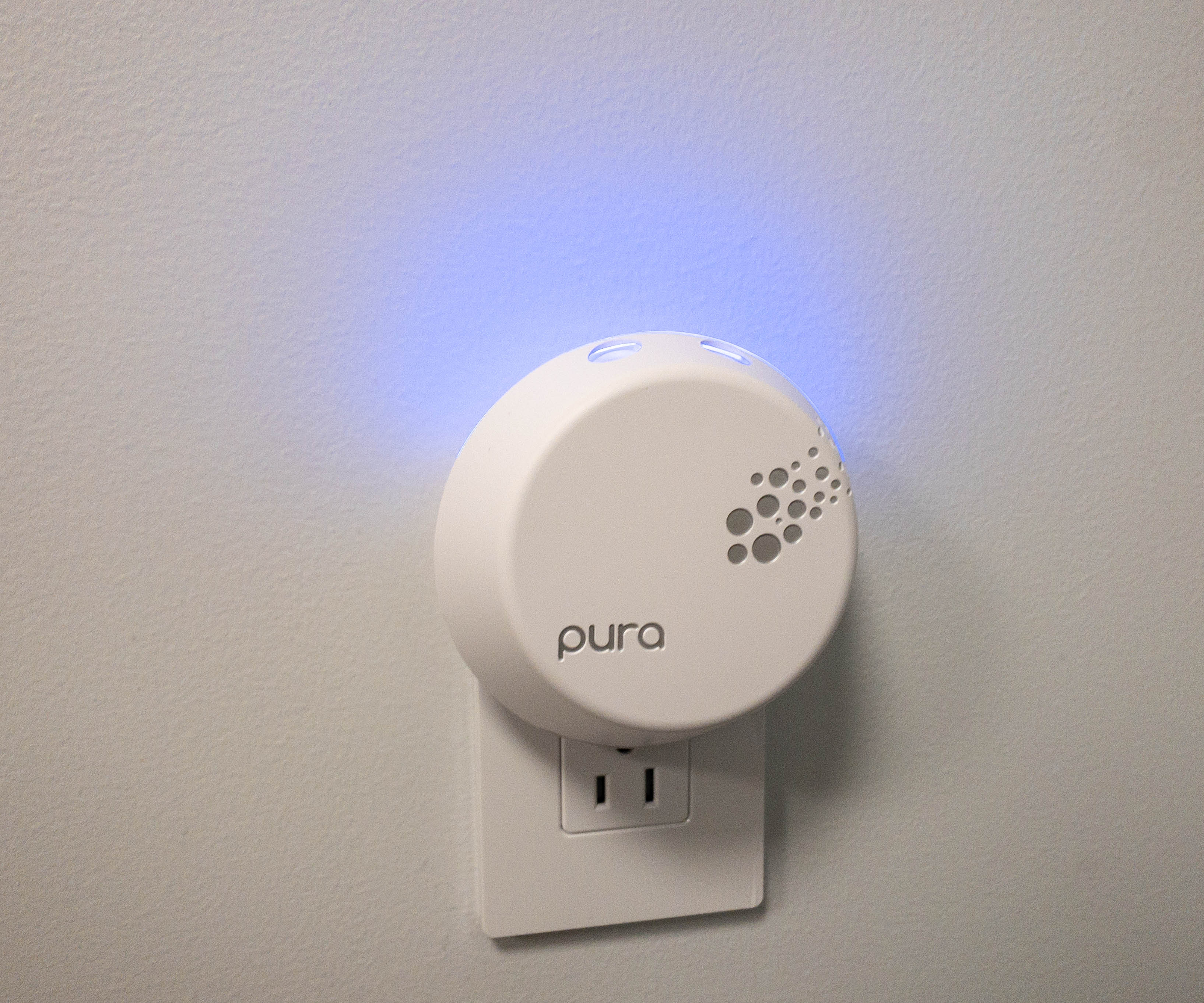 Here's how the diffuser looks like when plugged in!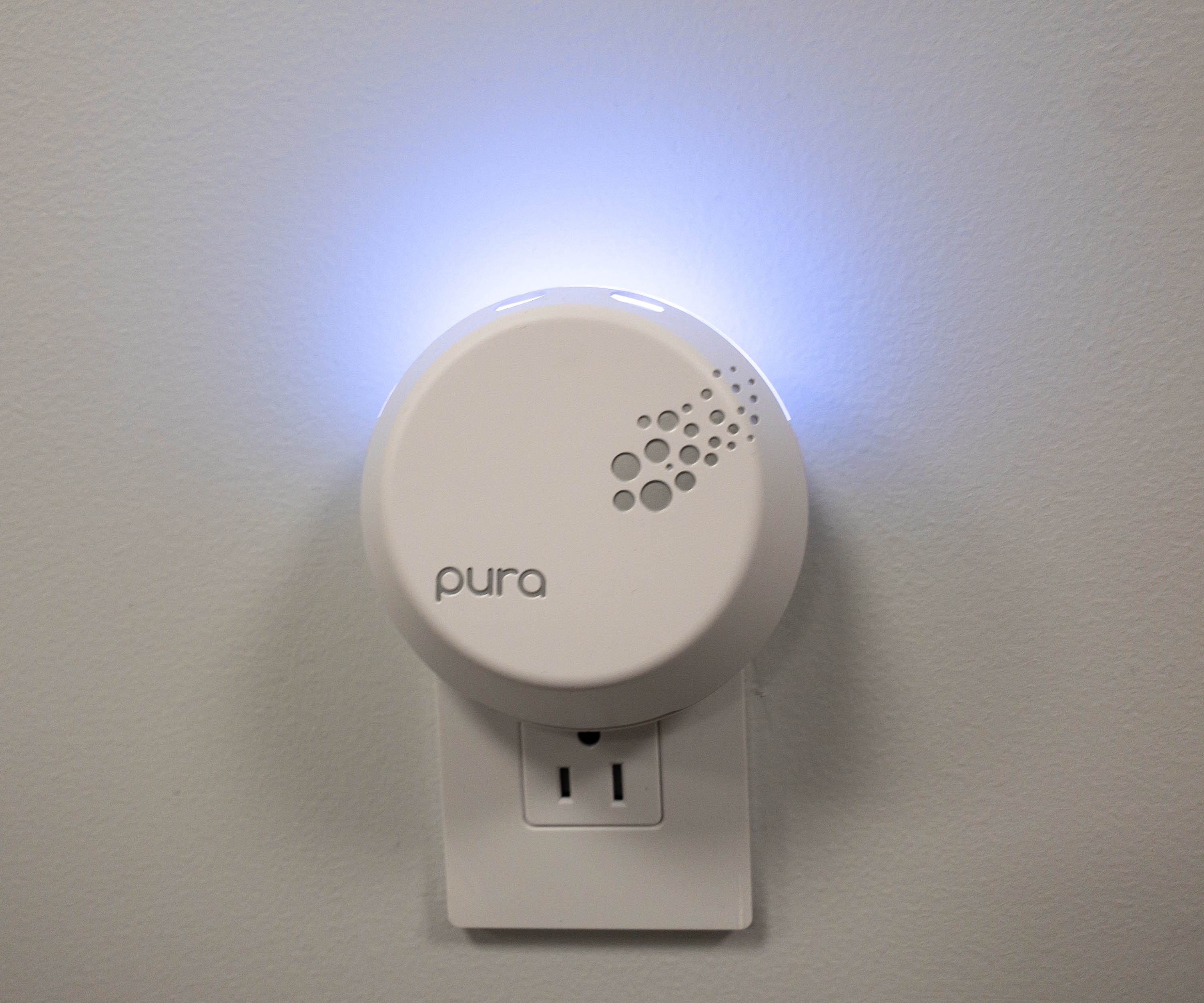 I adjusted the LED light's intensity and made it brighter. It's perfect!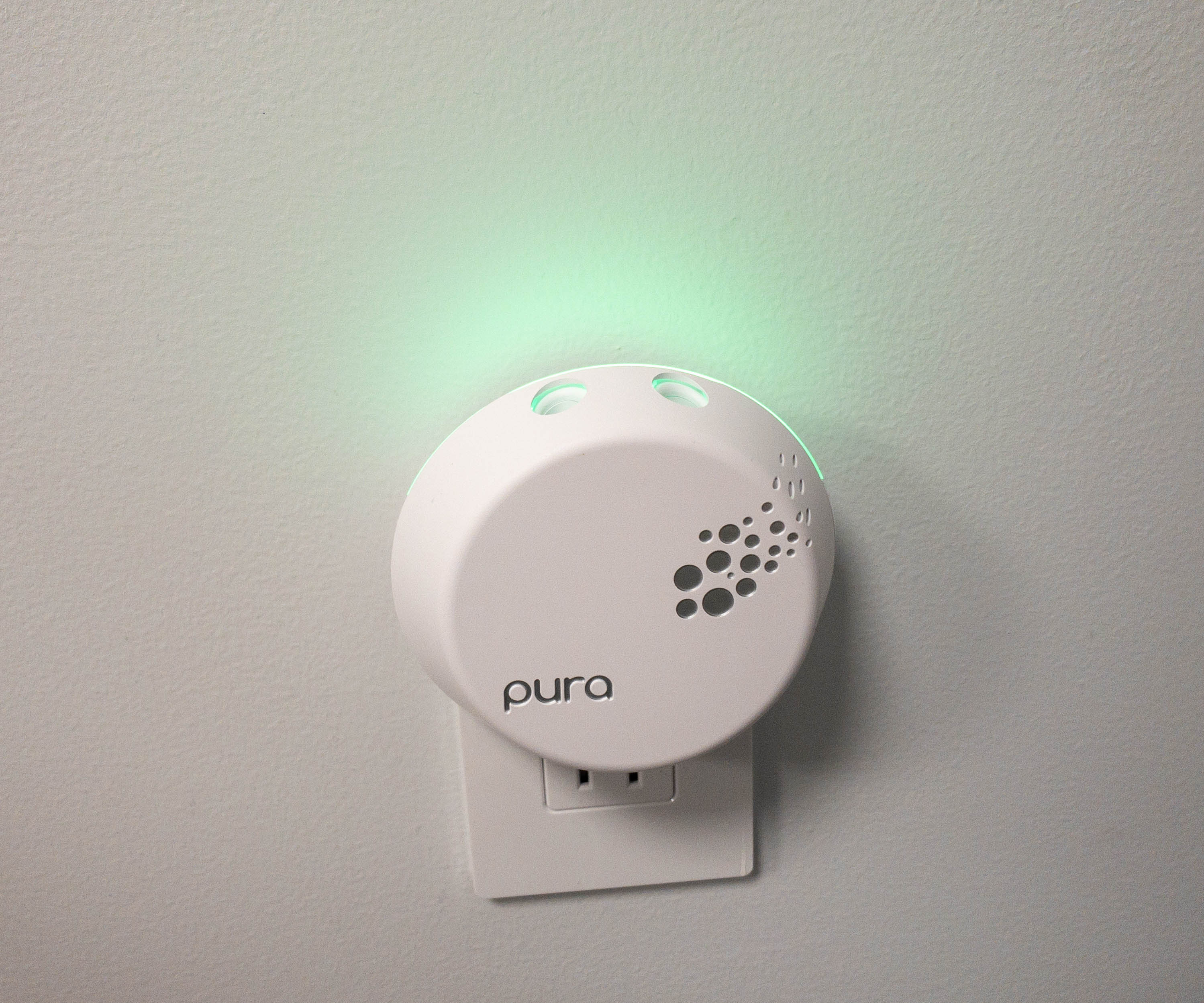 Then, I tried switching it to green. There are a variety of other colors to try, depending on what kind of mood you want to set!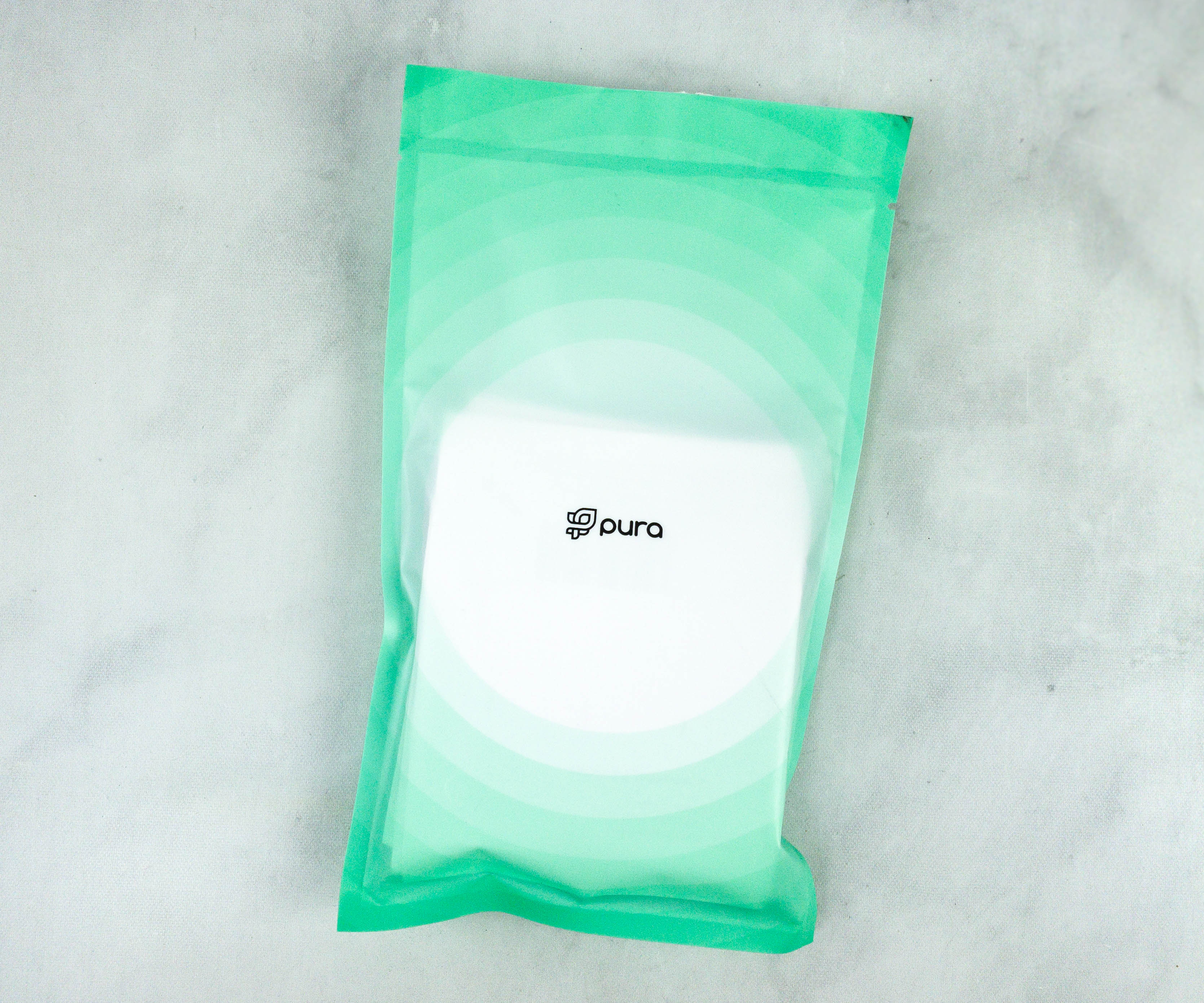 If you subscribed to their fragrances after buying the main kit, the vials will arrive at your preferred frequency and they will be packed in a green pouch with Pura branding.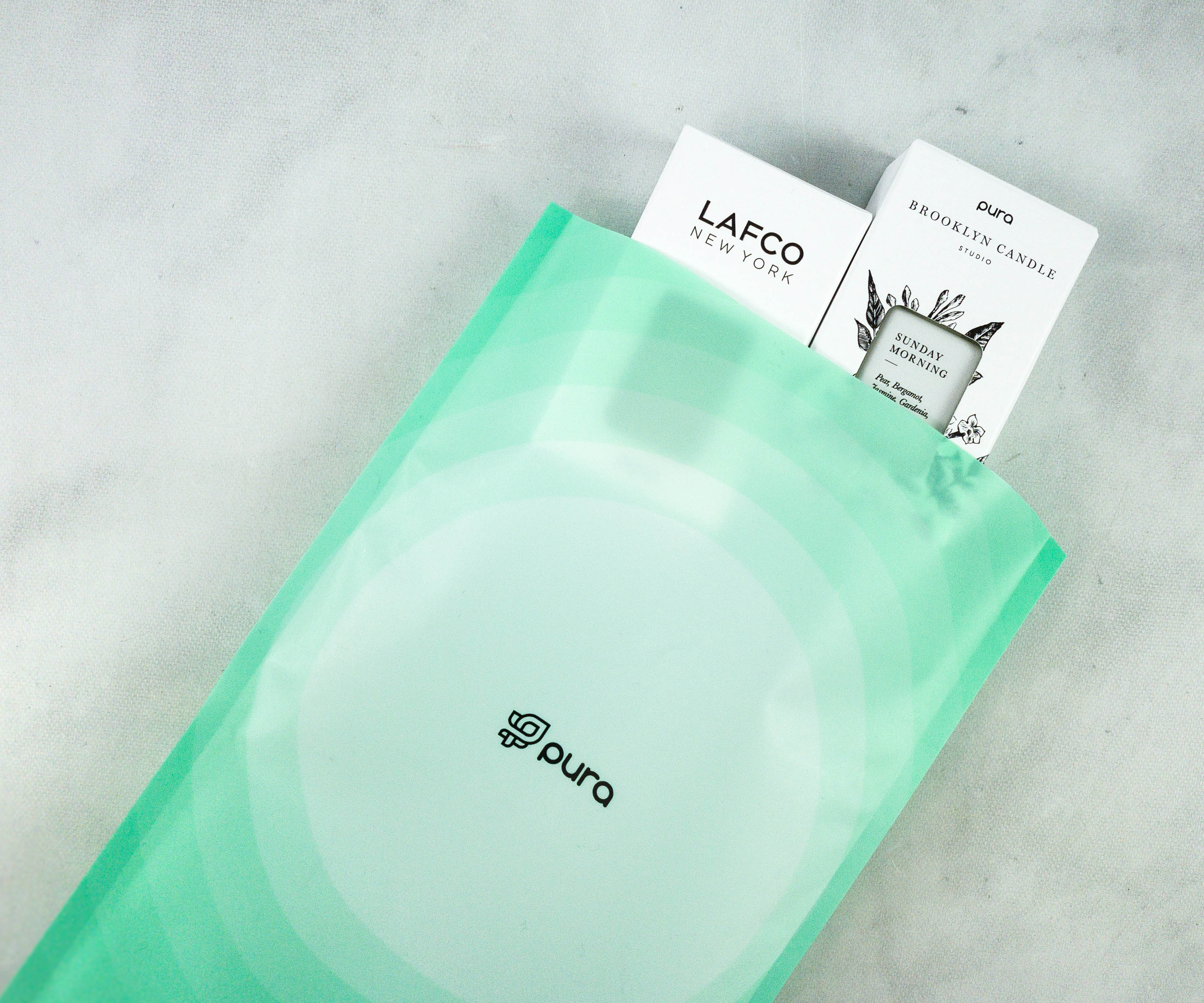 Here's a peek at my scents!
Here, I have the refill for the Chamomile Lavender scent from my initial kit and a replacement fragrance, which is Brooklyn Candle Studio Sunday Morning!
They all arrived in perfect condition!
Just like the fragrances in my first kit, the vials came in individual boxes.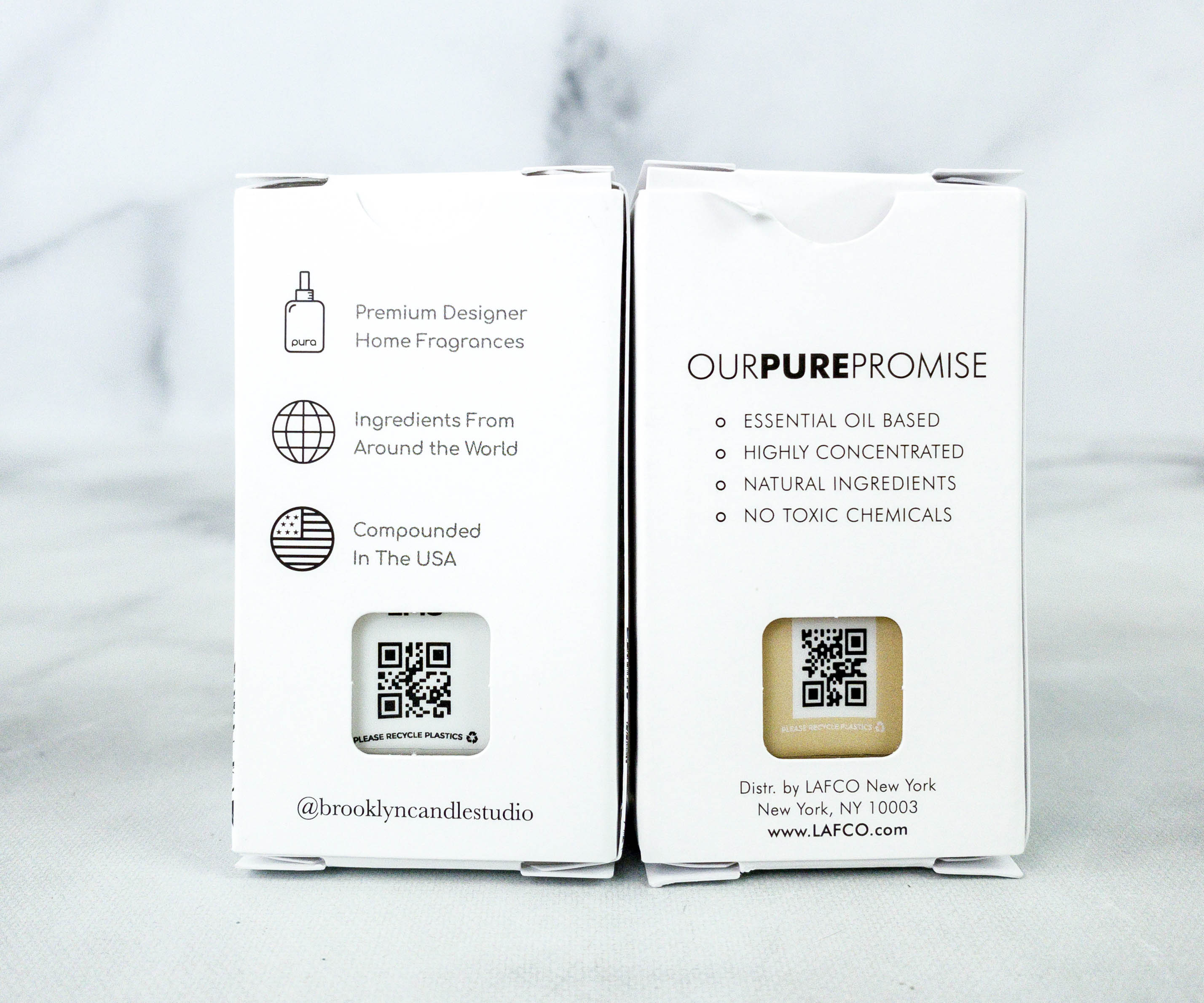 You can easily spot the vial's QR code at the clear window at the back of the box! Of course, these scents are also made with natural ingredients, and none of the artificial stuff that regular scent diffusers have.
Brooklyn Candle Studio Sunday Morning ($16) Just like a typical Sunday morning, this scent gives me a calm and refreshing vibe. Its scent notes include pear, bergamot, jasmine, gardenia, and amber woods. It definitely gave my room a cozy ambiance!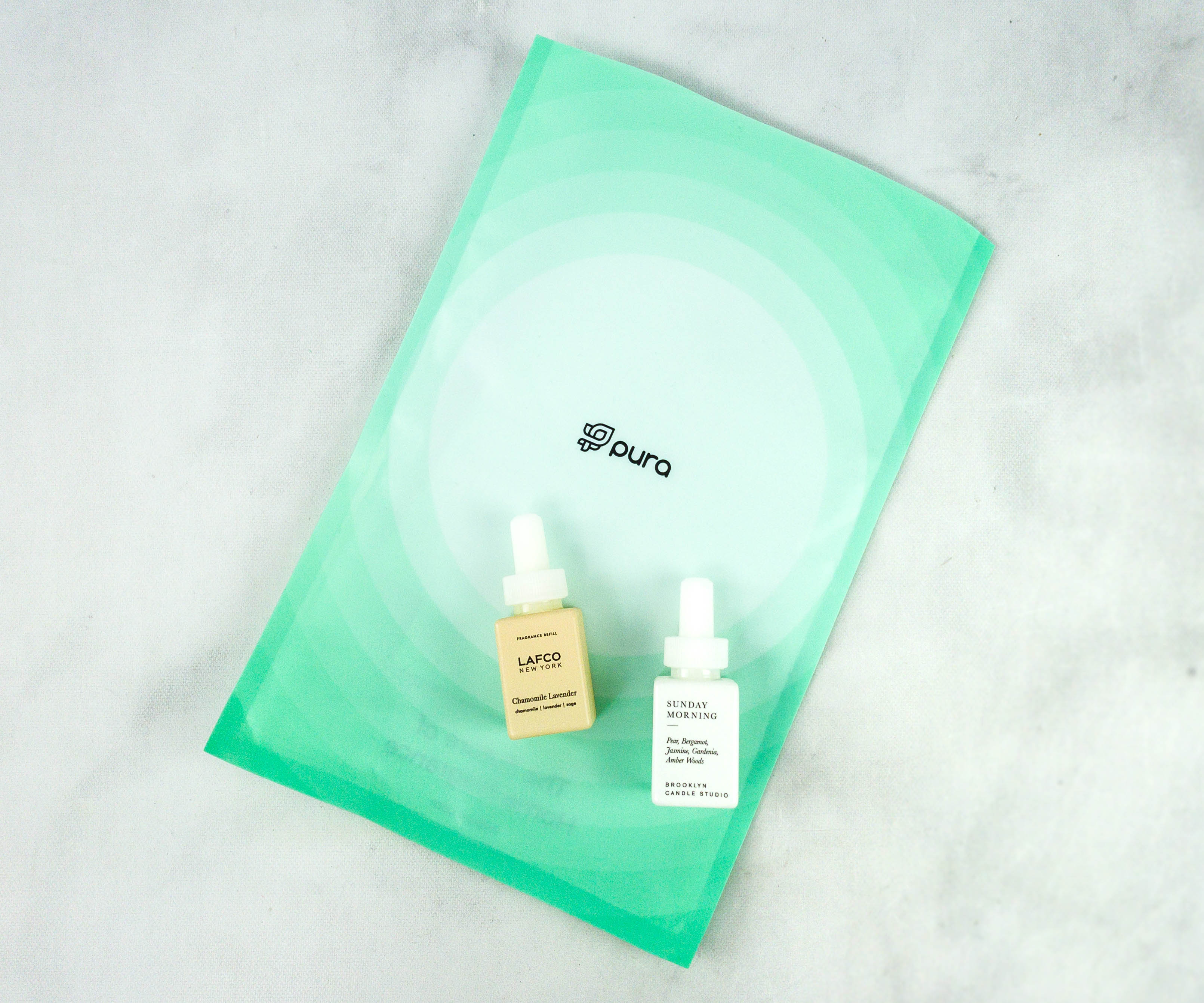 So far, I love all the scents I've tried. They were not overpowering! Also, each vial lasted for a couple of weeks, as promised!
The Pura smart scent diffuser gave my home a totally different ambiance! The device works great and it's easy to use. I had no problems in putting and changing the vials, and it was totally mess-free. You just have to be careful not to turn it upside down though, because that's when it has a tendency to spill. Connecting the smart diffuser to our home wifi was also a breeze! As for the app, it was pretty easy to navigate. I love that I have the option to switch between the 2 fragrances in the diffuser. It's a great feature for people who love choosing scents depending on their mood. To maximize the fragrance, there's also an option to control its intensity and to turn it off when you're away! It's more efficient than traditional scent diffusers that continue to release the scent all day, everyday. Even the fragance choices didn't disappoint. Pura has a wide selection of luxury fragrances to suit all moods and lifestyles, and what's great is that subscribers can choose the frequency of the refill deliveries. It's a real bonus (and super essential for me personally) that the fragrances are pet- and kid-friendly, too! Any fragrance junkie would love this smart device! It may be pricier than regular diffusers but it works as promised and it's definitely convenient!
What do you think of this month's box?