Ipsy Glam Bag X February 2023 was curated by Bailey Sarian, who I had never heard of before but it turns out she has a YouTube channel where she talks about murder and makeup. Ipsy picked some of my products, and then they presented me with a short list of other items in 3 different batches and I was able to choose one item from each. Read on to see what I received!
NOTE: My box was missing four items, so I contacted Ipsy and they sent out three replacements and gave a credit for the fourth item, since it was no longer in stock. So this review is of 7 items instead of the usual 8.
Even BIGGER Note: Ipsy and Boxycharm have merged and Glam Bag X will be replaced by the ICON BOX. Read all about the upcoming changes to Ipsy and Boxycharm here!
Ipsy Serpent Sack (My choice, $18 listed value) Sometimes the bags aren't available for me to choose but this time it was so I went for it because I liked it better than the other items offered in that particular category. I was hoping the featured bag would be similar in color and pattern to the regular Glam Bag for February but I guess they decided to offer something inspired by the featured curator. The bag is faux black and red snakeskin lined with black plastic fabric with three pockets on each side. The zipper pull is a broken heart/BFF heart and on one side is the word "BAILEY" and the other "IPSY". I think they were going for the words on the back to say "SUS-PISH" but instead it says "PISH-SUS" no matter how you zip it.
5 Sens Catching Feelings (My choice, $65) I love to wear fragrance (just not on my face or scalp!) so I was happy to see a bottle of perfume offered and made it one of my choices. This was described as fruity and floral with rose, lychee, and grapefruit along with leather and vetiver. The rose is deep and sultry and blends well with the musk and sour fruits. It's not super strong and doesn't project very far but I like it, it works well for cooler weather and work or date night. It reminds me of a blend of D&G's L'Imperatrice with a hint of JHAG's Not A Perfume. I'm glad I chose this item!
Athr Beauty Manifest Crystal Palette (My choice, $58) I have 3 out of 4 of this brand's palettes, so if Ipsy would see fit to send the Rose Quartz palette in the future I would have the whole collection. My pictures don't do it justice. Of the 12 shades, four are mattes and 8 are shimmers. The colors are much easier for me to wear and while it seems like the light shimmers are not super pigmented, I found they applied easier when I used my finger instead of a brush (but maybe I need to wet my brush next time).
Here's the palette swatches!
SCOTT BARNES Sculpting Contour Palette N°1 (Ipsy chose, $58) Again, my photos are not showing the complete picture here, as the palette is darker than shown above. I am not a fan of contouring for myself, I don't have the time or inclination to learn but I understand that it's popular for others. I have no idea how or where to use all of these colors and I'm not even sure they are right for my light skin tone. They went on blotchy but seemed to buff out easily. I think I ended up looking both sunburned and dirty. I watched a couple Scott Barnes tutorials on YouTube and can say that the looks he created are not really the kind that I go for, but then I prefer a more natural look with less products.
Here's the swatches of the contour palette!
Truly Coco Rose Fudge Whipped Body Butter (Ipsy chose, $36.90) I'm ok with the sultry smell of roses as in the perfume shown earlier in the review. I'm not a fan of old fashioned rose scents, which is what this body butter is all about. It's really thick, thicker and harder to rub in than any body butter I've ever tried before. Even Truly Beauty says a little goes a long way and suggests using it on elbows, cuticles, feet, etc. as well as the whole body. Shea butter and coconut oil plus more oils and butters and plant extracts and fragrance are some of the ingredients. There's something in it (besides oils) that leaves a slightly shimmery sheen on the skin. I think I prefer this on targeted areas and while I don't love the scent, I find that it's fine after a few minutes.
Dr Loretta Tightening Eye Gel (Ipsy chose, $60) I'm always happy to try under-eye products, though personally I don't believe they can turn back time but they can keep the area moist. This is a gel and as it dried I felt it "tightening", although I find that sensation typically happens with other gel products too. It doesn't leave a greasy feeling, although I kind of wish it did. It has hyaluronic acid to help draw moisture to the area.
LAURA MERCIER Translucent Loose Setting Powder Light Catcher (Ipsy chose, $43) Setting powder is another product I don't wear, mainly because I wear a mineral powder foundation so there's no need. After seeing the shimmery-ness of this version I decided to go ahead and wear a liquid foundation (from a previous Ipsy box) and topped it with this. It wasn't the same as brushing highlighter all over my face thankfully, the shimmer was subdued and I could hardly tell it was there, yet I liked it better than traditional setting powder. The shade is described as "champagne beige" and is perfect for those with fair to light skin tones, like mine.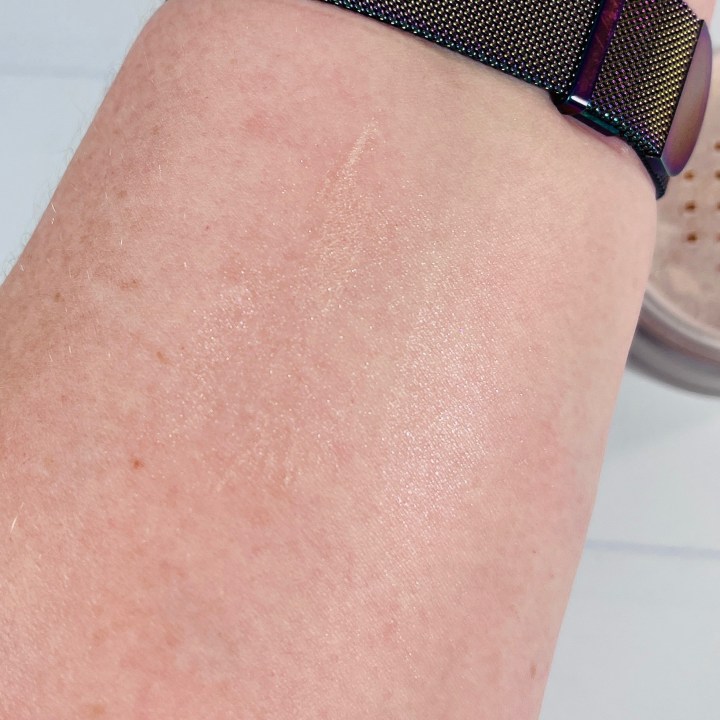 Here's a sorta swatch of the loose powder, which is very shimmery but not in a blinding way.
Even though my Ipsy Glam Bag X was missing one product, I was pretty pleased with the items that made their way to my mailbox! The shadow palette and perfume were my favorite items of the box, I will get tons of use from those two items alone. I was surprised by the face powder, I don't usually like that product (and don't typically wear it either) but this one had such a pretty finish, like a lit-from-within glow. The lotion will be used, but in small doses, and the eye gel was another winner with me. The only product I haven't used much is the contour palette, but I've noticed lately that I need something else in my daily makeup look so I'm going to watch some videos and see if I can come up with something that enhances my look but in a more natural-looking way, I don't want layers of makeup like I saw in the Scott Barnes videos. The value for my box, even missing one item, was around $338.90.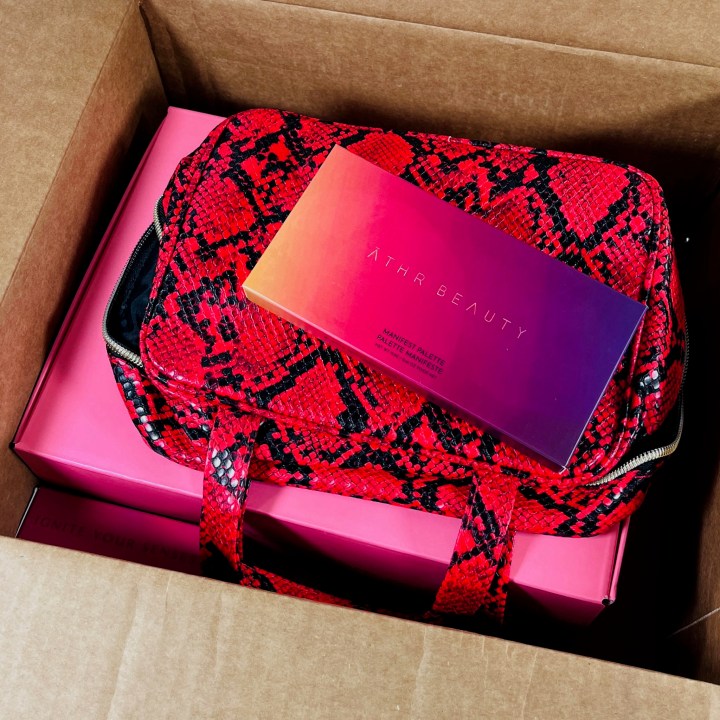 Each Ipsy Glam Bag X also includes a newspaper with info about the curator and brief descriptions of the items. See it here:
Ipsy Glam Bag X is the upgraded version of the monthly Ipsy Glam Bag! If you subscribe to the regular $13 Glam Bag, you would pay $42 extra and this will replace your usual bag for the month ($55 total). If you are a Glam Bag Plus only member, then this will replace that bag for a $27 up-charge (again, $55 total). If you subscribe to both of those bags, this will replace the Plus bag and you will also get the $13 bag, unless you skip. This will ship in the months of February, May, August, and November.
There are many bag variations every month for Ipsy – log in to your account to check out how-to videos and tips for your products.
Don't forget that you can rate your items and you earn bonus points when you do that, so you can get additional products in your bag. All subscribers now have the chance to pick a product for their next bag – just log in on choice day and pick one!