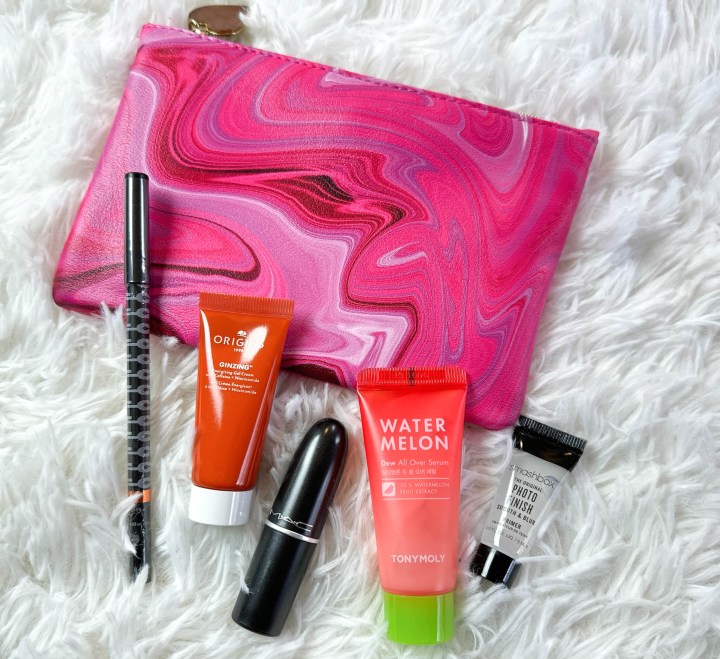 Ipsy Glam Bag sends personalized beauty products straight to your doorstep every month, so you can indulge in a little bit of self-love and pampering. And this month's theme is all about celebrating YOU! That's right, the February 2023 Ipsy Glam Bag is all about reminding you that YOU ARE LOVED. Let's see what exciting goodies the Ipsy curators have picked out for us – continue reading our review below!
In case you missed the news, BoxyCharm and IPSY have merged, and starting mid-March, members will have access to more personalization and customization that Ipsy offers, and popular brands under BoxyCharm. More information here.
Note: Ipsy sends many variations, so the bag we're reviewing may not match everyone else's.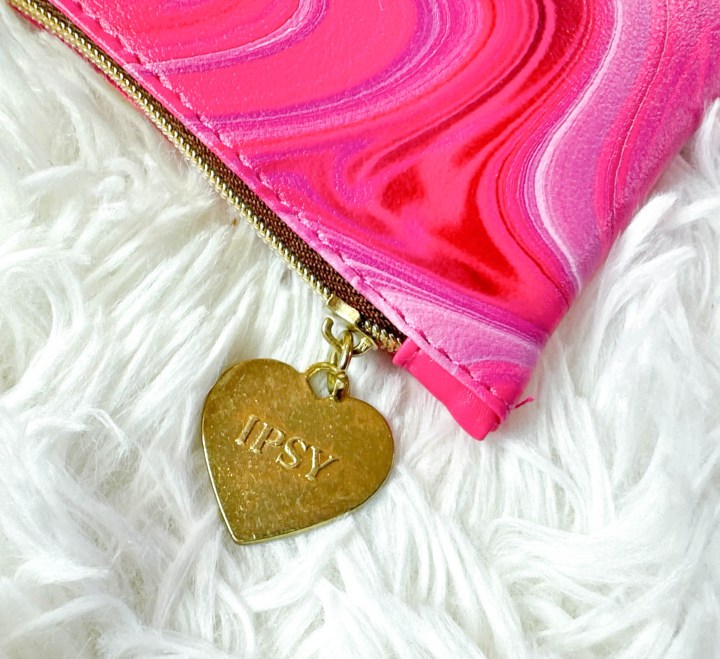 The glam bag design for February 2023 features a marbled swirl of pinks and browns. It's modern and fun, and the addition of an enamel-like heart charm on the zipper pull adds a charming touch. The design was created by the talented LA-based artist Dime Jones, who brought her unique creative vision to the bag and made it truly one-of-a-kind.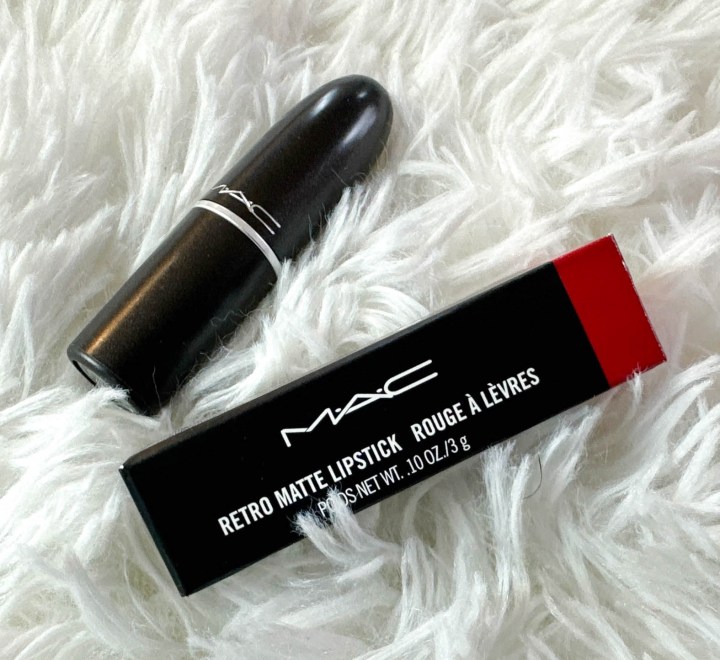 First up is a classic red lipstick! It's a MAC Retro Matte Lipstick in Runy Woo ($22), the iconic shade which has been a favorite of makeup lovers for years, and for good reason. It's a vibrant, blue-toned red that flatters a range of skin tones – the perfect shade to wear for a night out, a special event, or even just to add a little bit of glam to your day-to-day look. The retro matte finish gives the lips a velvety, matte look that stays put all day long. No need to worry about touch-ups or smudging, this lipstick is a true winner in the longevity department.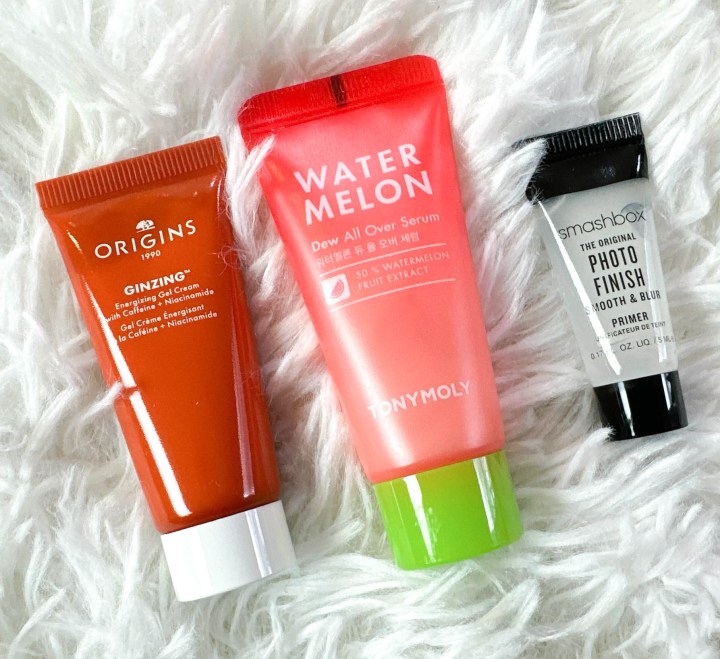 Now, let's talk about giving our skin some love, starting with Origins GinZing Energizing Gel Cream ($36 Full Size 50ml)! This refreshing gel cream is formulated with coffee beans, ginseng, and hyaluronic acid to hydrate, brighten and revive tired, dull skin. Its lightweight texture makes it perfect for oily or combination skin types, and it absorbs quickly, leaving you with a healthy, glowing complexion.
If you want to achieve dewy skin, then you'd love TonyMoly Watermelon Dew All Over Serum ($15 Full Size 120ml). It's infused with watermelon extract and hyaluronic acid that hydrates and plumps the skin, with a sweet watermelon scent that will transport you straight to a tropical paradise. But the best part? This serum is not just for your face – it's all over! That's right, you can slather it on your arms, legs, and even your hair for an all-over dewy glow. It's like a spa day in a bottle!
Also included in my bag is Smashbox Cosmetics The Original Photo Finish Smooth & Blur Primer ($8), which is formulated to smoothen out the skin and make it look like it's been airbrushed to perfection. It's like having your own personal filter, but in real life! It hides blemishes, fine lines, and uneven texture, leaving you with a flawless canvas to work with. The primer is also lightweight and doesn't leave that heavy, greasy feeling like some primers do. It's a must-have for any beauty lover who wants to look their best both in person and on camera!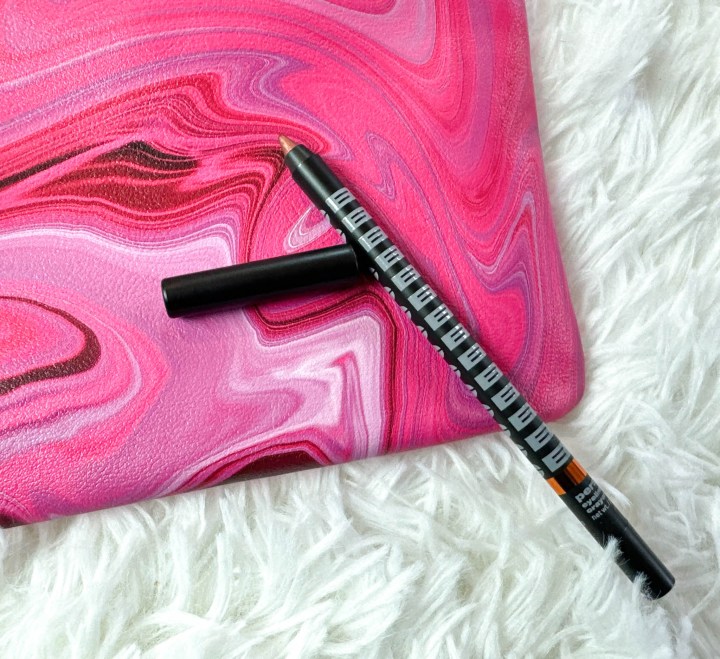 Beauty For Certain Eyeliner Pencil in Persimmon ($20), a bright and bold eyeliner, is the perfect way to add some fun and flirty flair to your look. The vibrant persimmon shade is sure to make your eyes pop and turn heads wherever you go! As for the formula, it's creamy, pigmented, and glides on smoothly for easy application. Plus, it's waterproof, so you can rock your bold liner all day (and night) without worrying about smudging or fading. This eyeliner pencil is versatile too – use it to create a winged liner for a dramatic look or smudge it out for a more smoky effect. As Ipsy gears up for some exciting changes on the horizon, I'm eagerly anticipating what new features and experiences they'll bring to the table for their loyal subscribers.
In a world that can sometimes feel overwhelming, it's important to take a moment to love yourself and take care of your own needs. The Ipsy Glam Bag is the perfect way to do just that – to treat yourself to some much-needed TLC and indulge in some fun and exciting new beauty products. From the gorgeous marbled bag design to the high-quality products included inside, everything about this month's curation is top-notch. The watermelon serum was a particular favorite of mine – it left my skin feeling hydrated and refreshed. Ipsy is gearing up for some exciting changes in line with the BoxyCharm merge, and we're also eagerly anticipating the new experiences they'll bring to the table for their loyal subscribers!
This month's curation also comes with a card. It contains the theme for the month and brief descriptions of the products I received. See it here: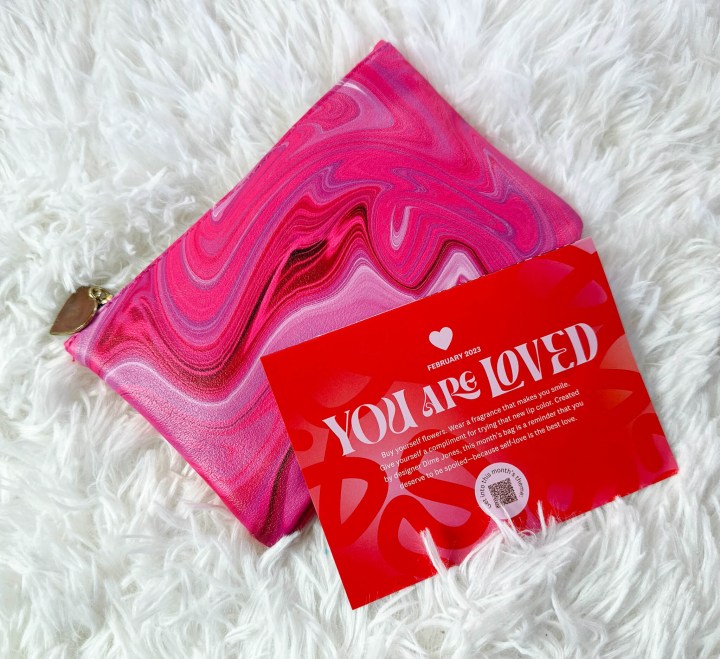 IPSY is a women's monthly subscription beauty membership known as The Glam Bag and contains sample and/or full-size makeup and beauty products delivered straight to your door. Depending on your plan, once a month members receive a makeup bag filled with 5-9 cosmetic items such as perfumes, nail products, skincare items, and of course makeup! Items in your Glam Bag are personally curated based upon your beauty preference results from your personalized beauty style quiz.
Visit Ipsy Glam Bag to subscribe and find out more!