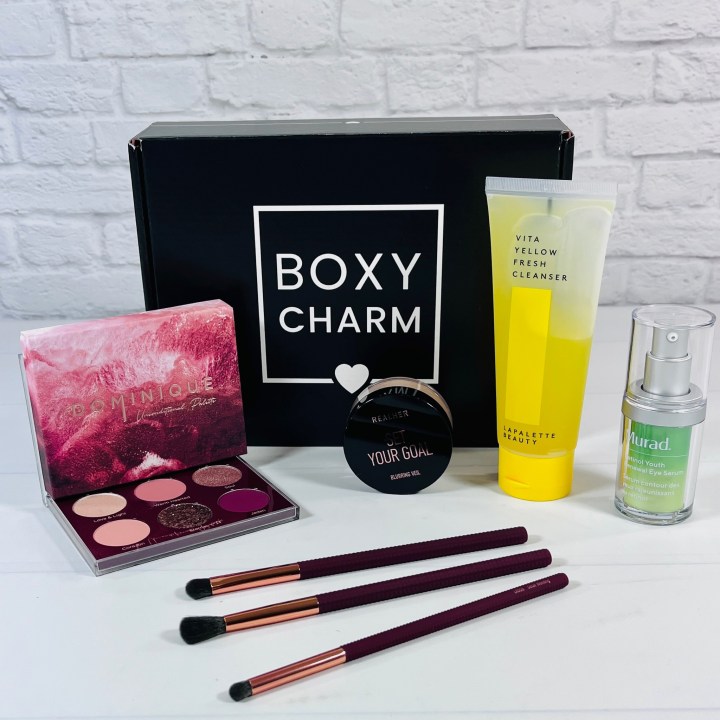 The December 2022 BOXYCHARM theme was 'tis The Season (For Being Extra). I received 5 items from a variety of beauty categories — there was a palette, makeup brushes, and more. I'm ready to face the holidays with bright eyes and clean skin. See all of my products below!
Keep in mind that BOXYCHARM sends many box combos so your box items and value may be different than mine. There are variations to the box – see them here.
Please note that BOXYCHARM recently announced the addition of a $1.99 handling fee to all subscriptions per monthly billing cycle, starting in October. All Annual Subscribers who renew will also see a $9.99 handling fee charge. You can read more about it here.
DEAL: Subscribe now and get a FREE gift: Ciaté London Trend Edit Palette in Bronzed OR Olive OR Avant Skincare Blue Volcanic Stone Purifying & Antioxidising Cleansing Gel, PLUS $10 credit to December Drop Shop!
Use this link and pick your FREE gift at checkout AND get your exclusive $10 Drop Shop code via email within 24 hours of subscribing.
Everything came in its own box and arrived in perfect condition.
Lapalette Beauty Vita Yellow Fresh Cleanser ($32) I give this product bonus points for not having parfum but I also have to deduct those points due to the presence of potentially irritating citrus oils. Otherwise, I thought it was a good cleanser and it removed all of my face makeup (I didn't use near my eyes) and didn't leave my skin feeling dry or tight. It has good-for-the-skin ingredients like aloe and glycerin plus ceramides. It had a cool jelly texture and rinsed away easily.
Murad Retinol Youth Renewal Eye Serum ($89) Here we have more glycerin plus retinol and pomegranate seed oil but this product also has parfum and yet it still smells kind of yucky. It's supposed to boost radiance, help soften the look of fine lines and wrinkles, and of course plump the skin. It dries down completely and hopefully it works over the long term (but I honestly have a feeling no eye products do much more than keep the area moist).
Laruce Beauty Special Edition 3 Piece Eye Brush Set ($38 listed value) It's hard to tell from my pictures but these brushes have maroon handles and rose gold ferrules. They are also a reliable brand, I have several in my collection. I especially liked the detail blending brush, I was able to apply shadow in a precise way to my crease, and I was able to use it to line my eyes without getting a super thick line, nor did it come out all smeared up. The other two brushes were a shadow brush and tapered blending, which was a little too fluffy for me but still worked well.
RealHer Set Your Goal Blurring Veil ($25 listed value) I don't have a use for face powder since my base is a powder so it takes care of all the mattifying and setting stuff. I went ahead and did a full face (with a liquid formula I use only occasionally) to try out several of my new items and so I could use this powder and I think it worked fine, it was easy to apply with a big fluffy brush.
Dominique Cosmetics Unconditional Palette ($28) This is a small palette which means it's perfect to place in a purse or pouch for touchups if needed (like on New Year's Eve). I found it interesting that the shades on the back of the box don't look like the shades inside the compact — the box versions are much darker. Also, I cannot imagine putting the sparkly Eternal on my eyes at all — it is literally chunky glitter like you might use in an art project, ouch. Otherwise, the rest of the colors are a rosy warm neutral and were easy to blend, although the two shimmers, Love & Light and Soul, will need a lot of setting spray to get it to look anything like the model on the brand's website.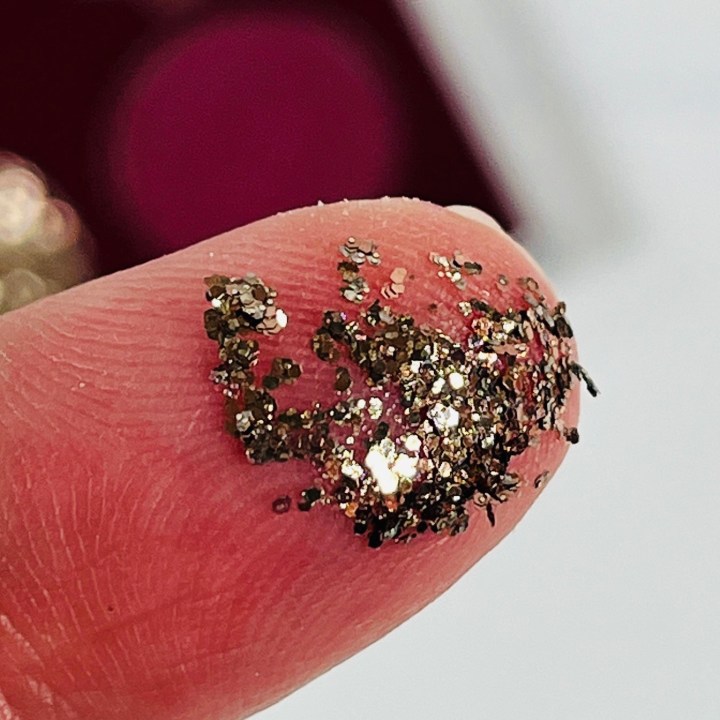 Here's that chunky glitter shade.
Here's the swatch of the whole palette.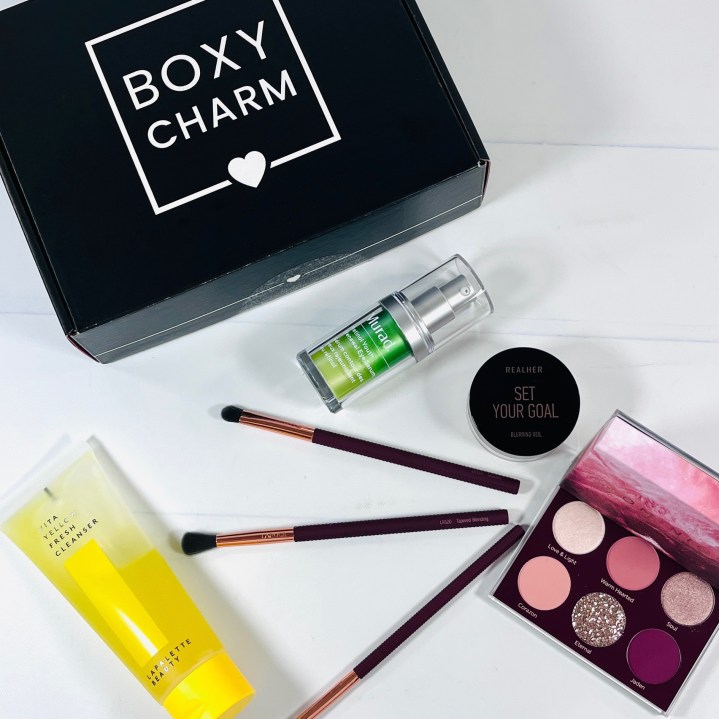 I can't complain about this assortment — there was a shadow palette, brushes to apply eye makeup, an undereye treatment cream, a setting powder, and a cleanser. My favorite has to be those eye brushes as they helped me get a good look using a different palette from another box. This palette was good too, although I'm keeping the chunky glitter shade away from my eyes. I liked the treatment cream and the cleanser worked well, and although I don't use setting powder, I thought this one worked well and wasn't too light for my skin tone.
Below is a box opening photo as well as the product info card.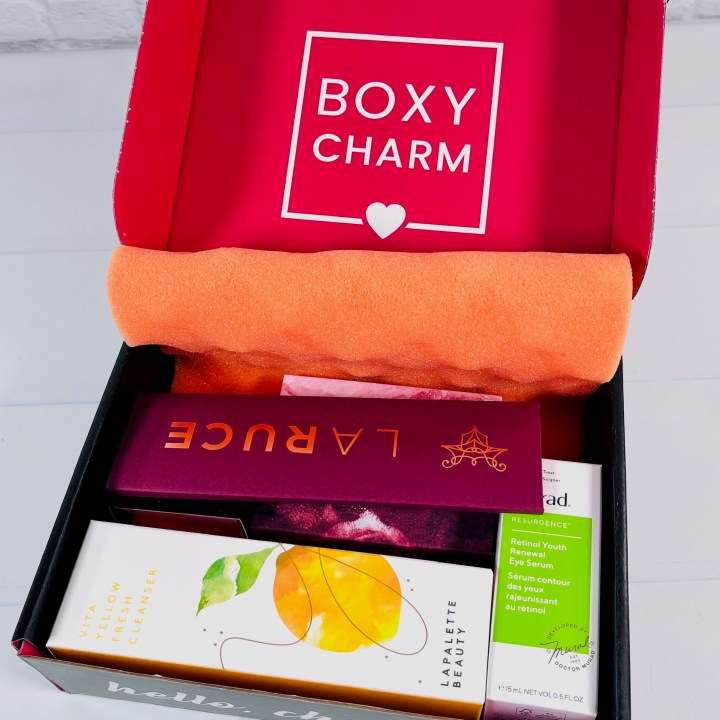 BOXYCHARM is a makeup and beauty subscription box that sends out 5 full-size items every month. Products include makeup, skincare, and beauty tools and each box has an average value of around $175. BOXYCHARM is $27.99 a month with discounts for those who prepay for longer terms. This subscription was the top pick of our subscribers for the best makeup subscription boxes in 2022!
What's your favorite item in this month's BOXYCHARM?