Weather gets crisp in the fall, which means it's time to brace for the colder months. Allure Beauty Box October 2022 is a curation that helps energize the skin and keep us glowing all season long, despite the drop in temperatures. Included in the box are editor-tested beauty products that promote moisture and radiance – check them out in our review below!
DEAL: Get your first box for just $15 + FREE full-size Kaja Beauty Bento Bouncy Shimmer Eyeshadow Trio in Chocolate Dahlia and Allies of Skin Retinal & Peptides Repair Night Cream! Just use this link to subscribe and use the coupon FALLSALE.
Currently, new members will FREE full-size Kaja Beauty Bento Bouncy Shimmer Eyeshadow Trio in Chocolate Dahlia and Allies of Skin Retinal & Peptides Repair Night Cream!
FYI – you can see the full spoilers for the October 2022 Allure Beauty Box here, in case you want to know all of the possible variations.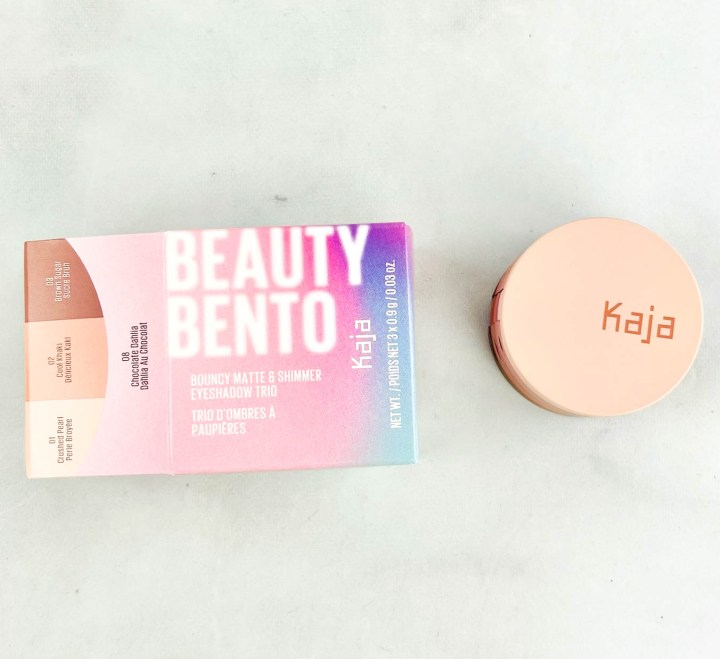 Kaja Beauty Bento Bouncy Shimmer Eyeshadow Trio in Chocolate Dahlia ($26) provides the lids and creases with fall-inspired colors. This eyeshadow compact comes with three shades – two mattes and one shimmer, which reminds me of pumpkin spice. The cute little stacks reflect the name bento and each layer satisfyingly snaps! With creamy and powdery textures, you can apply them using a brush or just your fingertips. I love how buildable and blendable the shades are. They give a great color payoff! Use one shade alone for a light everyday look, or layer multiple colors for a bold look. It also has a mirror, making it ideal for travel.
To give the lashes a lift and added volume, here's a Sephora Big By Definition Mascara ($12). It's made with plant-derived ingredients, and each swipe conditions the lashes. The formula leans on the thinner side, yet it is long-lasting. With the help of the wand, it separates the lashes and does not clump or flake (at least for me). This vegan mascara did a good job of giving my lashes the necessary volume without being overly dramatic.
Belif Aqua Bomb Brightening Vitamin C Cream ($45) gives the skin the perfect moisture. Formulated with a quadruple hyaluronic acid blend and enhanced with vitamins C and E, it hydrates and locks in moisture while providing the skin with a visible glow! With Lady's Mantle herb in the ingredient list, this beauty cream is even rich in antioxidant and anti-inflammatory properties. It has a gel-cream consistency that plays in between light and heavy with a subtle citrusy scent. It relieves dryness so it really comes in handy, especially with colder months ahead. It also leaves my skin feeling smooth, soft, and supple!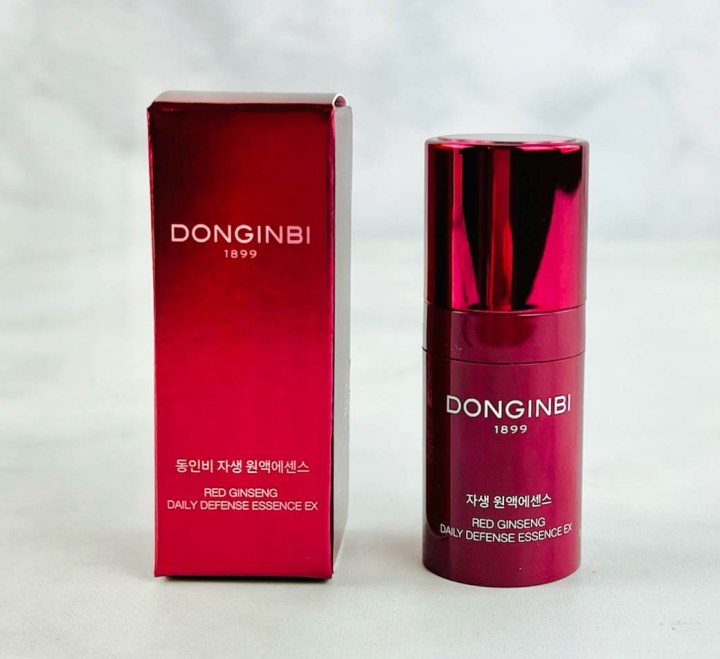 Another "food for the skin" is Donginbi Red Ginseng Daily Defense ($65.99 1oz). It contains red ginseng extract, which is an amazing anti-aging ingredient. This nourishing product promotes elasticity and leaves the skin moisturized and nourished, ideal for your fall skincare routine and beyond. Plus, it's lightweight, fast absorbing, and definitely has an earthy/herby smell because of ginseng. It penetrates deep into the skin and adds a protective layer while giving the skin a radiance boost!
Vasanti BrightenUp! Exfoliator ($8.29) lifts away dirt and grime from the skin! It also targets dark spots, uneven skin tone, dullness, and signs of aging like fine lines and wrinkles. The formula contains soothing papaya enzyme, moisturizing aloe vera and panthenol, hydrating coconut, and dermatologist-grade microdermabrasion crystals that provide deep pore cleansing, resulting in improved skin tone and texture. This product is natural and vegan-friendly as well!
Fleur & Bee Just Dew It Hydrating Serum ($34) has a yellowish color which some people may find unusual, but this formula is extremely hydrating! In addition to hyaluronic acid and squalene, the serum contains sea buckthorn oil and prickly pear seed oil, which are known to have antioxidants, anti-inflammatory, and moisturizing properties. It has a lightweight and gel-like consistency that is absorbed well by the skin without the greasy or sticky feeling after. This serum also helps plump the skin, smoothen fine lines, and leave it with a healthy glow. I also appreciate that it's vegan and cruelty-free. The serum came in a full-sized bottle too!
For healthy hair this fall season, you can try Viori Hidden Waterfall Shampoo and Conditioner Bar ($34). The ones in the box are samples, and they smell so great! Aside from being eco-friendly, these hair products help us achieve clean and conditioned hair and scalp. The shampoo and conditioner bar contains Longsheng rice, bamboo, and aloe vera that renews and repairs hair, along with cocoa butter and shea butter that conditions and moisturizes with added shine from rice bran oil and hydrolyzed rice protein. The round one is the shampoo, and the square one is the conditioner. Both have sweet and warm scents, and I love the packaging as well!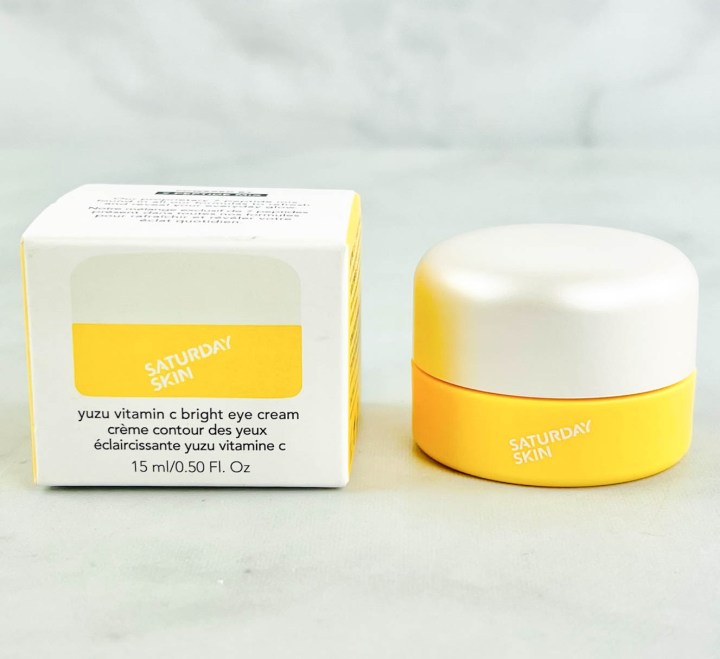 Saturday Skin Yuzu Vitamin C Bright Eye Cream ($32) is a full-sized product that will help me deal with my undereye area problems. I love using products of this kind, so I'm eager to try this one. First of all, it has a buttery-smooth consistency. It doesn't smell at all, although the packaging gives off a citrusy vibe. Made with Yuzu fruit, this eye cream feeds the undereye area with three times the vitamin C, which is responsible for improving skin elasticity and evening skin tone. With niacinamide and active vital complex, it helps minimize pores, reduce the appearance of fine lines and wrinkles, hydrate, and improve texture.
To keep our brows on fleek, they've included a True+Luscious Brow Definer Pencil in Taupe ($18). One tip is the brow pencil, while the opposite end comes with a spoolie to groom the brows. It's a pomade/powder hybrid infused with organic Jamaican castor oil that conditions and supports healthy brow growth. It glides smoothly and is easy to use! The spoolie brush blends the color, resulting in fuller yet natural-looking brows. It doesn't smudge and is incredibly longer-lasting too!
Fall is here for us to enjoy, and Allure Beauty Box also arrived in time to give us a nice mix of skincare and cosmetics and to give our beauty routine a refresh! From exfoliating my face to finishing my look for the day, the box included great beauty picks. Each one is hydrating, which is definitely perfect to help my skin stay in great condition despite the colder weather. Most of the products are vegan and cruelty-free as well. The skincare products in this box fight off dryness and provide moisture and glow, while the makeup items helped me achieve my go-to looks. With a retail value of over $250, this beauty box doesn't disappoint!
Allure Beauty Box is a monthly beauty subscription service that sends 6 or more beauty products (at least 3 of those will be full-sized) with a retail value of at least $100+ and is curated by the editors of Allure Magazine, who choose and test the products themselves. Allure Beauty Box is $23 a month or sign-up for a year, and the price is closer to $21 a month. There are sometimes sponsored products in the box, and you'll be eligible for special discounts on Allure editors' favorite luxury products and limited-edition boxes. Allure's beauty subscription box took home first place in our 2021 readers' choice list of best skincare subscription boxes!
If you are a new subscriber, then your products may be slightly different, but continuing subscribers should not receive the same product twice.
Have you tried the Allure Beauty Box yet? What did you think of this month's box? Let me know in the comments!