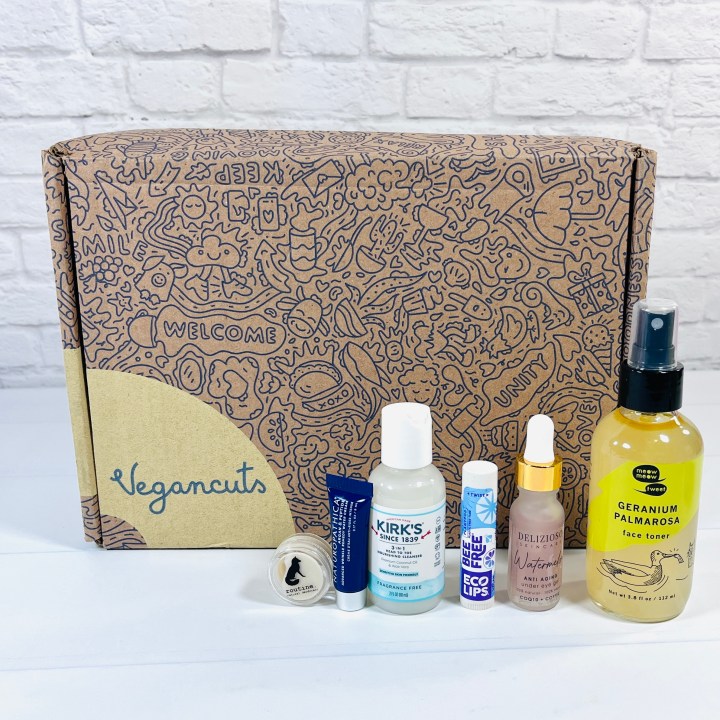 The June Vegancuts Beauty Box delivered Sleek Summer Skincare, and while most items had a focus on the face, there was a head-to-toe cleanser and a deodorant to try out too. Vegancuts sends vegan and cruelty-free products and they offer a snack box too! See what I received in this month's box below!
DEAL: Use the coupon code hellosub to get $5 off your first box on any Vegancuts subscription! It can only be used once per customer, but it can be used on multiple subscriptions at once so long as they are in the same transaction
There was a card that says we are supporting animals at Happy Compromise Farm + Sanctuary in New York.
The back of the card lists the items and retail value. The theme is Sleek Summer Skincare!
My beauty box ships with my snack box and the beauty items are kept separate in a linen bag.
Meow Meow Tweet Geranium Palmarosa Face Toner ($24) I know this brand has some pretty good deodorants but I didn't know they made toners! It has witch hazel distillate, water, plant hydrosols, and a few other ingredients and you need to give it a good shake before spritzing it on your face. You can also spray it on a cotton pad before wiping the face after cleansing if you prefer. The suggested use is to spray the face and then apply a few drops of face oil to help lock in moisture. The smell is a warm herbal type and this bottle should last me for quite a while!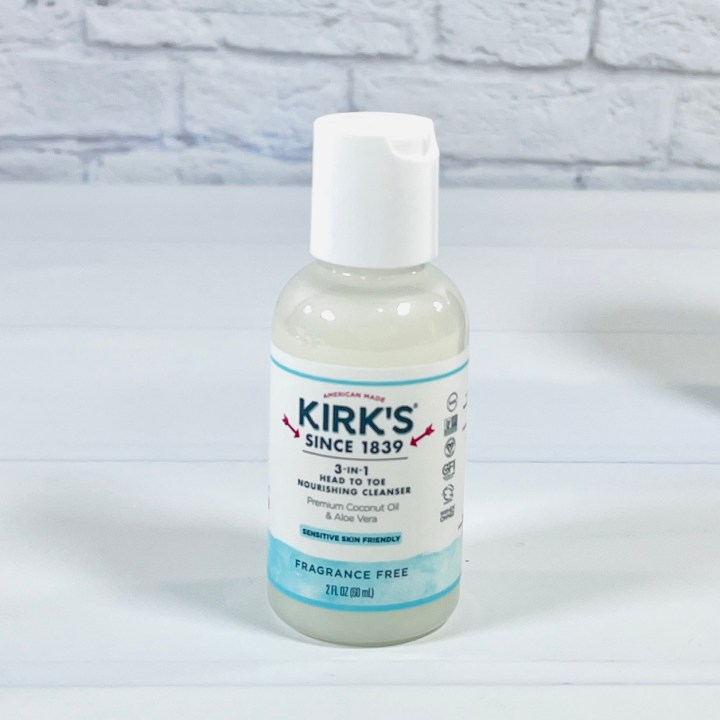 Kirk's 3-in-1 Head To Toe Nourishing Cleanser Fragrance-Free ($2) Please note that this product isn't sealed and mine leaked a little in transport. Also, the bottle isn't the squeezy kind so you have to wait for the product to pour out onto your shower pouf or washcloth. This can be used "from head to toe" but I used it on a pouf and only on my body. It lathered just as well as my usual shower gels, and better than most "natural" or castile-types, which tend to not lather and leave a weird feeling on my skin afterwards. I didn't detect much scent at all.
Naturopathica Argan & Peptide Advanced Wrinkle Remedy Water Cream ($15.64) Whew, this is pricey for such a small sample but that's what I like about subscription boxes, try before you buy (or enjoy things you wouldn't normally buy due to their price). It's a water "cream" and there's not a lot of info on the brand's website but it does call out a few of the ingredients, like argan to reduce the appearance of wrinkles, peptides to diminish the look of those fine lines, and edelweiss to, you guessed it, fight off wrinkles and fine lines. It also has a warm, herby scent and contains no parfum.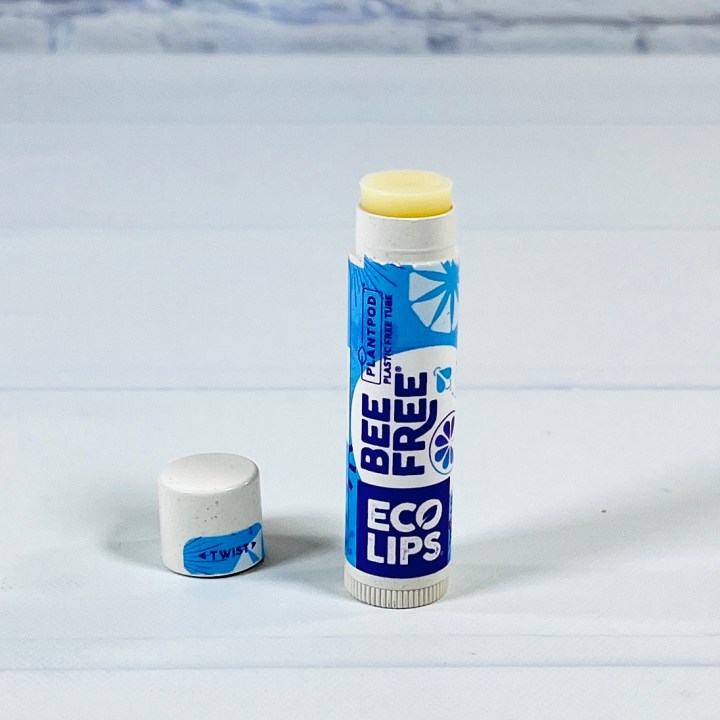 Eco Lips Bee Free Unflavored Lipbalm ($3) The container this lip balm comes in is completely plastic-free — it's called a PlantPod and so far feels no different than the usual types of holders. The lip balm goes on smoothly, it glided on so nicely, and there is no fragrance or flavor to be detected. It is made with moisturizing oils and butters like sunflower seed and cocoa butter.
Routine Inc. Sexy Sadie Deodorant Mini ($4) This is a small sample of deodorant (not antiperspirant, it won't stop the sweat, just maybe cover up the odor). It should last a few days, maybe up to a week, but long enough to see if you like the formula and feel. As for this particular scent, which has patchouli, ylang ylang, and sweet orange oils, it is amazing and I want to have a perfume that smells this good, or a body lotion, or a rollerball, something, I love it! I'm not willing to forgo my usual product right now, as it's in the 100's+ already here in Texas, but I will use it later on in the year when it cools down. Some of the other ingredients are coconut oil, kaolin, and cocoa butter. The one I received has baking soda, which isn't a problem for me personally, but I wanted you to be aware just in case it's problematic for you.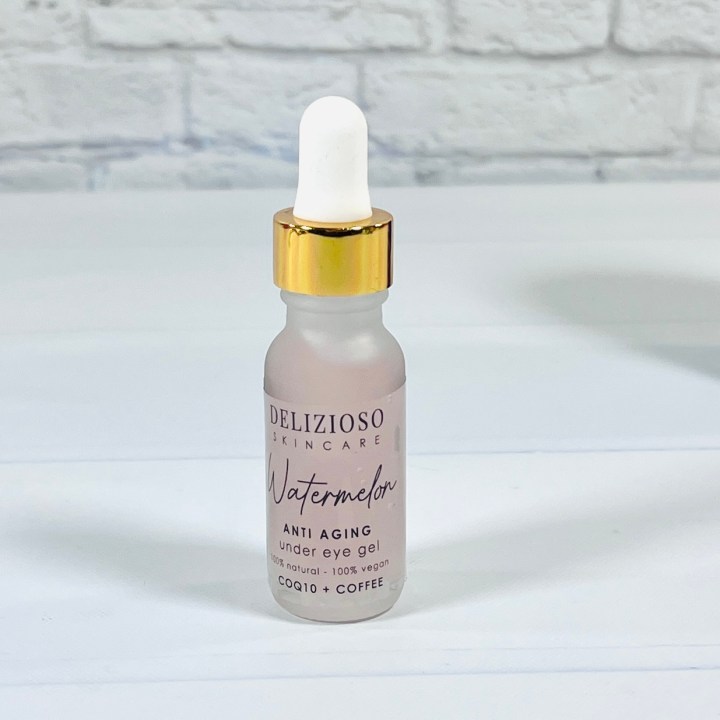 Delizioso Skincare Watermelon Anti Aging Under Eye Gel ($38) Like most eye products, this one is here to help fight fine lines and wrinkles in a delicate area of the face. A little goes a long way and the lightweight gel dries quickly. It has ingredients like aloe gel, watermelon seed oil, CoQ10, coffee seed oil, and vitamin C. It has a very faint fruity scent, which is provided by "fruit derived flavor oil".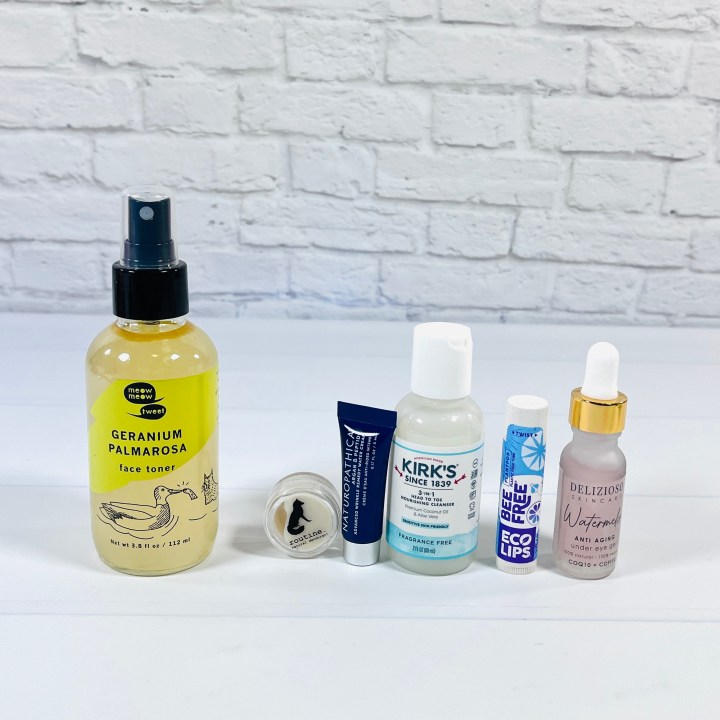 I was very pleased with all of the items in my June Sleek Summer Skincare box from Vegancuts! The products all felt/smelled/worked well and I didn't have any irritation or problems with reactions. It's good to know that no animals were harmed in the making of this stuff too. I am having a hard time picking a favorite product. The body wash worked incredibly well and the lip balm is now my current before-bed lip soother. The eye product felt refreshing and had a light scent that I liked, and I just discovered that the deodorant that I think smells so good has that same scent in a body oil and solid perfume! The value was around $87 and I liked the assortment!
Vegancuts Beauty Box is a monthly beauty subscription service that sends 4 or more items ranging from unique cosmetics to luxurious skincare. Best of all, they are 100% cruelty-free and vegan, plus most items are natural and non-toxic! Monthly recurring shipments are $24.95 with free shipping in the USA (there is an additional charge for other countries). This sub is also available in 6 or 12-month terms that do not renew but that do earn you a discount.
What do you think of this month's Vegancuts Beauty Box? Let me know which product you're loving in the comments!