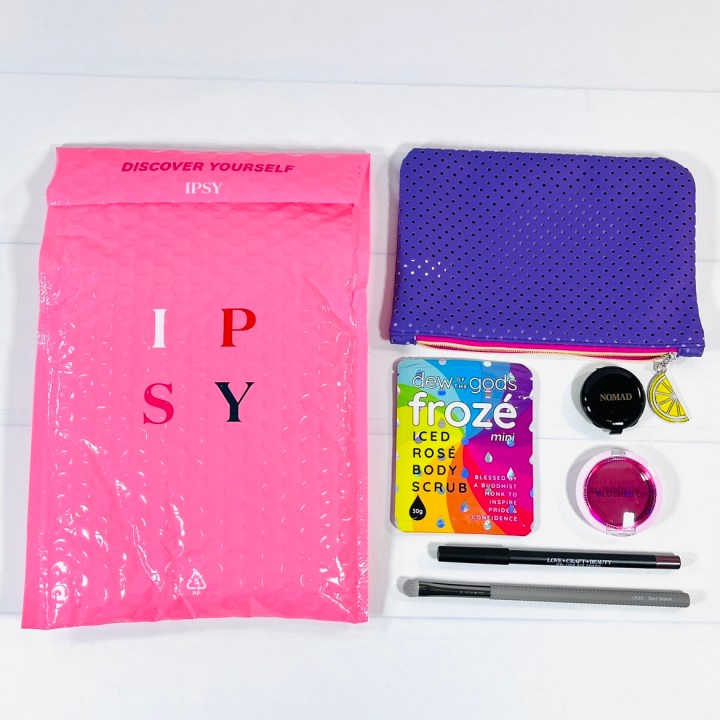 The Ipsy June 2022 Show Your Colors themed Glam Bag was colorful both in the bag itself and in the products inside! I got to pick one of my items (from a list Ipsy provided on Choice Day, which is usually around the 20-22 of the month). Four of my items were makeup related while a fifth item was from one of my most favorite beauty categories, bath and body products! See what I received below!
Note: Ipsy sends many variations, so the bag we're reviewing may not match everyone else's.
Ipsy Glam Bag The bag was cute and more purple than my picture suggests. Some subscribers may have received it in this color or in yellow or pink and each came with a fruit-shaped zipper pull (which says IPSY on the back)! The holes in the bag go all the way through so make sure that whatever you place inside has no chance of leaking or you may have a big mess on your hands.
Dew Of The Gods Frozé Iced Rosé Body Scrub ($4.40) This is one of the best smelling body scrubs I've ever tried, and it worked so well for my body too! The directions say you can use this on your face but I didn't try that. I did take in their suggestion to get in the shower and scrub up before getting my body wet, for an extra deep exfoliation. Some of the ingredients are sea salt, jojoba oil, strawberry seed oil, and blueberry essential oil. It smelled fruity, left my skin feeling silky, and won't draw ants the way a sugar scrub might. Plus, the vibrant colors on the package make me smile, it's so bright and happy!
Laruce Beauty LR105 Short Shadow in Grey ($28) When it came time for Ipsy Choice I chose this eye shadow brush (I meant to choose the sparkly body oil but wasn't paying attention). As far as brush brands go, I've been happy with Laruce, they are always sturdy and I haven't encountered any loose bristles or anything like that. The handle feels good when I use it, and the short, packed bristles made it easy for me to put shadow right where I wanted it, in this case, in the crease. The bristles are vegan.
Ace Beauté Blushed Up Blush in Plummy ($4.26) Ace Beaute doesn't sell singles but I believe this is the darkest shade from their Blushed in Paradise palette. I have a light skin tone so I used the softest touch to pick up this product with my blush brush and then had to blend it several times to get it to calm down, it was very dark and bright! Overall it wasn't bad, but there are other shades in my collection that are less intense so I will share this with a family member.
Nomad Cosmetics NOMAD x Iceland Fire & Eyes Intense Eyeshadow in Gallows Lava ($2.60) This shadow single is from a palette from Nomad Cosmetics, and I like the brand, the performance is good. This shade is described as "volcanic green" and it's a shimmer. The color seems out of season, this doesn't feel very "summery", but would be better suited to fall and winter. I used it in my crease with the lightest of touches and it's just too dark. Ipsy claims there's no fallout but I did have sparkles under my eyes afterwards.
Love+Craft+Beauty Gel Line Eye Pencil in Soil ($13) I was excited to get an eyeliner that is in pencil form and that isn't black, it's a cool bronze shade! It was easy to use, and I kind of went over the area a few times to get a darker payoff.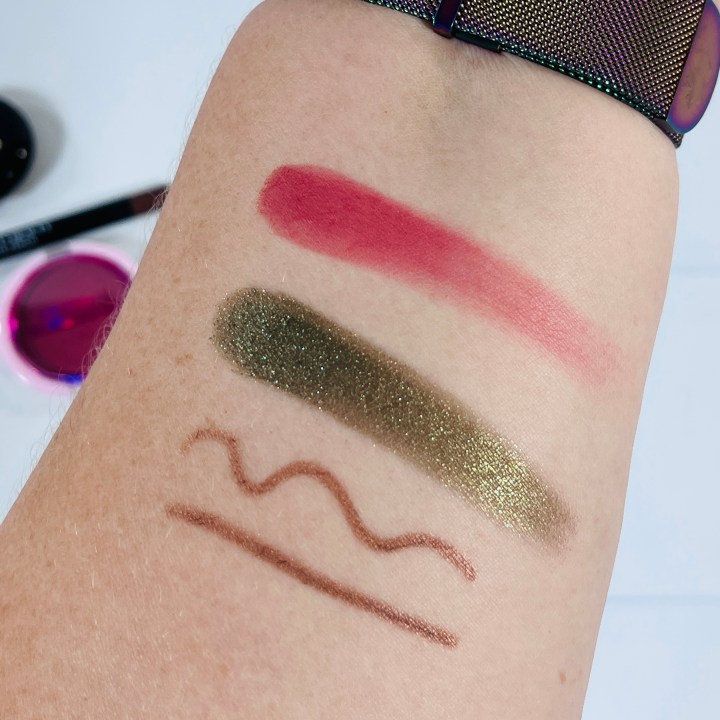 I swatched the Ace Beaute blush on top followed by the Nomad eyeshadow and then two lines of the LCB bronze eyeliner.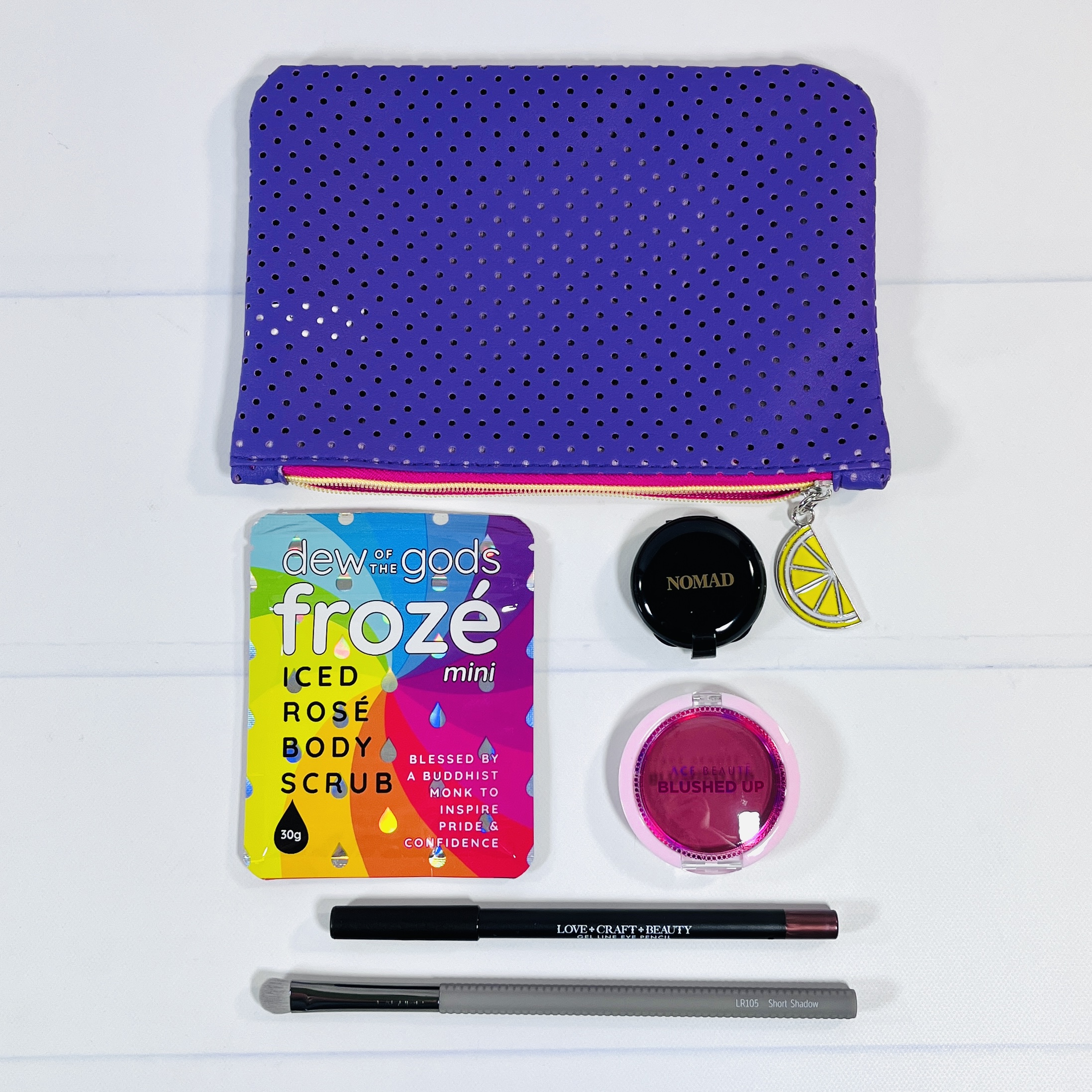 I was excited by the bright colors and products in my Ipsy June Glam Bag! I was especially satisfied with the body scrub since it worked so well and smelled fruity and summery. The bag itself is cute and the eye shadow brush worked well. I appreciated receiving a non-black, non-liquid eye liner and the blush and eye shadow are certainly bold shades. My bag combo had a retail value of around $52 and I reviewed my products so that Ipsy can send me items that fit my needs and so I can earn points that I can trade for even more products!
Below is the product information card I received with info about each of my items.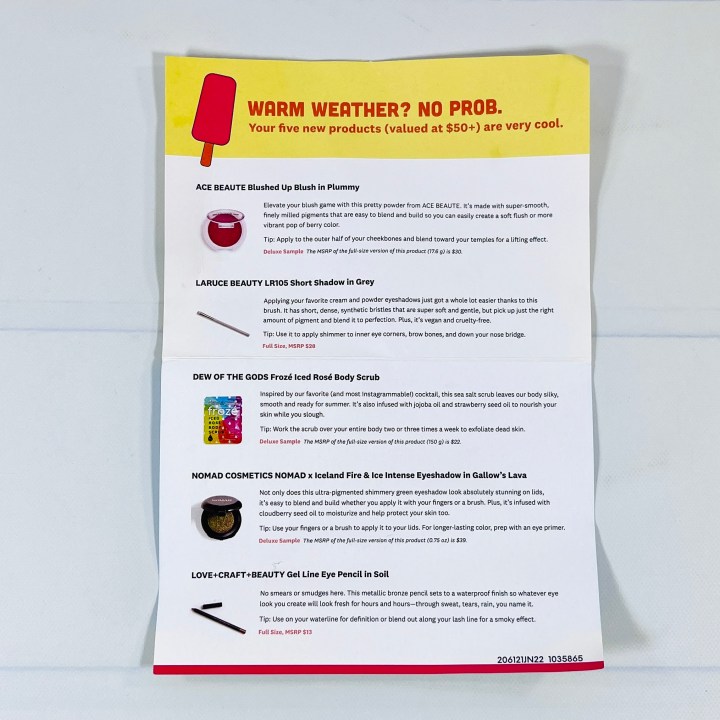 IPSY is a women's monthly subscription beauty membership known as The Glam Bag and contains sample and/or full size makeup and beauty products delivered straight to your door. Depending on your plan, once a month members receive a makeup bag filled with 5-9 cosmetic items such as perfumes, nail products, skincare items and of course makeup! Items in your Glam Bag are personally curated based upon your beauty preference results from your personalized beauty style quiz.
What did you get in your Ipsy this month? Let me know!