To prepare the skin for summer fun, Allure Beauty Box sent a new collection with six editor-tested beauty products in the box. It included a hydrating body moisturizer, serum, lip scrub, and more! Read on to find out which beauty brands were featured this month to help us achieve healthy, glowing skin this summer!
DEAL: New members will get their first monthly box for just $15+ FREE full-size mascara from Rare Beauty! Use the coupon code VIP15 at checkout.
FYI – you can see the full spoilers for the June 2022 Allure Beauty Box, in case you want to know all the variations.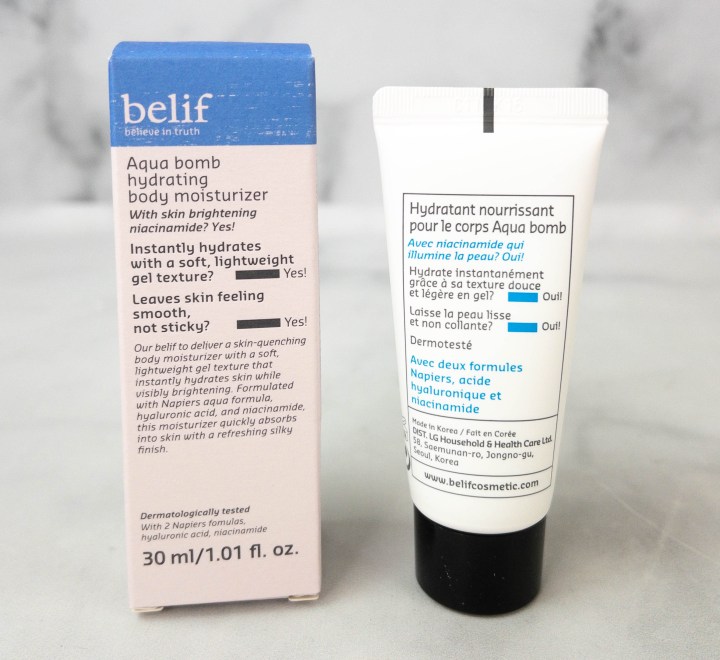 To keep the skin hydrated, here's Belif Aqua Bomb Hydrating Body Moisturizer ($3). It contains hyaluronic acid, which improves the skin's moisture and provides intense hydration. It's light, with a thin gel-like consistency that absorbs swiftly into the skin. It soaks in perfectly, leaving a silky, smooth finish! This moisturizer also contains niacinamide, which has anti-inflammatory properties that also help in skin hydration. It also has a pleasant scent! Belif is a favorite brand for me, so it was hard to go wrong here.
Sephora Collection Smooth + Blur Primer ($2.67) turns the skin into a silky-smooth canvas for makeup! The formula includes ginkgo extract and is enriched with Vitamin E to protect the skin from environmental factors. Aside from making a good makeup base, this also hydrates the skin and minimizes the appearance of pores as it smoothens and evens out the skin's texture. I appreciate that it is vegan and fragrance-free as well. I was surprised to see a Sephora product in this box.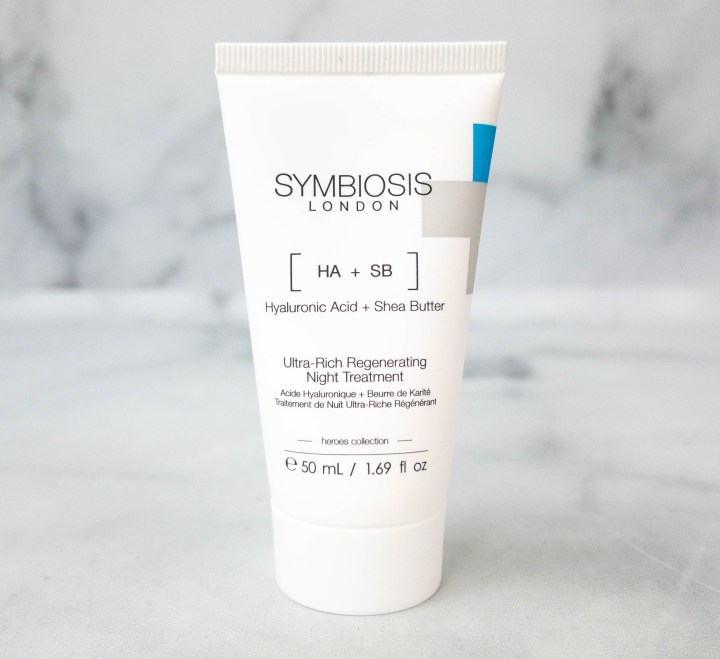 There's also a Symbiosis Ultra-Rich Regenerating Night Treatment ($127) for skin regeneration! With hyaluronic acid, lactic acid, and shea butter, this product intensely hydrates and repairs damaged cells while diminishing the appearance of wrinkles and fine lines. It's lightweight and fast-absorbing, plus it tightens the skin and improves skin tone. To use, just dab it gently on the skin. It's also a cruelty-free product, plus it's full-sized! That being said, it's one of those brands where I just think the MSRP is highly inflated.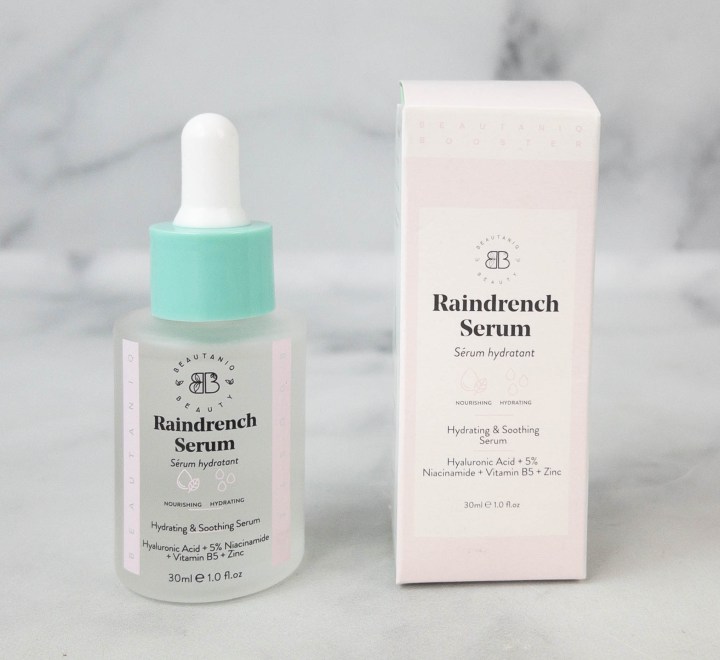 There's another full-sized item in the box and it looks elegant in a frosted glass container. Beautaniq Beauty Raindrench Serum ($24) keeps the skin looking smooth, nourished, and healthy! Like most products in the box, this serum also contains hyaluronic acid and niacinamide that pulls moisture into the skin and improves overall skin texture. It also has Vitamin B5 which traps skin moisture, and Zinc which reduces acne, redness, and signs of aging. This serum is incredibly light and refreshing, ideal even on warm summer days. It's also cruelty-free and vegan – no alcohol, no mineral oils!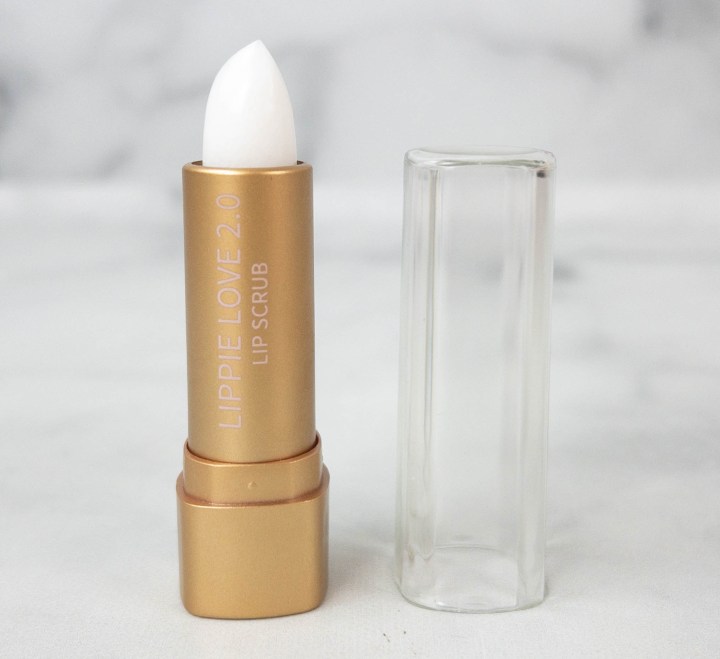 For plumper and healthy-looking lips, the box included a Manna Kadar Beauty Lippie Love Lip Scrub ($19). It comes in the form of lipstick, making it convenient to use. No big pots mean no more mess! This lip scrub is extra exfoliating and removes dry skin, leaving it softer, smoother, and plump. It has the perfect balance of gritty and gentle, which is the perfect texture to save chapped lips.
Ciaté London Everyday Vacay Palette ($30) is the perfect makeup to use for summer, with its lovely mix of mattes, shimmers, and glitters! There are twelve shades with eight eyeshadow colors and four face colors, which can also be used as bronzers, blushes, or highlighters. Each shade glides smoothly and has a subtle scent of coconut. They're also buildable. The colors are very neutral and can be used anytime or for everyday makeup. It's also full-sized and has a mirror inside, so you can easily carry it on the go!
I felt more excited for summer because of the Allure Beauty Box June 2022 box! I like that practically everything in the box is hydrating, which is ideal for giving the skin nourishment even when it's summertime. There are also three full-sized items that made the entire curation all worth it. What I like most are the serum and the palette. I also like the lip scrub because it is so easy to use. Overall, this box is an impressive one! The total value is $205.67, which is far more than the monthly subscription fee!
Monthly boxes also include a booklet with brief descriptions of the items. Here's a closer look: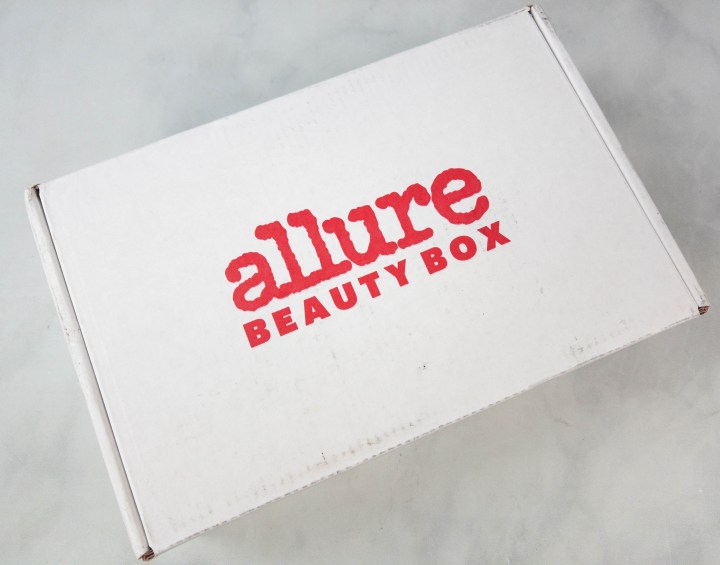 Allure Beauty Box is a monthly beauty subscription service that sends 6 or more beauty products (at least 3 of those will be full-sized) with a value of at least $100+ and is curated by the editors of Allure Magazine, who choose and test the products themselves. Allure Beauty Box is $23 a month or sign-up for a year, and the price is closer to $21 a month. There are sometimes sponsored products in the box, plus you'll be eligible for special discounts on Allure editors' favorite luxury products and limited-edition boxes. Allure's beauty subscription box took home first place in our 2021 readers' choice list of best skincare subscription boxes!
If you are a new member, then your products may be slightly different, but continuing subscribers should not receive the same product twice.
Have you tried Allure Beauty Box yet? What did you think of this month's box? Let me know in the comments!