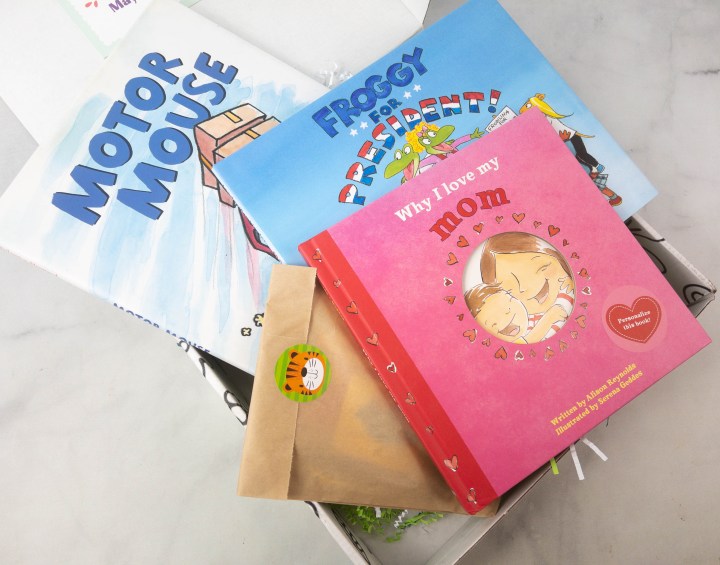 A fresh batch of children's books has arrived! Owl Post Books May 2022 includes three new books that kids will love, including a book about moms and a couple of exciting stories featuring animals. Introducing kids to the joys of reading is fun and easy through this subscription!
DEAL: Get 20% off your entire subscription! Use coupon code NEW20.
Motor Mouse by Cynthia Rylant & Arthur Howard ($3.33) is a collection of stories about a little mouse's adventures. There are three short stories in the book, entitled The Friday Cake Day, Going For a Look-About, and Front Row at the Picture Show. All of them are sweet and funny, and they're accompanied by charming illustrations that kids can marvel at over and over again.
Why I Love My Mom by Alison Reynolds ($9.69) offers the perfect Mother's Day activity for kids. This book contains a sweet story, and kids can personalize their copy by writing and drawing on the provided blank pages. On the cover, there's even a space where kids can put their mom's photo!
From the Froggy book series, Froggy For President by Jonathan London ($16.99) is a great way to introduce kids to the election process. The story is about Froggy, who is running for class president, and his opponent Frogilina. It's also filled with onomatopoeias, making it more fun for kids to read.
All books in this month's Owl Post Book box are worthy additions to my kids' home library. There was a collection of short stories featuring a mouse, a story and activity book about mothers, and a book that tackles elections in a way kids would easily understand. They are all engaging and age-appropriate, so we couldn't ask for more. Overall, this subscription makes young bookworms happy and also keeps parents at ease, knowing kids will not run out of new books to read!
Each box also includes a craft kit. This time, it's an adorable tropical parrot! It is sealed in a kraft envelope using a sticker. Here's a look:
Owl Post Books is a fun and interactive monthly book subscription for kids. Each month, subscribers will receive an Imagination Box with 3 books that fit into their age range in a fun monthly theme; the box includes a small craft and a theme card! A reader favorite, Owl Post Books is a top kids book subscription box!
Owl Post Books has Imagination boxes for ages 0-3, 4-7, 8-10, Tween 11-13, and YA. They also have an Imagination Mini subscription and a monthly YA Fantasy Fiction subscription.
What do you think of this month's box? Let us know your comments!