Daebak Box brings Korean must-haves straight to your doorstep every season! For Spring 2022, the box is jampacked with refreshing colors and flavors. There's a little bit of everything, including K-beauty, K-pop, stationery, fashion, lifestyle, and more! The box even features the picturesque island of Jeju – the perfect place to travel this Spring.
DEAL: Get 10% off your first box with this link and coupon code HELLOSUB.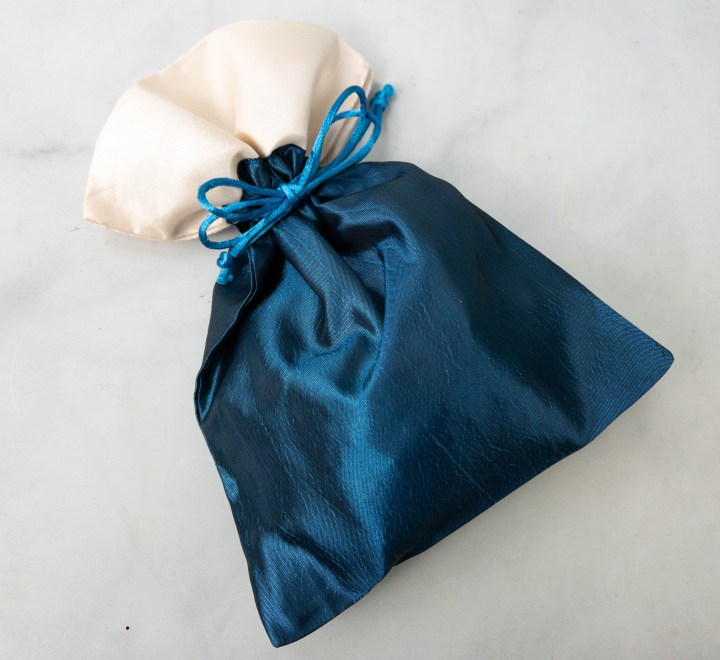 The first item in the spring box is Lucky Bag with Rice Snack. This silky string pouch, also known as Bokjumeoni, is believed to bring good luck or great fortune. It came plain rather than embroidered or designed with auspicious symbols.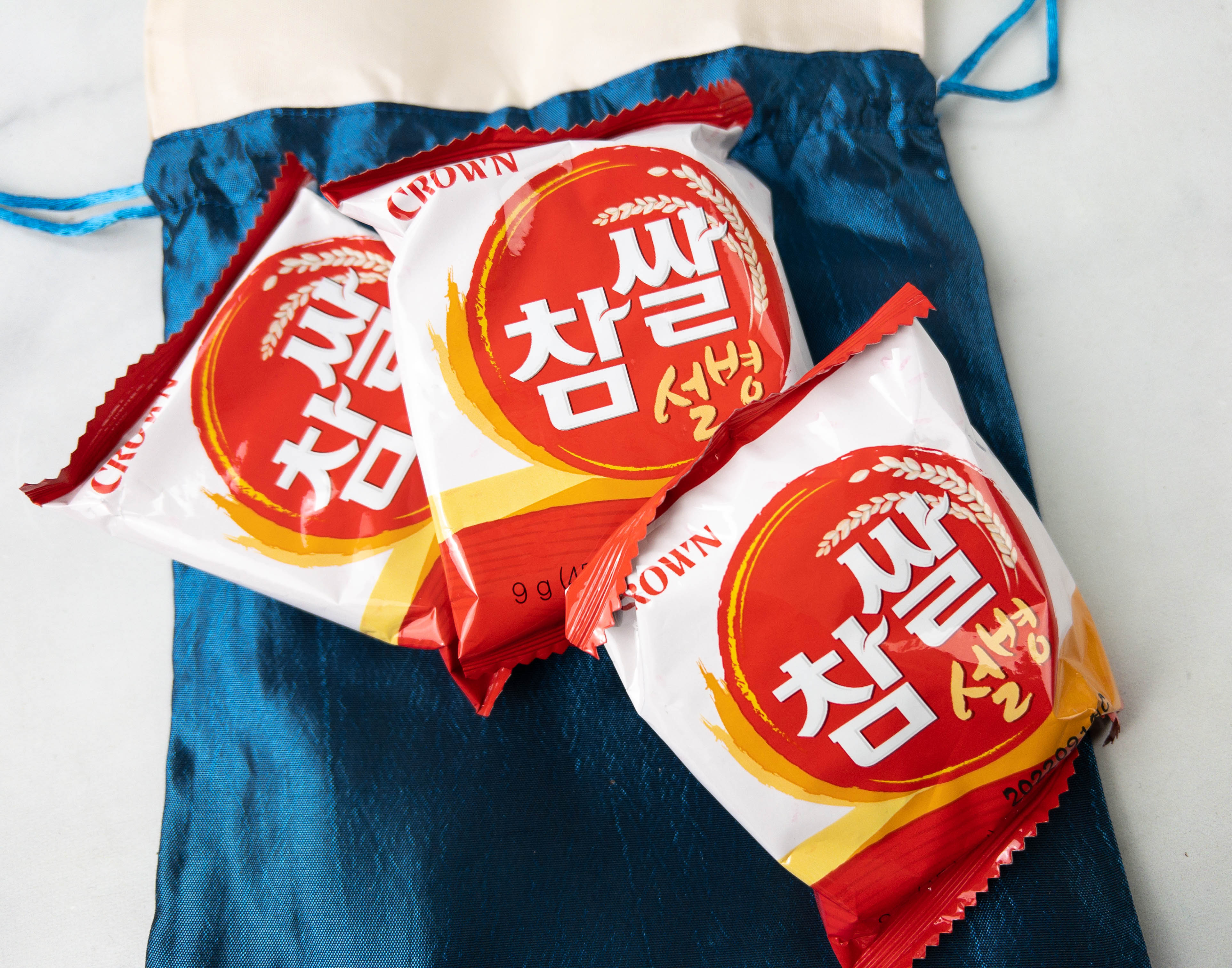 There were three individually wrapped rice snacks inside the bag. The sesame rice snow crackers taste sweet and salty at the same time. I love how savory and light they are, with a good crunch! You can enjoy it with tea and coffee or on its own.
When shopping or running errands, this Stretched Reusable Bag ($6.99) would be pretty useful. There are two color variations for this bag: yellow and yellow-green. I received the latter and it looks cute with its floral pattern. It's also very stretchy. The bag measures 11×15 cm when not in use and 50×54 cm when stretched fully.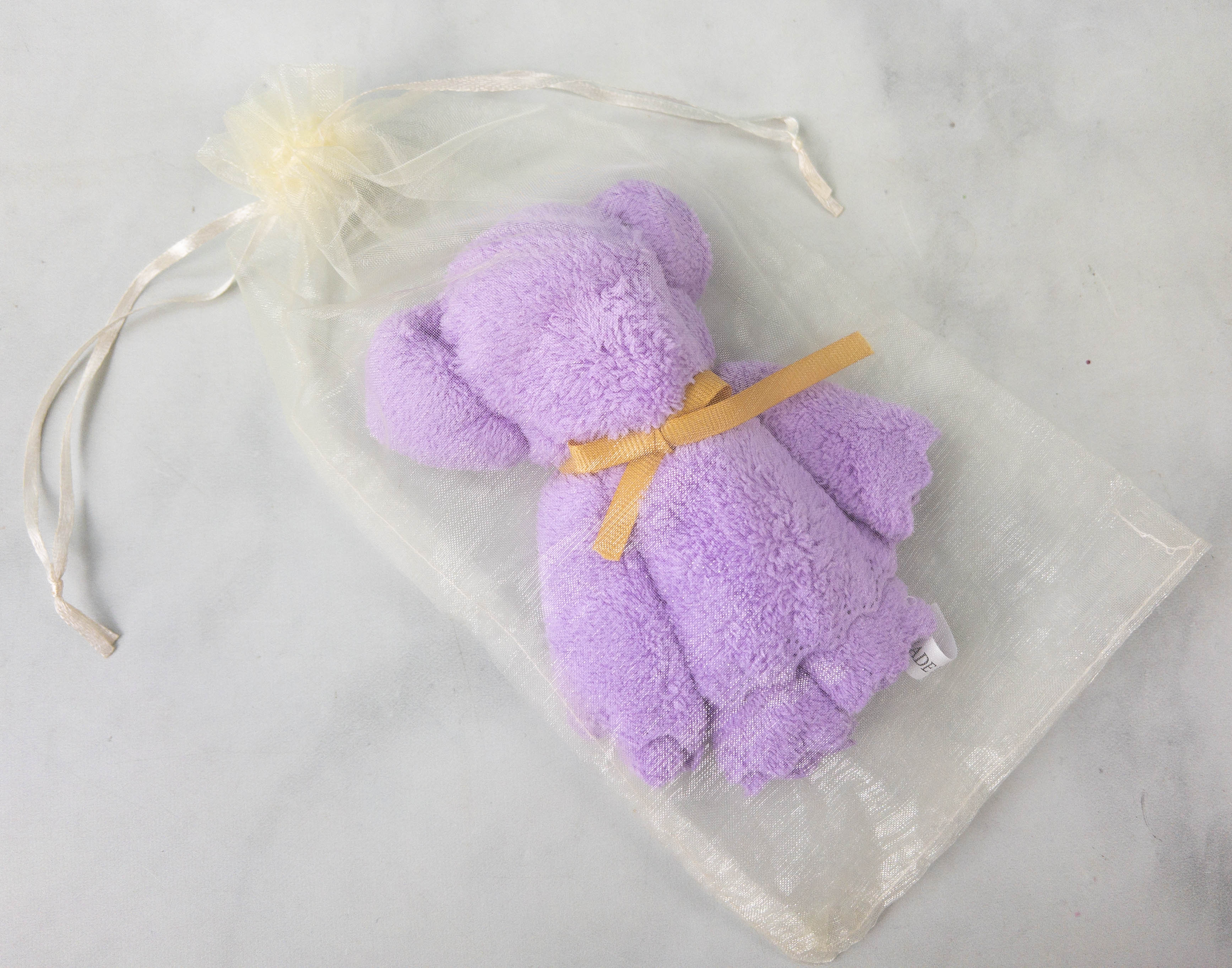 This Kitchen Bear Towel ($2.79) looks so adorable that I don't even want to unfold and use it! It's made with polyester coral velvet material, and it comes in a variety of colors. Mine was purple and arrived in an organza bag like a precious gift! It's 30×30 cm when unfolded. The towel is soft and smooth to the touch and has excellent absorbency as well. It's one cute item to use in the kitchen.
I always appreciate it when there are skincare items in the box. This time, I received Lebelage Deep Snail Ceramide Facial Mist, which contains snail secretion filtrate that helps moisturize tired and dry skin. It works for all skin types and provides a refreshing feeling without stickiness. The formula also includes green tea extract that improves skin's natural moisture, unclogs pores, and reduces skin irritation. It's full-sized as well, but easy to carry around! Other product possibilities include Deep Collagen Hyaluronic Facial Mist and Deep Snail Ceramide Facial Mist.
To help keep my schedules organized, the box included a Pinkfoot Weekly Schedule Planner ($4.99). There are four design possibilities, and I received the orange one. It features cute characters on the cover and even on the pages! Months and dates are blank, giving me the freedom to write on the planner whenever I need to. I also appreciate that it starts on Monday rather than Sunday. The pages are smooth, while the cover is sturdy. It's slim and portable to boot!
They sent another yummy Korean snack! Lotte Pepero Jeju Tangerine ($3.99) is one of the newest Pepero flavors from South Korea. Each crunchy cookie stick is coated with rich chocolate and Jeju tangerine, resulting in a sweet and zesty taste. It's refreshing and unique, and I like it! It already tastes great on its own, but you can also pair it with tea or coffee.
K-beauty fans would love Sweeteen Tartcherry HYA Soothing Gel ($8.99). Made with natural ingredients like tart cherry, it helps improve skin tone and keeps the skin soft and nourished. It also contains 8 types of hyaluronic acid and essential ceramide to protect the skin's moisture barrier. The gel melts quickly into the skin and doesn't leave any icky residue, perfect to use even in warmer weather! It's also worth noting that the packaging is printed with soy ink using soybean oil. Plus, the gel is vegan and cruelty-free. I received it in full-size and I'm happy!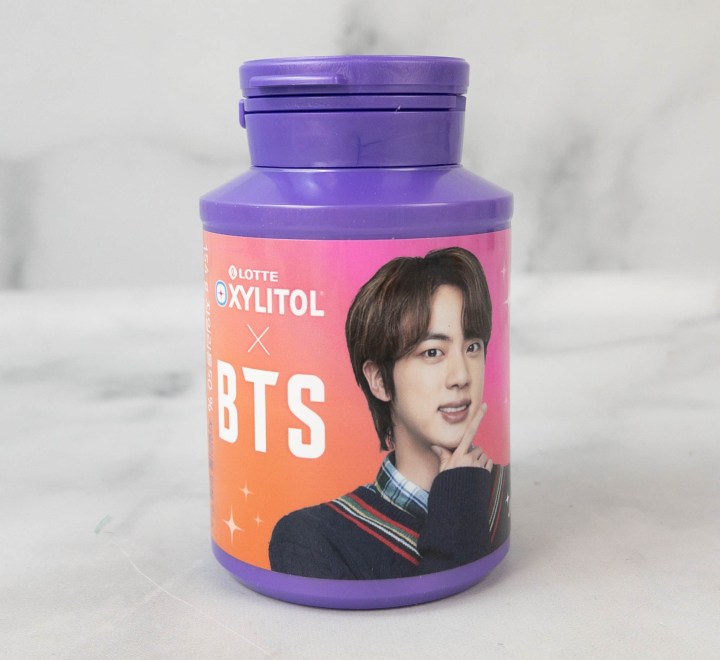 The Spring 2022 box is also said to include 1 of 4 random items. I received Lotte Xylitol x BTS BIG Special Edition ($14.99)! You get either this purple mix or the apple mix. It's a big bottle filled with sugar-free xylitol gums to chew on when you feel like it. It helps prevent cavities while leaving teeth healthy and clean. The gums taste like a mix of sweet blueberries and fresh grapefruit! The bottle even featured BTS's vocalist and visual, Jin or Kim Seok-Jin.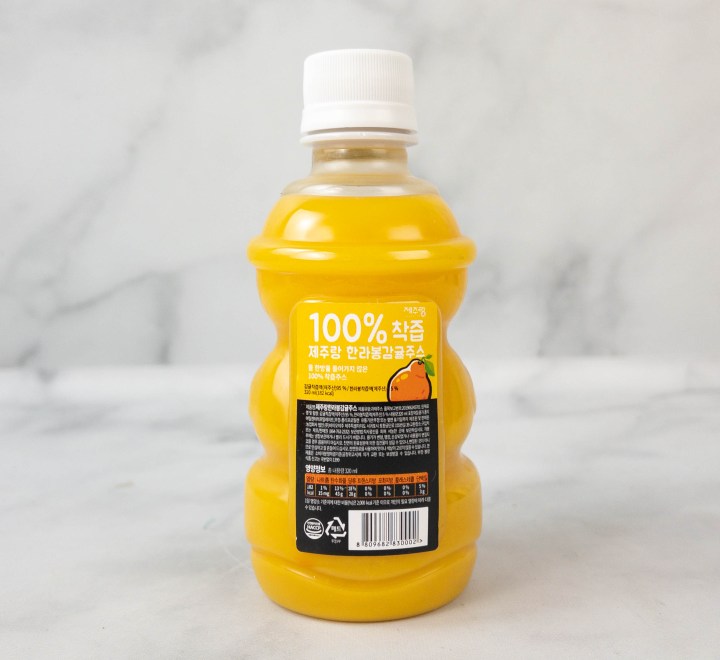 The last product in the box is Jejurang Jeju Hallabong Tangerine Juice, made with real Jeju tangerine! The bottle is shaped like the Dol Hareubang (or large rock) statues found on Jeju island. It smells very citrusy and tastes like 100% tangerines. It's nice and sweet, with a hint of tanginess. There's no water, sugar, preservative, or color in the ingredient list, just real tangerine juice! This drink is best served cold – the perfect beverage for the hot weather.
I'm pretty impressed with Daebak Box Spring 2022 collection! It includes a great variety of products, and I enjoyed every single one of them. Everything represented what Jeju Island and the Republic of South Korea are proud of, from the lucky bag to the tangerine juice! I especially like the planner for easy organizing of my schedules, the Pepero snack and the juice for their rich tangerine flavor, and the refreshing facial mist. There's even a product featuring BTS that their fans will absolutely love. Overall, the box is really DAEBAK! It's such a satisfying subscription for K-fans!
Quarterly boxes include a magazine with brief descriptions of the product and additional info about the box. This time, it is loaded with daebak (amazing!) facts about Jeju Island. It's so fun to read, and I had a great time doing so. There's even a cut-out page for making a miniature version of the box, which looks really cute! There's also a second magazine that K-pop fans will love as it features Seventeen's Boo Seung-Kwan and Exo's Oh Sehun. Here's a closer look:
Box design also changes every season. The interior of the box also explains what "Daebak" means. It's an expression used to praise something big, positive, and awesome. Or in simple terms, AMAZING!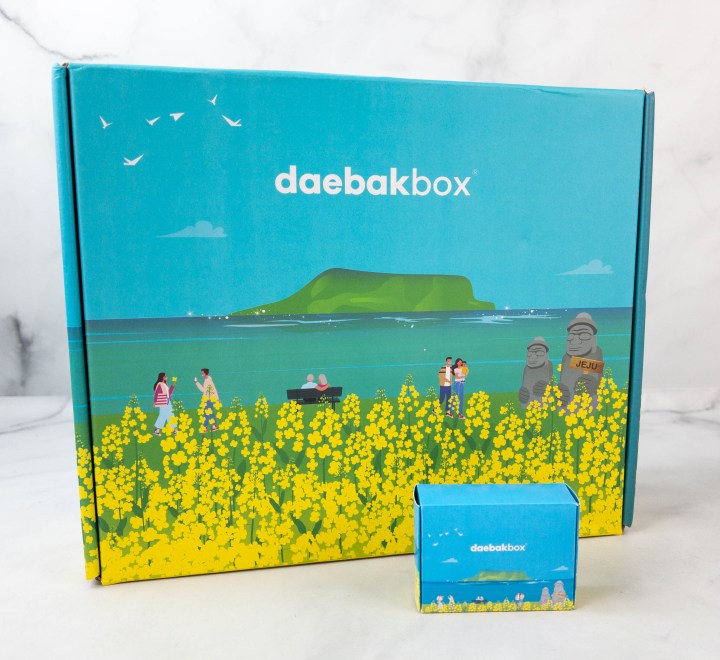 Daebak Box is a quarterly subscription for all things Korean. From K-beauty and K-pop to Korean fashion and accessories, and even Korean stationery and cute character goodies, they curate the best and trendiest products for each season. Each box will include 8 to 12 full-sized premium products. They offer a Seasonal Plan for $54.99 (renews every quarter) and an Annual Membership for $199.96 (prepay upfront). Annual member perks include early shipping and early access to and more savings on Add-ons and Drops.
What do you think of the Daebak Box?