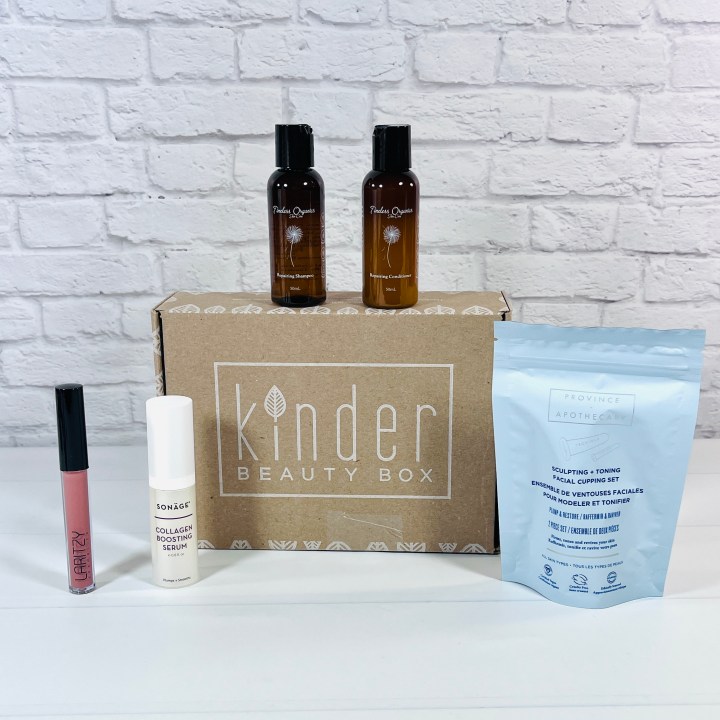 Kinder Beauty Box is a vegan beauty subscription box. This subscription sends out two variations every month and I received the BLOSSOM box for April (the other box was called BLOOM). I received a face serum, cupping set, and more! My box got here late, not until May. Please note that new subscribers will receive a Kinder Faves box for their very first box, which is different from the box in this review but which can be found here. The difference between the Blossom box and the Bloom box is that the lip color is different, there is a body wash instead of a shampoo, and there is a hair mask instead of a conditioner.
DEAL: Use coupon code HELLO5 for $5 off your first order!
Sonage Collagen Boosting Serum ($48) has a plant-based collagen (made from rice amino acids, soy protein, and baobab) and is supposed to leave the skin looking plumper while boosting firmness. It should be used after cleansing and toning and don't forget to use SPF if using in the morning. Some of the other ingredients include glycerin, marula oil, sodium hyaluronate, and essential oils from patchouli, cedar, and bergamot. Here's a hint – when opening the lid, pull the cap off, don't twist or you will remove the pump. The serum is white and creamy and doesn't feel like oil, it's more of a light gel lotion consistency. There is a cupping set below and it was suggested that you use it with this serum but I don't think this has enough slip for that purpose. My product doesn't smell all that great, but the chemical scent fades quickly and the patchouli persists. The product was absorbed quickly and the finish wasn't sticky or greasy.
Timeless Organics Repairing Shampoo ($4.23) and Timeless Organics Repairing Conditioner ($4.23) This pair smells lovely, like bright lemongrass, although the scent fades as soon as you rinse it away (as it should). They also have a short ingredient list which I prefer (fewer ingredients means less irritation to my sensitive scalp). I saw avocado oil, tea tree oil, and aloe listed. The shampoo was very different from my usual one, it felt oily as I rubbed it around but not greasy, that's the only way I know how to describe it. I added the conditioner afterward and worried it was too thin to get the tangles out of my hair but had no problems combing my hair. I styled as usual and am happy to say that this duo didn't weigh down my fine, thin hair!
Laritzy Lip Gloss in Peach Sand ($16) Laritzy is not a brand that excites me. The gloss was ok. However, the color coverage was spotty. The flavor/scent is nice, like sweet vanilla, and the color is described as "peach beige". I don't think it's very flattering on my lips, it's not 100% opaque and has an orange tint to it. I have no problem with the texture, it isn't overly sticky and is very smooth-feeling.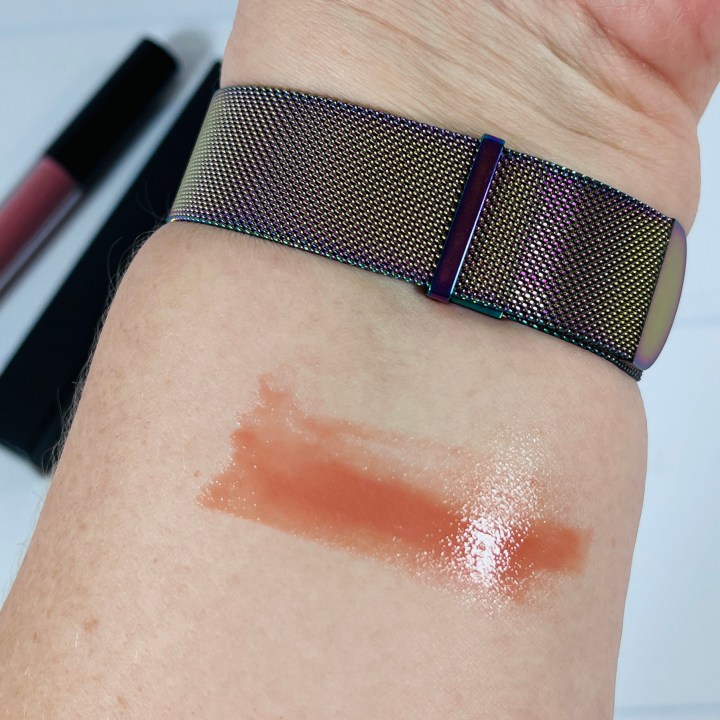 Here it is swatched.
Province Apothecary Facial Cupping Set ($29) I recently received this set in a different subscription box and I must say, I preferred it to using a gua sha or jade roller. I am sure this may help plump up the skin temporarily and possibly increase circulation and drainage, but I wouldn't go into this thinking it's going to reverse wrinkles, you'll most likely need a doctor's help for that (surgery, Botox, peels, etc.). Here's what I said about this product in the previous review: "I decided to watch some video tutorials first before using it to see how it works. There are two silicone tubes that help pull the skin away from "deeper layers of fascia" and supposedly reduce the look of wrinkles over time. After watching the video I was better able to understand how to use the cups but I'm not going to explain it all here, and seriously, the videos are helpful! You do need to start with a clean face topped with a serum or facial oil and keep the cup moving. Some areas looked alarmingly red but it faded almost as soon as I finished."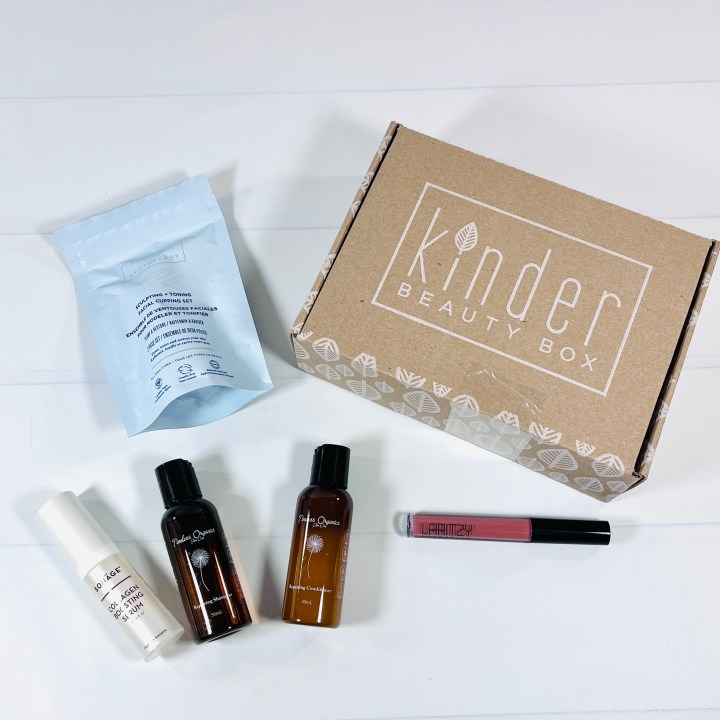 The Kinder April box got here really late (and as of the beginning of June I still haven't received the May box) but the products felt and smelled good. I especially liked the shampoo and conditioner, they worked well for my hair type. I also thought cupping was interesting and enjoyed that self-care activity. The lip gloss and serum were good products too, and all will be used fully.
Below is the product info card and a couple of box opening pics!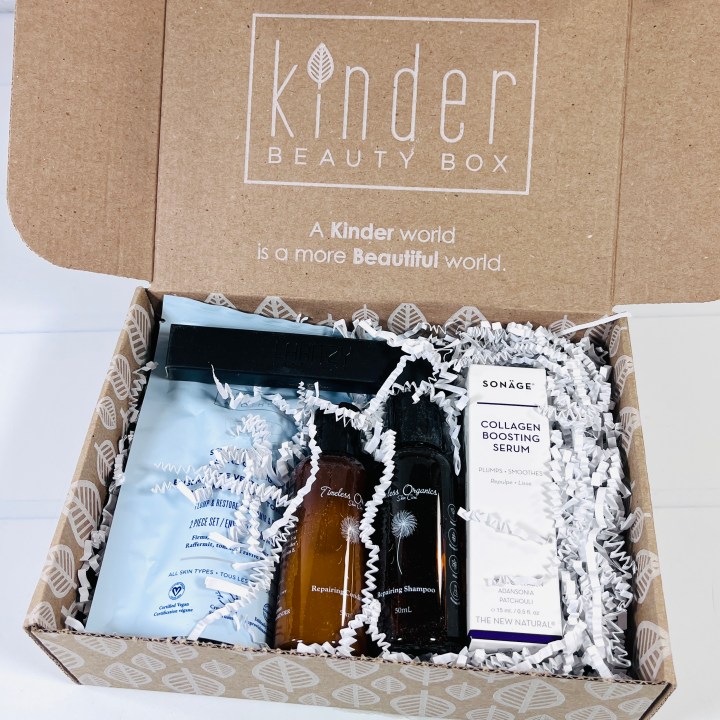 Kinder Beauty Box is a vegan and cruelty-free subscription box that sends skincare, haircare, makeup, and accessories. Each month you will receive more than $85 worth of products. The items are compassionately curated by Daniella Monet and Evanna Lynch. All Kinder Beauty Box products are guaranteed to be 100% vegan and cruelty-free. Kinder Beauty Box is $26 a month, with free shipping to the US, $5.95 elsewhere. Price drops to as low as $23 a box with a prepaid 6-month plan. Those who order a 3-month plan will receive a bonus box and those with a 6-month plan will receive a bonus box and be able to choose which box they prefer (after the first box). A portion of all sales will go towards benefiting the founder's favorite animal rights and environmental causes.
Kinder Beauty's subscription box made the list in our 2022 readers' choice picks of best skincare subscription boxes!
What do you think of Kinder Beauty Box?