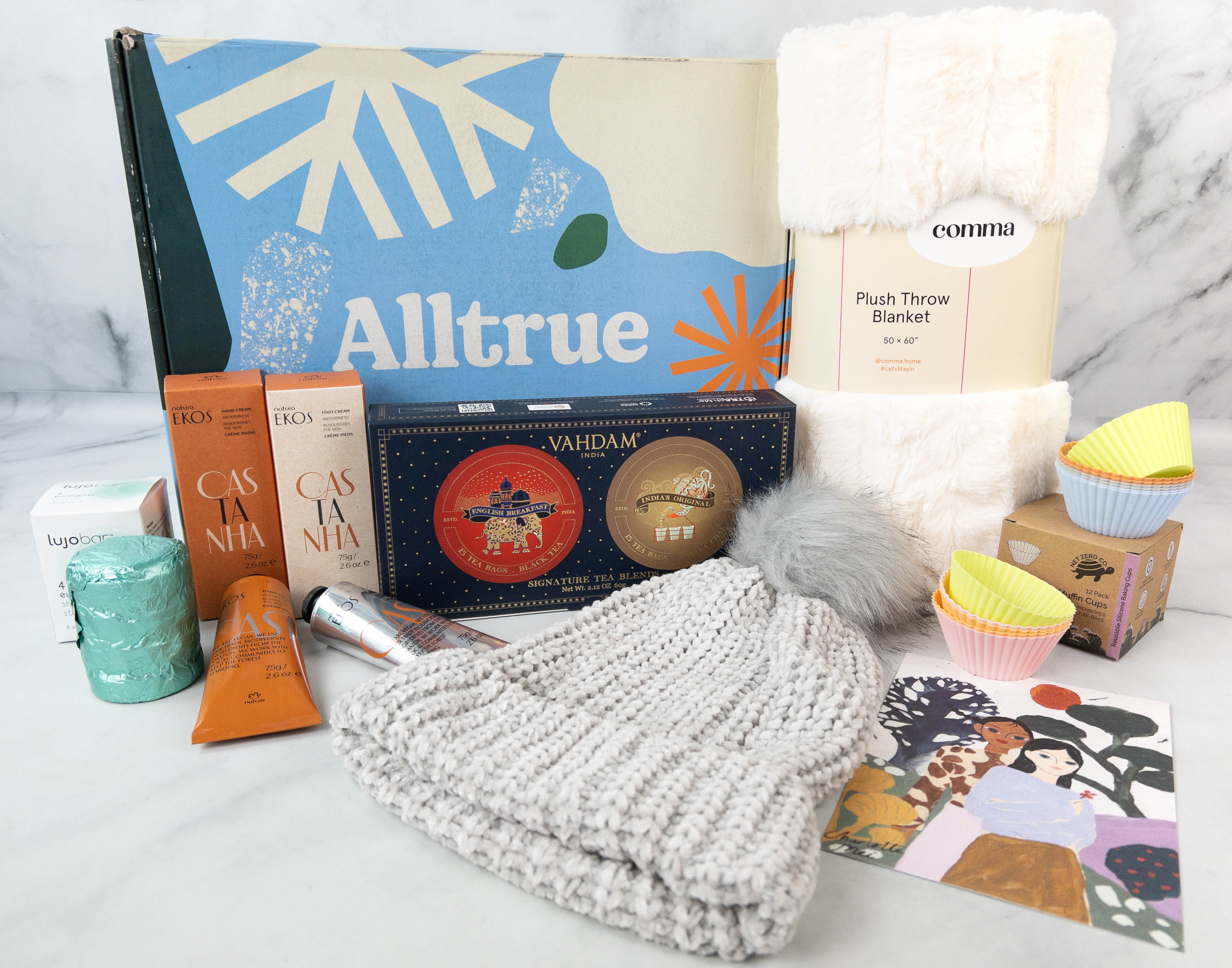 The Alltrue Winter 2022 selection was all about items to help us enjoy winter to the fullest! The choice items included great winter essentials which are all full-sized and advertised as sustainable and ethical. My choices included of skincare, body care, a winter accessory, and more!
DEAL: Save 20% ($10.99) on your first box when you use this link and coupon code WI22! Note: only annual members are able to fully customize their box!
This beautiful art print slash postcard features a painting by Charlotte Mei, and it's exclusive for Alltrue subscribers! You can either frame and display it or send it to a loved one. The art is about connecting with other people and with nature during wintertime.
Annual subscribers were able to choose between La Meno Treasure Earrings and Castanha Hand & Foot Cream Duo.
I chose the duo, composed of Natura Brasil Castanha Hand Cream ($18) and. Natura Brasil Castanha Foot Cream ($18). The skin-loving hand cream is enriched with nourishing castanha oil and murumuru butter. It has a rich texture that quickly absorbs into the skin. It leaves my hands feeling comfortable but never greasy. Meanwhile, the foot cream is enriched with a blend of nourishing castanha oil and cupuaçú butter from the Amazon rainforest. This essential treatment for the feet promises to soften, smooth, and repair even the roughest, driest skin. When I tried applying the cream, it felt dry to the touch and left no oily residue.
Annual subscribers chose among these items: Lujobar Eucalyptus Shower Steamers, Karma Naturals Festive Nail Polish Bundle, and The Brow Atelier Revitalizing Brow Enhancing Serum.
My choice is the Lujobar Eucalyptus Shower Steamers ($22), which came in a set of four. These scented shower steamers give you that spa-like scent experience, making it great for post-workout and wellness routines. Every piece of this shower steamer is infused with virgin coconut oil, natural cooling crystals, and pure essential oils for that ultimate sensory experience.
Annual subscribers picked one among these four choices: Symbiosis London Luxury Anti-Aging Skincare Set, Vahdam India Variety Tea Tin Set, Be Home Set of 4 Dip Bowls, and Pudus Life Recycled Classic Slipper Socks.
To make warm winter drinks, I chose the teas in a tin! Made from leaves procured and packaged within the days of harvest, Vahdam India Signature Tea Blends feature two different tea varieties: English Breakfast and India's Original. Each tin can contains 15 tea bags of black tea and masala chai, enough for a month-long supply of your morning sip. What I like best about this set is that they included both of these flavors and they're in really pretty and reusable tins.
Annual subscribers selected among these items: Net Zero Co. Dozen Silicone Baking Cups, Mudmasky Melting Mud Cleansing Mask, and Woolzies Laundry & Linen Spray Set.
I love baking so I chose Net Zero Co. Silicone Muffin Cups ($12.79). Crafted from 100% food-grade and BPA-free silicone, these silicone baking cups are safe for use up to 428° Fahrenheit. They are also dishwasher and freezer safe, so you can eliminate toxic chemicals as well as the need to constantly repurchase liners. To clean the cups, gently scrub them with regular dish soap. Alternatively, simply place the cups in the dishwasher with the widest baking surface area facing the bottom. I'm actually planning to use these for a non-baking purpose – to keep food separated on plates or in bento boxes!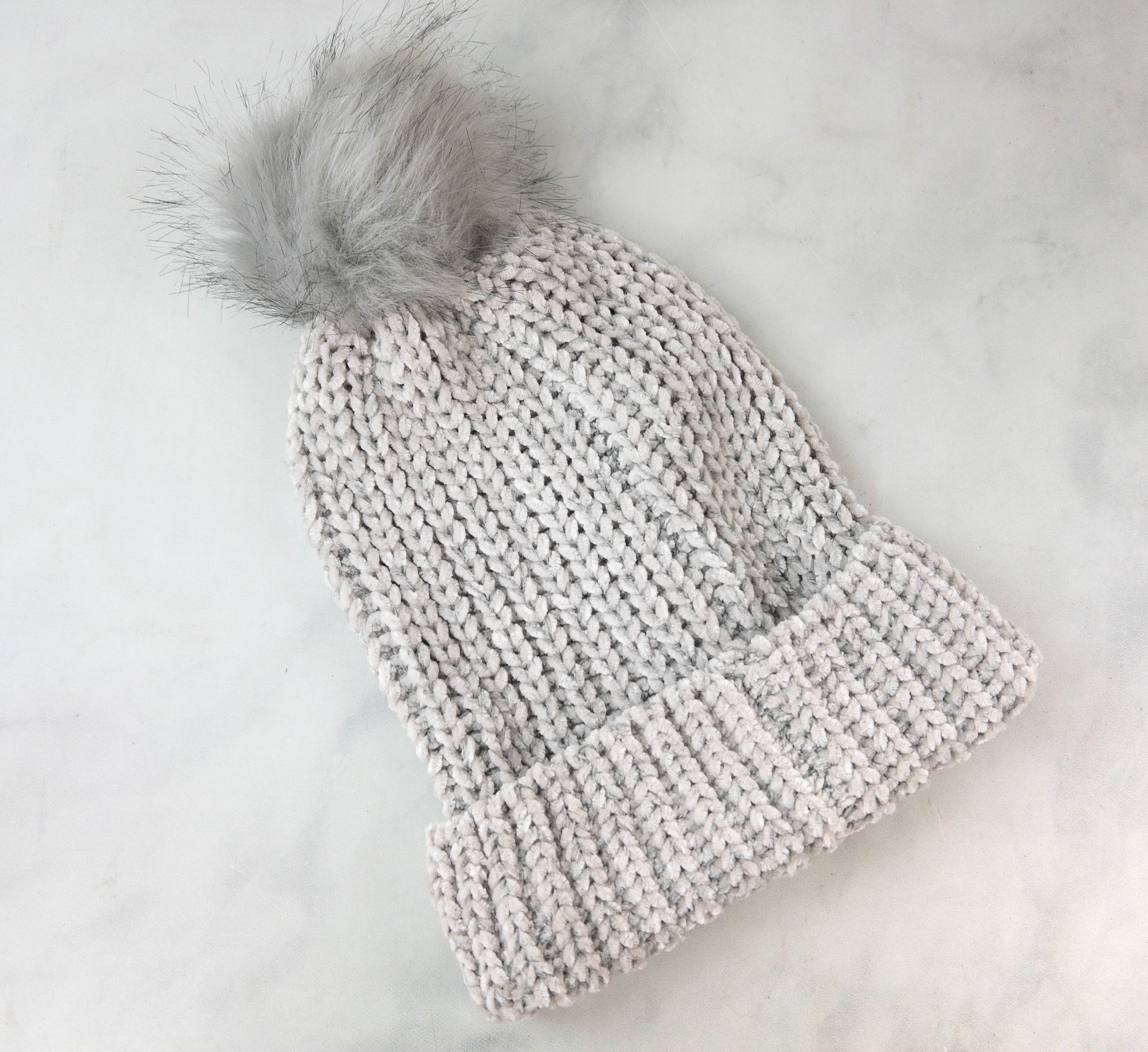 Annual subscribers picked one among these goodies: Territory Design Table Runner, Lark & Ives Collectibles Continental Snap Wallet, and JULES KAE Pom Beanie.
I just had to pick the pom beanie because it's perfect for snow days, winter walks, those afternoons when your house is inexplicably freezing, or when you have a bad hair day. Furthermore, it adds a casual element of style to any bundled look. (Plus, I just really love pom poms!) The recycled polyester cable knit and recycled acrylic pom on this stylish and soft beanie is made entirely of recycled materials.
This was one of the hardest choices of all! Annual subscribers were able to pick from Yuna Yoga Foldable Yoga Mat, Comma Home Plush Throw Blanket, Graf Lantz Carry-On Travel Weekender, Small:Hours Set of 2 Hinged Steel Containers, and SiiZU Cozy Poncho Wrap (Gray Stripe).
I eventually chose Comma Plush Throw Blanket ($89)! Made with recycled polyester, it makes a cozy indoor companion for winter. It's so incredibly soft that I love having it with me when I'm chilling on the couch or lounging in my favorite chair. It's sophisticated and seriously stylish, so I think it'll look great as an accent piece on my living room couch as well.
I was impressed with the quality of everything I received in this quarter's Alltrue box! My choice items do have a winter feel, from the cream that protects my hands from the harsh weather to the soft throwblanket that helps keep me warm. I also love the muffin cups, which I can use to bake delicious goodies. This box is full of beautiful and useful lifestyle goodies every season, but unfortunately, Alltrue still has shipping issues. I hope they find a solution for it!
Here's a closer look at the box design and the mini-magazine with more information about the products:
Alltrue, formerly known as CAUSEBOX, offers a "membership that matters" with a quarterly subscription box curated with full-size socially conscious products for women. In each box, you'll receive 5-8 seasonal lifestyle products that are focused on ethical and sustainable production, donate a percentage of profits to charity, or aim to inspire and empower others. They also offer "seasonal markets, inspiration for intentional living, and a community that cares." Starting with the Summer box (Fall, if you're joining with the intro box), you can upgrade your subscription box to include Alltrue's editorial print magazine All Good Things for $7.95/quarter. You can also upgrade to a carbon-neutral shipping option for $1/quarter. This subscription is a reader favorite and made it on your list for best subscription box for women!
What do you think of the Alltrue box?