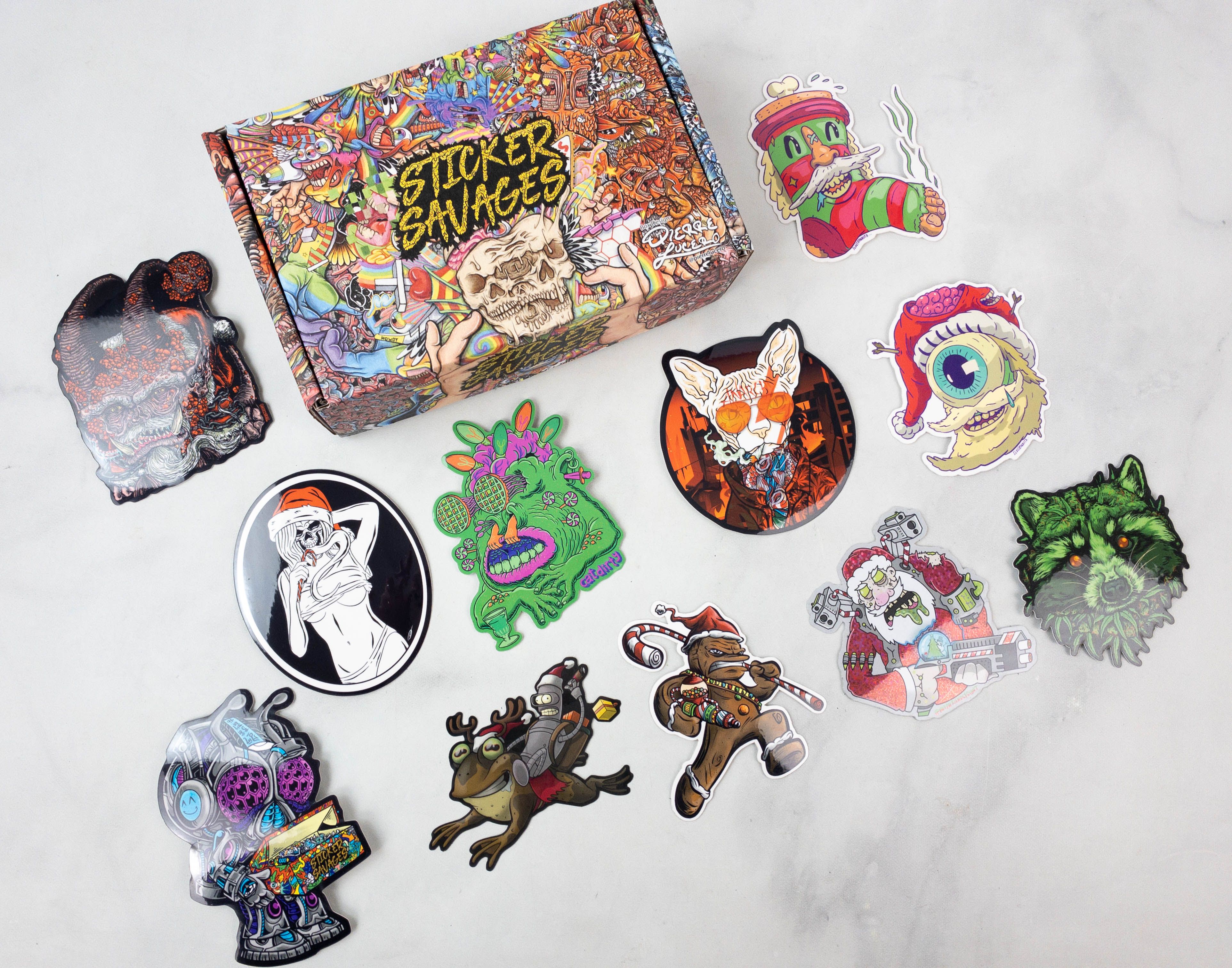 It was a very savage Christmas for Sticker Savages! The December 2021 sticker collection includes 10 stickers with a unique take on the theme Happy Holidays. Some are fun and whimsical, while others are creepy yet cool!
DEAL: Get 10% off your first box! Use coupon code HELLO.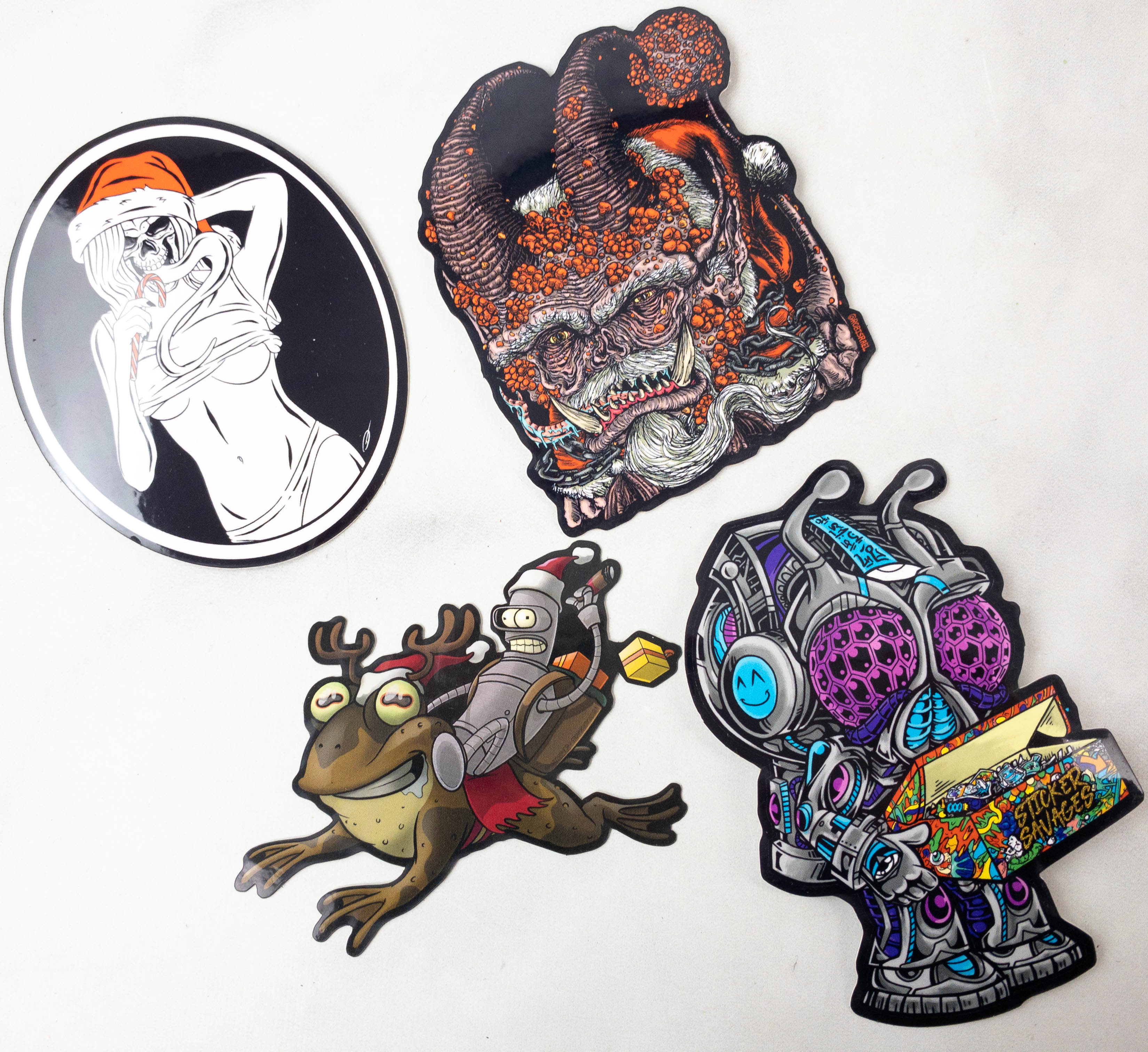 @Tapped_ink's sticker design has a dash of sauciness! There's not much color, but it still looks astounding with just a skull-headed seductive girl wearing a red Santa hat! She has a long tongue that creepily savors a candy cane.
The sticker from @RobisraelArt looks so creepy and awesome, as it features Krampus shackled by a chain and infected by a virus. The details are just spine-tingling!
@iAreUgly12 has a different take on Santa and gift-giving! Instead of a reindeer and Santa himself, the one who distributes the gifts is a tin robot riding a frog-deer, which looks extra with antlers. Both are also wearing a Santa hat.
@JakeEy3's sticker features a robotic kind of house fly holding a box of Sticker Savages. I believe this sticker design is a part of the "Terraformer" series. You can see more of its kind on the artist's Instagram. I love the color scheme used!
@EIRokk86's sticker showcased a Sphynx cat wearing sunglasses with a body full of tattoos. This badass sticker features a furious and cool leader of some Anarchy.
@CatDirty created a trippy sticker design for this month, featuring a green monster-like fella. I'm a little weirded out by those two hands sticking out of its nose, gripping the top lip. Nevertheless, it's absolutely a holiday-inspired sticker with those festive lights, lollies, and waffle eyes.
Another interesting sticker design is by @Falk_Art. The artist drew a raccoon head over a heap of cannabis!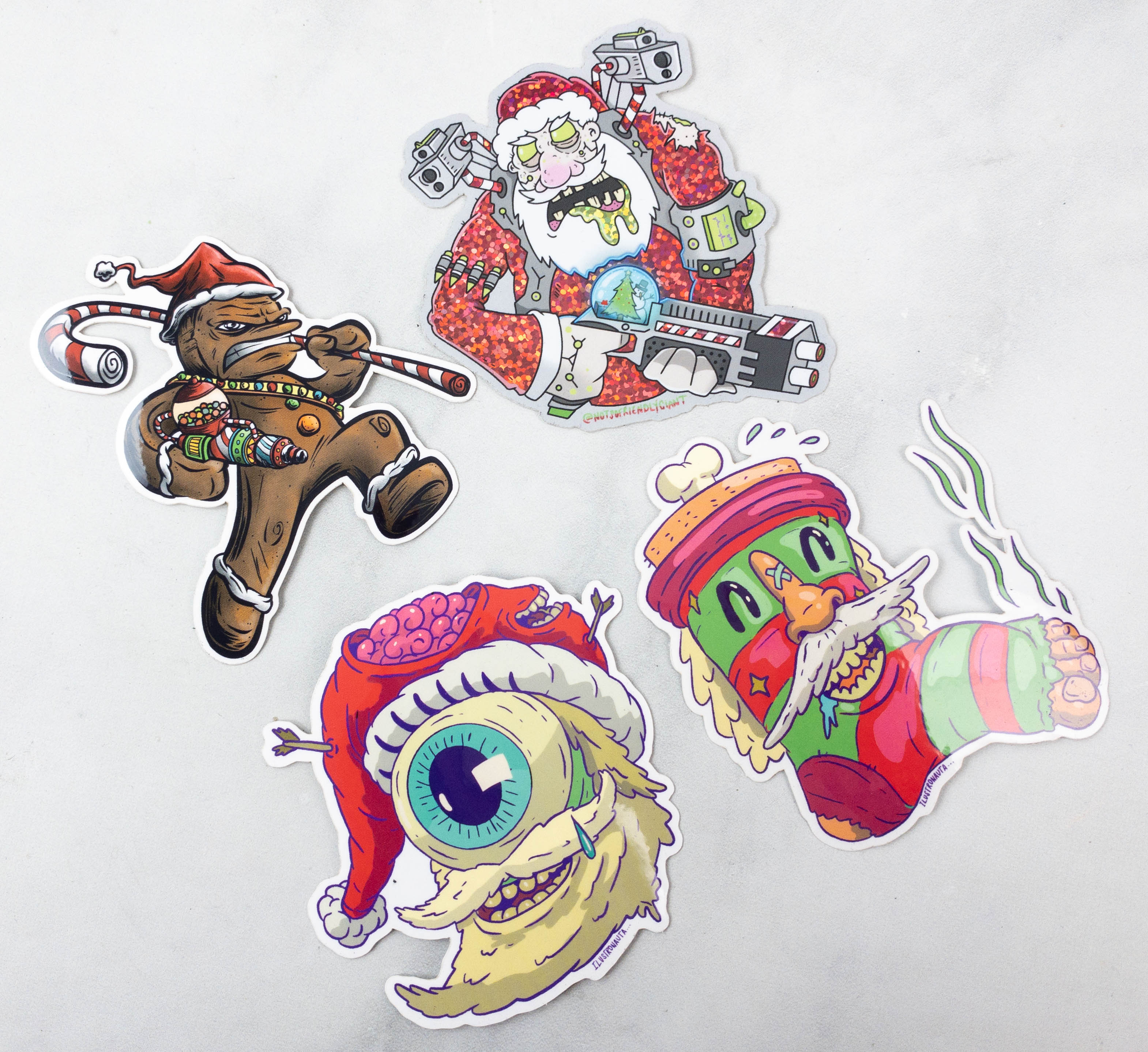 @MintyFreshThoughts incorporated the gingerbread man in the sticker design! With gumball ammo, a candy cane, and a Santa hat, he's ready to go to battle. Look at his game face!
@NotSoFriendlyGiant showcased a cyborg Santa loaded up with firearms, ready to break a war any moment. It looks cool and flashy with the glittery effects!
Another holiday-inspired sticker in the box is from @ilustronauta. It features a cyclops disguised as Santa Claus with a beard and a hat. A tear is running down the eye as the brain peeks out of the hat. This sticker looks kind of captivating!
Bonus! This month's box included a bonus sticker as a gift to subscribers. There's no info about the artist, but I'm glad to receive an extra savage sticker! Featuring a smelly foot, this design made me think of Santa Claus getting all comfortable and skipping the shower after his gift-giving duties.
Sticker Savages curated another box of unique stickers by talented artists, this time with a holiday twist. They're perfect for decorating your laptop, locker, notebook, or luggage, or simply for adding to a sticker binder as a part of a collection. If I were to choose a favorite, it would be the gingerbread man. All the stickers are high quality, and they are meant to last long!
Everything arrives in a cool graphic box, cushioned by black squiggles for a savage effect! There's also an information card that lists all the featured artists for the month. See them below:
Sticker Savages is a monthly subscription box featuring 10 unique stickers from artists on Instagram. These artists are from around the world and the designs are stunning. Most of these stickers are Sticker Savage exclusives, which means they're printed for subscribers only. All orders come with a card featuring the artists. Shipping is free to the U.S. (and $9.99 worldwide). Sticker Savages is $11.90 a month, or save with longer subscription terms.
We are the dopest sticker box in the game. These stickers are created exclusively for our sticker subscription box, and are great for water bottle stickers, laptop stickers or just about any other thing you can think of. All of our stickers are printed on high qualiy waterproof vinyl, and are around 3-4in in size.
What do you think of Sticker Savages?