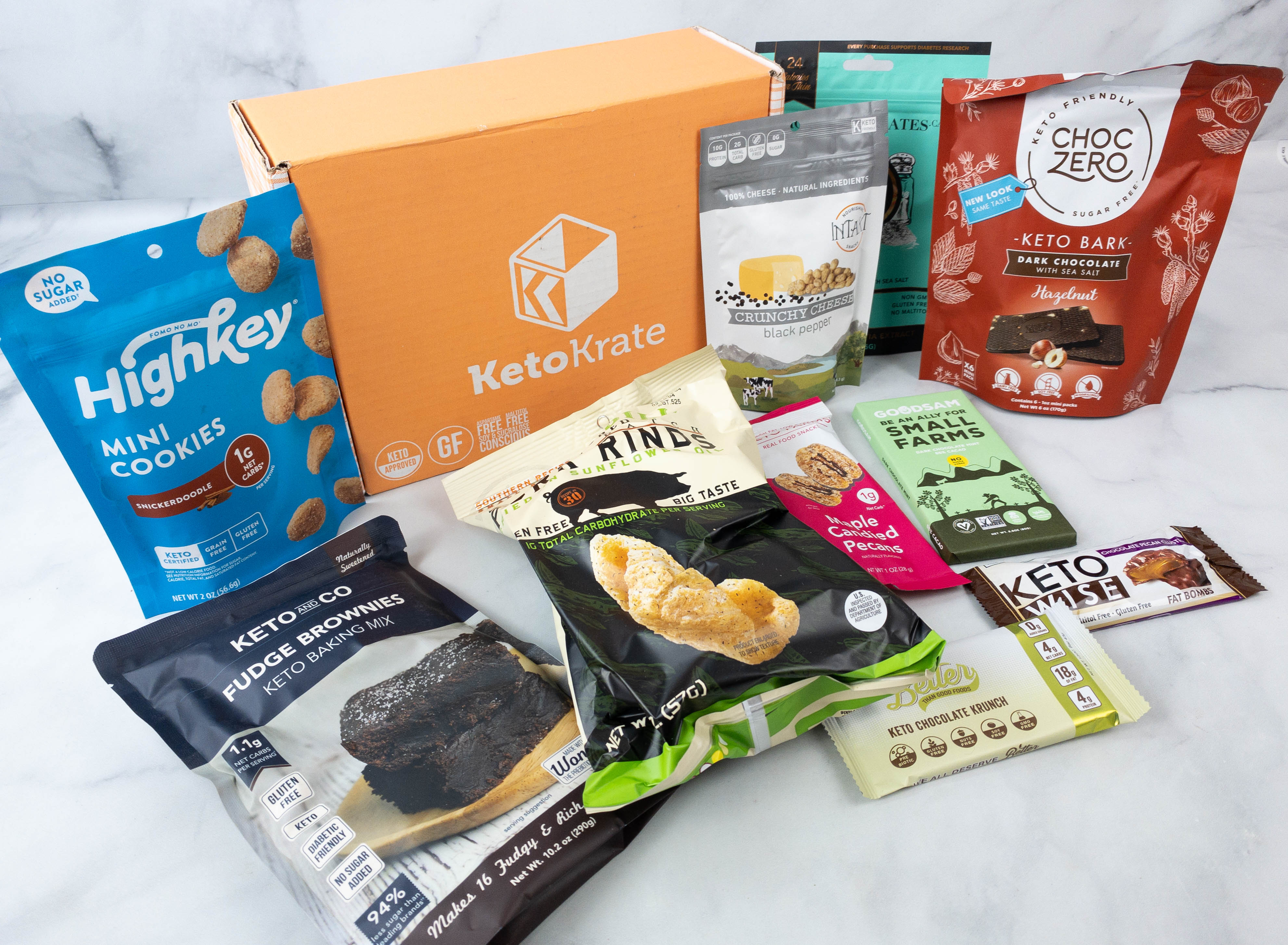 A box full of keto-friendly snacks is here! For December 2021, Keto Krate curated delicious keto goodies that we enjoyed during the holiday season. It's themed Keto Wonderland, and it includes ten snacks ranging from chocolates to junk food alternatives to nuts and more!
DEAL: Get $10 off your first Krate! Use coupon code HELLO100FF.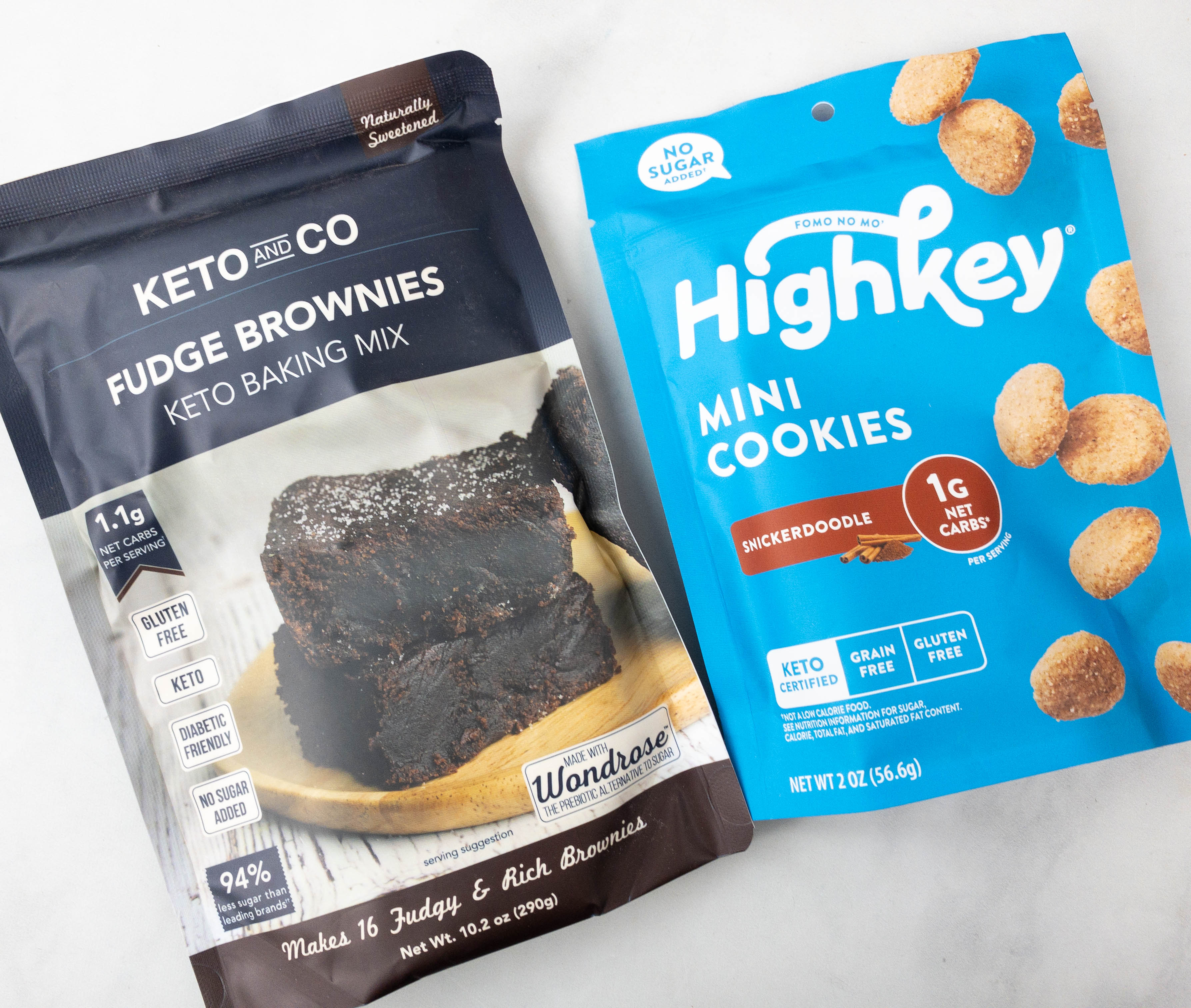 For a guilt-free holiday treat, they included Keto And Co Brownie Mix ($9.99) in this month's box! The pack can make about 16 dark, fudgy, moist, and rich brownies to savor and indulge. It's gluten-free and diabetic-friendly, and it's naturally sweetened as well. All you have to do is add eggs and oil/butter, bake, and enjoy! If you want a quick snack that you can munch on right away, there's a pack of Highkey Snickerdoodle Mini Cookies ($4.14)! It's made with cinnamon, vanilla, and real butter, making each bite delicious and comforting.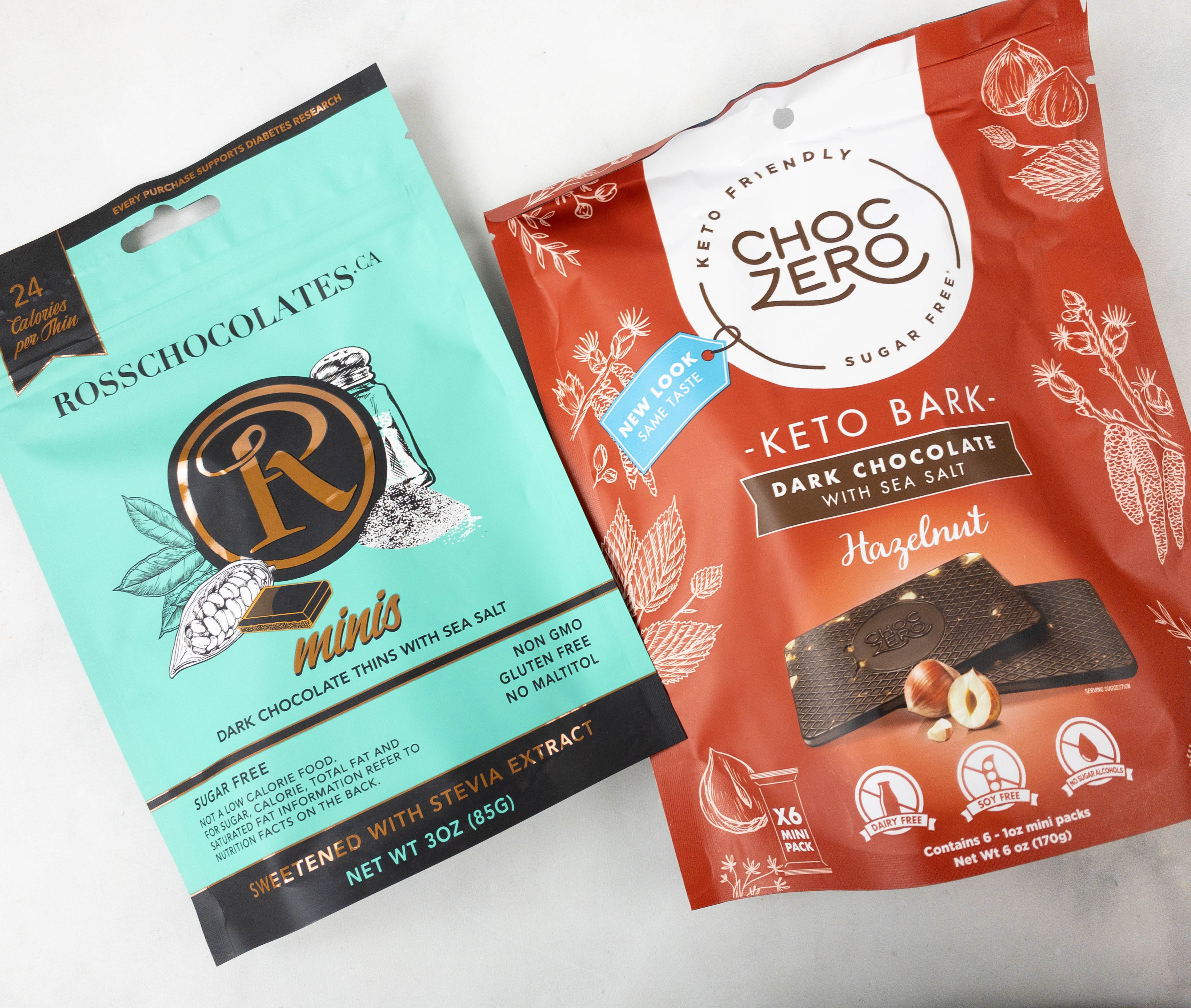 You can indulge in chocolates without breaking your keto diet! In this month's package, we received Ross Chocolates Dark Chocolate Minis With Sea Salt ($4.99), decadent dark chocolate sweetened with stevia and mixed with a dash of sea salt for the perfect balance. There's also the Choczero Milk Chocolate Hazelnut Bar ($6.99), which is made with premium cocoa beans and sweetened using monk fruit. Both came in resealable packaging to maintain freshness.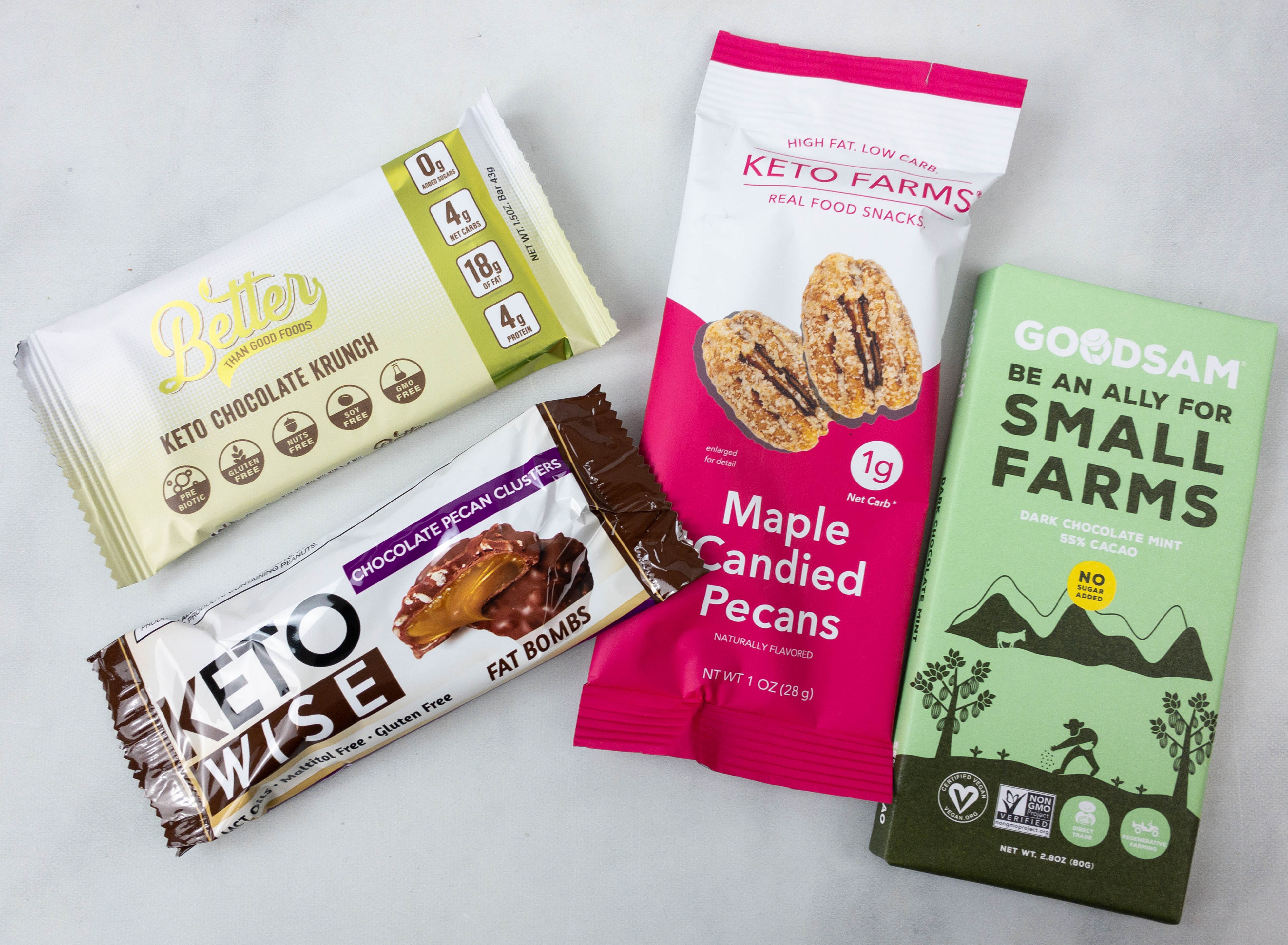 Here are more sweet keto treats to enjoy: Better Than Good Keto Chocolate Krunch Bark Bar ($3) made with a patented prebiotic strain with gut health benefits and high fiber content, Keto Wise Chocolate Pecan Cluster Fat Bombs ($1.56) that contains MCT oil, Keto Farms Maple Candied Pecans with a candy-like coating, and Goodsam Foods Dark Chocolate Mint Bar ($4.99) sweetened by allulose and none of the artificial sweeteners.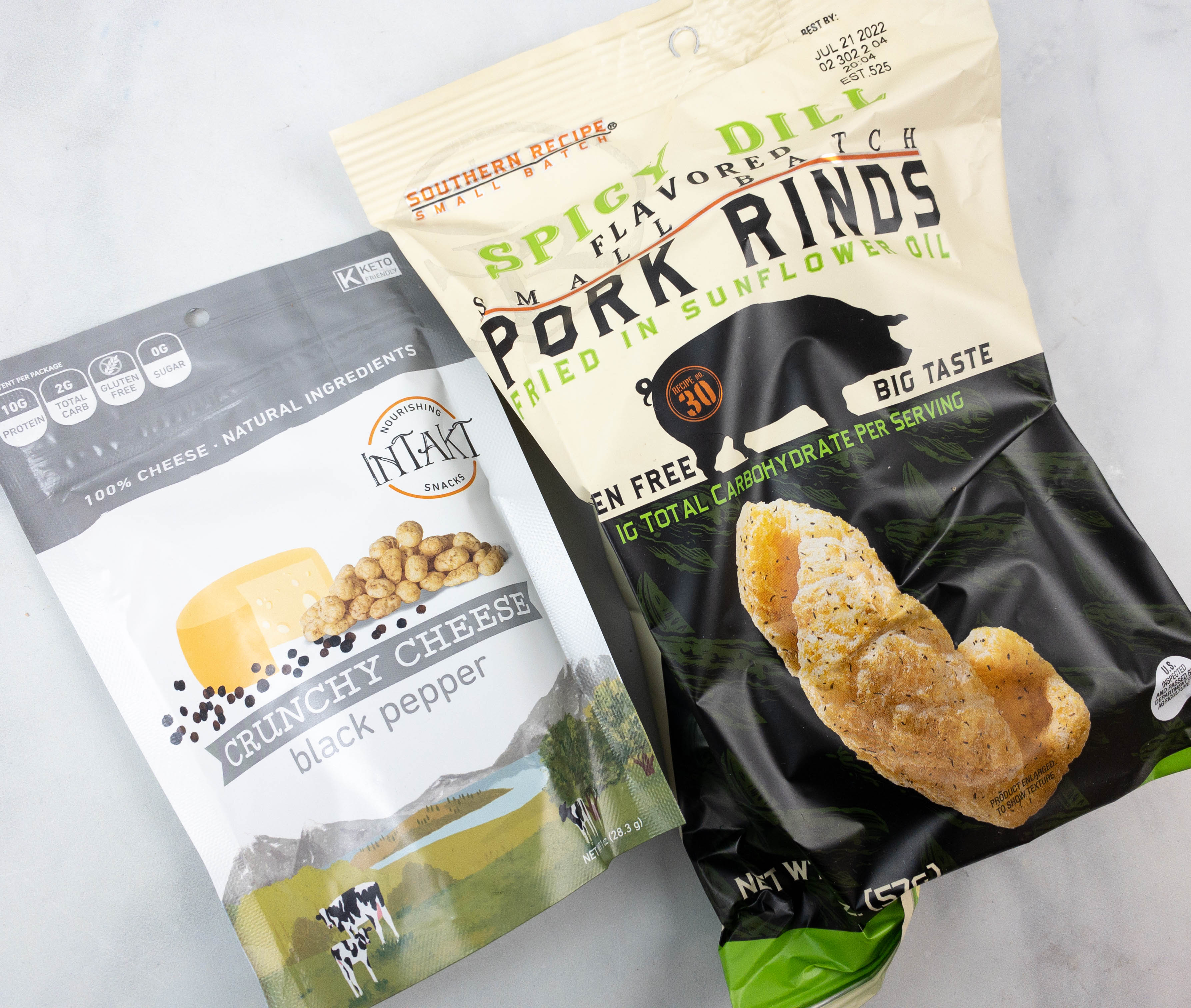 When the Christmas flicks are on, it's time to enjoy keto-friendly alternatives for chips like Intakt Snacks Cracked Black Pepper Crunchy Cheese ($2.33), and Southern Recipe Small Batch Spicy Dill Pork Rinds ($4.25). Both were crunchy and seasoned perfectly!
It's the most wonderful time of the year and this Keto Wonderland themed box came just in time for it! Most of the keto goodies are chocolates and sweets, including chocolate bars, chocolate bites, and even chocolate brownies. They are tasty and the help curb cravings minus the guilt! I also appreciate the inclusion of the crunchy cheese snack and a pack of spicy pork rinds, which are ideal companions as we binge-watch Christmas movies! Whether you're just starting on building your keto lifestyle or you simply want to stock up on keto-friendly items in your pantry, Keto Krate has got you covered.
Every Keto Krate includes a booklet for more information about the keto snacks, as well as inspiration and tips. Here's a peek: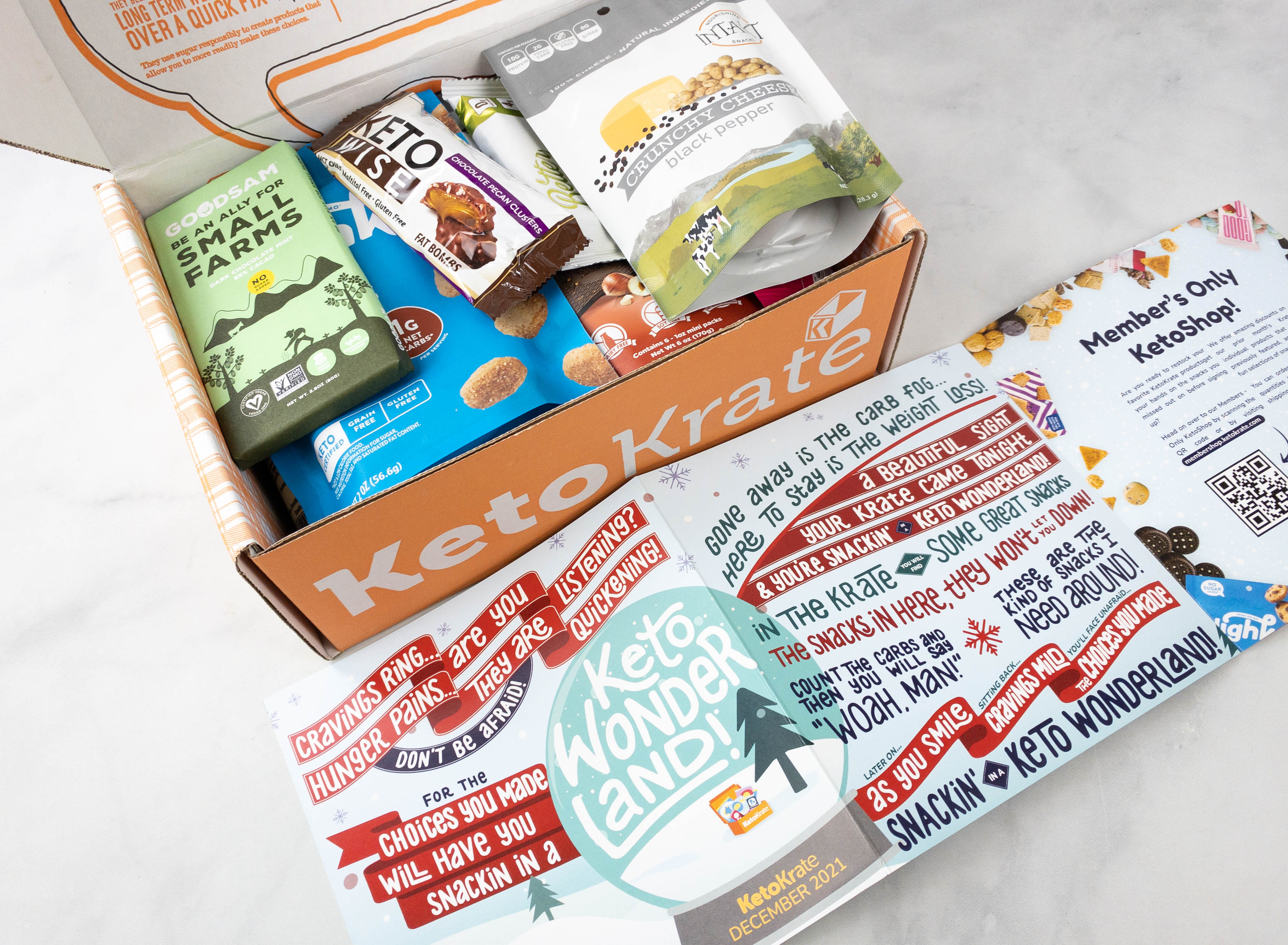 Keto Krate offers a keto subscription box for those who love keto snacks! Every month, members receive 10+ full-sized keto snacks with less than 5g net carbs per serving, as well as printed insert including keto tips, keto recipes, keto advice, member case studies, and other information to keep you inspired with your keto journey. Members also get VIP access to the members-only KetoShop and Krate.Club. KetoShop is where you can discover and purchase more keto-friendly goodies including past Krates and one-off items. Krate.Club is where you'll find more useful information, discounts, recipes, and more for the current month's KetoKrate! The subscription costs $39.99 a month, plus free shipping.
Keto Krate's keto snack and food subscription made the list in our 2021 readers' choice best health and wellness subscription box list!
What do you think of the KetoKrate box?