Need an amazing wine gift (for you or a loved one)? VineOh! Oh! Ho! Ho! Holiday Box is here, right in time for the holidays! It includes two bottles of wine that you can enjoy by yourself or share with the wine lover in your life. Of course, there are also other gift-worthy goodies inside, like lifestyle items and yummy treats!
HOLIDAY DEAL: Get a third bottle of wine with EVERY BOX for FREE! That's for the life of your subscription! Shop at VineOh with this link and the coupon code HolidayYAY to activate the deal! You'll also get a FREE Holiday Bundle worth $120 with your first box! Valid for a limited time only!
2018 Speechless Pinot Noir ($24) This bottle of red wine might just be the perfect wine for Christmas celebrations. It has aromas of cranberry, raspberry and cherries, and tasting notes of pomegranate, cedar, and a hint of leather. Each sip is flavorful and it pairs well with a lot of holiday food such as steak, roasted chicken, and pasta.
2019 Night Vine Pinot Grigio ($24) Now, we're onto the bottle of white wine! This one has an inviting aroma of citrus blossom, combined with lime zest, white peach, wet stone, and honeydew melon. Its tasting notes is also pretty impressive, which includes casaba melon and citrus zest. The hint of crème fraiche in the finish ties up everything perfectly! If you want a light and fresh wine to pair with some cheeses and savory meats in a charcuterie board, this is it.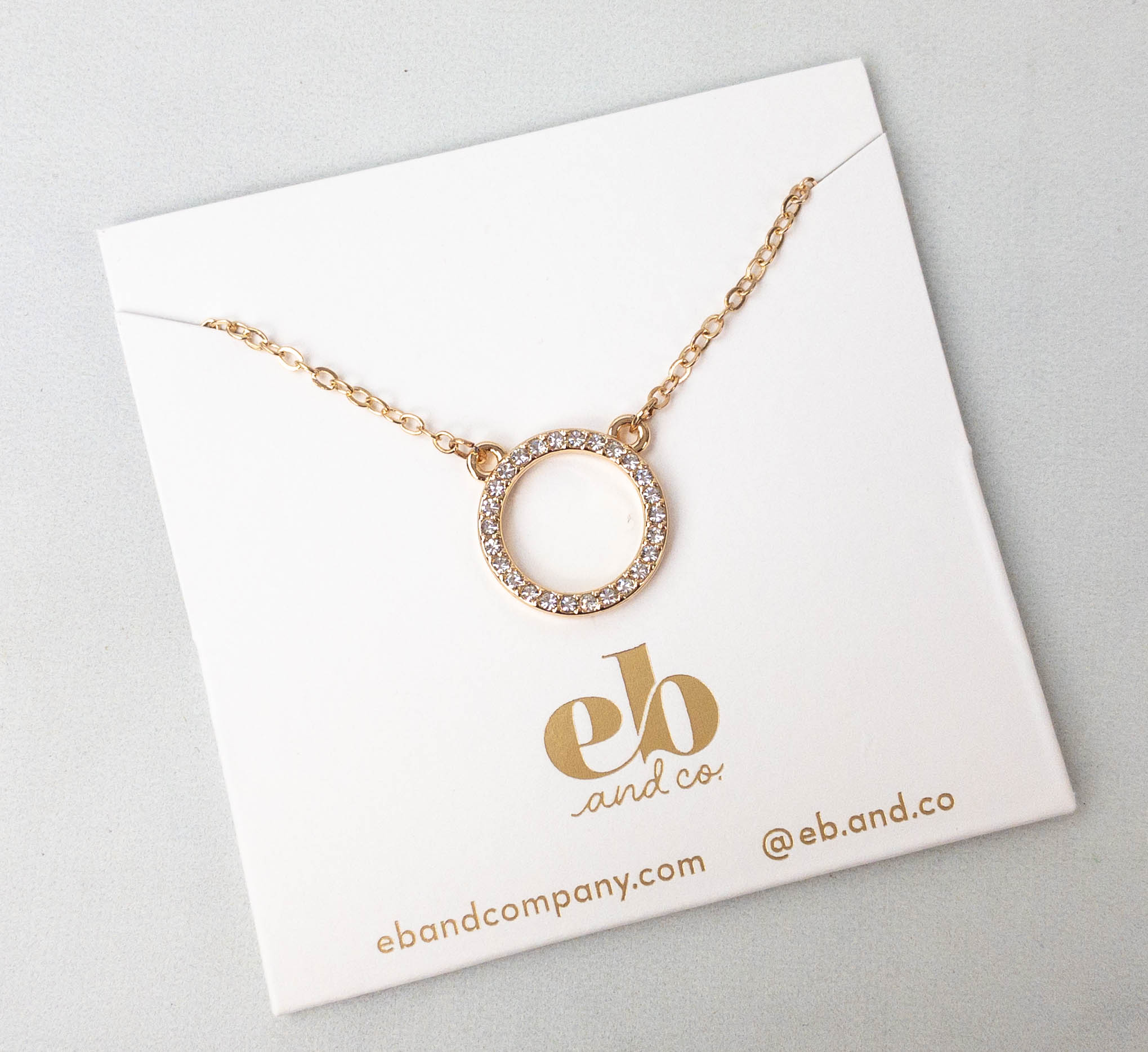 EB and Co. Open Circle Necklace. Cute and dainty, this necklace featuring an open circle pendant is the perfect accessory to match with holiday outfits! It's versatile enough to be paired with colorful and festive outfits or with a classy dress or blouse. The length is also just right for me!
Laritzy Eyeshadow Palette in Classic ($32) Of course, the holidays are also a great time to try new makeup looks and we have this eyeshadow palette for that! It features a good mix of matte and shimmery eyeshadows with a smooth and blendable formula. I also love the colors because they are suitable for making day-to-night looks.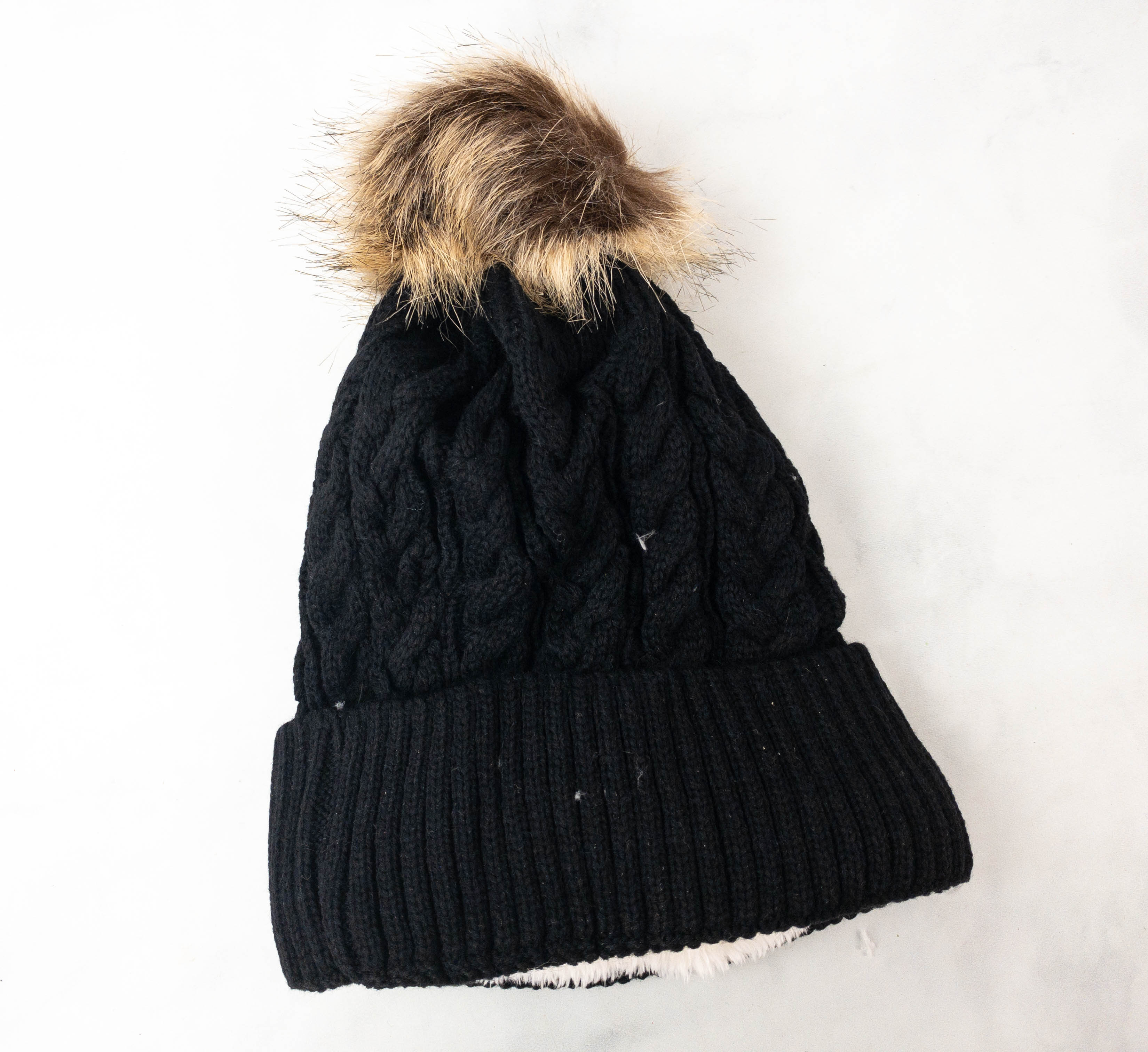 Willow Collective Winter Hat ($20) What better way to keep yourself warm this season than by wearing this cozy winter beanie? It's made with acrylic material, with a soft fleece inner lining that provides warmth and comfort. It even has a faux fur pompom on top that makes it look extra cute! This is perfect to wear whether you have some outdoor winter activity to do, or when you simply want to stay in and be cozy!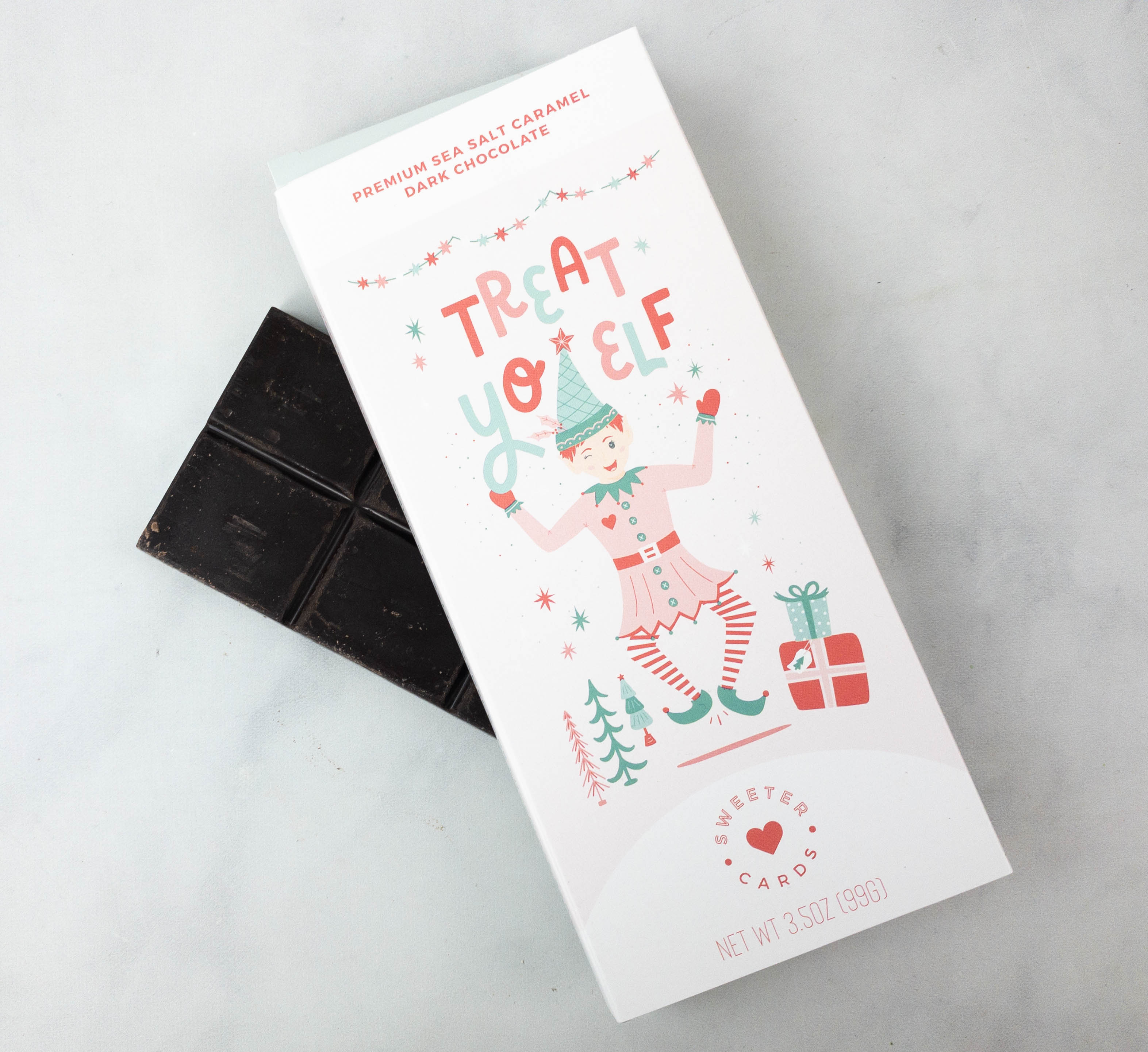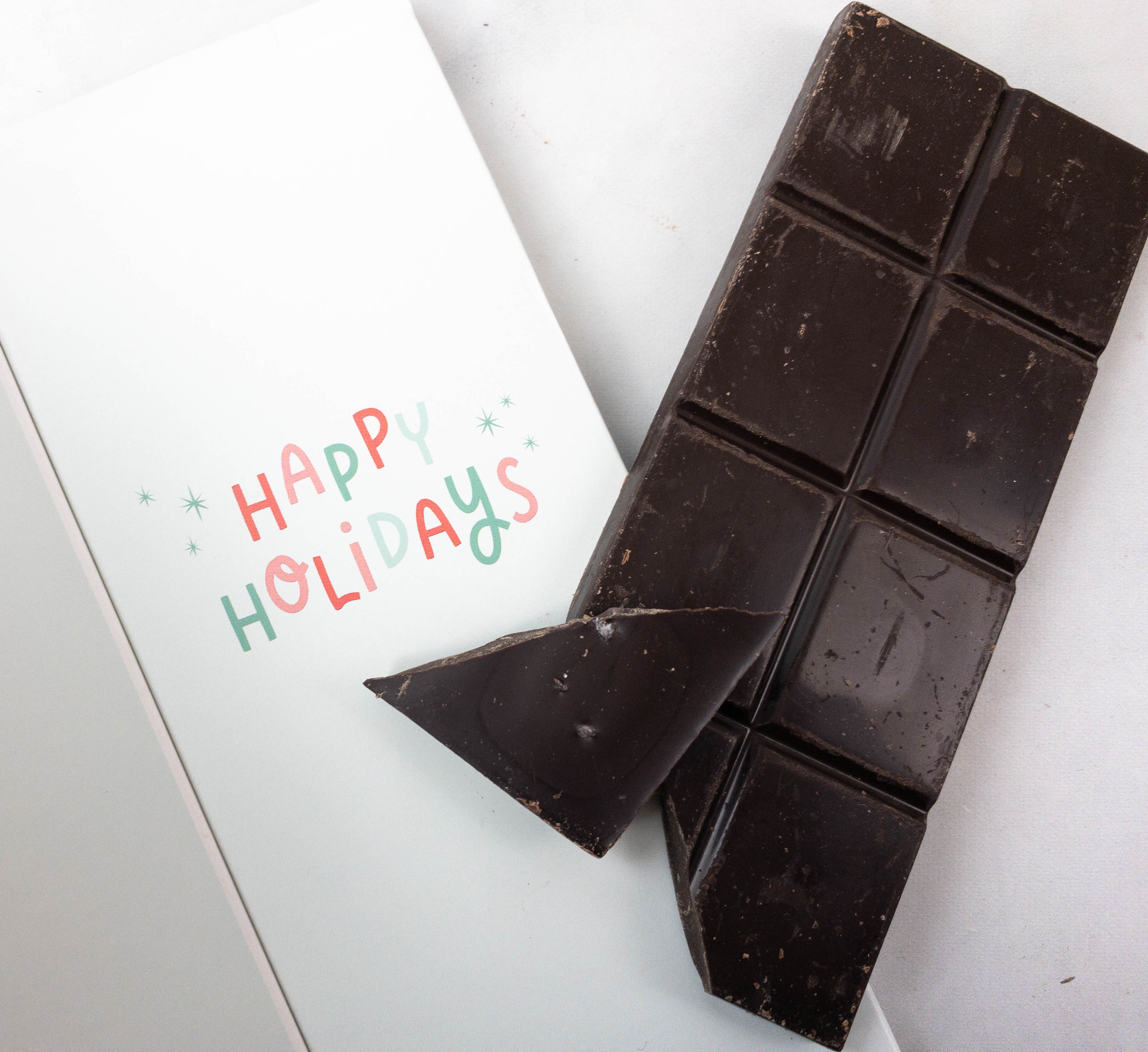 Sweeter Cards "Treat Yo Elf" Chocolate Card ($8.99) This chocolate bar comes in gift-ready packaging that looks like a greeting card. If you want to gift this, you can simply scribble a holiday message on it. If you want to enjoy it by yourself, that's great too because the chocolate tastes so good. It even has some caramel inside the bar and the back is studded with flaky salt.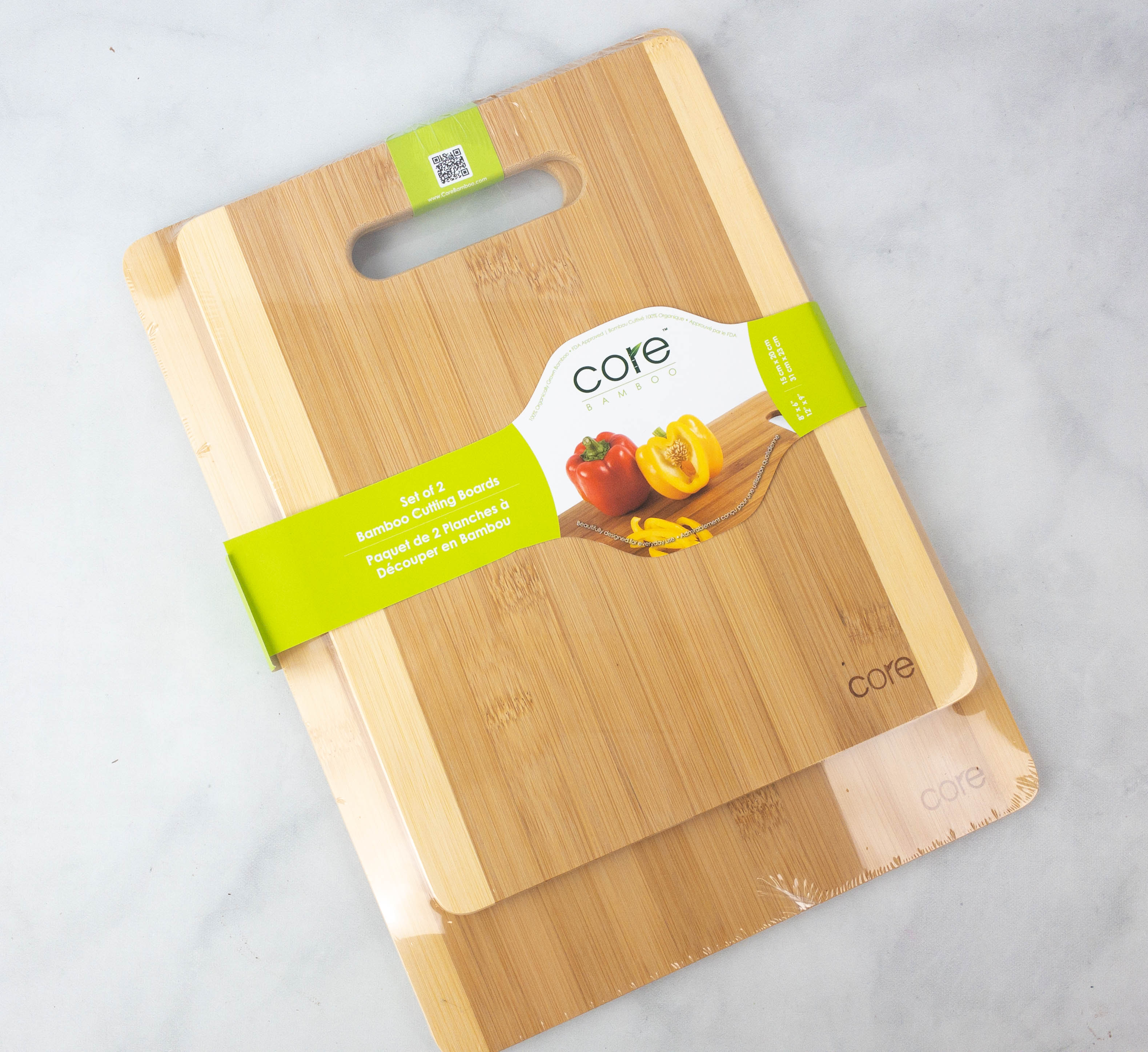 Core Home Charcuterie Board Set. This charcuterie board set is made with durable and eco-friendly bamboo, a better alternative to traditional boards made with hardwood. There are two boards in the set and one is smaller than the other. It makes holiday food prep and presentation easier and also makes the perfect gift alongside a bottle of wine!
This is such a lovely holiday curation from VineOh! It has everything you can gift a wine lover, from custom wines to a charcuterie board to delicious chocolate that can be paired with wine. There are also other non-wine-related goodies that still make great holiday presents, such as the dainty necklace and the versatile eyeshadow palette. They even included a cute beanie to keep you warm and cozy. All in all, I love VineOh! because they make shopping for wine gifts really easy, not to mention they have great quality wines to please every wine enthusiast!
VineOh! boxes come with information cards that contain everything you need to know about each item. Here's a peek at the cards: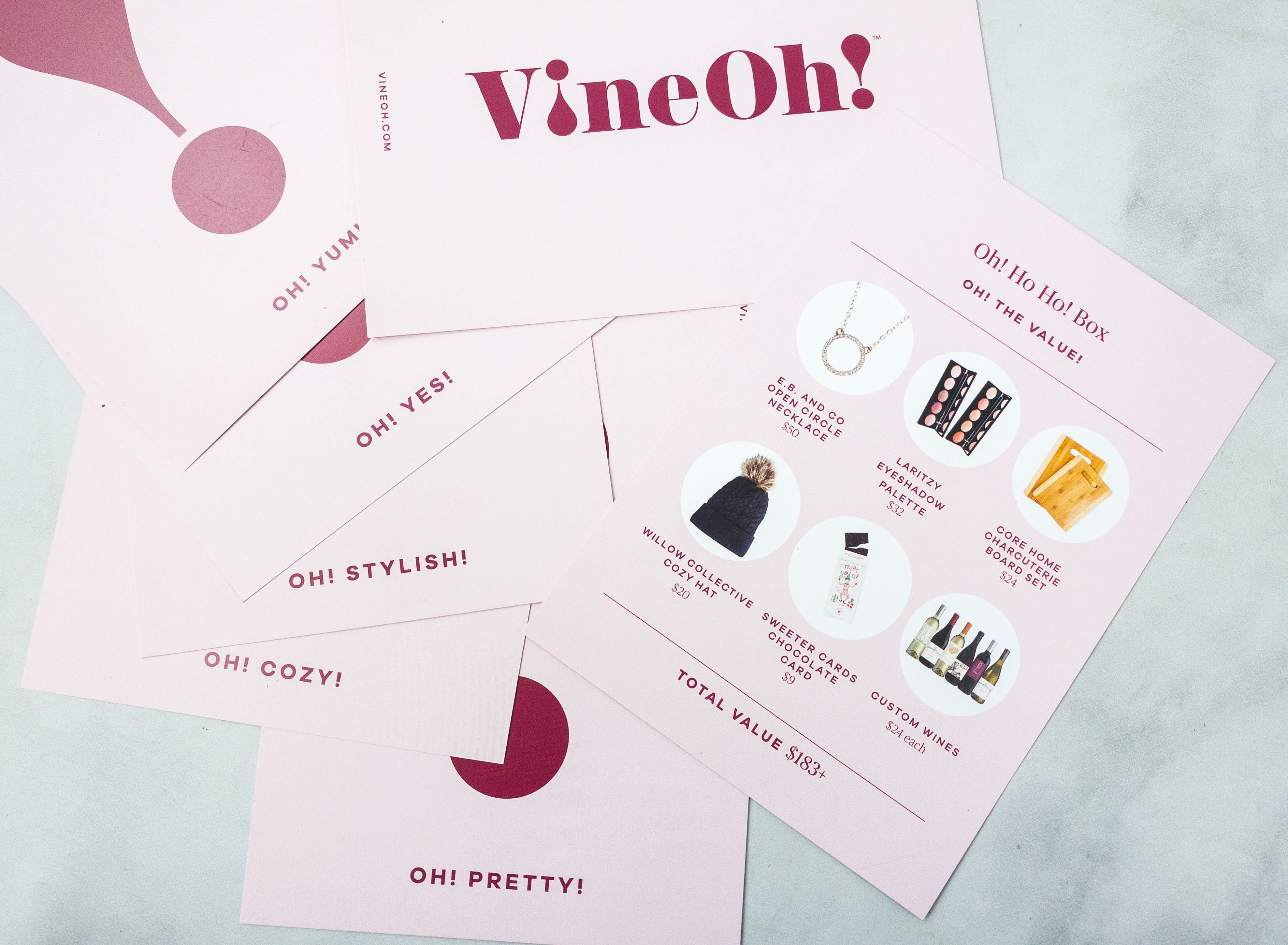 Vine Oh! is a quarterly subscription box and one of the first wine subscription boxes to include lifestyle items for women. Each seasonal box includes 2 bottles of premium wine, plus 5-6 full-size items that are fun, rejuvenating, and delicious. Subscribers can choose their wine type preference: white wine, red wine, red & white wine, or sweet wine. Every box will have a retail value of $120 or more!
VineOh's wine and lifestyle subscription box made our readers' choice list of best wine subscription boxes for 2021!
What do you think of the VineOh! Ho! Ho! Holiday Box?