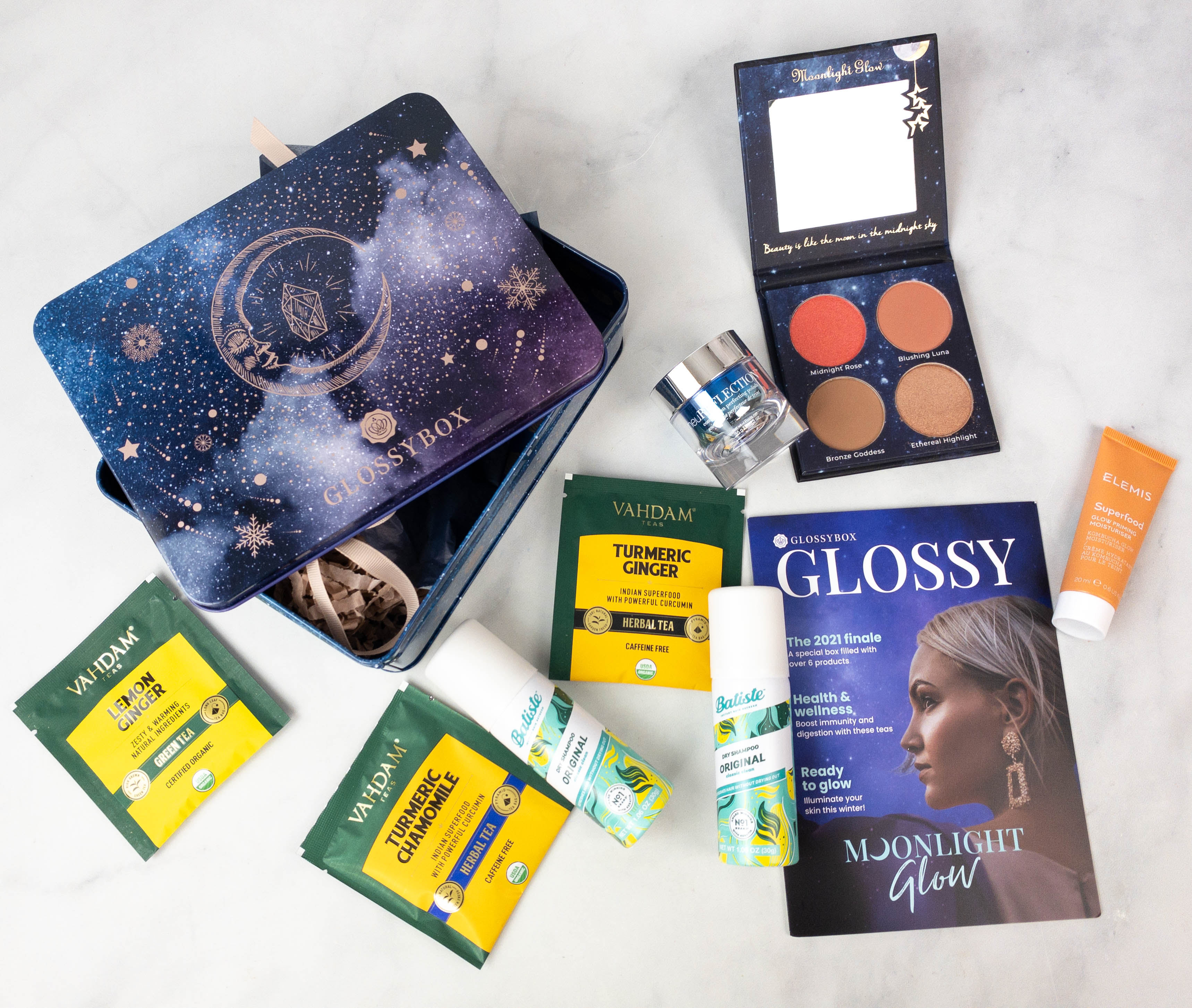 The winter breeze is here, and GLOSSYBOX makes sure you still radiate with a beautiful glow! Themed MOONLIGHT GLOW, it's brimming with carefully selected beauty products that will make you look picture-ready and even brighter during the coldest nights. FYI, the brush in this month's box was stuck in the squiggles and I missed it!
DEAL: Save 25% on this month's box! Follow this link to subscribe and the coupon code GLOW25 at checkout.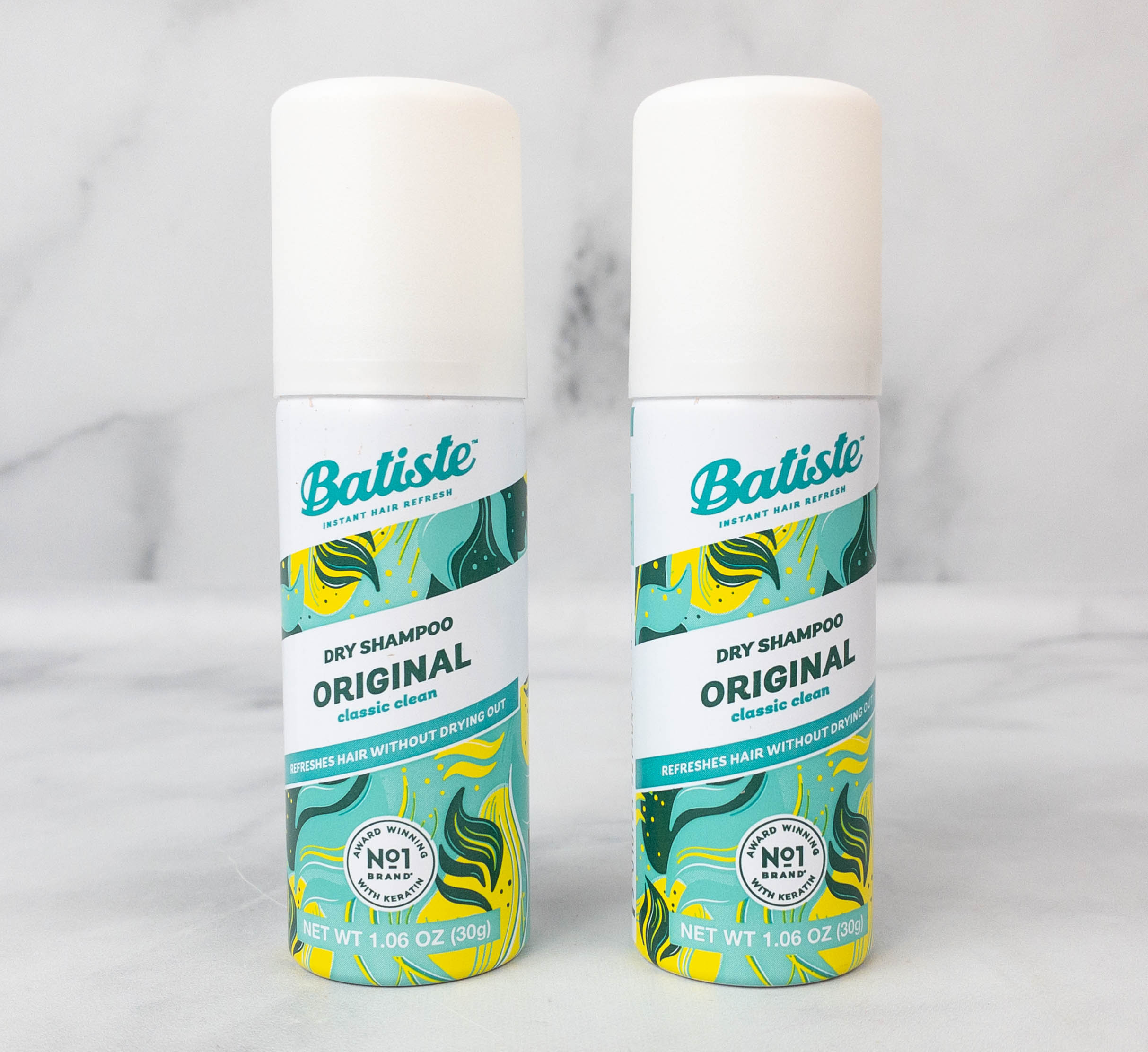 Batiste Original Dry Shampoo ($3.99/bottle) For controlling grease from the hair and scalp, this dry shampoo will do the trick! Formulated with keratin and free of sulfates, it absorbs oil, neutralizes odor, and saves you time as well. I received them in travel-sized bottles, so it's easy to bring them on the go. It has notes of bergamot, lily, and rose, which make a citrusy and soapy scent like you're coming out fresh from the shower! Just shake, spray, massage, and style your hair as desired. No more bad hair days!
Elemis Superfood Glow Priming Moisturiser ($14.70) Now that cooler weather is here, nourishing and hydrating the skin is a must. Formulated with kombucha and illuminating minerals, this travel-sized moisturizer helps keep the skin soft and supple while leaving it with a radiant glow. The formula is lightweight and I like that it doesn't leave a sticky feeling. It also works as a fantastic makeup primer!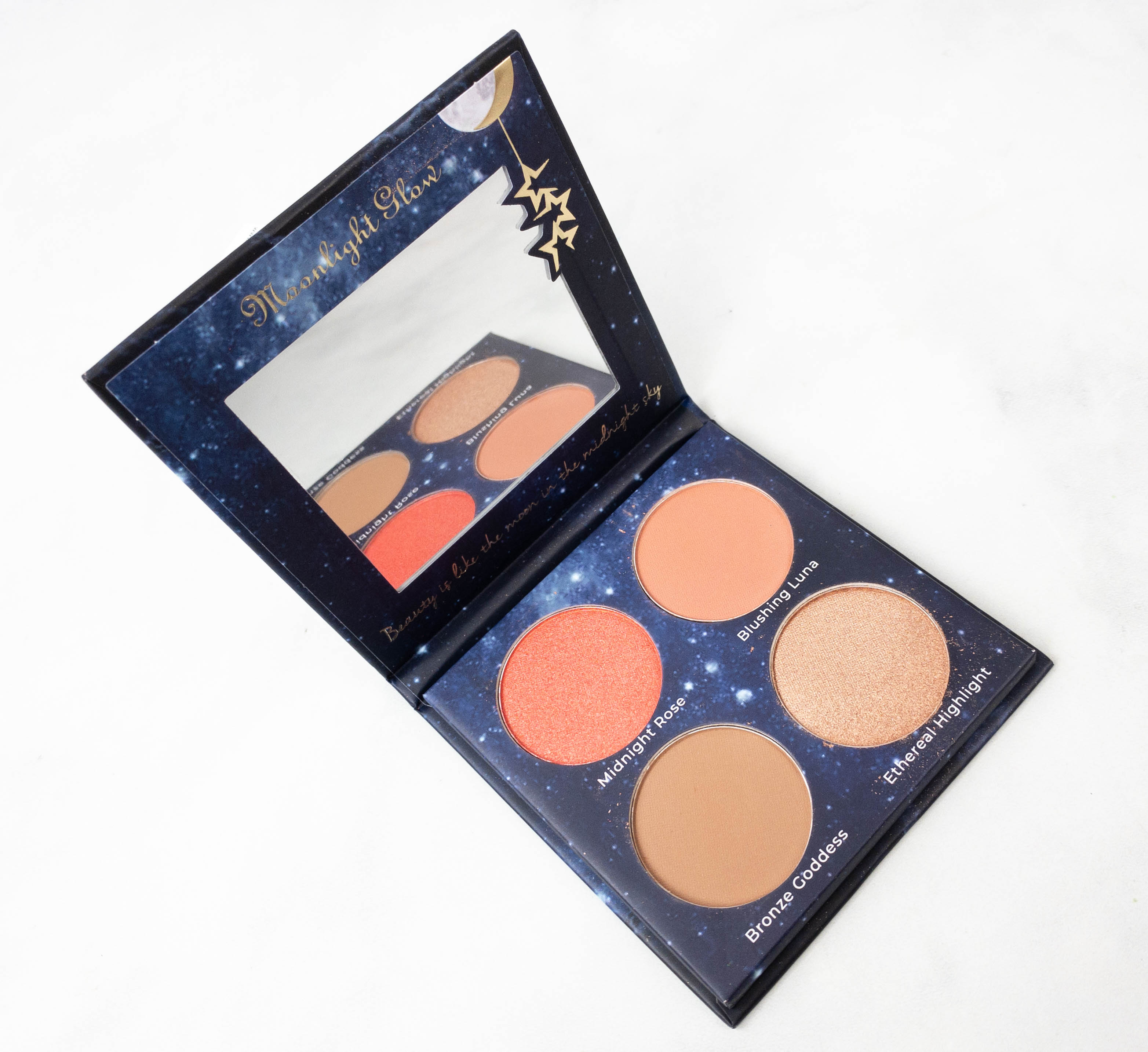 LA Splash Cosmetics Moonlight Glow Palette ($34) This palette looks so magical at first sight and as soon as I opened it, I fell in love with the colors. They're perfect for creating everyday makeup looks. Also, the palette is full-sized and it already comes with a mirror, so it's also ideal to pack in my travel makeup kit! It's exactly what I need to keep me looking dazzling.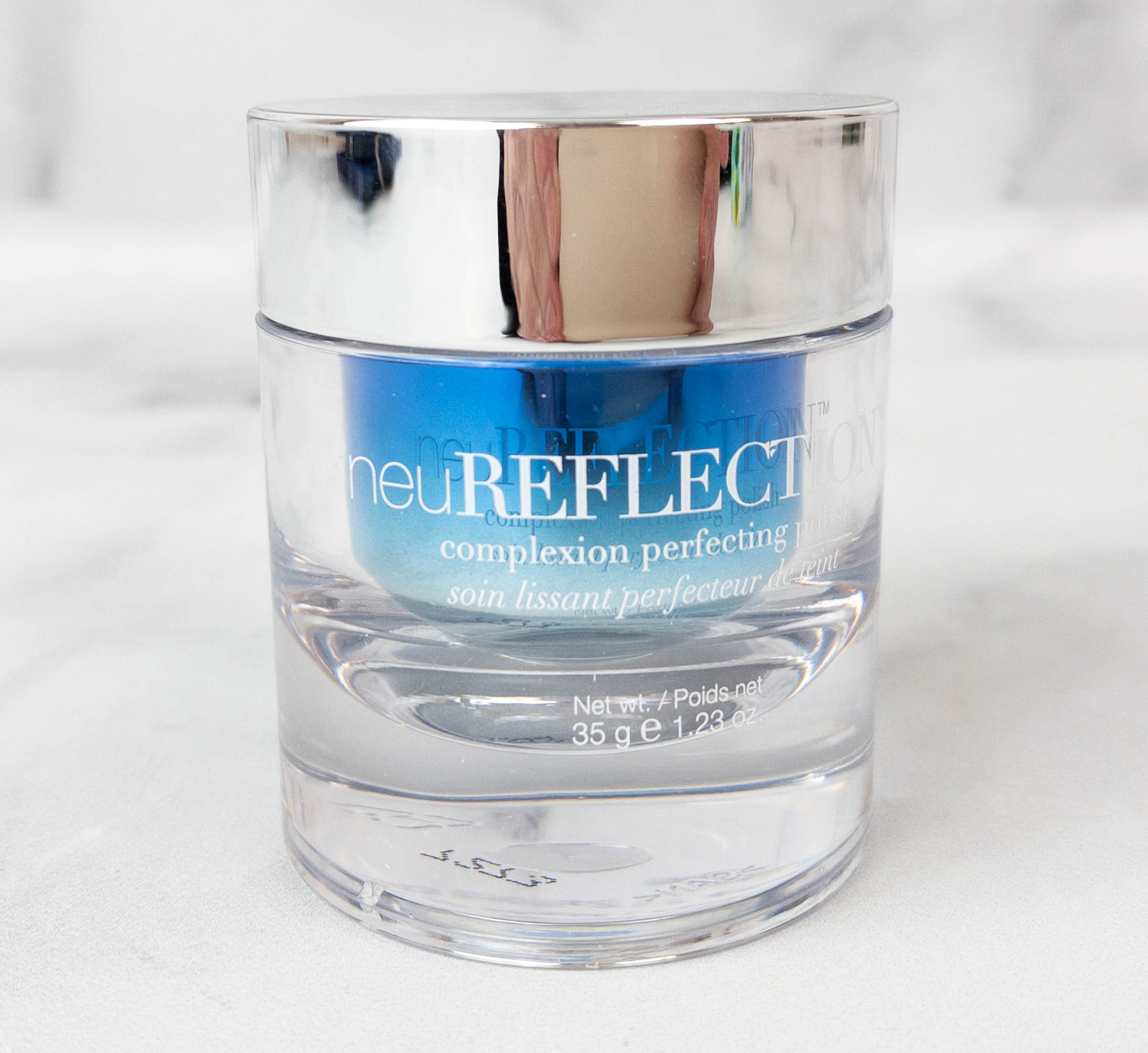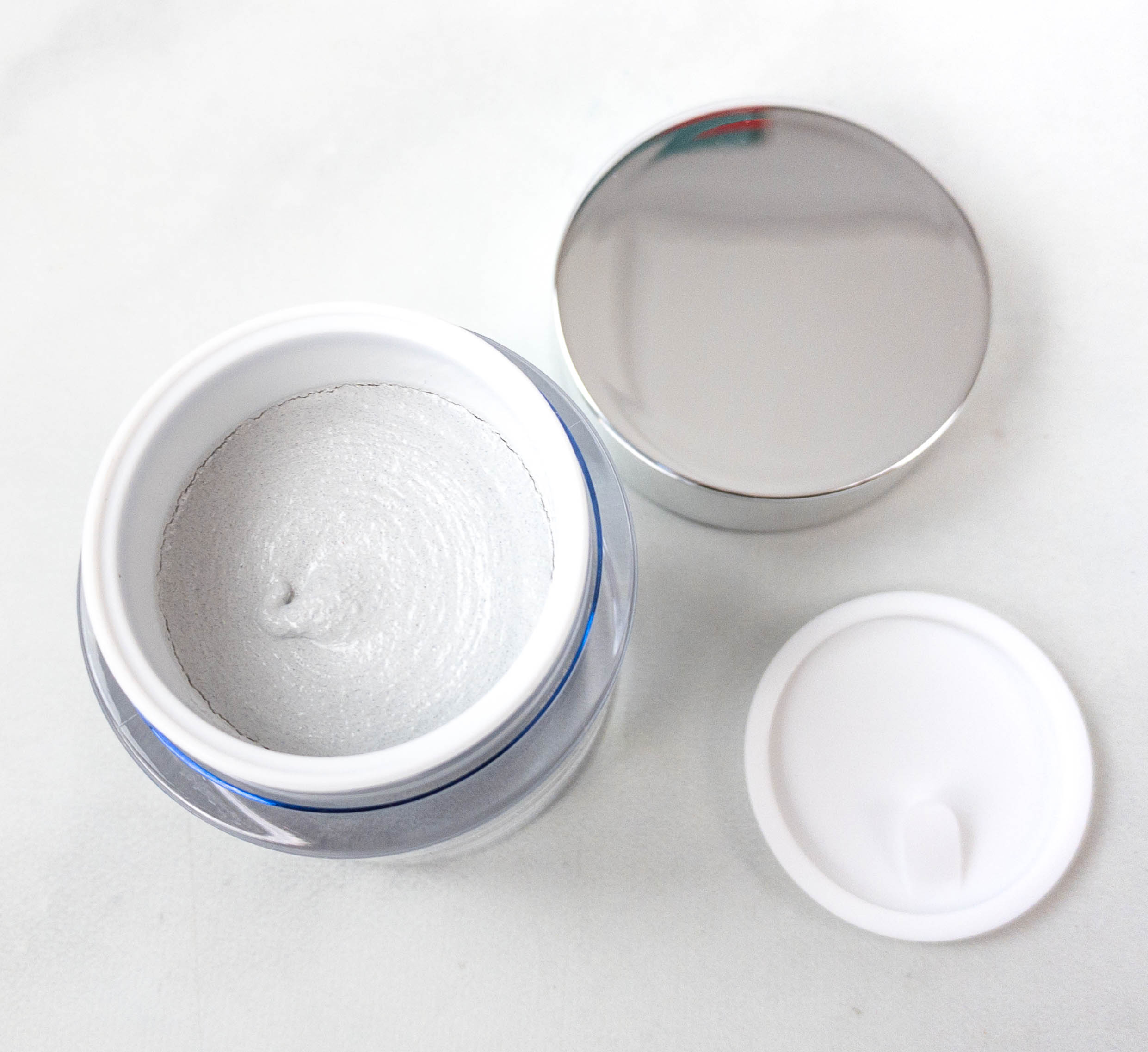 NeuReflection Complexion Perfecting Polish ($52) The mystery product I received for this month's box is a complexion-perfecting polish. Made with white activated Binchotan charcoal, magnesium oxide, and sugar, it helps exfoliate the skin, resulting in a healthier and more radiant appearance! It has a thick, concentrated, and creamy texture. Using this luxuriously whipped facial product three times a week deeply cleanses and detoxifies, fights maskne, and moisturizes the skin for a natural glow even after rinsing.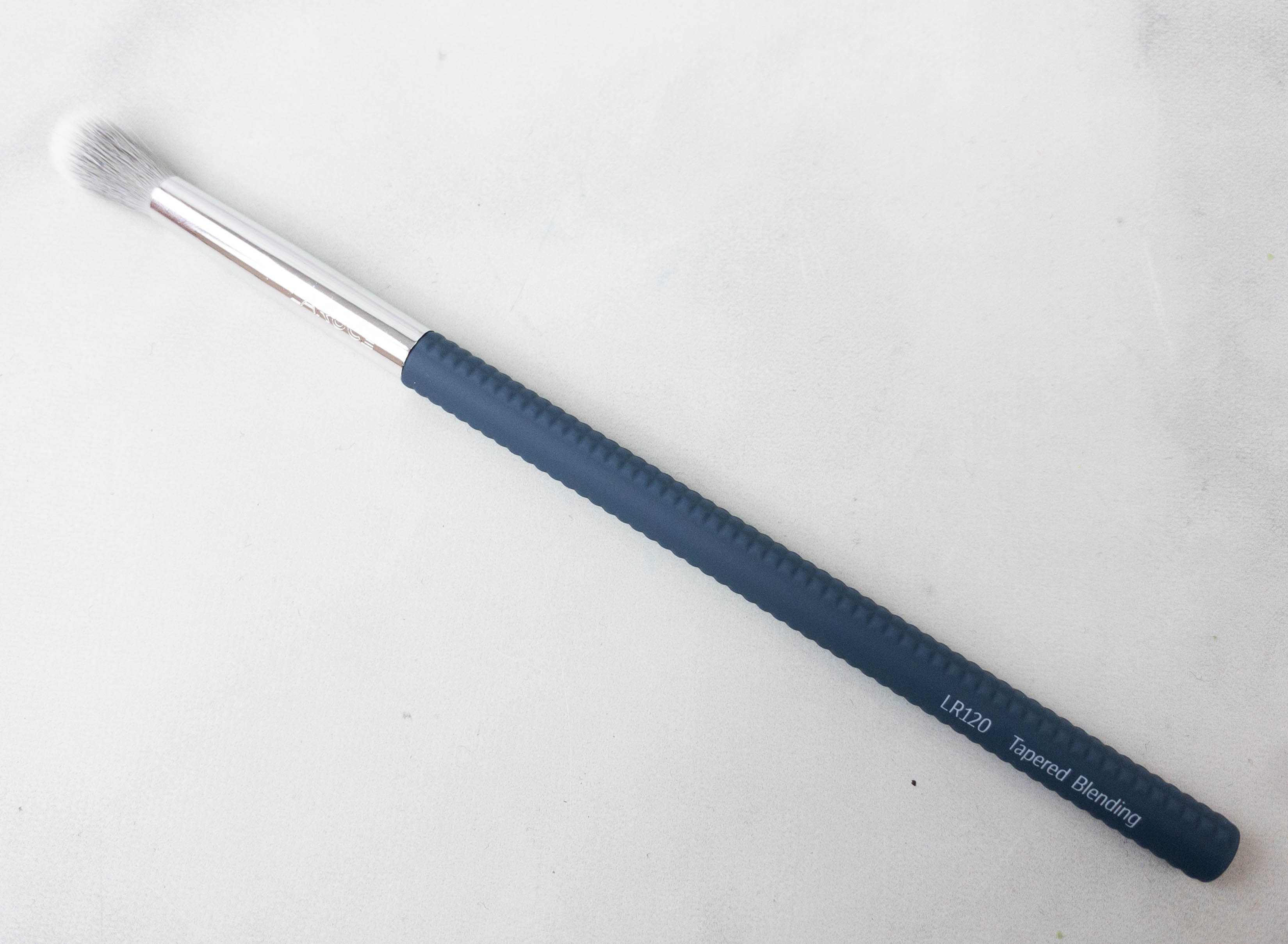 Laruce Beauty Tapered Blending Brush LR120 ($28) The last item is a blending brush! It's made of super soft Polyflex fibers that help create a soft contour, while the studded handle makes it easy to grip. This is a great brush to use for applying and blending eyeshadows.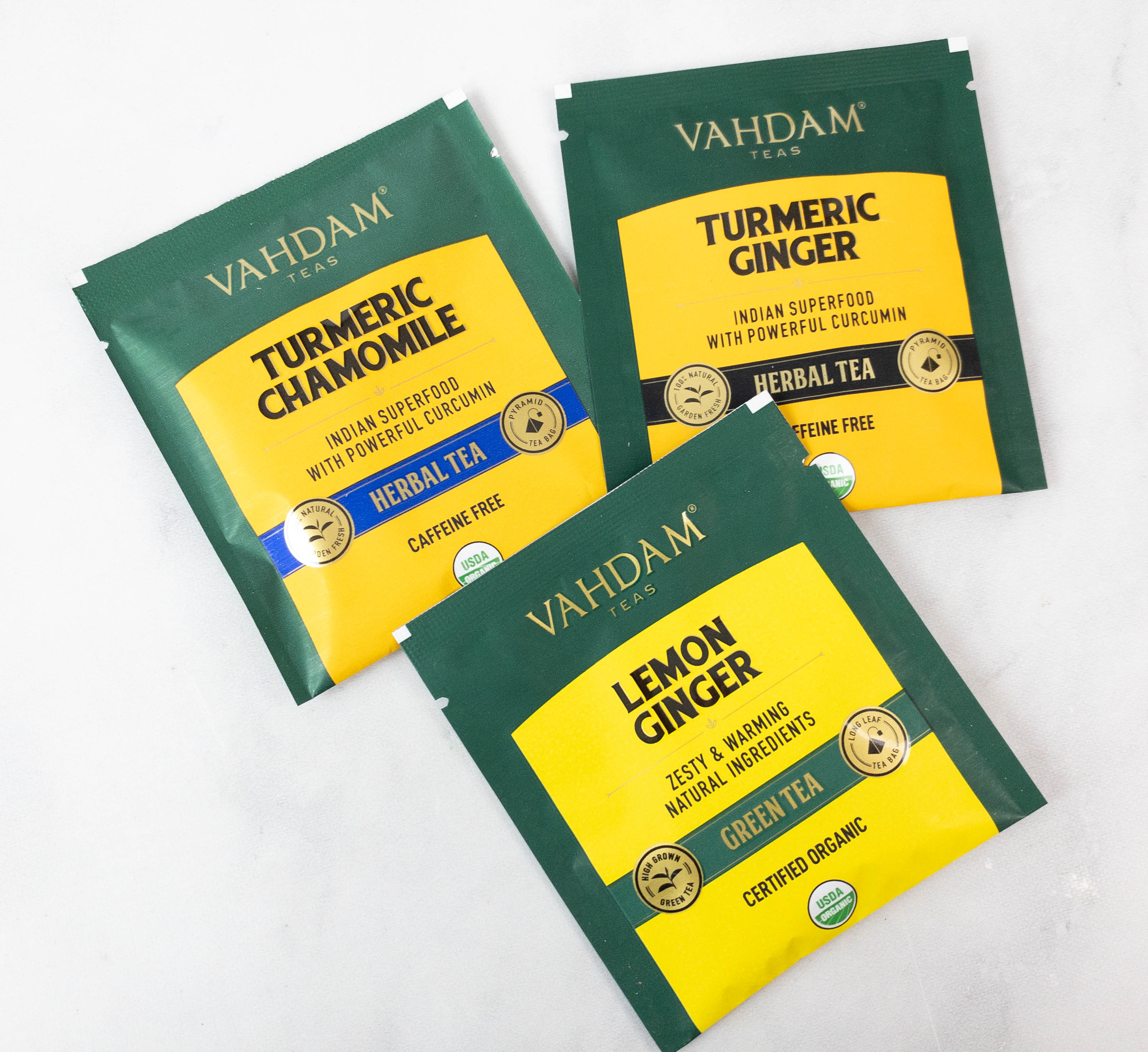 As an extra treat this month, they sent three bags of tea sourced directly from India's tea-growing regions. Vahdam India Tea Sachets in Turmeric Ginger and Vahdam India Tea Sachets in Turmeric Chamomile are caffeine-free herbal teas, while Vahdam India Tea Sachets in Lemon Ginger is certified organic green tea. They taste light, refreshing, and energizing!
I love the magical feel of the December 2021 Moonlight Glow-themed box! This month's curation focuses on keeping the skin glowing, from skincare to makeup and everything in between. They even included a beauty tool that I can use with my new face palette. If I have to pick a favorite, it would be the perfecting polish! This promising skincare item addresses acne, bumps, and skin irritation caused by wearing face masks. Plus, the formula is nourishing and hydrating, unlike other facial polishing products. The entire retail value of the box is $146.98, which is impressive for a $21 box!
Instead of the regular Glossybox pink box, this month's package is made even special! Adding a bit of magic and sparkle, the beauty box is a magnificent keepsake tin designed with a celestial motif. Here's a look: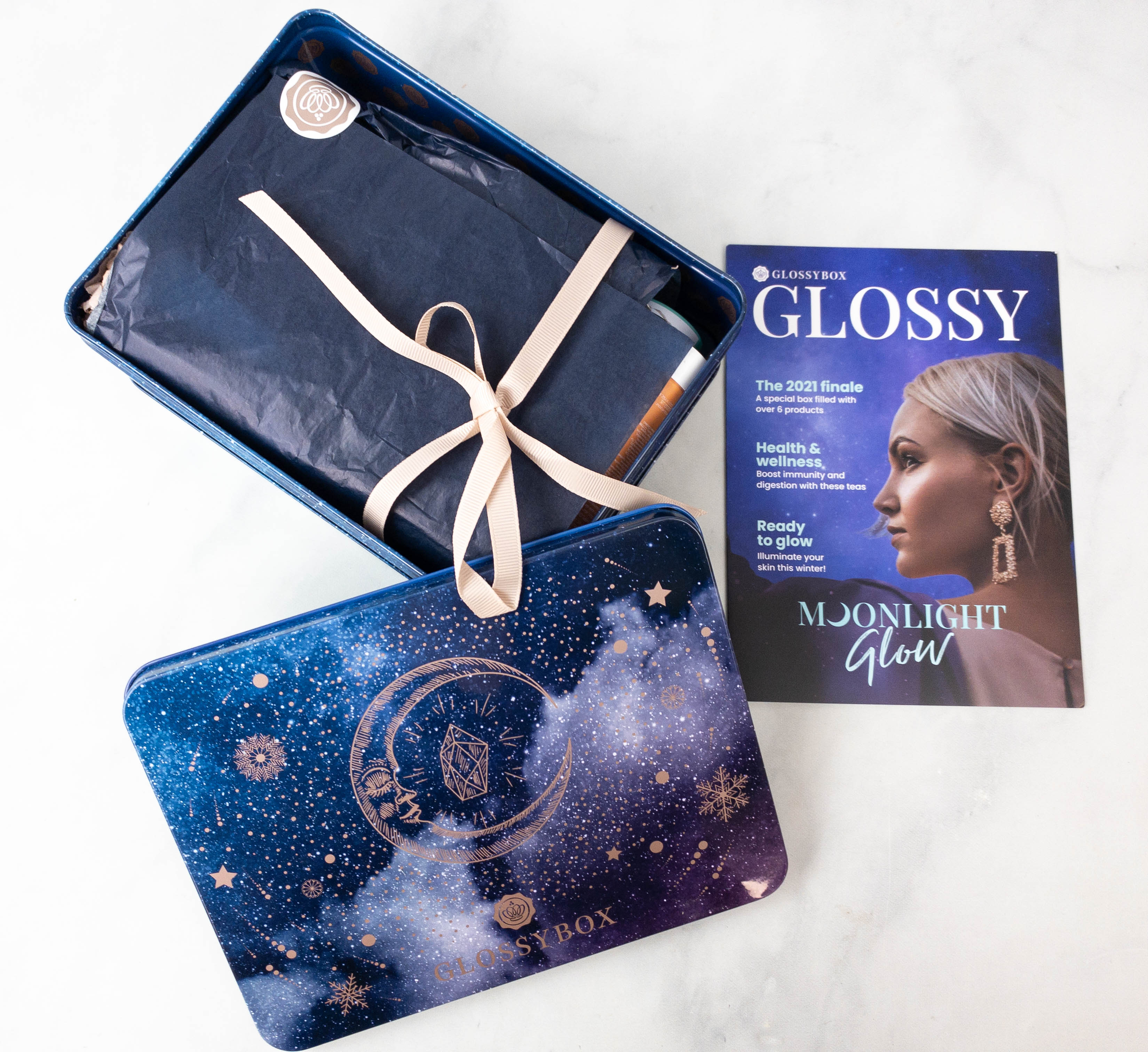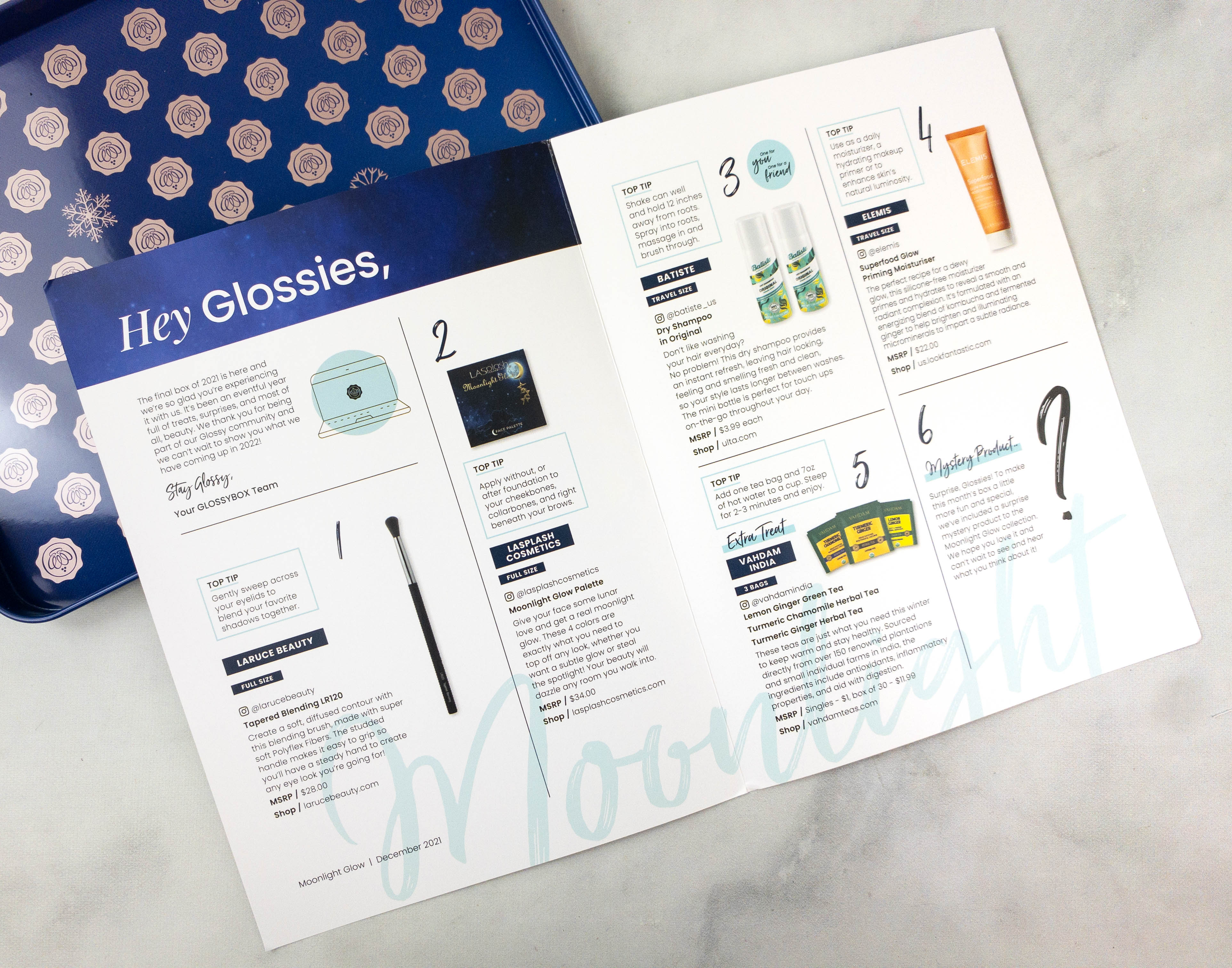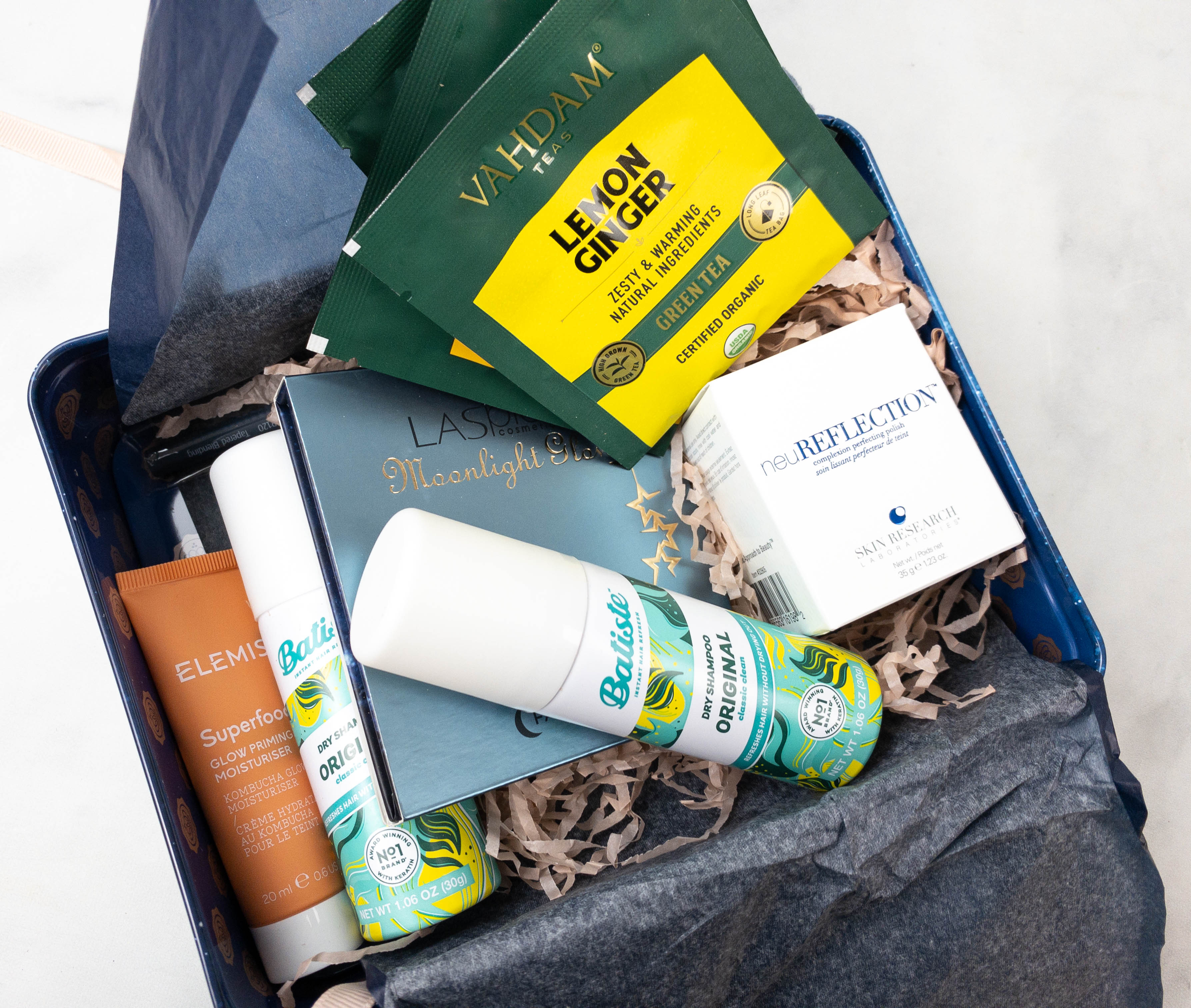 GLOSSYBOX is a monthly beauty subscription box with at least 5-6 luxury samples – many full sizes – per month for $21. GLOSSYBOX is a reader fave and near the top of the readers' choice best beauty subscription box awards list!
NOTE: If you choose to subscribe to a recurring Monthly Plan between the 15th to the end of the month, you automatically agree to the following month's charge.
What did you think of this month's GLOSSYBOX?