Tokyo Treat is a monthly Japanese snack and candy subscription box that is shipped directly from Japan. Tokyo Treat's Japanese snack and candy subscription box is a reader fave and made the list in our 2021 readers' choice picks of best snack and candy subscription boxes!
ICYMI, Tokyo Treat boxes just got bigger and better! Starting December 1, they have removed the Classic option to ensure all TokyoTreat subscribers received the full Japanese snacking experience. Tokyo Treat boxes are now $37.50 per month. Some of the yummy things you can expect in this new version include ramen, udon, soba, jelly, purin, and Japanese desserts. There will still be a Culture Guide, but it will now have 24 pages – which means more articles and cultural information about Japan!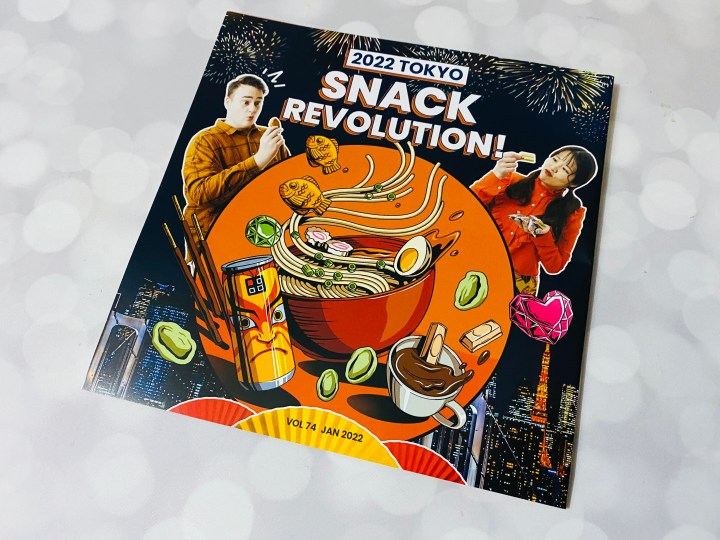 This month's box theme is SNACK REVOLUTION!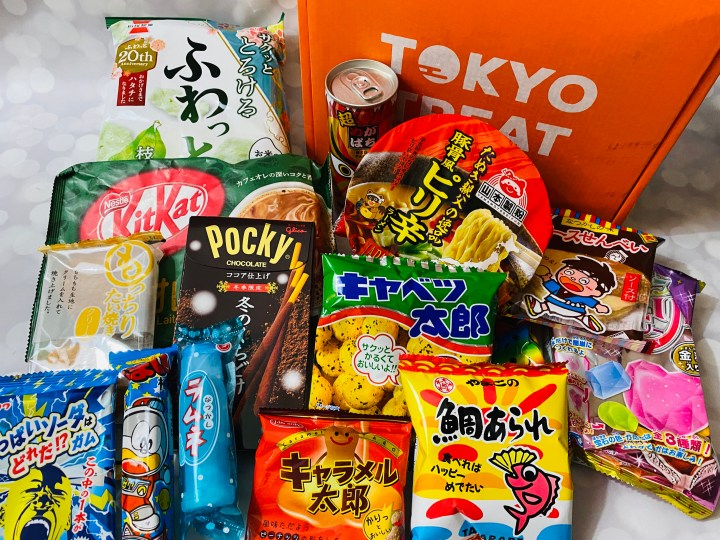 Everything in my box!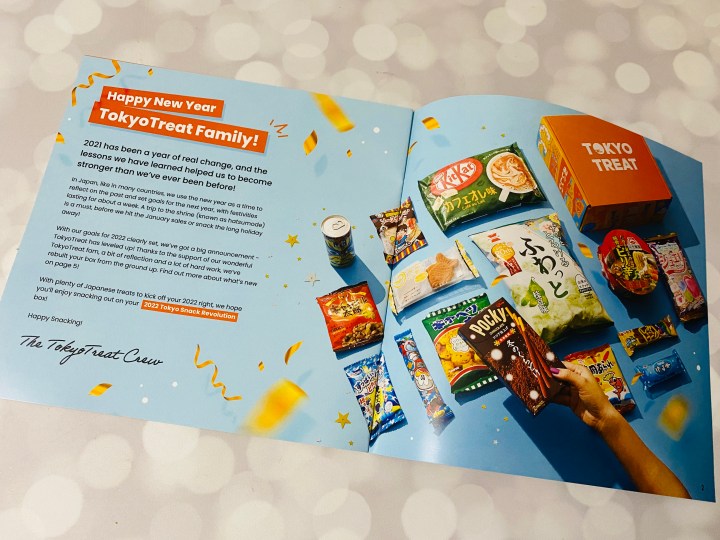 Tokyo Treat is LEVELING UP for 2022!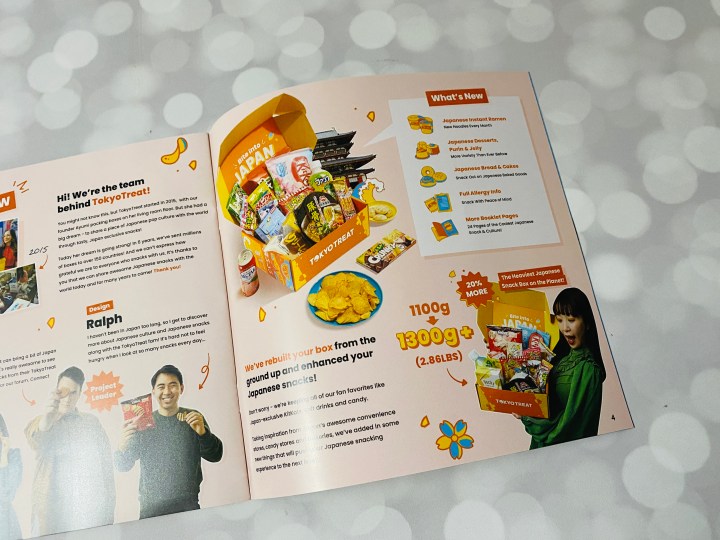 The new box is heavier, packed with more goodies, and will now include some new treats such as instant ramen and baked goodies!
The snack menu now goes through the whole magazine, giving more details on why the item was chosen, if it's safe for vegetarians, and allergy info all in one easy place!
Taiyaki. Taiyaki is a popular New Year's treat in Japan. We have received taiyaki-themed snacks before, usually made of a wafer and filled with chocolate or other yumminess, but this is a REAL baked taiyaki! Thanks to Tokyo Treat's express shipping, these arrived just as soft and fluffy as they should be. The inside is filled with sweet custard cream. Japanese baked goods are sooooo soft and this was definitely my favourite treat in the box!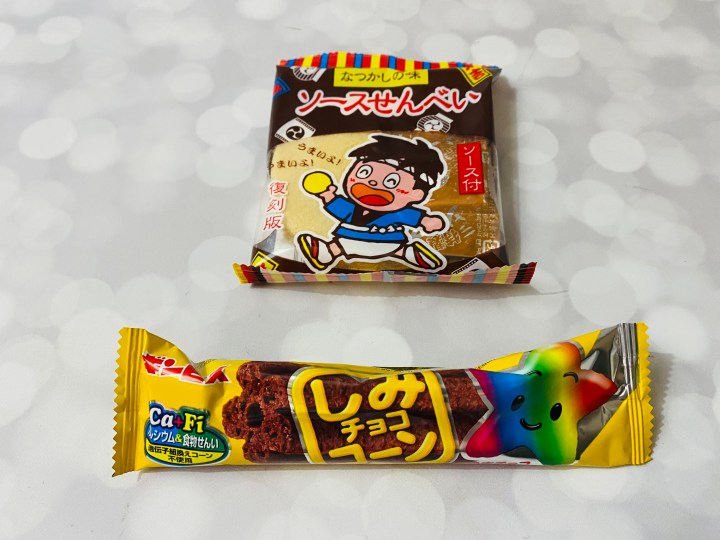 DIY Sauce Senbei. This DIY kit isn't a sweet candy treat but instead a rice cracker that you can add your own sauce to. Not super complicated but super delicious!
Shimi Choco Stick. A puffed snack that has a light chocolate flavour. Tokyo Treat recommends pairing this with milk!
KiraKira Jewelry Jelly. The DIY kit this month lets you make cute jewel-shaped gummies! They look so pretty!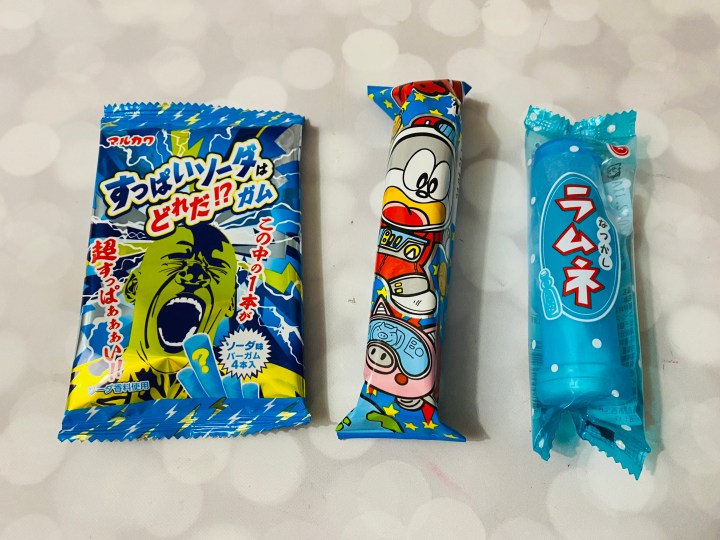 Spot the Sour Cider Gum. The package includes three pieces of gum – two are a normal lemon cider flavour and one is a super sour version! I tried all three and I didn't think the sour one was SUPER sour, but it still had a kick to it!
Tonkatsu Umaibo. Umaibo is always welcome in my Tokyo Treat box! The tonkatsu flavour is so delicious and savoury.
Ramune Candy. The ramune candy foams and froths like real ramune!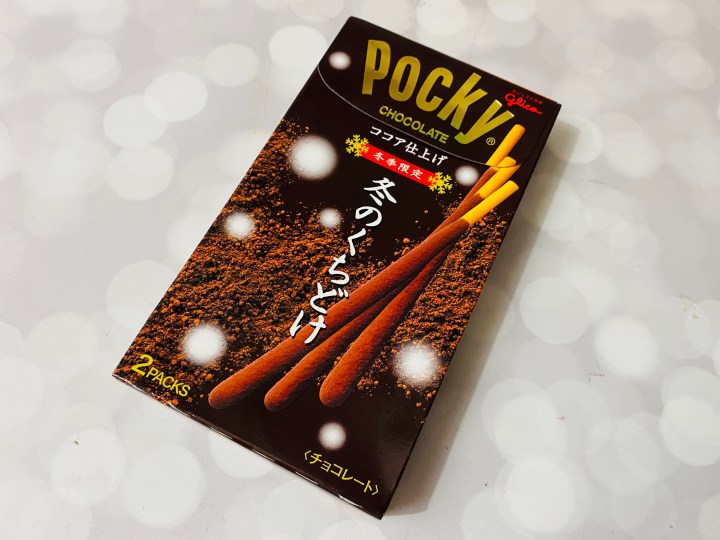 Winter Chocolate Pocky. This limited edition Pocky combines the classic chocolate Pocky with a dusting of cocoa powder on top!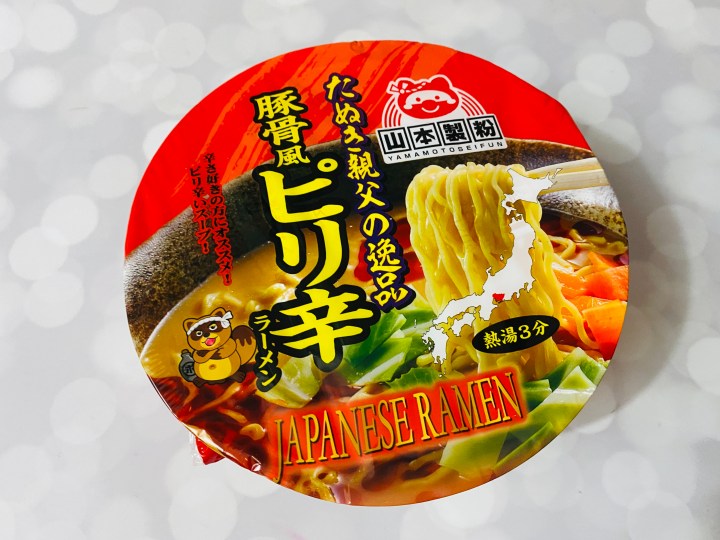 Spicy Ramen. Tokyo Treat will now be including delicious instant ramen! This is a spicy tonkotsu ramen that is vegetarian-friendly! Add green onion or egg to add some more zing!
Edamame Crackers. Hands down one of my fave snacks in the box! These soybean flavoured rice snacks are addicting! They have a light salty flavour.
Caramel Taro. These crunchy snacks are soooo delicious! The caramel flavour is spot on and they are addicting!
Tai Arare. Fishy seasoning evokes the feeling of sea bream snacks. I don't like fishy snacks very much but I did try one — they aren't as strongly flavoured and have a more salty, ocean sort of flavour.
Cabbage Taro. Savoury, veggie-seasoned corn puffs. These pop up in Tokyo Treat frequently but I don't mind as they're great!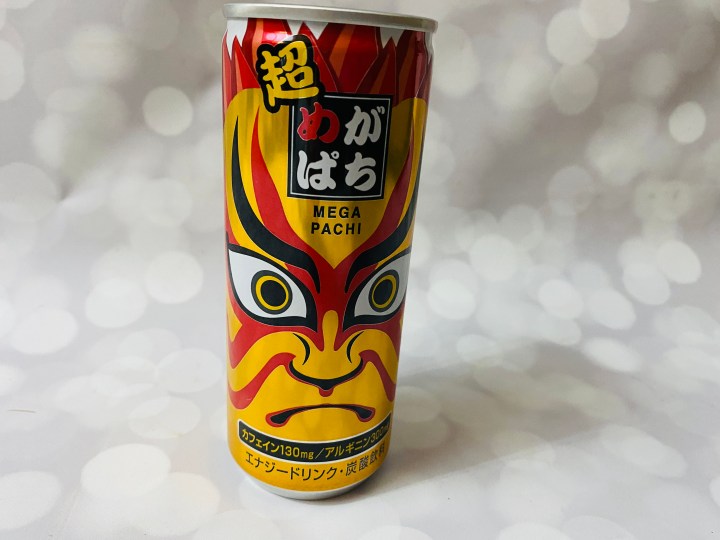 Mega Pachi Energy Drink. Tokyo Treat always includes a drink which is normally my favourite part of the box, but this month unfortunately was a dud for me. This energy drink boosted with caffeine had a really strong menthol flavour that I found really unpleasant. I had a few sips but couldn't get around the flavour.
Cafe au Lait KitKats. The KitKat selection this month is coffee-flavoured! They taste a lot like Coffee Crisp (a chocolate bar from Canada) but with a stronger coffee flavour.
Tokyo Treat is starting off 2022 with a super strong box! I found some new favourites and was happy to see some old favourites too. The only miss for me was the drink but that's okay – this was still a great selection from Tokyo Treat. This box is definitely the one I'd recommend for getting tons of great snacks from Japan, especially with a drink!
What did you think of this month's Tokyo Treat?