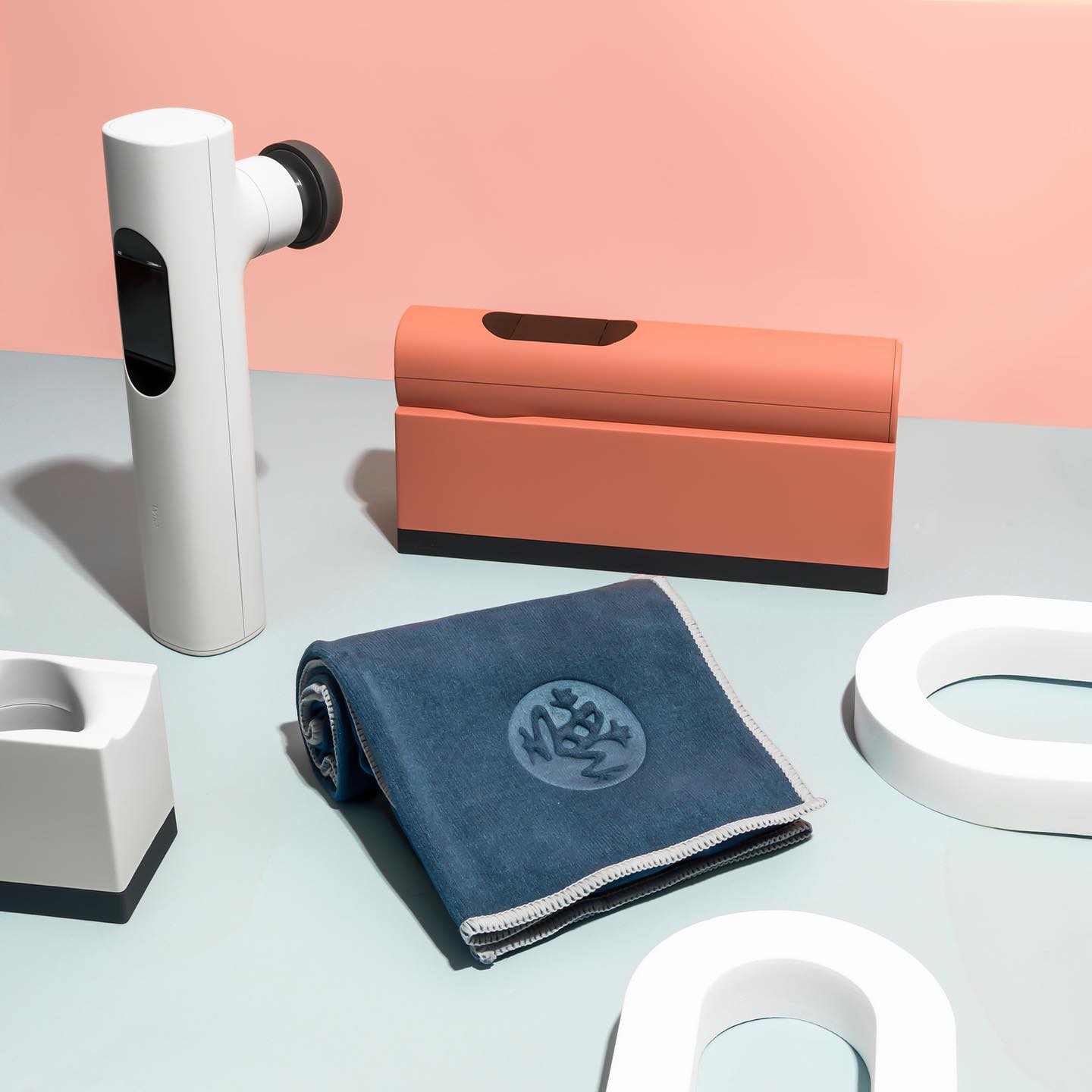 Lyric therapeutic massager has a Cyber Monday deal, and this massage gun is so amazing, I had to come personally tell you all about it. Full disclosure – I was sent one for review, which we don't have up yet, but in case you've seen ads and you were wondering about this sleek and lady friendly percussive massager, the answer is yes, it is absolutely relaxing and invigorating and so much better than the other massage gun that starts with a T that is so intense I cannot even use it.
So, Lyric isn't really having a Cyber Monday sale per se – the price is its normal price: $199.95. Ending tonight, for Cyber Monday, every order of the Lyric comes with a FREe Manduka eQua® #Yoga Hand Towel ($15 value) with purchase, in addition to free-shipping, 1 year warrenty and 30-day free returns!
So, let me give you a quick rundown of the things I love about this tool, which does not require a subscription at all.*
Mini Lyric Therapeutic Massager Review
It's sleek, elegant, and beautifully designed.  It even comes in colors, so pick your fave. It's not going to look weird, and it comes with its own storage.
It comes with 4 different massage attachments. Four! Look, I got the other gun that starts with a T as a freebie (not from our website, but as a GWP), and one of the things that's so disappointing about it is that it's too hard because I'm terribly sensitive. Lyric's four attachments means that everyone in our family has something they feel comfortable with.
The four intensity settings are appropriate to my needs. I don't feel completely jackhammered by the first level!  I could even buy this for my grandma because it has settings that are gentle enough for her to use.
It has guided therapy sessions that are based on accupressure, and wow, they really work. When I first started one it guided me to put the attachment on my palm, and it's just something I would've never thought of myself!
The guided therapy is on the device not on an app you have to look at.
Lyric updates itself via wifi (again, no subscription!) and will soon have video, which I think is fairly neat.
I find Lyric useful for both relaxation and pain relief. It's more of a holistic wellness device than a beat-the-lactic-acid out of your muscles device. And this is just what I need!
Well, I said I'd write a review later, but that's pretty much it. I love it and I've been using it. I don't think there's anything else like it on the market.
Get FREE Manduka Yoga Towel ($15 value) + FREE shipping with any purchase! No coupon needed, just use this link to shop!
* Yep, sometimes we review and discuss the things we love that come in boxes but are not subscription. You can also read about my new Misen pan, if you're into that.
What do you think about the Lyric?
Shop all of the Black Friday and Cyber Monday Subscription Box Deals!