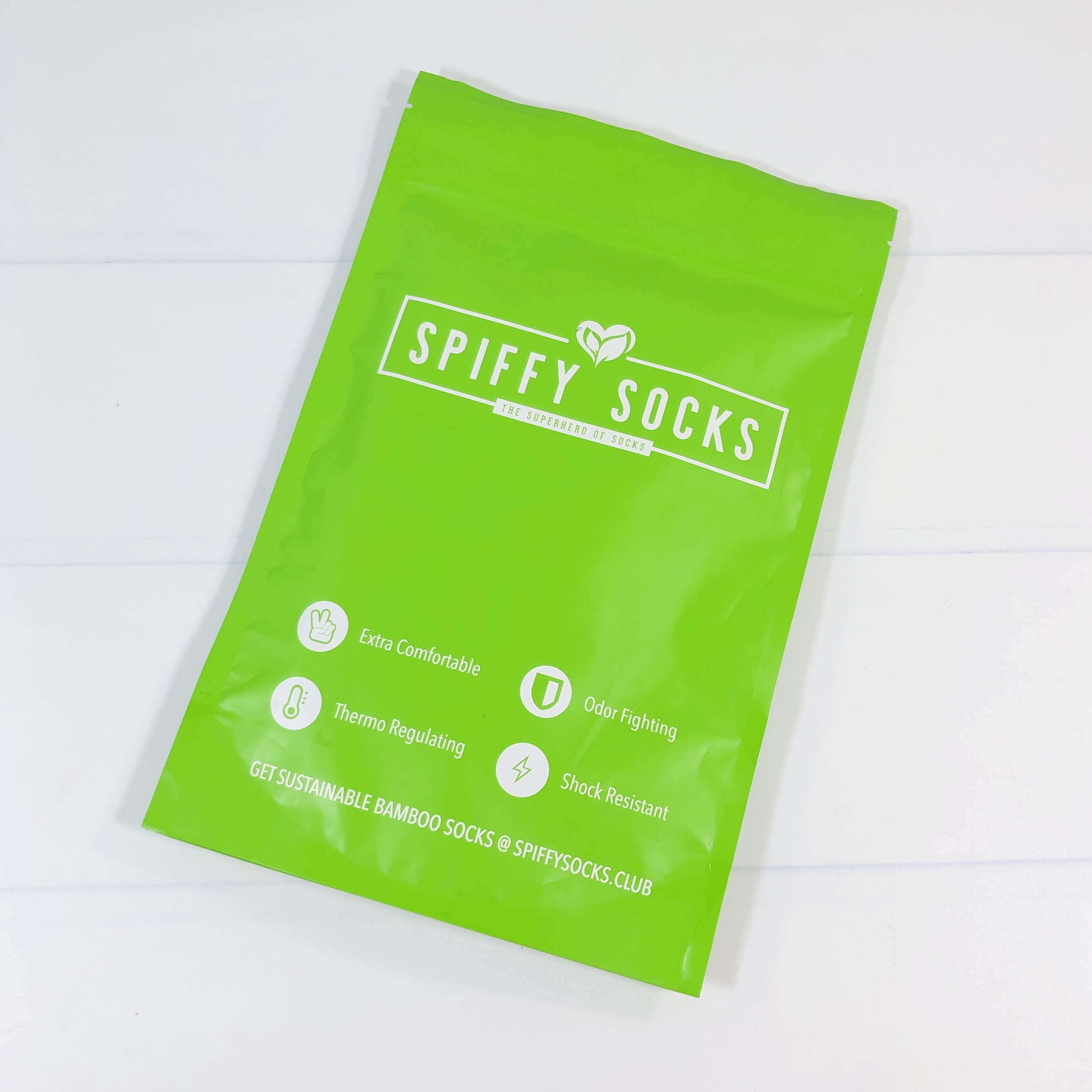 Spiffy Socks is a monthly subscription that sends snazzy socks made with bamboo fiber. They offer subscriptions for both men (sizes 6-12.5) and women (sizes 5-10) and subscriptions are $11 per month and even lower for longer terms. It automatically renews, but you can cancel anytime. Shipping is free to the U.S.
The most comfortable, hygienic, stylish, and sustainable pair of socks you'll ever wear. Learn the advantages of wearing socks made of bamboo fiber and why it compares to no other.
Super Light and Comfortable – Twice as soft as cotton!
Natural Antibacterial Fighting Qualities – Wicks away moisture and combats odor naturally
Thermo-regulating Abilities – Warms comfortably on the cold days but stays cool when it's hot
Shock and Wrinkle Protection – Spiffy Socks are naturally durable and never require any type of ironing
Note: Order by the 20th to get the current month's box!
DEAL: Get 10% off for the life of your subscription! Use coupon code HELLOSUBSCRIPTION.
Spiffy's sock subscription made the list in our 2021 readers' choice best sock subscription list!
Everything in my August 2021 Spiffy Socks box for women!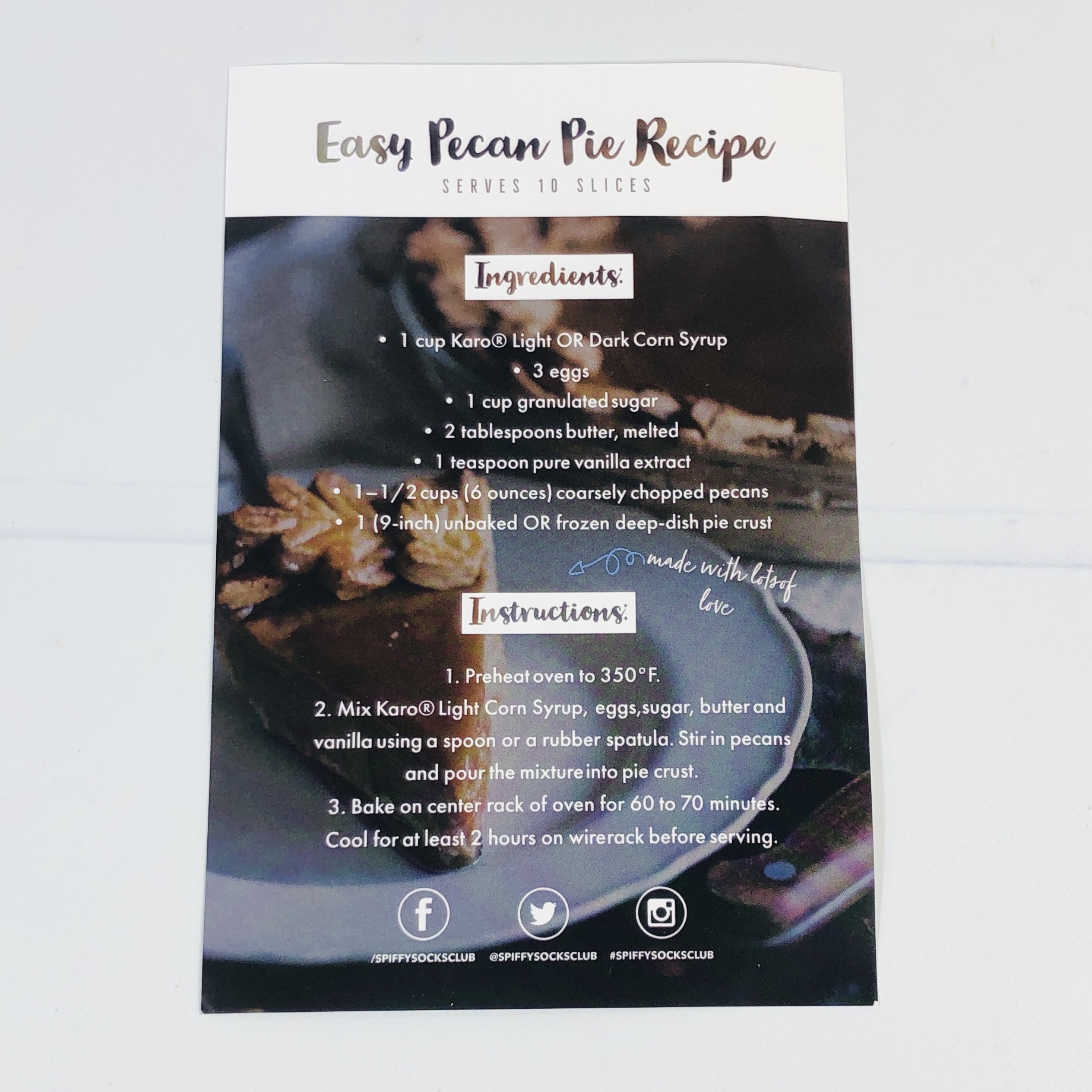 I received an insert with a recipe for Pecan Pie. So random!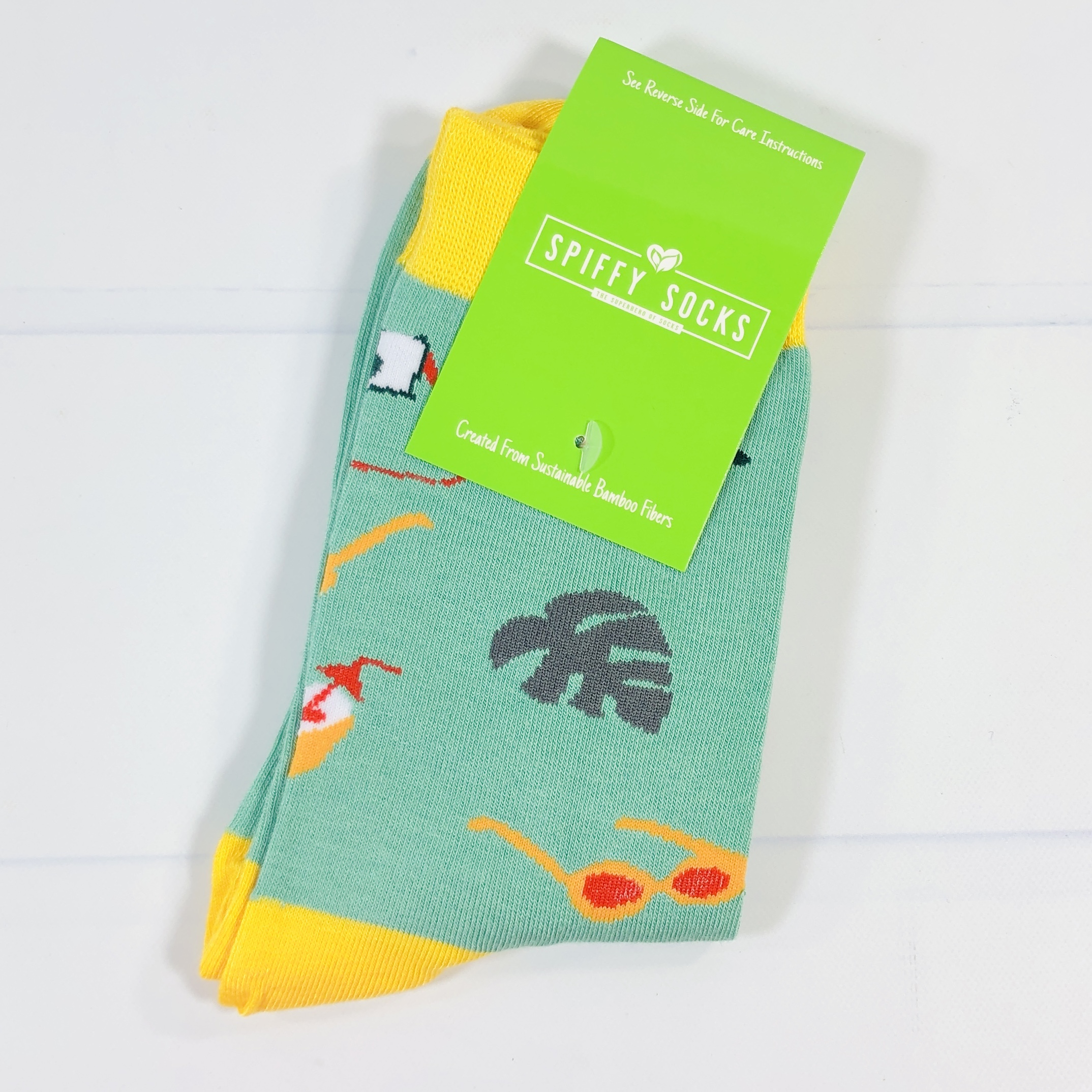 I didn't see this pair in the Spiffy Socks online shop, but all of their other socks are $20 a pair.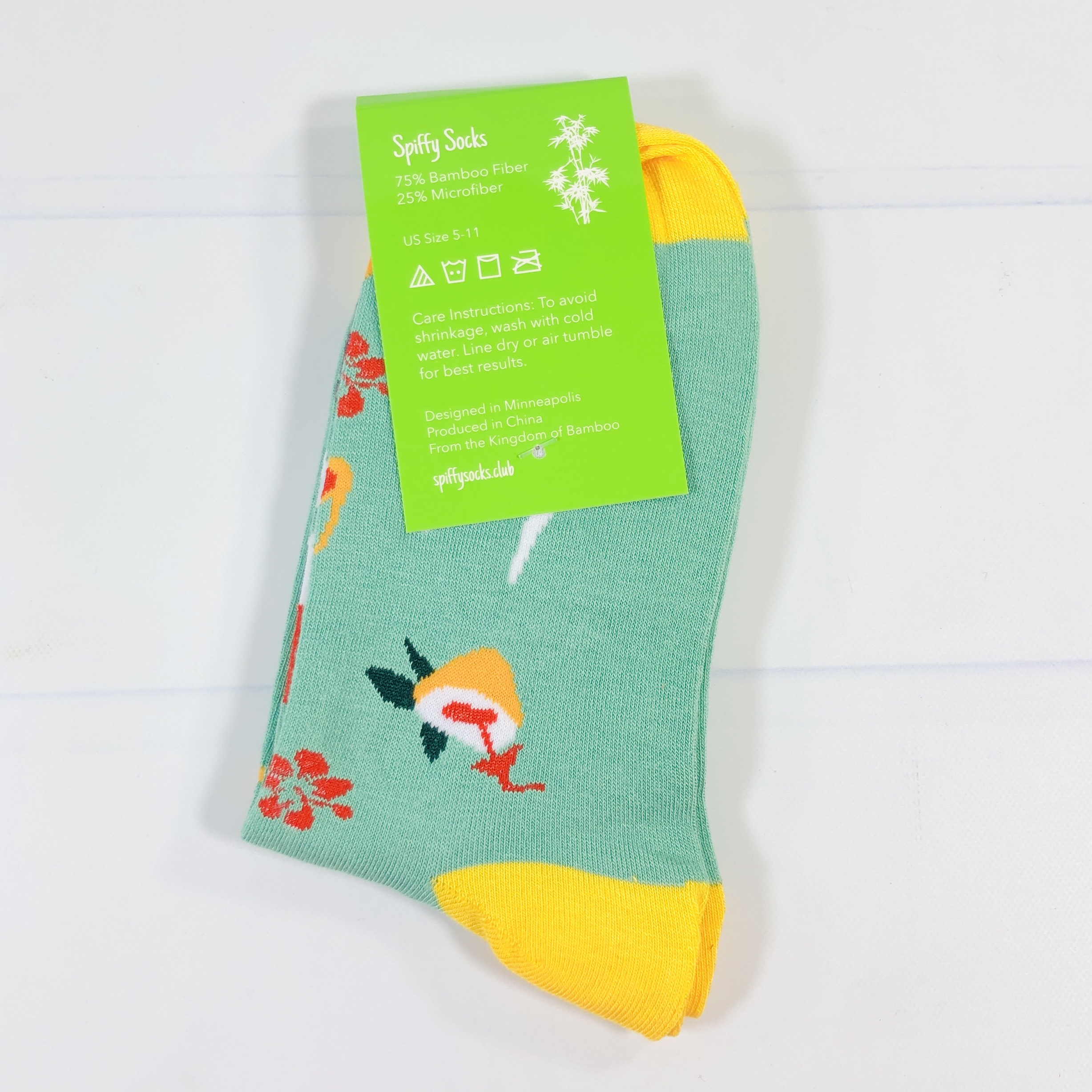 These are made with bamboo fiber and microfiber. They can be washed in the machine and I put them in the dryer too with no problems.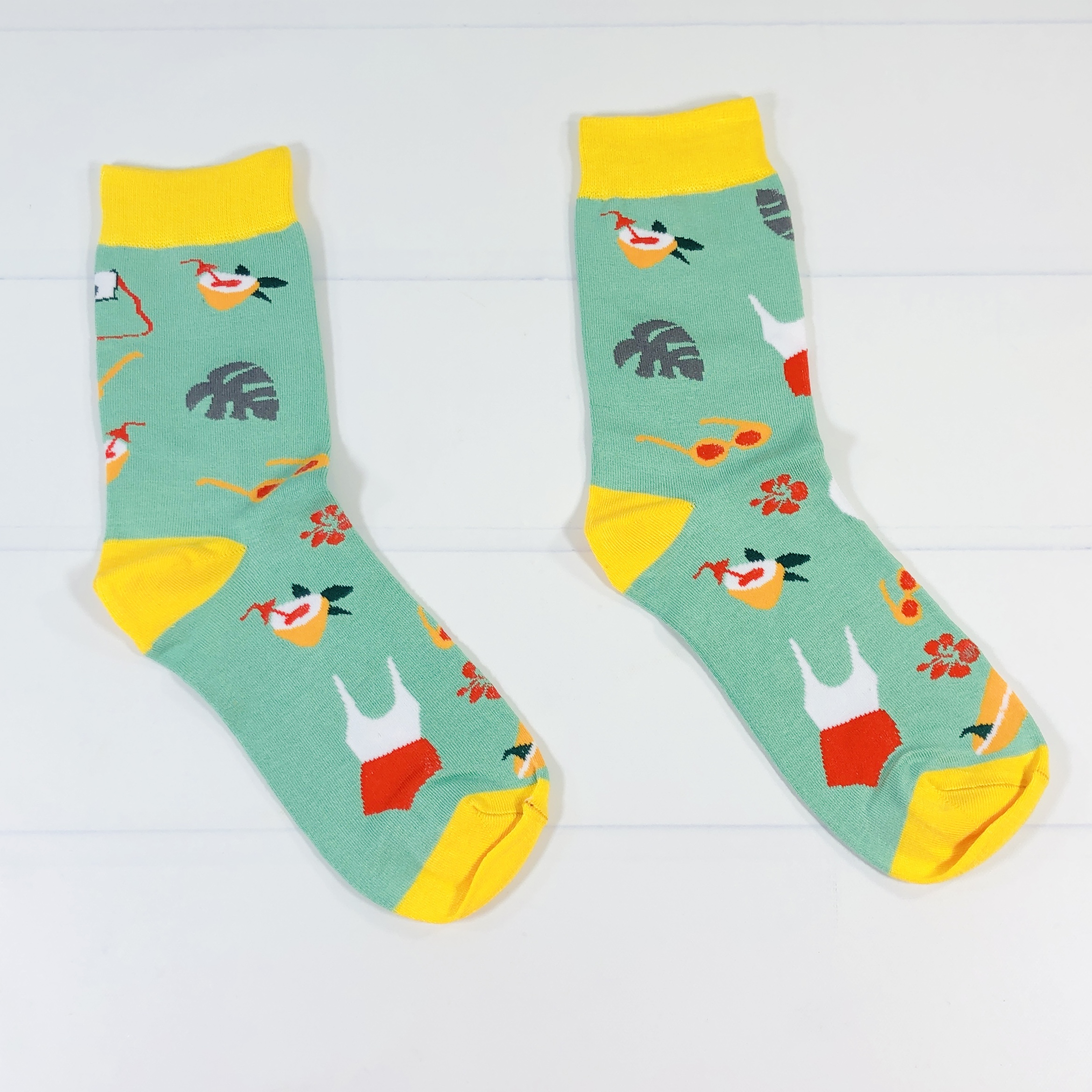 Looks like we have us a vacation themed pair of socks! The print includes sunglasses, surfboard, monstera leaf, hats, camera, retro bathing suit, tropical coconut drink, and hibiscus. I love it!
The body is a cool green shade, maybe it's called fern? It's greener than seafoam anyways. The cuffs, heels, and toes are banana yellow and all of the items are various colors.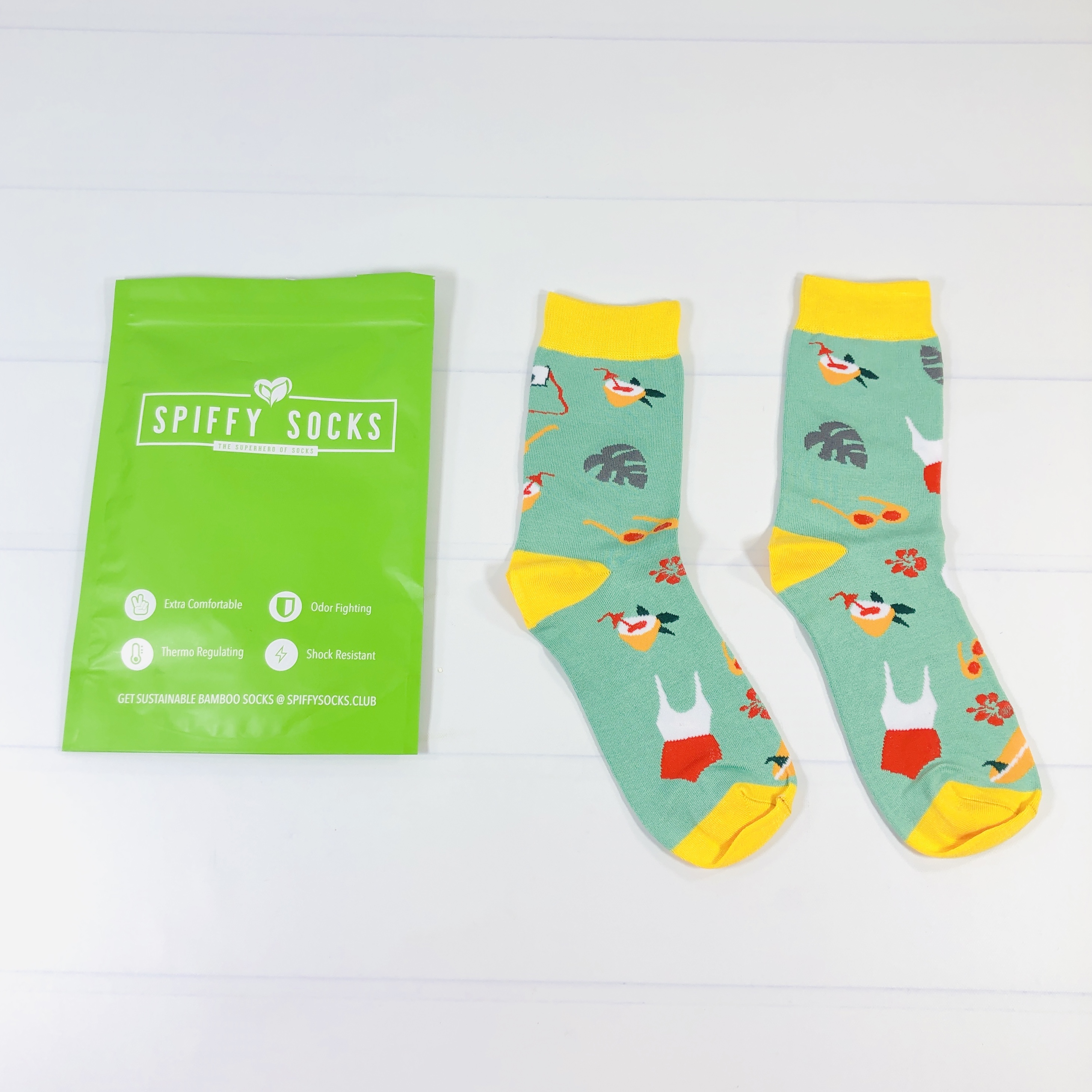 As always, Spiffy Socks sent the perfect pair of socks for the season, and I think this pattern is a hit! It won't be long before I'm trading my sandals for closed-toe shoes and this print will give me a chuckle no matter what the weather is like outside. I really do enjoy my monthly shipment of Spiffy Socks, the socks are always so comfortable and they don't cut off my circulation, yet they are no slouches either. The patterns are a little different but not too far out there, they are well within my comfort zone.
Have you tried Spiffy Socks? Let me know what you thought by leaving a comment!