Love with Food Gluten-Friendly Box sends 10+ surprise snacks each month that are for those who are looking to eat snacks without gluten. I am wanting to cut back on white flour consumption so I thought I would give this box a try to see what it's about. This plan is $24.99 a month with free shipping to the U.S., and $3.99 for shipping elsewhere. The price drops with longer subscriptions. Please note that this box isn't meant for those who have celiac disease, please read a disclaimer below.  
What's in the Love With Food Gluten-Friendly box?

Every month we hunt for the tastiest and most unique snacks to feature. We promise:

No artificial flavoring, coloring, or MSG
No trans fats and hydrogenated oils
No high fructose corn syrup
Snacks are gluten-friendly
DEAL: Save 40% off your first Love With Food Box:
Or, save 25% off your first Gluten-Friendly Box: use this link to subscribe!
Packed to the top! You can find some of the items sampled each month on the Love With Food website.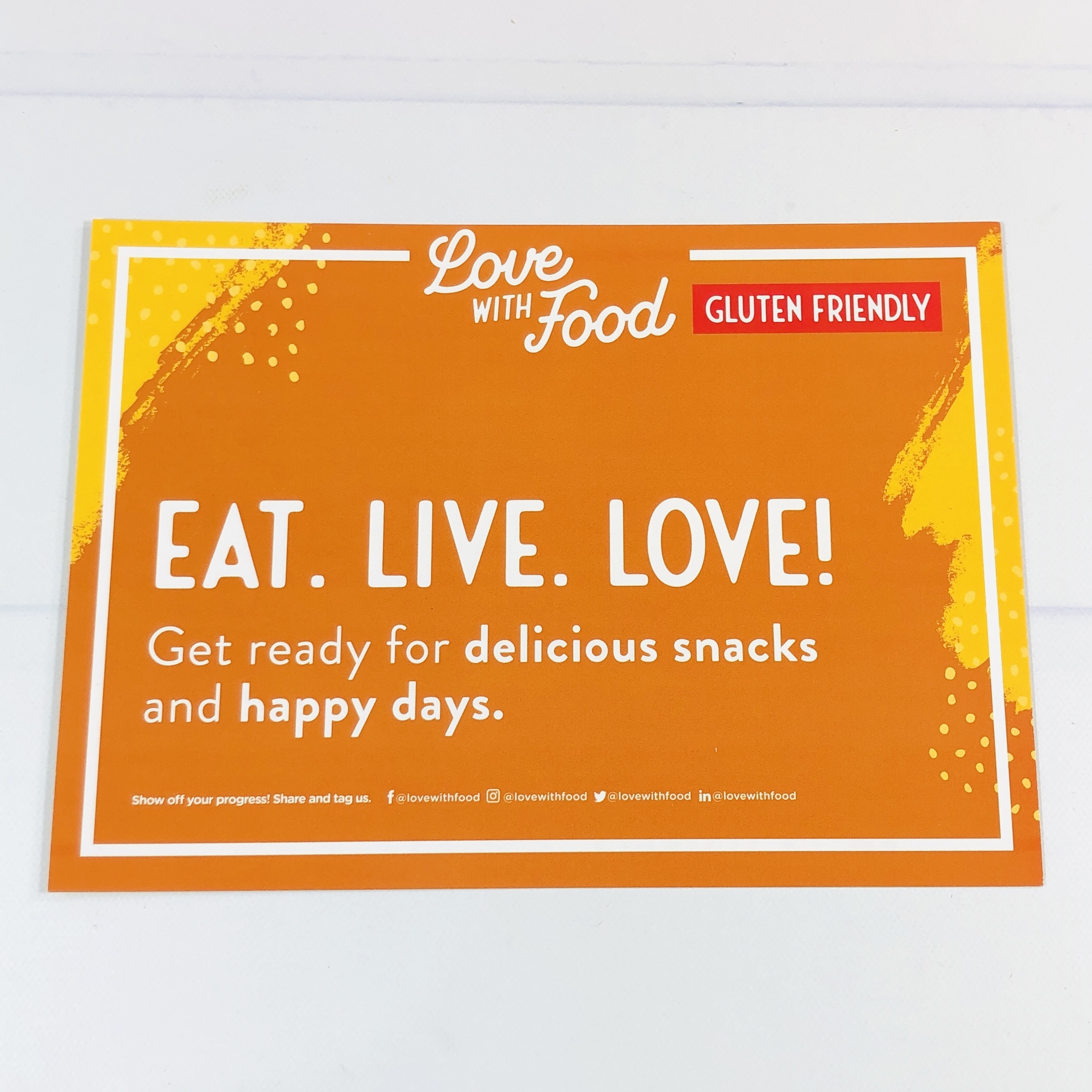 I received a card that told me to get ready for some delicious snacks!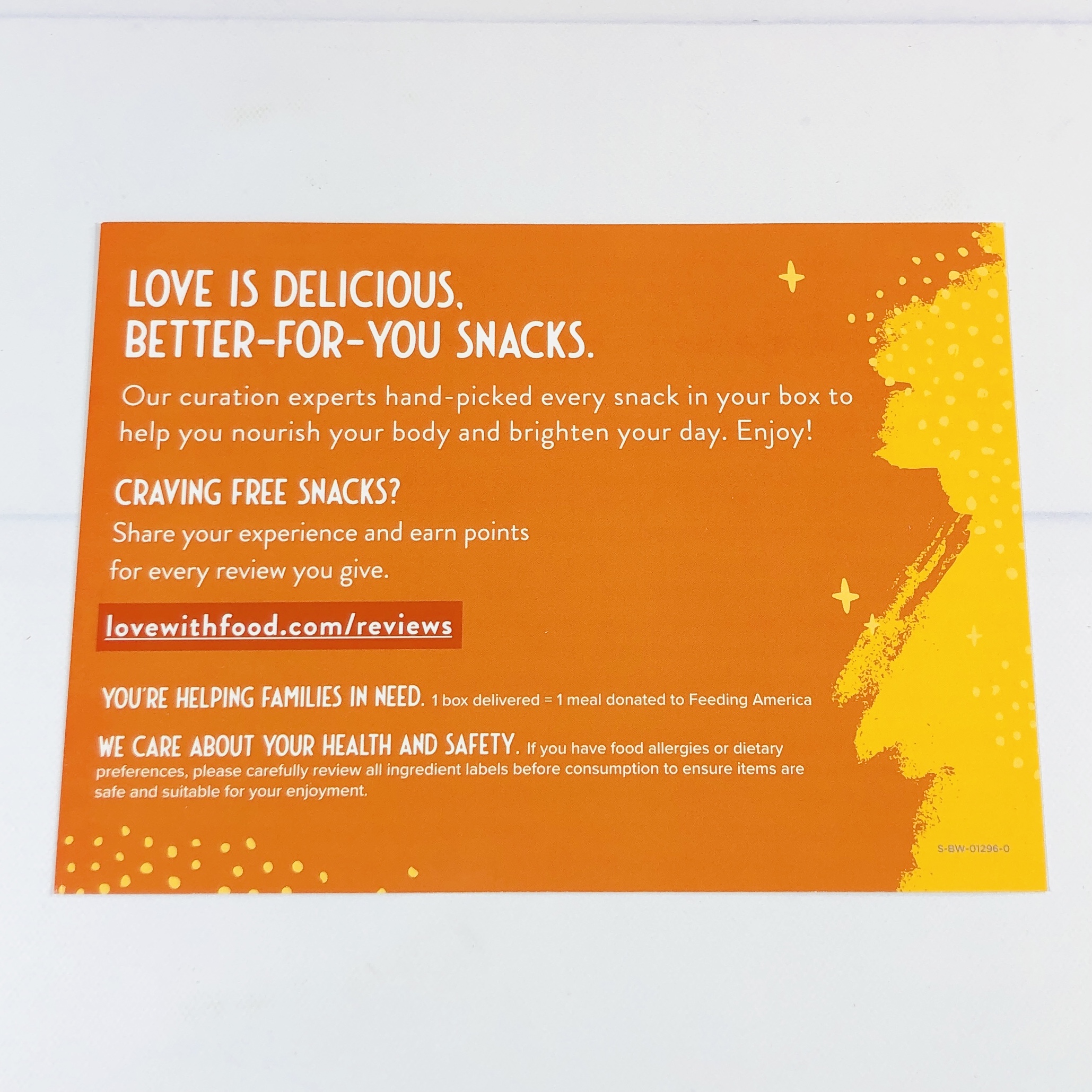 For every box sent to subscribers, Love With Food donates a meal to families in need. Don't forget to review your snacks so you can earn points for even more snacks!
As noted, this box isn't for those who suffer from celiac disease: "Love With Food is proud to offer our Gluten-Friendly box for those who are looking to reduce gluten in their diet. Love With Food does not recommend this box for consumers with Celiac disease. While the Gluten-Friendly box is filled with snacks that are Gluten Free, the snacks may be manufactured with the same utensils as non-Gluten Free products."
Everything in my box!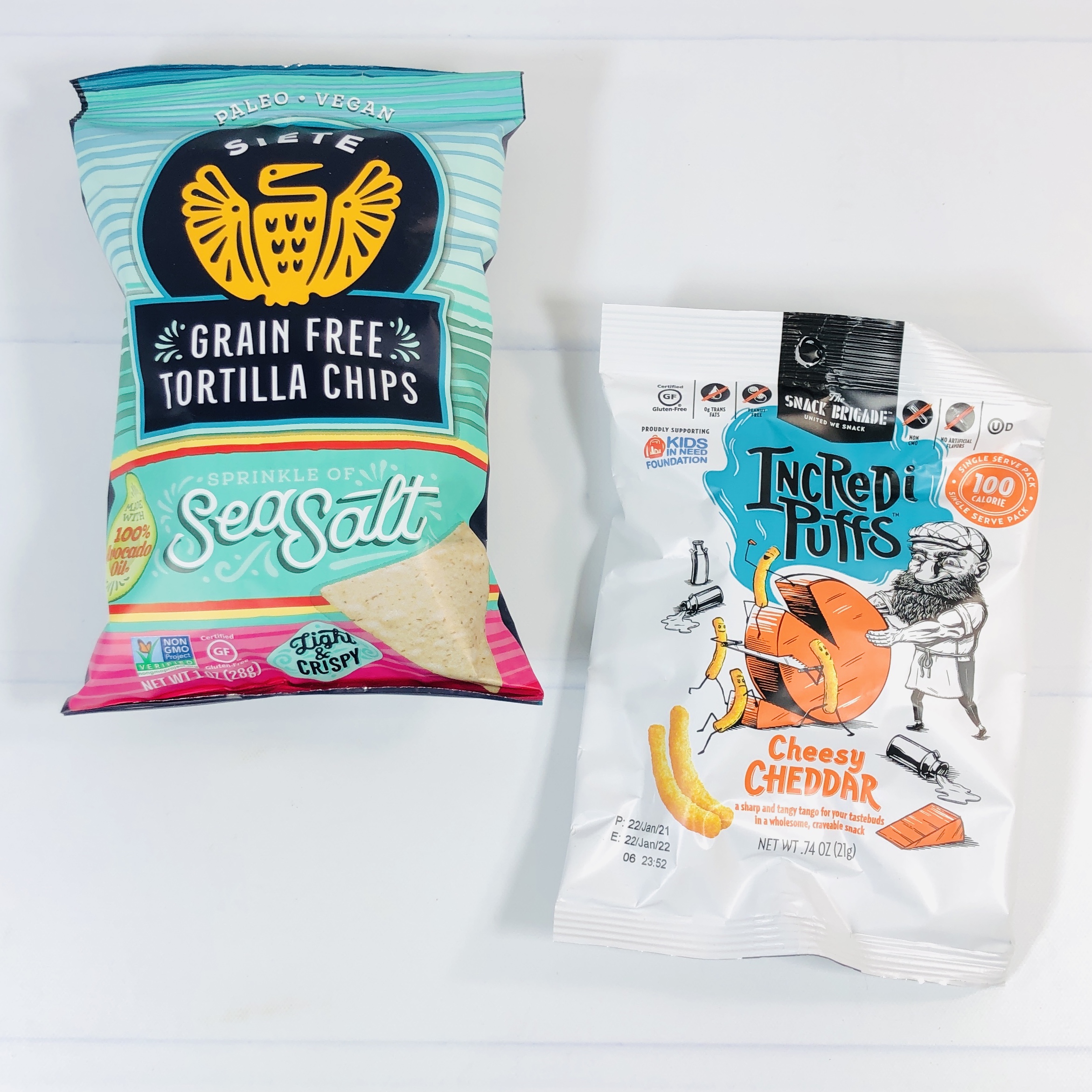 Siete Sea Salt Grain Free Tortilla Chips ($1.10) I have tried these corn-less "tortilla" chips several times before and I can't get over how closely they nailed it to the original! These are made of cassava and coconut flours with chia seed plus avocado oil and salt. Simple and tasty.
Snack Brigade Cheesy Cheddar Incredi Puffs These are a substitute for the kind that leave your fingers dyed orange after consuming. They both start with a base of corn meal but these also have navy beans (and a gram of fiber) and these are colored with paprika rather than yellow 6 (which is an artificial color derived from petroleum). I don't really eat the other kind (I avoid dyes in my food as much as possible) but I think these taste pretty good!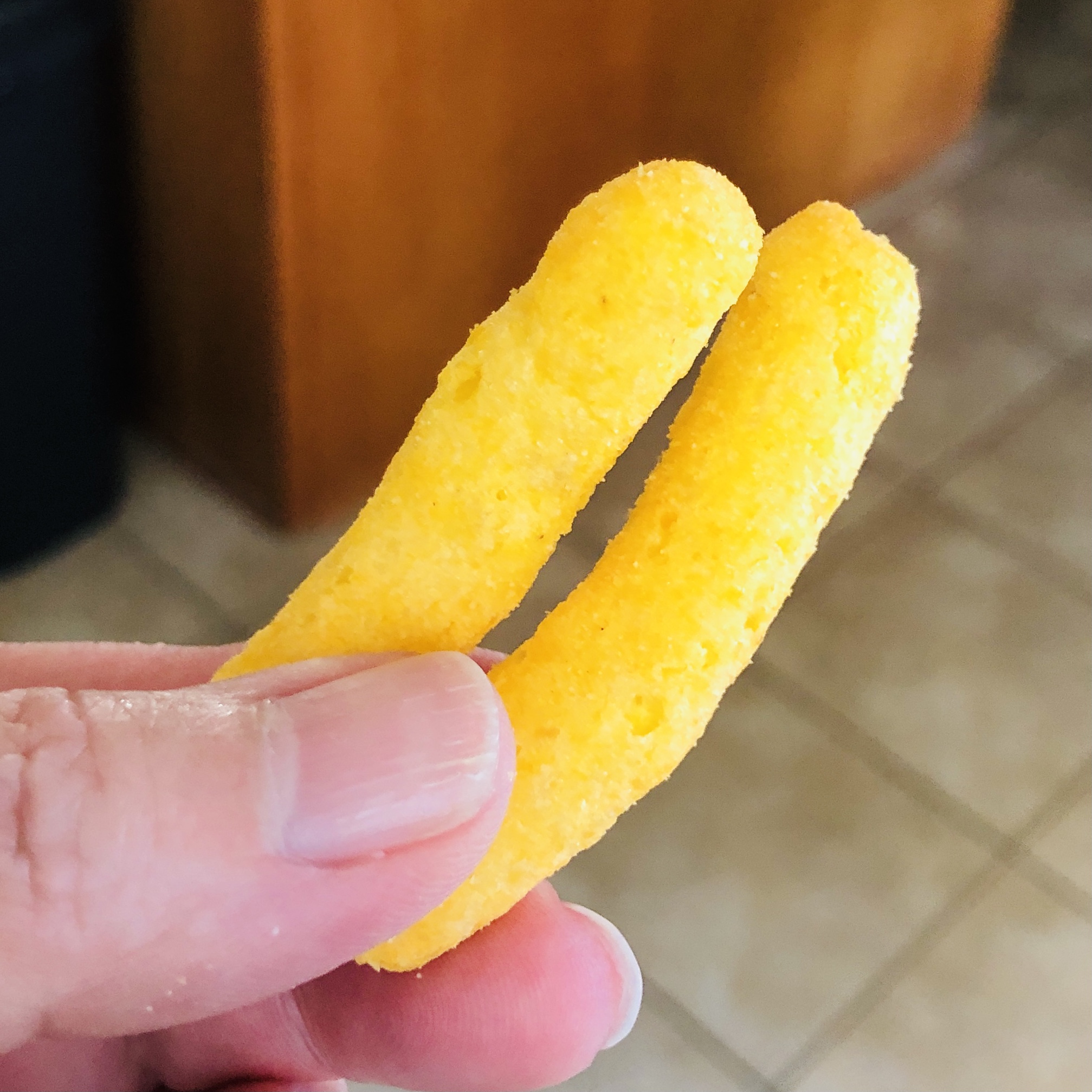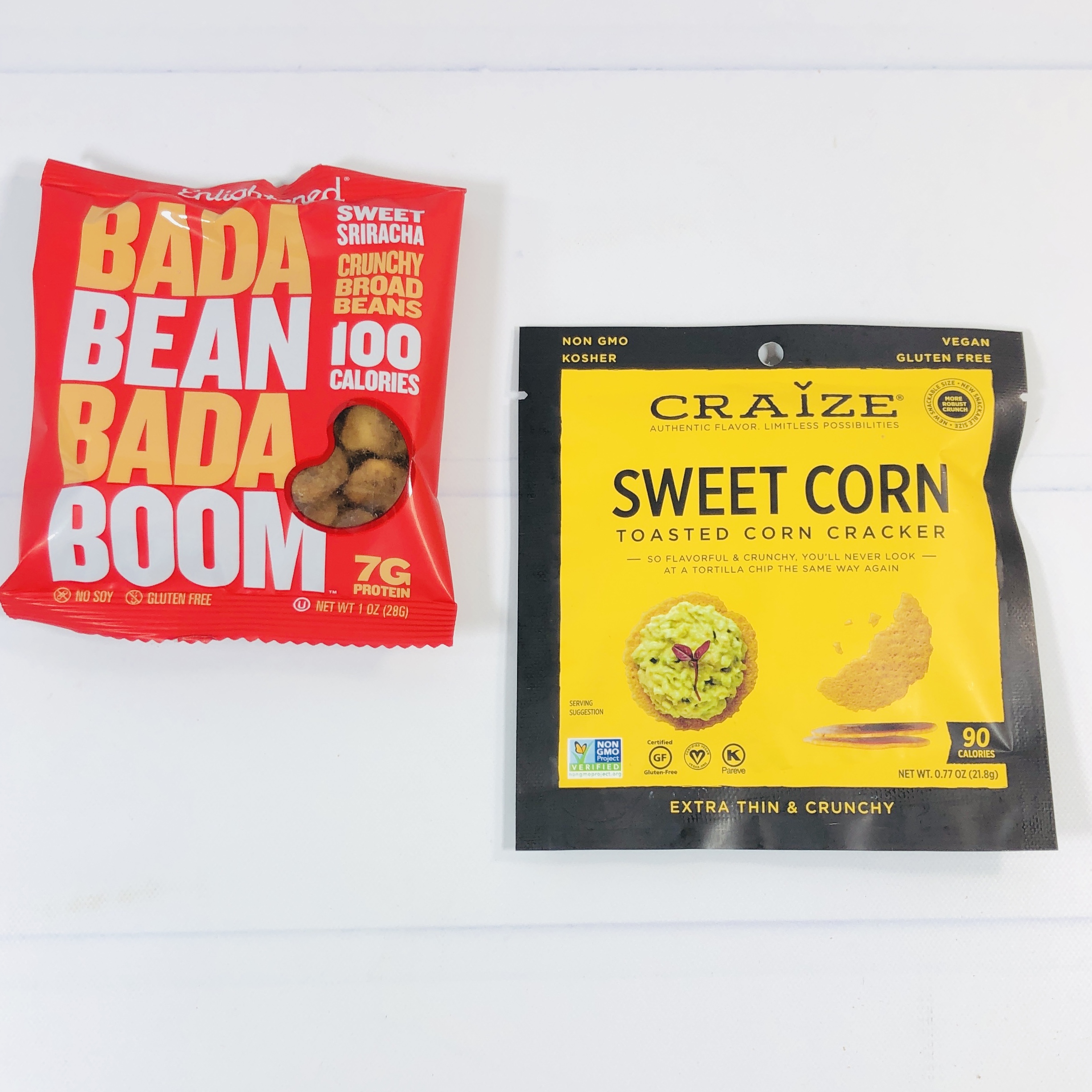 Bada Bean Bada Boom Crunchy Broad Beans ($2.49) These are roasted broad beans (aka fava beans) with a tasty coating. They are rather hard to chew so I have to wait for them to get soft in my mouth before I can chew them. The flavor is good but I wish they didn't have stevia — it's not really strong but the aftertaste is still there. These beans provide a good dose of fiber and iron.
Craize Sweet Corn Toasted Corn Cracker ($0.77) I've tried several flavors of this cracker, the most memorable one being guava, but this is good old sweet corn. It's wafer thin and can be eaten alone or use it to scoop up dips. I think the texture reminds me of a fortune cookie, but of course it tastes sweet and like corn, very crunchy.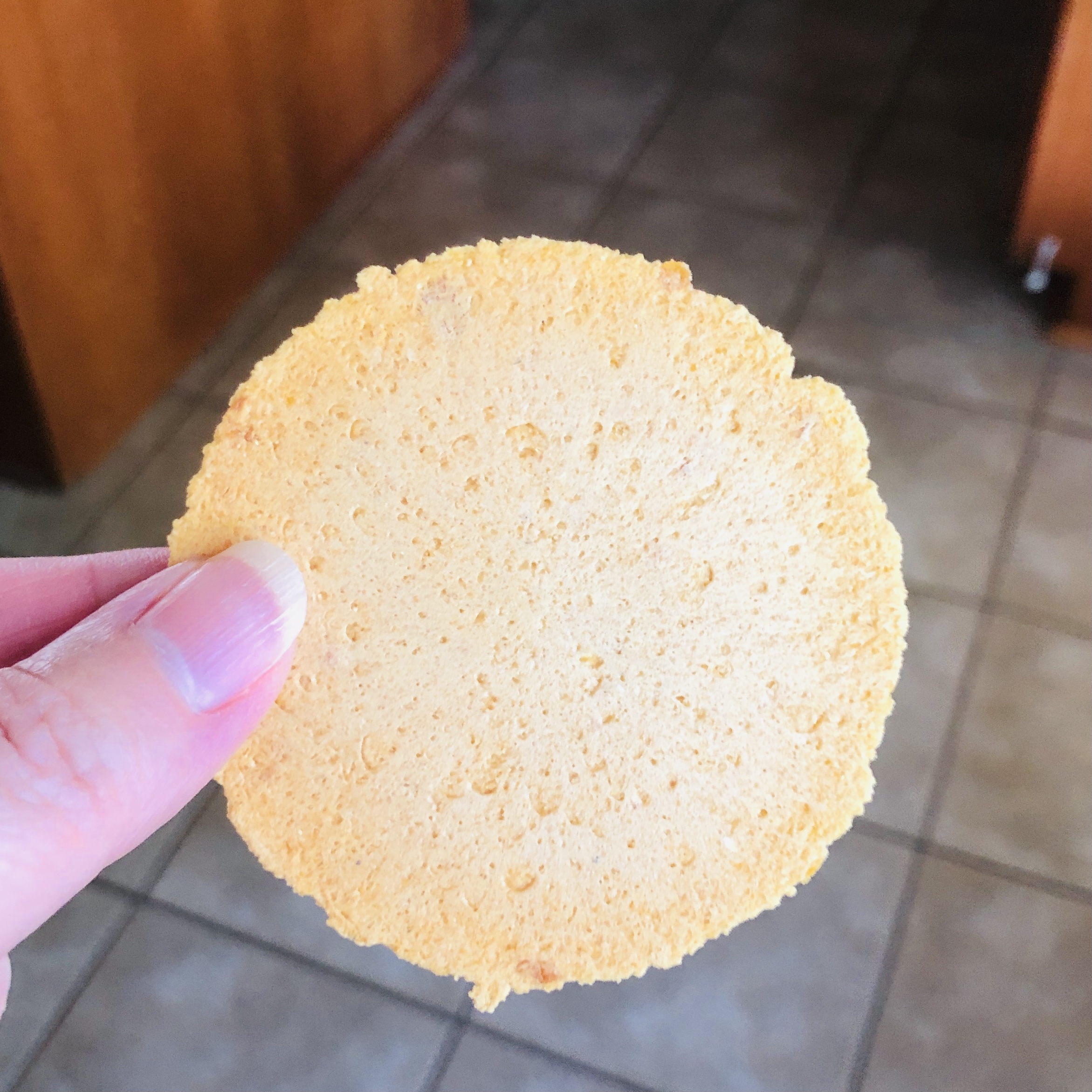 Here's the sweet corn cracker.
Puff Nation Skinny Rice Bites are clusters of puffed rice mixed with a sweetened syrup to hold it together and it's mixed with craisins and almond pieces. It has a berry flavor that I thought was too strong, but other than that it was a light snack that didn't drag me down.
Bakery On Main Sprouted Blueberry Flax I've noticed lately that everything berry-flavored is rather strong, do you think so too? Anyways, this has granola clusters and the obligatory two dried blueberries. The granola has oats and nuts and there's 2 grams of fiber in this serving. It's good with milk but would also be good layered with yogurt and more blueberries.
You Love Fruit Cheery Cherry Mango It looks like this brand is taking a break but should be up and running soon. These fruit circles are made with mango puree, beet juice, cherry juice, pomegranate, lime, ginger, inulin, pectin, and natural flavor. My daughter loves these fruit leather snacks, so I'm going to share them with her!
Old Wisconsin Turkey Snack Stick I'm not sure what to say about meat sticks, they all taste pretty much the same: salty, peppery, smoky. This one is made with turkey and doesn't taste sweet, I guess there's that.
Perfect Granola Premium Granola Bars ($2.60) I've tried the Perfect Granola in Cherry Vanilla Walnut several times and it's one of my favorite granola bars, so I was excited to see Coconut Cranberry! These are moist and chewy bars that are sweet and with a berry flavor plus oats, nuts, and seeds. They can be eaten for breakfast or as an afternoon treat (or of course whenever you want to eat them!).
180degrees Snacks Blueberry Nut & Seed Crunch Bar ($2.37) This is a crunchy/crispy/chewy bar (yes, all of those!) that has a base of almonds, cashew, pumpkin seeds, crisp rice, and dried blueberries. It also has natural flavor, which means the berry flavor is very strong and not at all like a natural blueberry but then this is common with berry flavored snacks.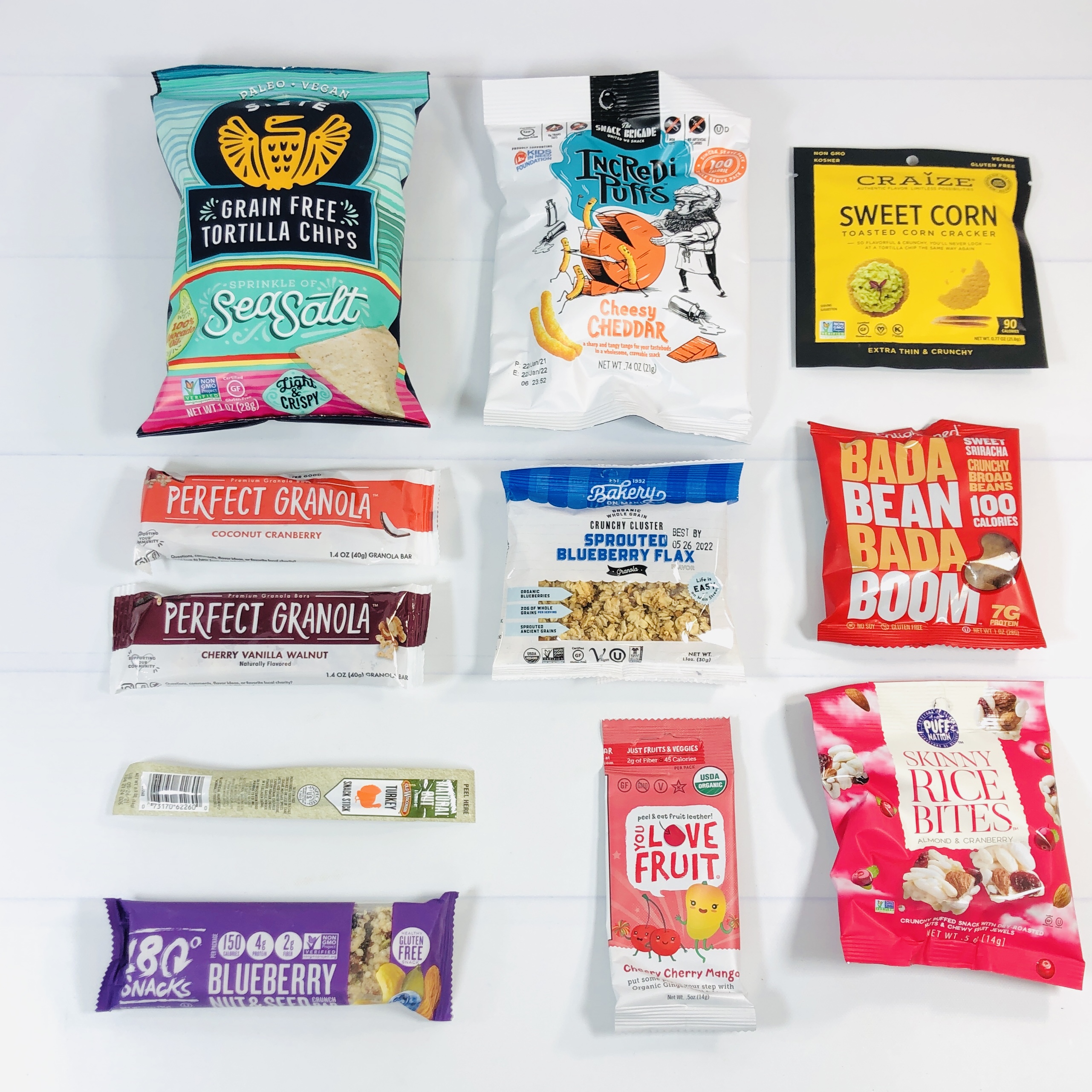 This was my first time trying the Gluten-Friendly Love With Food box and I was excited to see some new-to-me snacks along with some previous favorites, like those tortilla chips. Keep in mind that this box isn't for those who have a gluten allergy, it's more for people who may be lowering their intake of wheat flour. I thought the assortment was pretty good, with bars, cereal, chips, and more. I can't wait to see what they send in the next few months!
What's your favorite snack from the Love With Food Gluten-Free Box this month?
Visit Love with Food Gluten-Free Box to subscribe or find out more!