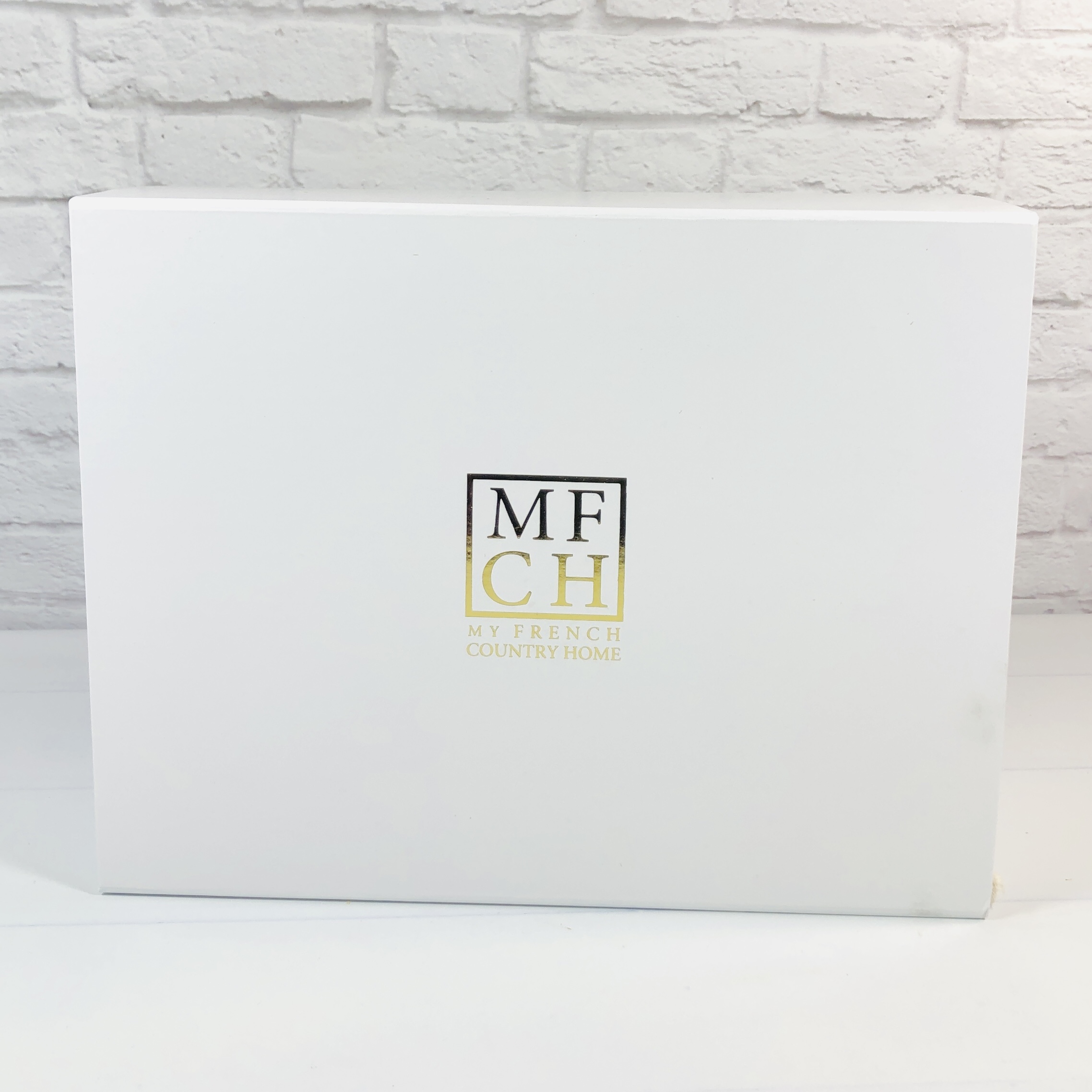 My French Country Home Box (formerly My Stylish French Box) is a quarterly lifestyle box that sends authentic and stylish items all the way from France! The box is curated by Sharon Santoni, an author and the blogger behind My French Country Home. This box is based in France and they work directly with highly coveted and timeless French brands to create a box that will help chic up your home and self. They send 6-8 items in each quarterly box.
A luxury subscription box filled with authentic French gifts, curated for you and your home.

While we do tease the theme of each box, the fun is in the surprise. We ensure that every beautifully-wrapped, sweet-smelling box – delivered straight from France to your door – is for you to open, discover and enjoy.
My items were shipped directly from France and came in a reusable white box. The box has a hidden magnetic closure and it makes a good storage box. It's simple and I like that I can reuse it. I opened it up to find my products wrapped in tissue paper with a satin ribbon around the parcel.
Some additional items were wrapped in tissue paper, so it was like opening a box full of presents!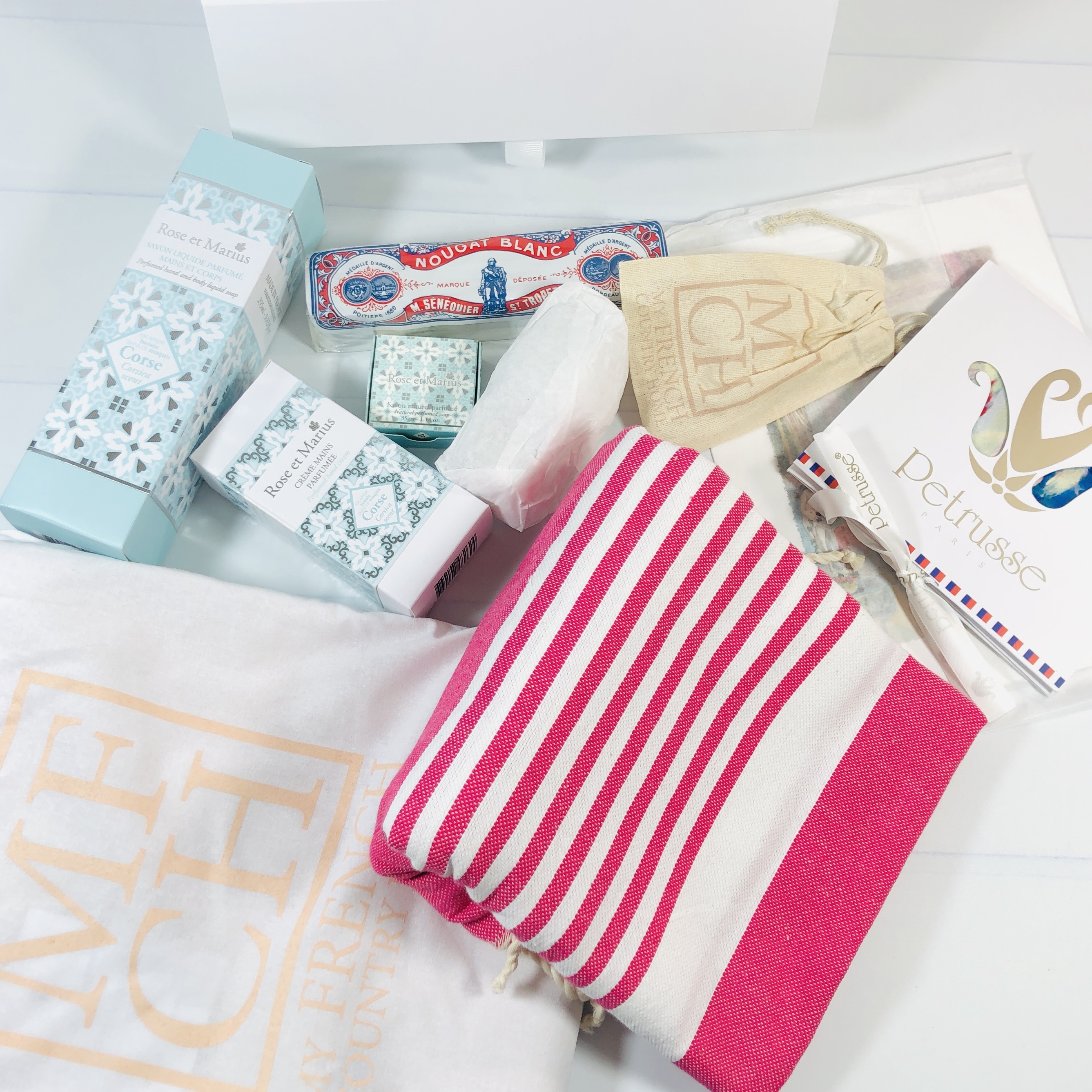 My Stylish French Box is $255 a quarter. A one-time, non-recurring gift box shipment is $275, while a year's prepaid subscription brings the price down to $245 a box. Shipping is free to the USA and other countries, with Australia and New Zealand paying an additional $15. Some countries may need to pay customs fees and taxes, please check the FAQs.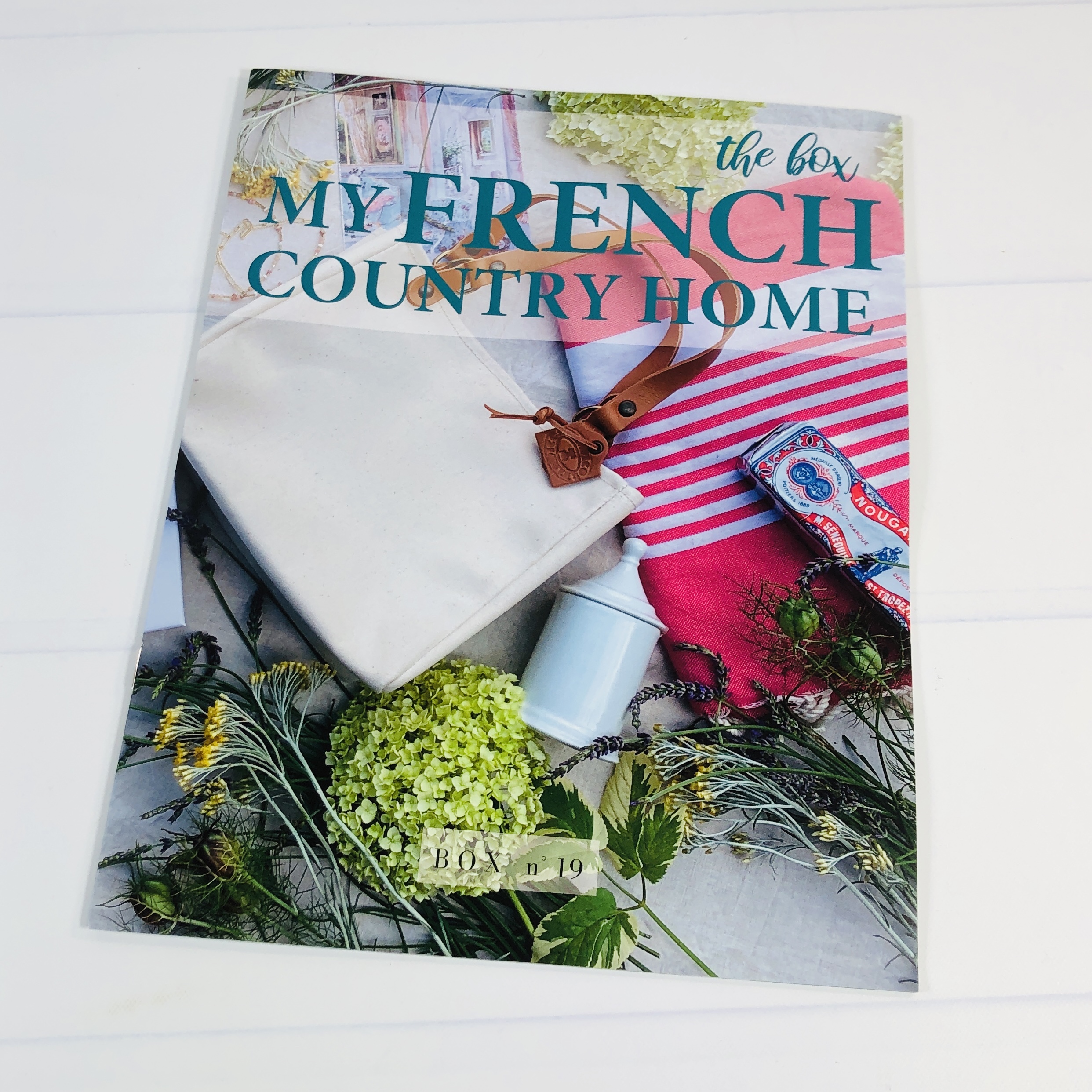 Each box comes with a beautiful full-color brochure showing each item.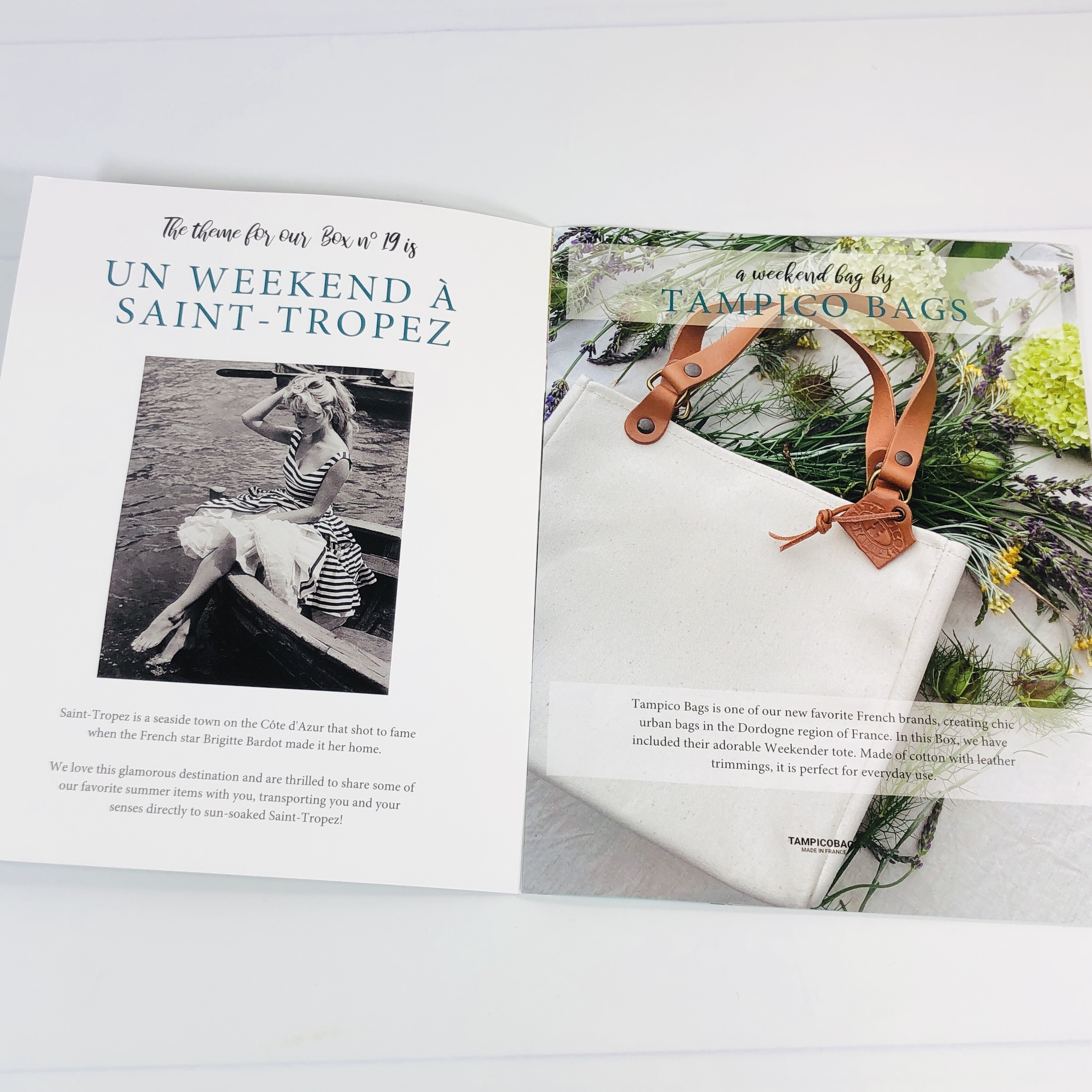 The theme for the September 2021 box is Un Weekend Ā Saint-Tropez!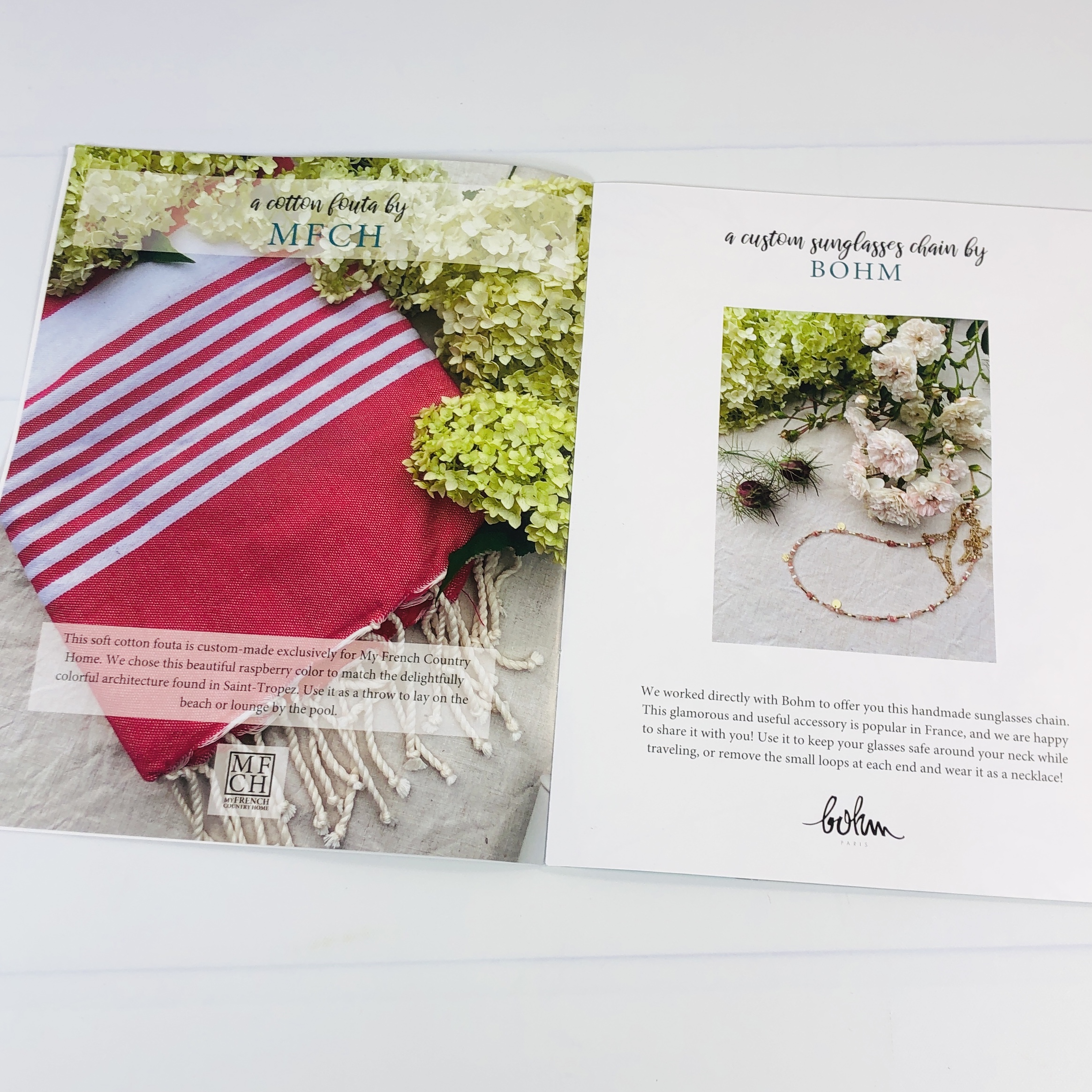 Each item is shown and it mentions the maker.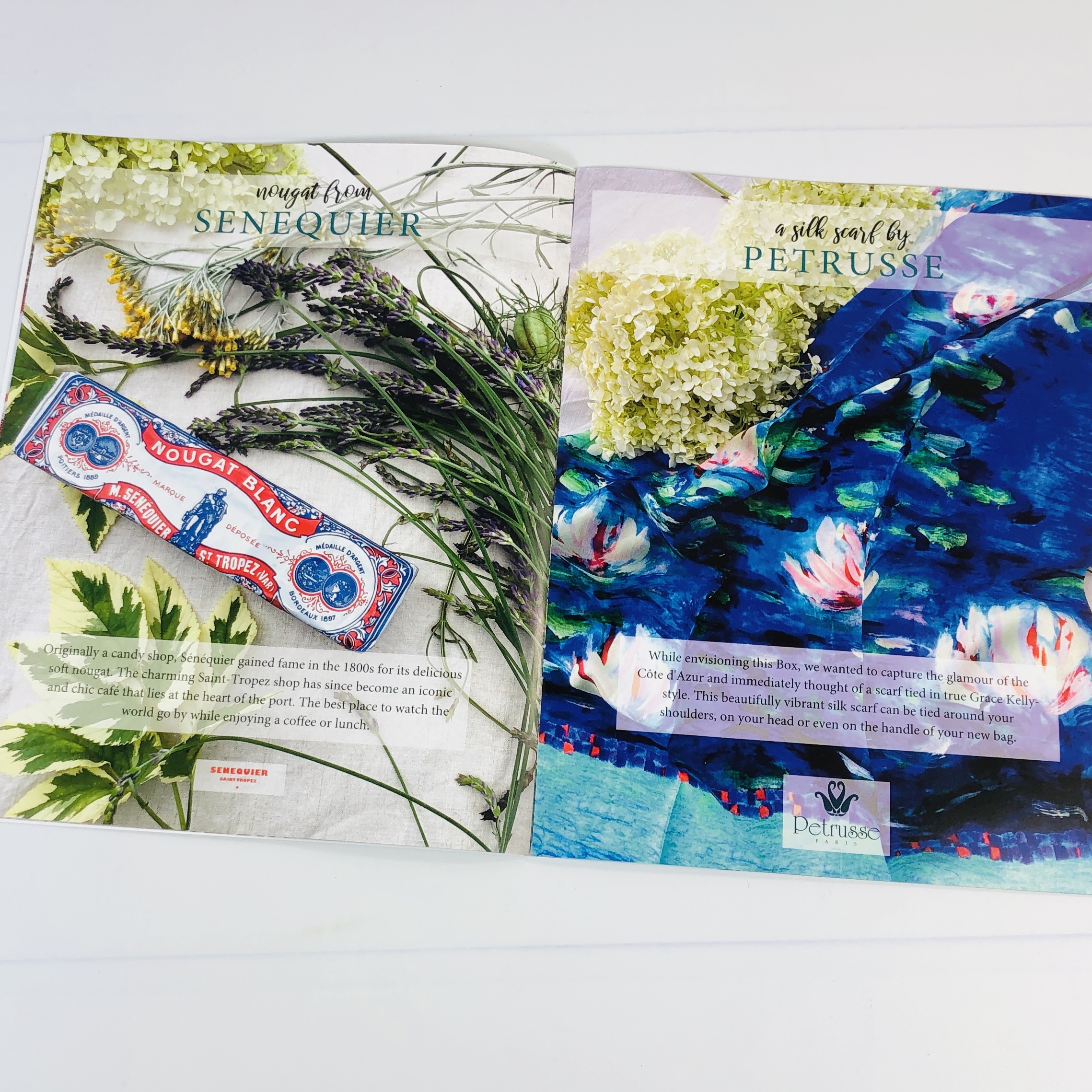 I love seeing how each item is styled, it gives me ideas on how I might put the pieces to use.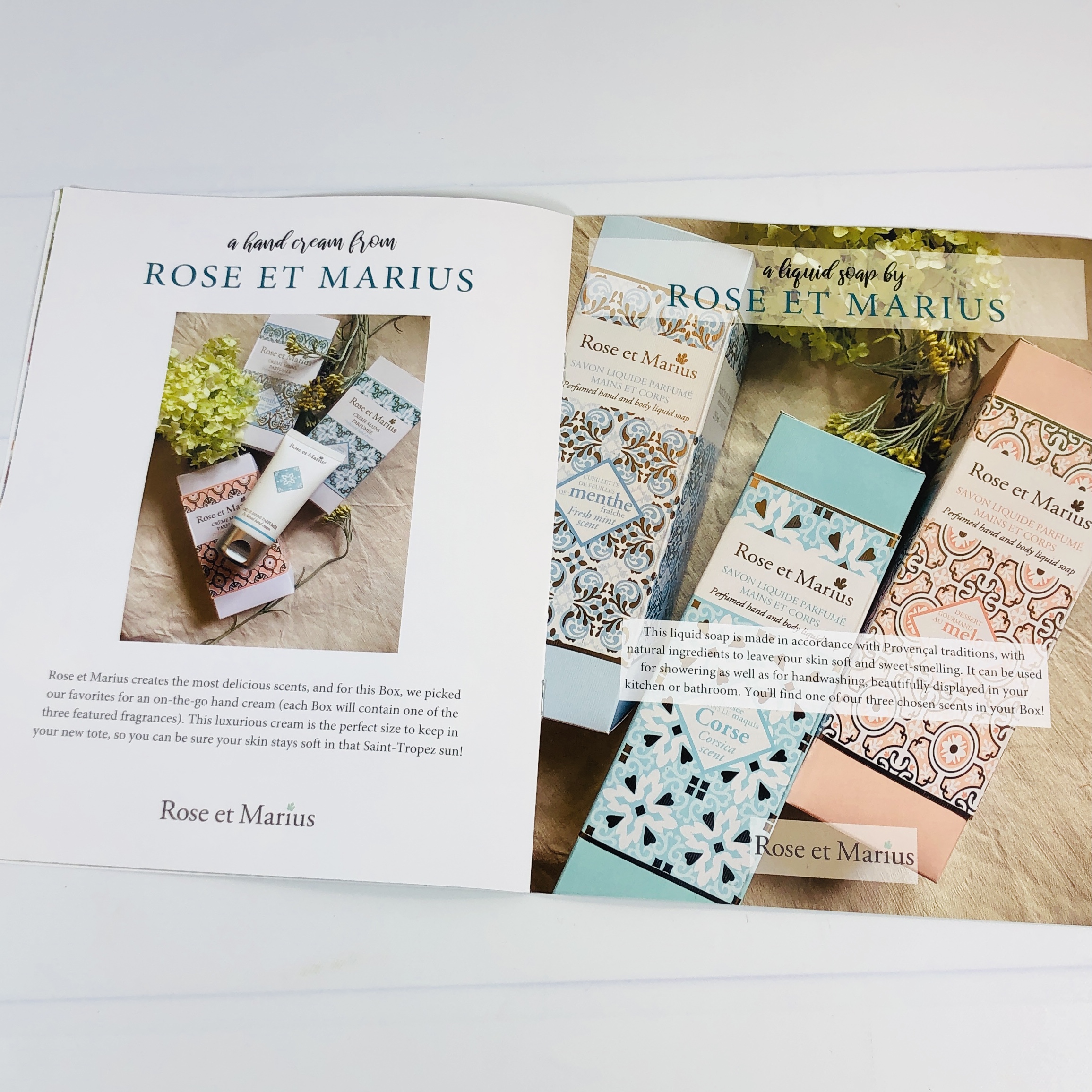 It's the most beautiful product brochure of any box!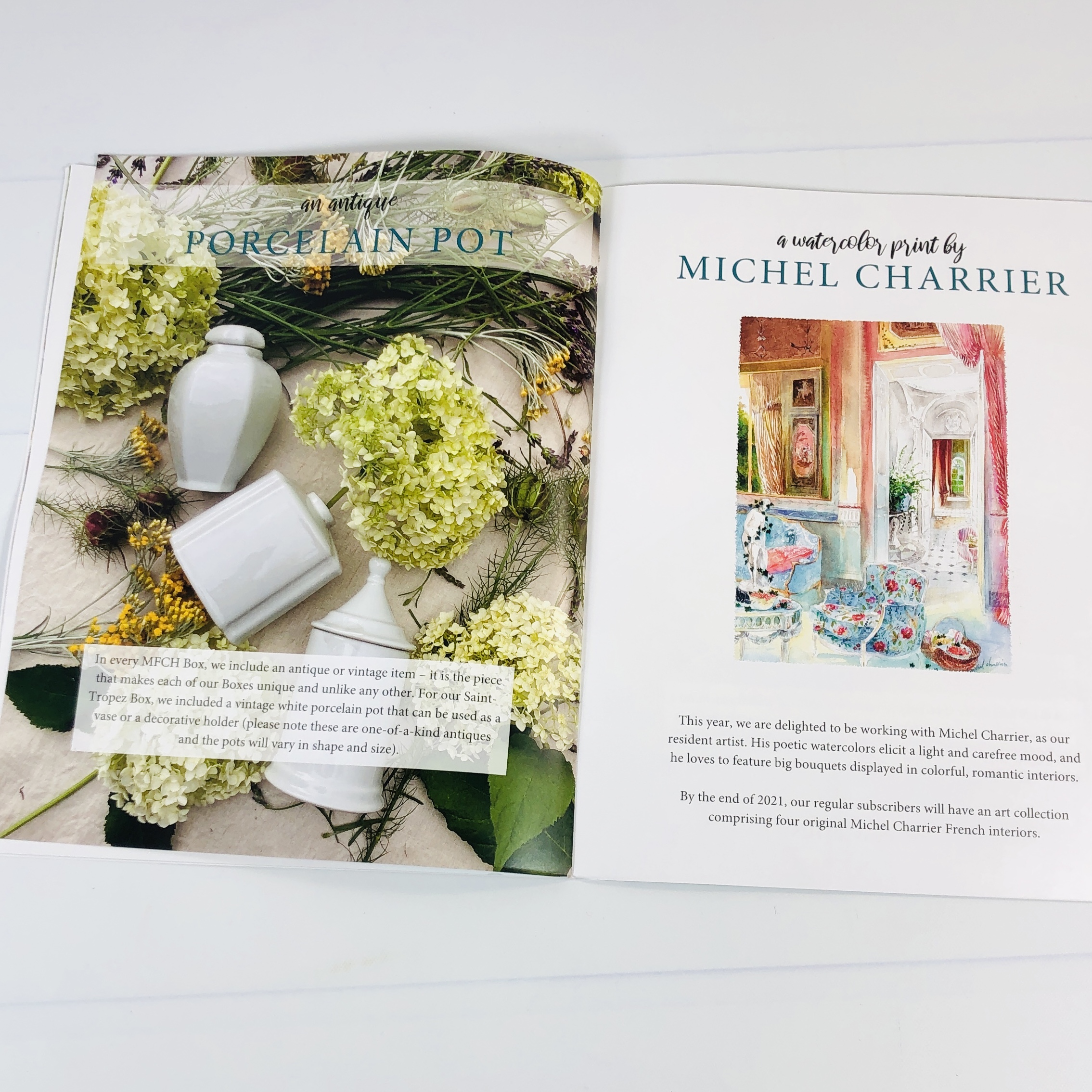 A brief description is so helpful.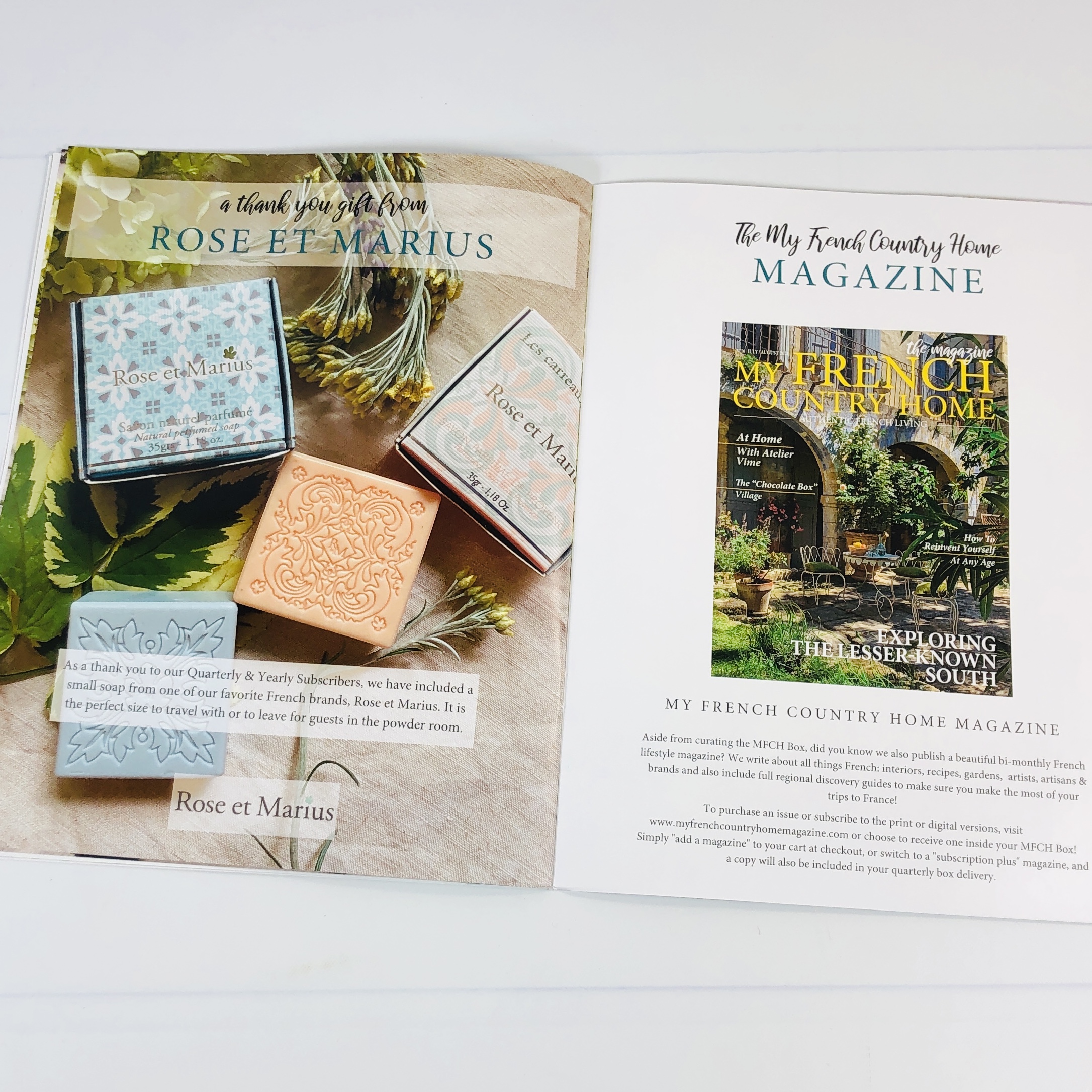 Annual and quarterly subscribers always receive a bonus gift — this time, it's a guest soap. My French Country Home Magazine was mentioned.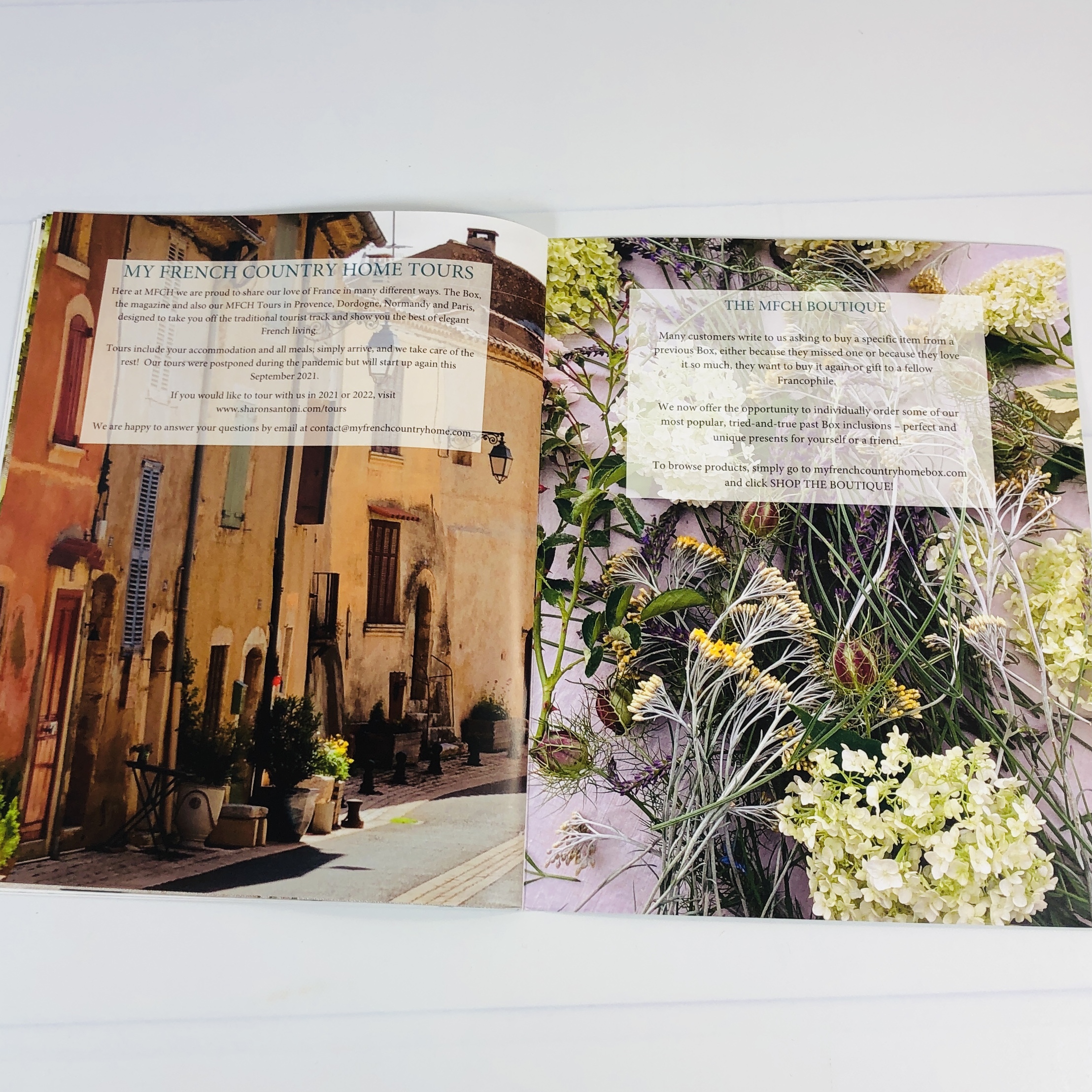 MFCH also does tours of homes throughout France, and the trips will resume this September.
You can find merchandise from this box and previous boxes, as well as a selection of other high quality French made products, at the online boutique.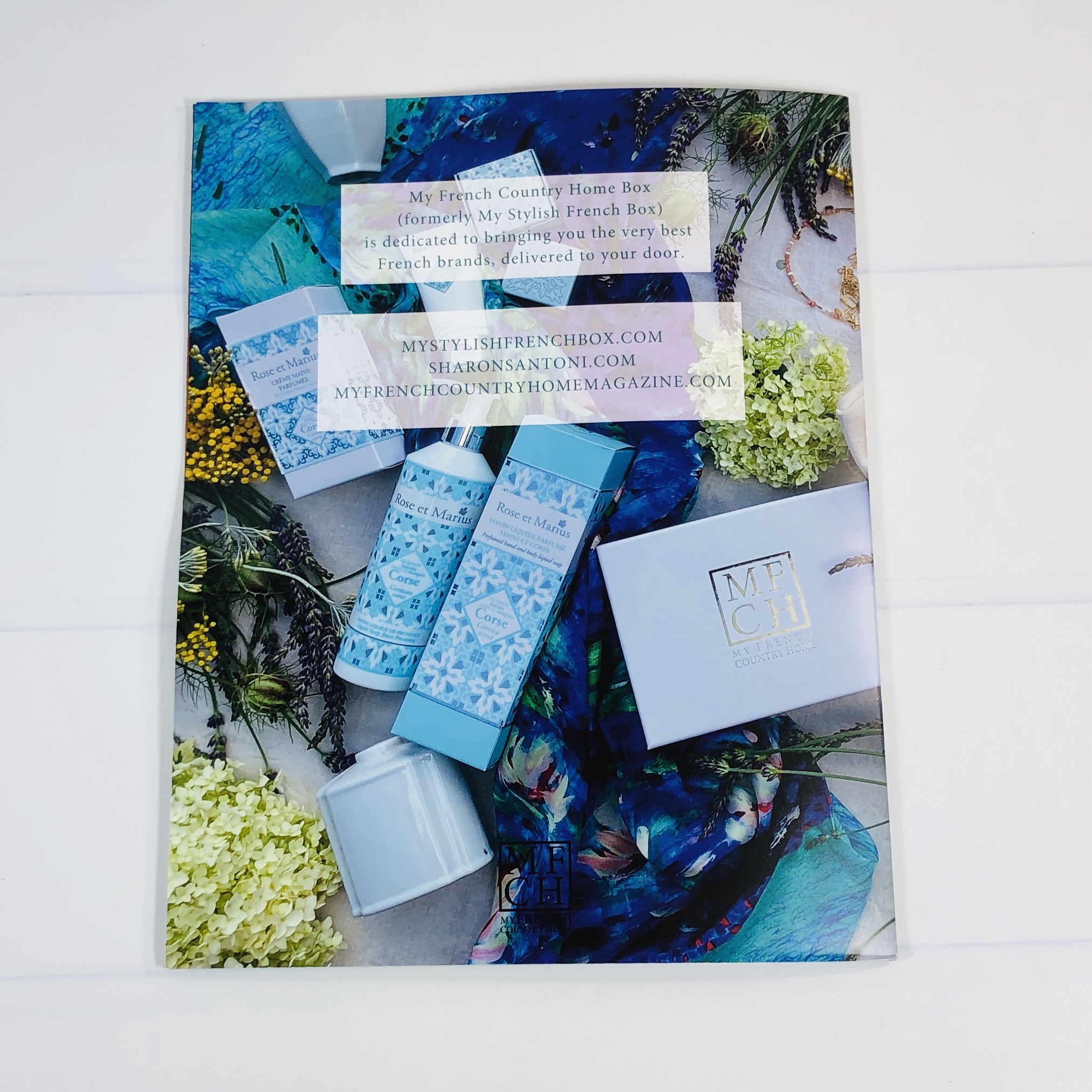 Some websites with more info were listed on the back.
My French Country Home Magazine, July/August 2021 ($12.99) The latest issue of this luxurious lifestyle magazine is available as an add-on and will ship with the box.
It is a gorgeous magazine, and I love to sit back with some iced tea and journey through France from the comfort of my living room.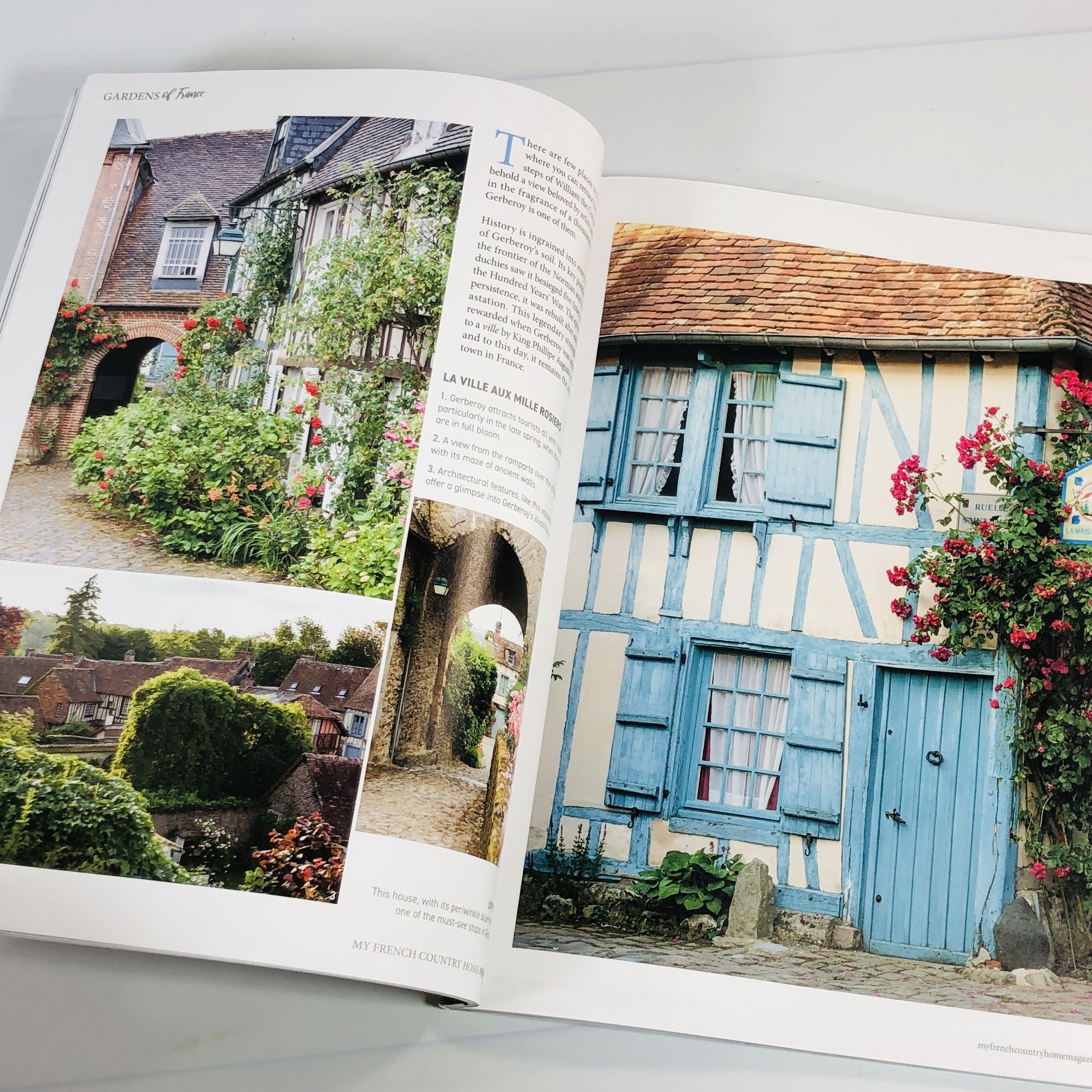 Such gorgeous colors and settings, and there's even some recipes!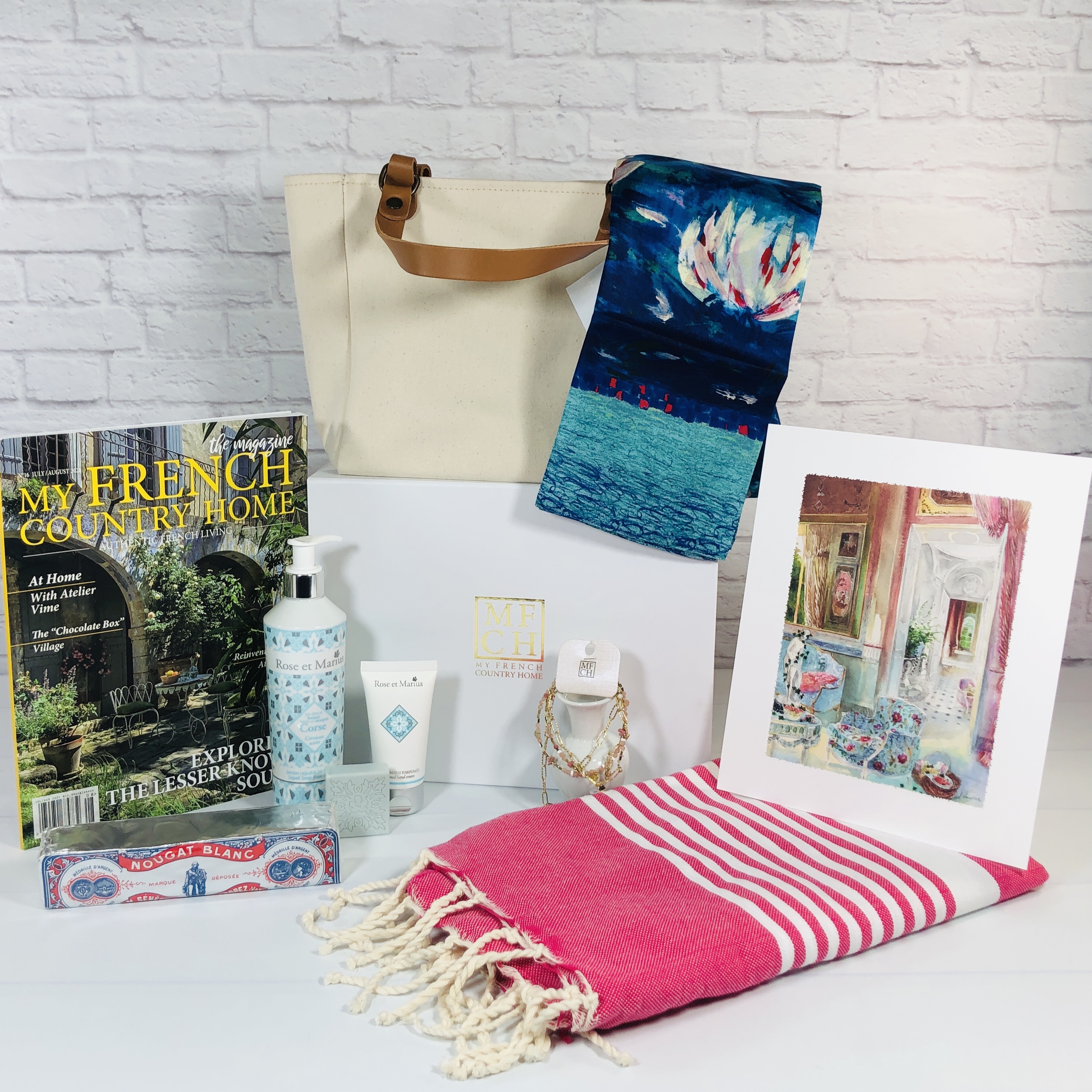 Everything in my box! I must say the experience of opening this box and learning about each item is magnificent! It is an elegant box and would make a super special treat for yourself, or an exceptional gift for a friend or loved one.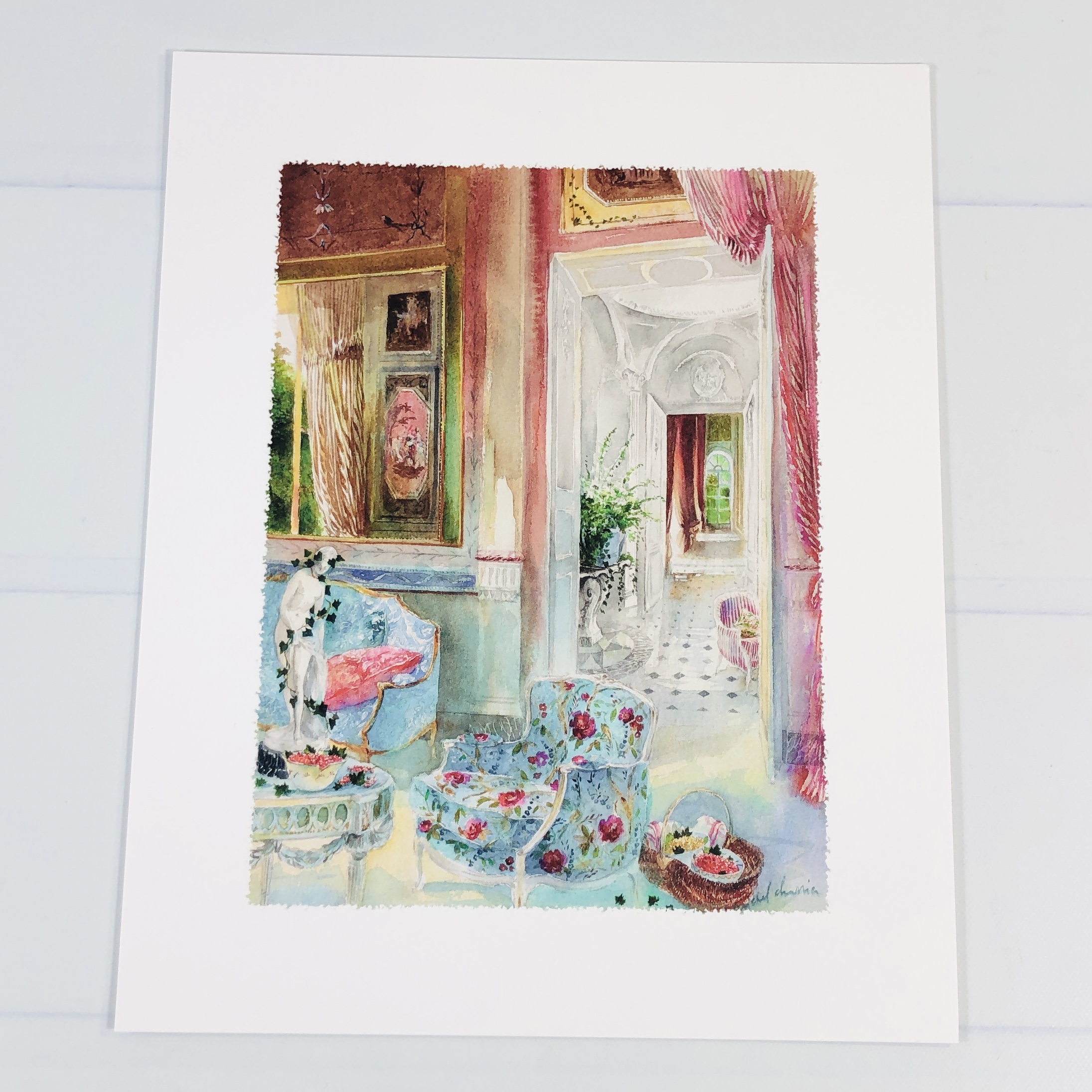 Watercolor Print by Michael Charrier Most of the items from this box are available at the My French Country Home website, but I couldn't find the print. These are done by the same artist over the course of the year and so that by year's end you will have a coordinating collection. I think the colors and tone that Michael Charrier chose has been lovely, and I will need to get some frames to display them on the wall. The print measures 8″ x 10″.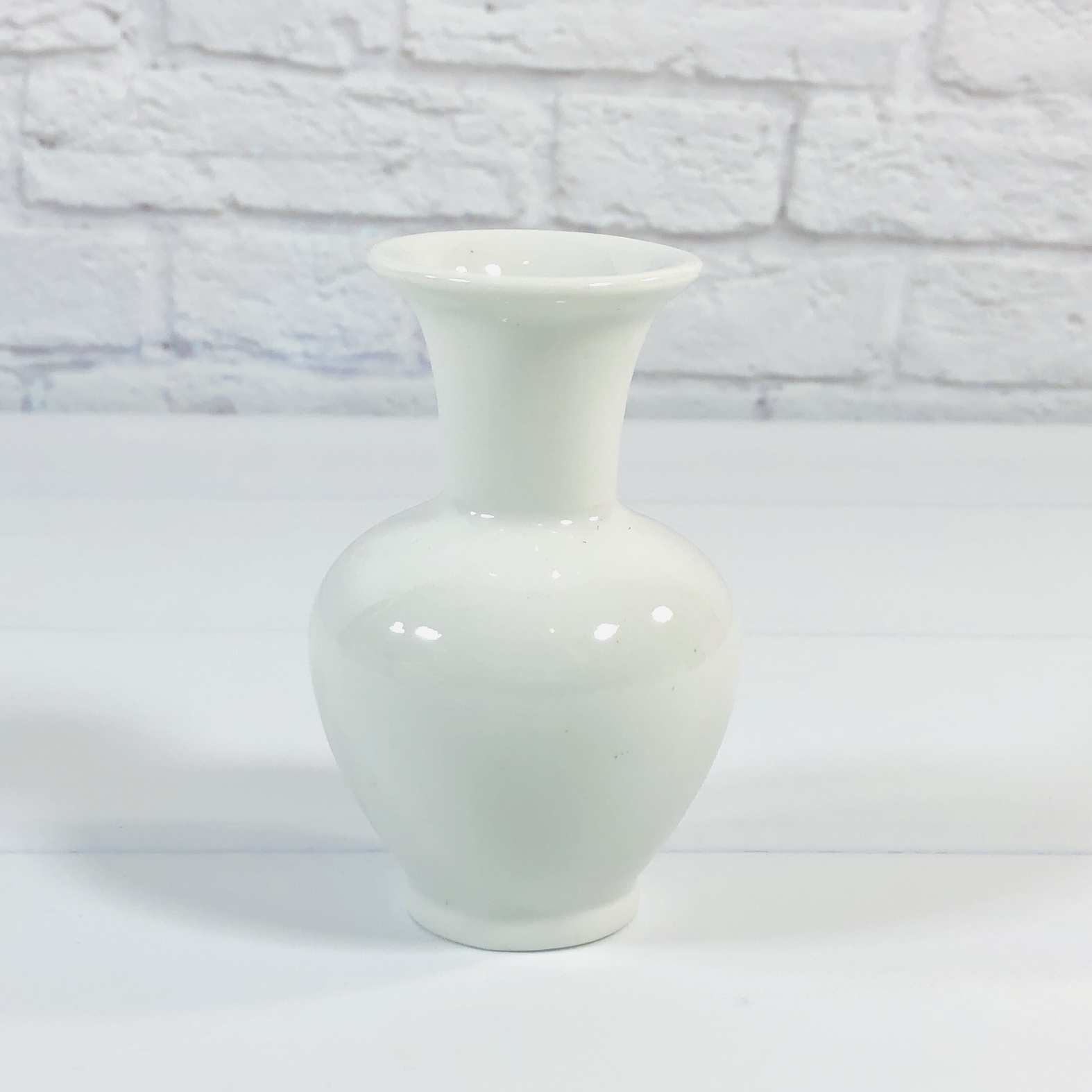 Antique Porcelain Pot The vintage item for this shipment is a pot, and since these are one-of-a-kind pieces, your pot may vary from mine. Mine is about 3.5″ tall and is perfect for a single stem.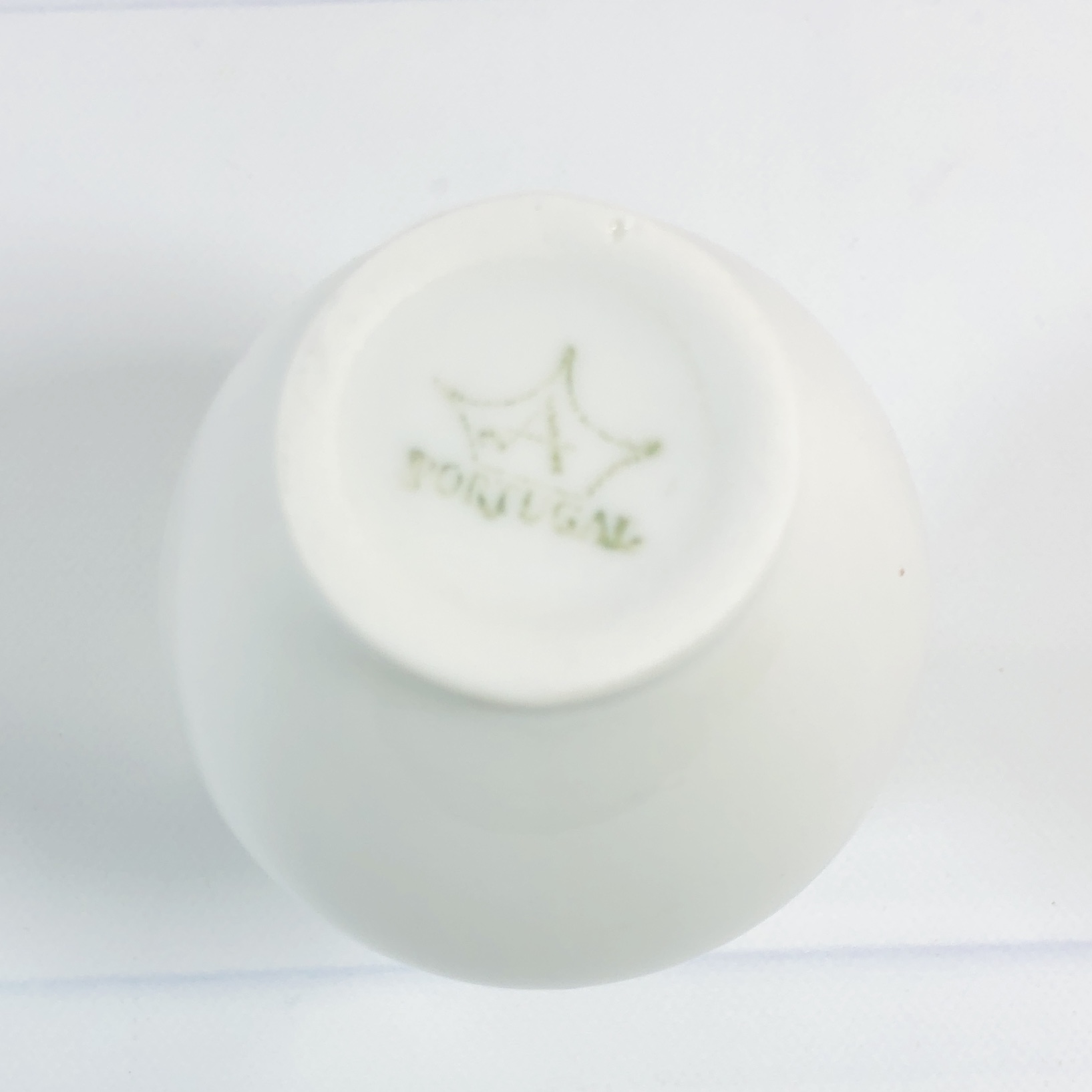 Here is the maker's mark and I believe it is made by Artibus, which was in business from around the 1940's to 1980's.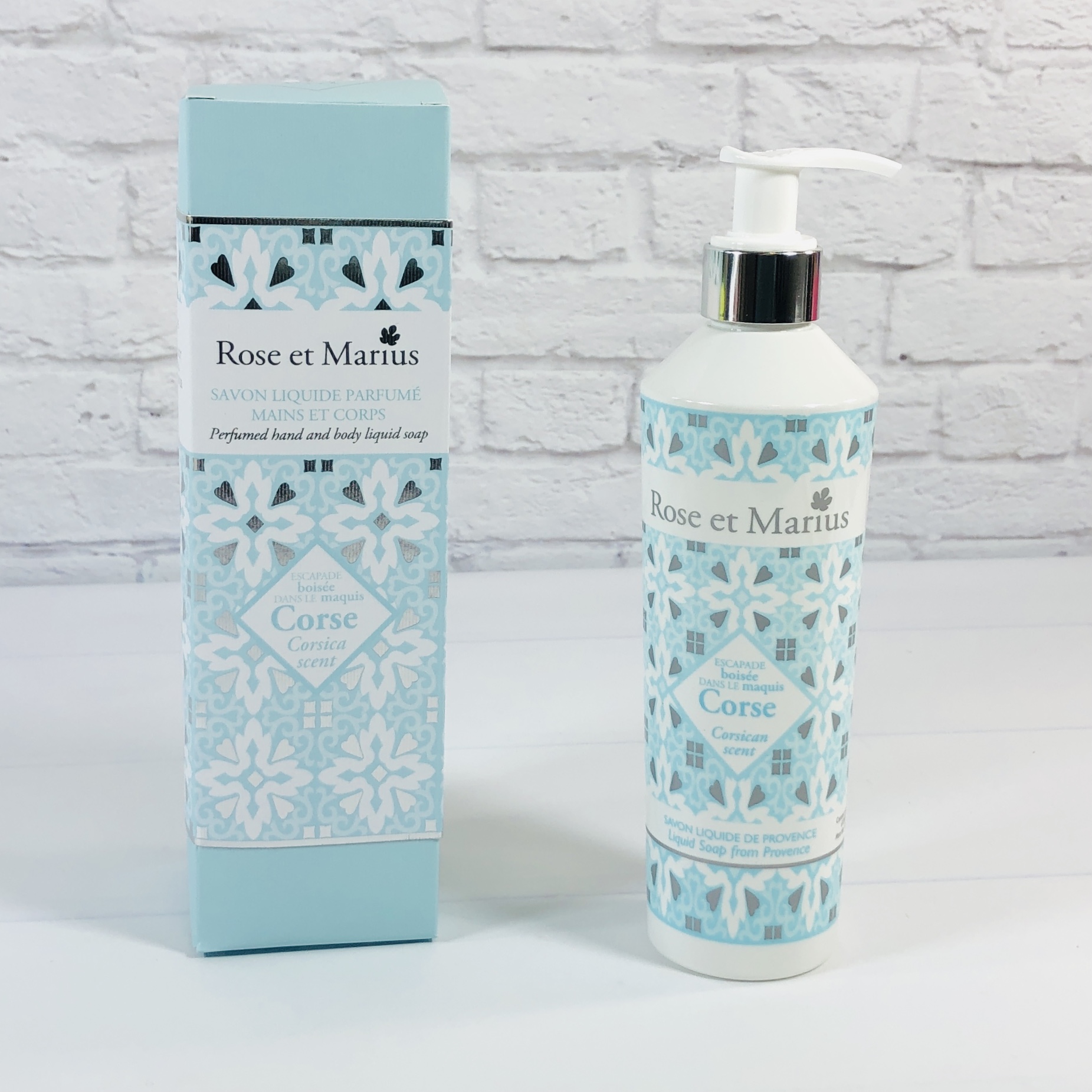 Rose et Marius Liquid Soap (€25, about $29.58) I received three items total (one is a bonus for subscribers) from this luxurious brand. Three different scents were sent, but I received the scent Corsica Maquis. The packaging alone is a real treat, with beautiful prints and metallic accents.
The soap is made from saponified plant oils, glycerin, fragrance, and poppy water. It can be used on the hands or as a shower/bath soap. It comes in a pump bottle. The gel had a light lather and rinsed easily away but didn't leave my hands dried out. It did leave behind the scent, which had notes of pine, for just a few moments before fading.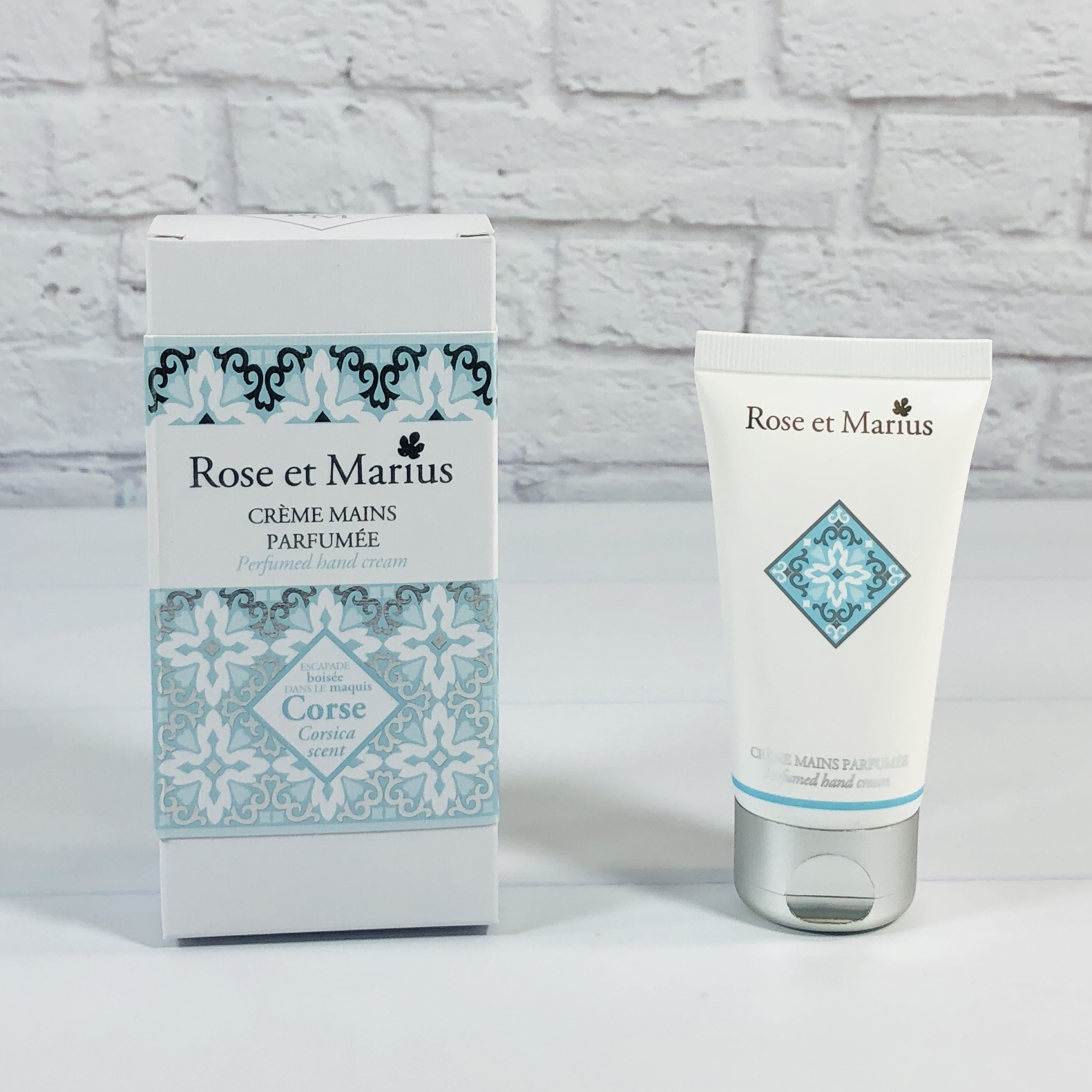 Rose et Marius Perfumed Hand Cream (€17 for similar, about $20.11) I didn't see this fragrance on the brand's website so I linked to a similar item.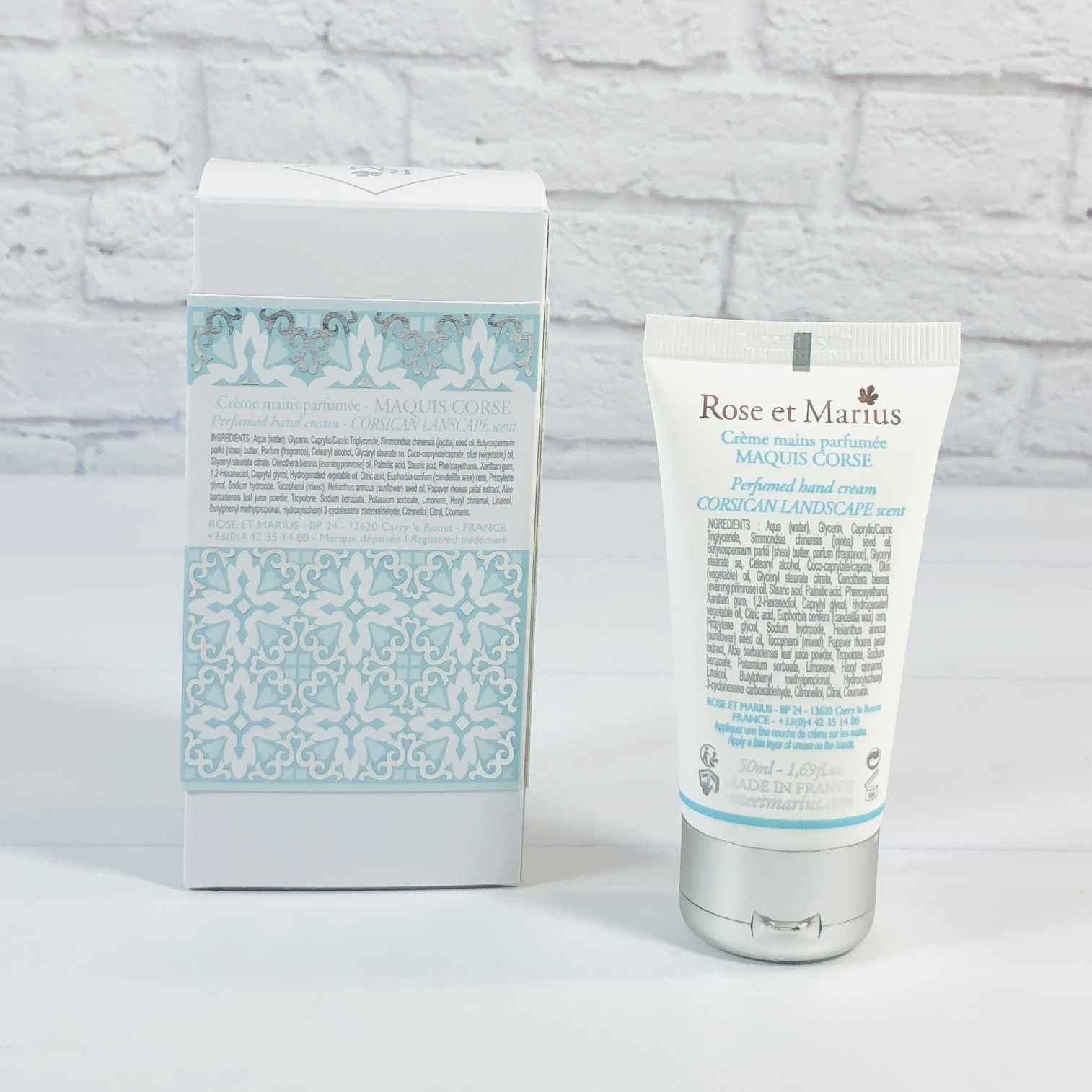 The scent notes for this fragrance are myrtle, juniper, and immortelle. It leaves behind a very moist feeling so it is probably best when not using something that might get greasy. Some of the ingredients include glycerin, jojoba oil, shea butter, and poppy extract.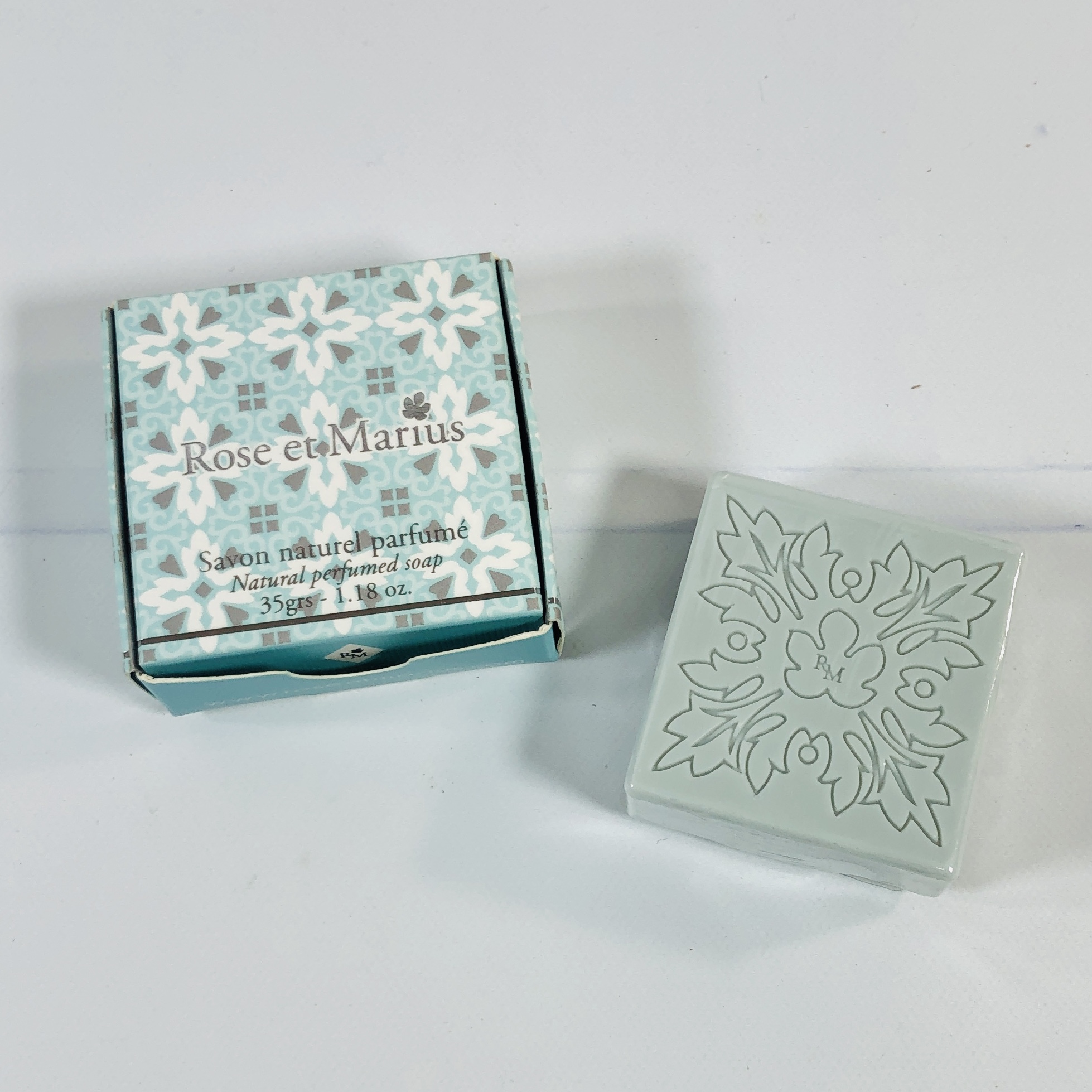 BONUS ITEM/Thank You Gift: Rose et Marius Discovery Soap (€6, about $7.10) The third item is for those who are either quarterly or yearly subscribers (I'm guessing that if you purchase a one-time gift box it probably won't be included). It's a soap for the guest bath or you can consider purchasing a set of soaps to "discover" which scents you prefer.
Here are the ingredients and it has the same scent as the previous two products, a matched set. The pattern on the front (see previous photo) is supposed to represent the tiles on floors in Provence!
Senequier Nougat Nougat is that fluffy off-white center of a 3 Musketeers, Milky Way, or Snickers candy bar.
The ingredients were listed in French and it looks like sugar, pistachios, almonds, and vanilla are in here.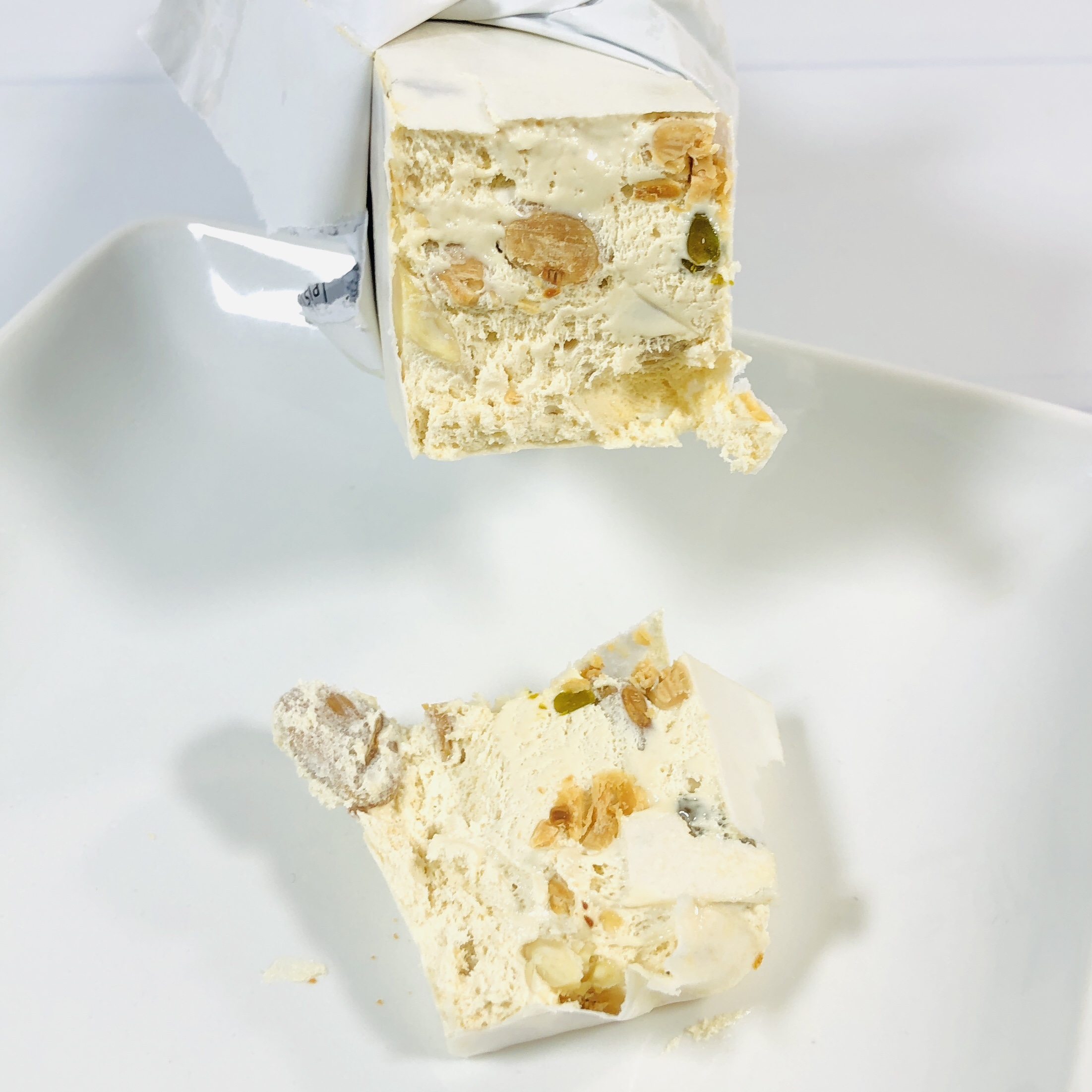 The nougat is wrapped in what at first looked like paper but it's edible! I suppose without it it would just be a flat sheet of goo. The nuts are toasted and this is extremely sweet and gooey and rich and delicious. Plus, it's a huge bar of the stuff, I had to store the rest in a bag and will have dessert for at least a week.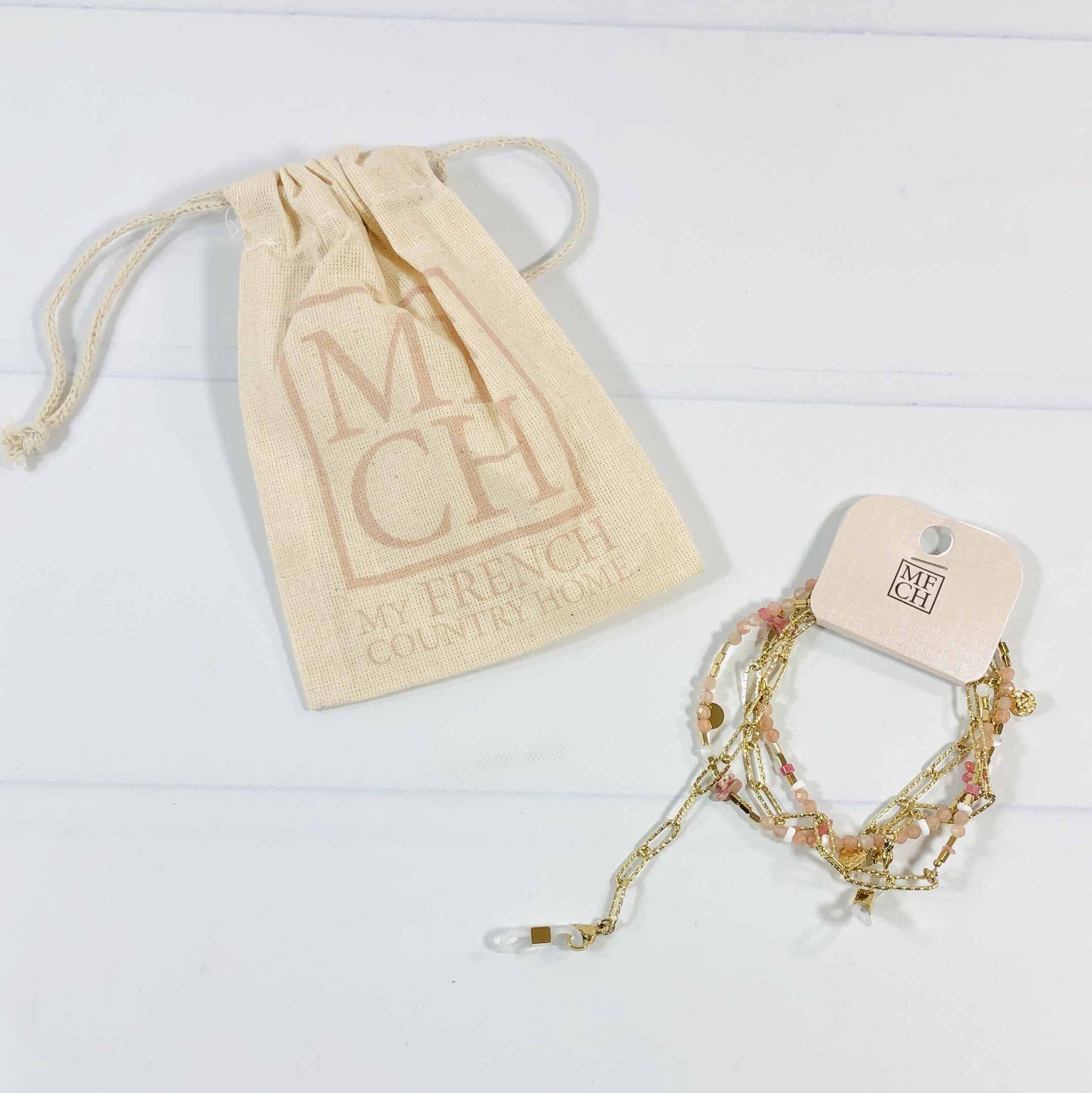 BOHM Custom Sunglasses Chain The next item came in a small bag for storage.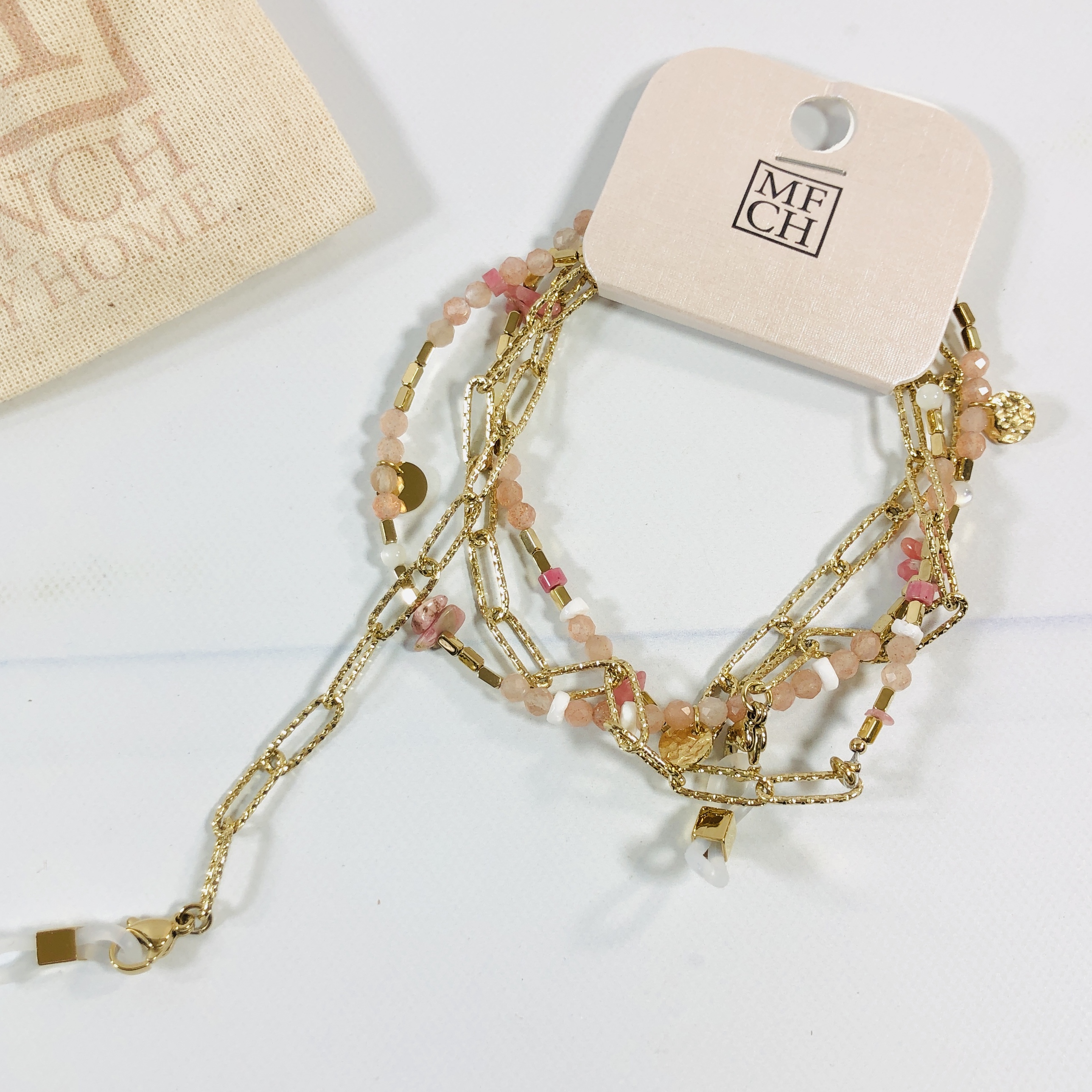 It's a chain to keep your glasses nearby! You can use them for sunglasses or readers. Just slip the silicon loops over the arms of your preferred pair and then wear like a necklace. The piece has golden loops, mini medallions, gold seed beads, peachy pink seed beads, and more.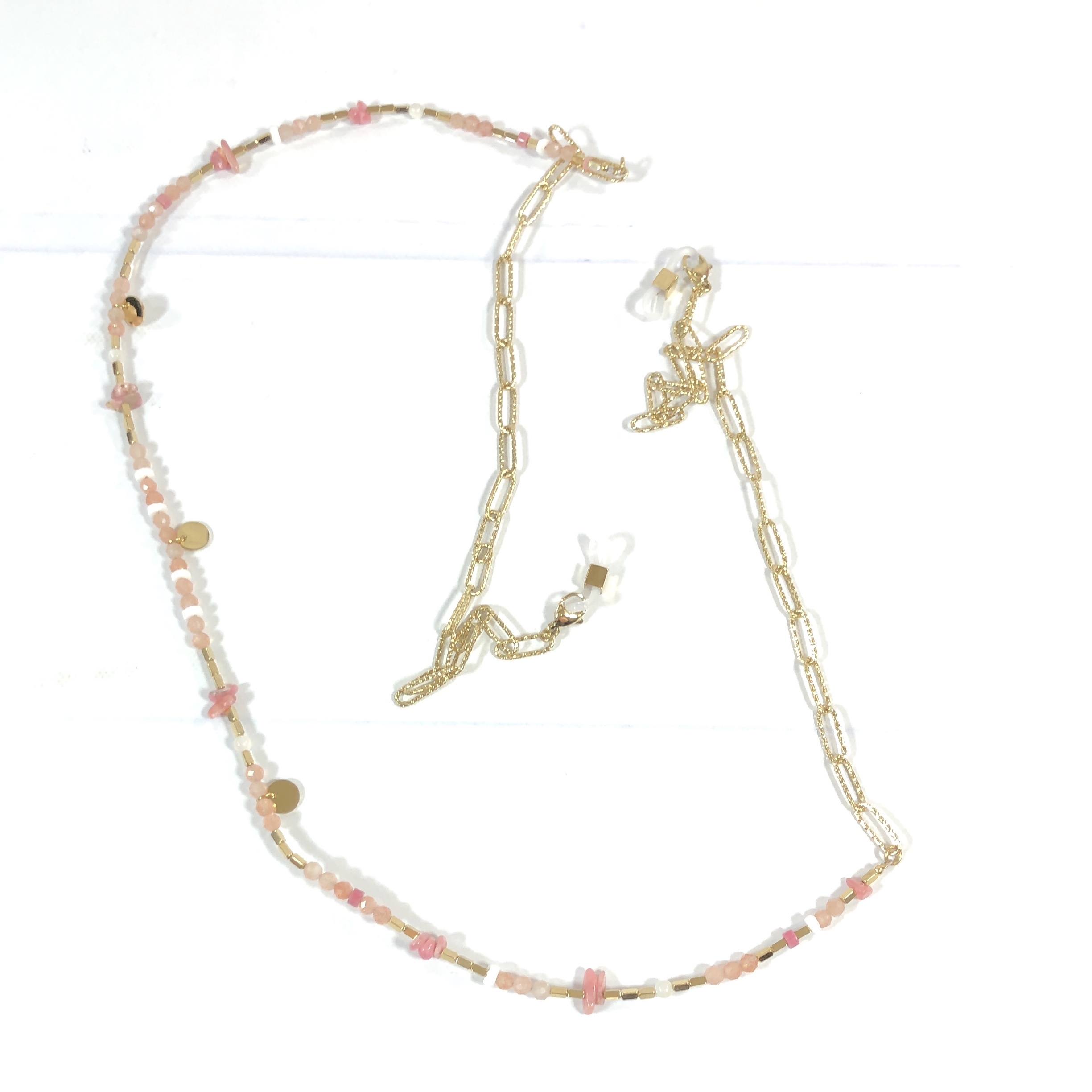 You can remove the silicon loops from their lobster clasps and then wear the piece as a necklace!
The next item came in a cool holder.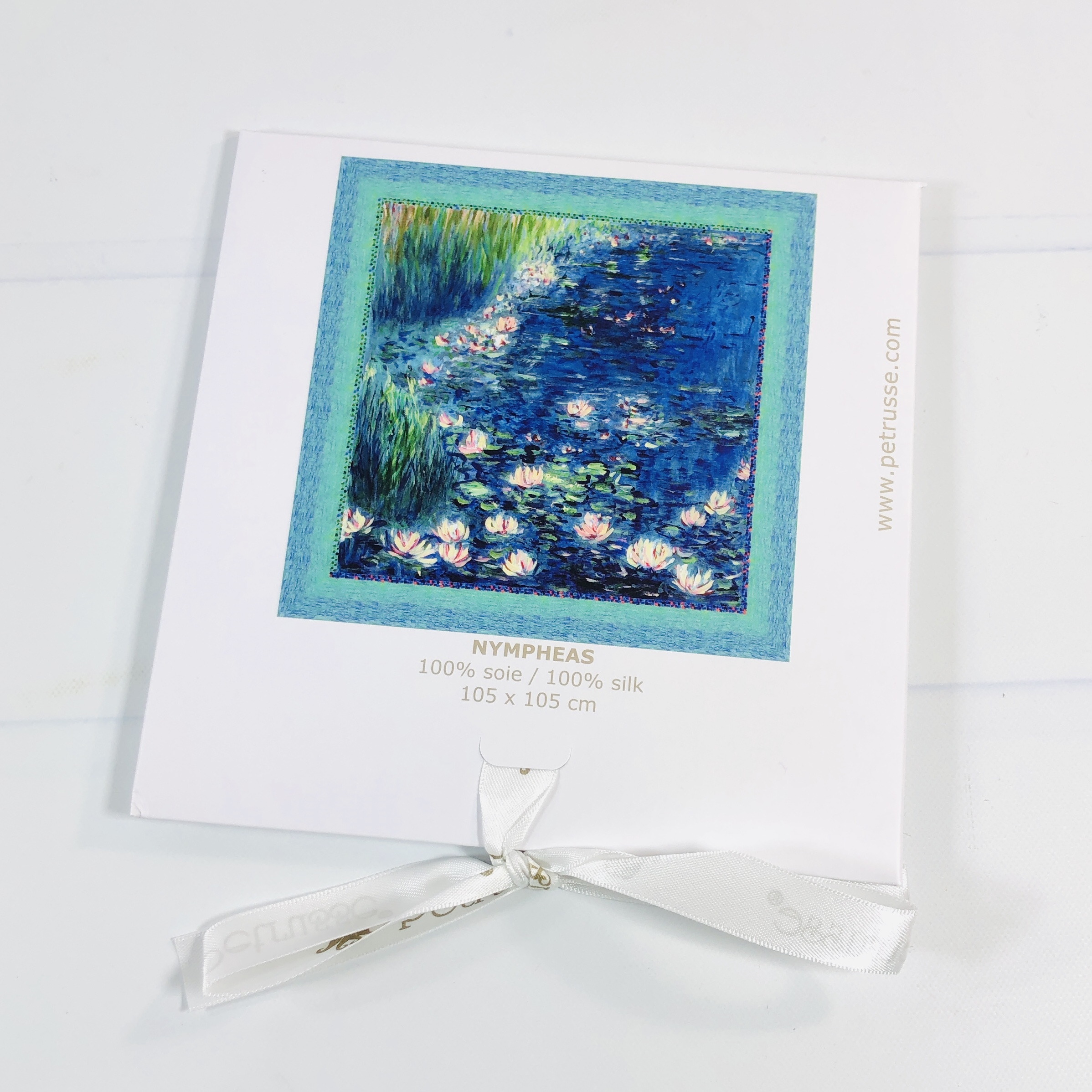 Here's the back of the holder, which shows an interpretation of Claude Monet's Water Lilies painting.
Petrusse Nympheas Silk Scarf (€140, about $165.75) The scarf is made of 100% silk and measures about 41.25″ x 41.25″. It is vibrant and beautiful! It can be worn as a head covering a la Grace Kelly, tied around a bag handle, worn as a shawl, or around the neck, or do as the model does at the link above and wear as a top!
MFCH Cotton Fouta A fouta is another word for a cotton Turkish towel. This can be used at the beach or while lounging around the pool and it should dry quickly in the hot sun.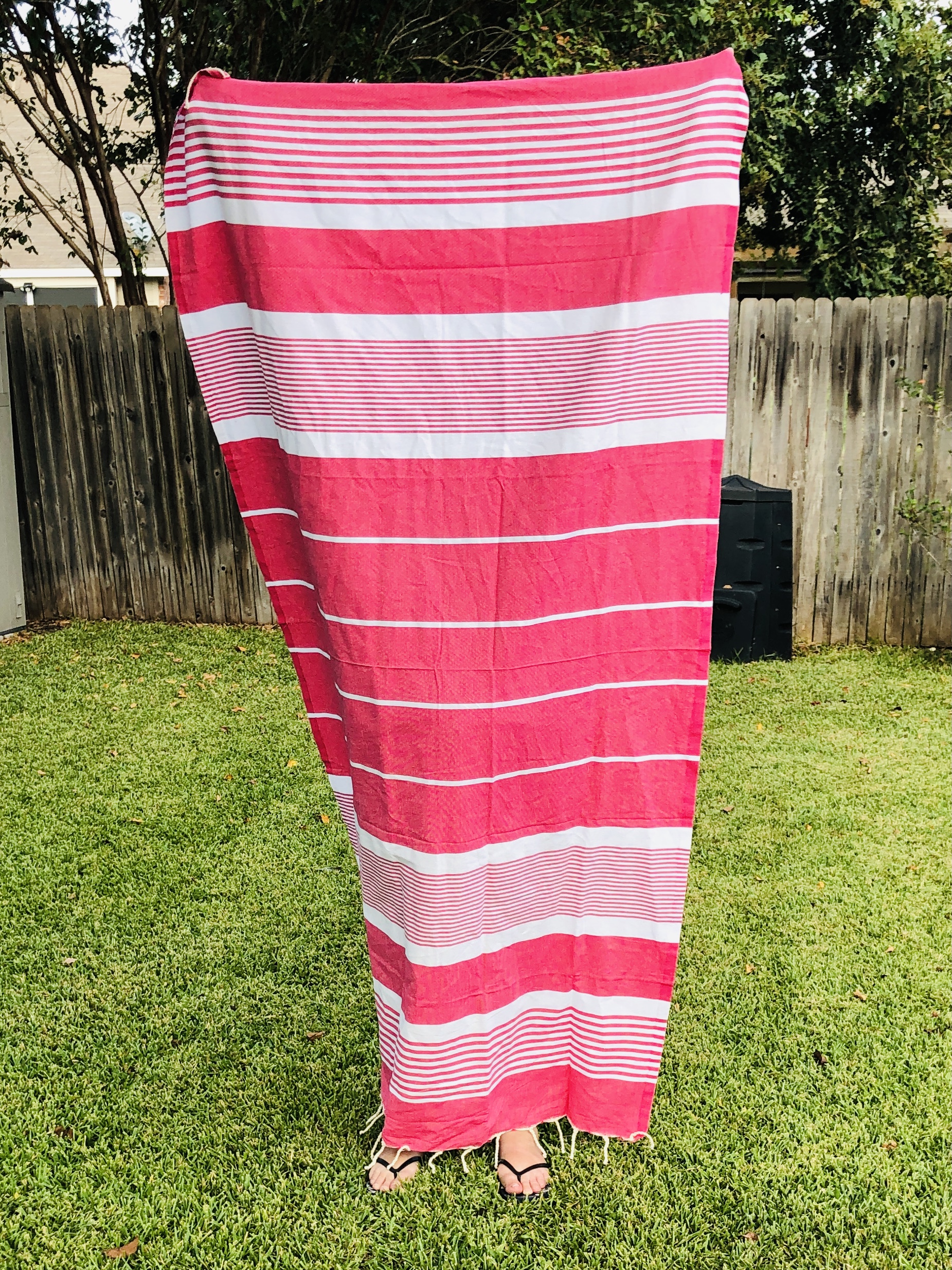 It measures about 78″ x 39″, not including the fringe, which is on both ends. Here I have my hands above my head to hold it up.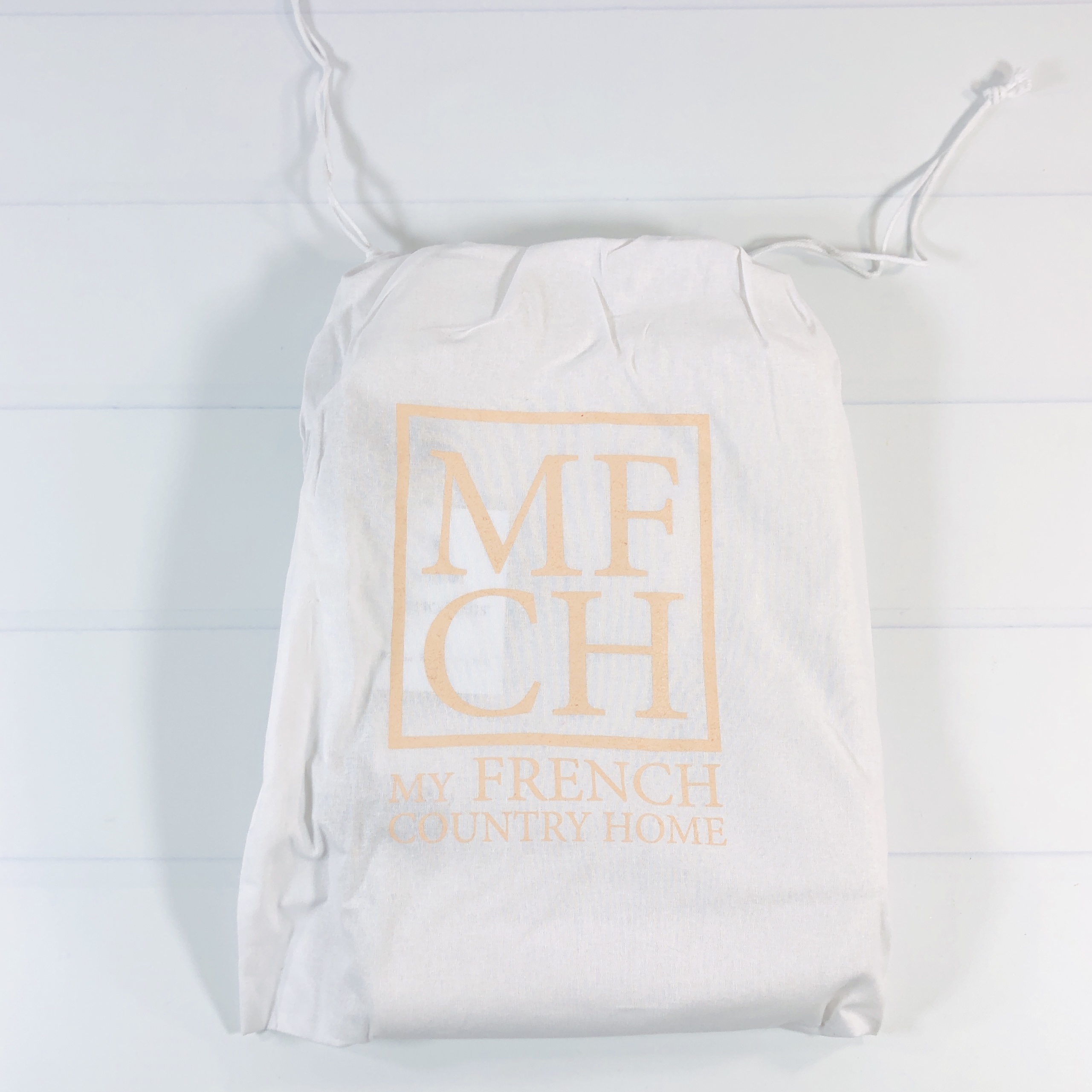 The next item came in a storage bag.
Tampico Bags Weekender XS Bag (€88, about $104.12) This sturdy bag is made of cotton canvas and has leather handles. It is off-white in color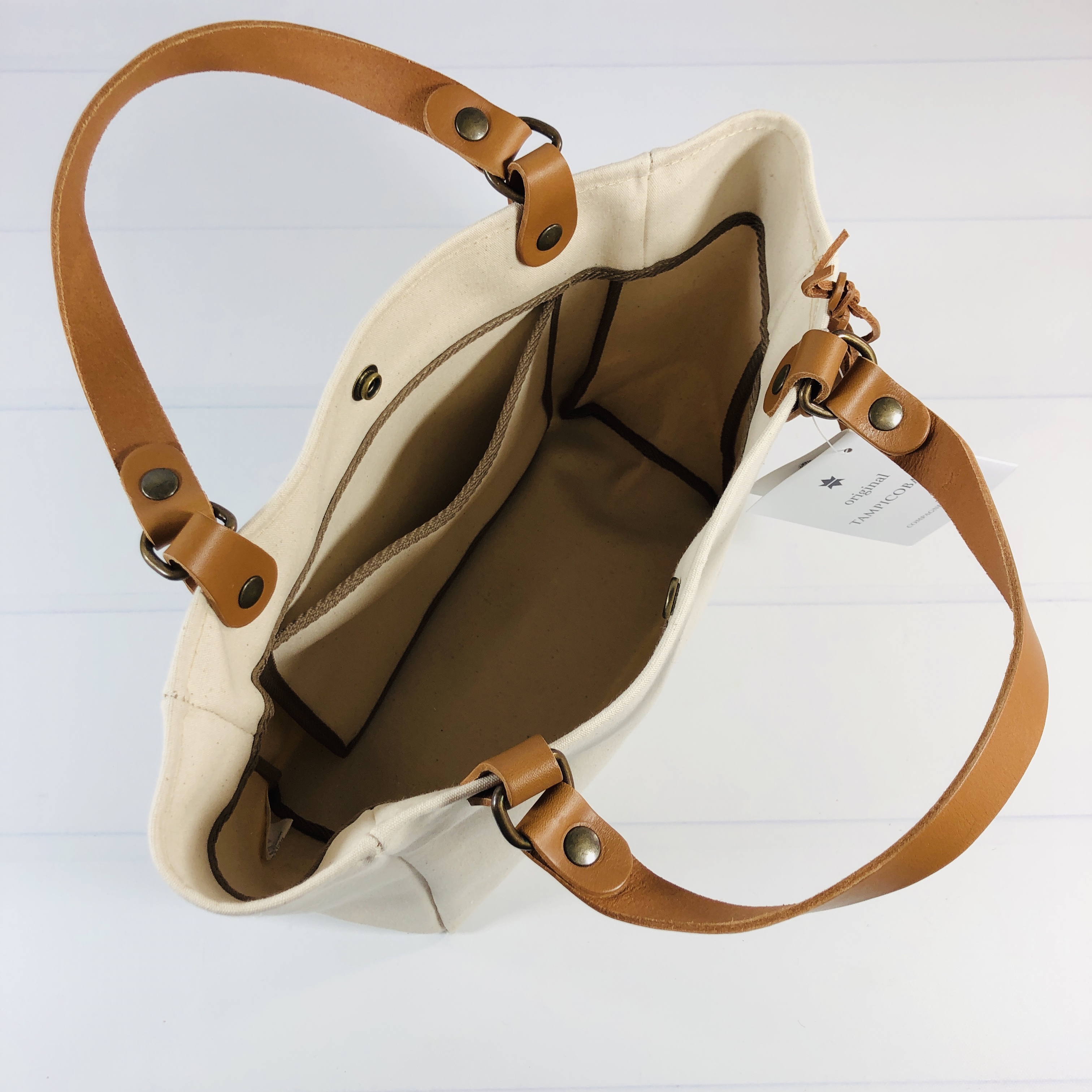 There is a bronze snap and a pocket on the inside.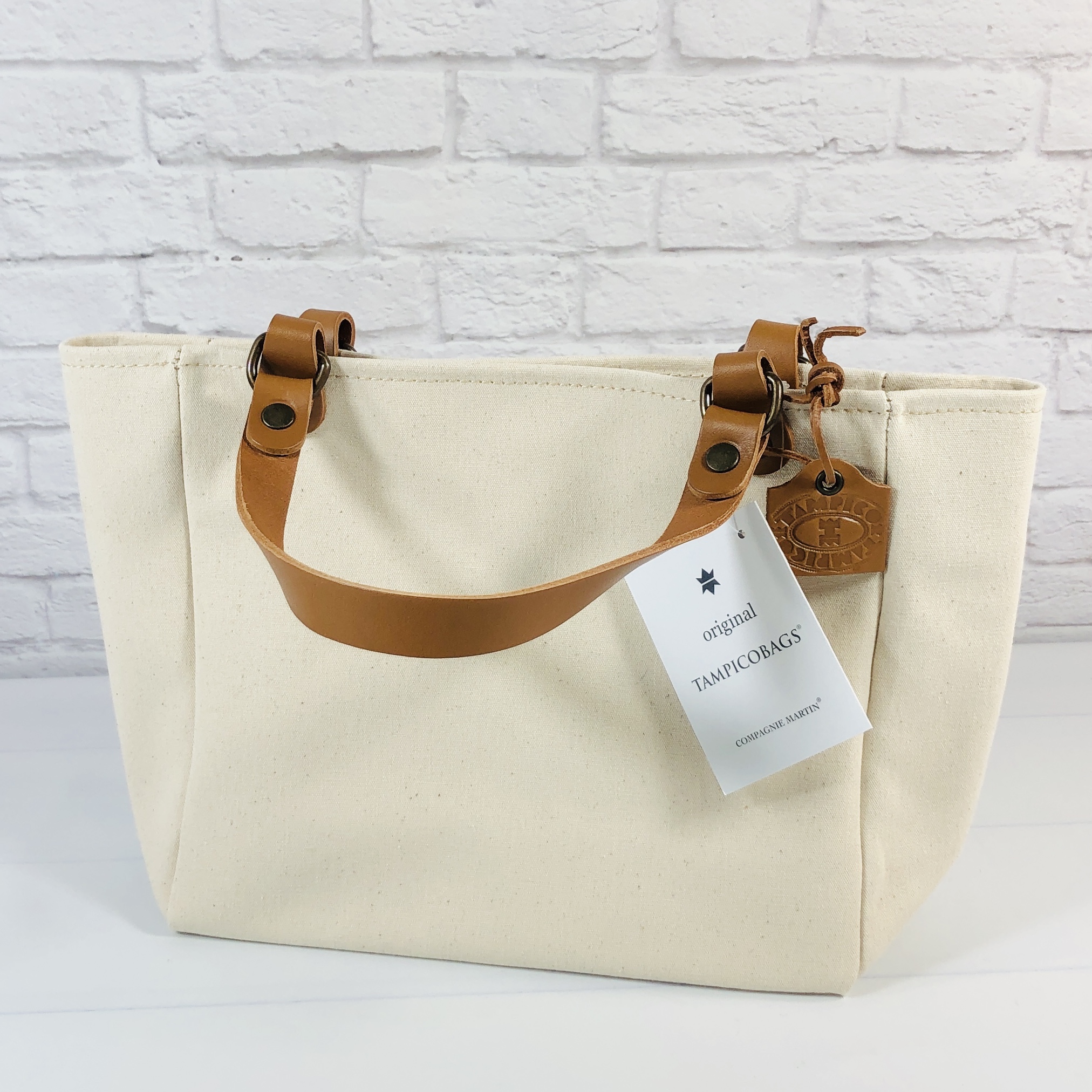 I think this is perfect if I only need to carry a few things with me, like my wallet and phone.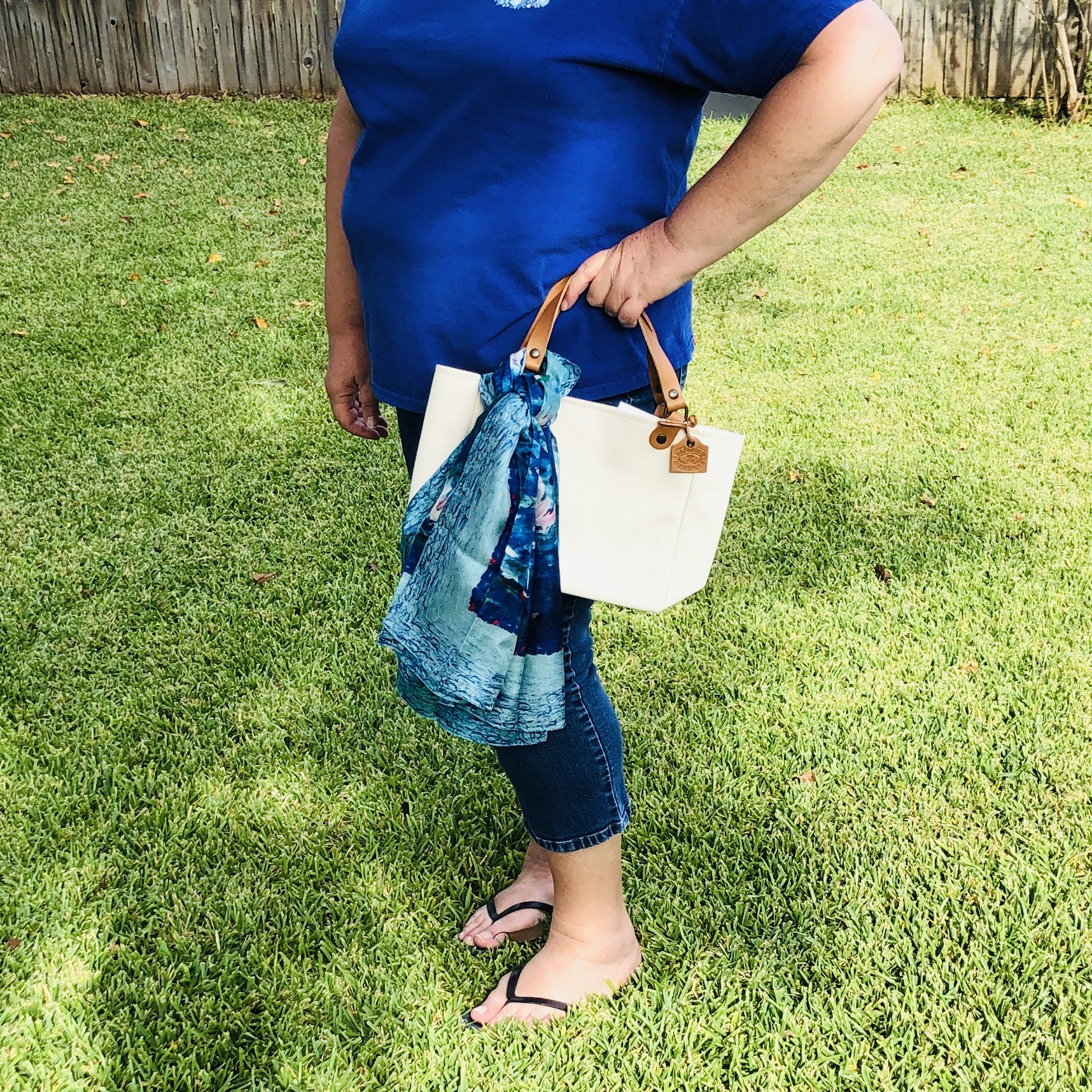 My French Country Home Box sends such luxurious items and this collection was, once again, perfect! A silk scarf, a sturdy bag, delicious candy, and more were all in here and now I would dearly love to visit Saint Tropez. Since that's not likely to happen I will enjoy it vicariously through this box. The colors of the items were bold and beautiful, and as I placed the pump soap in one of my bathrooms I noticed that the colors on my shower curtain matched the same color palette as the prints that have been sent this year so I now know exactly where they are going to go. I thought it was fab that all of the bath items were in the same scent. The necklace/glasses holder is actually quite my style and since I wear readers it is sure to keep them always on hand because I am at the point where I don't remember where I left them and oh yeah why am I in this room again? There's still time to visit the pool in my part of the country so the fouta will go into my big bag while the smaller bag will be on standby for when I run errands in my town.
Spoiler Alert!!!: The theme for the November box is Chalet Living!
Any thoughts about My French Country Home Box? Let me know what you think of the Saint Tropez theme! 
Visit My French Country Home Box to subscribe or find out more!