Miss MuscleBox is a women's subscription box tailored for women who want to get fit, tone up, and get active. Each month, you will receive new apparel (shirt, leggings, shorts, sports bra, etc.), gym equipment, snacks, and other goodies to keep you motivated at the gym. A monthly workout will also be included to add some variety to your gym session. The box is $24 + $8 US shipping a month (varies international shipping). The company also offers a box geared for men (MuscleBox) and the Protein Box, a box entirely focused on proteins. Our readers voted Miss MuscleBox as one of the top Fitness & Health Subscription boxes for 2021!
DEAL: Get $10 off your first box! Use the coupon code HS10 at checkout.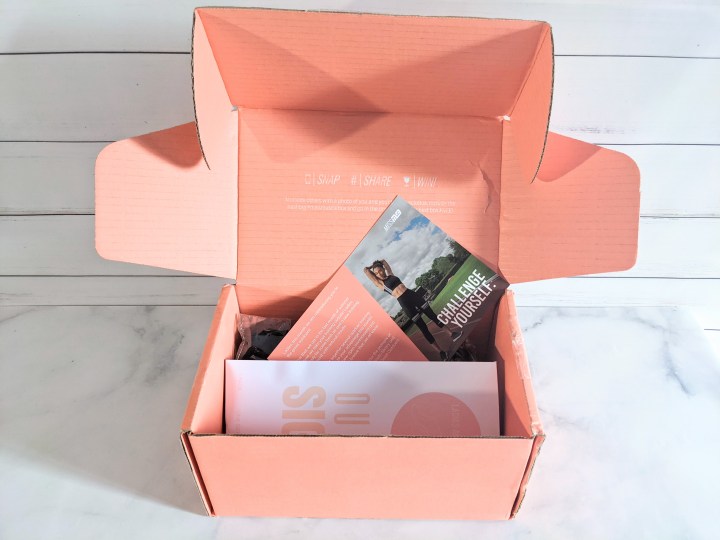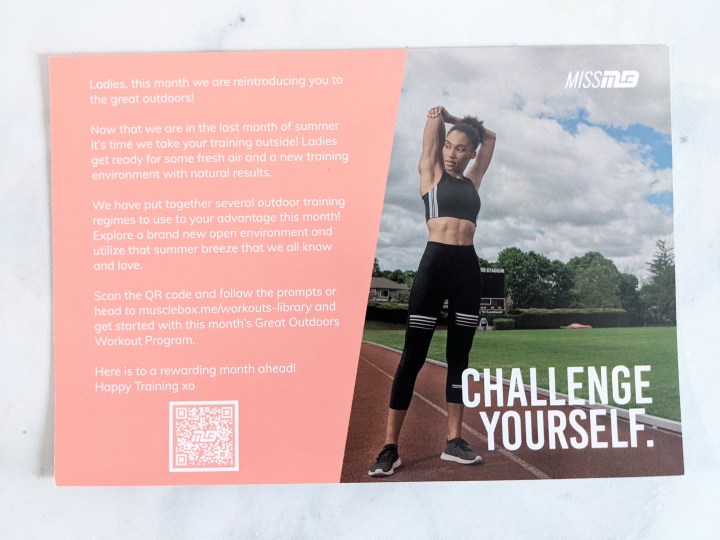 The welcoming card prompts us to scan the QR code on the info card to download our digital workout. All the monthly workouts are available so you can choose which body part you want to focus on this month, but we are welcome to work out outside with the Great Outdoors Workout Program.
The card has information about one of the items in this month's box, ankle socks.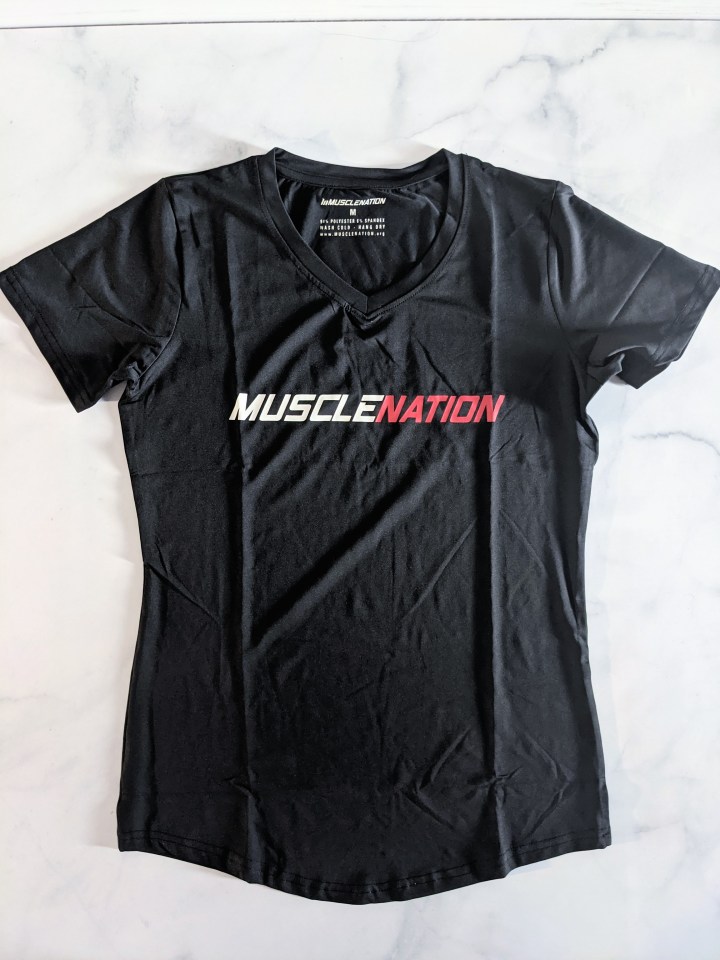 MuscleNation classic tee. This month's apparel is a classic crew neck t-shirt.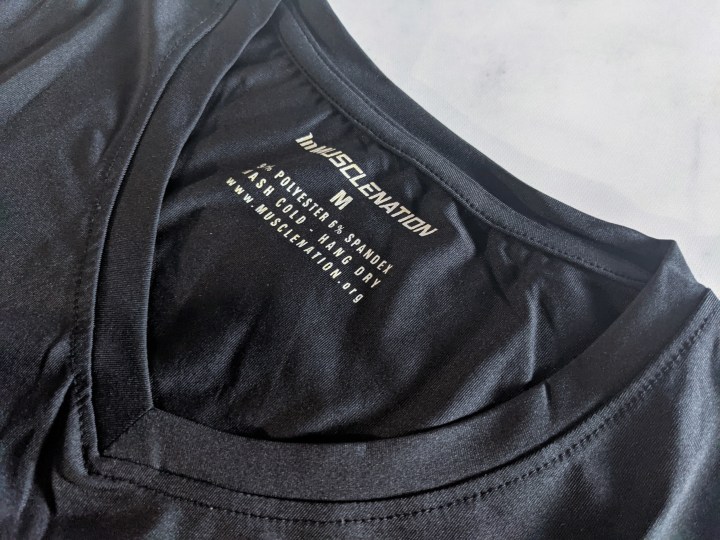 It has the smooth texture of workout apparel and it's made of a blend of polyester and spandex. It's great for when you want a bit more cover or just to chill.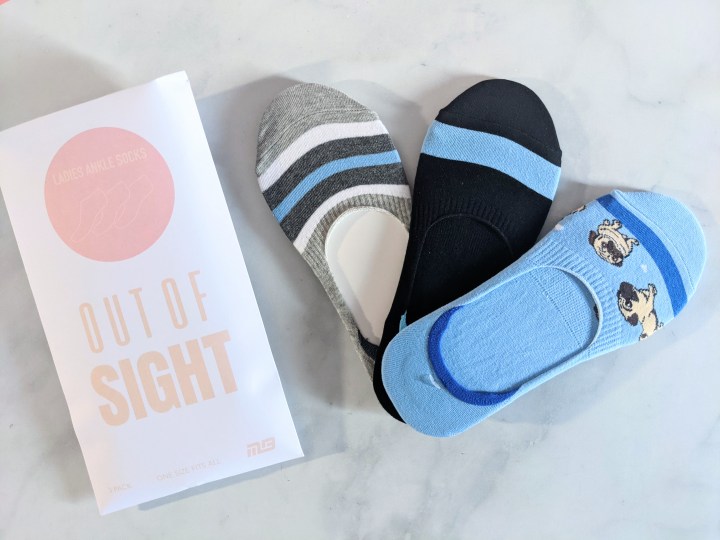 Muscle Box Out of Sight Ladies Ankle Socks. Subscribers will have received three assorted socks. Mine are dog related with one featuring cute little pugs, and an other one has a "Dog" and "lover" on the underside. The socks are light and comfortable and they have a little piece of silicone on the ankle to help keeping the socks in place.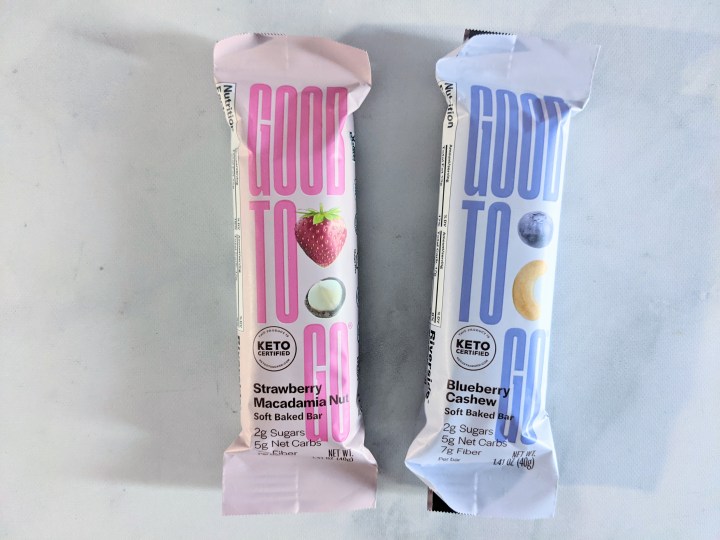 Good To Go Soft Baked Bar – Strawberry Macadamia Nut and Blueberry Cashew. Keto friendly with only 2g of sugar and 7g of fiber, these very soft bar have a texture of dense muffin. They are gluten and grin-free, and they are made with almond flour, inulin and erythritol.
Blue Dinosaur Protein Bar Peanut Butter. This bar is made with roasted peanuts, egg whites, beef collagen, MCT oil, dates and maple syrup. It contains 25g of protein for 270 calories which is a very good amount for someone who need more protein and less calories.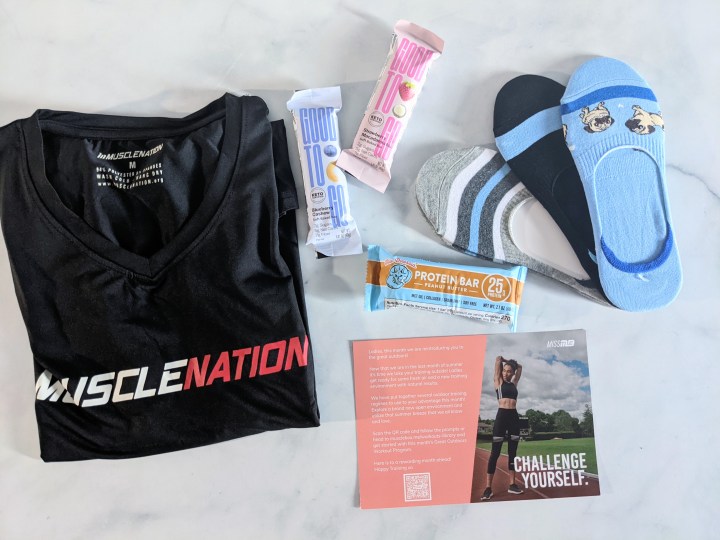 Miss Muscle Box August's box delivered a box full of apparel and snacks. I really enjoyed the socks and the snacks were nice to have around. The tee was nothing exceptional, but it's always nice to have a classic tee around. Overall, this was a nice box.
What do you think of Miss Muscle Box?