Bokksu is a premium snack box that features authentic Japanese snacks, as well as a tea pairing to go with it. There are two levels to choose from: Classic Bokksu ($44.99 USD) includes an assortment of 20-25 premium Japanese snacks and a tea pairing; Tasting Bokksu ($29.99 USD) includes 10-14 premium Japanese snacks and a tea pairing. Both boxes offer a discount for longer terms. The snacks sent are not easily found outside of Japan and this subscription ships internationally from Japan. Shipping is already included in the price.
Other Japanese snack subscription services use mass-produced mainstream snacks that can be readily found in most Asian markets outside of Japan. Bokksu directly sources its artisanal snacks from local snack makers in Japan (some of whom have been around for over 200 years!). We only curate high quality and gourmet snacks, never filler items. We are also the ONLY service that hand selects a tea pairing for each box to complement that month's flavors.
DEAL: Save $5 on your first box with coupon code HELLO.
Bokksu's authentic Japanese snack subscription box was voted as a top subscription in the 2021 list of our readers' favorite snack subscription boxes!
Your first box will be the Seasons Of Japan box. I am reviewing the Classic Bokksu.
As always the snacks are packed in there so nicely.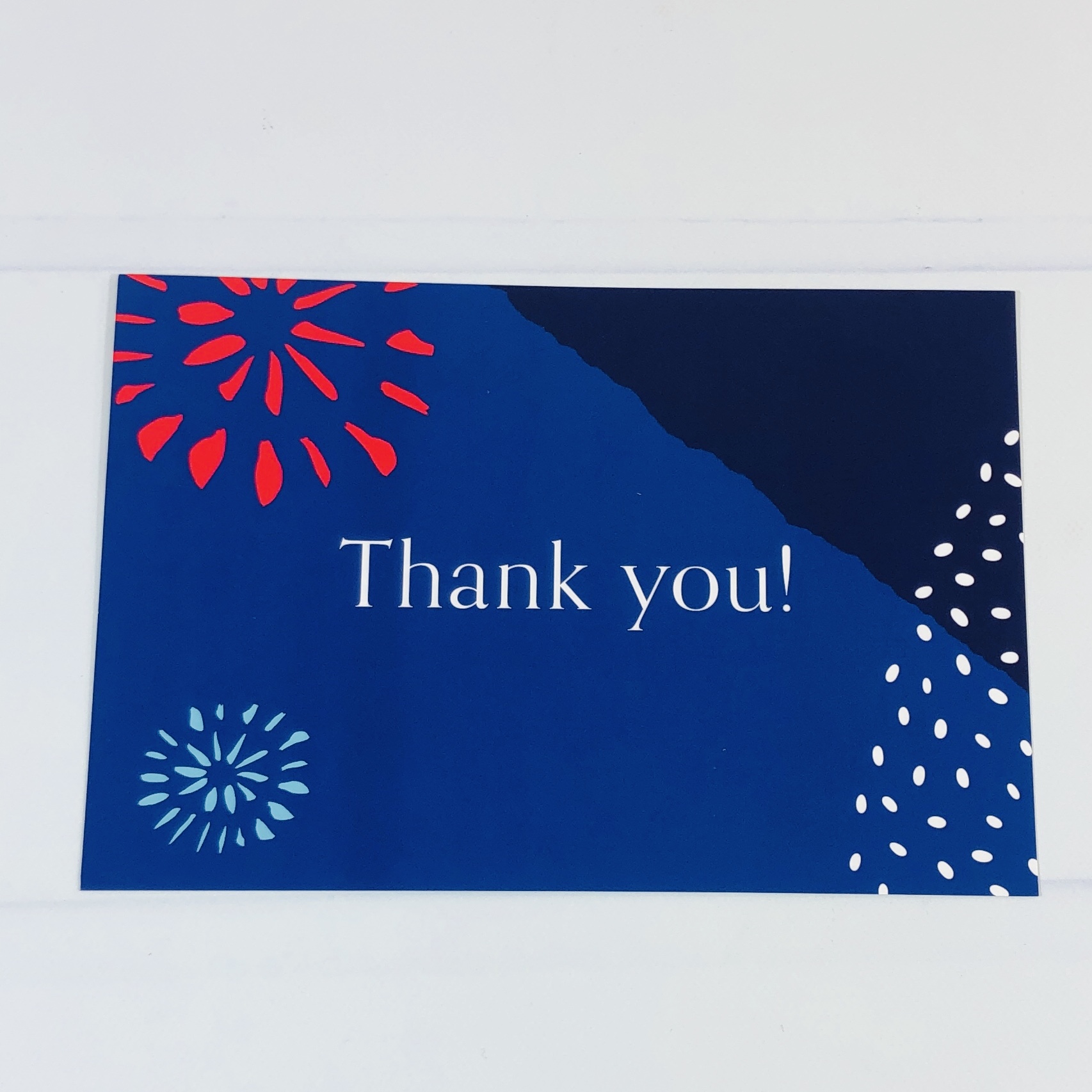 I received a thank you card.
The back of the card mentioned the theme and directed subscribers to the Facebook group for some online interaction.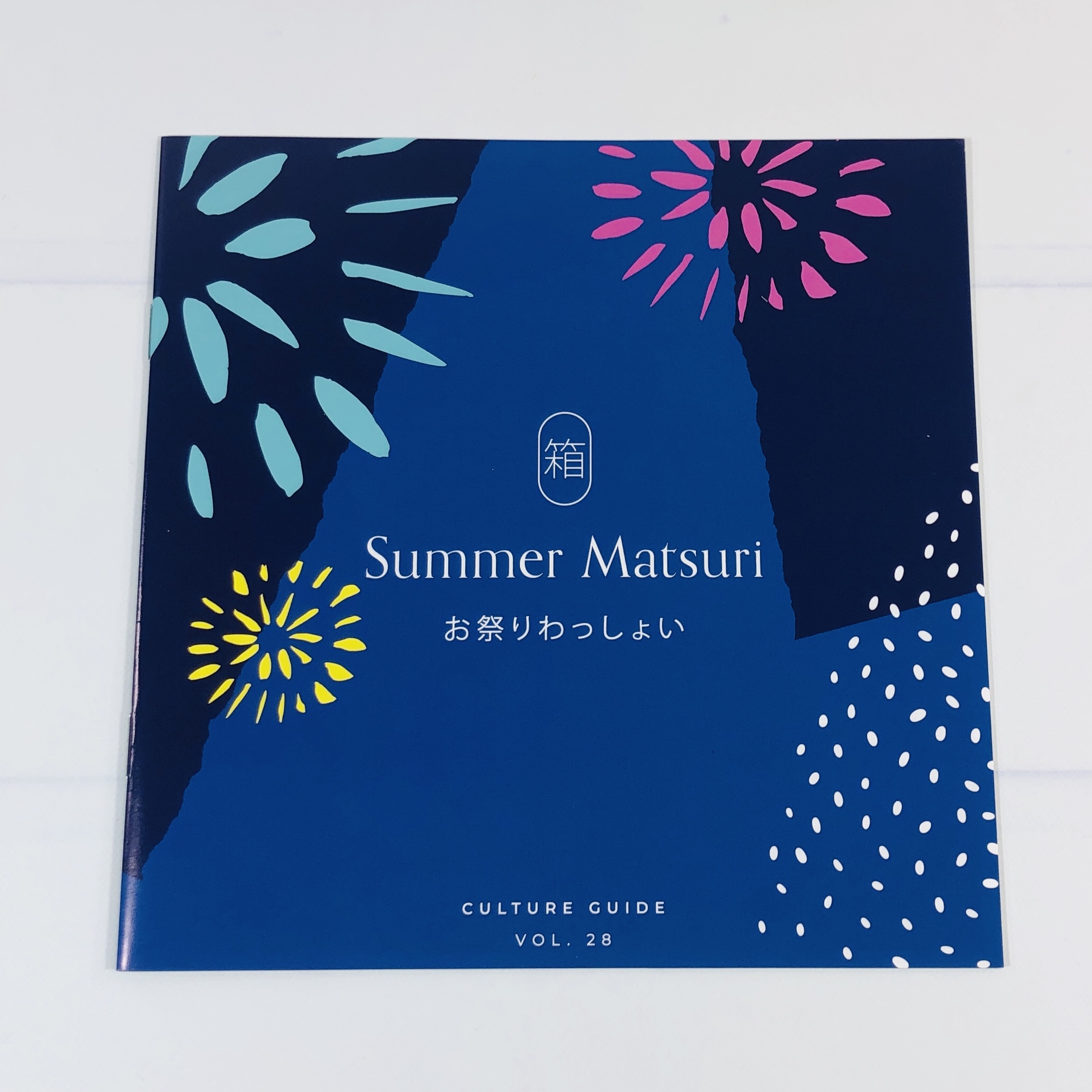 Bokksu provides a beautiful full-color info guide in every box.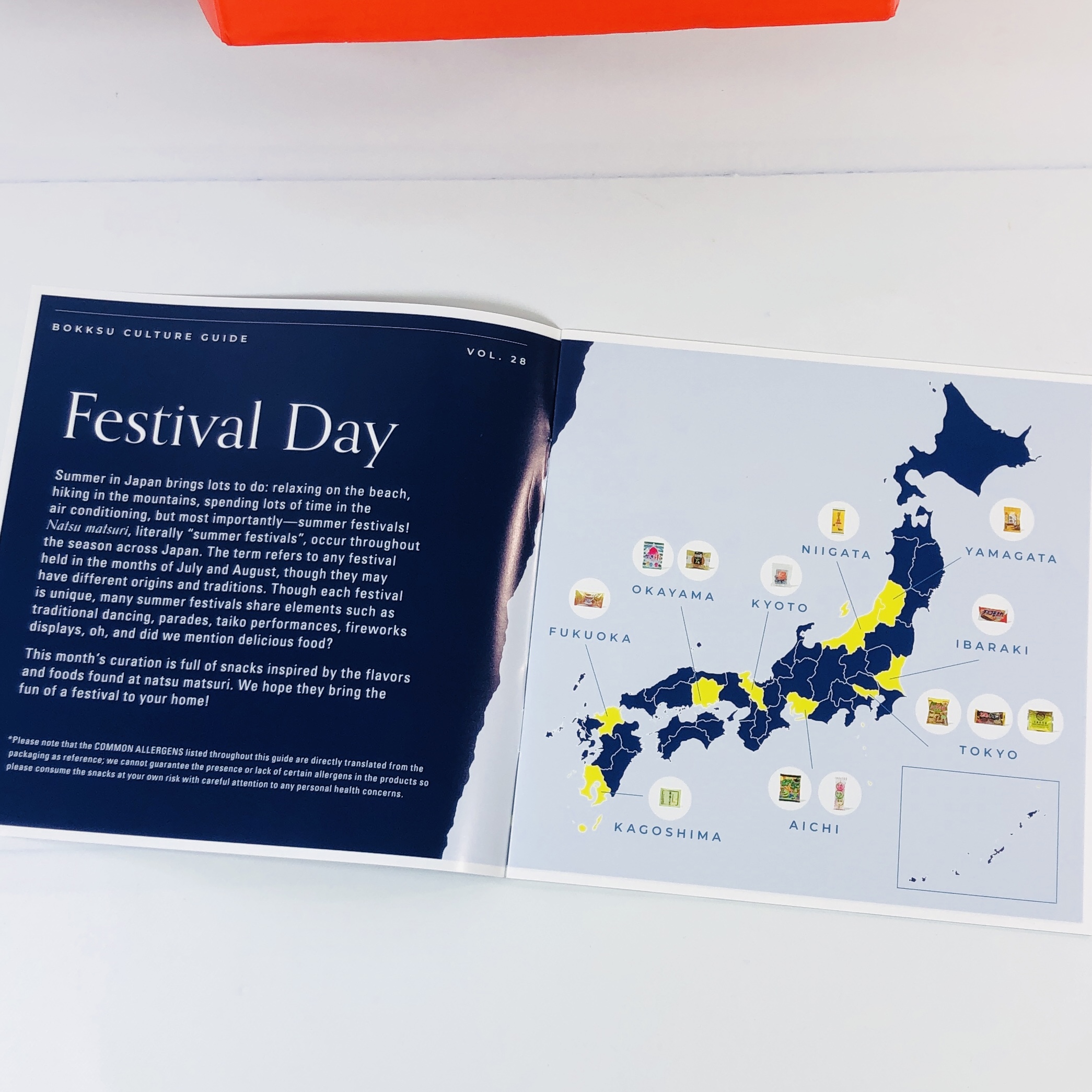 August's theme is Summer Matsuri! There's a map showing where in Japan each snack originated.
Here are a few words in Japanese.
There is a picture and description of all of the snacks. You will find the brand name, common allergens, and a description.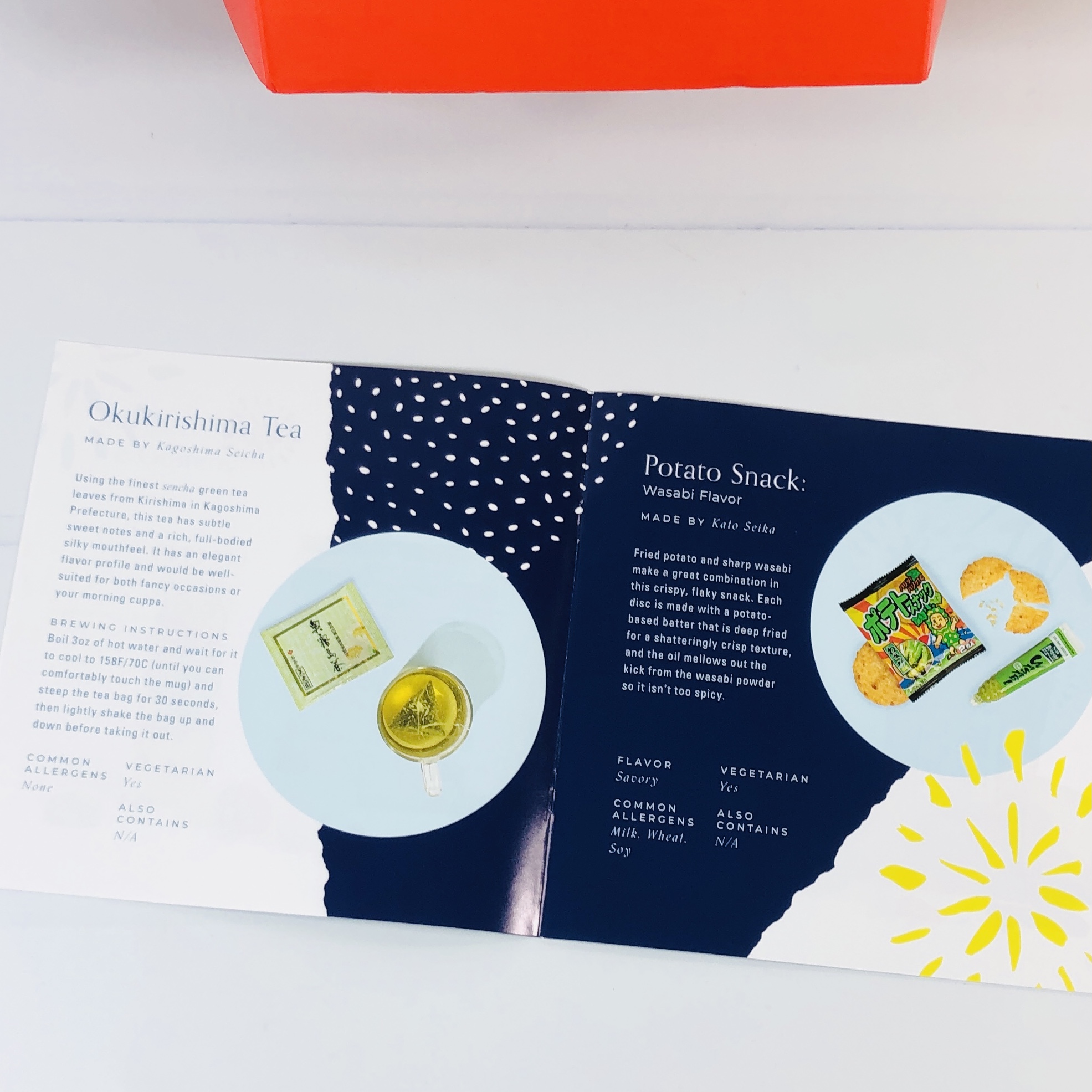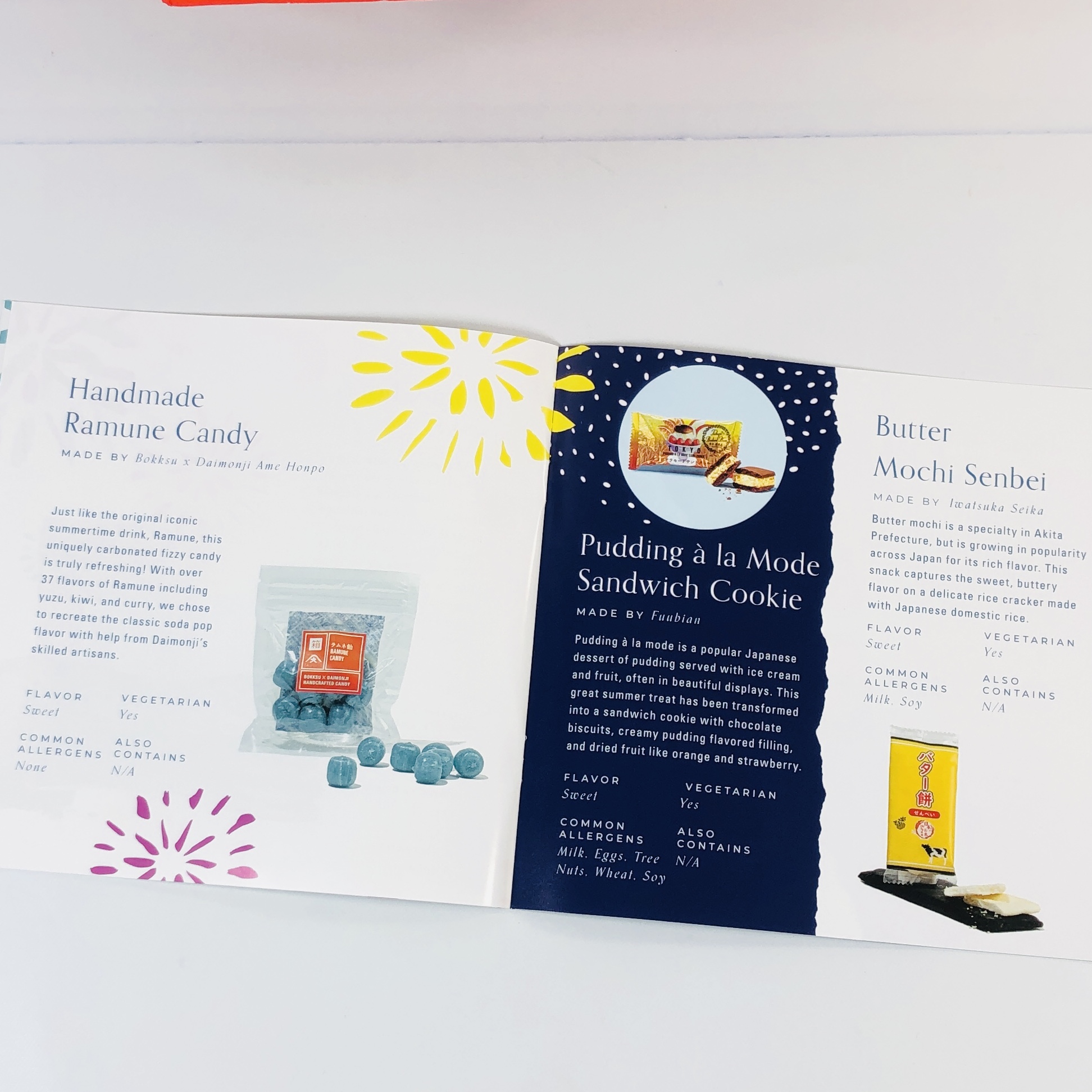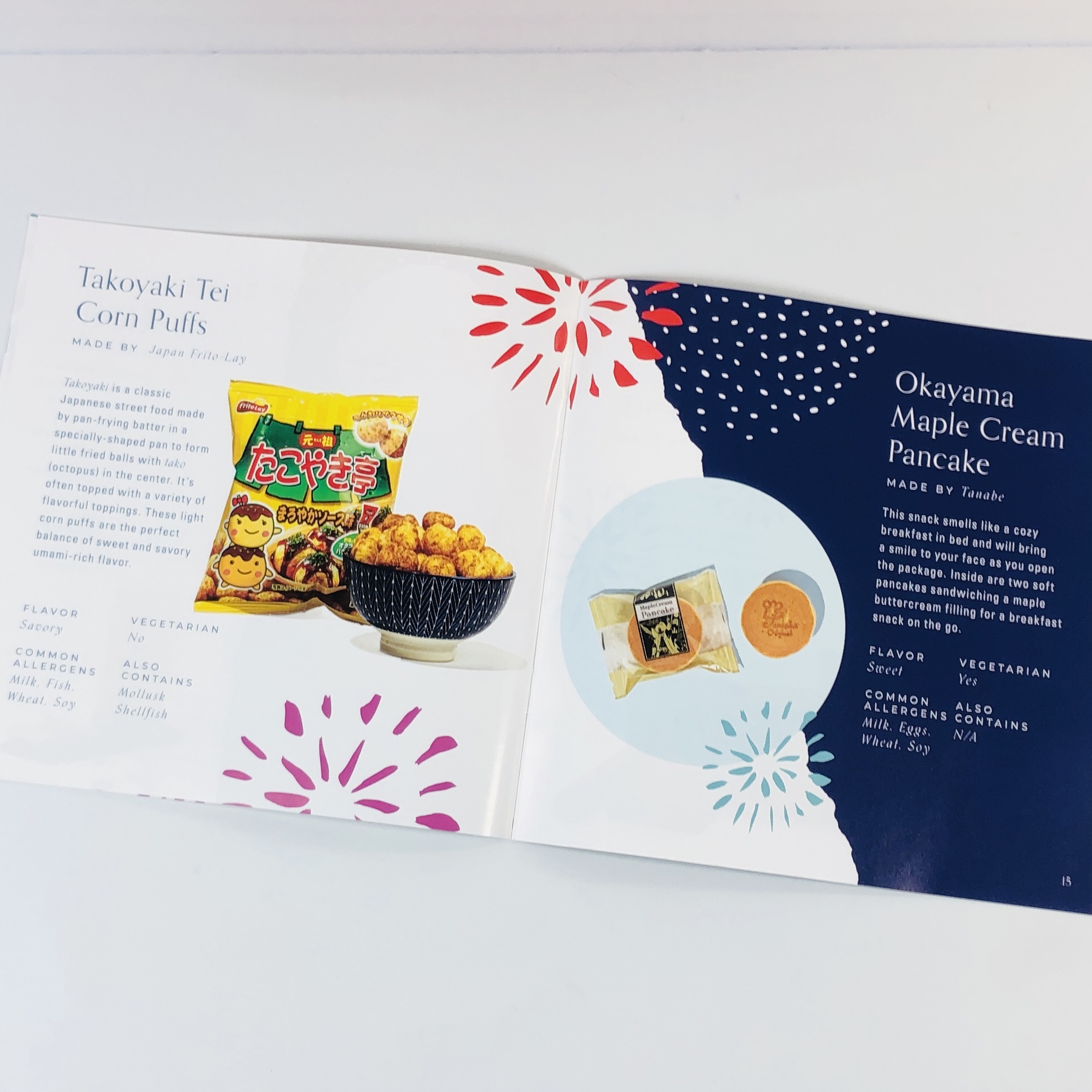 A few festival foods were described and don't they look scrumptious?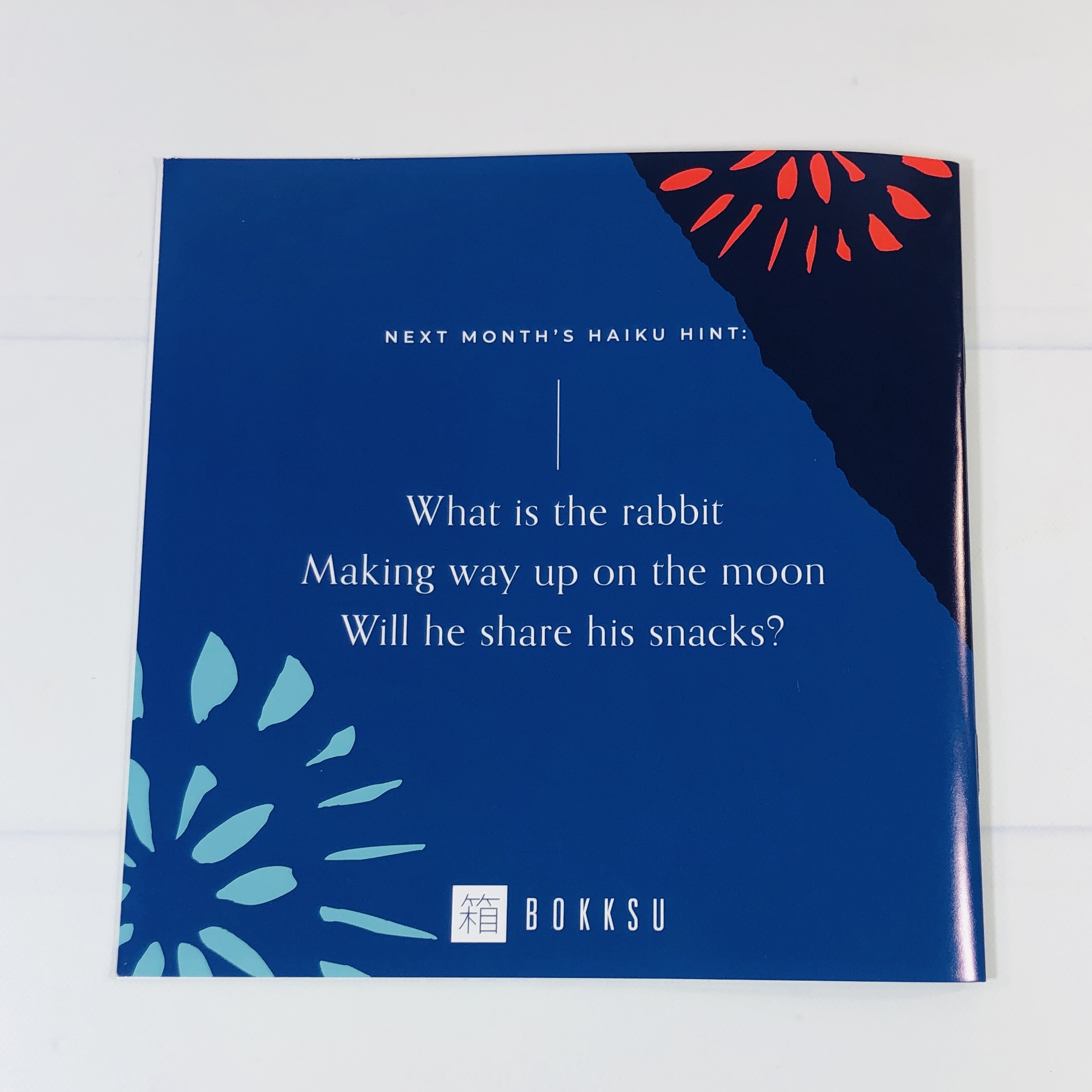 The back of the mag had a glimpse at the next box theme!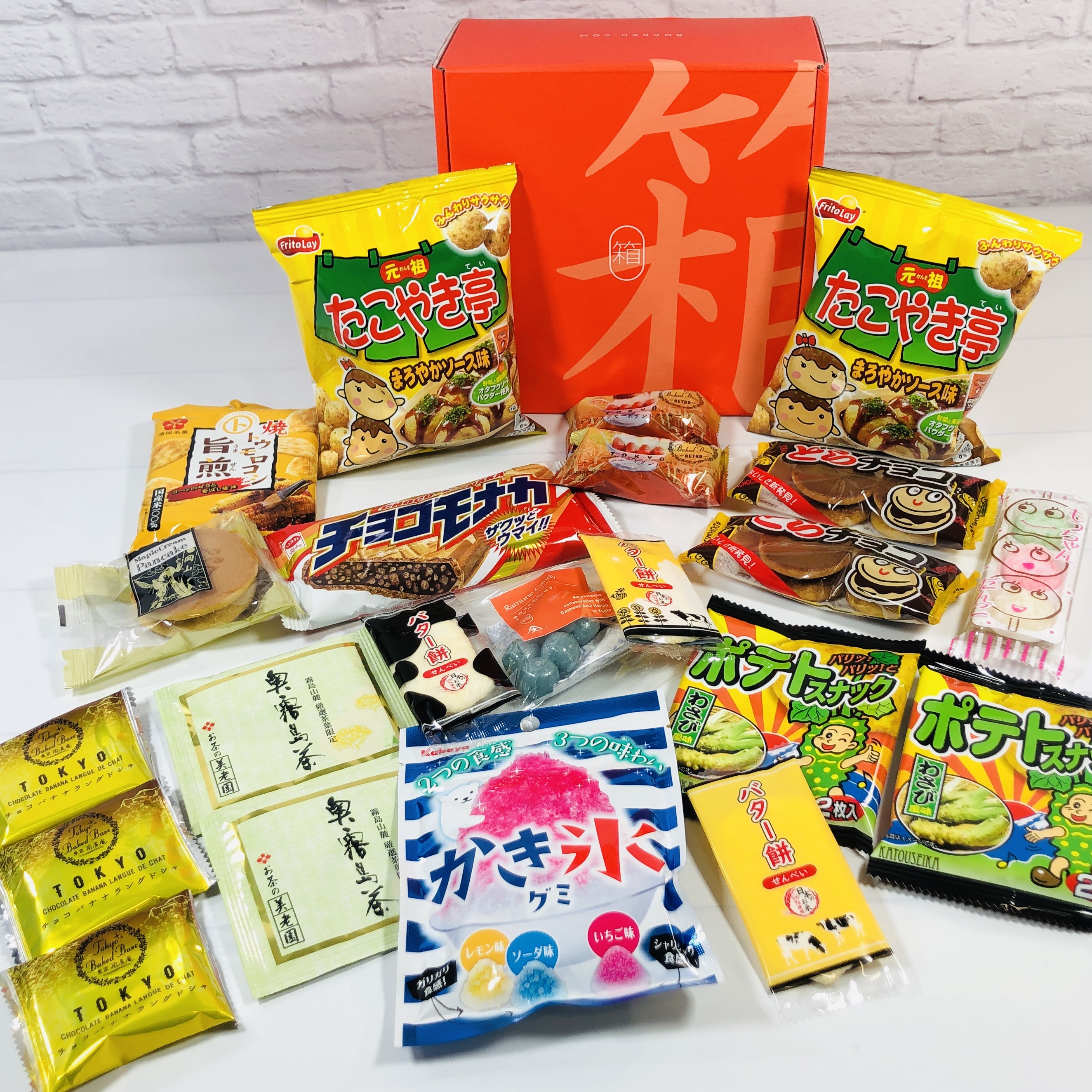 Everything in the August 2021 Classic Bokksu!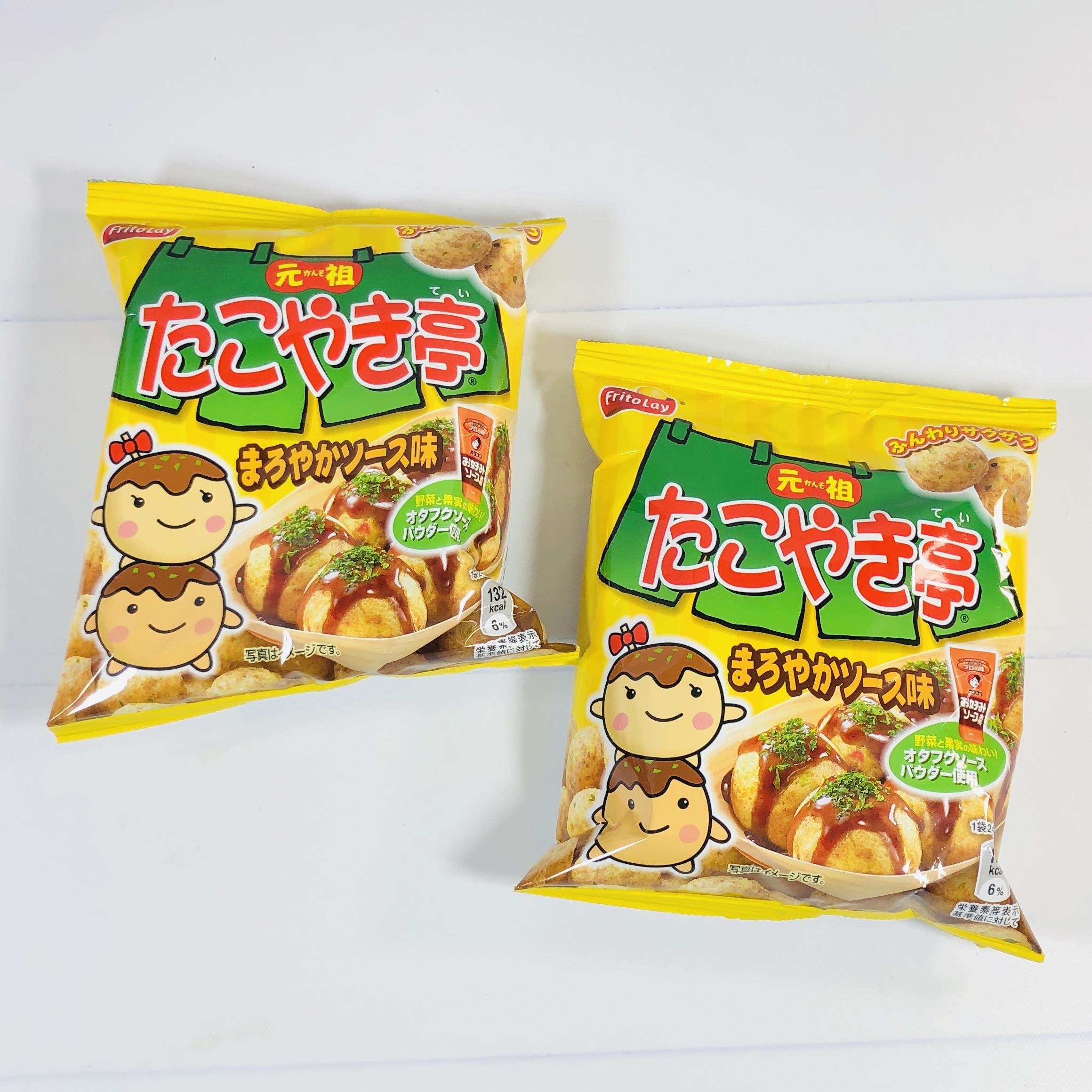 Takoyaki Tei Corn Puffs These are similar in texture to puffy cheese balls but the flavor is so very different, and absolutely delicious! The flavor is a combo of sweet, salty, and umami and I detected a hint of curry powder. I don't think they taste like seafood at all, but they are made with "mollusk shellfish" and in Japan takoyaki is typically made with octopus.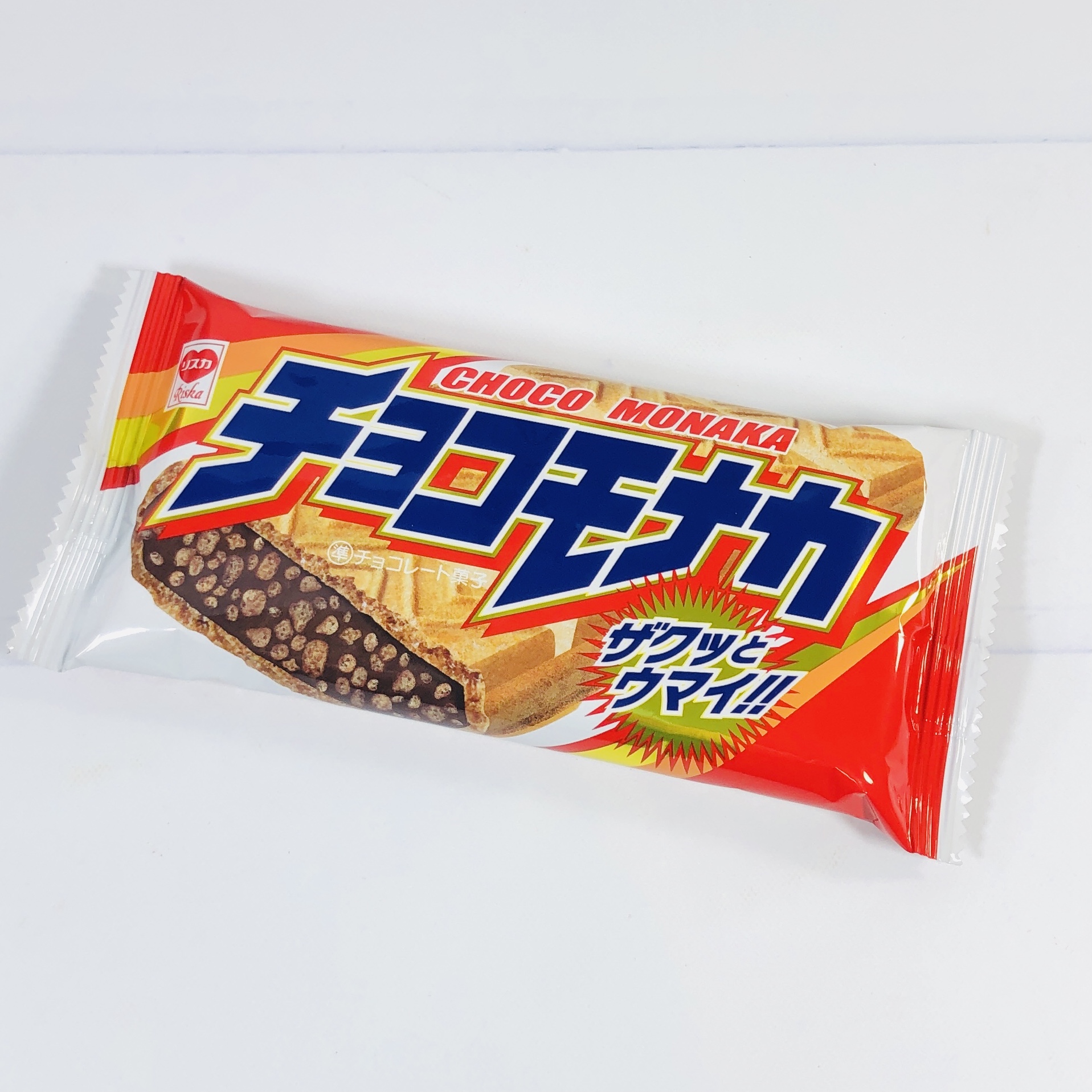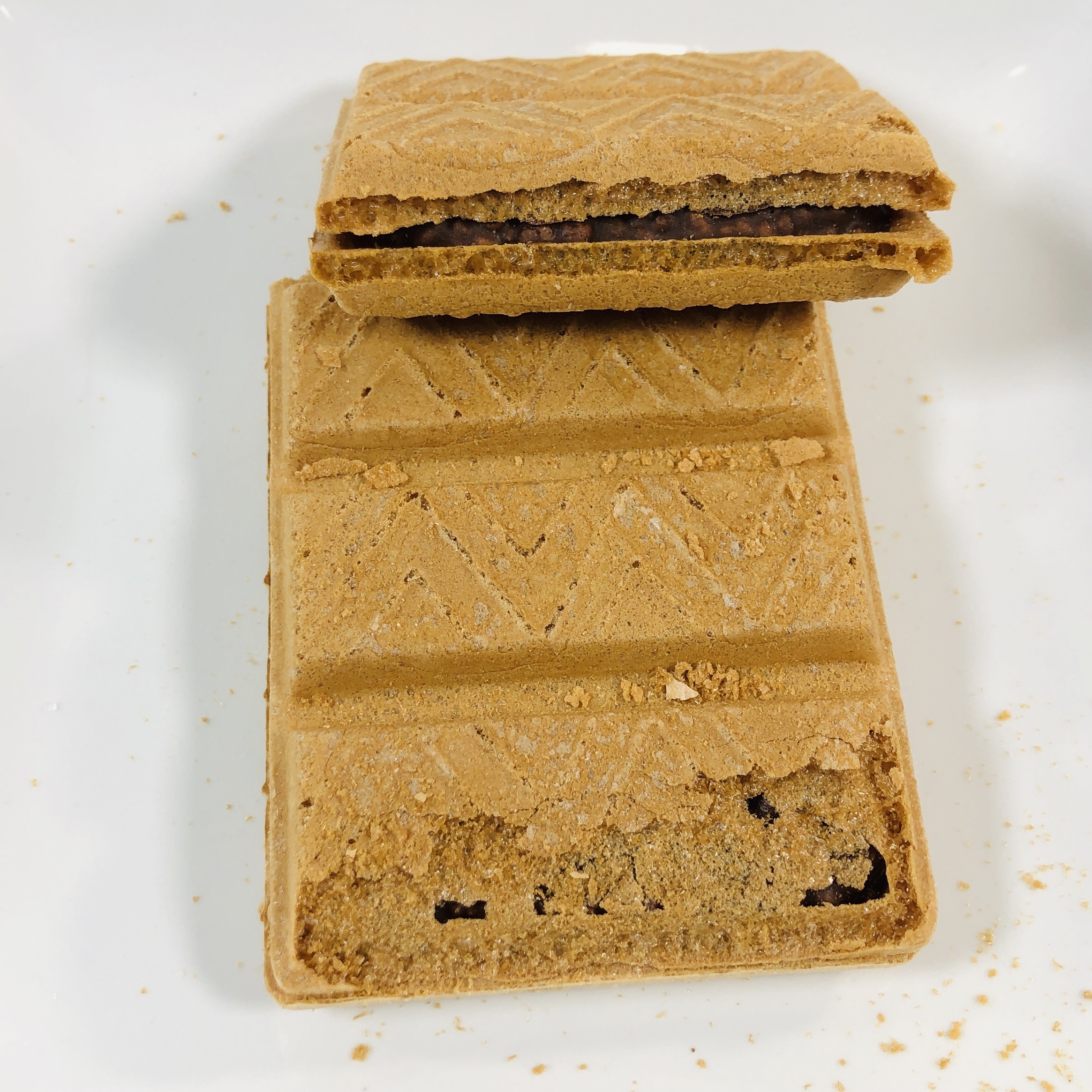 Choco Monaka features two different sources of crunchiness. The first is the wafer on the outside, then the inside has chocolate covered crispy rice! The chocolate had a hint of mocha to my taste buds.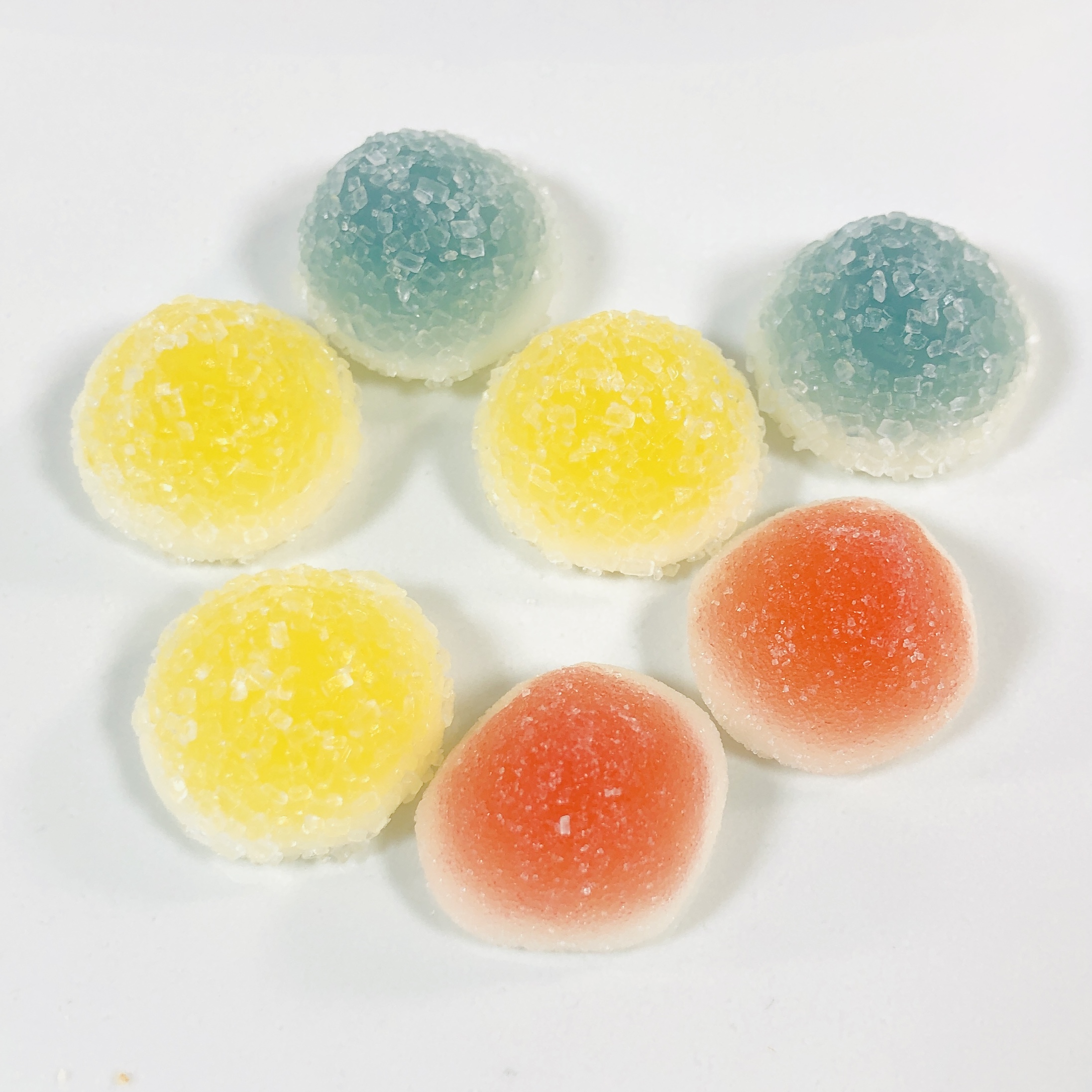 Kakigori Shaved Iced Gummy There were three different flavors in this gummy snack. Red is strawberry flavored (but it didn't really taste that way), yellow is lemon, and blue is blue soda. The sugar on the outside is different for each one, some of it is chunkier than others.
Handmade Ramune Candy I think the experience of eating this candy is a treat for sure. First of all, the shape is supposed to remind one of the marble that is in the top of a jar of ramune soda. Next, the flavor is spot on, it tastes just like the lemon-lime soda it's named for. Finally, it fizzes while you eat it, but not in a foaming at the mouth kind of way.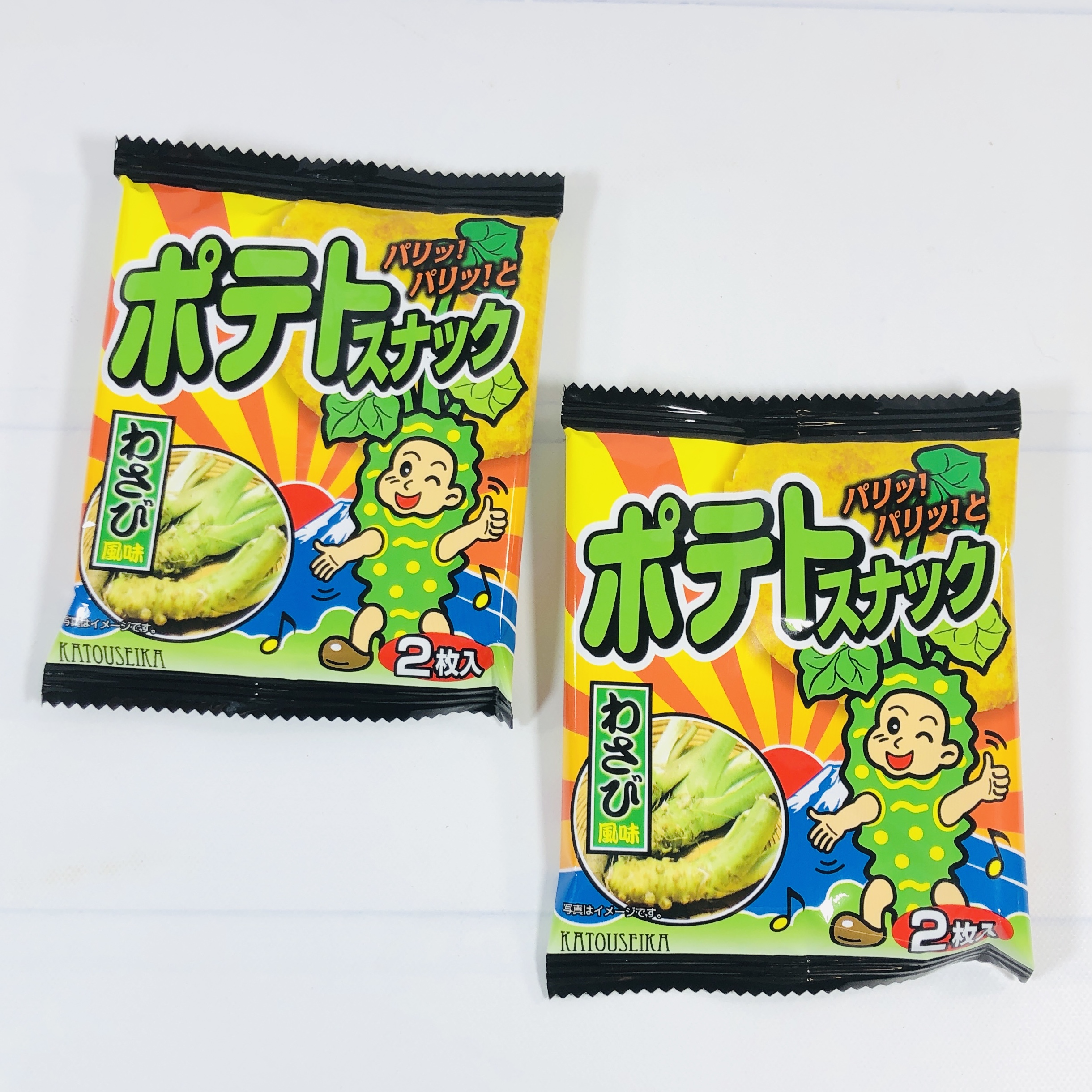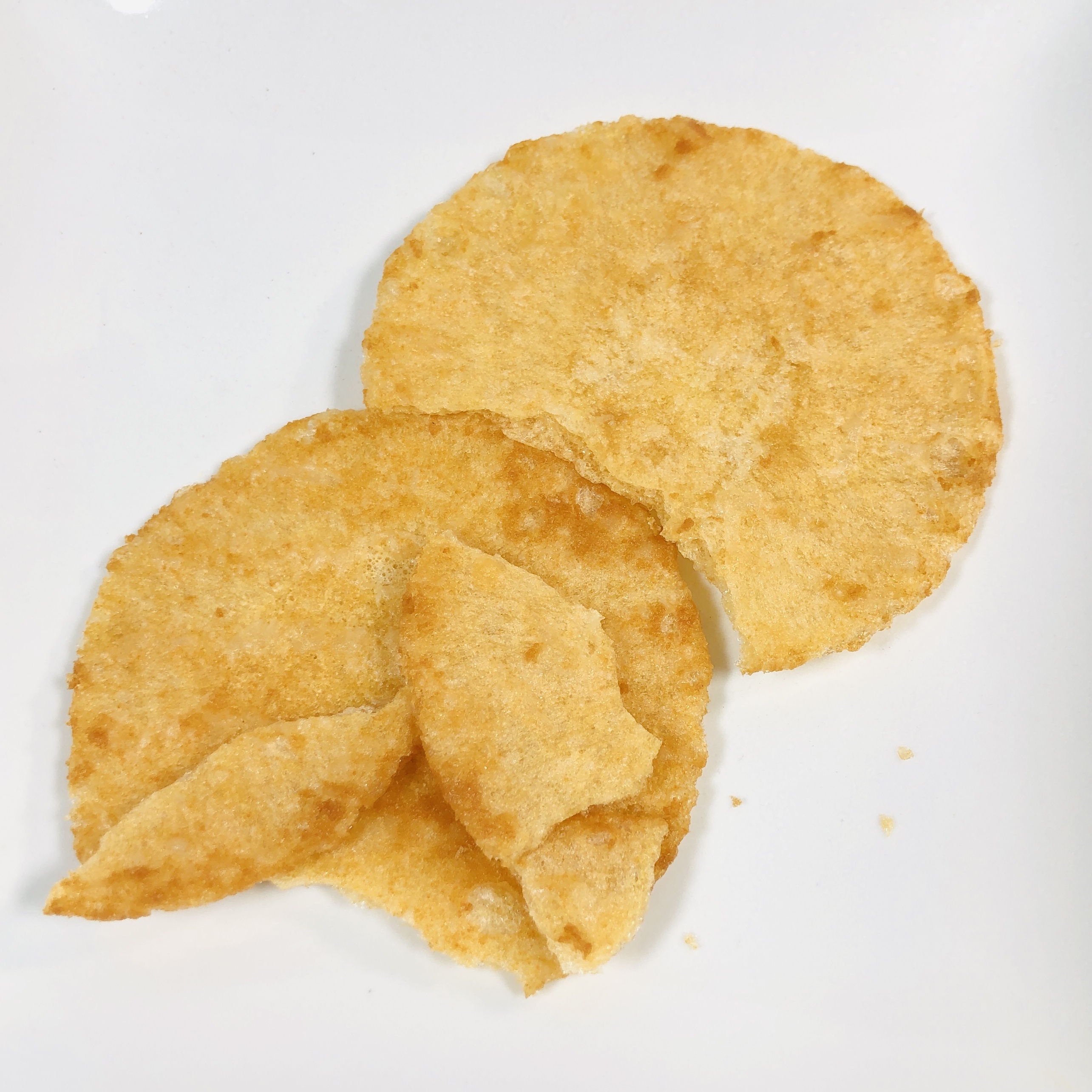 Potato Snack: Wasabi Flavor Sometimes I just open a snack and try it and guess what it's going to taste like based on the picture, but I had no idea what vegetable the child was dressed as (see package above). The texture of these crackers (there were two in each bag) was so cool, Bokksu describes them as "shatteringly crisp" and that is spot on. I detected something sweet and umami, like that dip that's served with tempura, and then I was hit with a wham of wasabi (which I thought was horseradish at first) and just as quickly the heat dissipated, my brain didn't wrinkle like when I eat California rolls with that pungent dip. One of my most favorite Bokksu snacks ever!
Okukirishima Tea As soon as I opened this tea I detected the telltale scent of sencha tea, which smells (and tastes) like sweet spinach to me, it's rather vegetal. It was fuller in body, closer to a black tea than green in that aspect, and I used 4 ounces of water instead of 3 so just imagine. I may have used water that was a bit too hot so there was some bitter tannins but I was still able to drink it without sugar.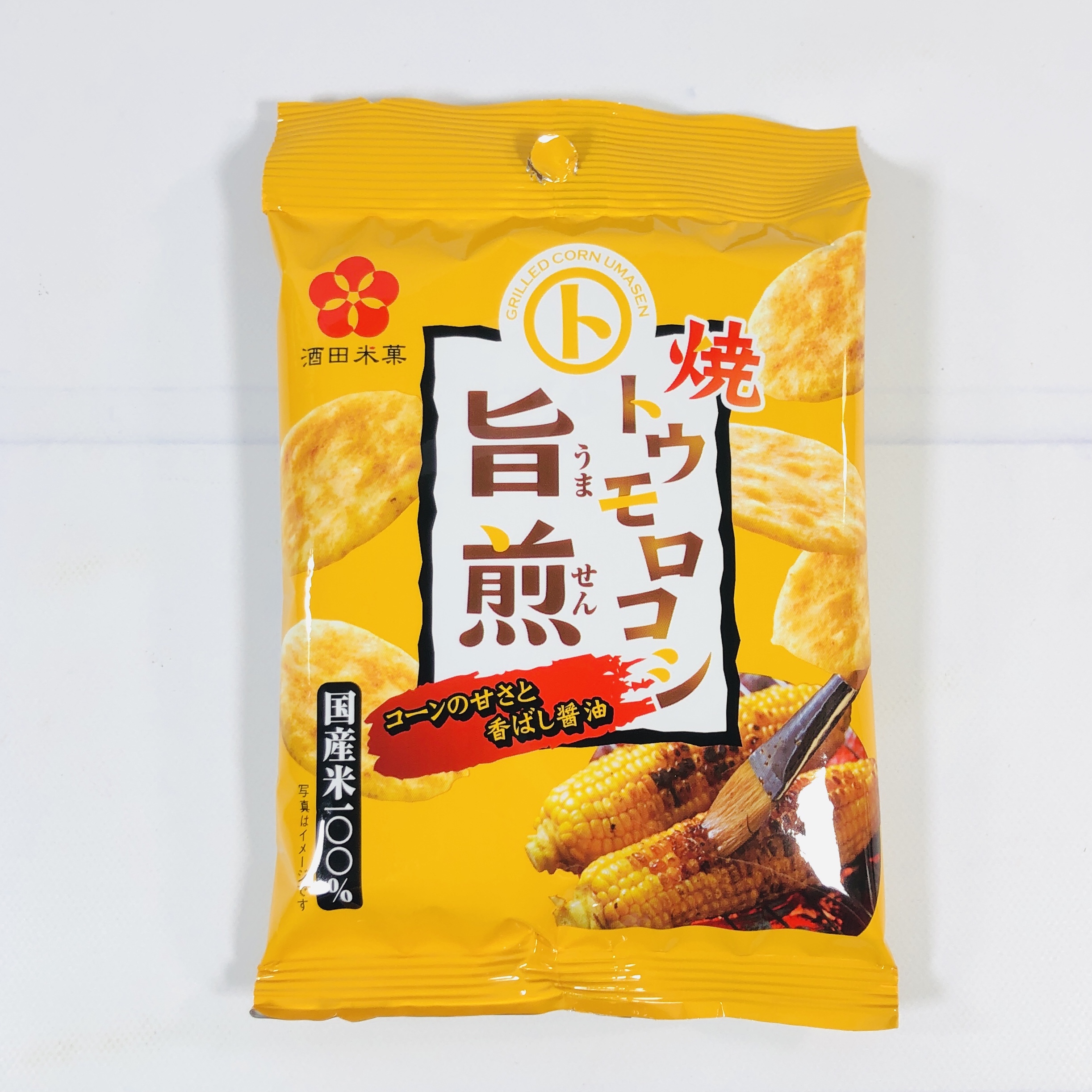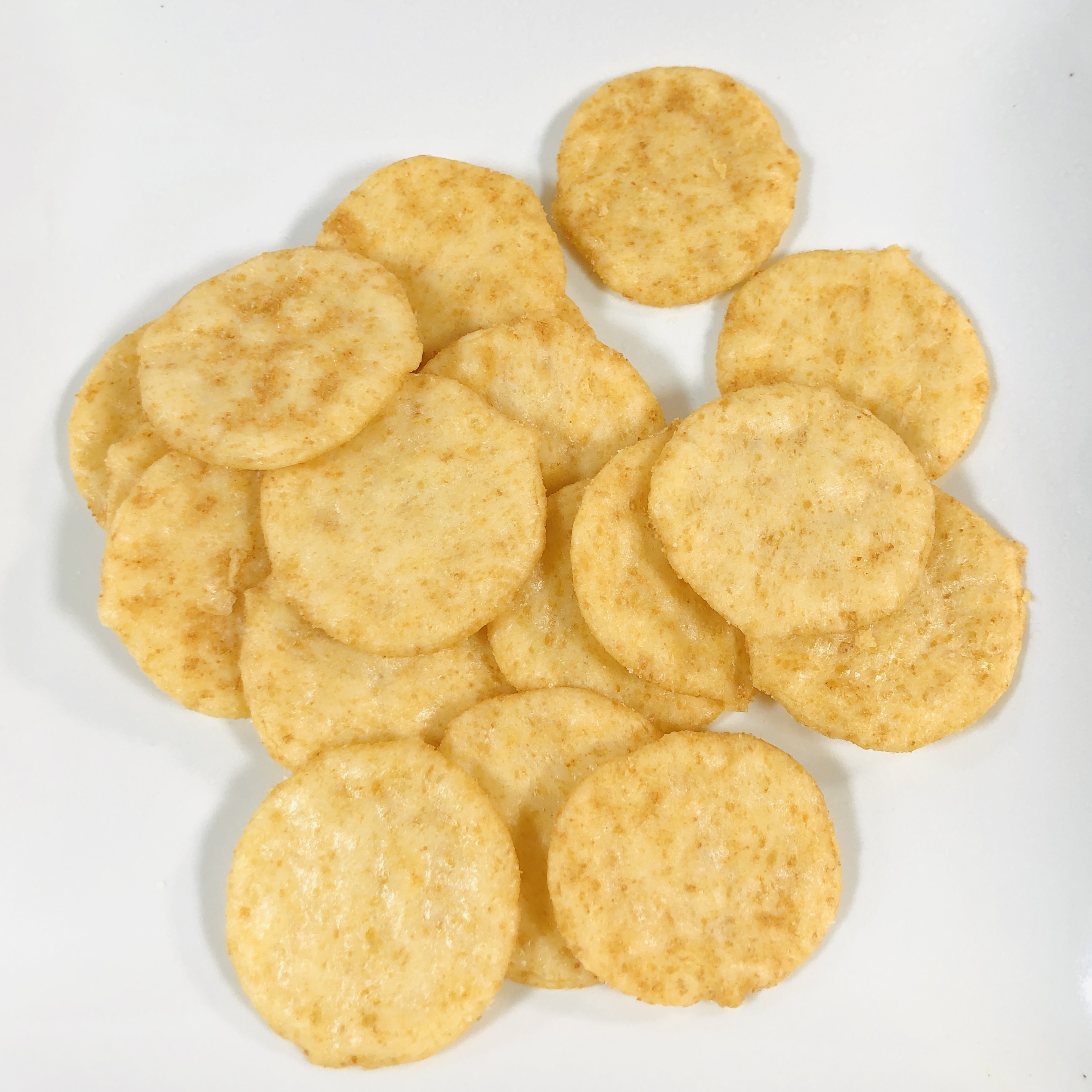 Grilled Corn Uma Sen Rice Cracker Senbei are one of my favorite snacks, they have a great texture and snappy crunch. These are flavored with grilled corn and soy sauce, so it's sweet and salty and super tasty.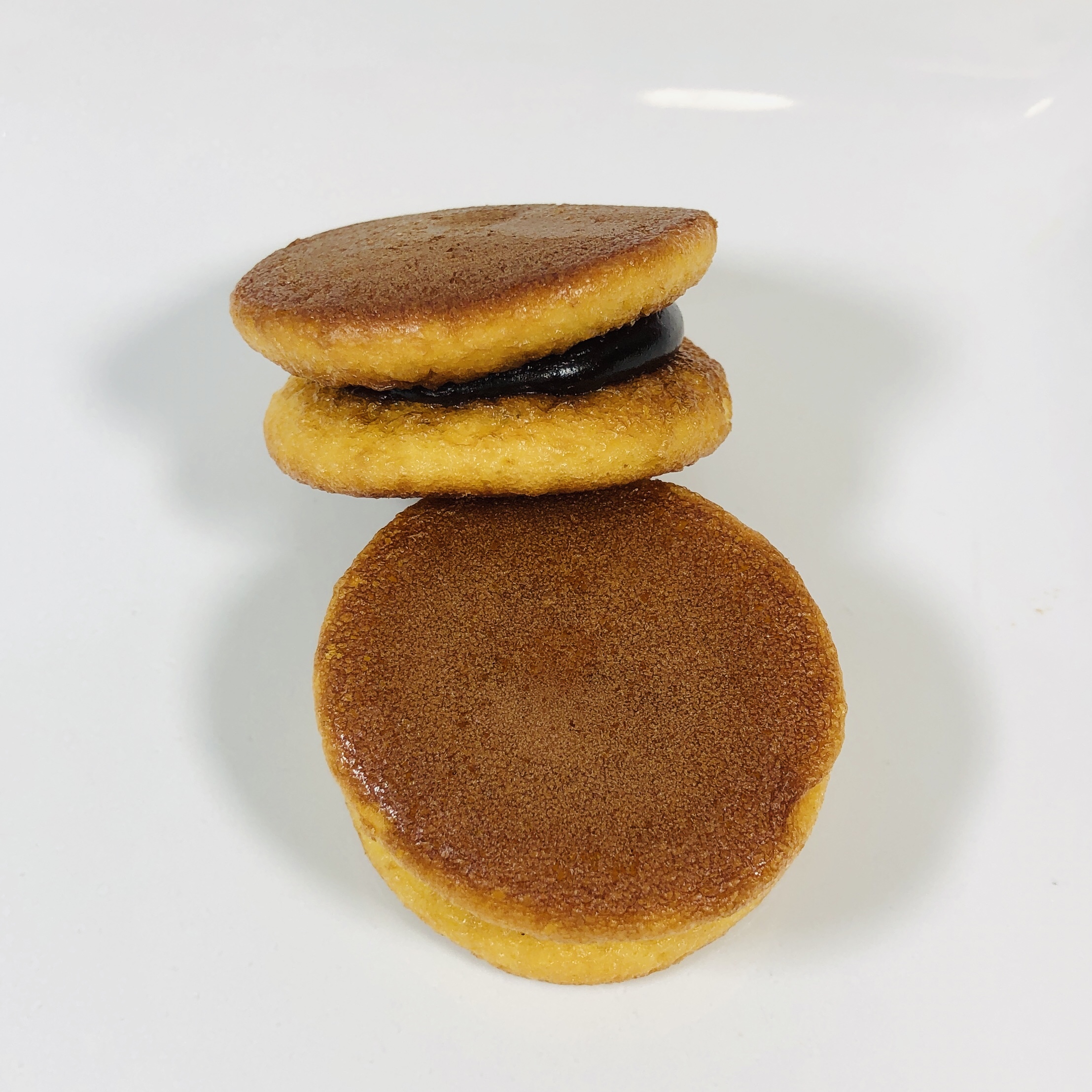 Dora Choco Here's the first of two pancake snacks this month! The pancakes are a lightly sweet cake/cookie and are soft as pillows while the filling in between is fudgy and rich, like the ice cream topping.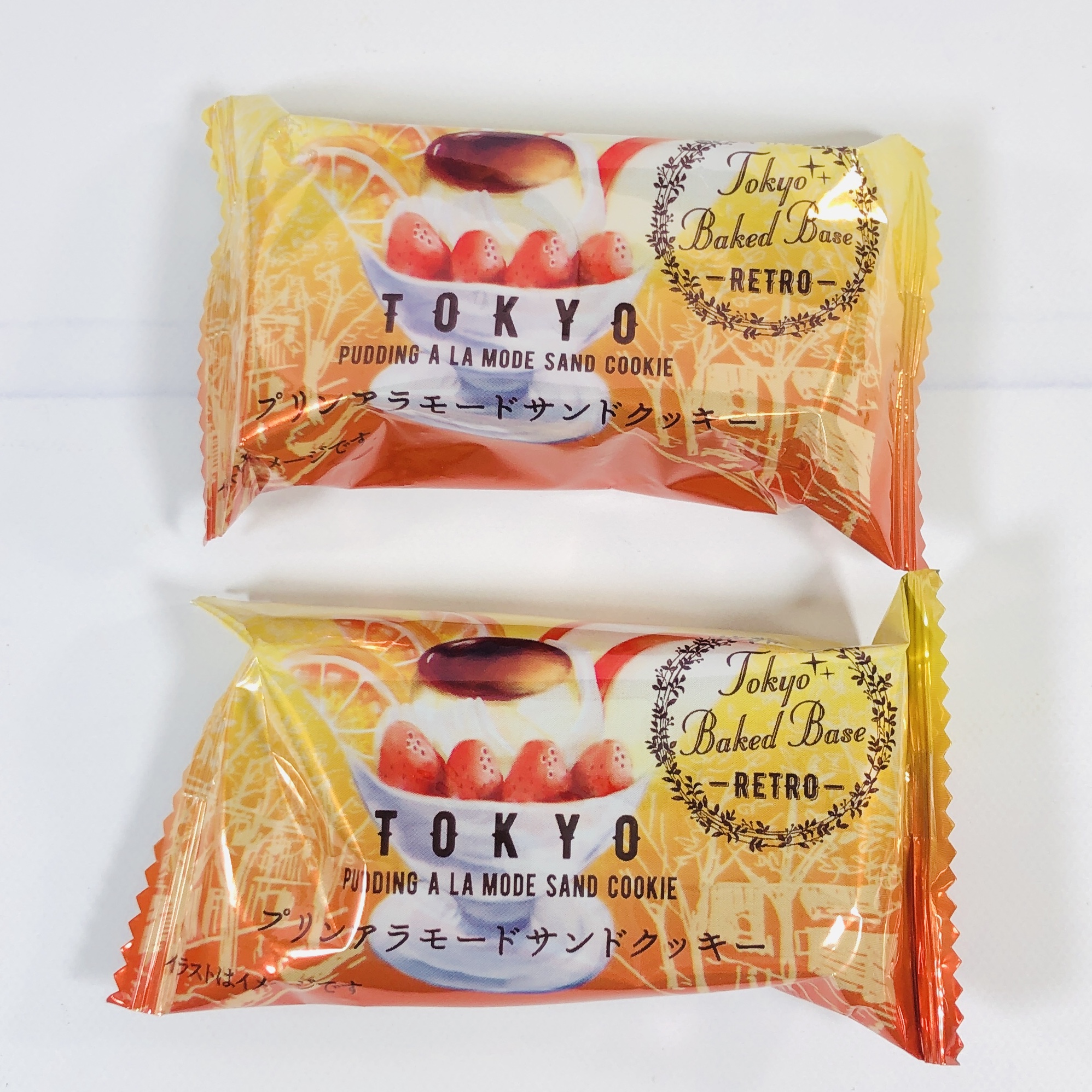 Tokyo Pudding A La Mode Sandwich Cookie looks like a mini ice cream sandwich but tastes even better than that. The outside is a chocolate cookie that isn't very strongly flavored, but the middle has a creamy filling that tastes like vanilla pudding and is supposed to have a hint of orange and strawberry. I didn't detect that either, but I did notice some crunchy pieces in there that are possibly corn flakes?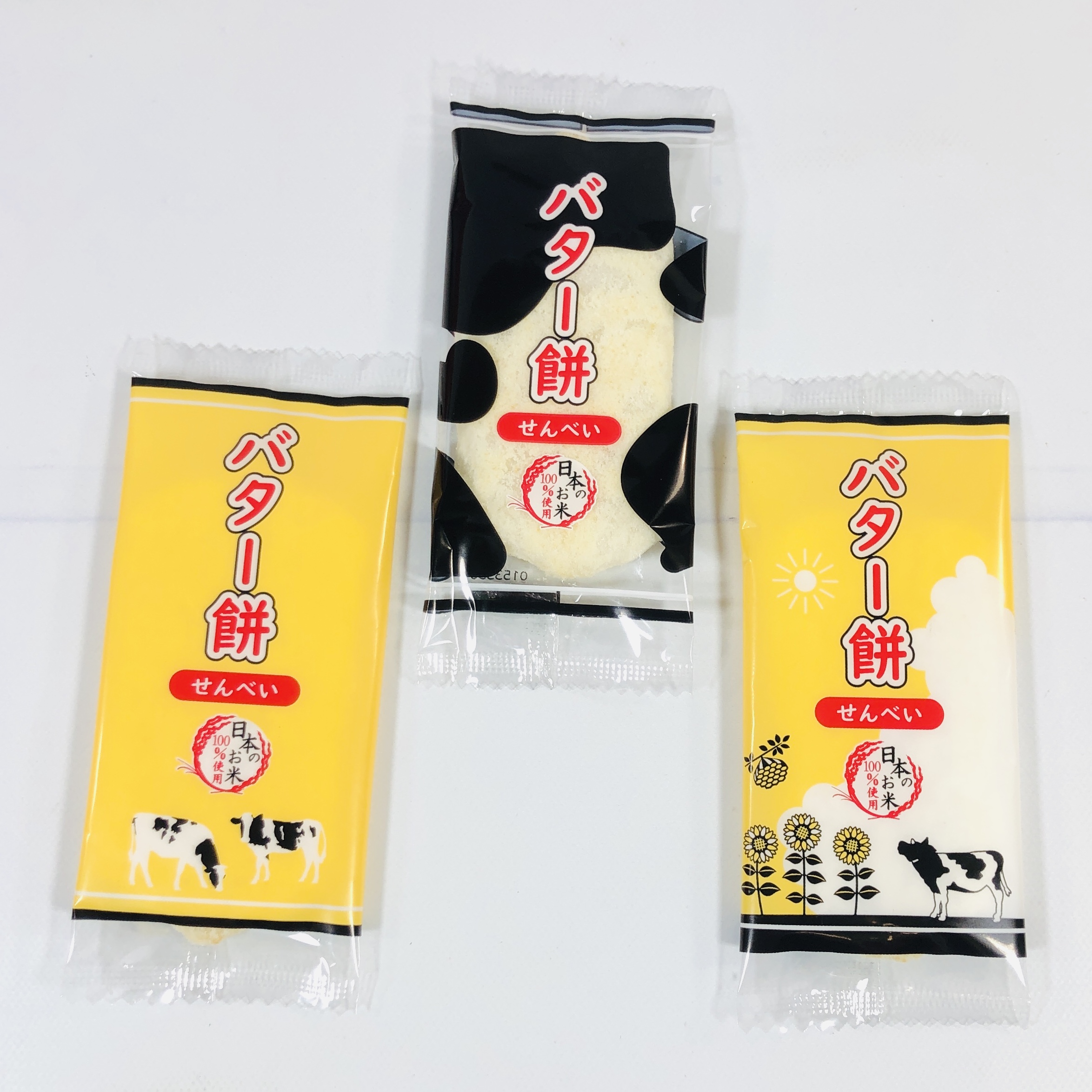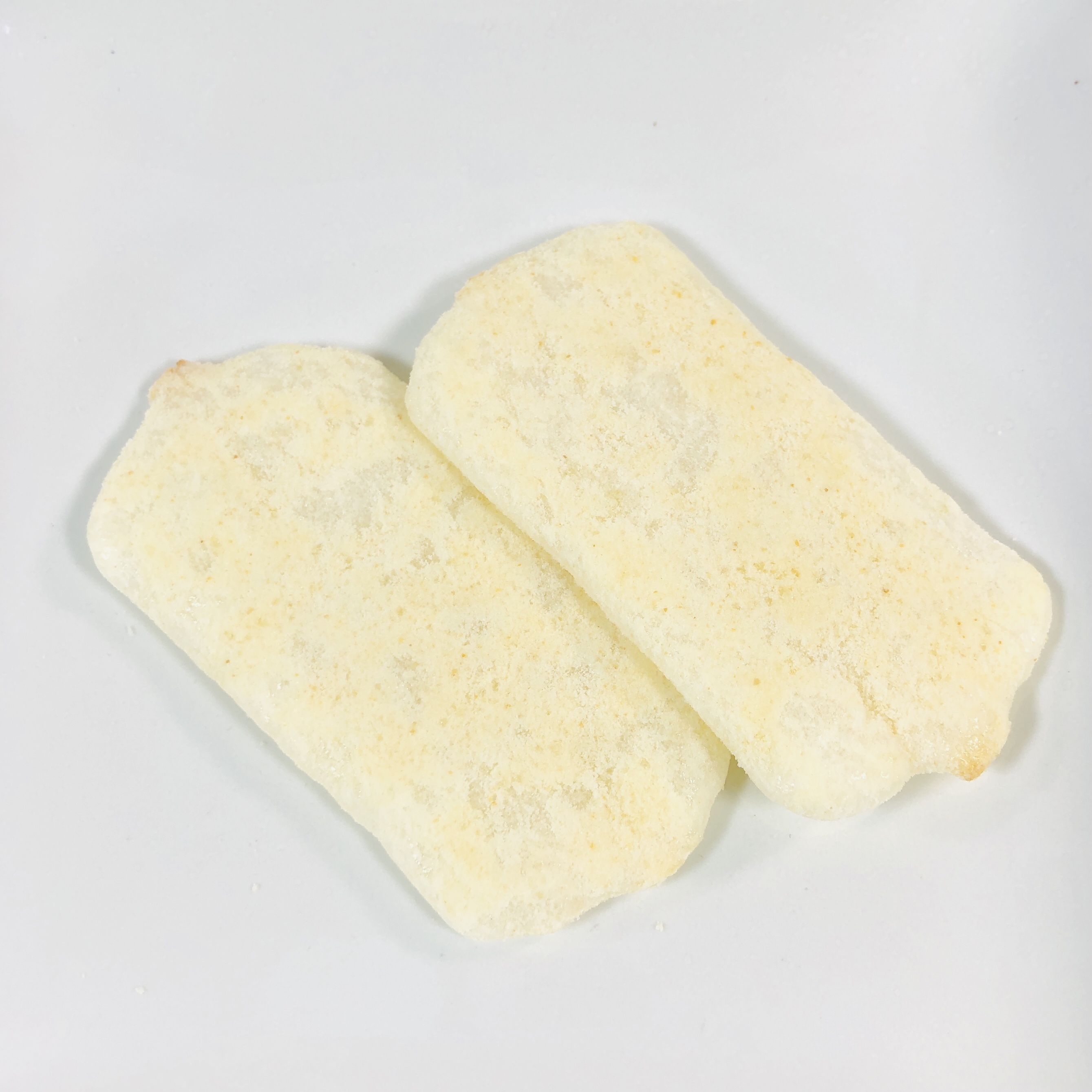 Butter Mochi Senbei was an unusual snack. The texture reminded me of a wafer ice cream cone and the coating tasted like creamy vanilla.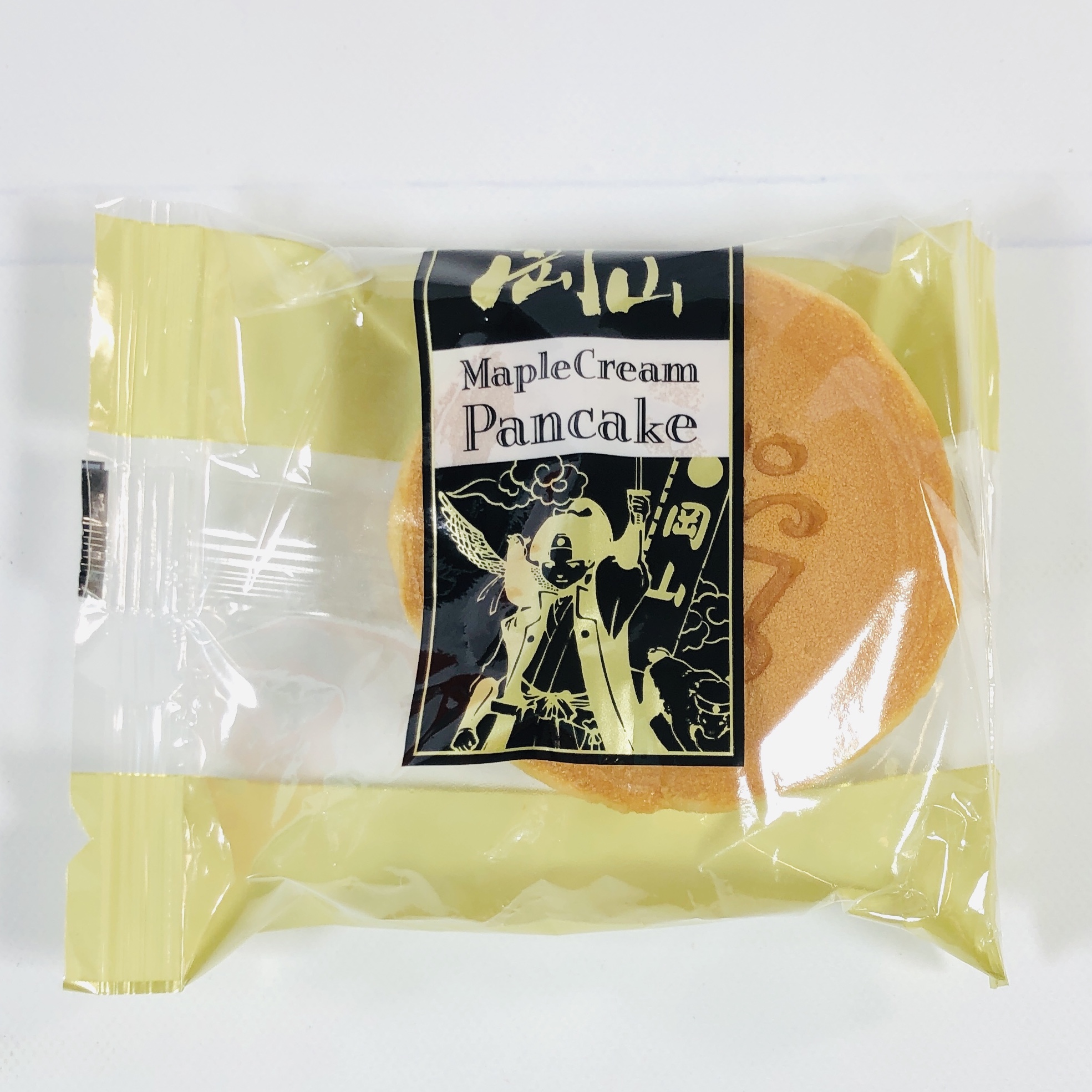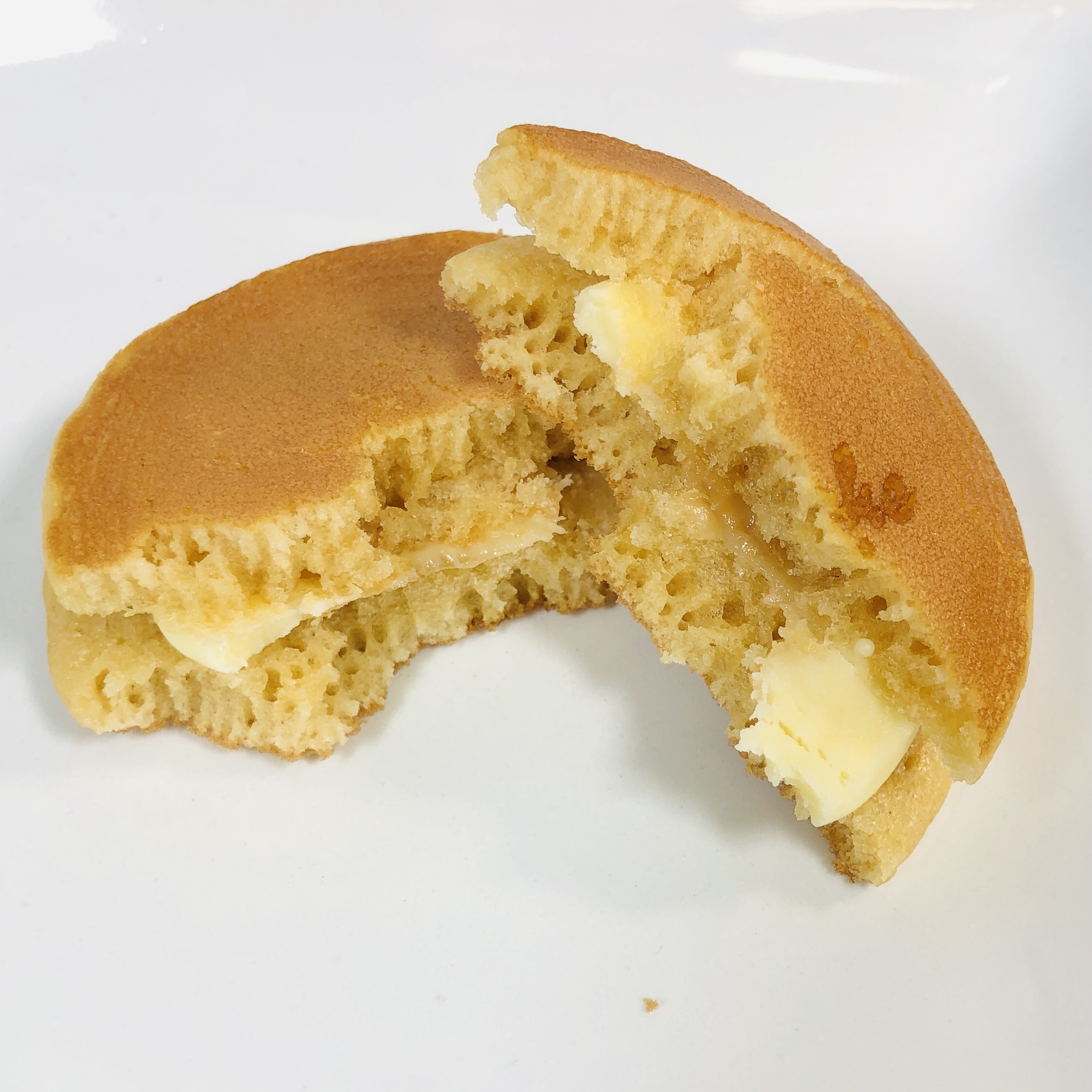 Okayama Maple Cream Pancake There were two pancake snacks this month! On the outside are two soft and fluffy pancakes and the middle is filled with a maple-flavored cream. Yum!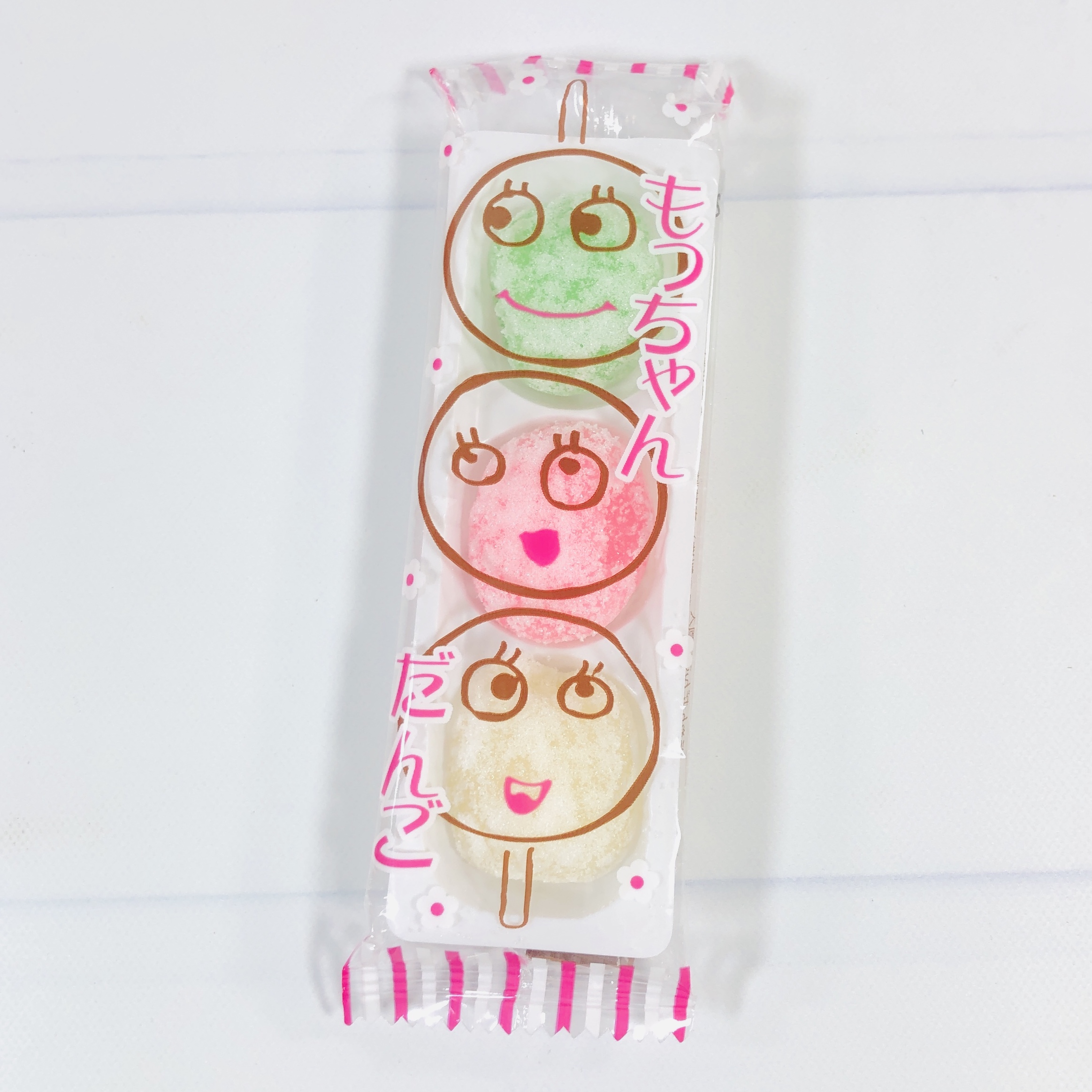 Mocchan Dango Mochi I think the packaging for this mochi is so sweet, the mochi colors determine the face colors on the wrapper! The sugar crystals on the outside of these treats is unlike any I've ever tried — it's crystalized, but there's not much crunch and yet it's not a powder either. I can't tell if there's a difference in flavor between the pink and white mochi, but the green one has a hint of melon. There's no filling, it's just chewy sweet mochi.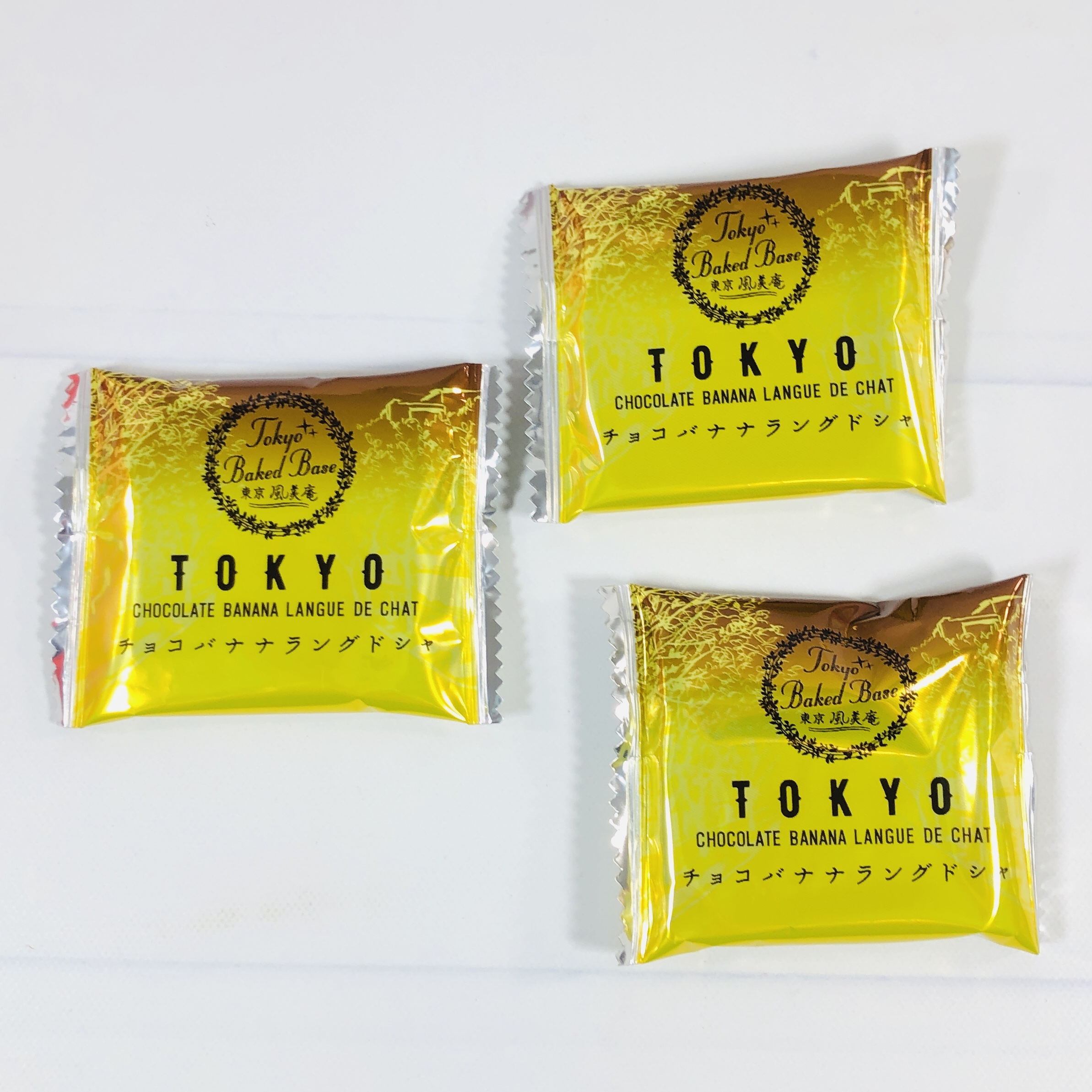 Chocolate Banana Langue De Chat Cookie Langue de chat literally means "cat's tongue" and usually would be shaped like a ladyfinger cookie, or like a Pepperidge Farm Milano. This is almost identical to the latter, with a crispy chocolate cookie on the outside and banana candy-flavored filling on the inside. I'm not a fan of banana candies and the filling is rather strong but if that's your thing you will probably love it.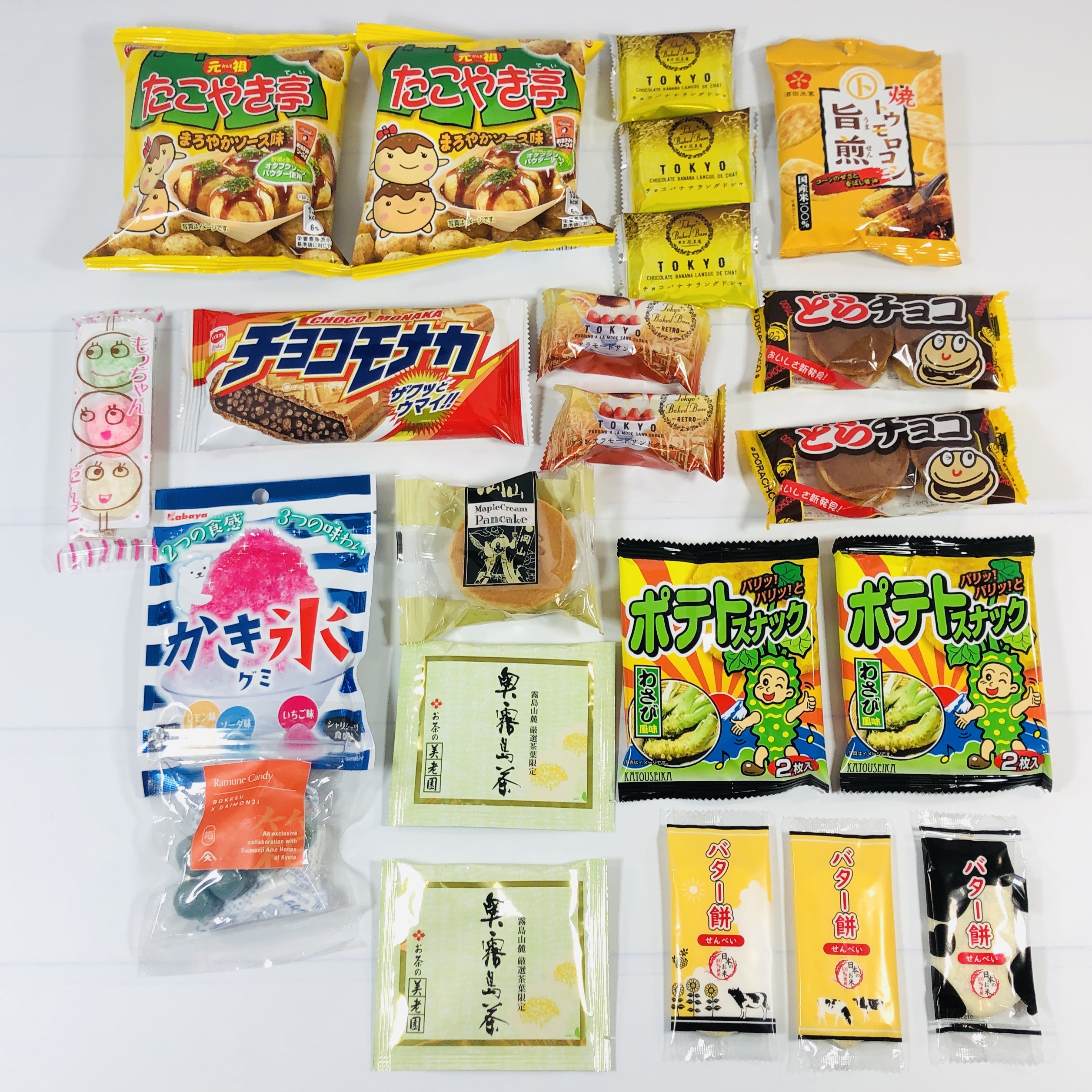 My Summer Matsuri box from Bokksu was a fun one! There were several snacks that I truly enjoyed in here, like the ramune candies, the wasabi potato snacks, and the pudding sandwich cookie. I also appreciate that there are multiples — I tried every snack, but then I was also able to send some to my daughter, who just moved away to college and who loves this box even more than I do! The booklet was helpful and I think it's great that they describe every snack too.
What's your favorite snack from this month's box?