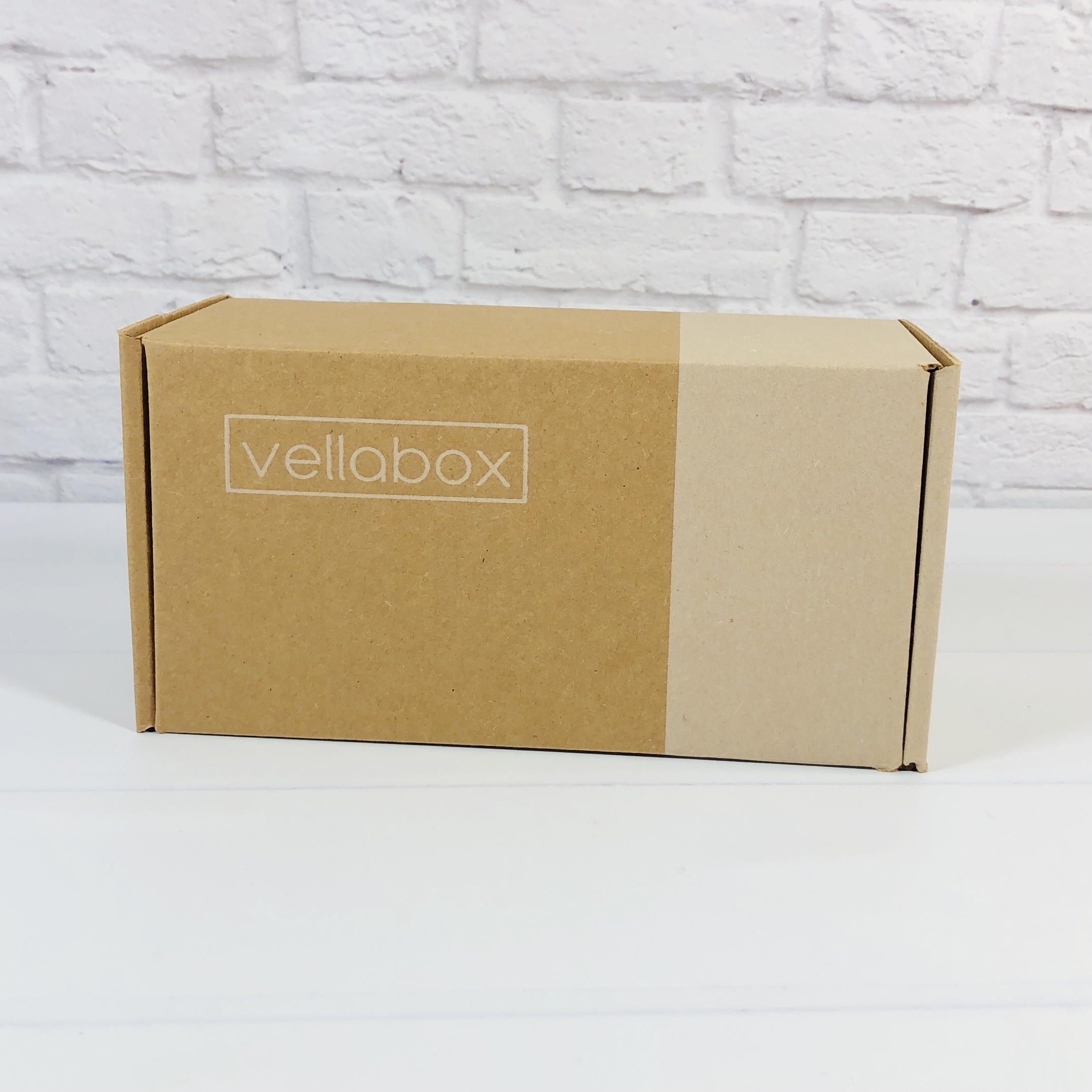 Vellabox is a monthly natural candle subscription box. The candles are always in seasonally inspired scents and are created by the finest American artisans. Each box features a different candle brand. The candles are from small businesses and are made of all-natural wax, cotton braided wicks, and premium fragrance oils. Vellabox also includes a surprise lifestyle gift in every box.
Our Vellabox Candle Curator handpicks the candles and guarantees that they are always all-natural, seasonally relevant and bound to bring warmth and joy to any space. The surprise gift in your box each month is chosen carefully to align with our team's health-centric values.
The Vellabox candle subscription box made the list in our 2021 readers' choice picks of best home and decor subscription boxes and as a favorite affordable subscription!
DEAL: Save 50% on your first box! Use coupon code HELLOSUB50.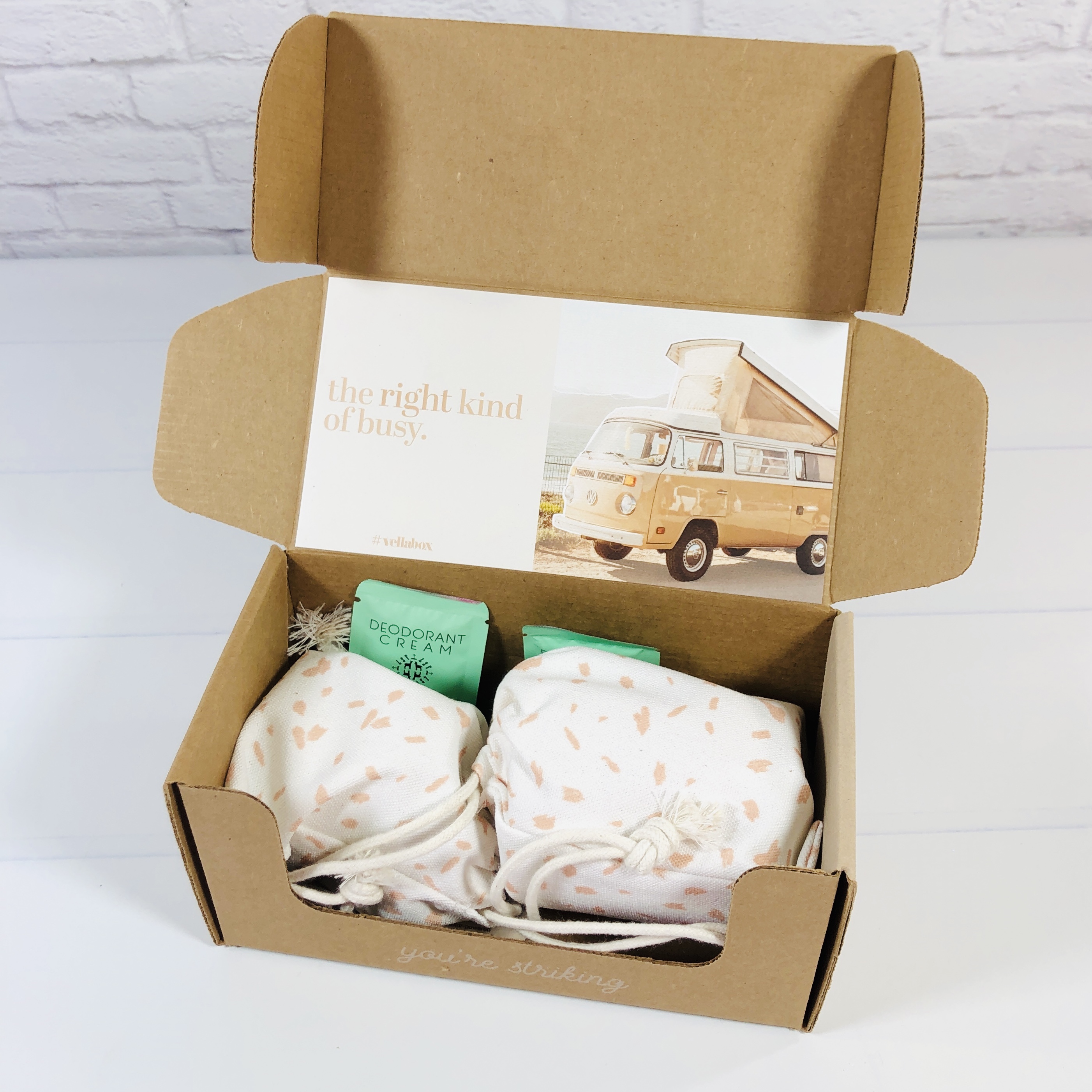 The first thing you need to do is decide which level you prefer. You can choose from The Lucerna Box ($10) which includes a 4 oz candle monthly, The Ignis Box ($20) with an 8 oz candle monthly, and The Vivere Box ($30) with an 8oz + a 4 oz candle monthly. Each level receives the bonus lifestyle gift. Shipping is $3 per month for Lucerna and Ignis to the US, and free for Vivere. Vellabox now ships to Canada for $8 per box. I am reviewing The Vivere Box.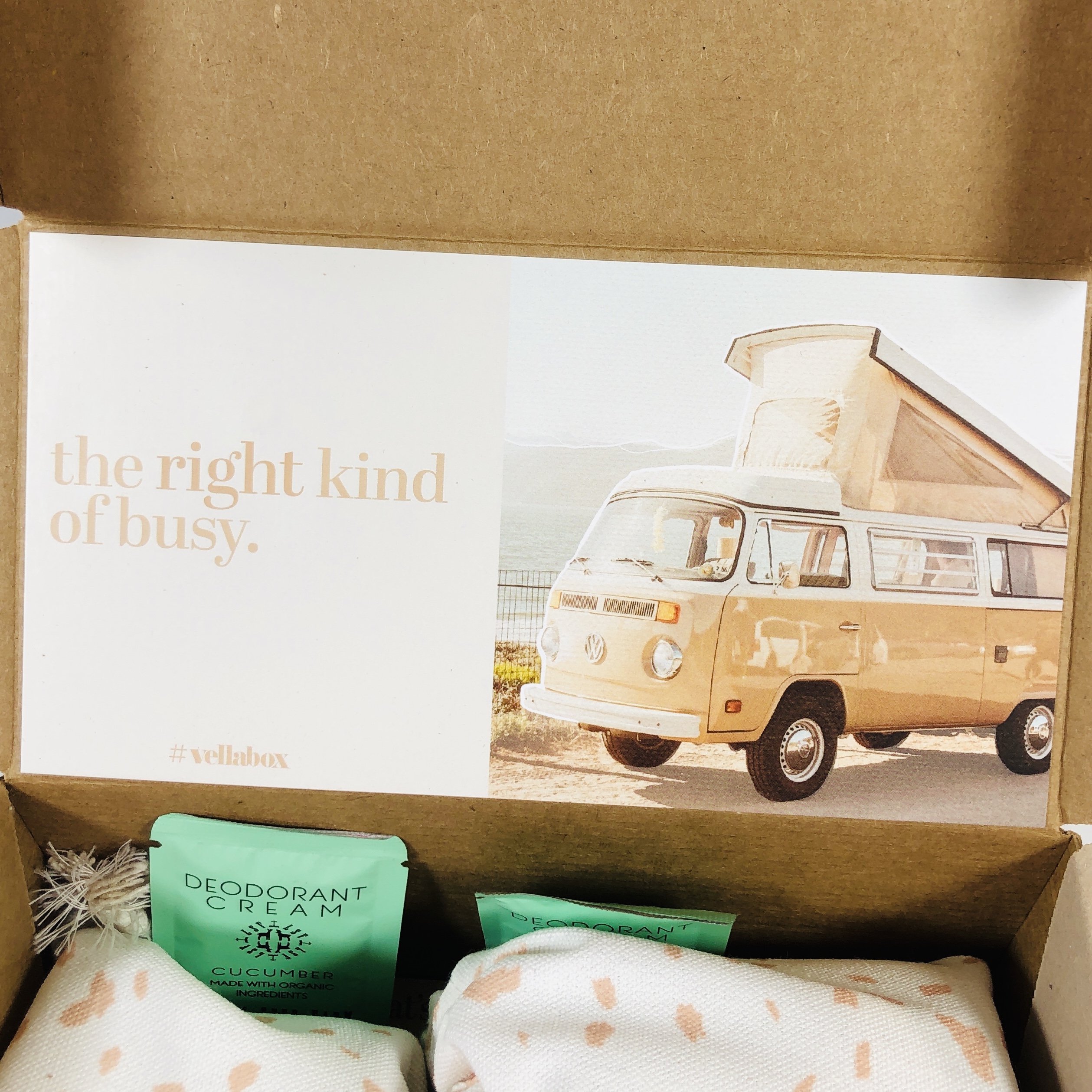 Here is a closeup of the inside of the box, because I love VW vans!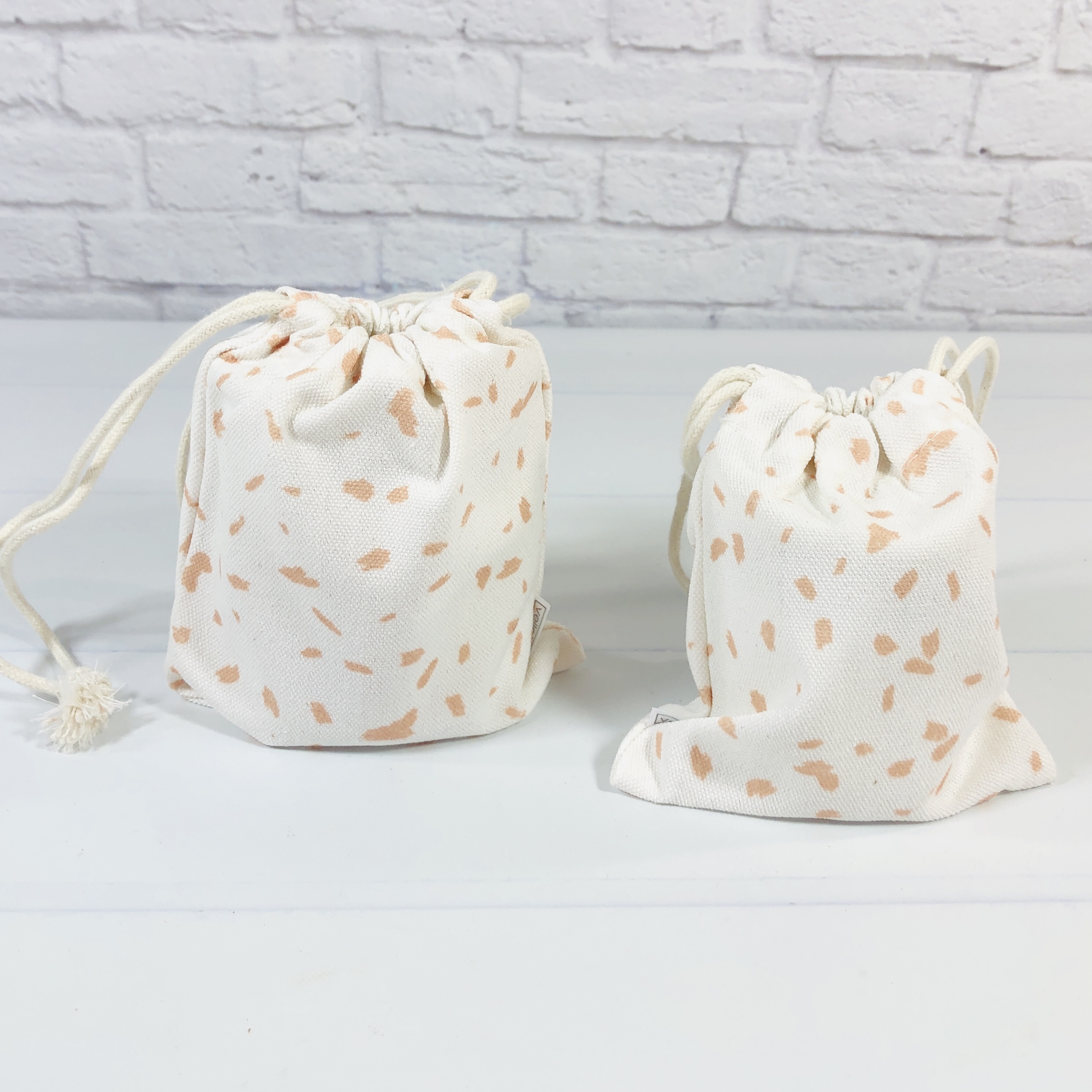 The candles were in reusable drawstring canvas bags. The bags can hold items like jewelry or other trinkets.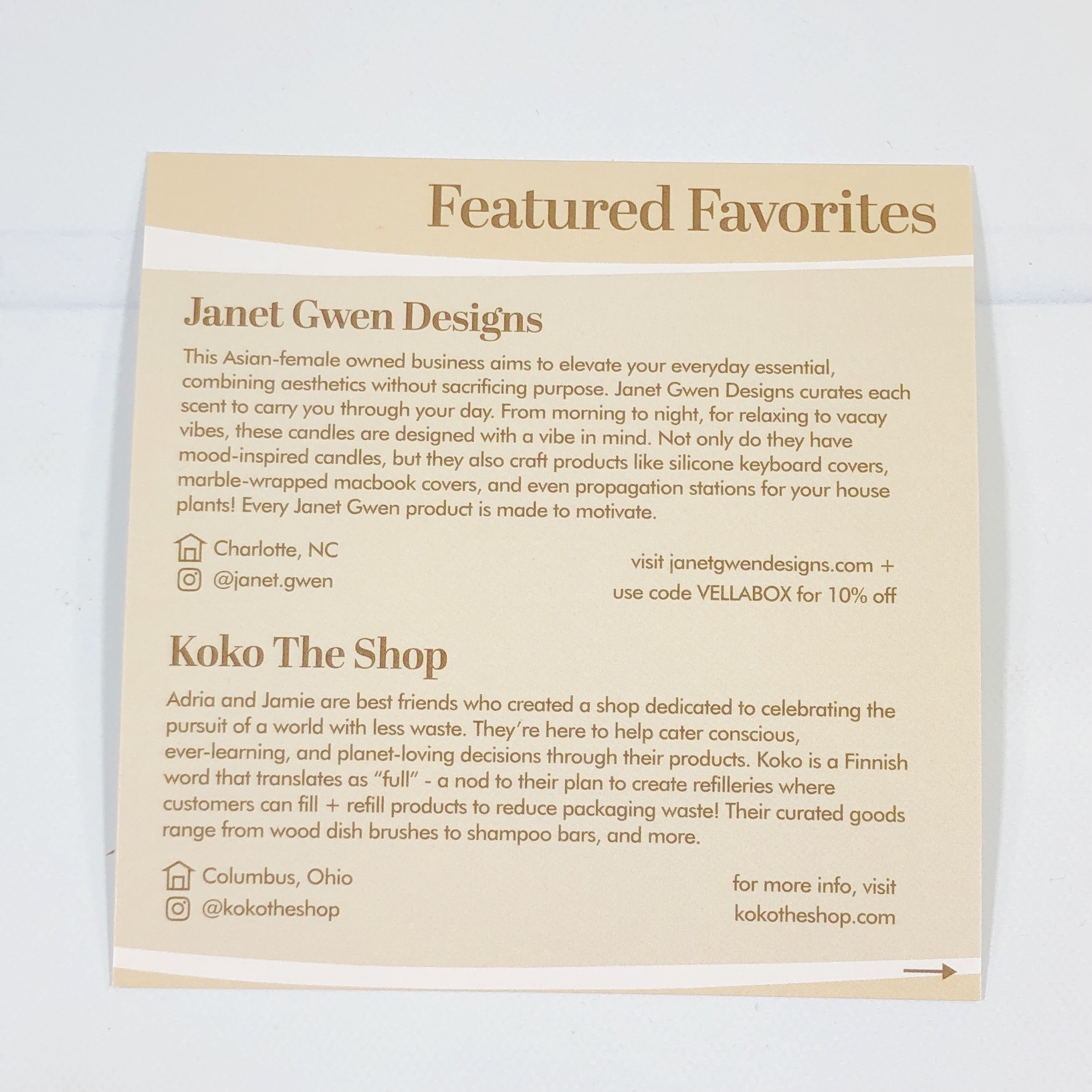 There was a card with info on the featured candle brand, Janet Gwen Designs. It also mentioned Koko The Shop, but I'm not sure why, although possibly because they sell the bonus item that was included.
At Janet Gwen, we're all about elevating the essentials; our

products are made with the aesthetic-loving go-getter in mind. We

want to make your hustle beautiful and help you look forward to

getting to work every day!

Our products are hand-packaged and crafted at our in-house studio

in Charlotte, NC. From mood-inspired candles, hand-lettered marble

mugs, and silicone keyboard covers, to best-selling marble-wrapped

macbook covers, every Janet Gwen product is made to motivate you

to get to work and go after your wildest dreams — because we really

believe you can!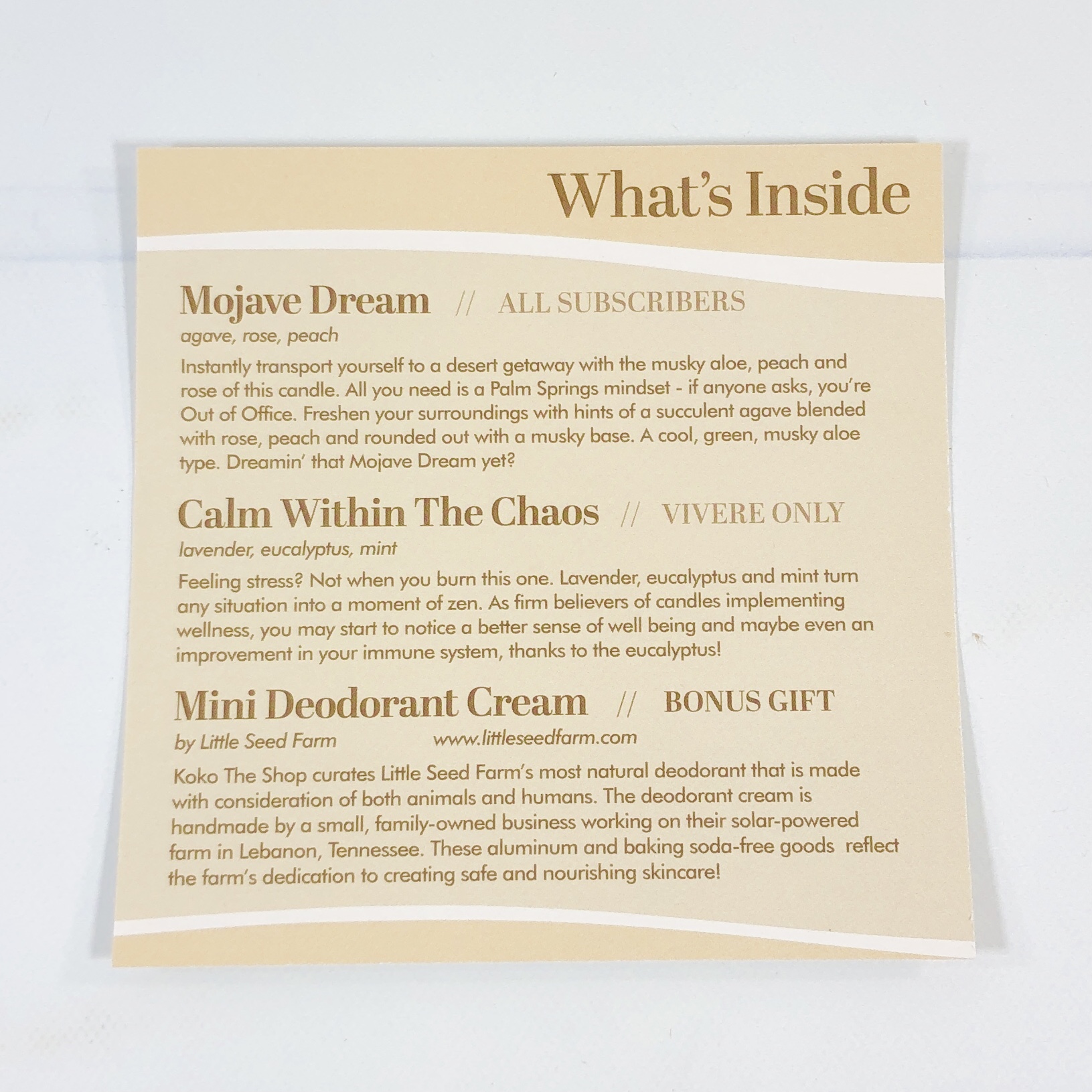 The back of the card listed the scent notes and description for the featured candles. It also listed the bonus item for my box. Please note that the bonus item for August may vary and will come from past boxes.
Here's everything in the box!
Little Seed Farm Deodorant Cream I received a bonus from this brand last month but I think this may be a different scent. Either way, I will be saving it to try when the weather cools off, since I want a full-strength antiperspirant here in the hot, humid Central Texas summertime.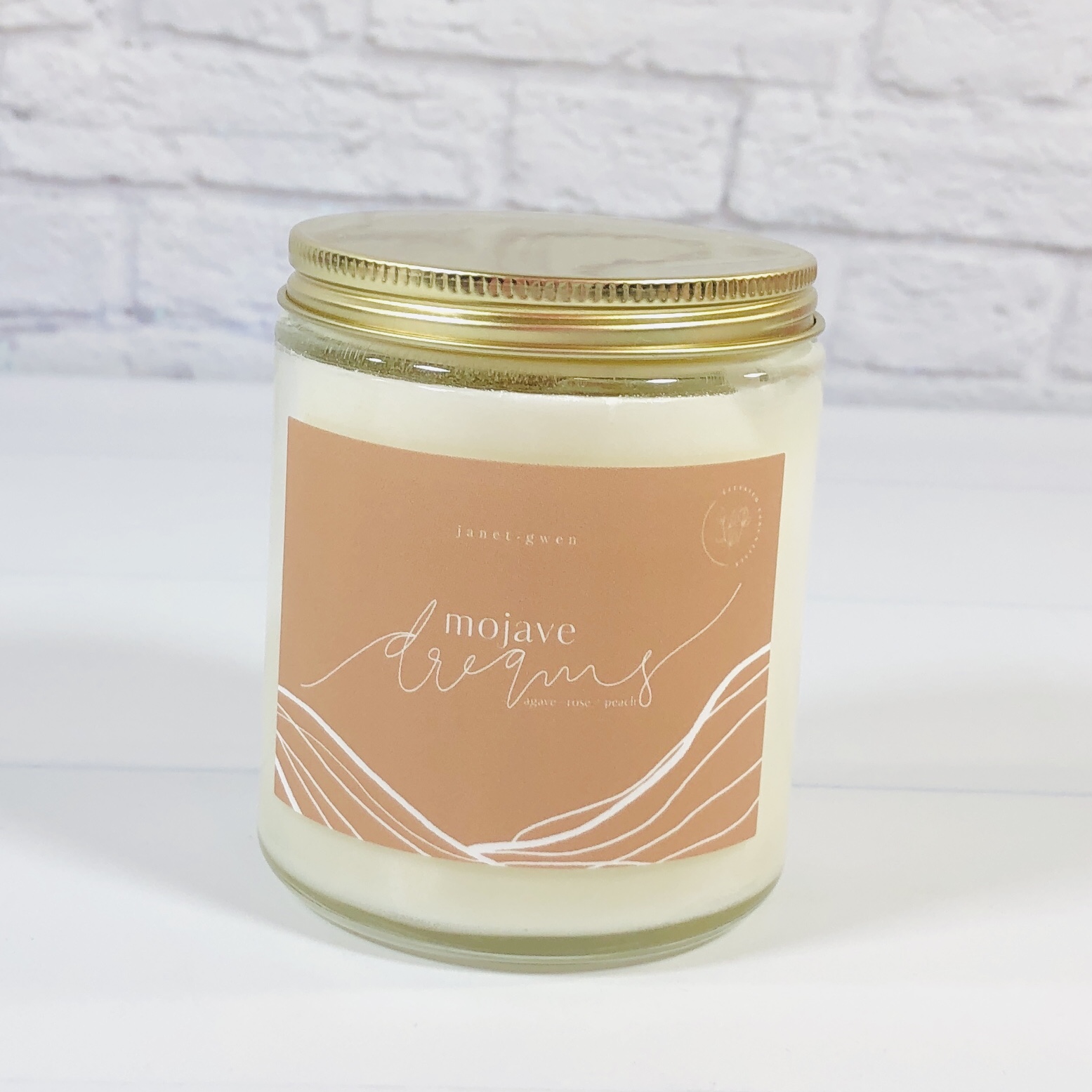 Janet Gwen Designs Mojave Dream ($24) I love trying new candle makers and this brand was new-to-me. The candles I received look different from the kind shown on the maker's website, both in the jar style, label, and lid, perhaps they are custom made for this box. The candles are made of "coconut soy wax", which I think must be a blend of both of those plant-based waxes.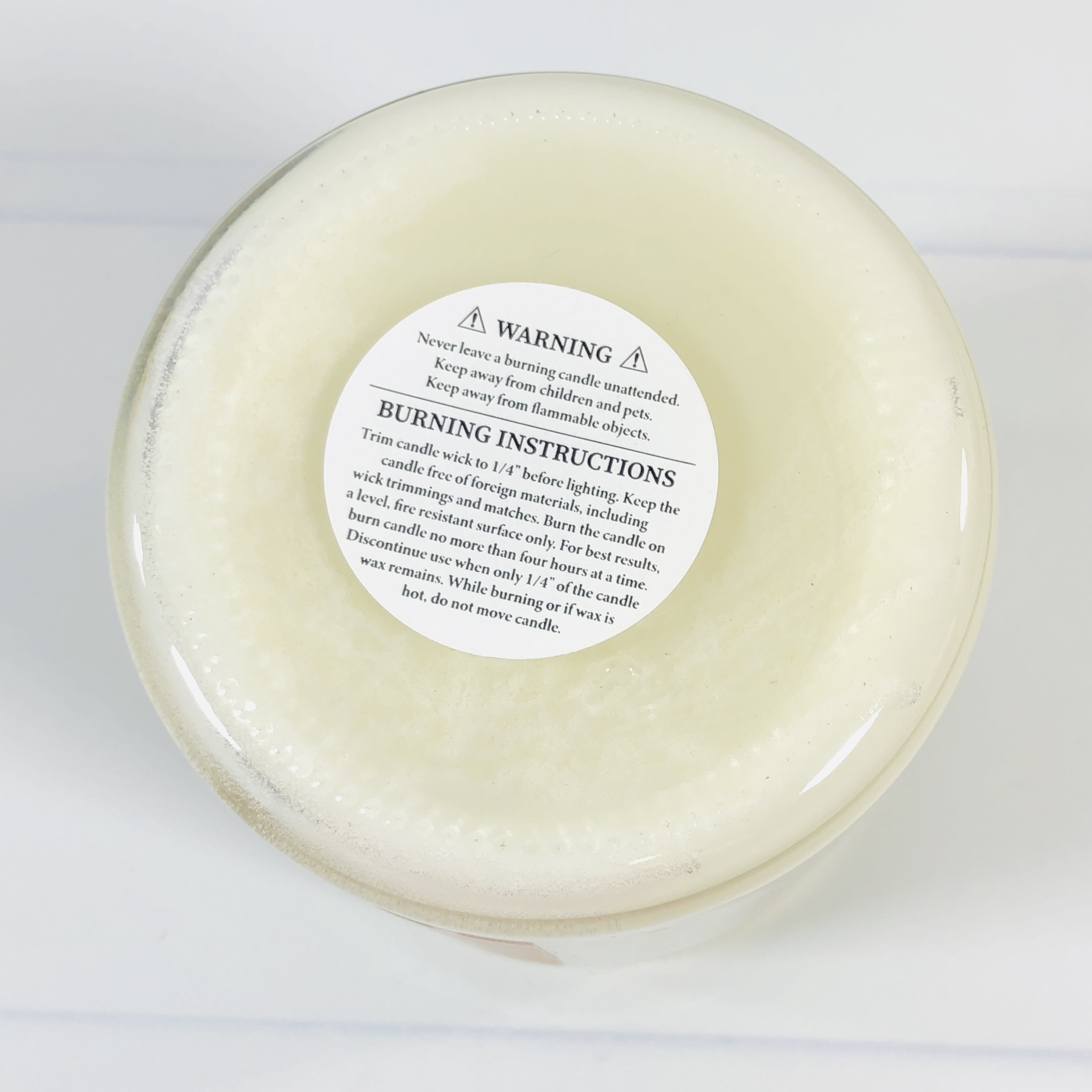 Be careful when burning!
The scent notes for this candle include agave, rose, and peach. It smells sweet, floral, green, and musky. I have burned it a couple of times and it was noticeable from a few feet away — I could smell it while I was sitting on the couch and that is more throw than some of the brands we've received in the past.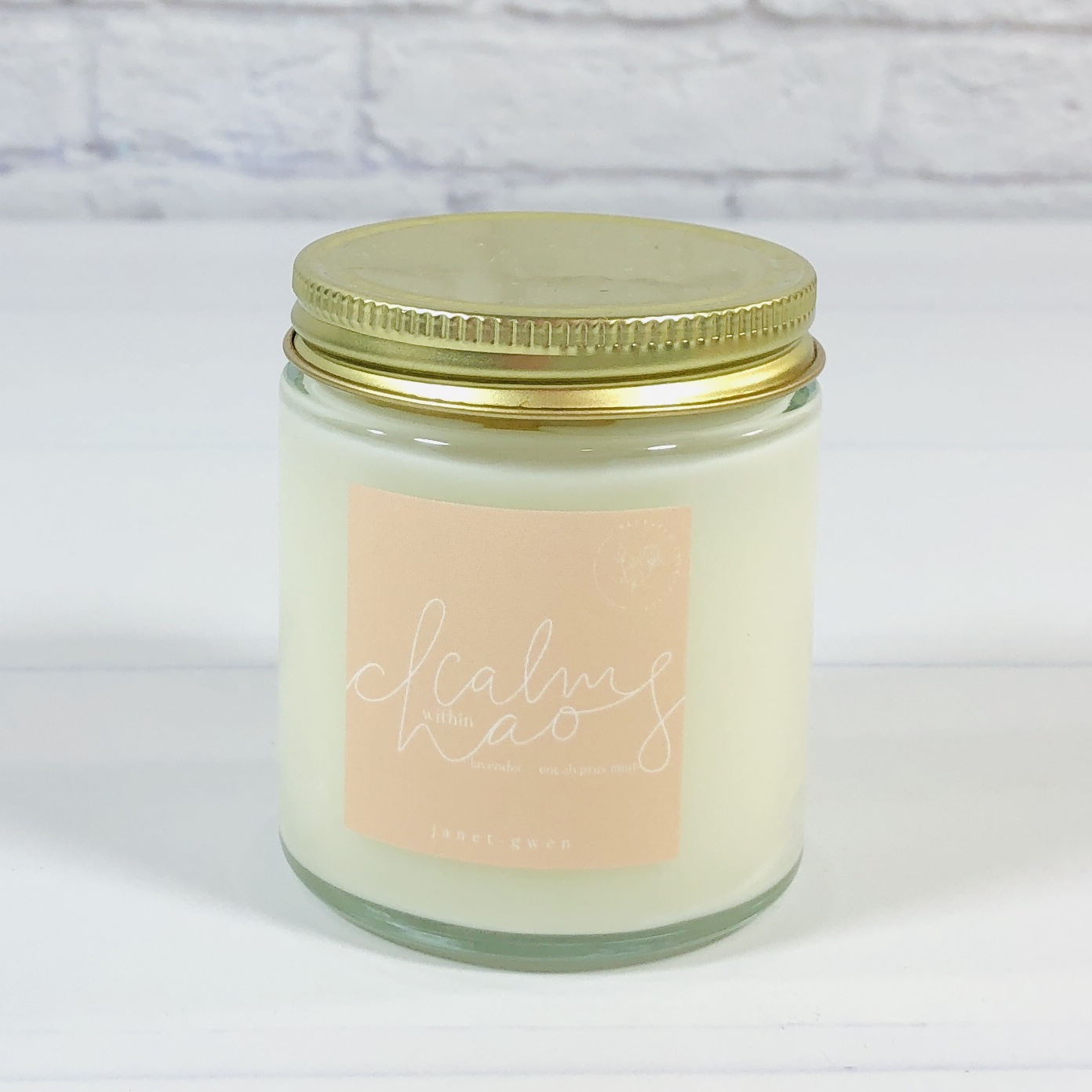 Janet Gwen Designs Calm Within the Chaos Like the larger candle, Janet Gwen doesn't carry this style of jar, but a 4 ounce travel tin is $12 so it seems like this should have a similar value.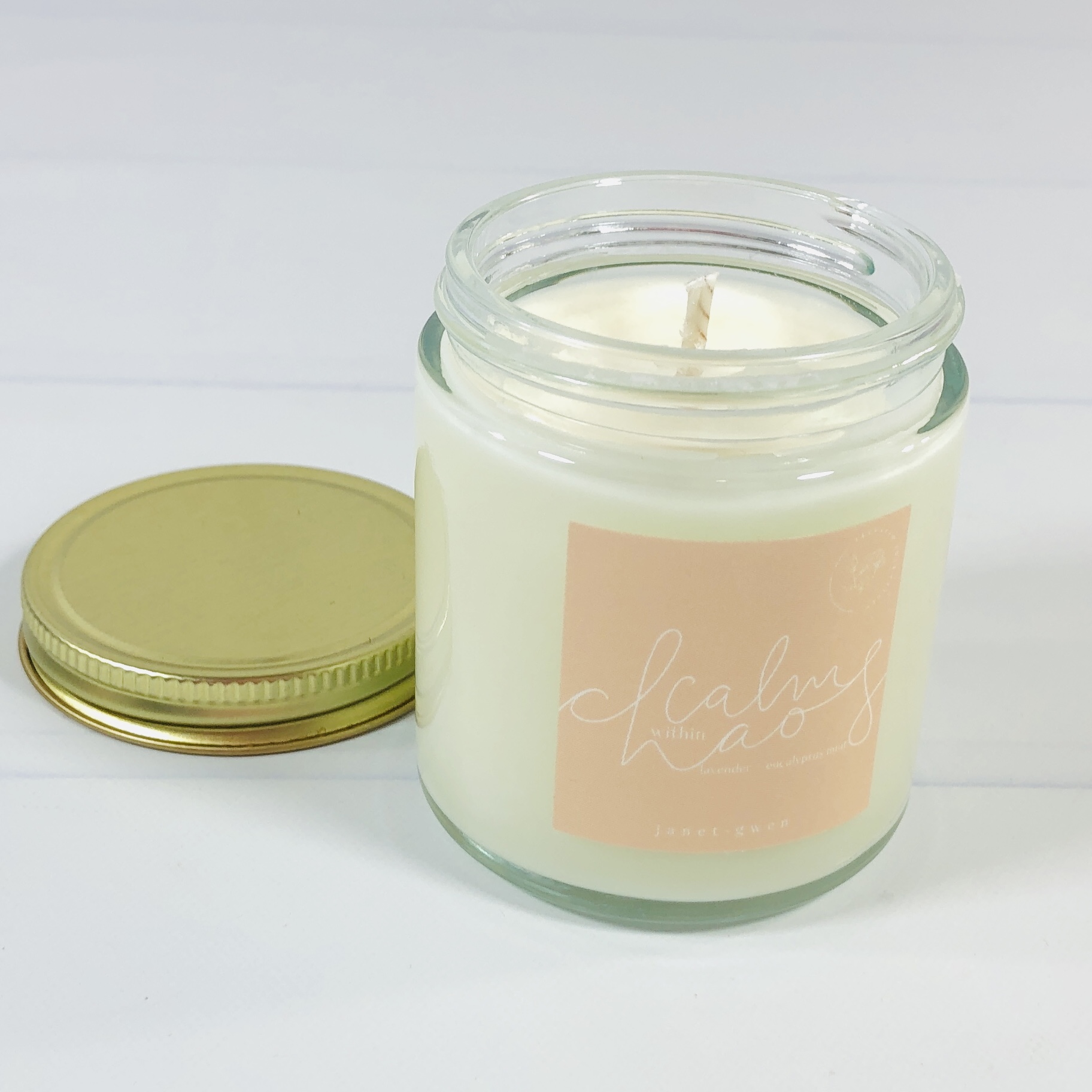 The scent notes include lavender, eucalyptus, and mint and it smells like a spa. Again, this was noticeable after about an hour of burning but wasn't overwhelming.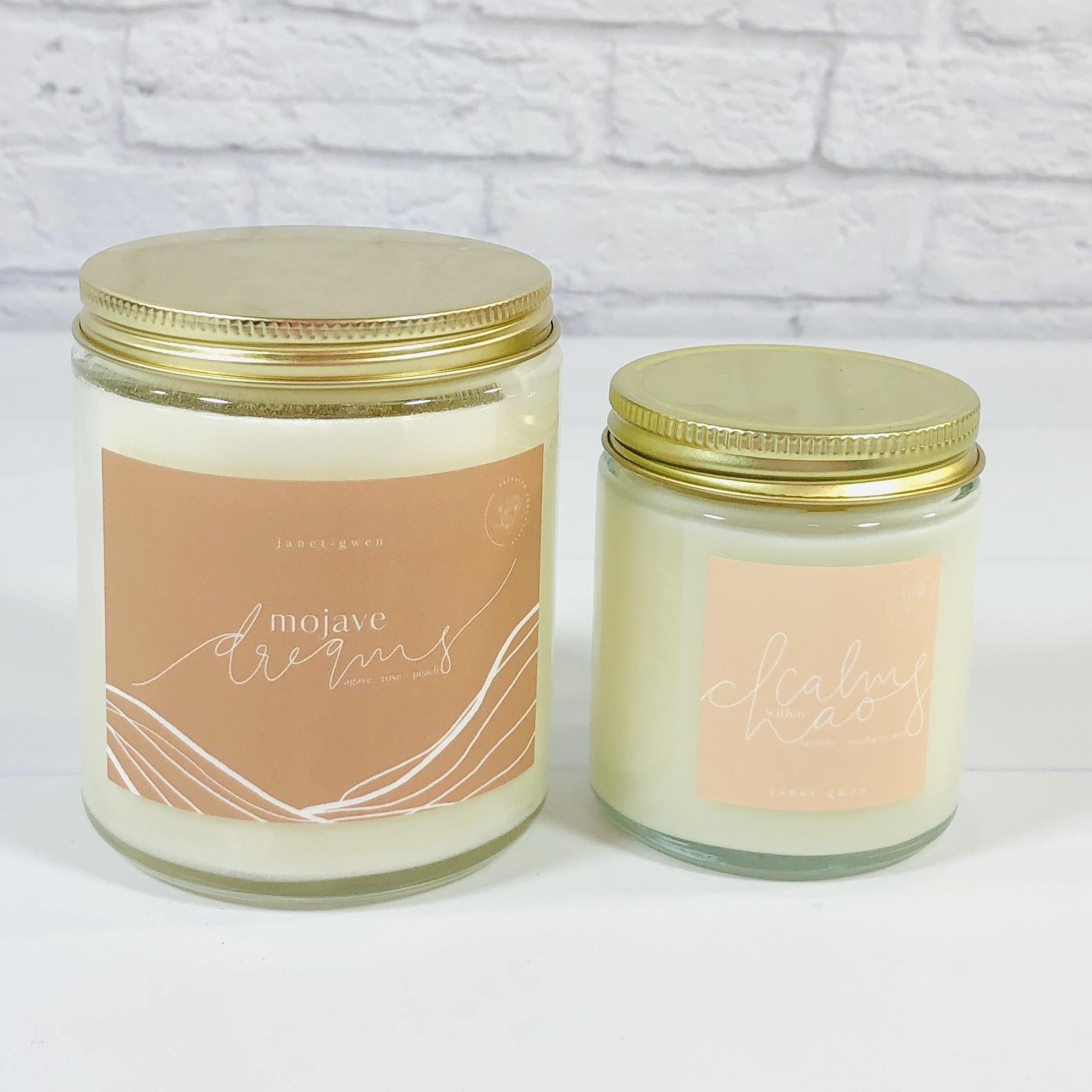 I thought the candle scents for the August Vellabox were perfect for this time of year. They both had hints of floral notes and made me think of a relaxing spa. These candles provided scent while burning and the throw was farther than some of the other candle brands we've received recently, however, they weren't overwhelming or obnoxious. I think this subscription sends candles that are perfect for providing a relaxing ambiance with a hint of scent rather than strong candles meant to scent a huge area.
What do you think of this box?