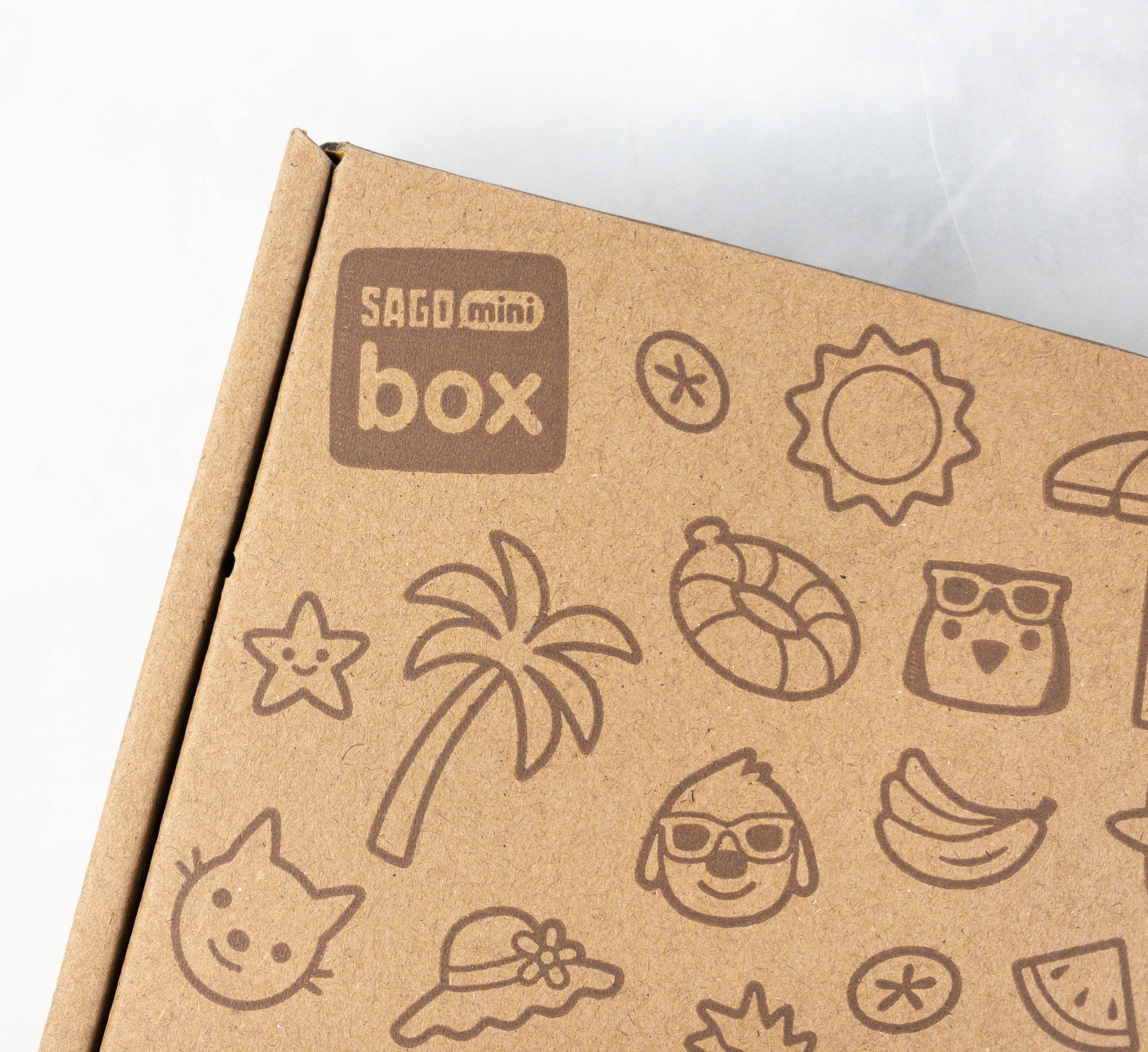 Sago Mini Box is a monthly make-and-play subscription for preschoolers that brings quality and creative play. Each monthly box is $19 plus shipping, and if you decide to have an annual subscription, you can save up to $48 annually. You'll get a box filled with make-and-play activities and surprises designed to teach modern skills to preschoolers and a Sago mini collectible figurine of one of the characters from the box, and a special letter for the kids.
DEAL: Get your first box for just $10! Use this link and coupon code SMBOX10.
Sago Mini's fun subscription for preschoolers and little kids made the list in our 2021 readers' choice best subscription boxes for kids list!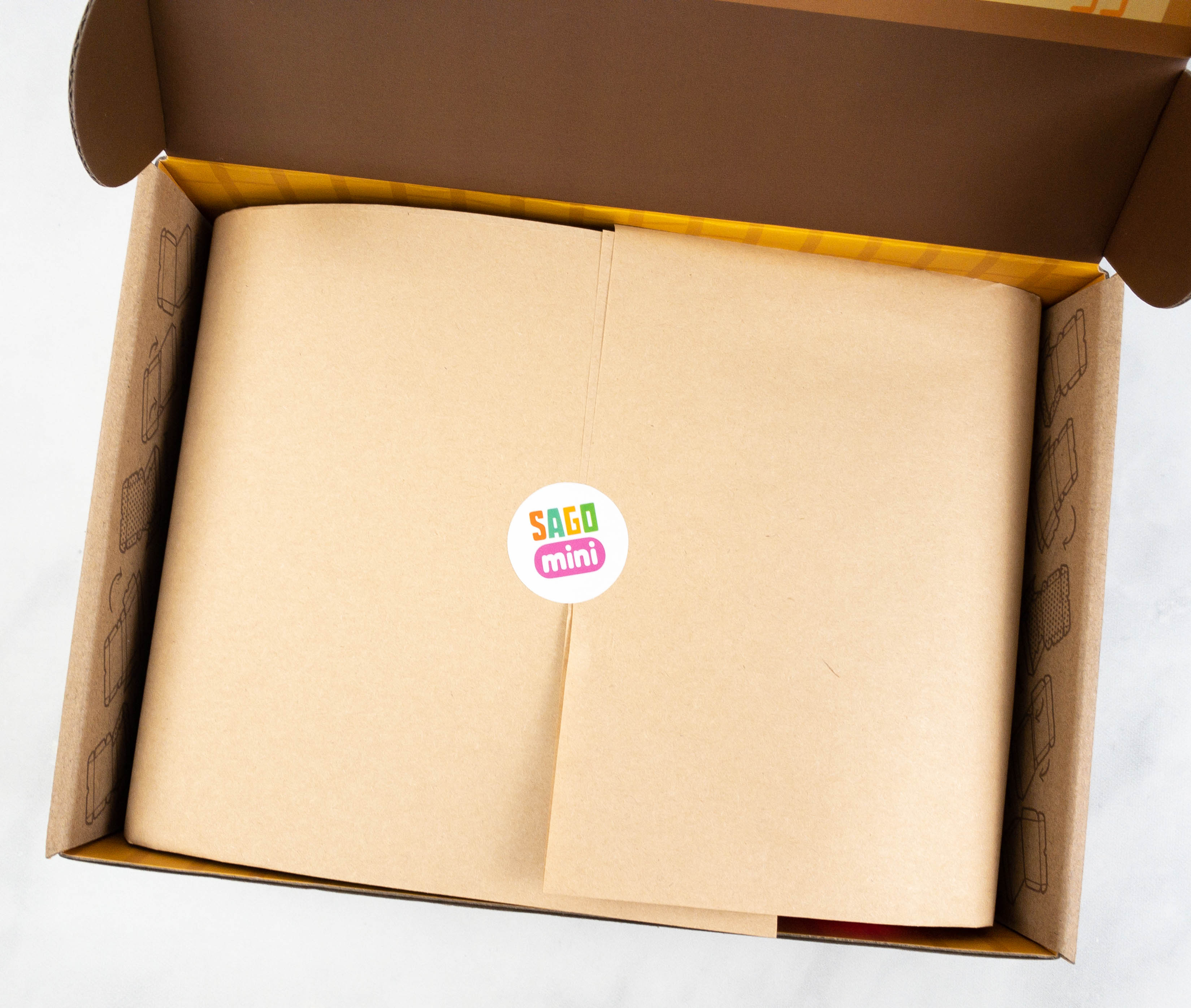 All the items were packed with wrapping paper and sealed by a Sago Mini sticker.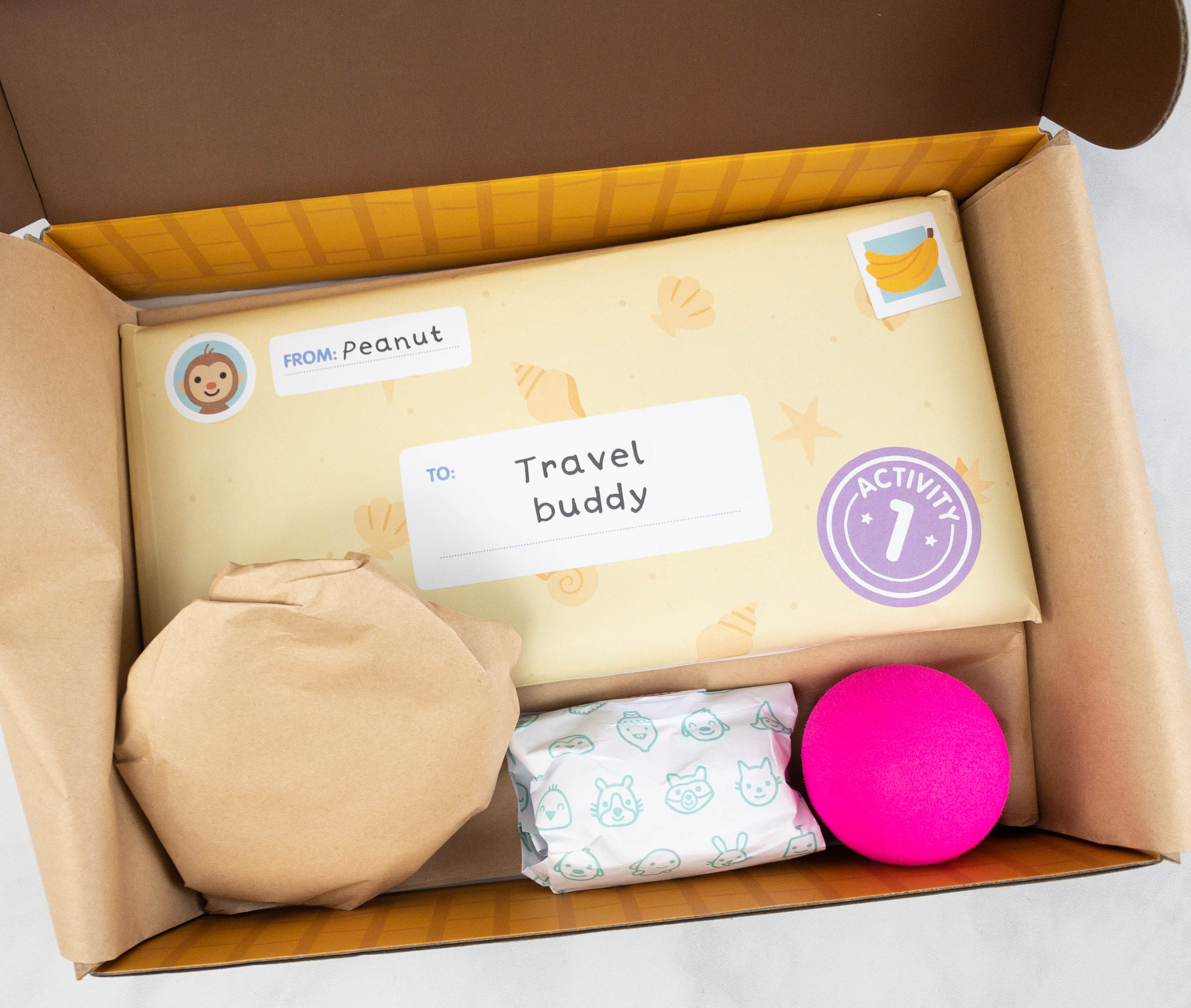 Aside from the main box, there are also envelopes that separate the materials.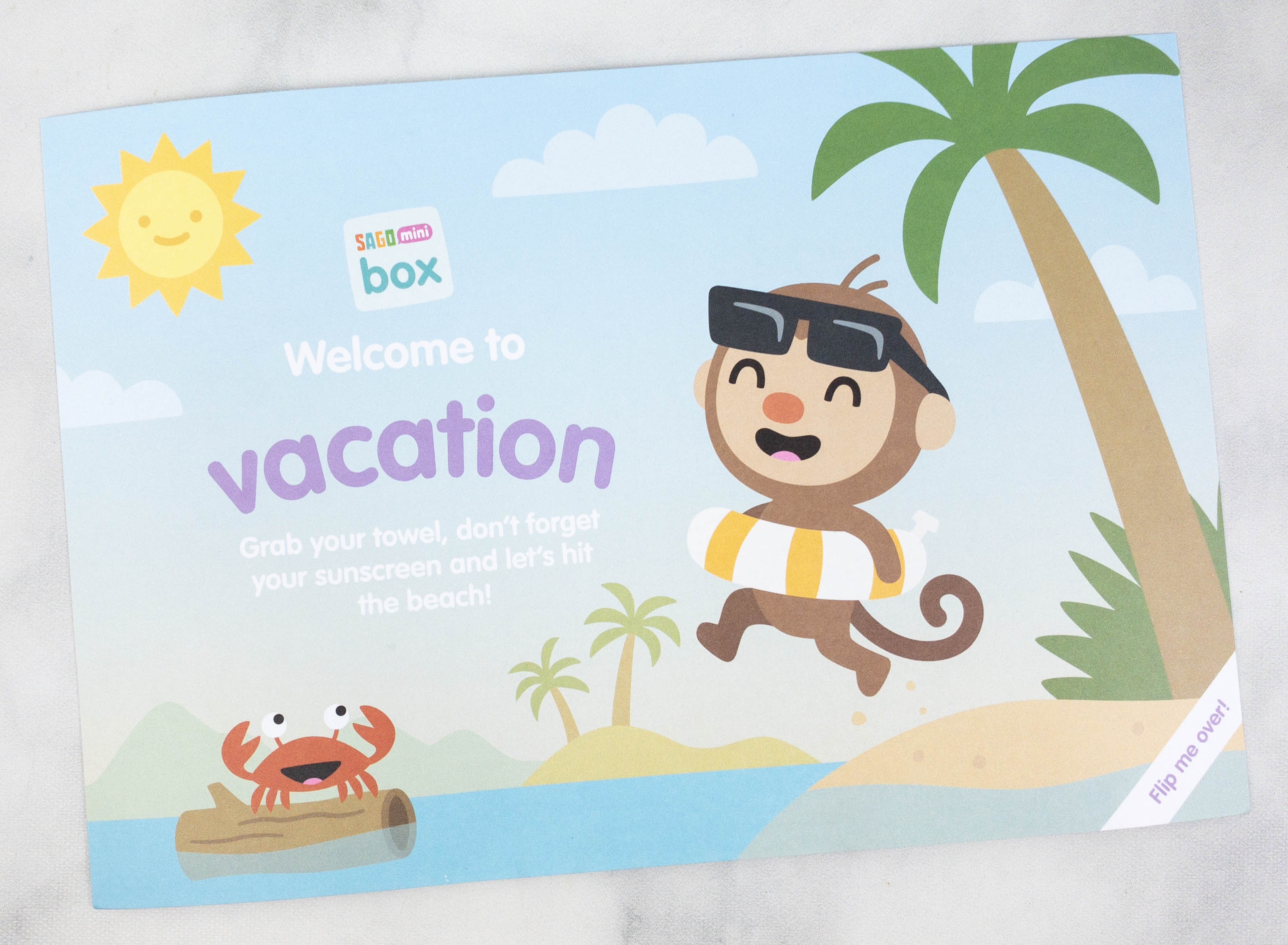 A card welcomes us to this month's box! The box this month is all about VACATION!
At the back, it discusses all the activities in this month's box and lists the contents as well!
The box includes 3 different activities!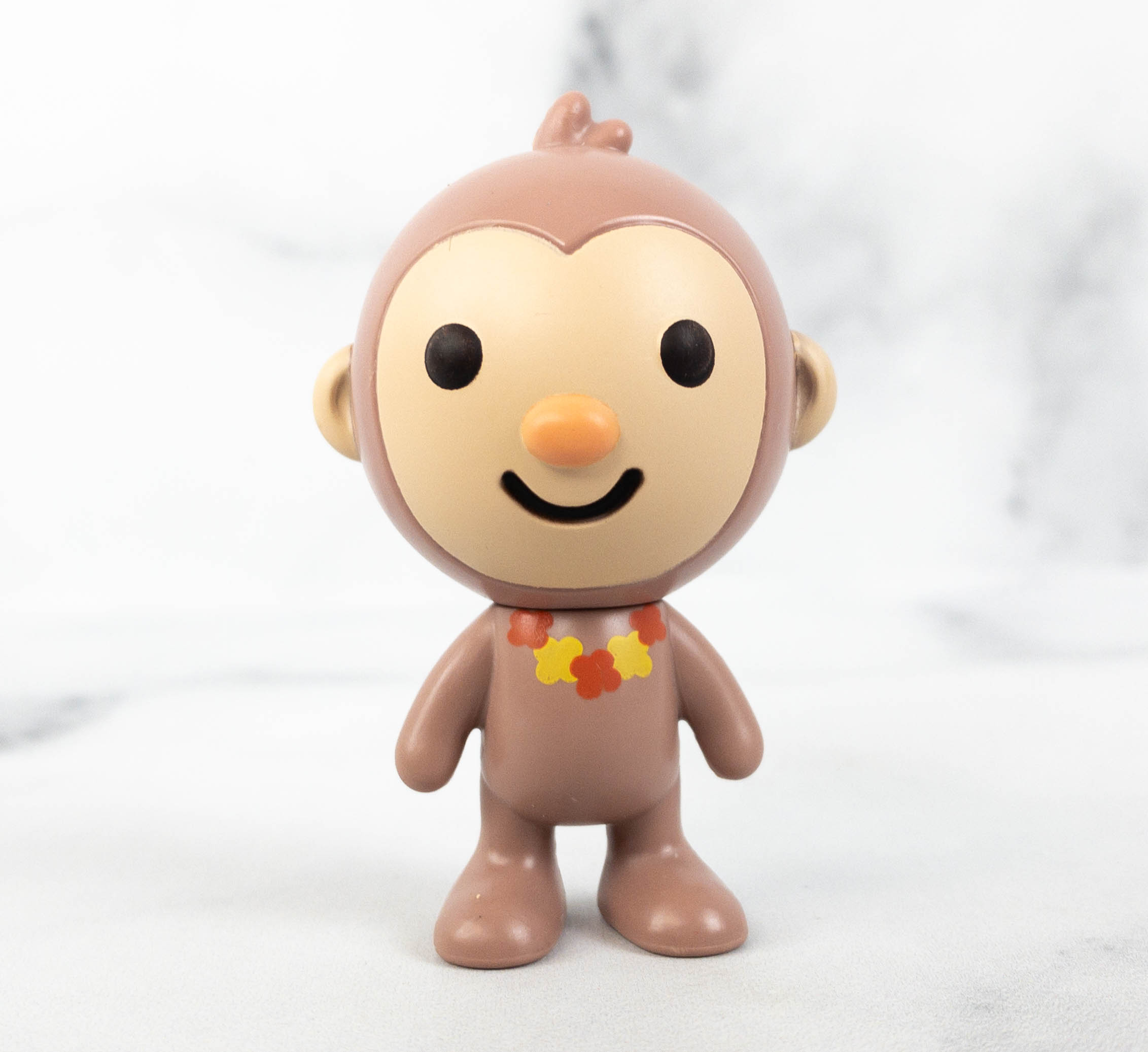 Peanut. This month's featured mini-figurine is a cute monkey. It has a yellow and red flower necklace!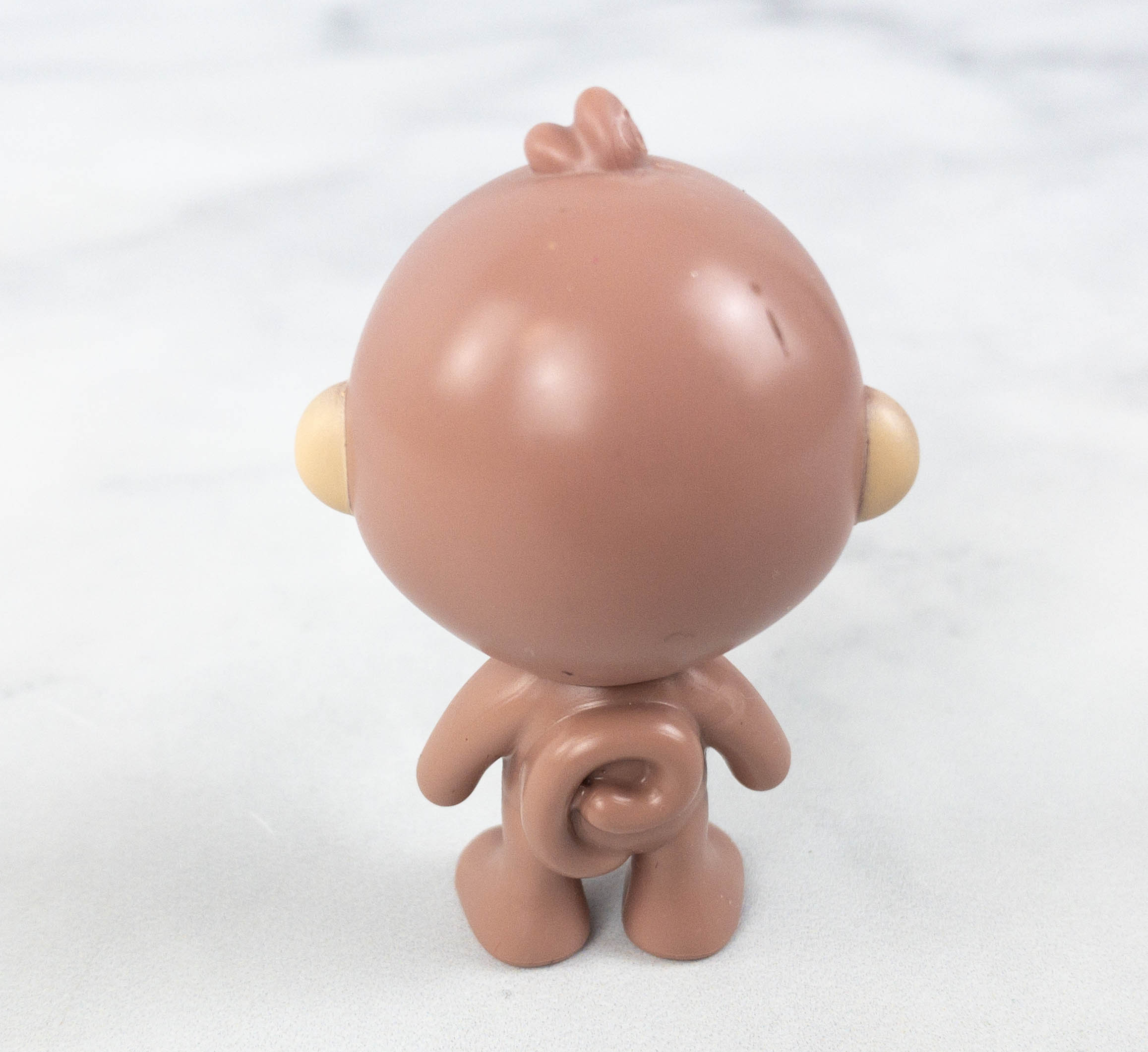 Peanut is an adventurer monkey who loves to travel, trek, and go on an outdoor adventure. It even has a twirly tail! How adorable!
Activity #1: Day at the Beach. The first activity is packed in a light brown envelope that resembles the color of sand. It even has shells printed all over. This envelope is from Peanut, addressed to his travel buddy!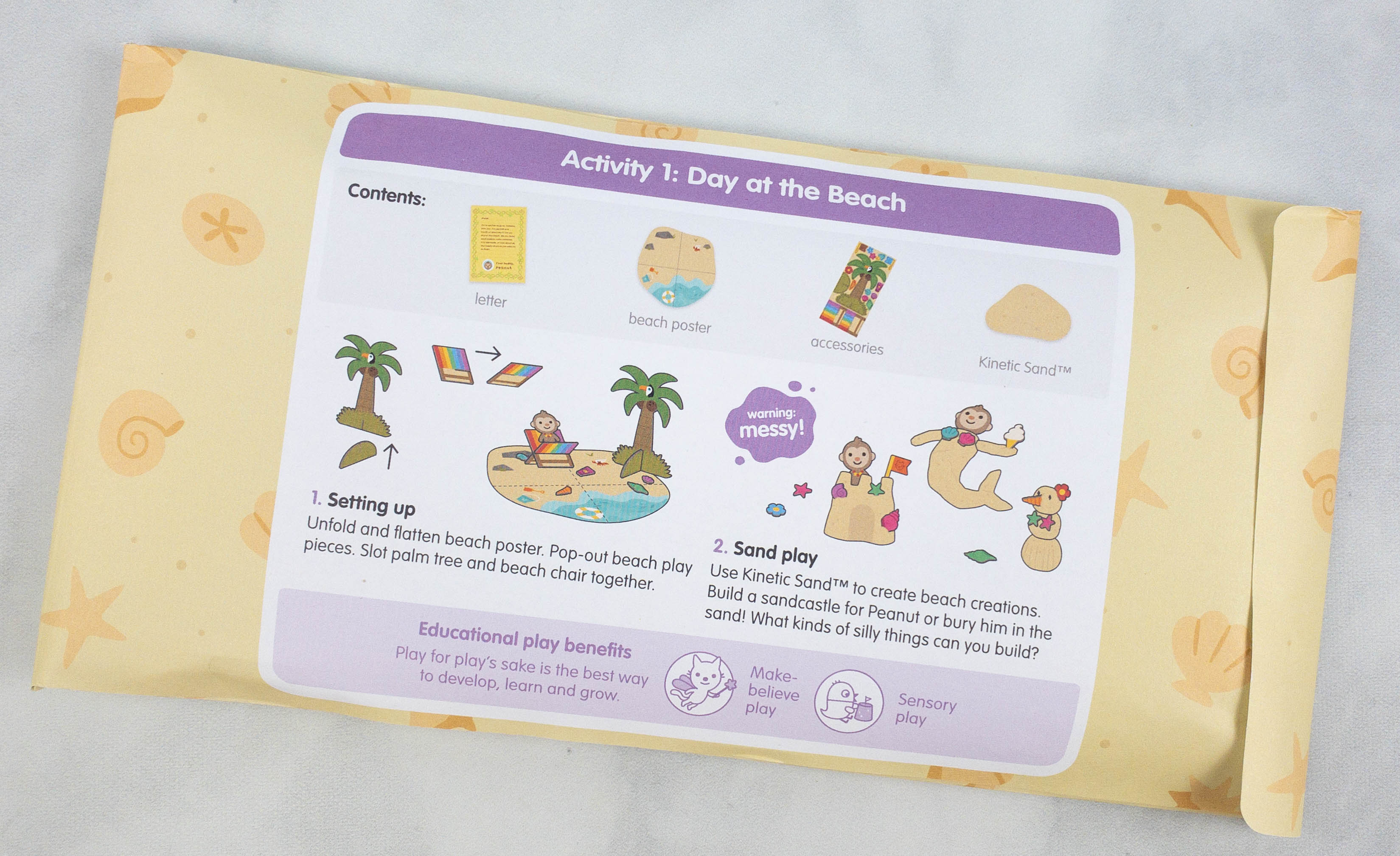 The other side of the envelope contains a detailed instruction for the activity. In this activity, kids will build a beach scene and play with sand.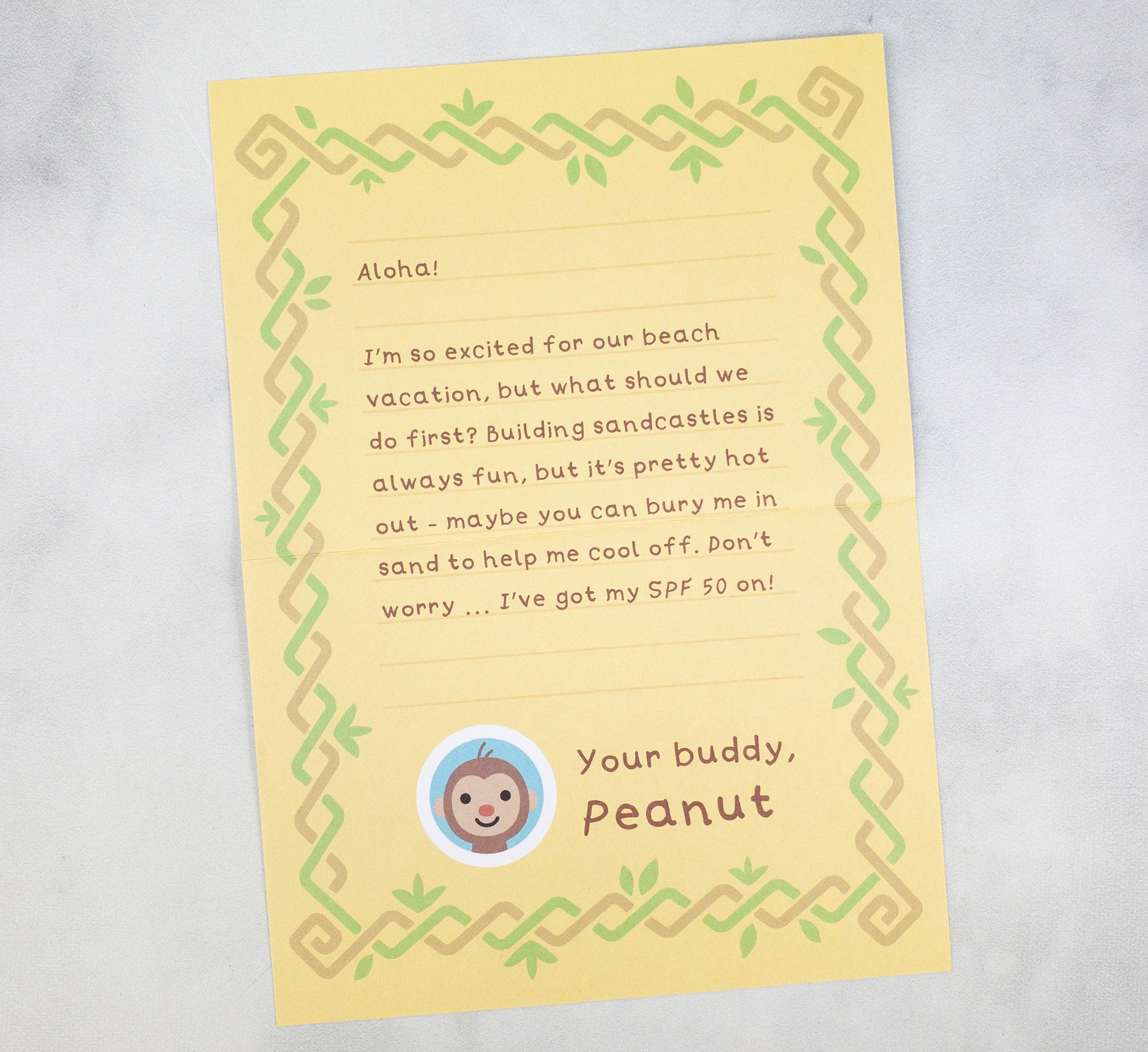 Inside is a letter from Peanut!
The kit includes a beach poster, accessories, and kinetic sand.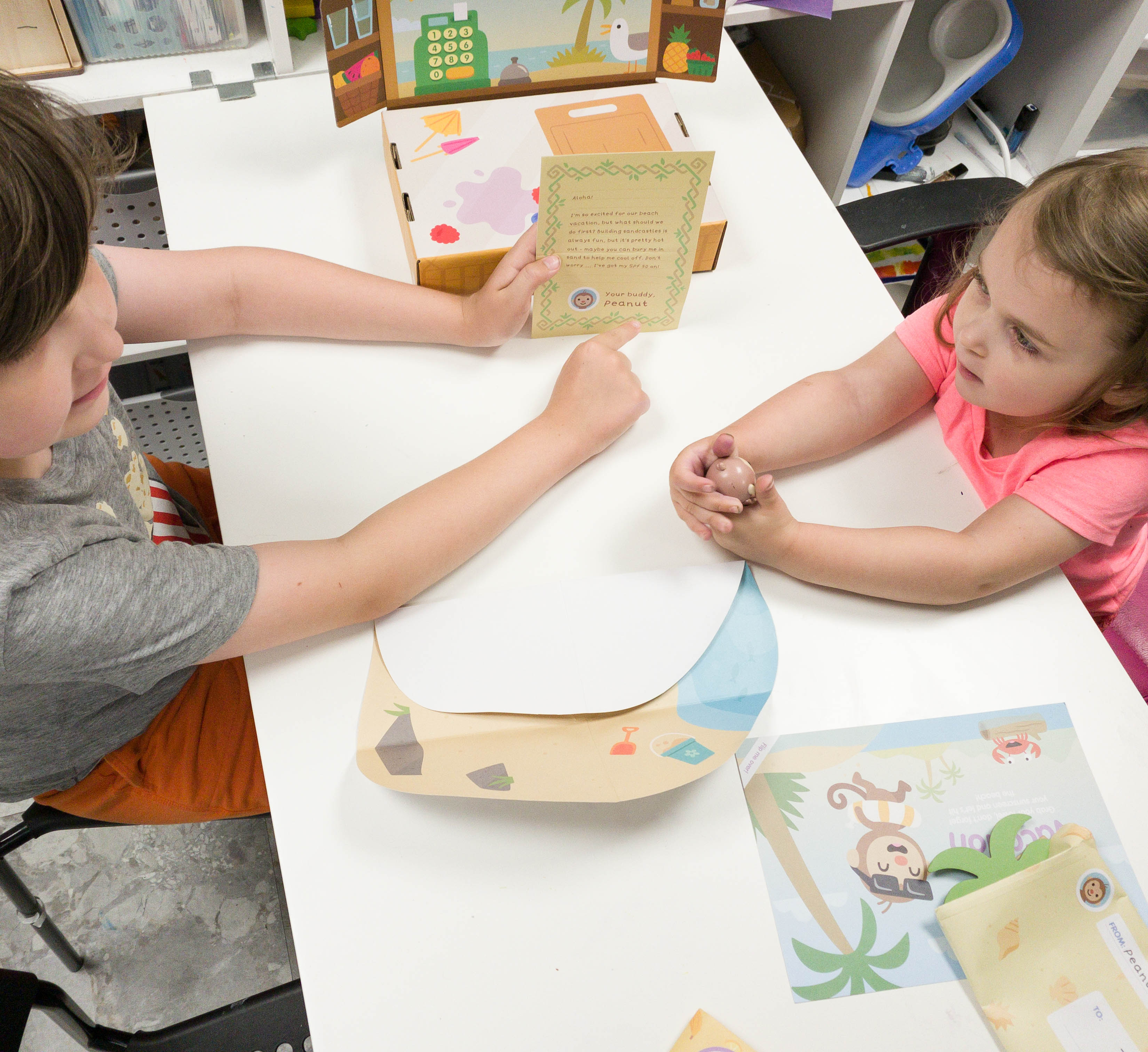 My kids read Peanut's letter before proceeding with the activity.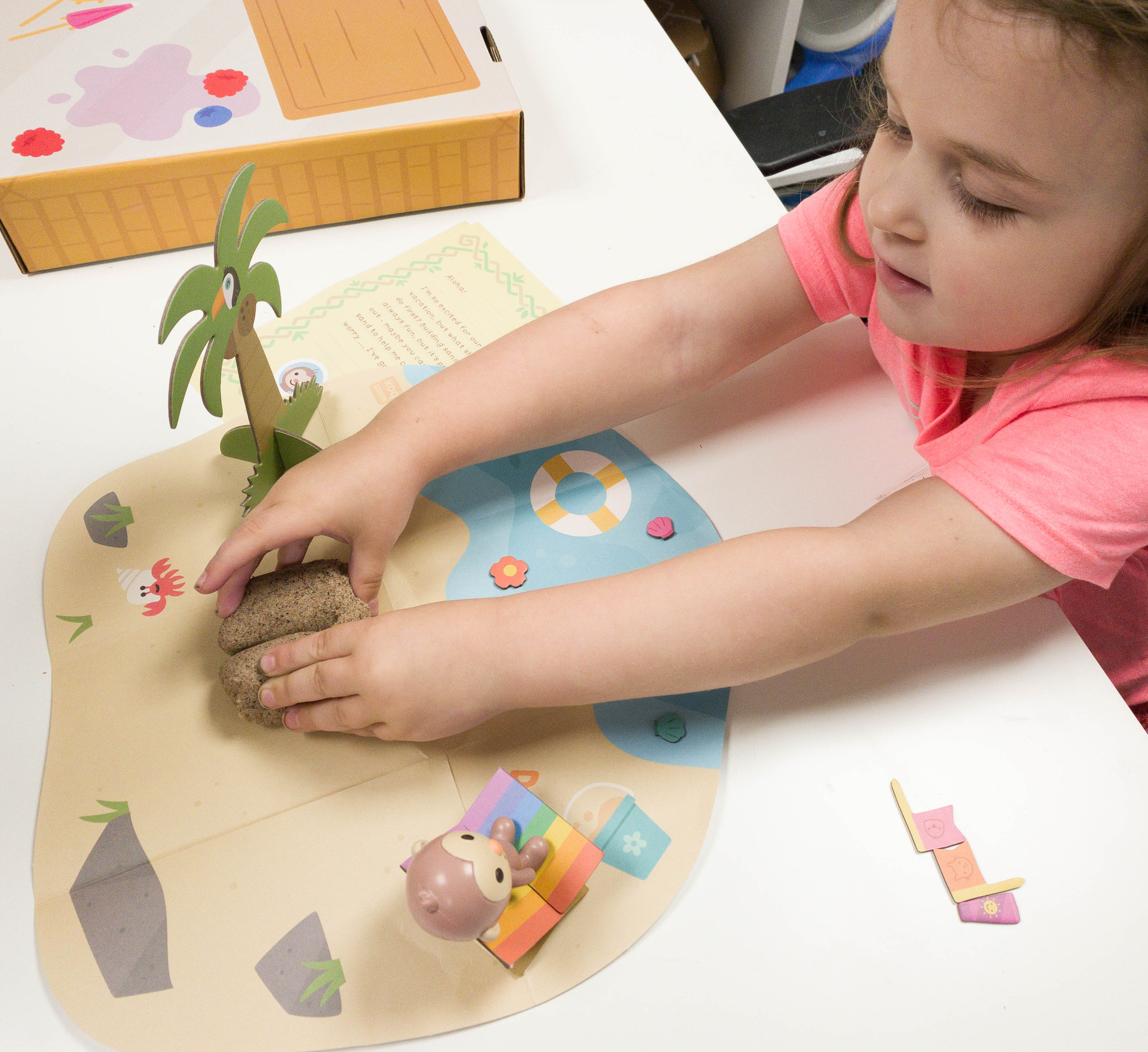 My daughter started by unfolding and flattening the beach poster on a table. Then, she added the pop-out beach play pieces.
Next, she got the sand pack and formed different beach items using it. This is a great activity to help kids get creative while also honing their fine motor skills!
The kinetic sand even provides sensory experiences for children. My kids definitely had fun playing with the sand and shaping it the way they wanted to!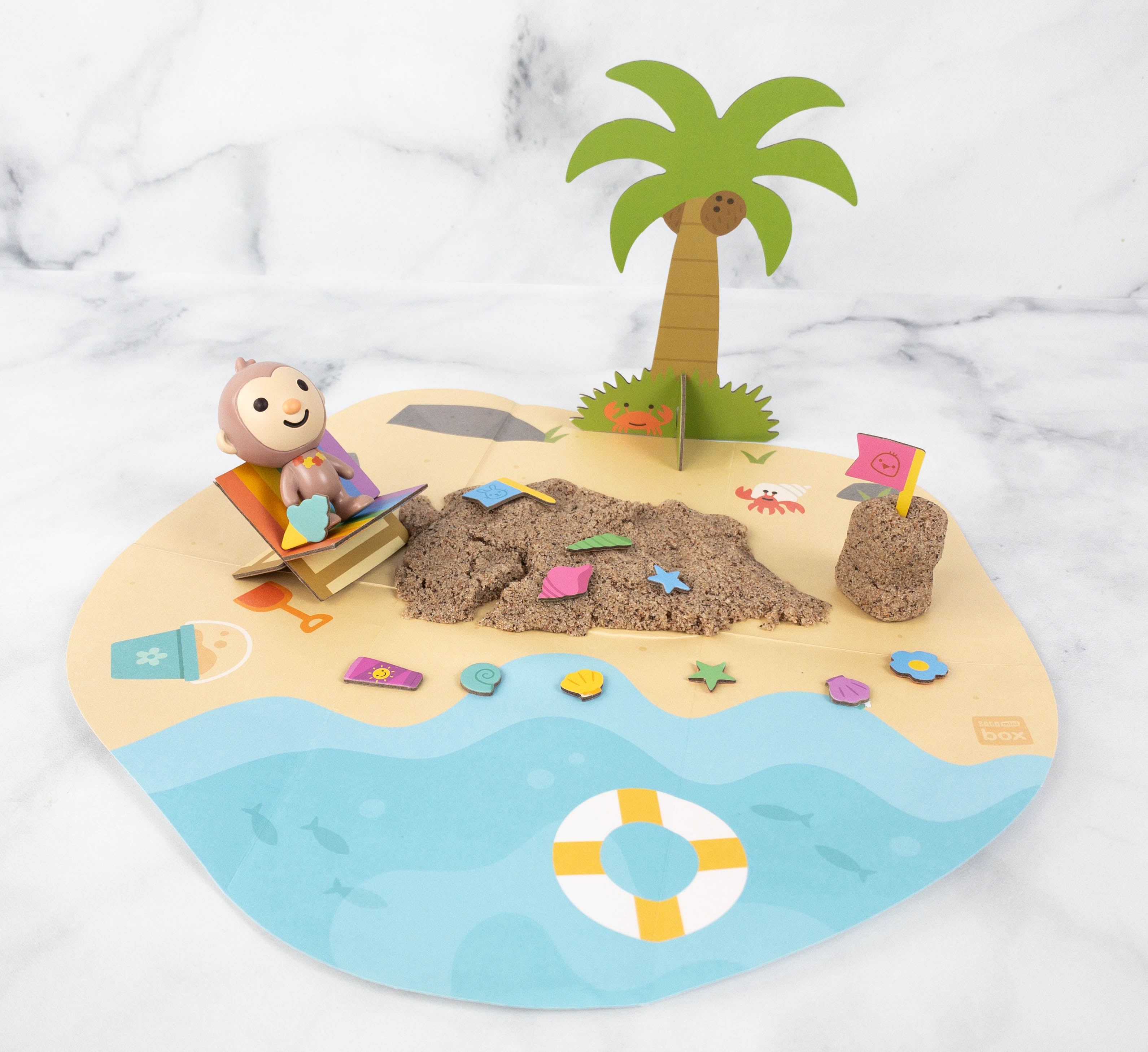 Here's what the finished project looks like. It's so cute! Look at Peanut lounging in the rainbow-colored beach chair!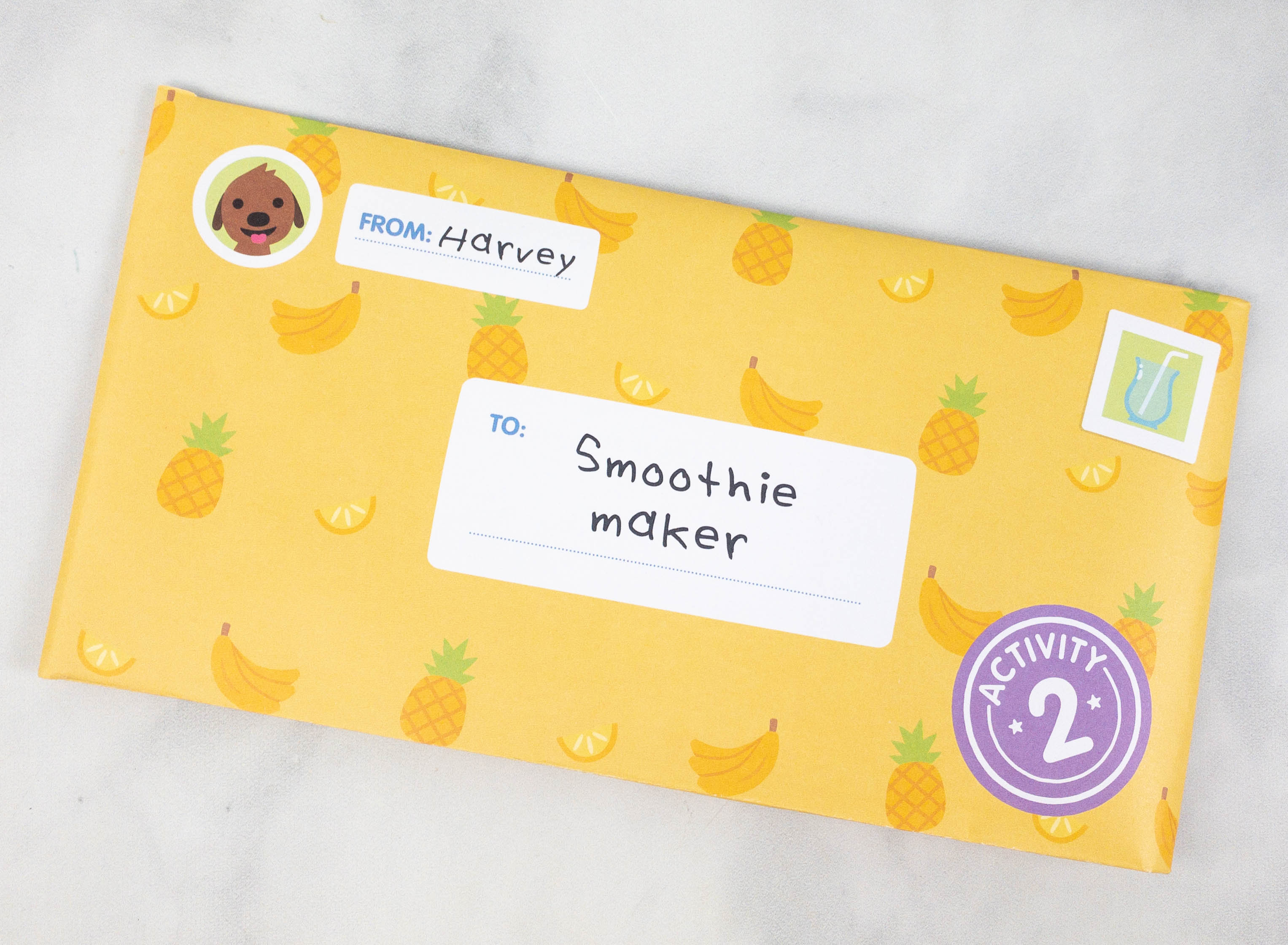 Activity #2: Summer Smoothies. The next activity was in a yellow envelope with pineapple prints all over. This one was sent by Harvey and addressed to the smoothie maker.
Like the first envelope, this one also came with an instruction sheet attached on the other side of the envelope. This pretend play activity is about setting up a smoothie shop, prepping the fruits, and selling them!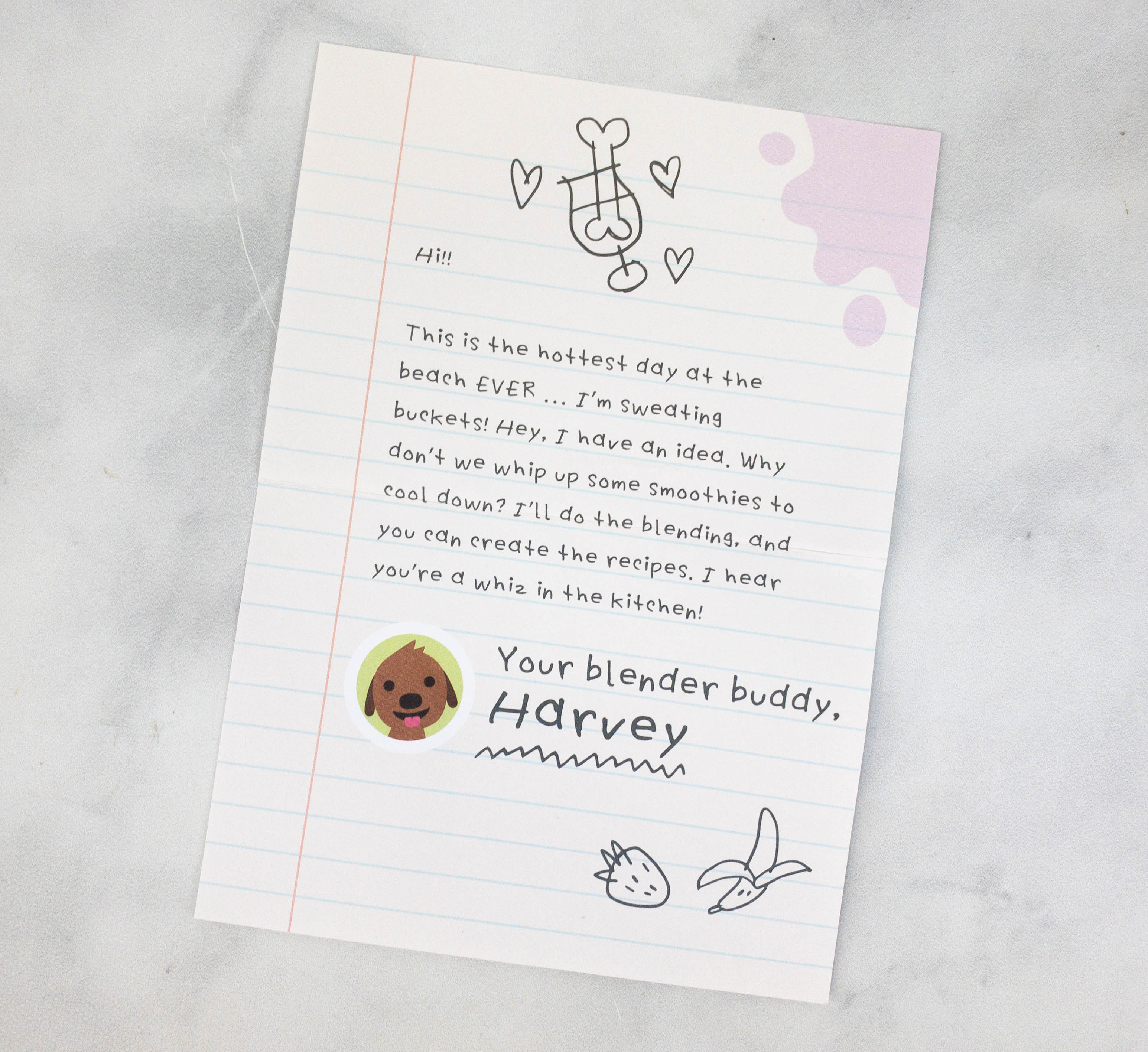 Inside is a letter from Harvey.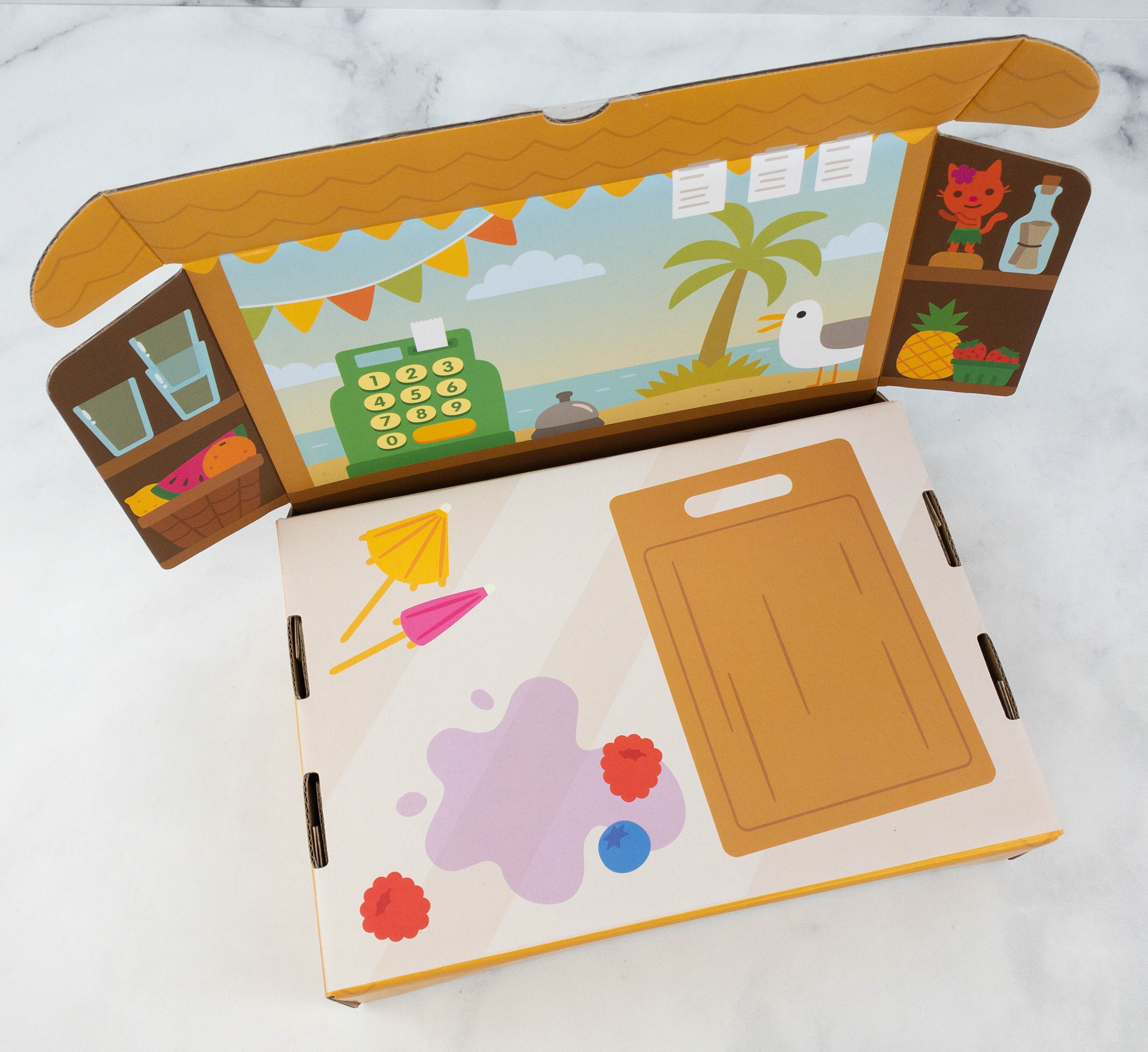 For this activity, my kids used the main box. They flipped it inside-out to reveal the cash register and a stunning view of the beach. There's also a chopping board!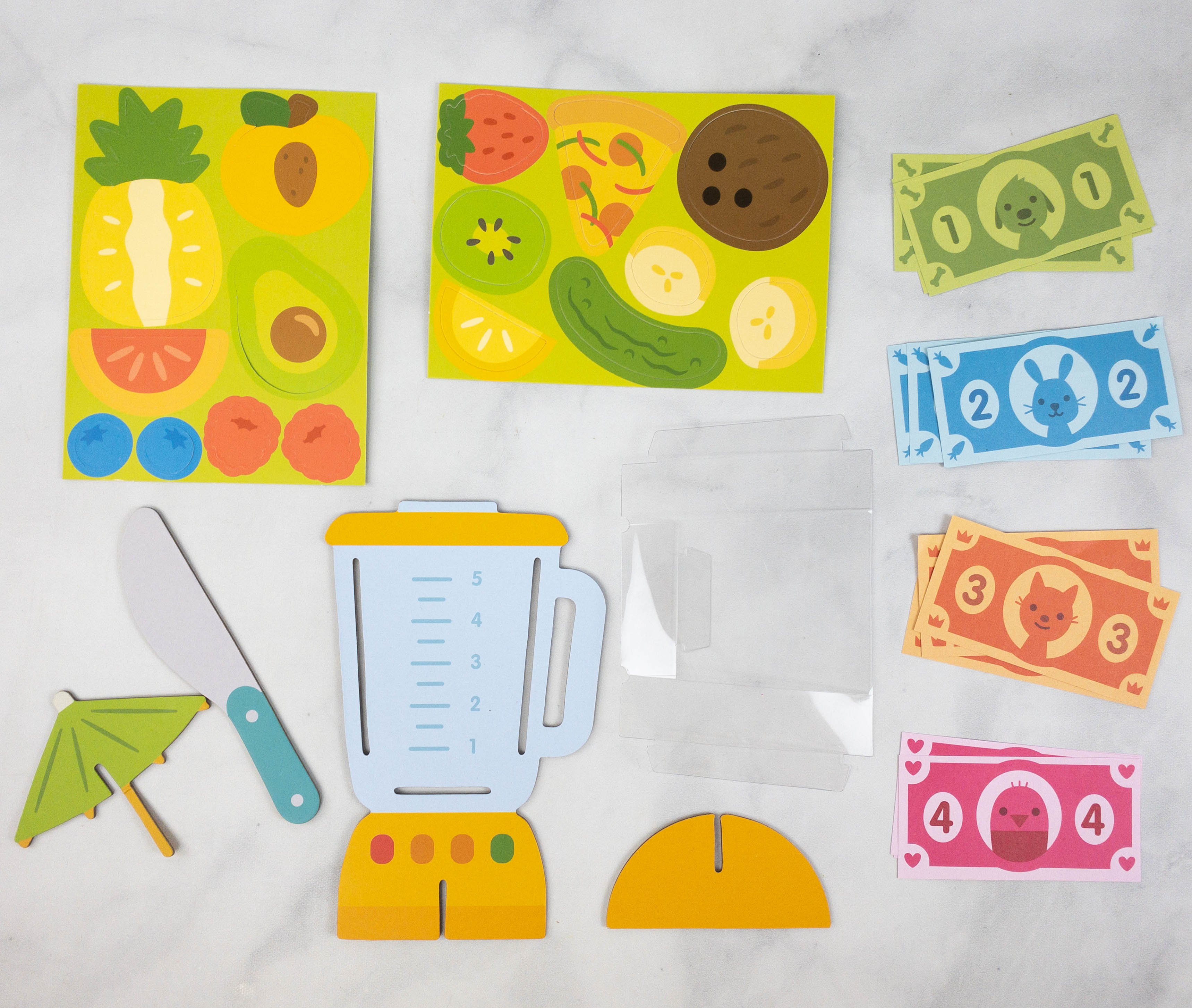 The kit also includes cardboard cut outs of fruits, blender, knife, cocktail umbrella, and play money, plus a clear sheet.
Here's the complete set-up! My kids assembled the blender by putting the clear sheet and the blender cutout together.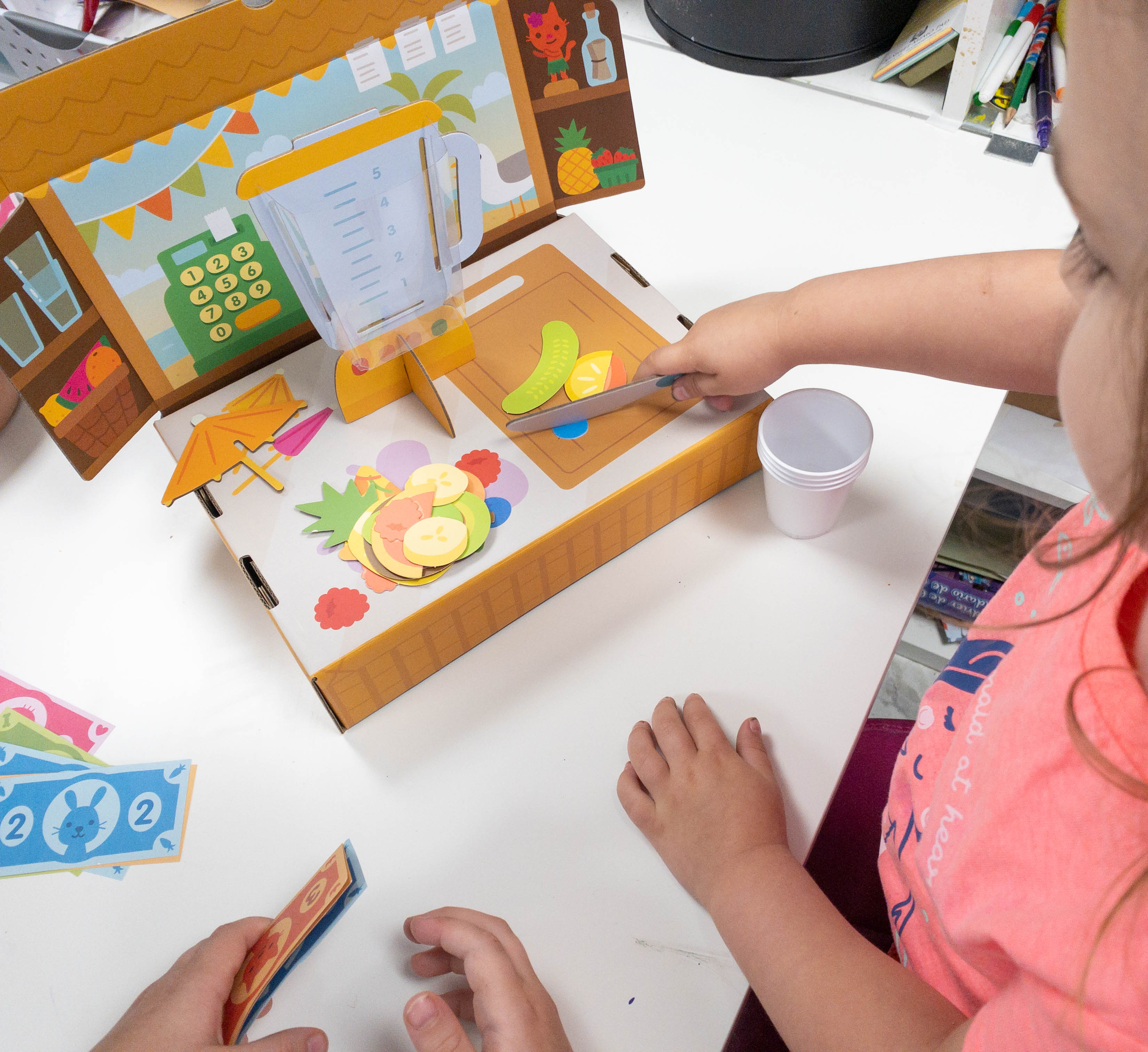 Now, it's time to prep the smoothies! My daughter used the knife cutout and the cutting board for this part of the activity.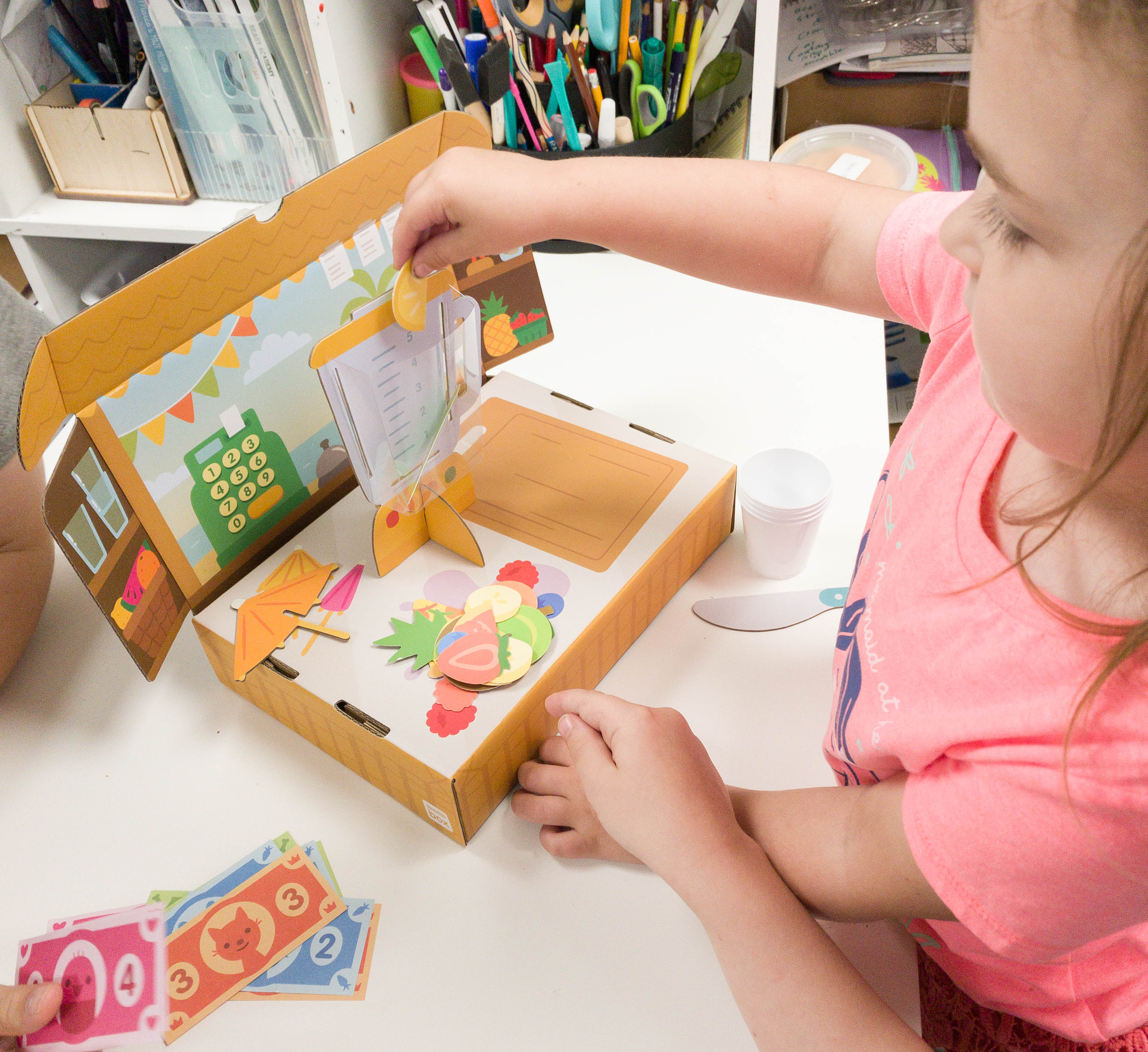 Then, she added the fruit pieces one by one in the blender. She also used some cups from home, where she transferred the smoothie she sold. My daughter had so much fun with this one!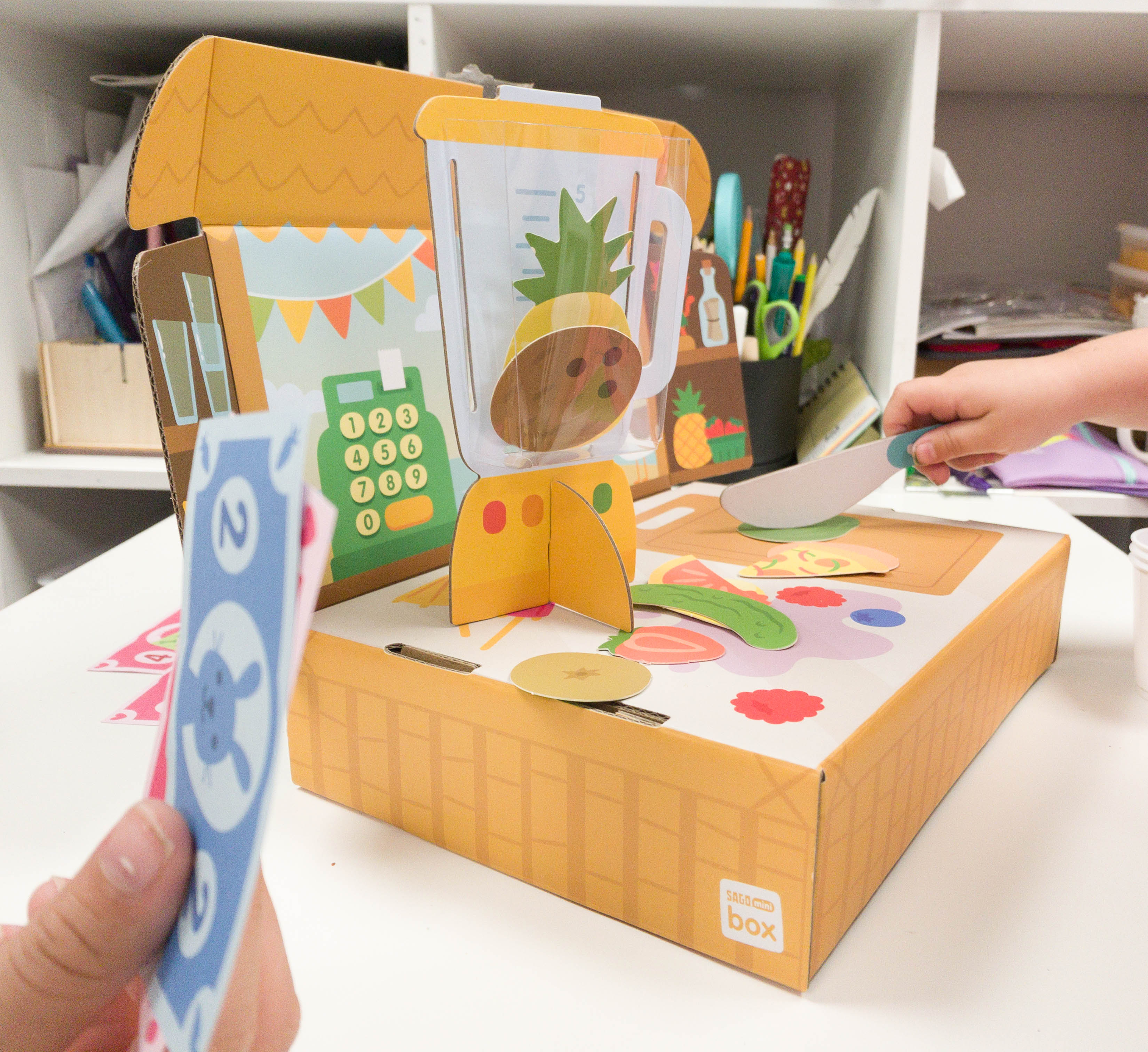 Make-believe play like this one is a great way to encourage imagination and creativity!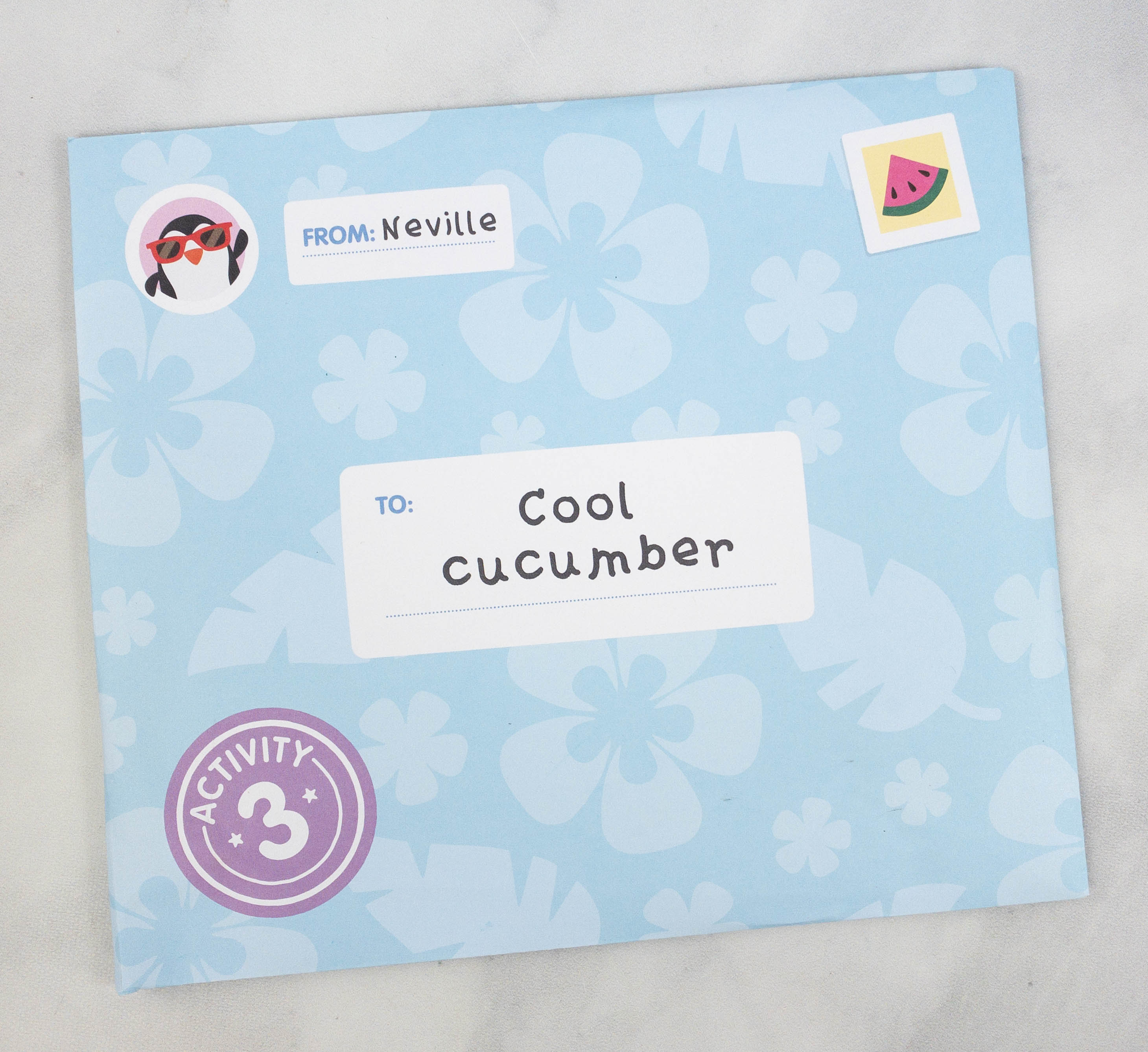 Activity #3: Beach Paddle Ball. The final activity came in a blue envelope with flowers and leaves on the background. This envelope is from Neville and addressed to the cool cucumber.
Like the first two envelopes, this one came with an instruction sheet. This time, my kids will be playing a beach paddle ball game!
Here's a letter from Neville the penguin!
The envelope includes 2 paddles: one with a dog and the other one with a cat. Also included is a paddle ball.
Beach paddle ball is similar to ping pong! Kids just need to hit the ball back and forth, and they can choose to do it with or without a table. Another suggested play idea from Sago Mini is bouncing the ball back and forth against an empty wall.
This activity encourages large motor play. Also, games with rules like this one encourages self-regulation.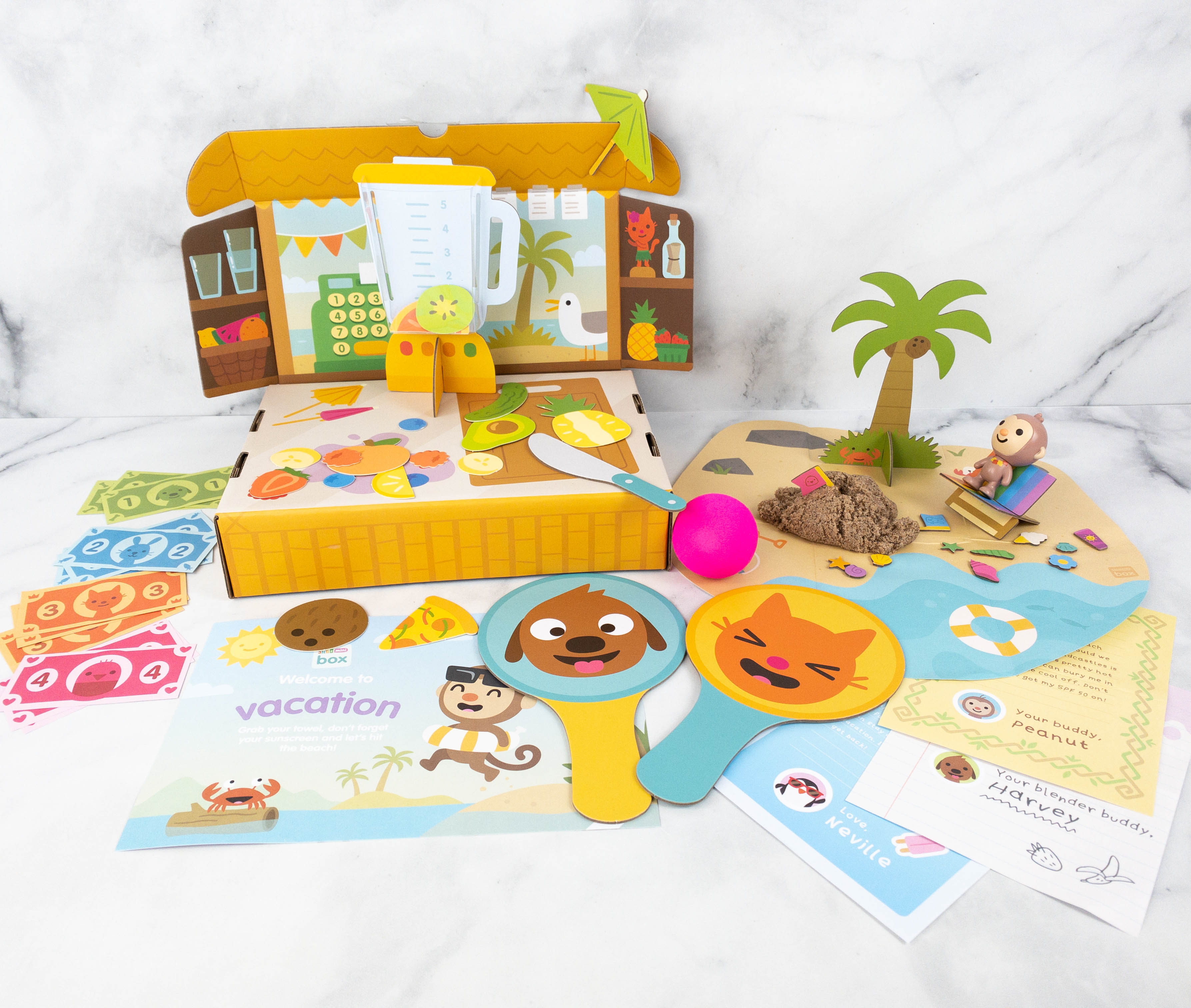 Here's a final look at the finished activities from this month's box! What an absolute blast (and perfect for a seriously rainy day!).
Sago Mini Box focuses on make-and-play activities for kids! This month's vacation-themed activities include playing with kinetic sand, setting up a smoothie shop, and playing paddle ball. My kids' favorite, especially my youngest, is the Summer Smoothies. It's a fun pretend play activity where my daughter got to be the owner of a smoothie shop, who also prepares and sells the smoothies! As always, the materials are properly packed per activity so it's easy to grab one and start. Another thing we love about this subscription is that the activities help enhance various skills, including small motor skills and big motor skills, and even creativity. If you're looking for a fun subscription for pre-school aged children, this one is worth considering! The materials are not just for one-time use, giving parents great value for money (but also pack up easily)!
What do you think of Sago Mini Box?