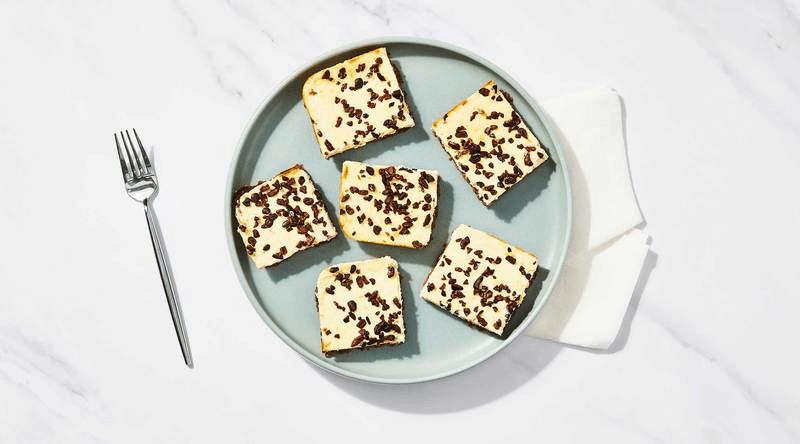 Factor_ (formerly Factor 75) is launching their newest premium cheesecake add-on – the Keto Cheesecake in Orange, Chocolate, and Goat Cheese!
Our traditional almond flour crust gets a chocolate kick and orange punch! Cocoa powder is added to the mix to create a chocolate crust for the cheesecake. After mixing with almond flour, monk fruit sweetener, vanilla and butter, the crust is pressed into the pans. The filling is made from cream cheese, goat cheese, eggs, monk fruit and grated orange zest. A garnish of cocoa nibs is sprinkled on top before baking.
DEAL: Get $25 off your first week when you use the coupon code FACTOR2020. Want longer subscriptions? Get $50 off your first TWO weeks ($25 off per box) with coupon code FACTOR50 OR get $90 off your first THREE weeks ($40 off your first box, $30 off your second box, and $20 off your third box) with coupon code FIRSTFACTOR90.
See our Factor_ review to find out more about this totally healthy and DELICIOUS prepared meal subscription service!
Factor_ prepares and delivers fresh, nutritious meals to your door. We combine nutrition science and culinary excellence to design dishes that taste amazing, and give your body and mind the nutrients needed to perform at their peak. Our chefs craft restaurant-quality recipes to keep our menu fresh with new delicious options! Every meal uses thoughtfully-sourced ingredients with no hormones, antibiotics, GMOs or additives.
This subscription focuses on nutrition, and has options available that fit with paleo, keto, and gluten-free diets! Here's how it works:
Every meal arrives prepared to heat and eat in minutes! Just pop them in the microwave or oven for 5 minutes or less, and presto – your food is served!
What do you think about Factor_?