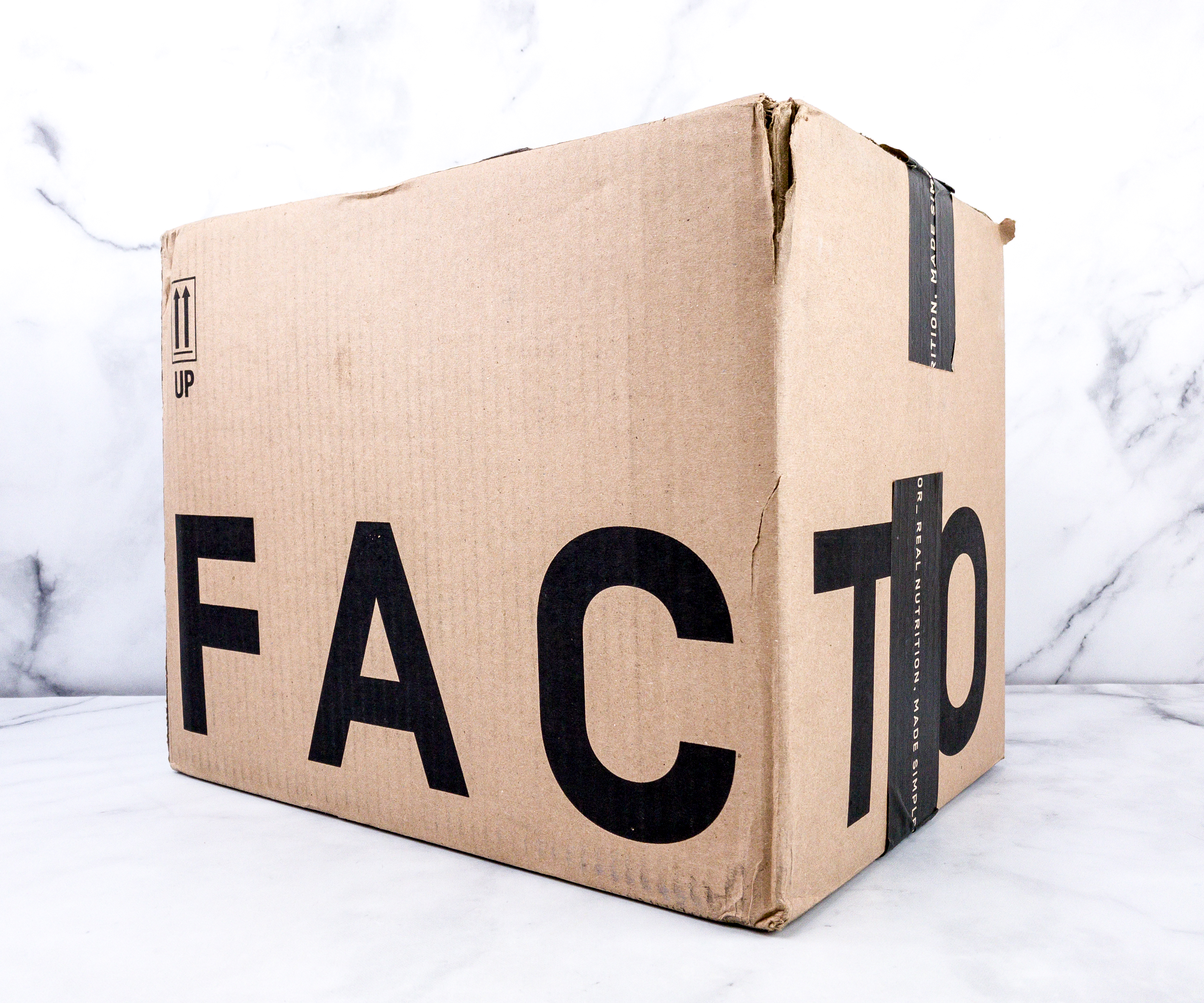 Factor_, formerly known as Factor 75, offers healthy meal plans. They shop, prep, and cook everything, so you don't have to! The meals always arrive fresh and all you have to do is to heat them up in the oven or microwave before serving. The menu changes weekly, featuring meals for different dietary needs and taste preferences. The types of meals include keto, paleo, low-carb, vegetarian, plant-based, and high protein. All subscribers also get a complimentary 20-minute consultation with a registered dietitian, so you can get advice for your wellness journey!
Currently, they offer 5 meal plans and you can choose based on how many meals you need per week:
4 meals/week – $60 or $15/meal
6 meals/week – $77 or  $12.83/meal
8 meals/week – $99 or $12.38/meal
12 meals/week – $138 or $11.50/meal
18 meals/week – $198 or $11/meal
DEAL: Get $25 off your first week when you use the coupon code FACTOR2020. Want longer subscriptions? Get $50 off your first TWO weeks with coupon code FACTOR50 OR get $90 off your first THREE weeks with coupon code FIRSTFACTOR90.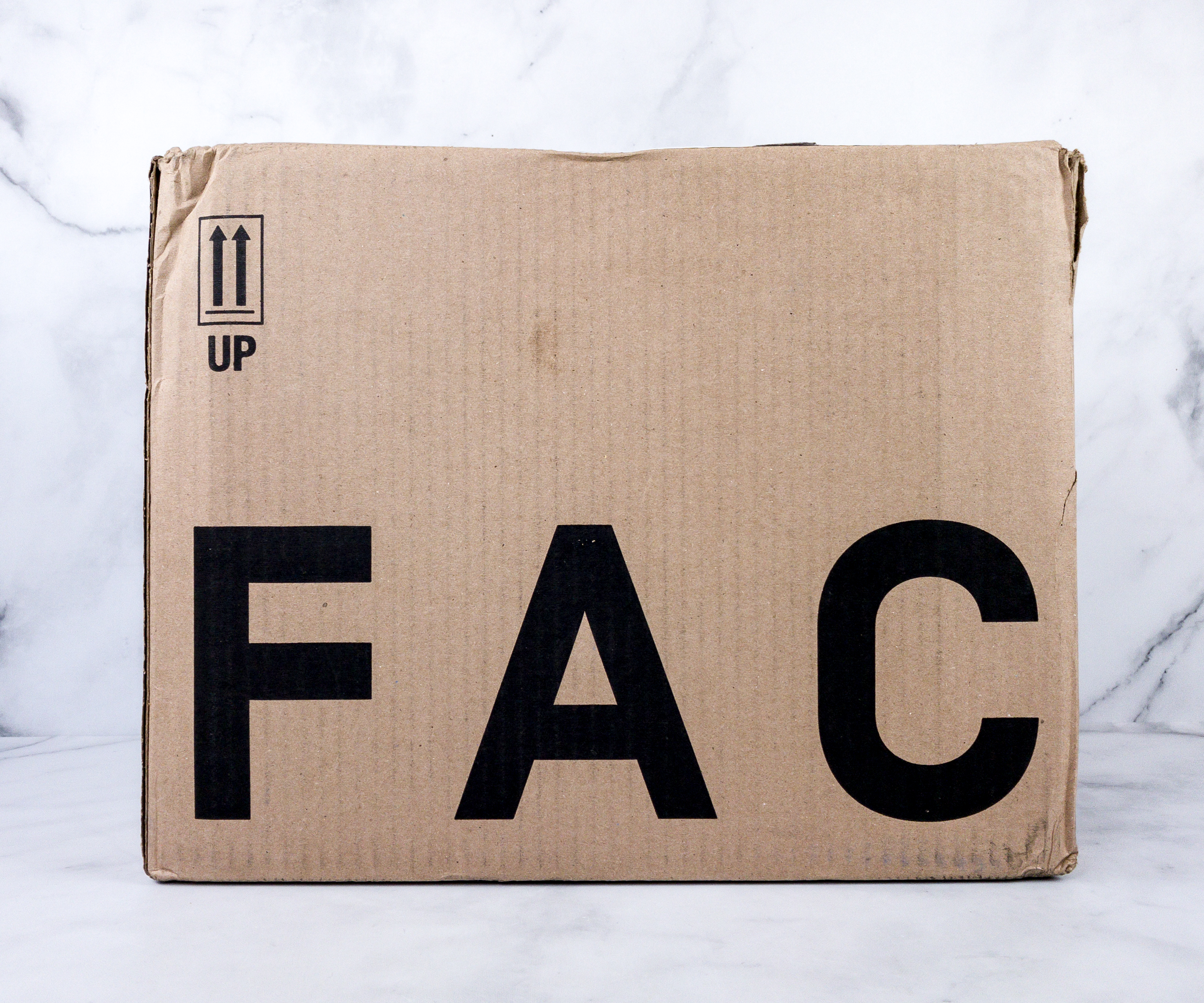 The meals arrived in a sturdy box.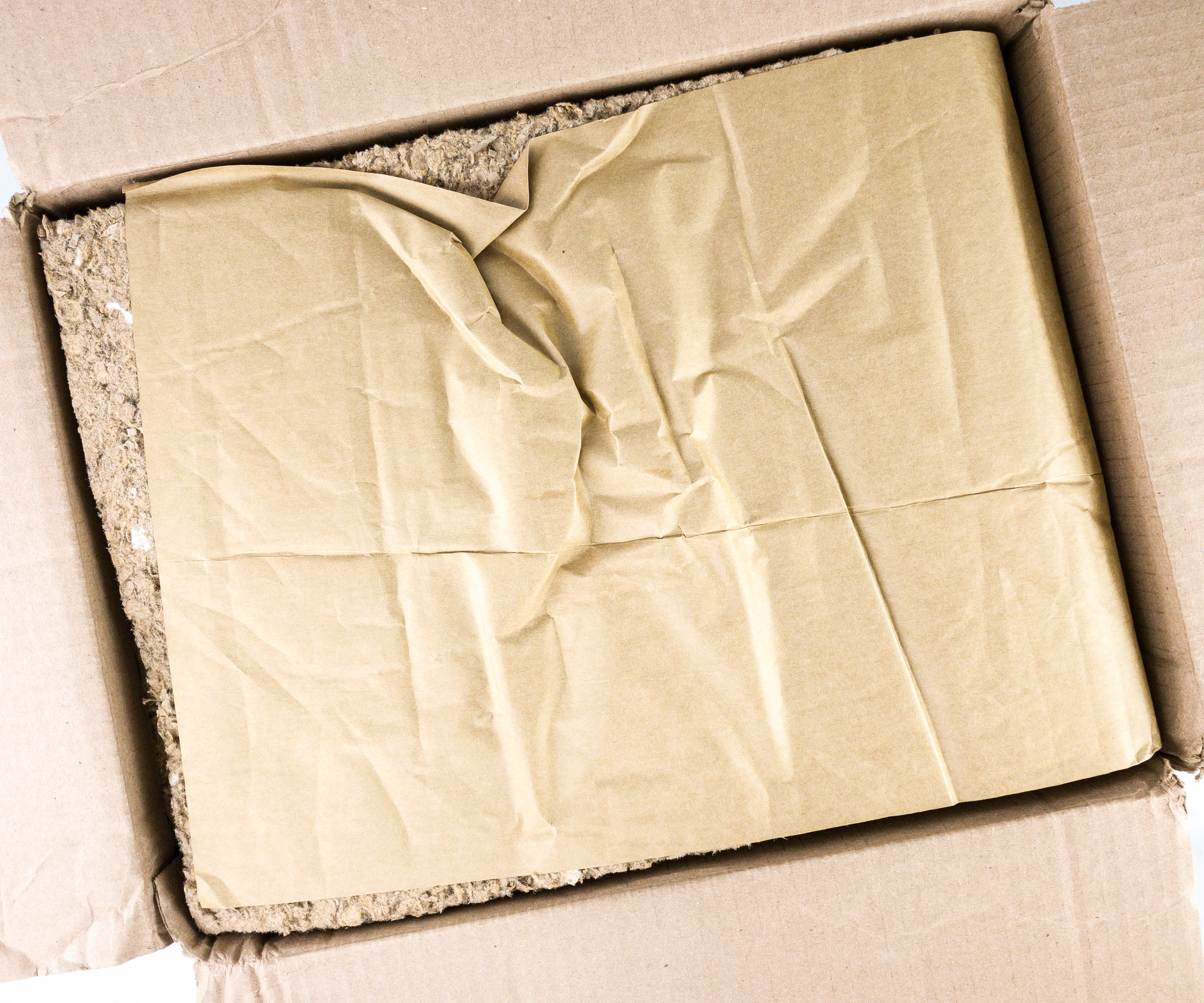 The box is insulated with gel packs, keeping the meals at refrigerated temperatures for a long time.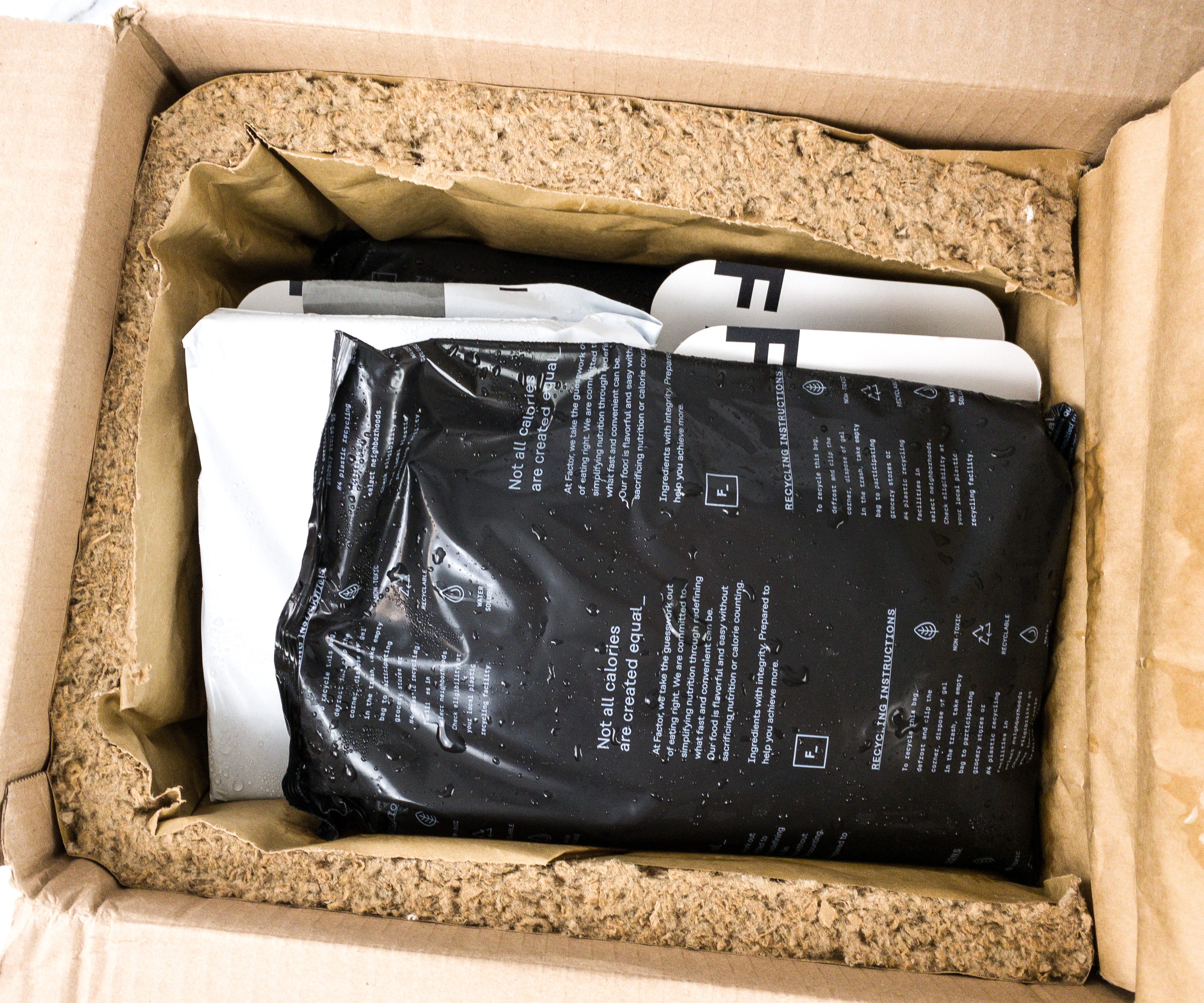 The gel packs are non-toxic and recyclable. You can even donate them to organizations that may be able to use them.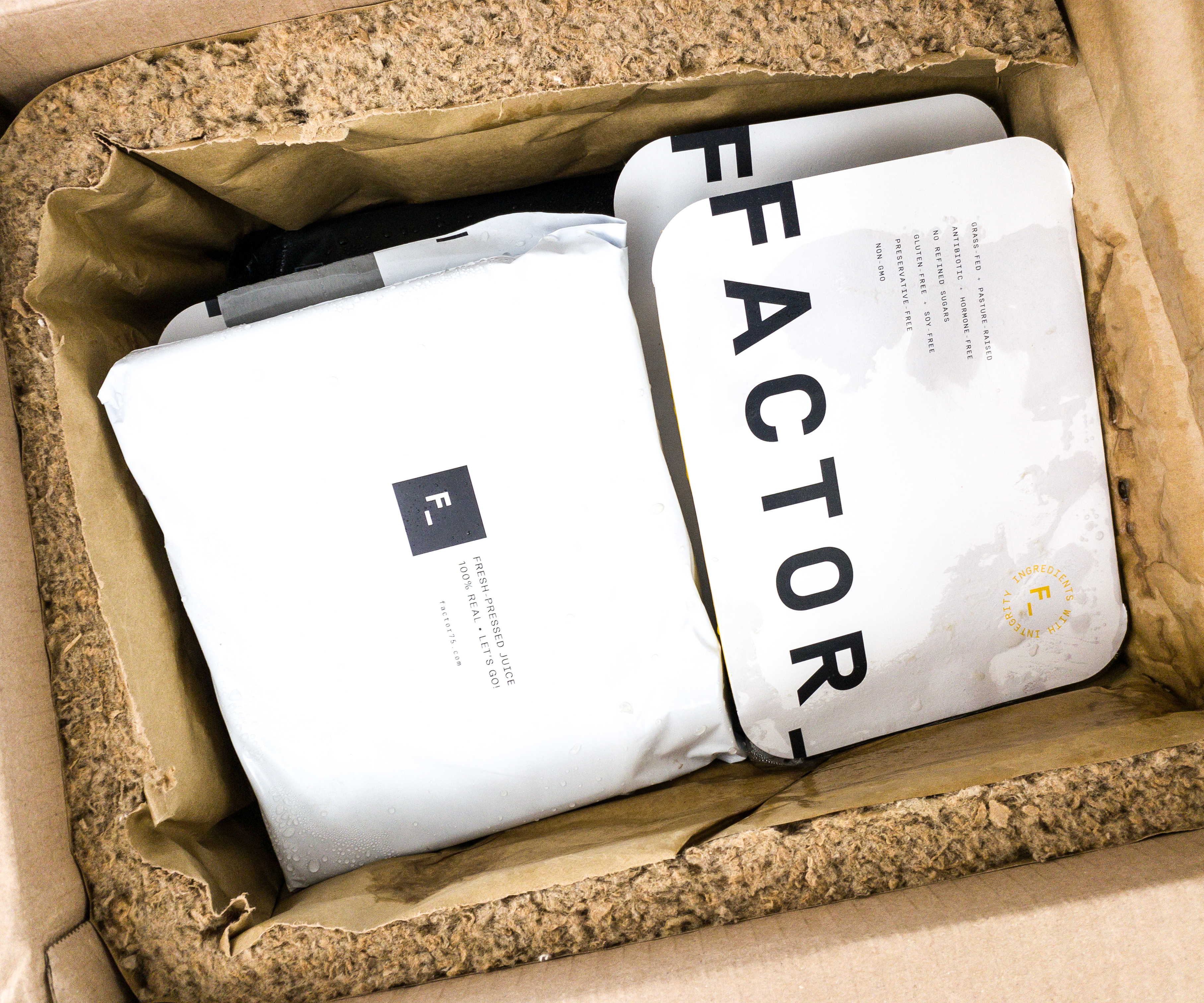 Even their food containers are eco-friendly, which are made from BPA-free, recyclable plastic.
In case gel packs arrive slightly melted when they arrive, Factor says there's no need to worry. The packs release cold air into the box as they melt. However, the cold air dissipates quickly when you open the box, so you should transfer the meals to the refrigerator as soon as possible.
Aside from the meals, I also have fresh-pressed juice in my box!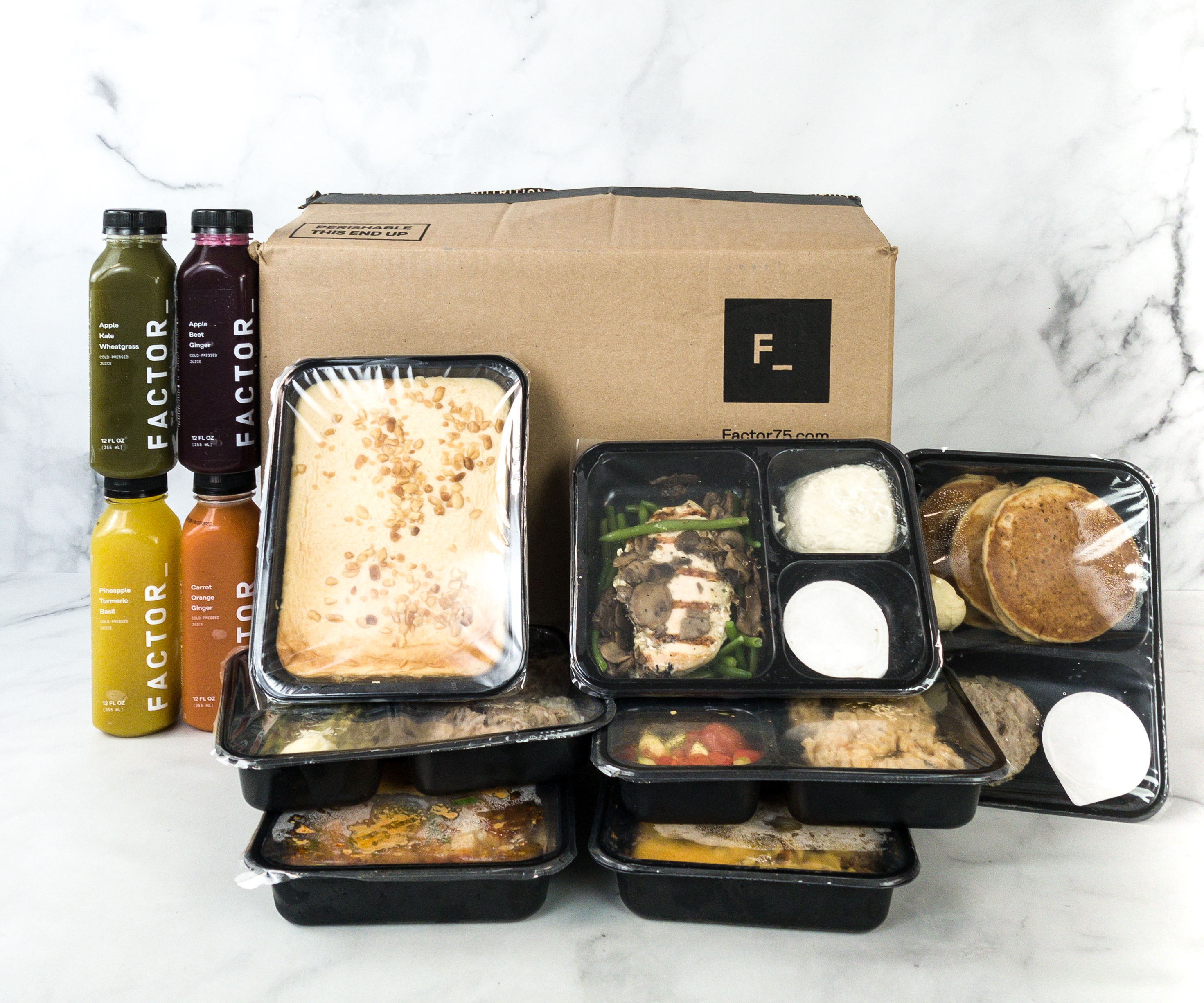 Everything in my box!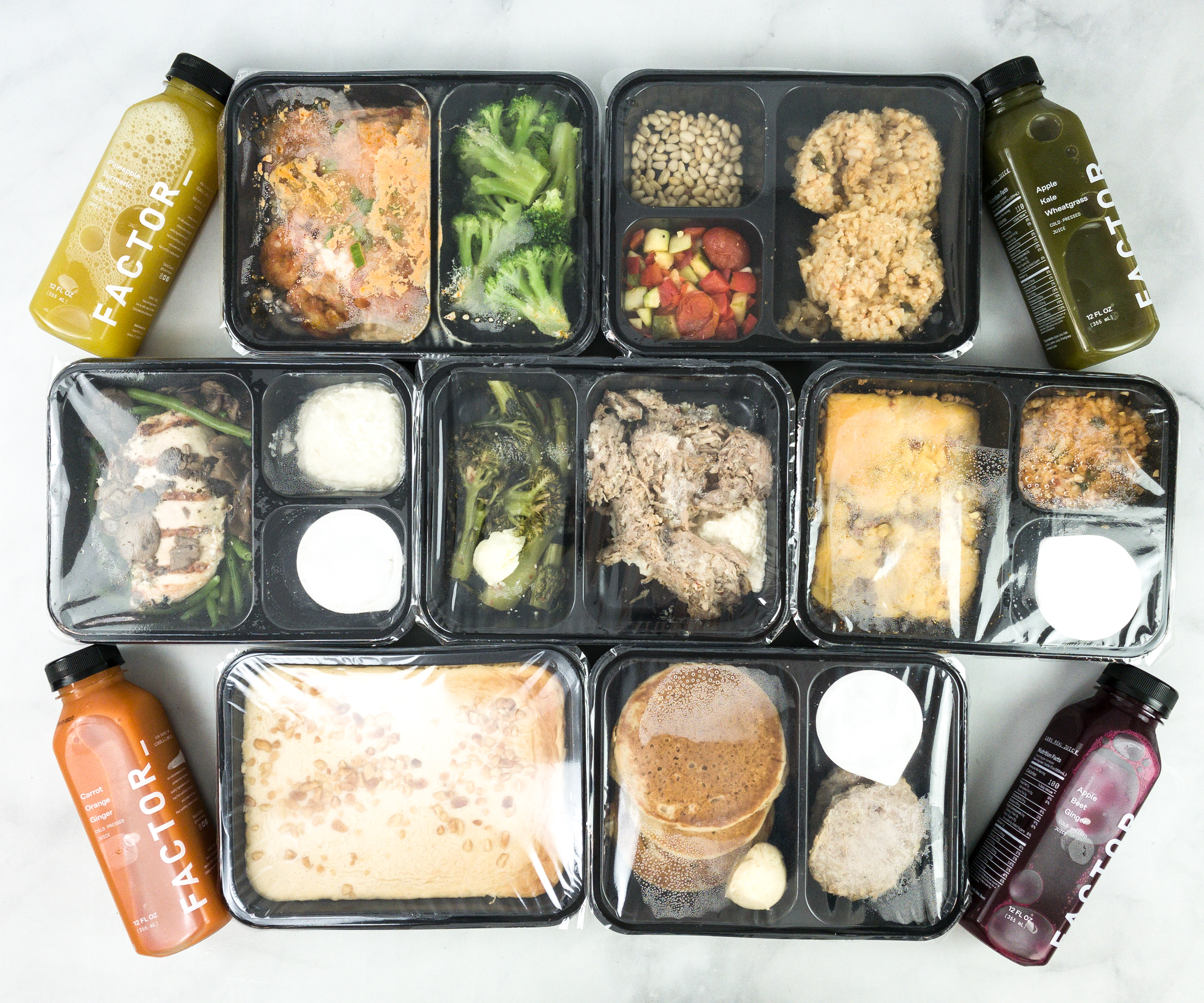 I'm trying out 7 meals from this box, plus 4 juices!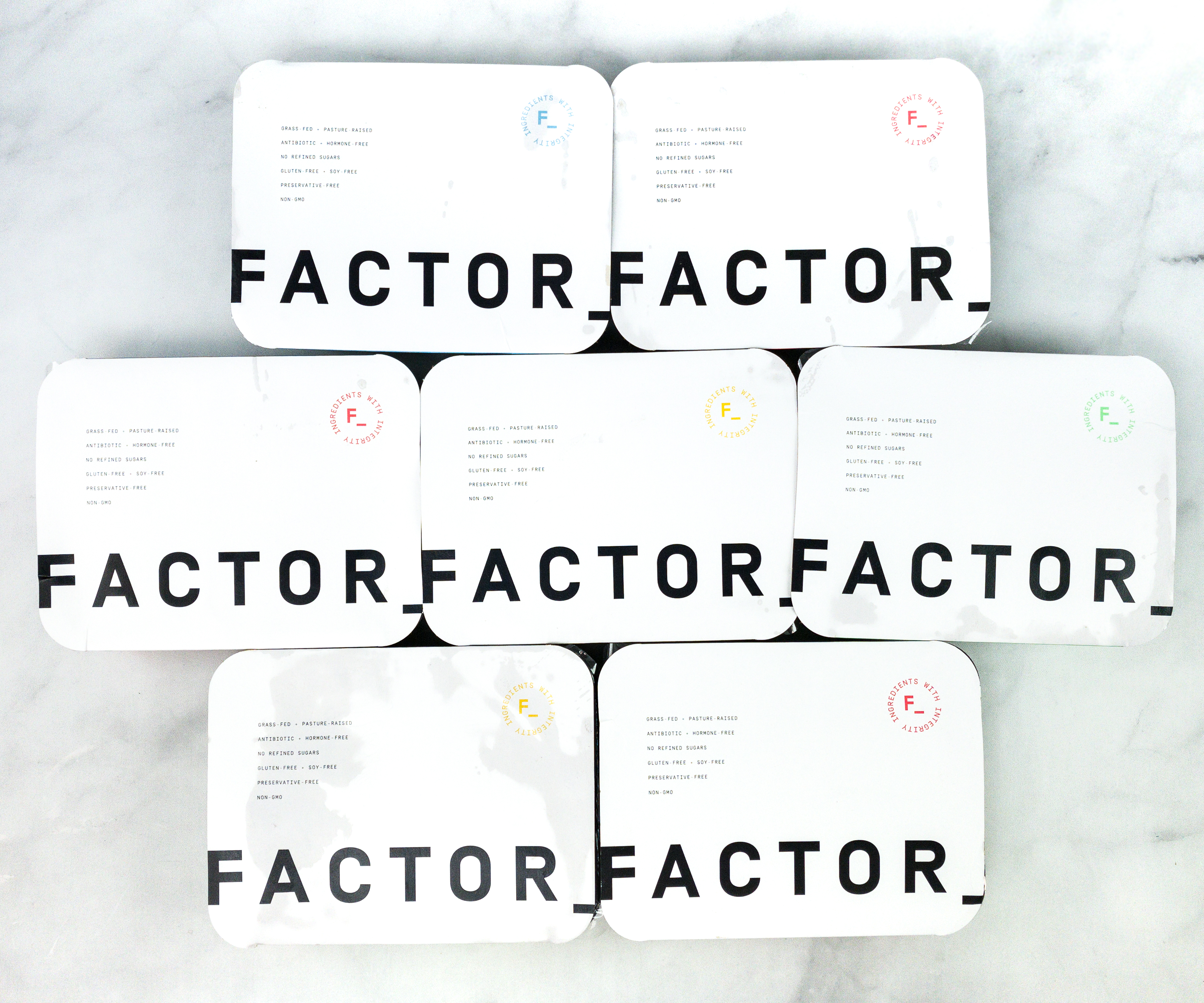 Now, we're moving on to the meals! These are color-coded for easier identification: orange is for meat, yellow is for breakfast, blue is for seafood, and green is for vegetables.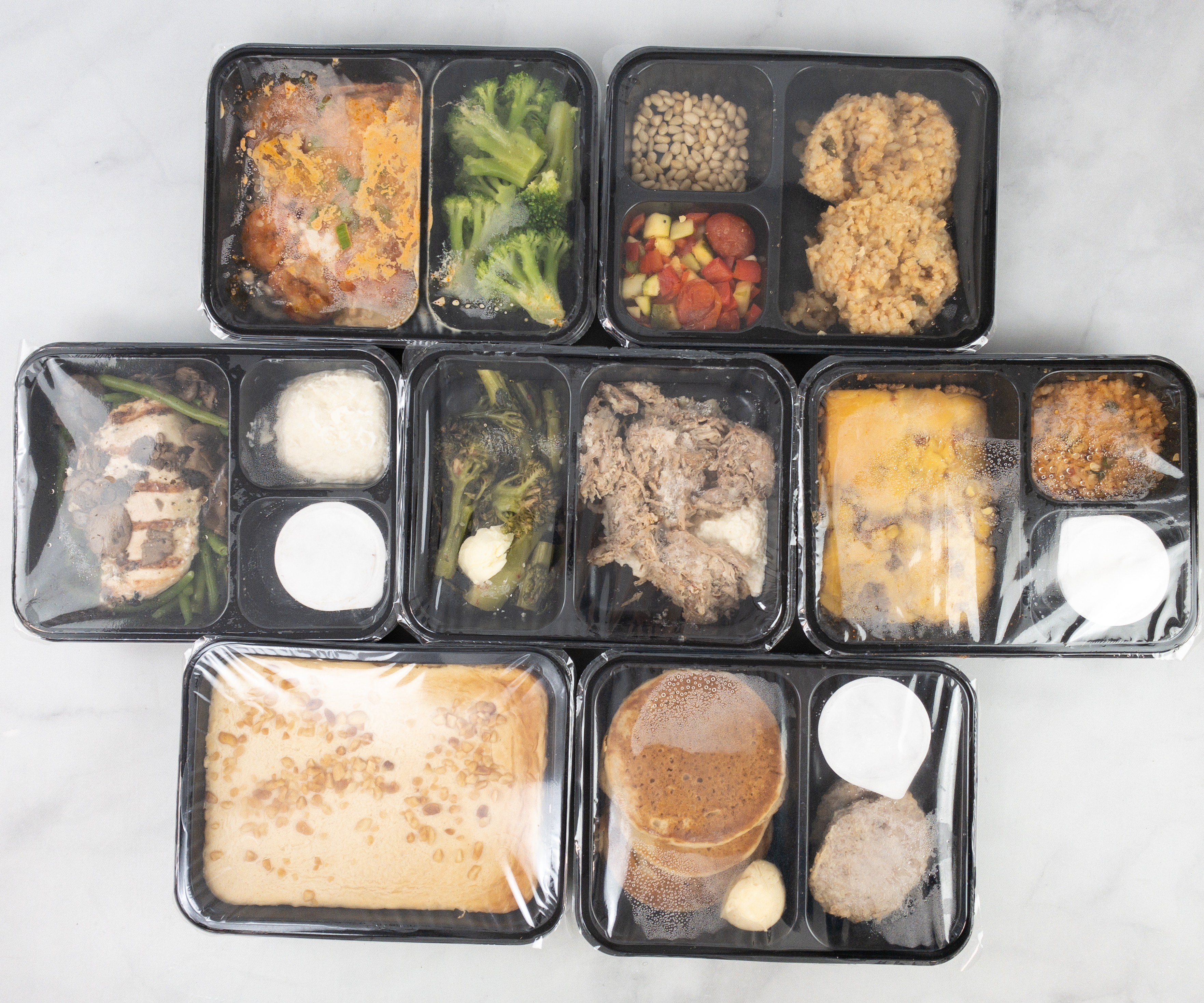 They are all well packed in a BPA-free container with a plastic film that protects them from contamination.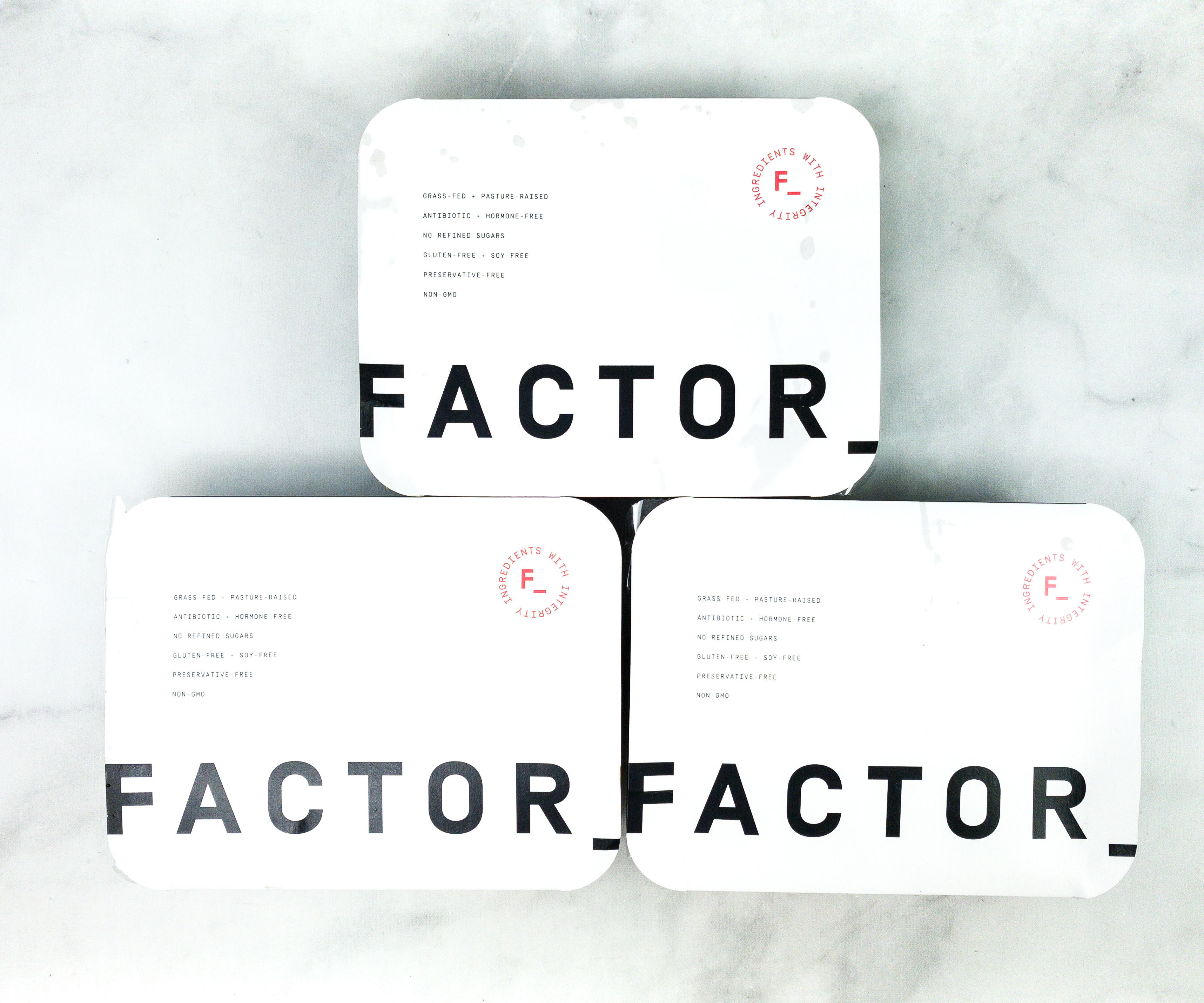 The first three meals are Chicken Marsala with Mashed Cauliflower, Italian Roasted Pork, and Tostada Bake! They all contain meat.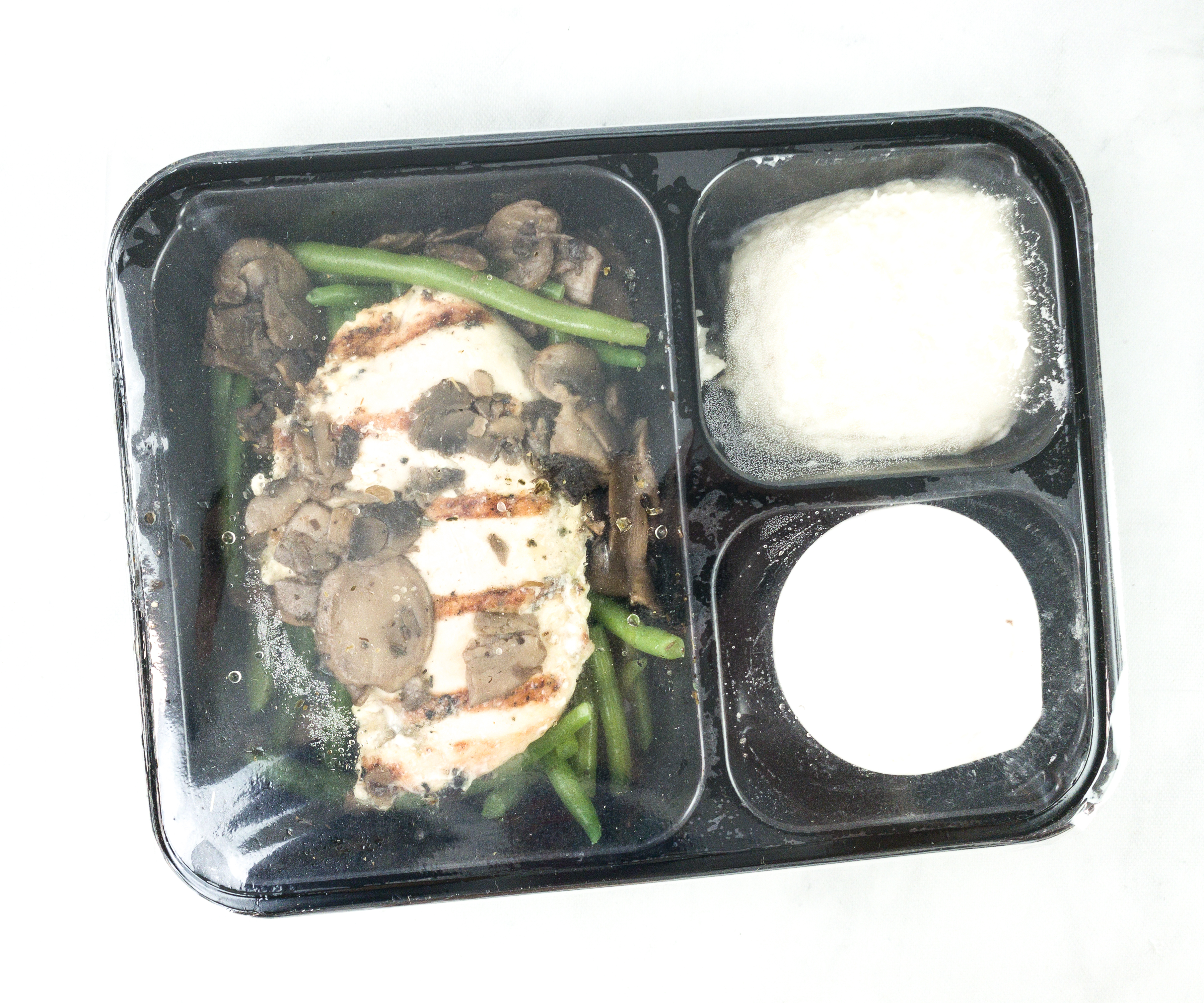 Chicken Marsala with Mashed Cauliflower. This high-protein dish is great whether for lunch or dinner. They used organic chicken breast, plus mashed cauliflower as an alternative to rice.
Ingredients: antibiotic-free chicken breast, organic cauliflower, organic haricot verts, mushrooms, red wine, cream cheese (pasteurized milk and cream, cheese culture, salt, guar gum, carob bean gum, xanthan gum), red onions, unsalted butter, garlic, olive oil, clarified butter, apple cider vinegar, sea salt, parsley, thyme, beef stock (beef bones, carrots, onions, celery, garlic, bayleaf, black pepper corn), tapioca starch, granulated garlic, black pepper.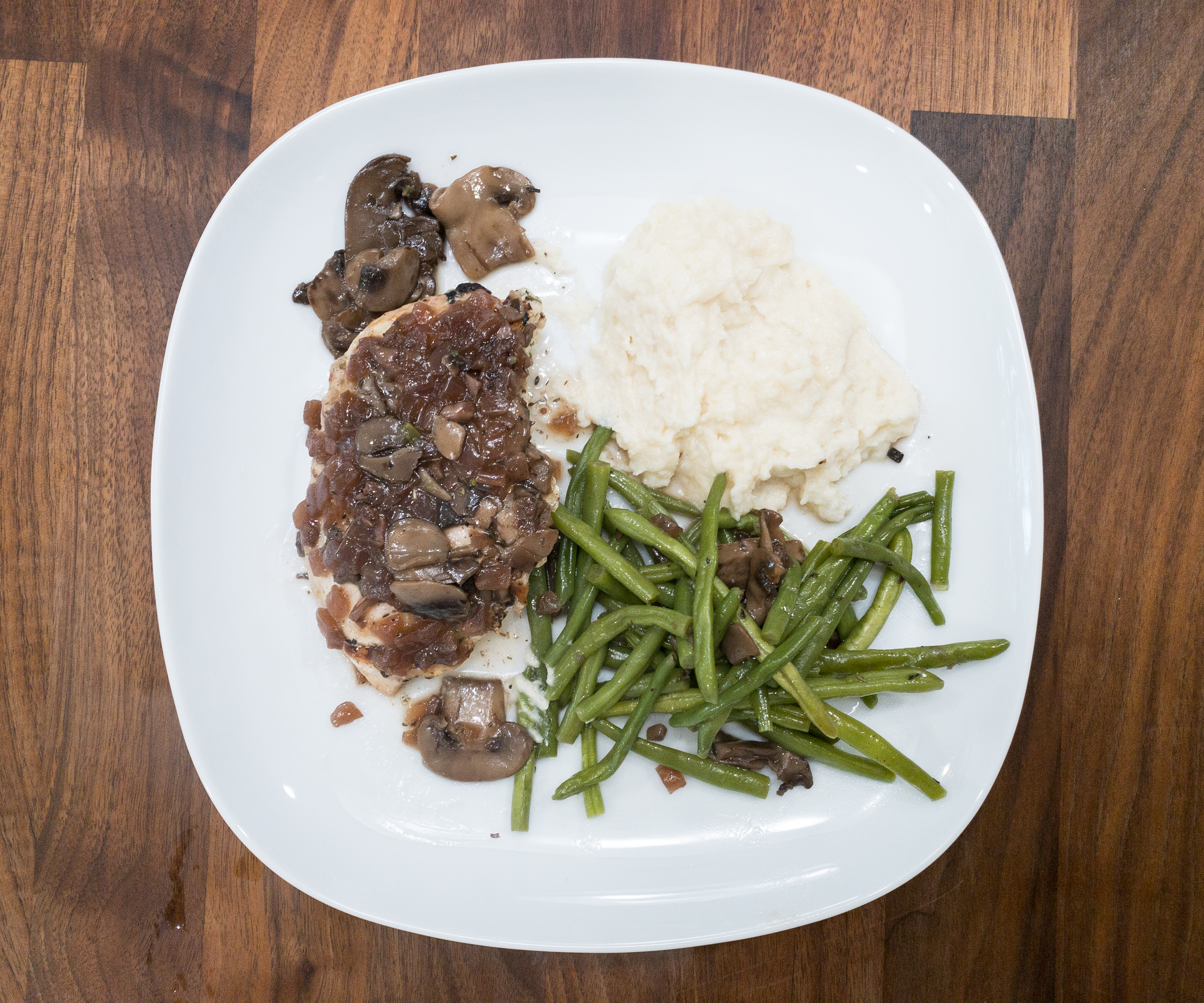 Their marsala wine sauce is restaurant-quality. It has a great umami flavor plus earthiness from the mushrooms!
The chicken was well-cooked, so it was moist and tender. With the haricot verts (French green beans) on the side, this makes such a well-balanced meal.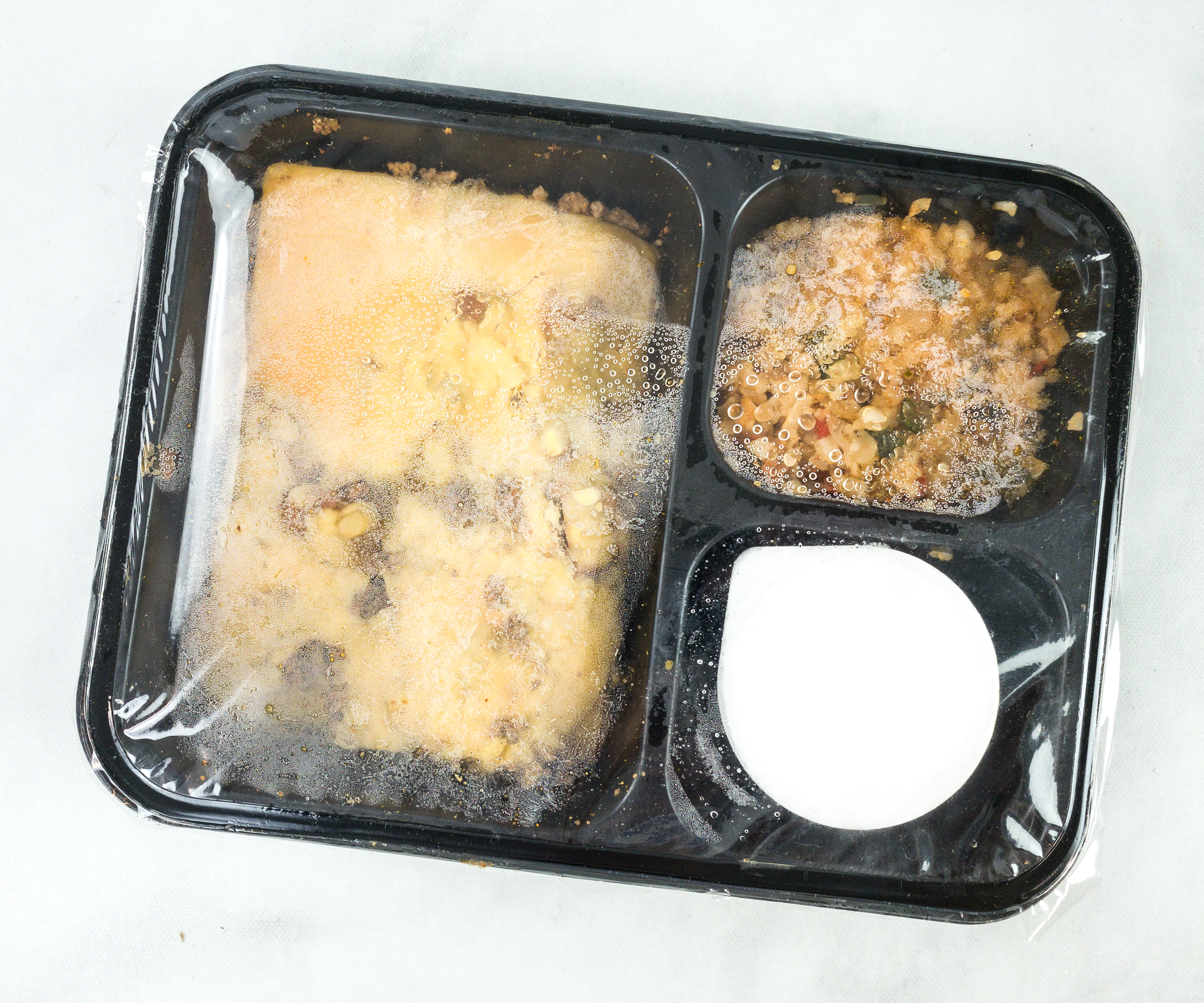 Tostada Bake. It's a Mexican-style dish, made healthier by using grass-fed ground beef and organic cauliflower rice. If you love spicy food, this is a must-try!
Ingredients: grass-fed ground beef, organic cauliflower, sour cream (cultured cream, enzymes), cheddar cheese (milk, cultures, salt, enzymes, annatto (color)), tomato juice, corn tostadas, tomatoes, refried beans (pinto beans, water, sea salt, tomato paste, chili peppers, granulated onion, granulated garlic, paprika), red bell peppers, red onions, poblano peppers, jalapeños, olive oil, cilantro, chili powder, sea salt, cumin, granulated garlic, white wine vinegar, cayenne pepper, paprika.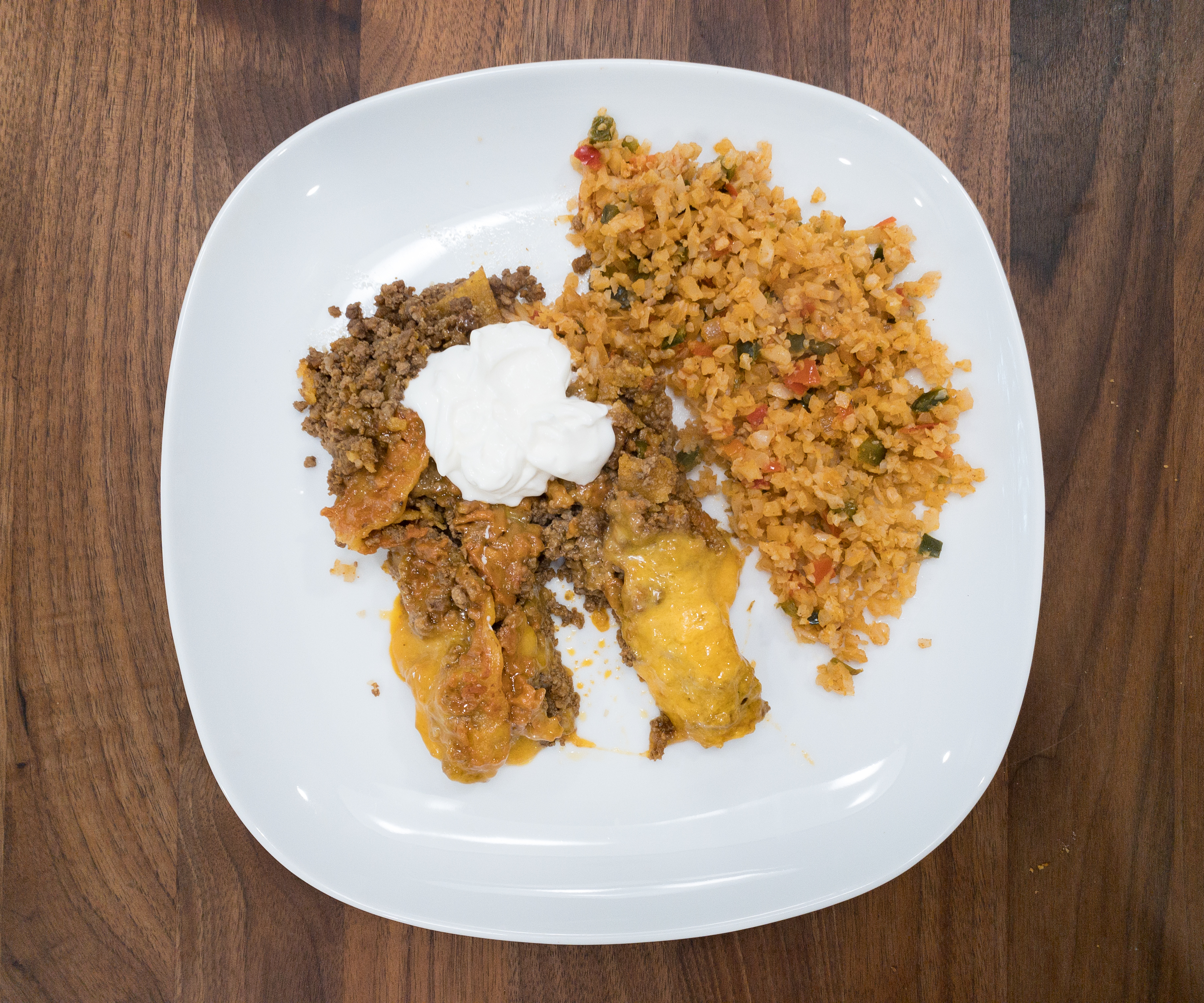 This was quite filling but without the guilt after!
It was spicy and I loved it! They captured authentic Mexican flavors perfectly and it really exceeded my expectations for a pre-cooked meal.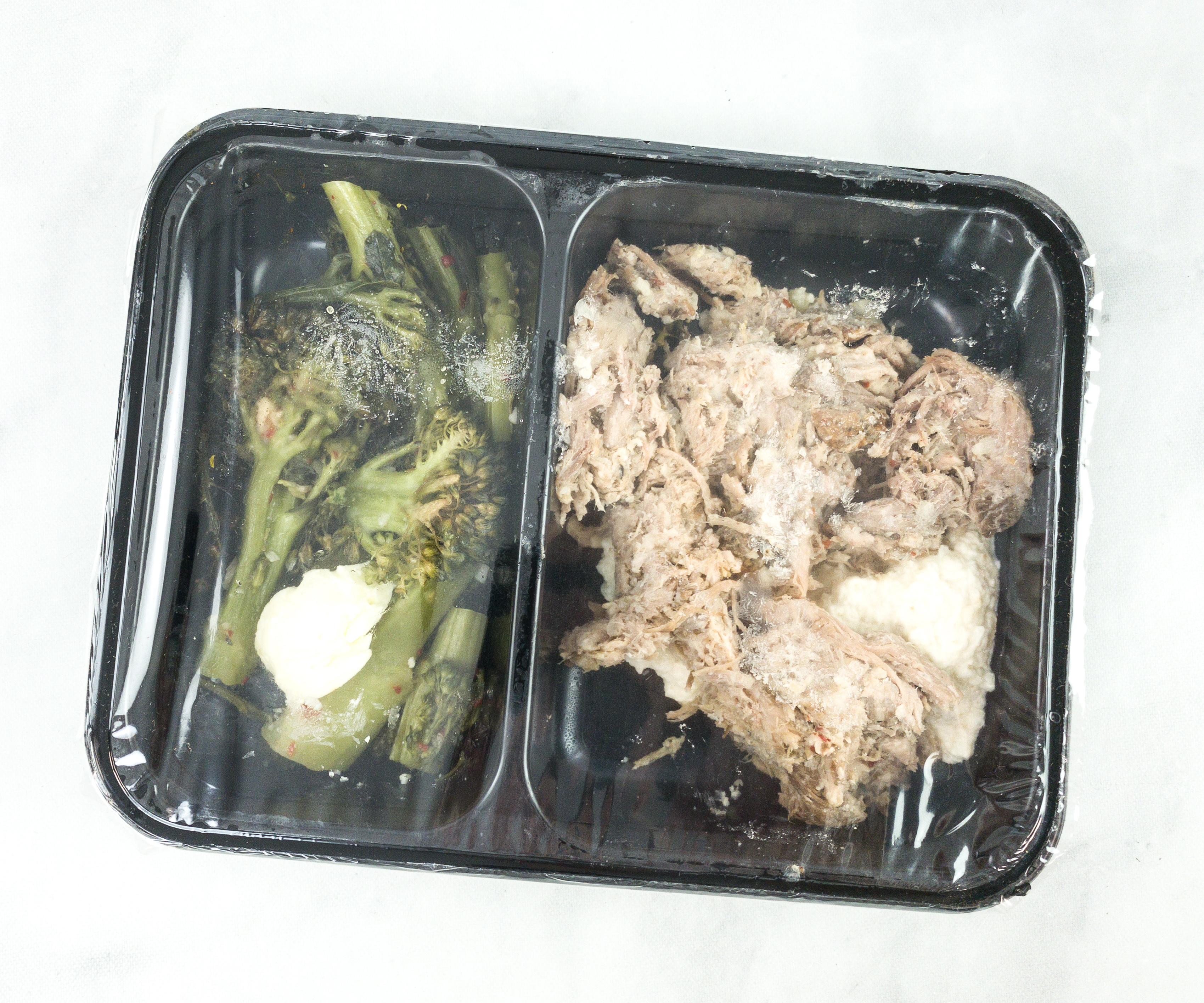 Italian Roasted Pork. This is one of their keto-friendly meal offerings! It's made with pasture-raised pulled pork, served with mashed celery root and garlic-roasted broccolini.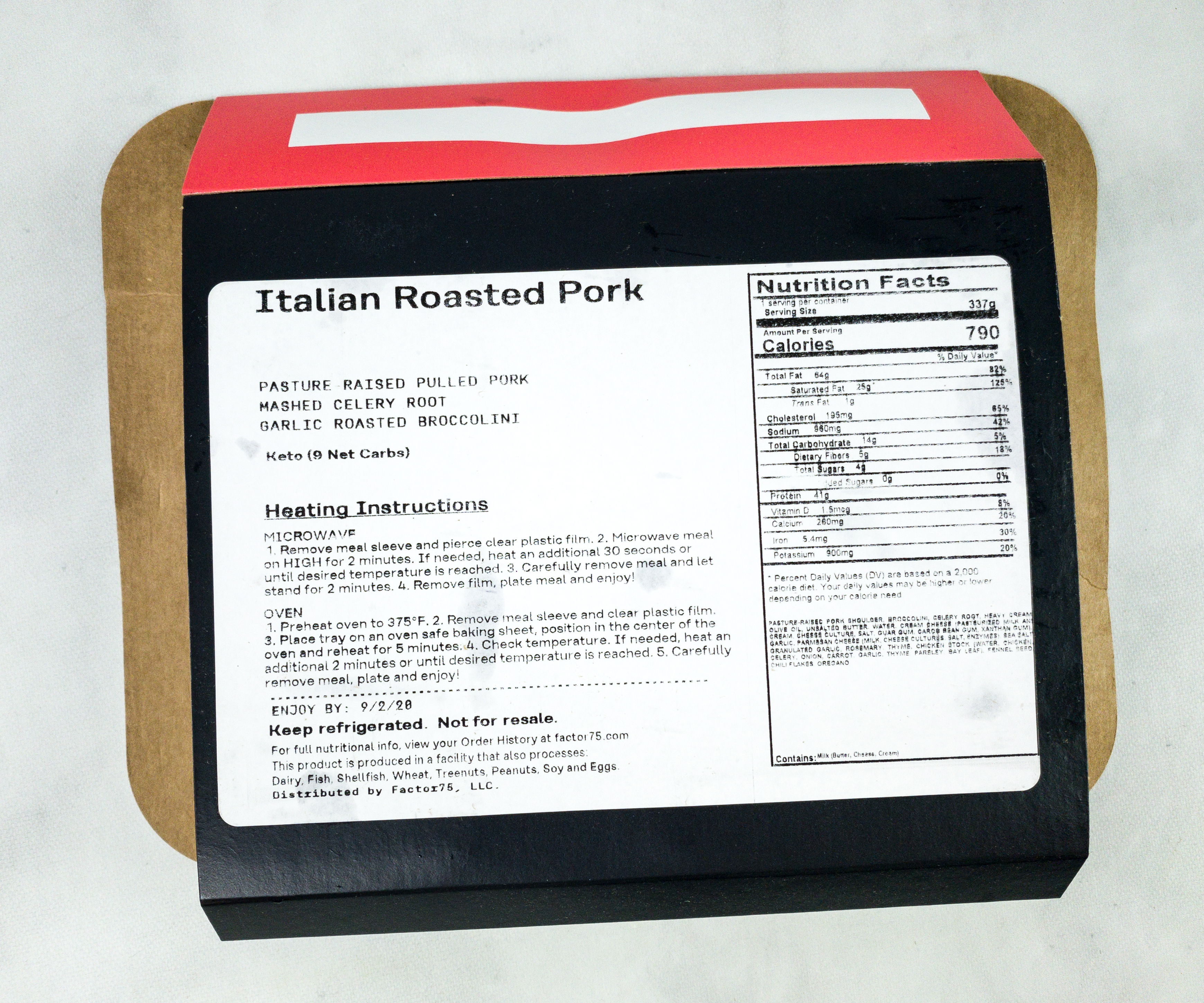 Ingredients: pasture-raised pork shoulder, broccolini, celery root, heavy cream, olive oil, unsalted butter, water, cream cheese (pasteurized milk and cream, cheese culture, salt, guar gum, carob bean gum, xanthan gum), garlic, parmesan cheese (milk, cheese cultures, salt, enzymes), sea salt, granulated garlic, rosemary, thyme, chicken stock (water, chicken, celery, onion, carrot, garlic, thyme, parsley, bay leaf), fennel seed, chili flakes, oregano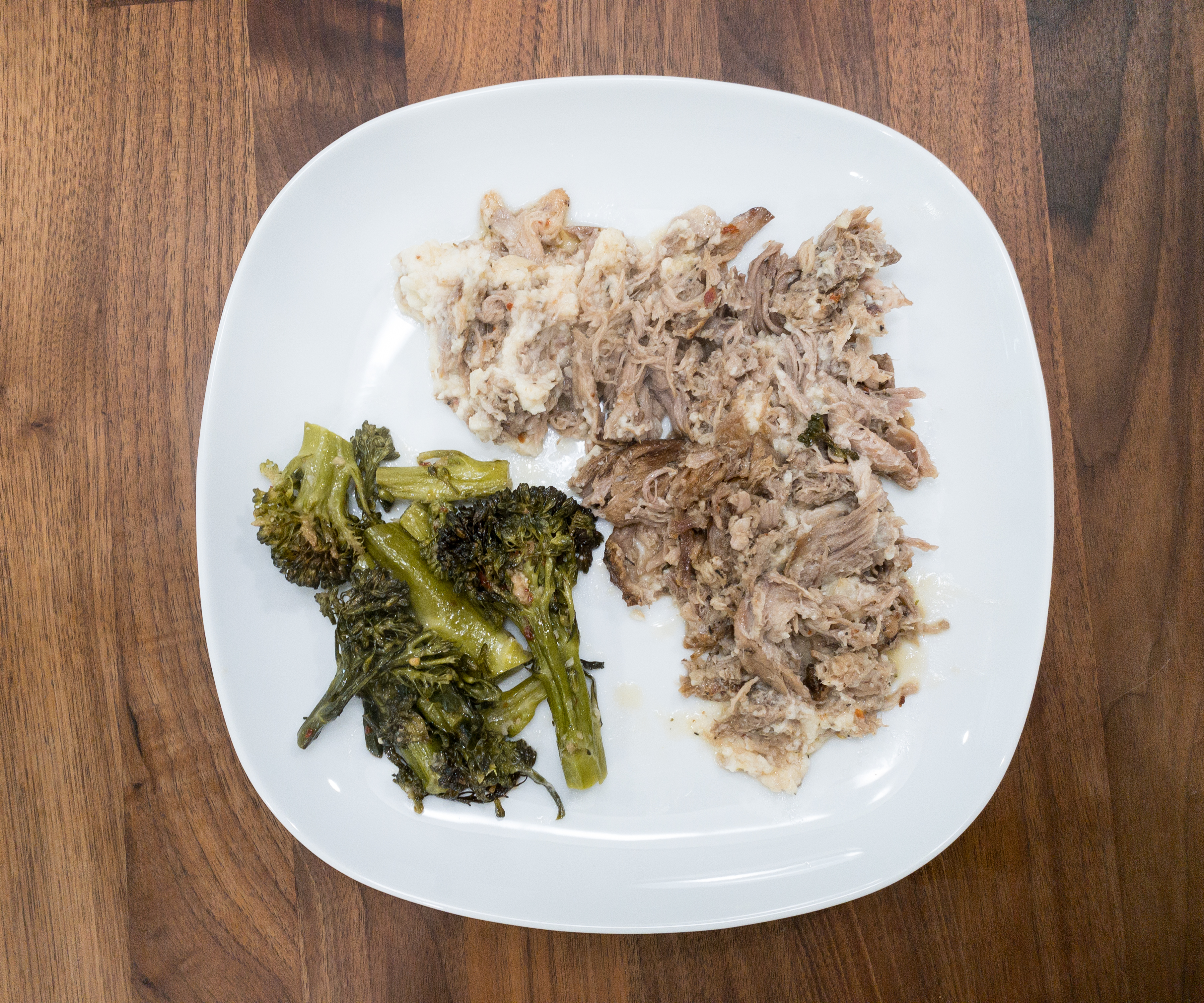 The greens balanced out this meal pretty well. Broccolini is rich in vitamin A, while celery root is rich in fiber and antioxidants.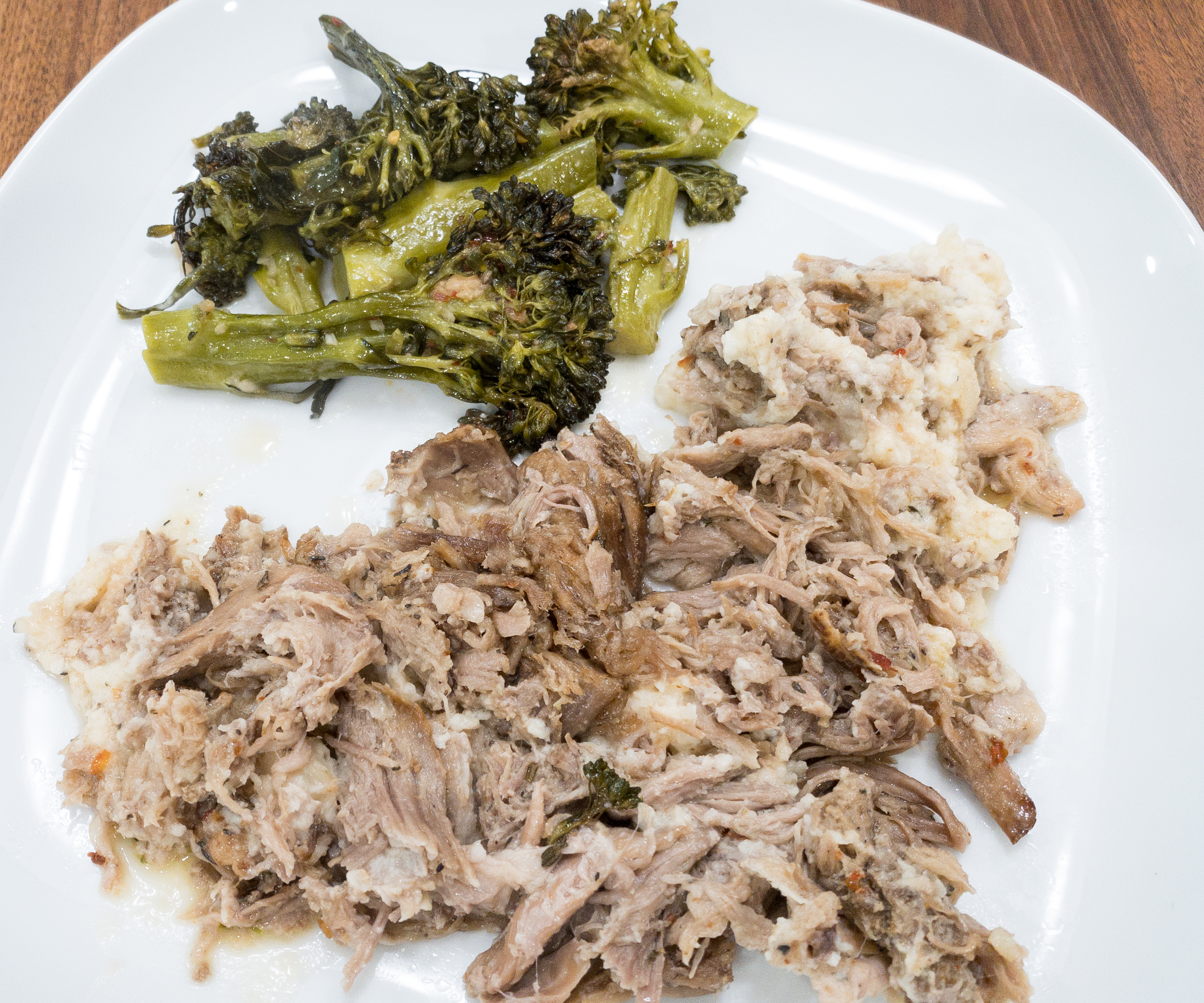 The pork was so tender that it easily falls apart. It was also fatty and flavorful, which is exactly what I look for in any pulled pork dish!
This is the only veggie meal in my box!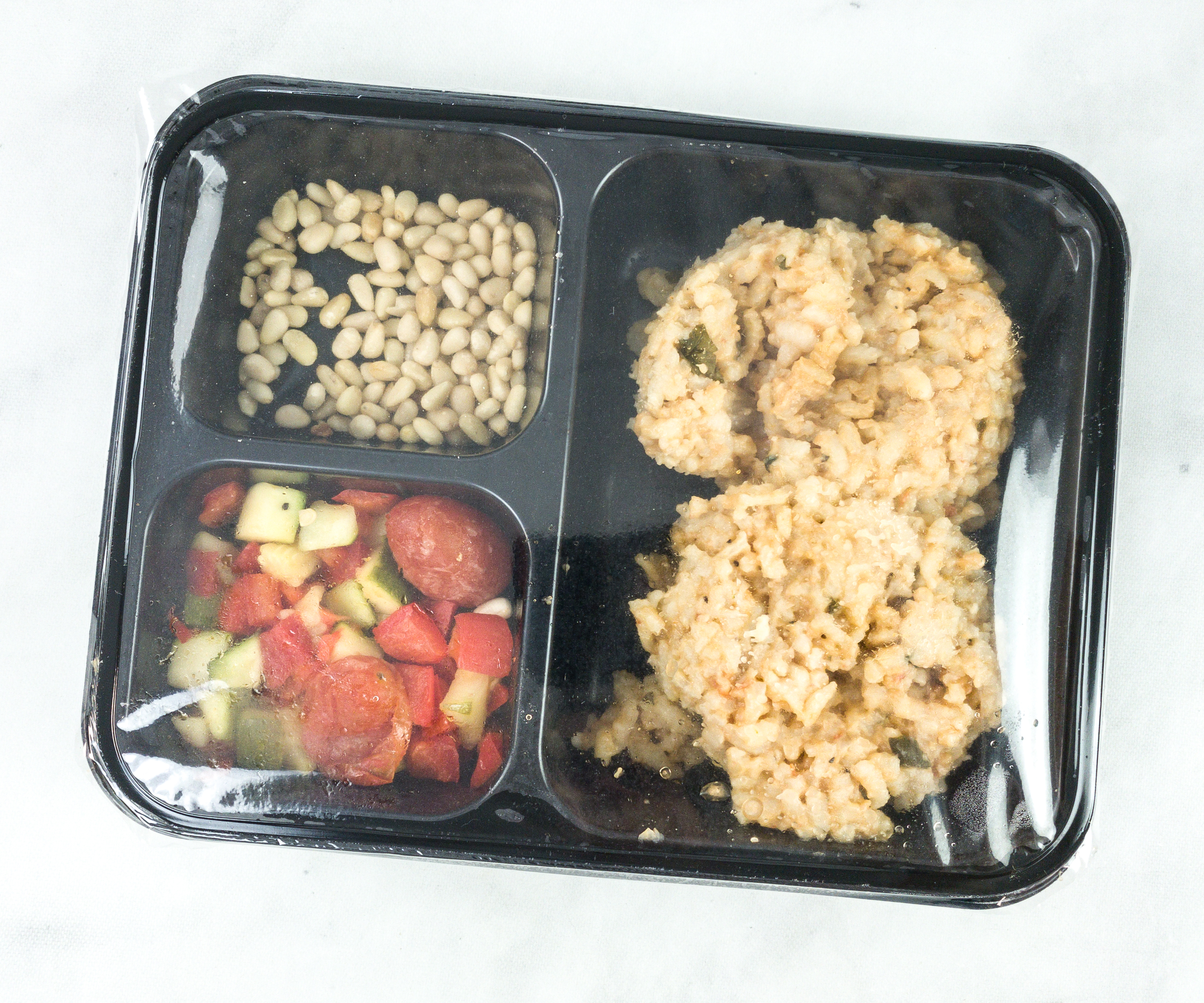 Tomato and Roasted Vegetable Risotto. This healthy version of risotto is plant-based and contains zucchini, tomatoes, bell peppers, and toasted pine nuts.
Ingredients: water, arborio rice, grape tomatoes, red bell peppers, zucchini, tomato sauce (tomato puree (water, tomato paste), water, sea salt, citric acid, spice), pine nuts, red onions, olive oil, red wine, nutritional yeast, sea salt, garlic, basil, black pepper.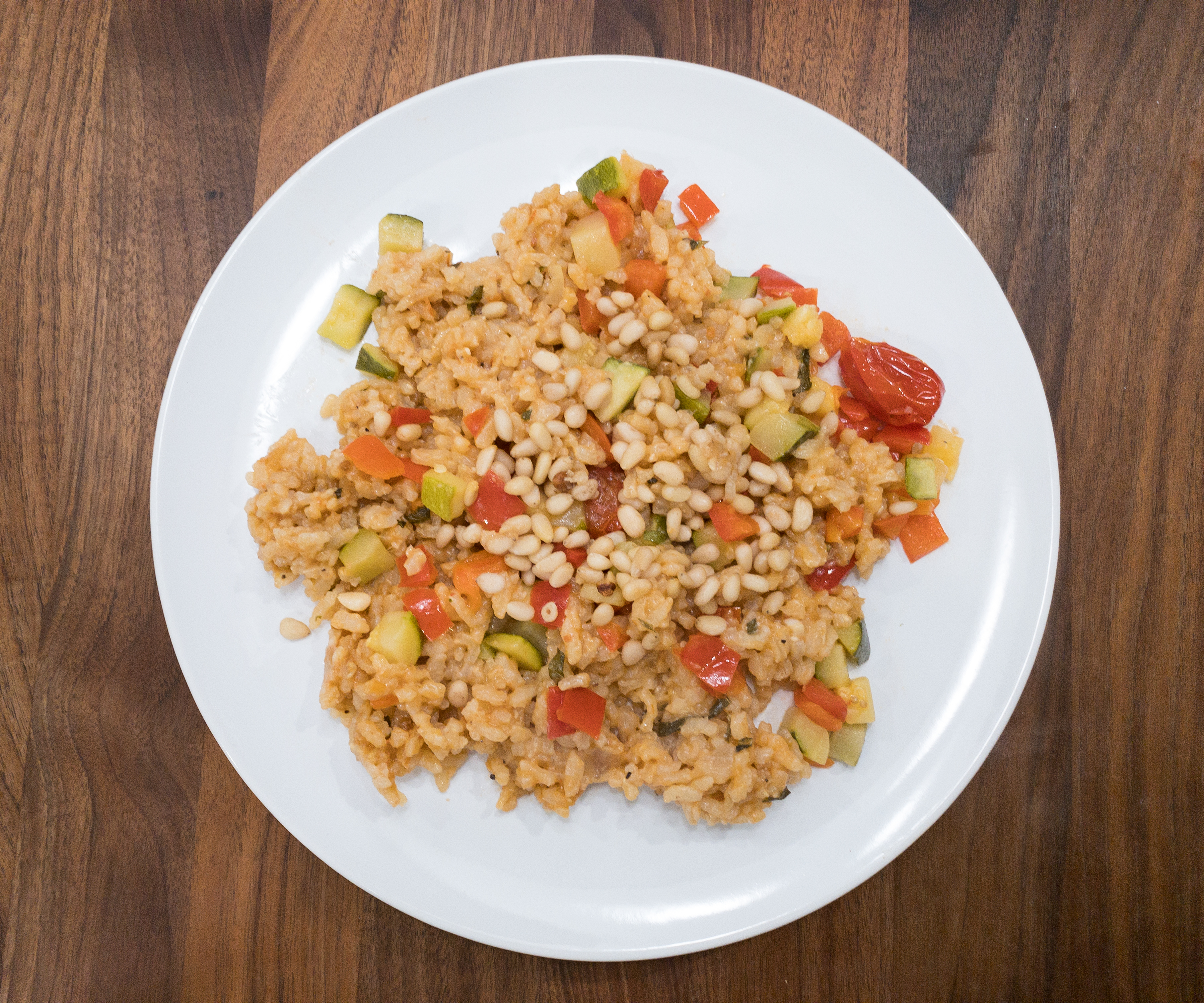 The texture of this risotto is exceptional. It's creamy but not too thick!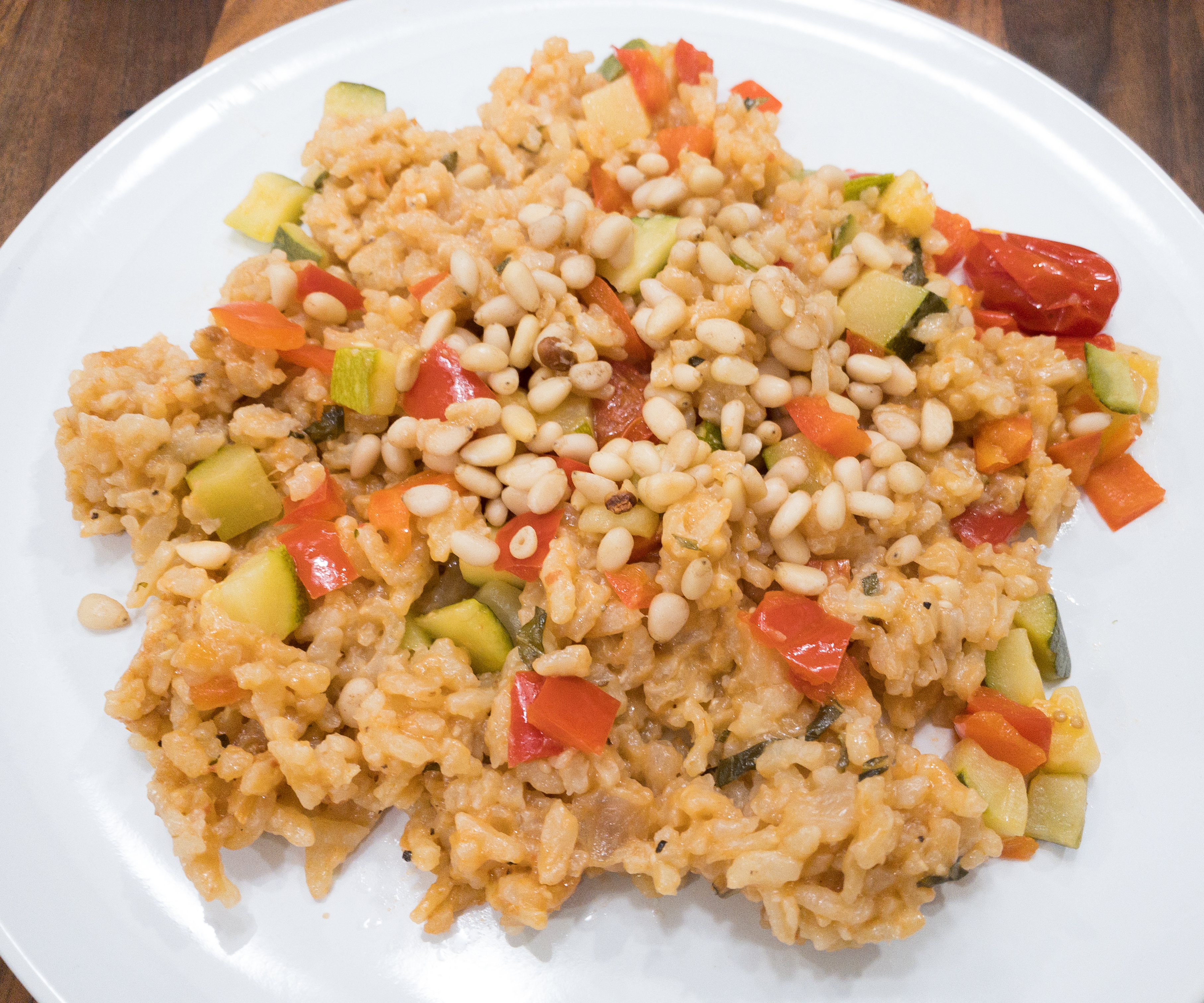 The pine nuts added a crunchy finish to the risotto! There was also a generous amount of roasted vegetables in the dish, so it was really satisfying.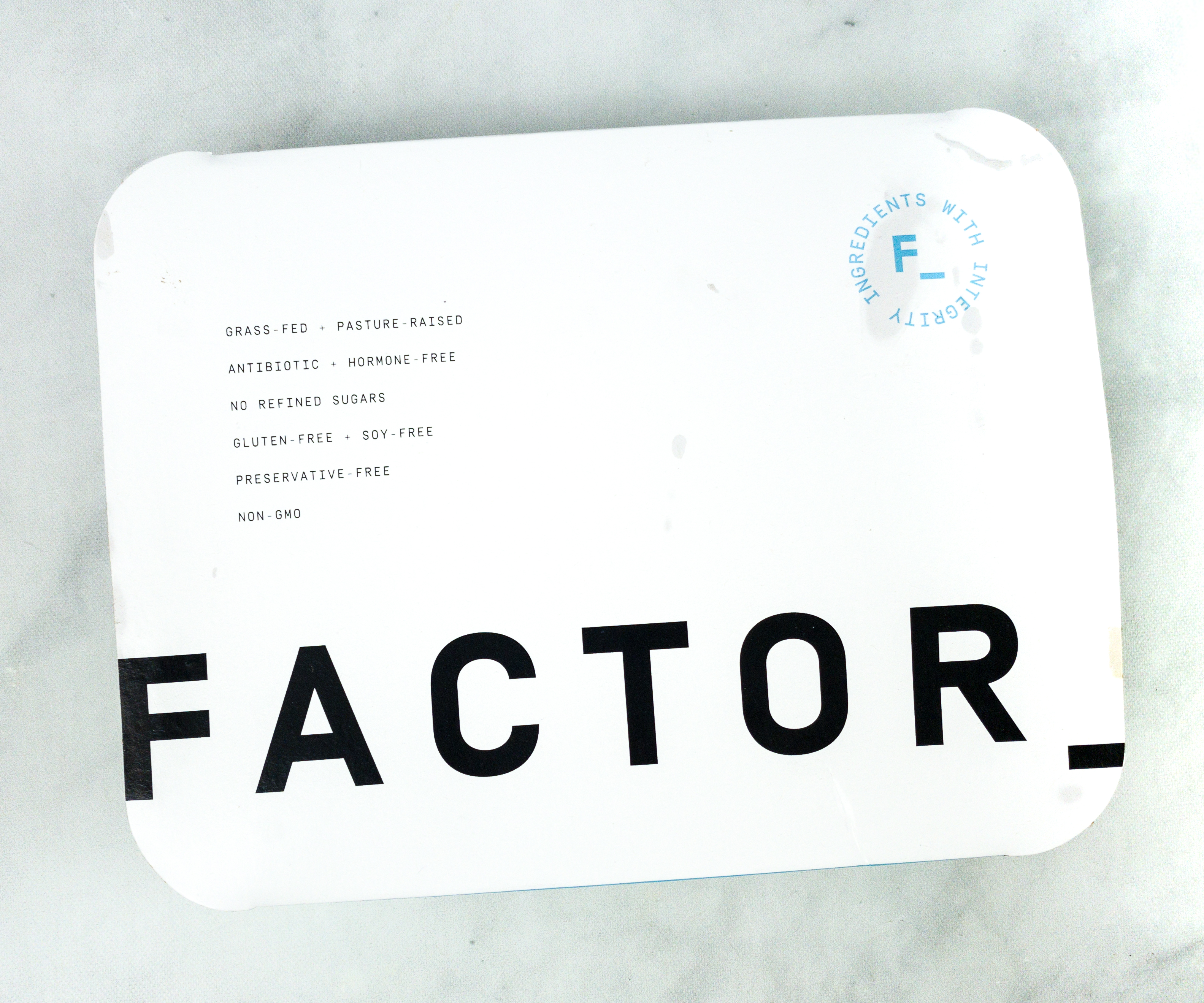 Next up is a seafood dish!
Blackened Shrimp. This meal is made with wild-caught shrimp, rich in omega 3 fatty acids that are good for one's brain and heart health.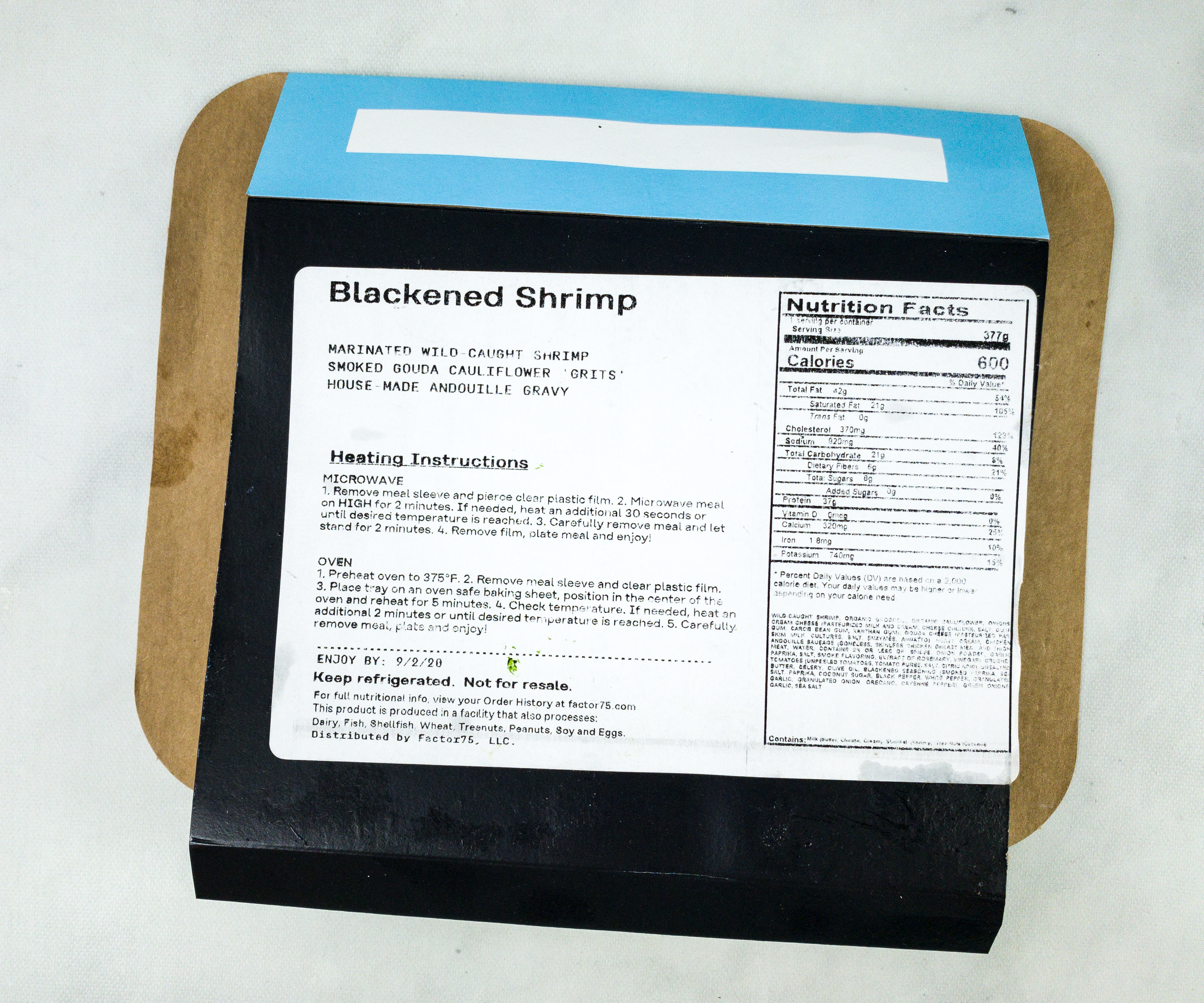 Ingredients: wild-caught shrimp, organic broccoli, organic cauliflower, onions, cream cheese (pasteurized milk and cream, cheese culture, salt, guar gum, carob bean gum, xanthan gum), gouda cheese (pasteurized part skim milk, cultures, salt, enzymes, annatto), heavy cream, chicken andouille sausage (boneless, skinless chicken breast meat and thigh meat, water, contains 2% or less of: spices, onion powder, garlic, paprika, salt, smoke flavoring, extract of rosemary, vinegar), crushed tomatoes (unpeeled tomatoes, tomato puree, salt, citric acid), unsalted butter, celery, olive oil, blackened seasoning (smoked paprika, sea salt, paprika, coconut sugar, black pepper, white pepper, granulated garlic, granulated onion, oregano, cayenne pepper), green onions, garlic, sea salt.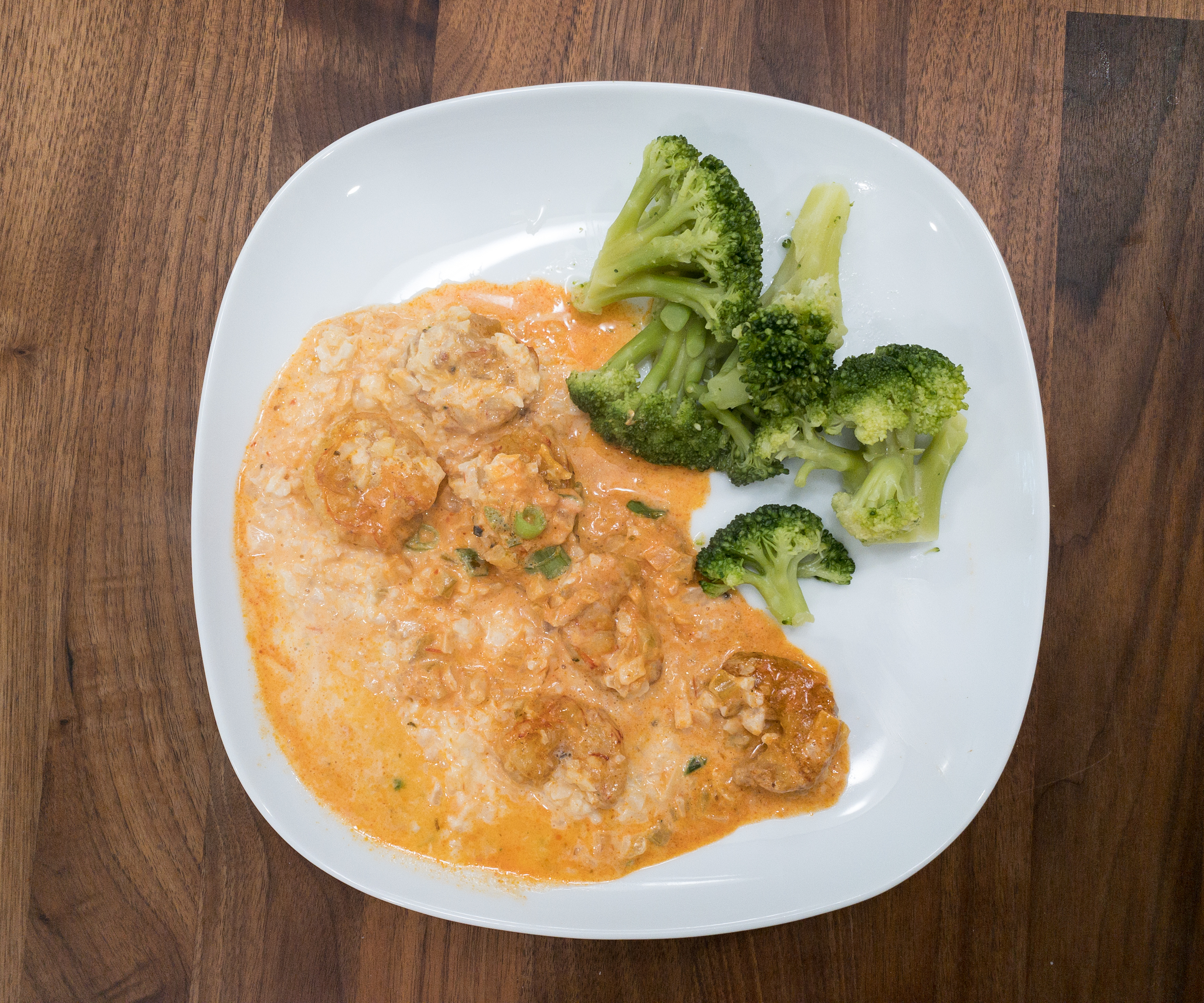 For those who are not familiar, blackening means dipping the shrimp in melted butter with herbs and spices then cooked in a hot skillet.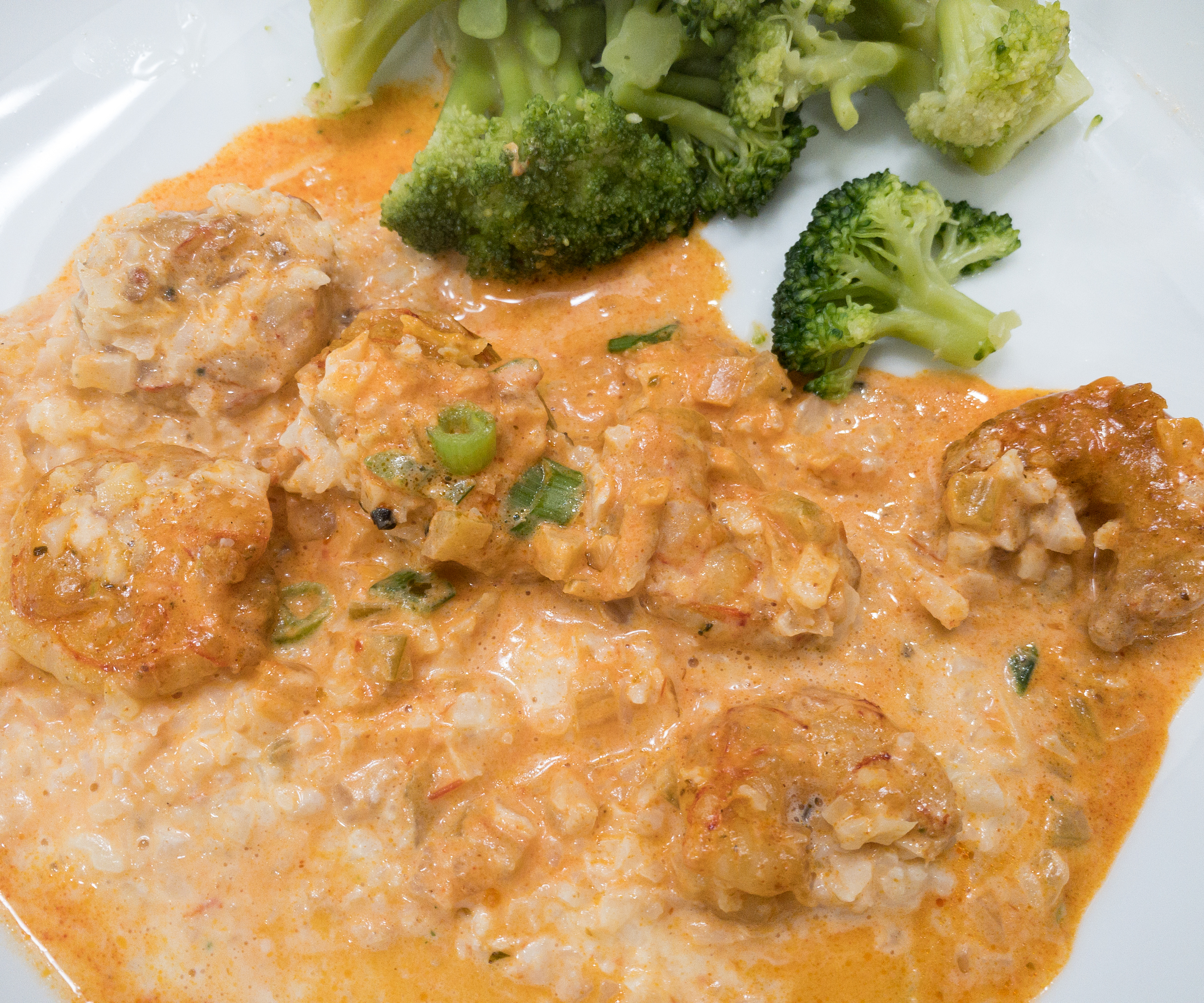 I love Factor_'s version of blackened shrimp because it's saucy and cheesy, with a kick of heat and smoky flavors. The serving of broccoli on the side balanced the whole meal.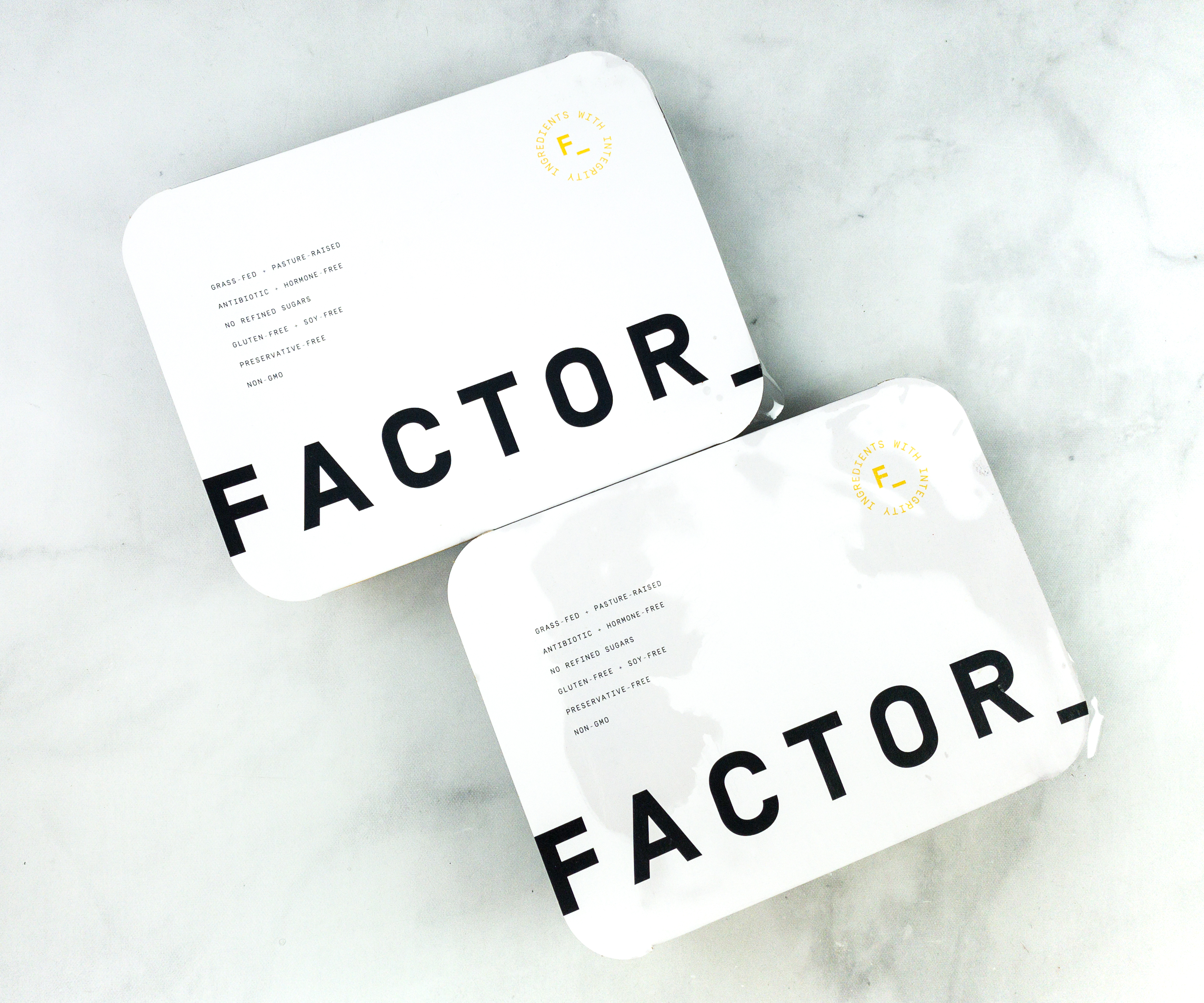 Next up is a breakfast meal and a dessert!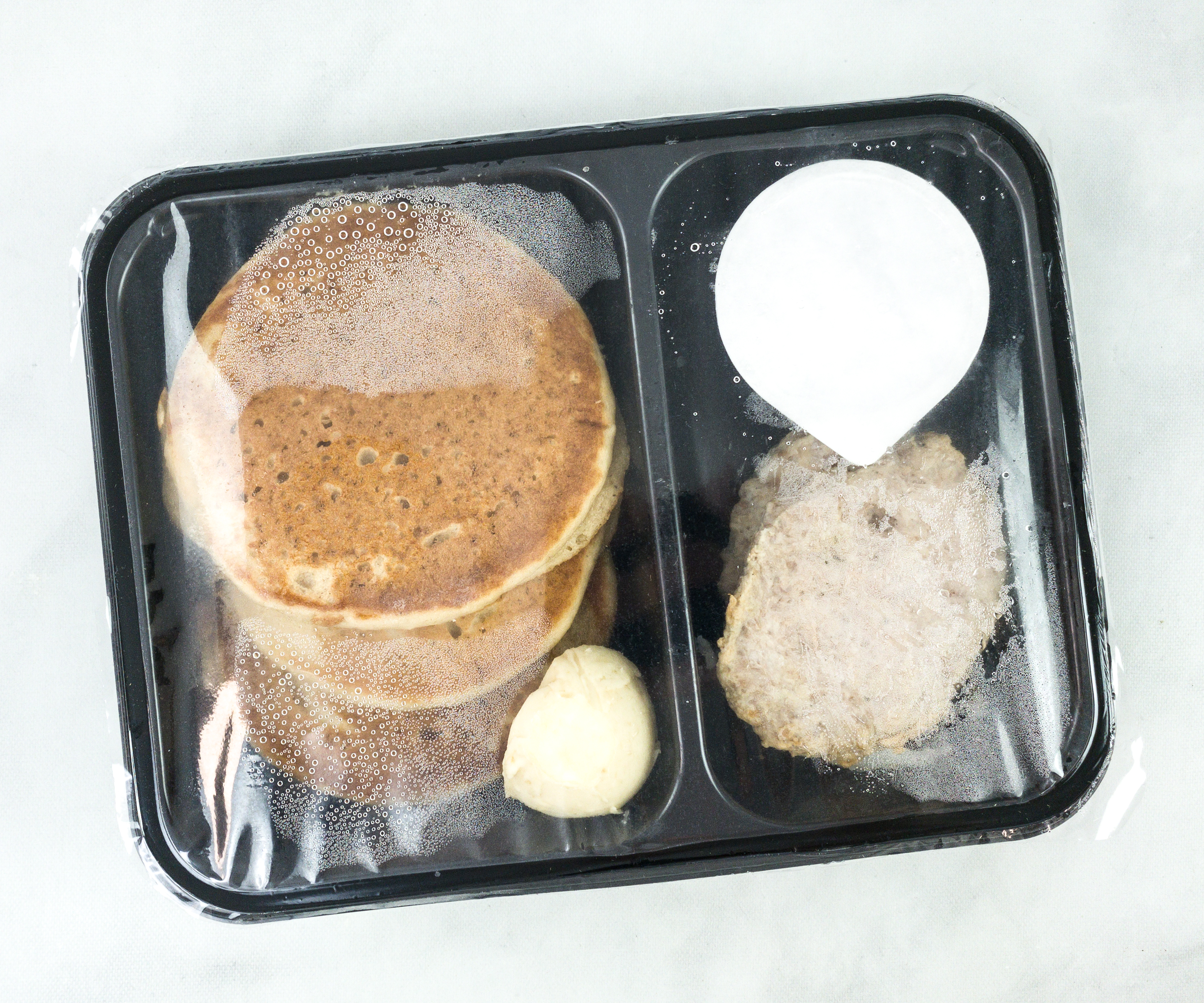 Lemon Pancakes with Berry Compote. I couldn't think of a breakfast meal better than these fluffy pancakes with sweet and tangy flavors!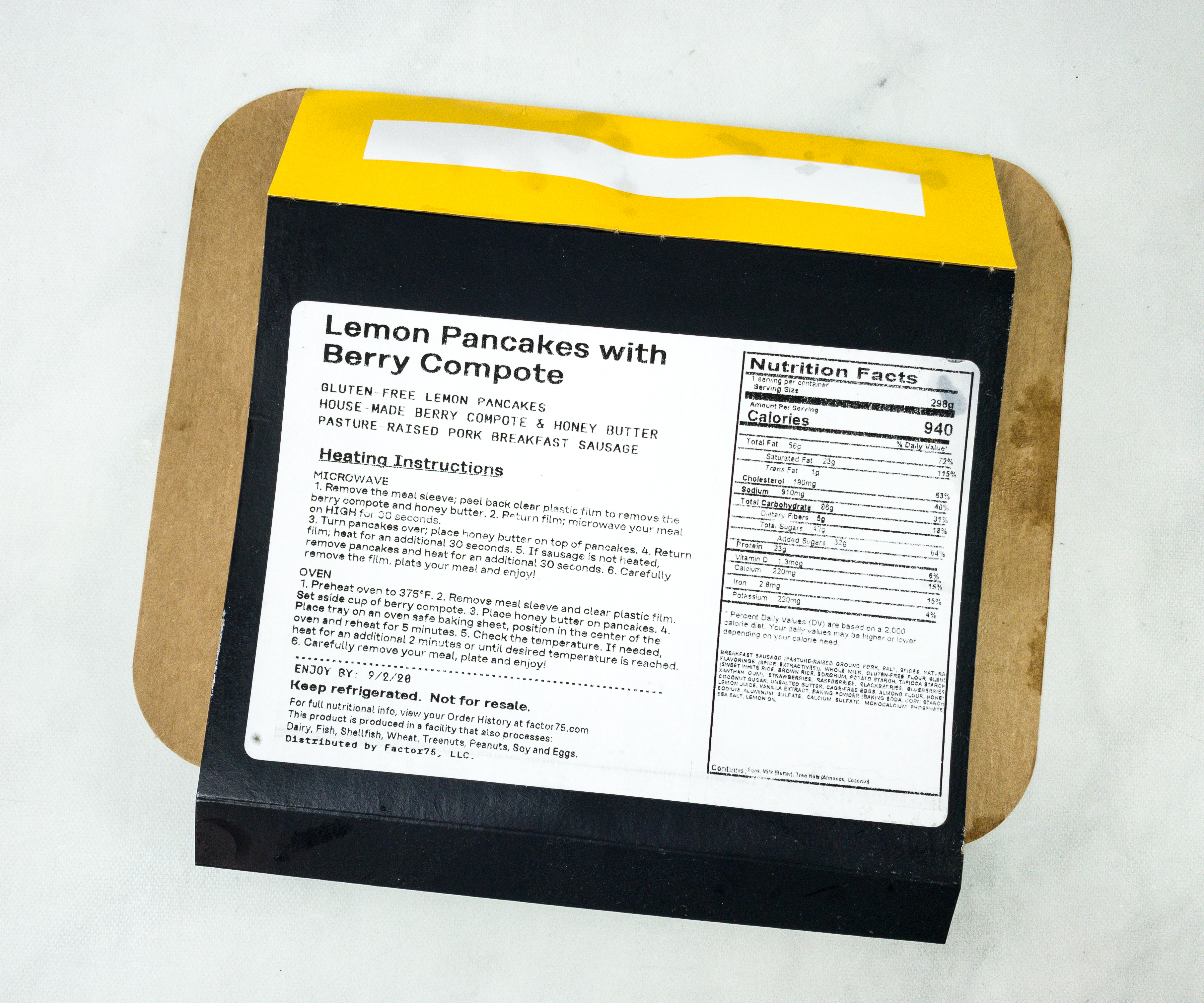 Ingredients: breakfast sausage (pasture-raised ground pork, salt, spices, natural flavorings (spice extractives)), whole milk, gluten-free flour blend (sweet white rice, brown rice, sorghum, potato starch, tapioca starch, xanthan gum), strawberries, raspberries, blackberries, blueberries, coconut sugar, unsalted butter, cage-free eggs, almond flour, lemon juice, honey, vanilla extract, baking powder (baking soda, corn starch, sodium aluminum sulfate, calcium sulfate, monocalcium phosphate), sea salt, lemon oil.
The pancakes go perfectly with the sweet compote. I also loved the pasture-raised sausages, as they were perfectly meaty and savory!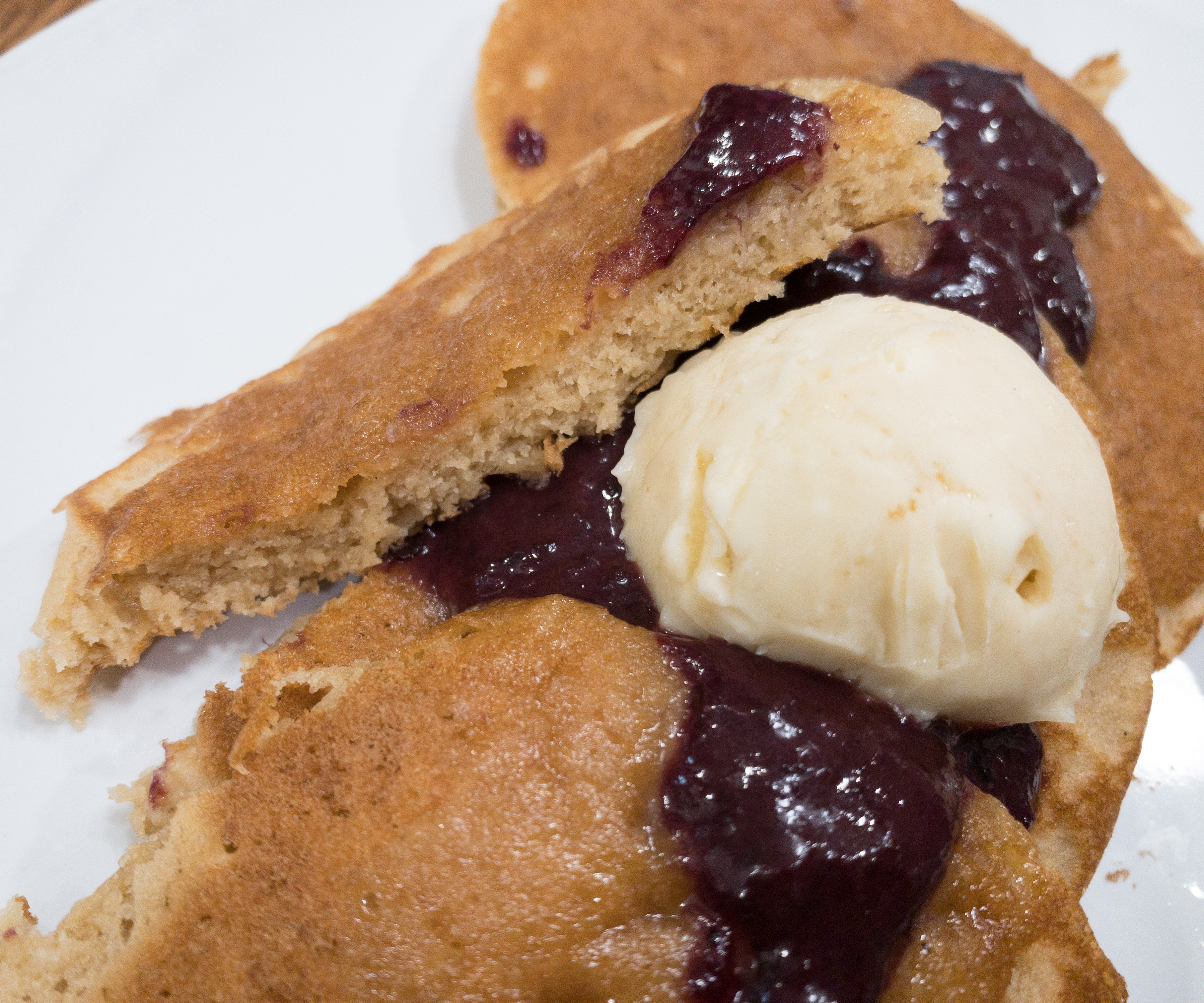 Here's a closer look at the yummy breakfast dish! The compote is made with strawberries, raspberries, blackberries, and blueberries, which are rich in antioxidants and vitamin C. I could not even believe they were gluten-free and I liked them waaaay more than regular pancakes. It was mind-blowing!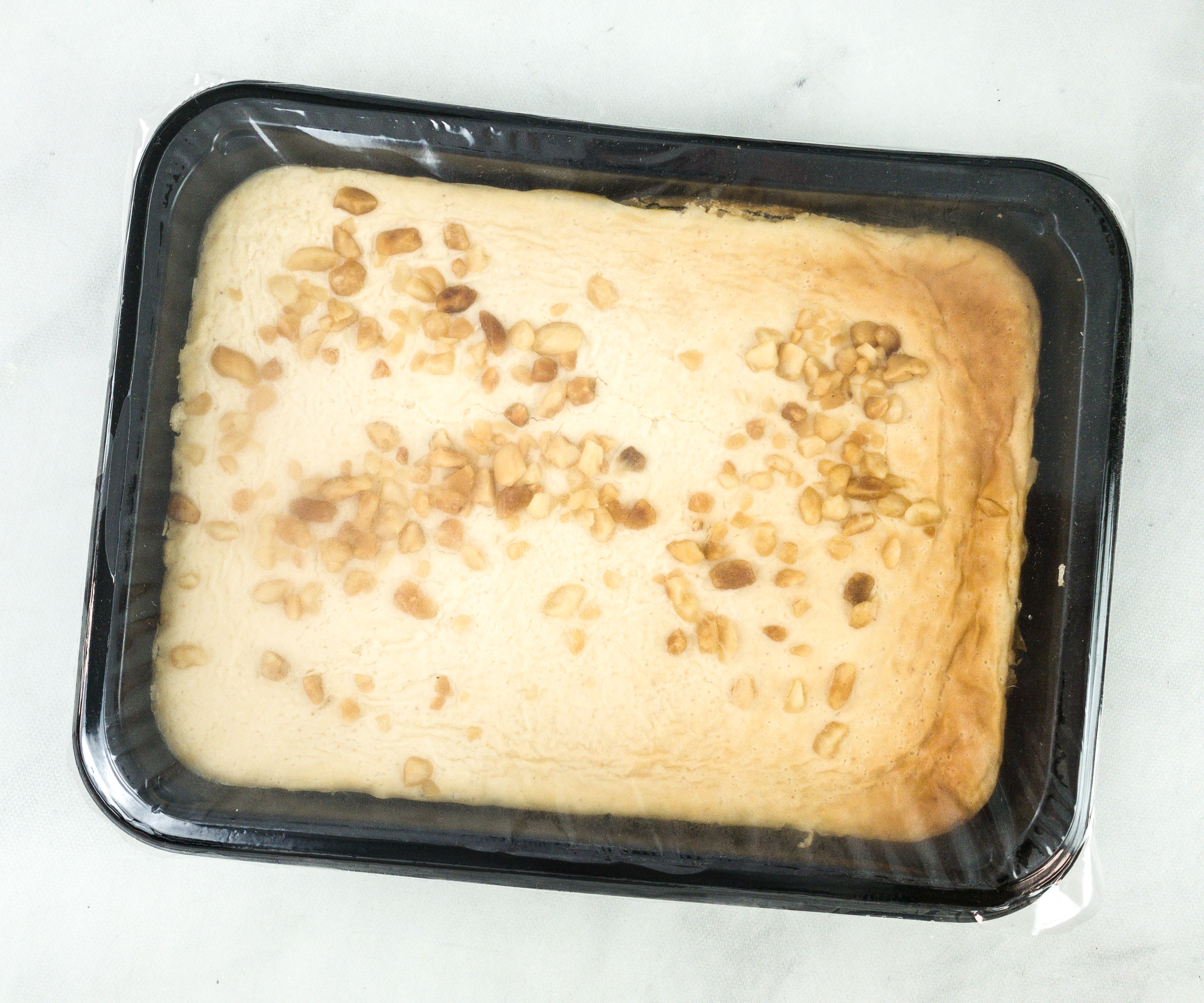 Keto Cheesecake – Peanut Butter Chocolate. Now, it's time for dessert! This one is not your ordinary cheesecake because it uses monk fruit sweetener with erythritol, a zero-calorie replacement for refined sugar.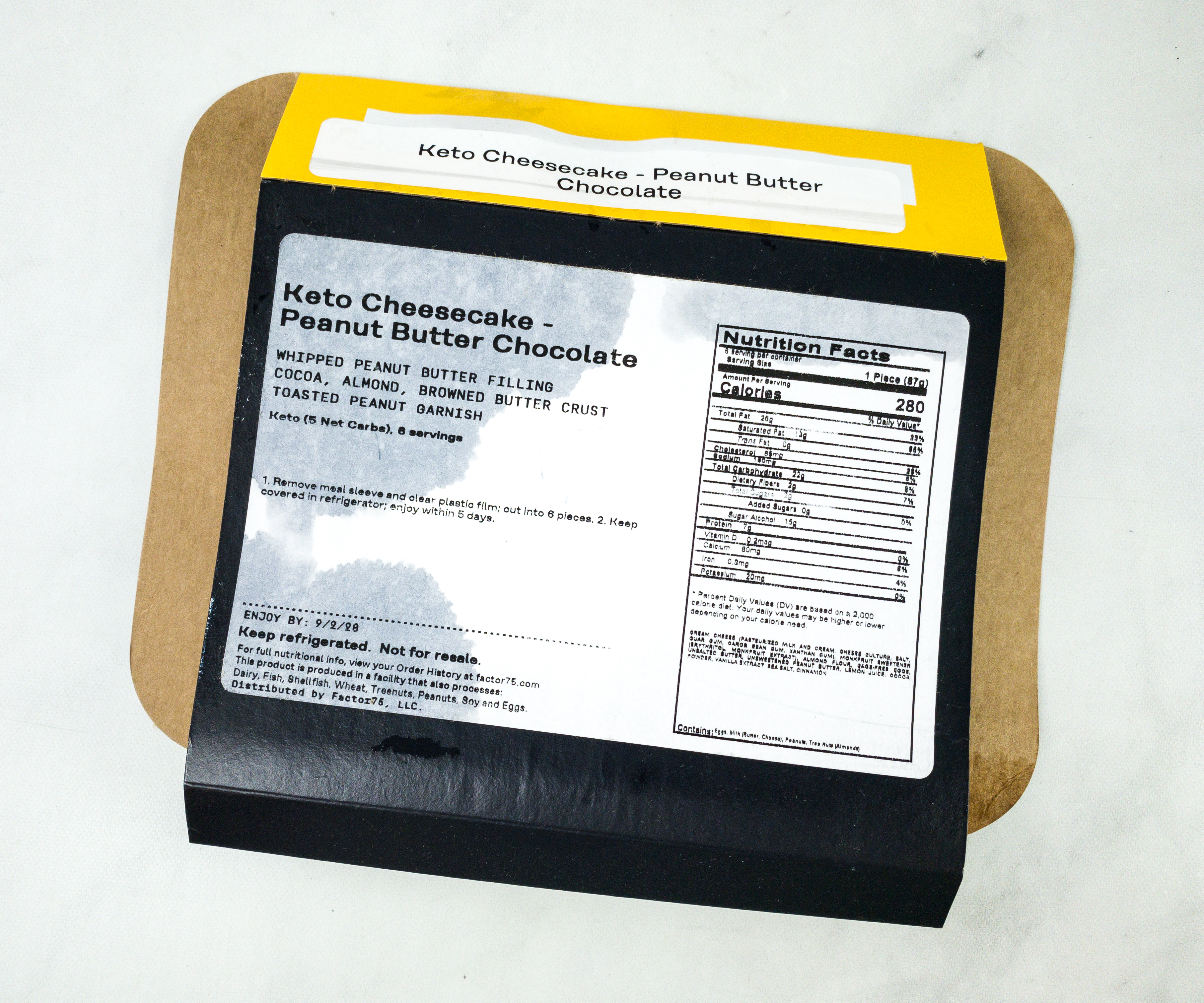 Ingredients: cream cheese (pasteurized milk and cream, cheese culture, salt, guar gum, carob bean gum, xanthan gum), monkfruit sweetener (erythritol, monkfruit extract), almond flour, cage free eggs, unsalted butter, unsweetened peanut butter, lemon juice, cocoa powder, vanilla extract, sea salt, cinnamon.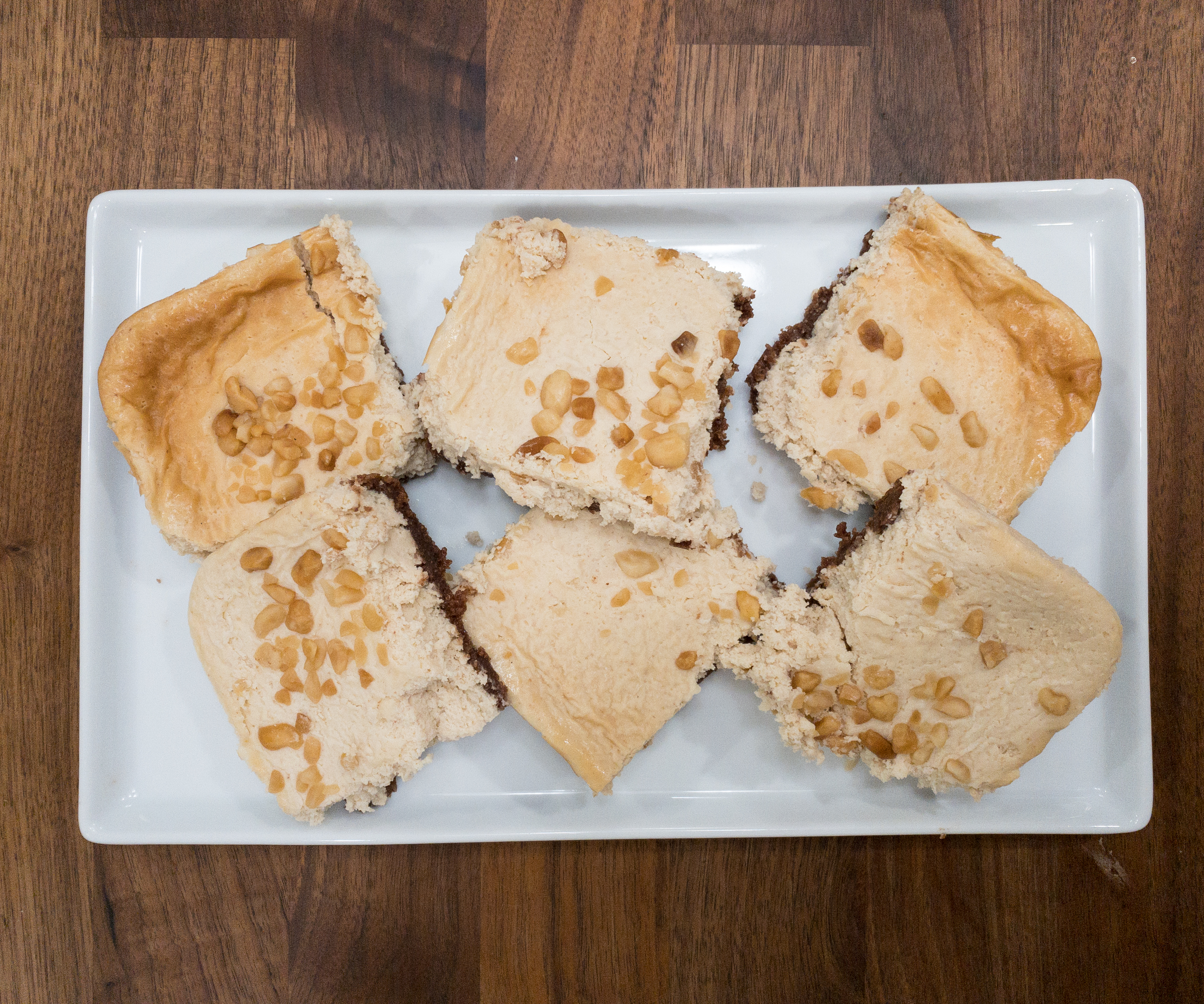 This cheesecake is composed of a browned butter crust, peanut butter filling, and toasted peanuts on top. The best thing is that it's keto-friendly!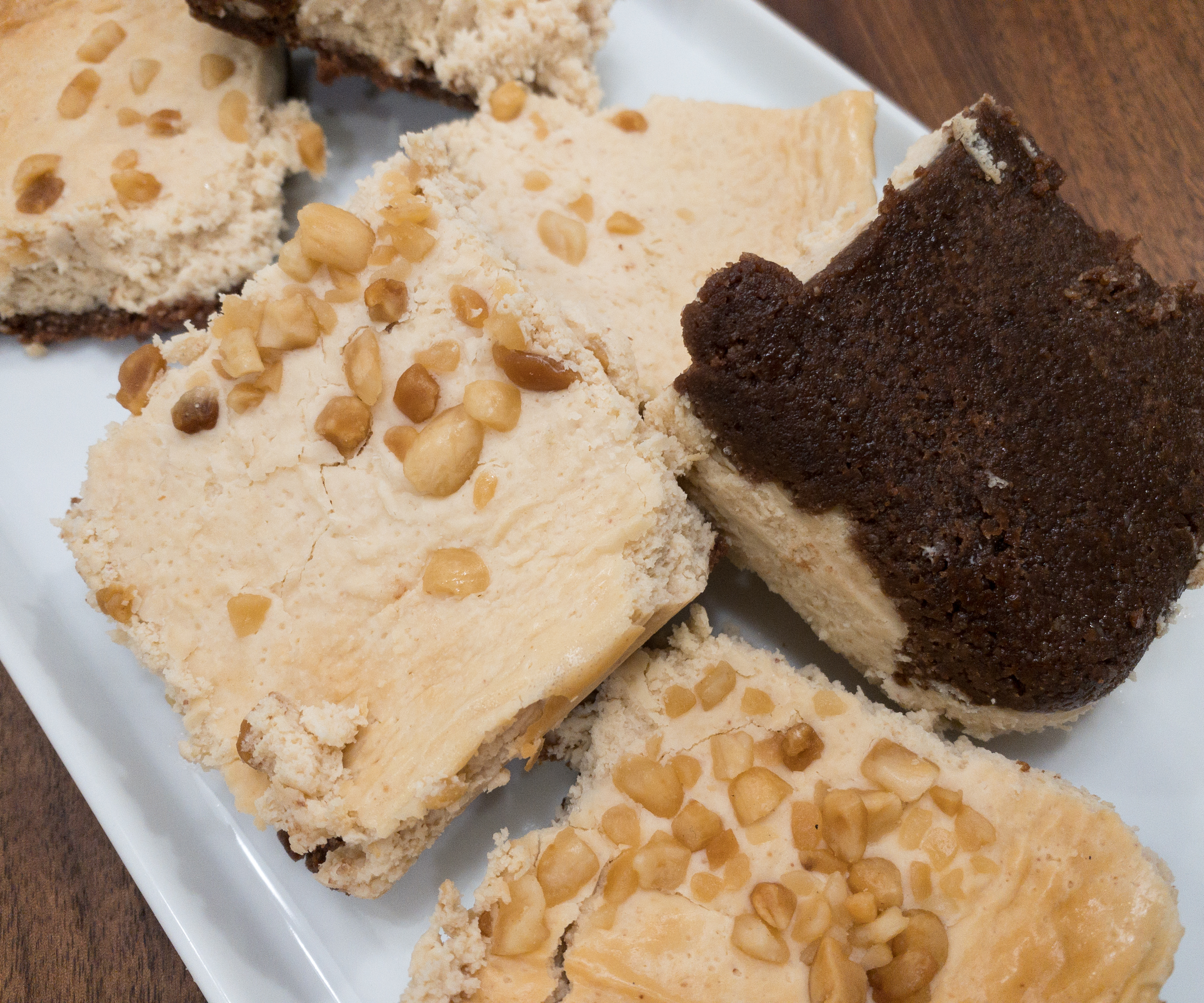 It melts in the mouth and the sweetness is just right. It's another proof that keto-friendly desserts can be just tasty as the regular ones, if not better! This cheesecake is definitely the perfect way to end a meal!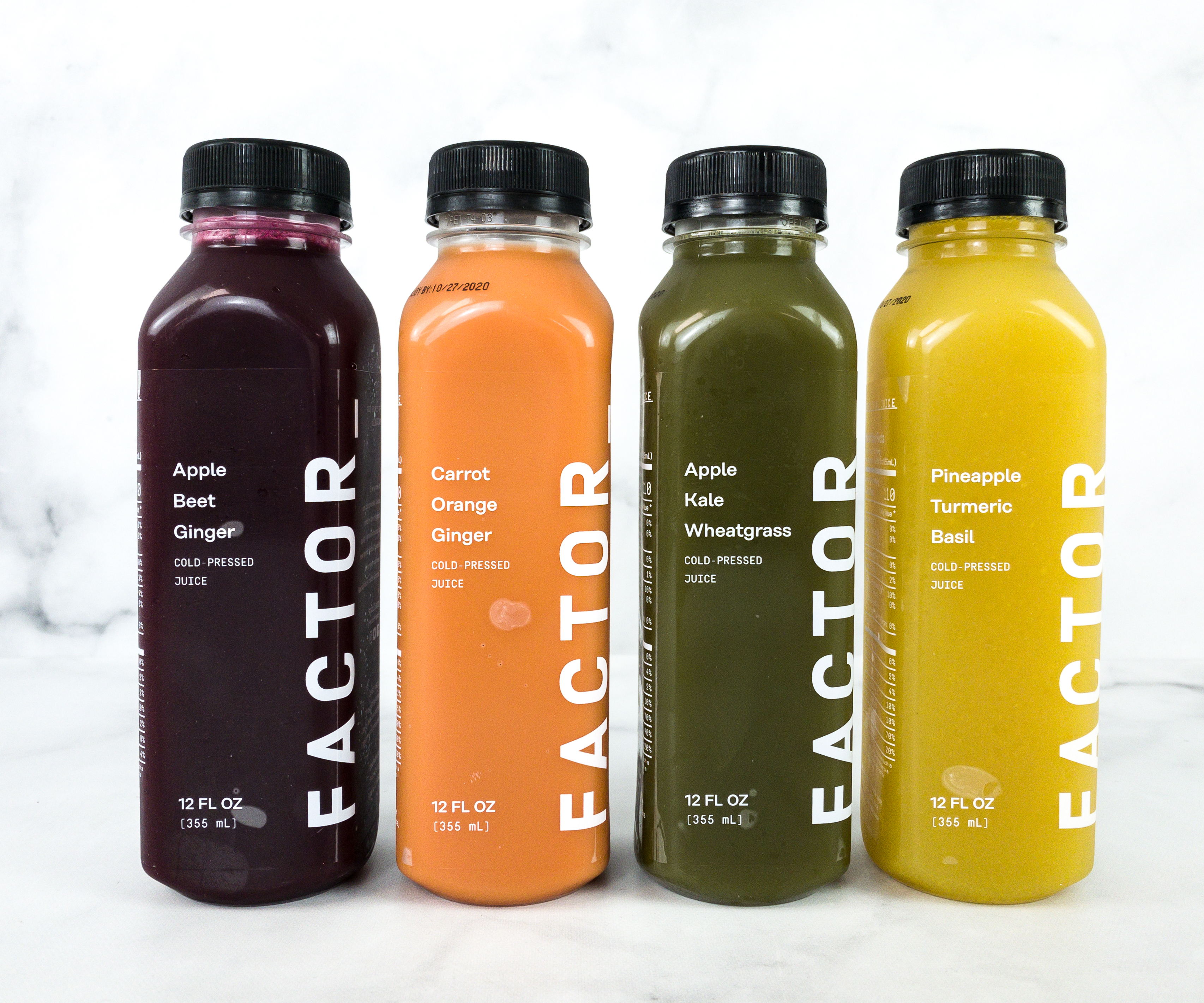 This is the Cold-Pressed Juice Variety Pack – 4 Pack! It's an add-on and not a part of the regular meal plan.
Apple Beet Ginger Cold-Pressed Juice. Apple, beet, and ginger make such a powerful combination! This juice blend is ideal for active people, thanks to nitrates from beet that help boost one's athletic performance.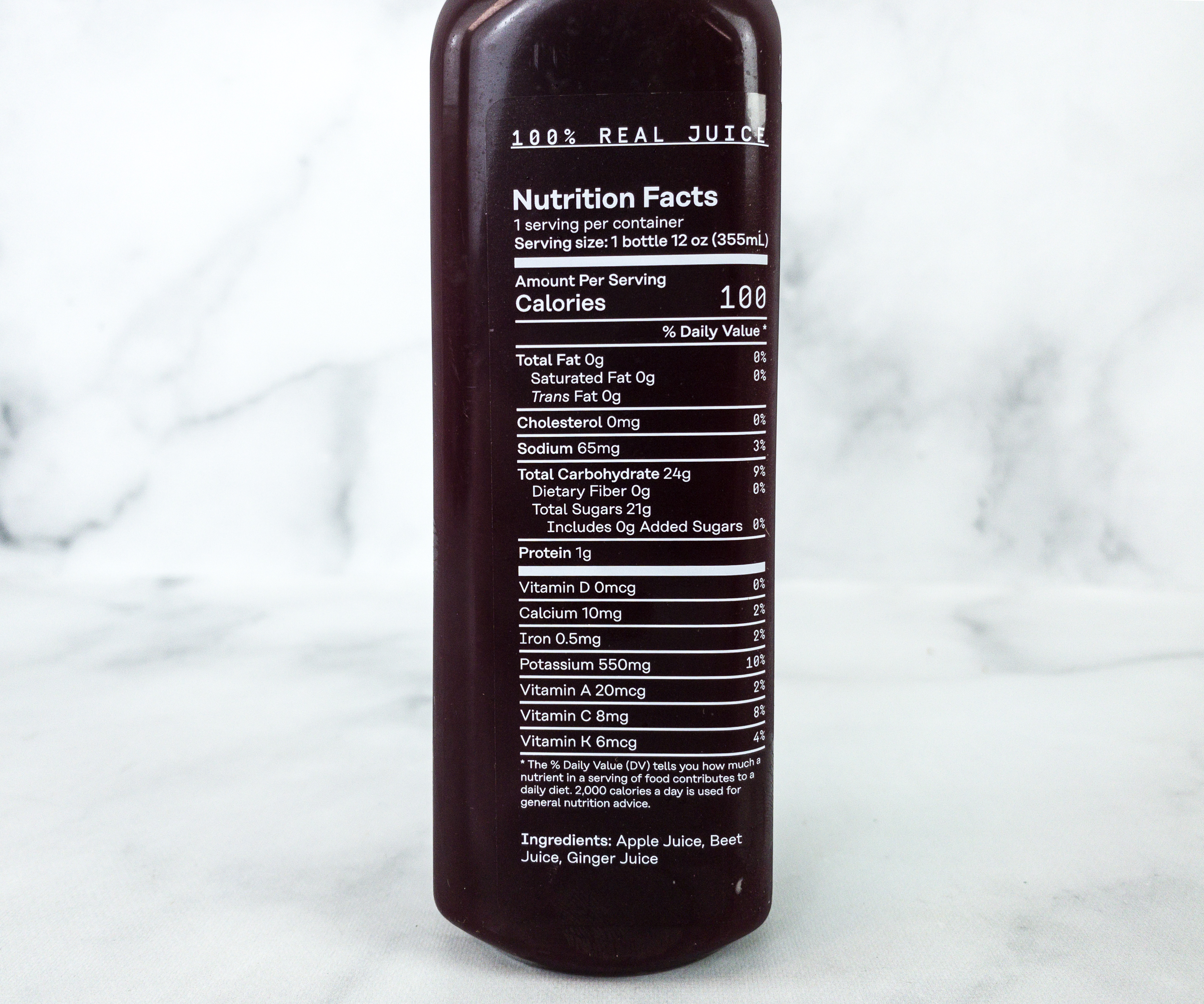 It's also rich in antioxidants from apple and anti-inflammatory properties from ginger!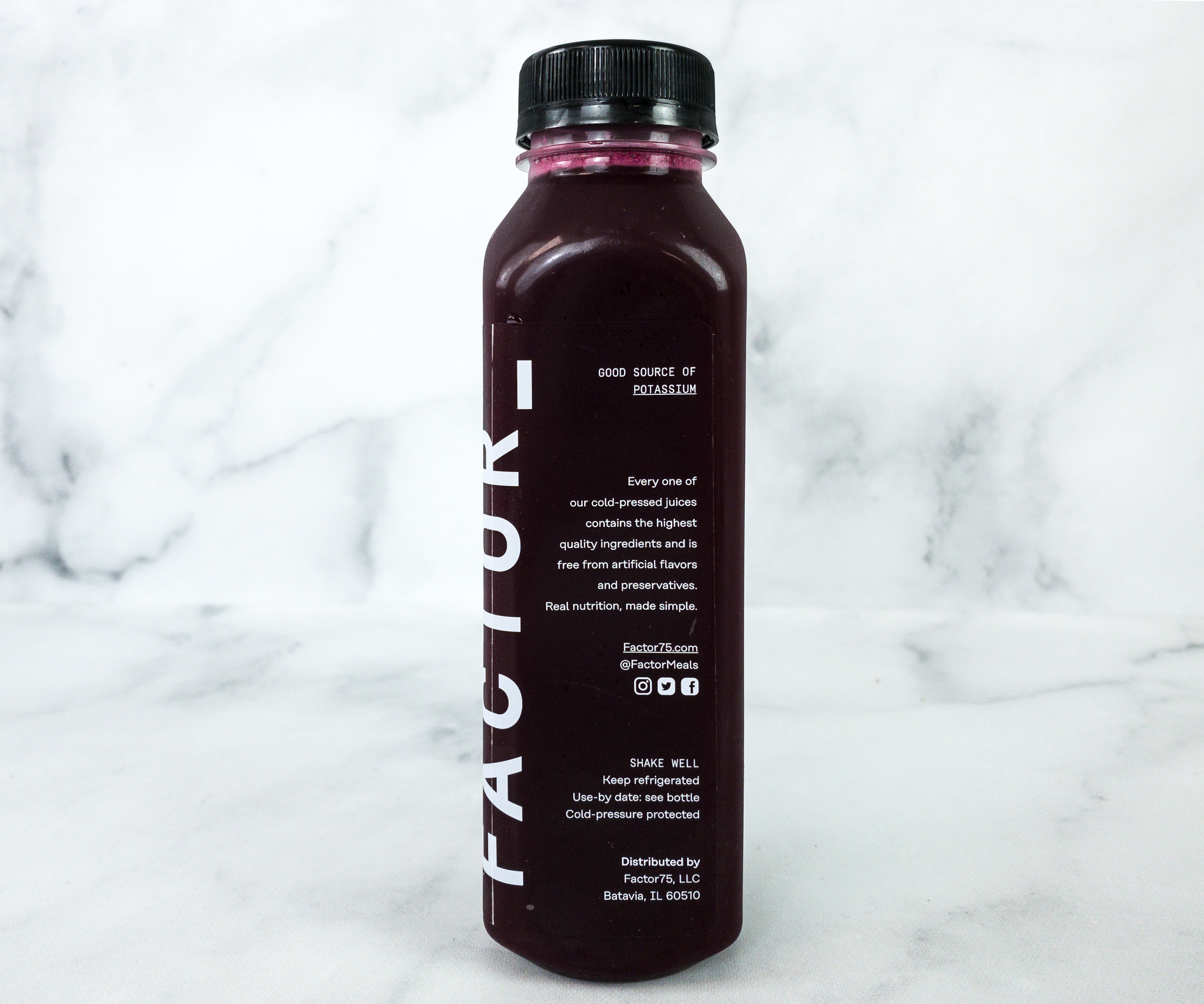 Look at that deep red wine color! This juice is free from artificial flavors and preservatives, definitely a great alternative to regular ready-to-drink juices.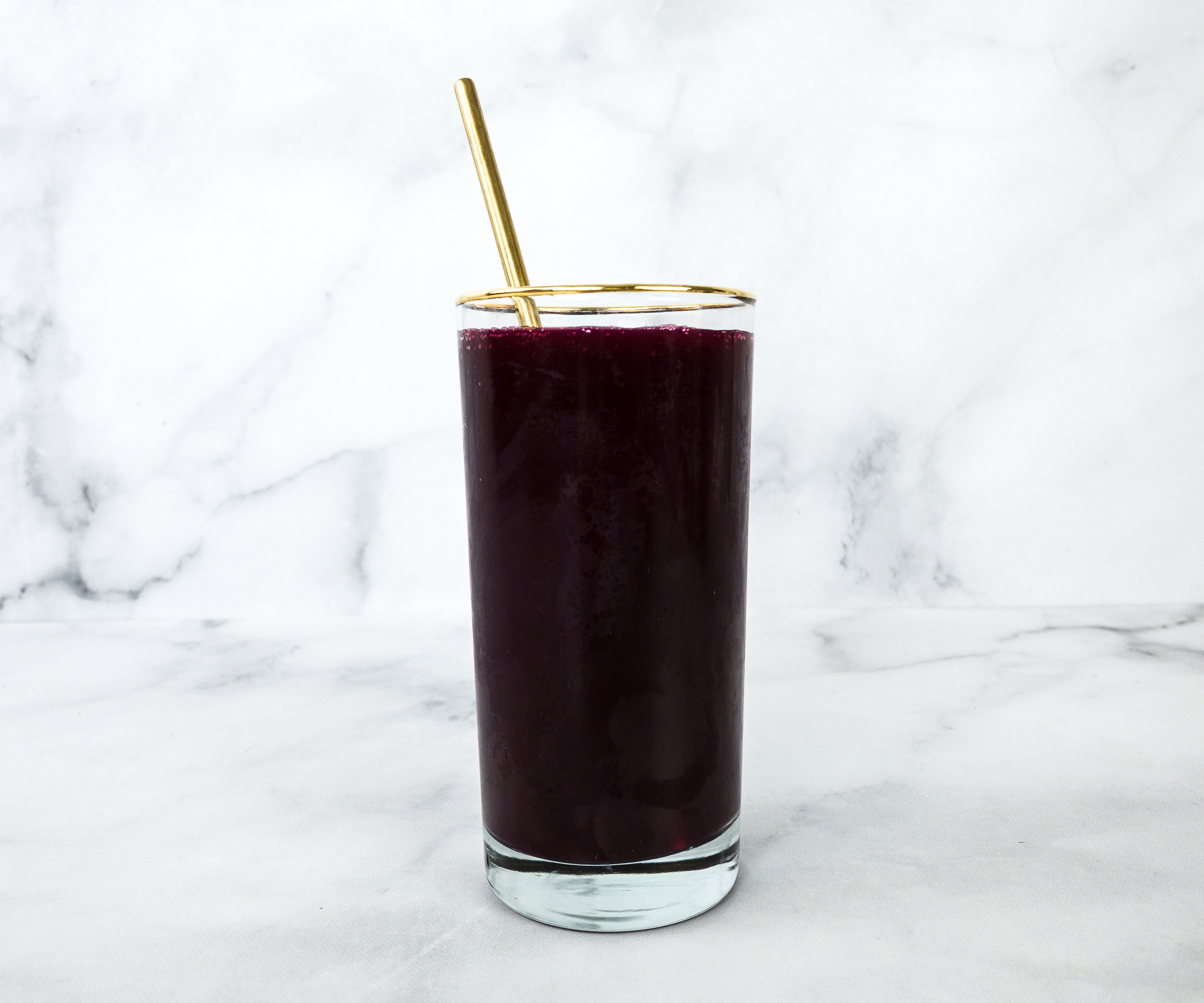 I love how it goes down smoothly. It's a perfect combination of earthy and spicy, rounded out by subtle sweetness.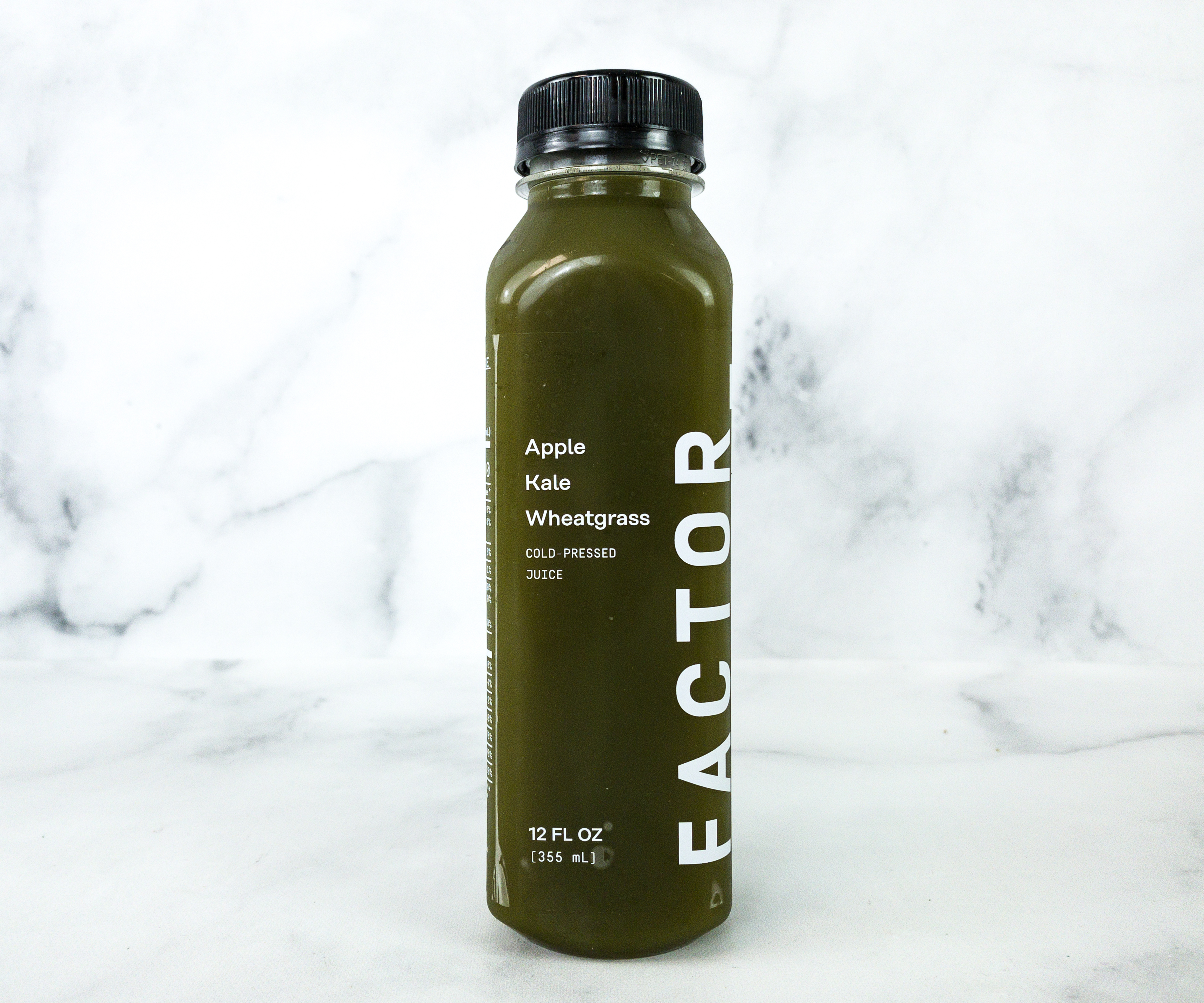 Apple Kale Wheatgrass Cold-Pressed Juice. Chlorophyll-rich kale and wheatgrass make this juice highly nourishing, along with antioxidant-rich apple and lemon.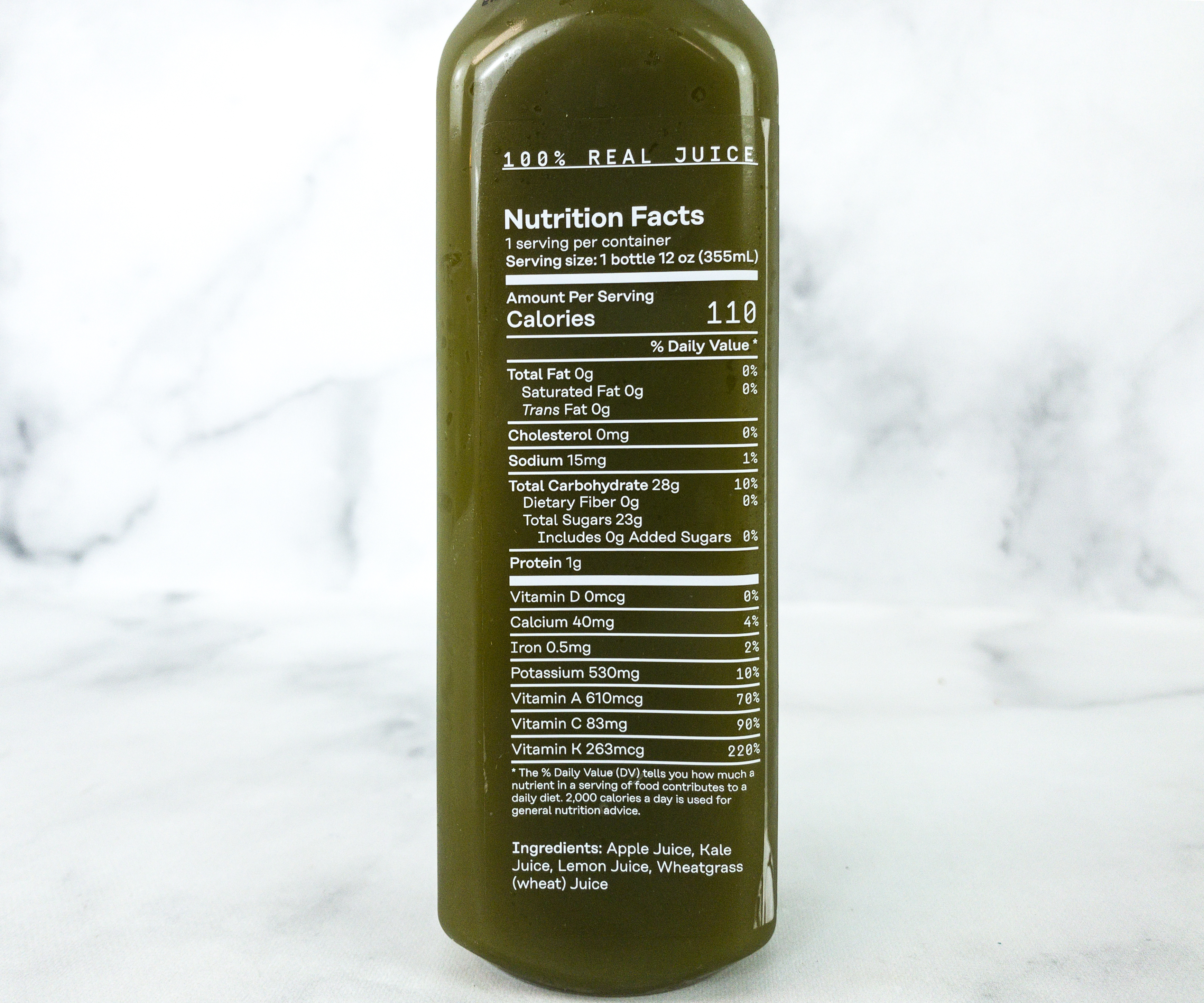 This juice is perfect for those looking for an immune booster. It's also rich in three essential vitamins: A, C, and K!
You'll know that it's made only with wholesome and high-quality ingredients because it tastes fresh!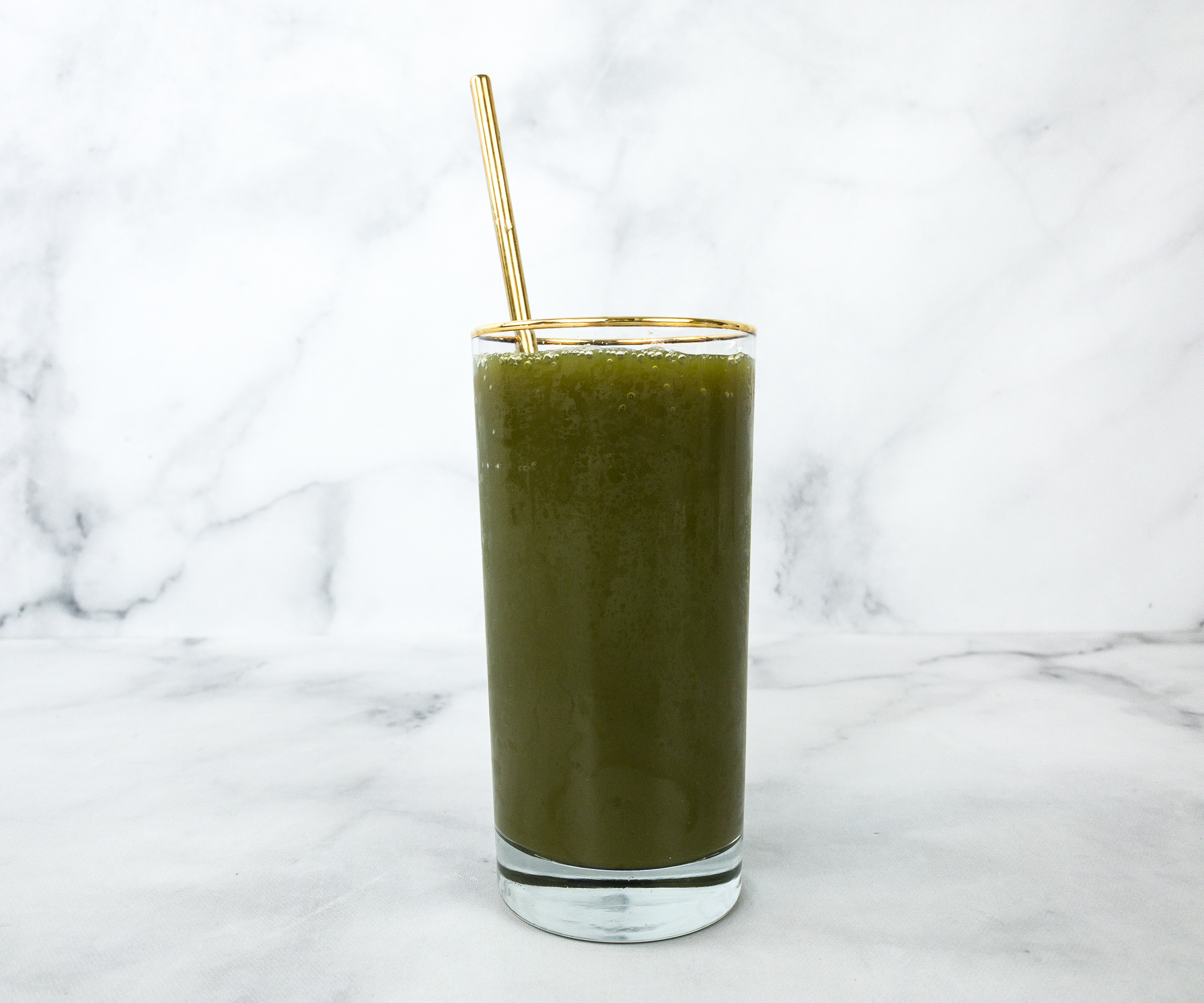 It has a naturally grassy taste, just as expected, but it wasn't offputting. I enjoyed it to the last drop!
Pineapple Turmeric Basil Cold-Pressed Juice. They put a healthy twist to the usual tropical drink by blending pineapple with turmeric and basil!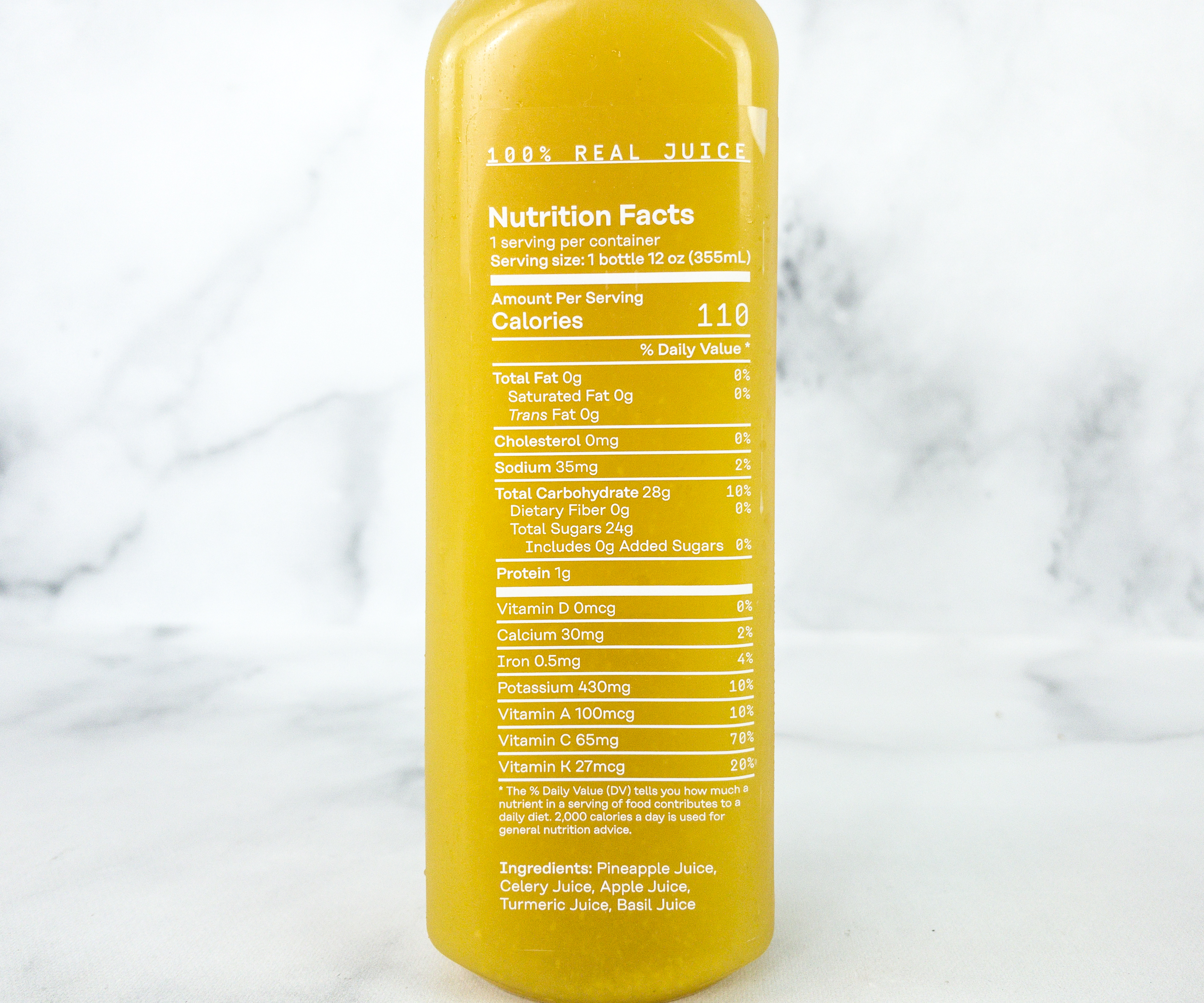 Turmeric and pineapple juice both contain anti-inflammatory properties. This blend also contains celery, which is great for gut health!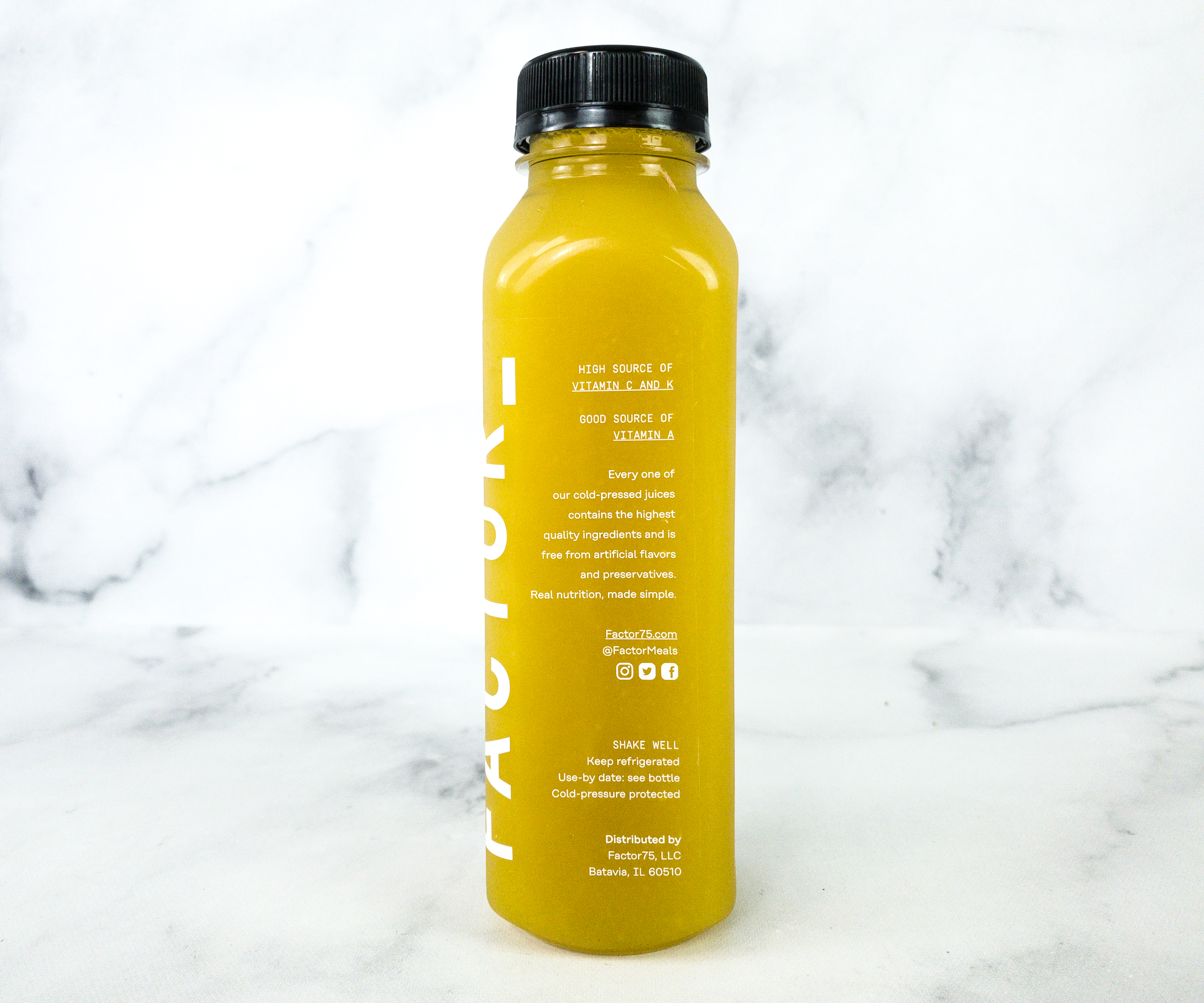 This juice comes in a bright yellow color!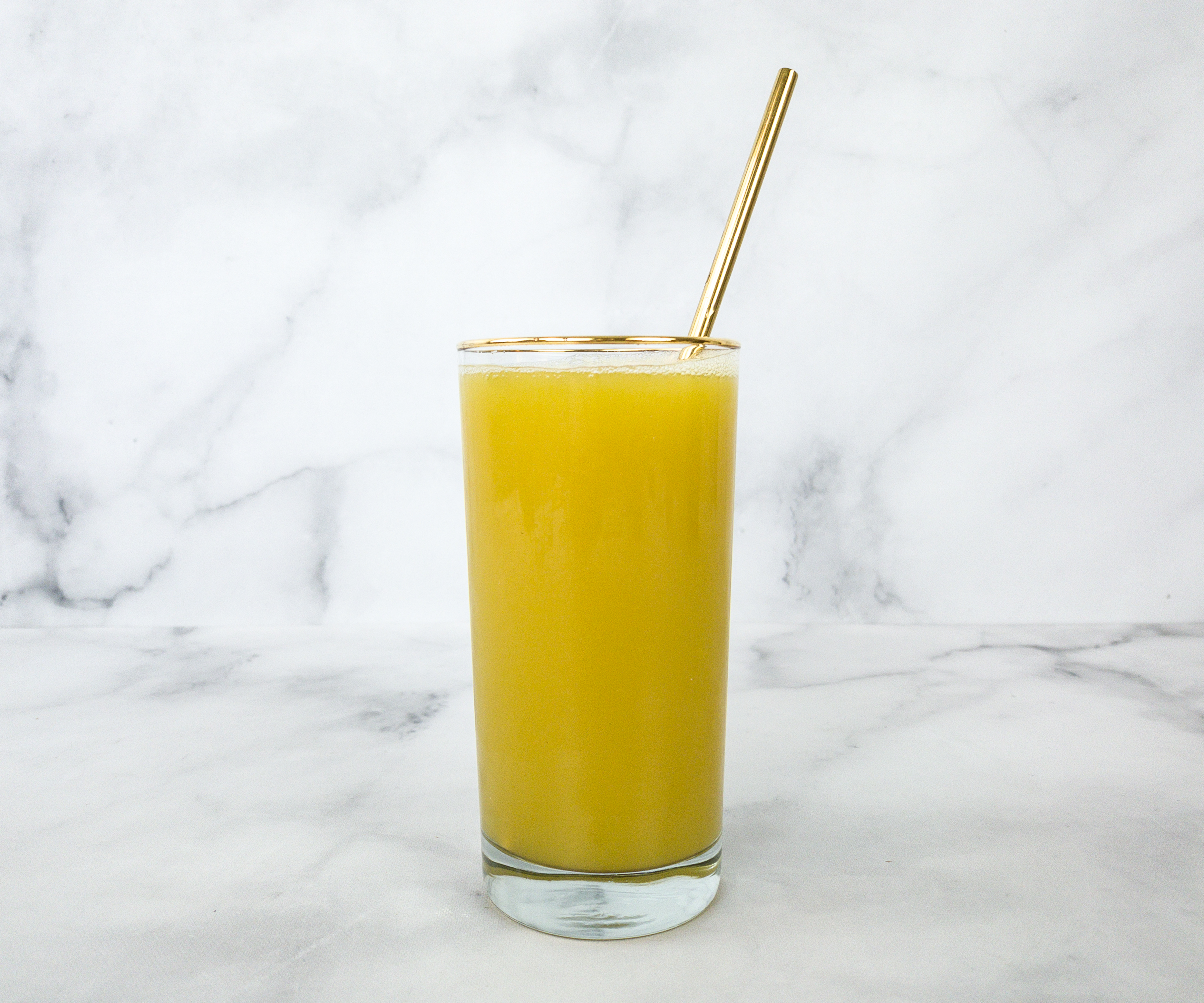 It's the most refreshing cold-pressed juice I've ever had. Served cold, it hits the spot on a hot day!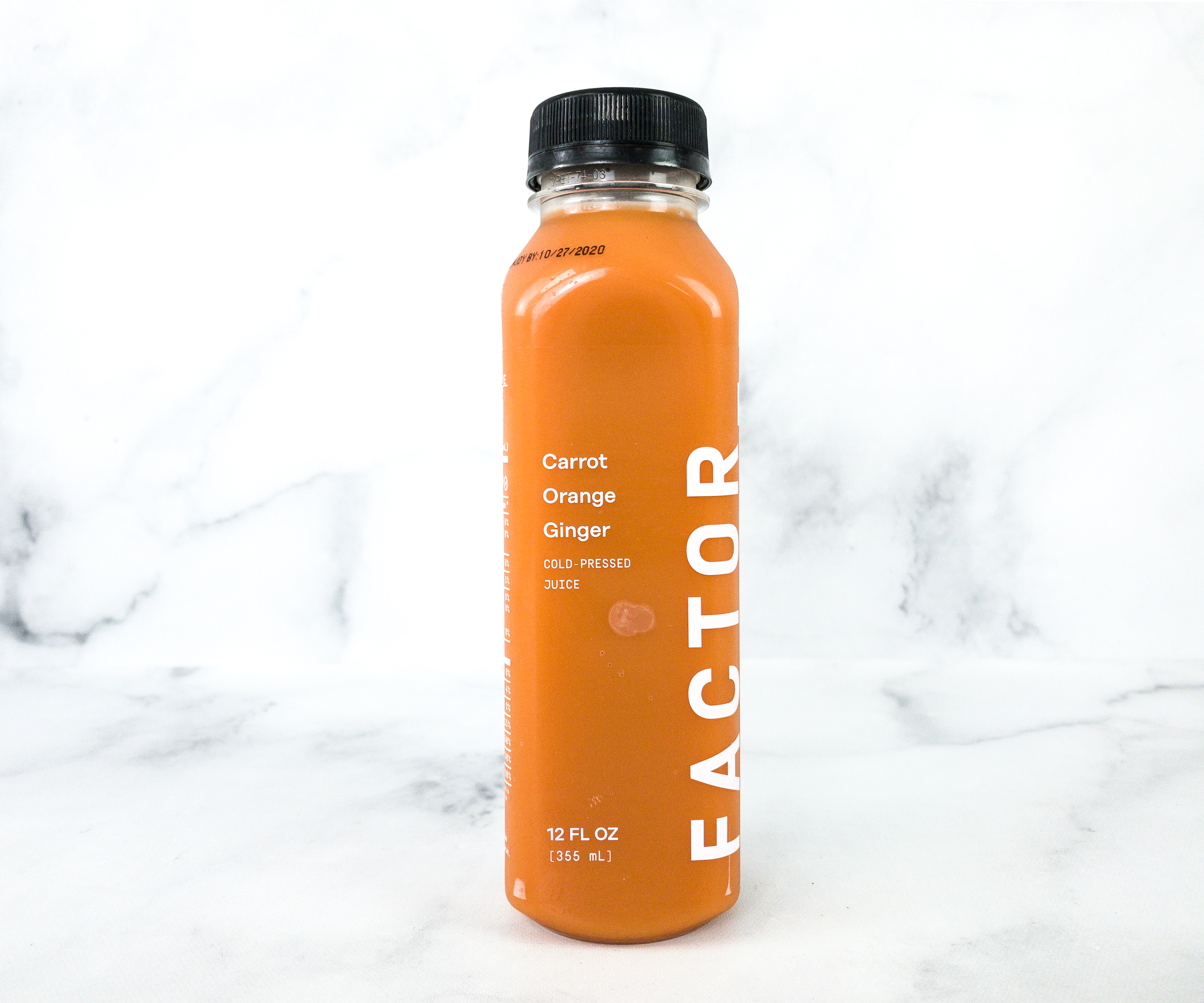 Carrot Orange Ginger Cold-Pressed Juice. Now, here's the perfect breakfast juice, which is composed of carrot, orange, apple, lemon, and ginger!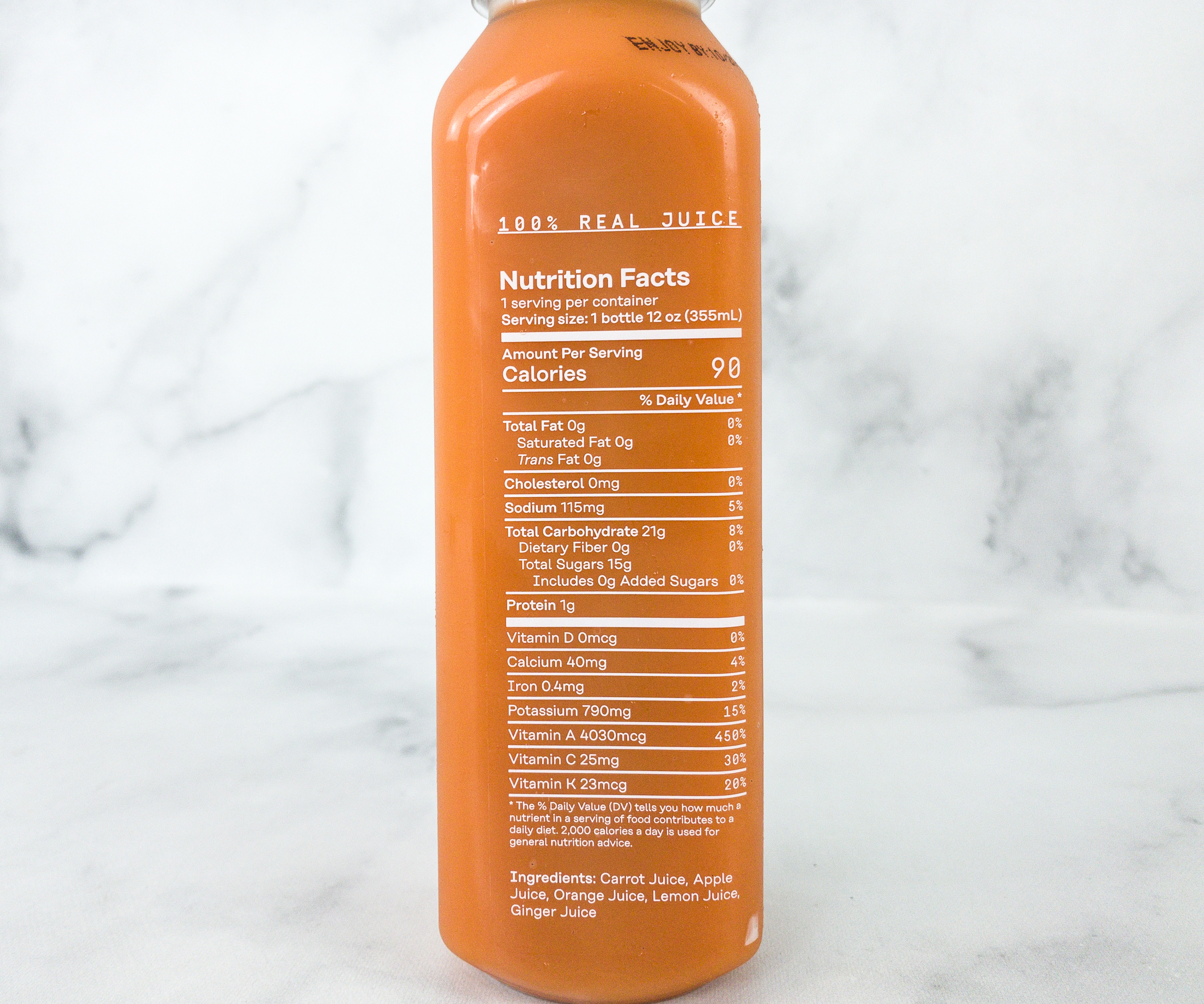 This blend is rich in antioxidants and anti-inflammatory properties, as well as vitamin A that helps maintain eye health and vitamin C that supports the immune system.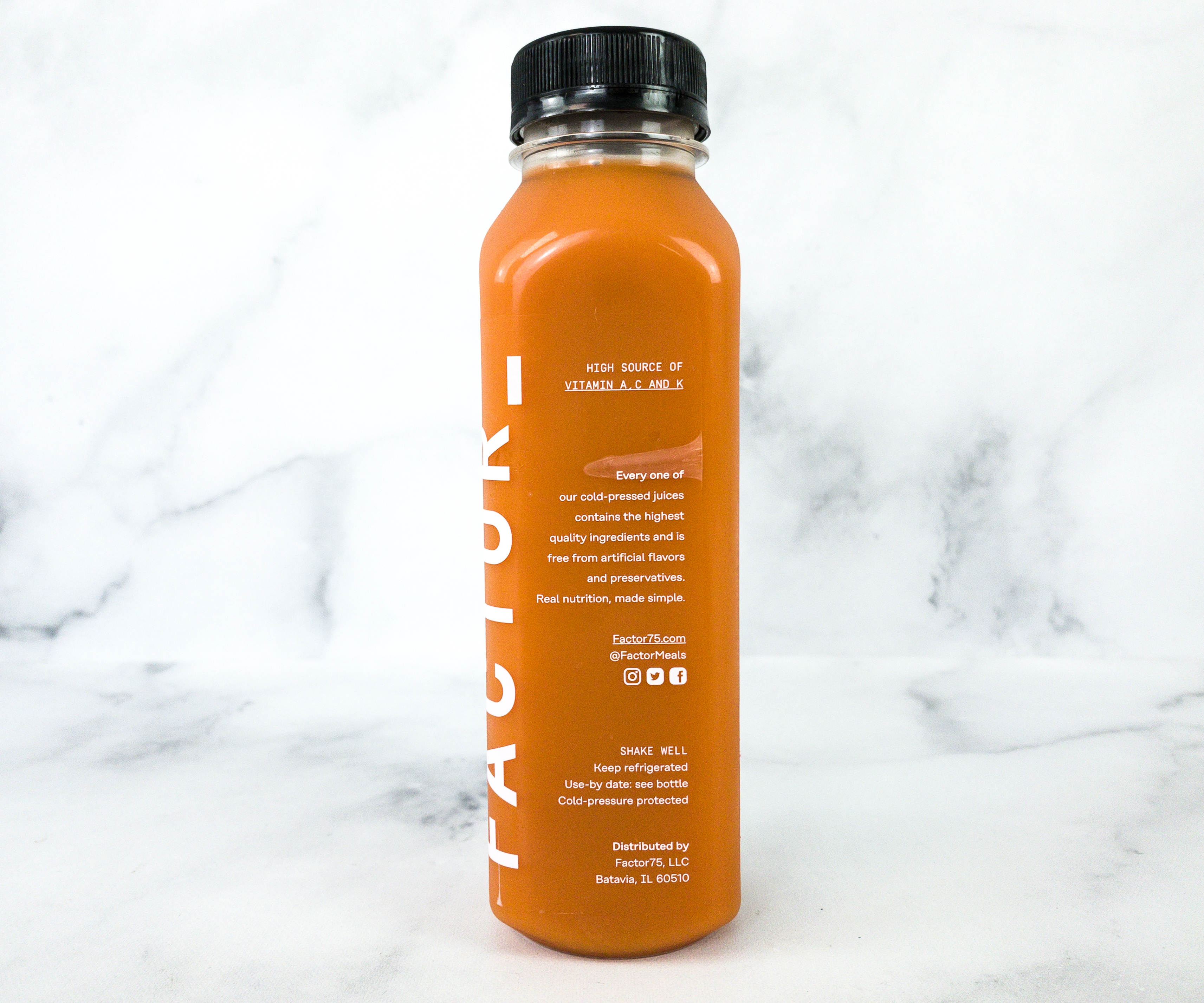 The vibrant orange color is just attractive!
The taste didn't disappoint either! It's mildly sweet, with a zing from the ginger.
Factor_ is a convenient meal delivery option for those who want to eat healthy food and also for busy people who simply have no time to cook. Their weekly rotating menu is a great idea, as it ensures that you don't get the same food every week! Although their meals are not exclusive for those who are on a keto diet, their keto-friendly meals really good. I enjoyed the low carb pulled pork meal, while the keto cheesecake was just heavenly! I also had one veggie dish and one seafood dish in my box, and they were also delicious. Of course, let's not forget the lemon pancakes with compote because that really made a perfect breakfast. The cold-pressed juices are great add-on options if you want a healthy drink to go with your meal. Everything tasted wonderful, but my favorite among the juices is the pineapple, turmeric, and basil blend! From the convenient meal plans to the exceptional taste and quality of the dishes, this subscription is definitely one of the best meal subscription options out there! All the food was ridiculously delicious, and the portions were huge. Every meal was better than the last!
What do you think of Factor_?