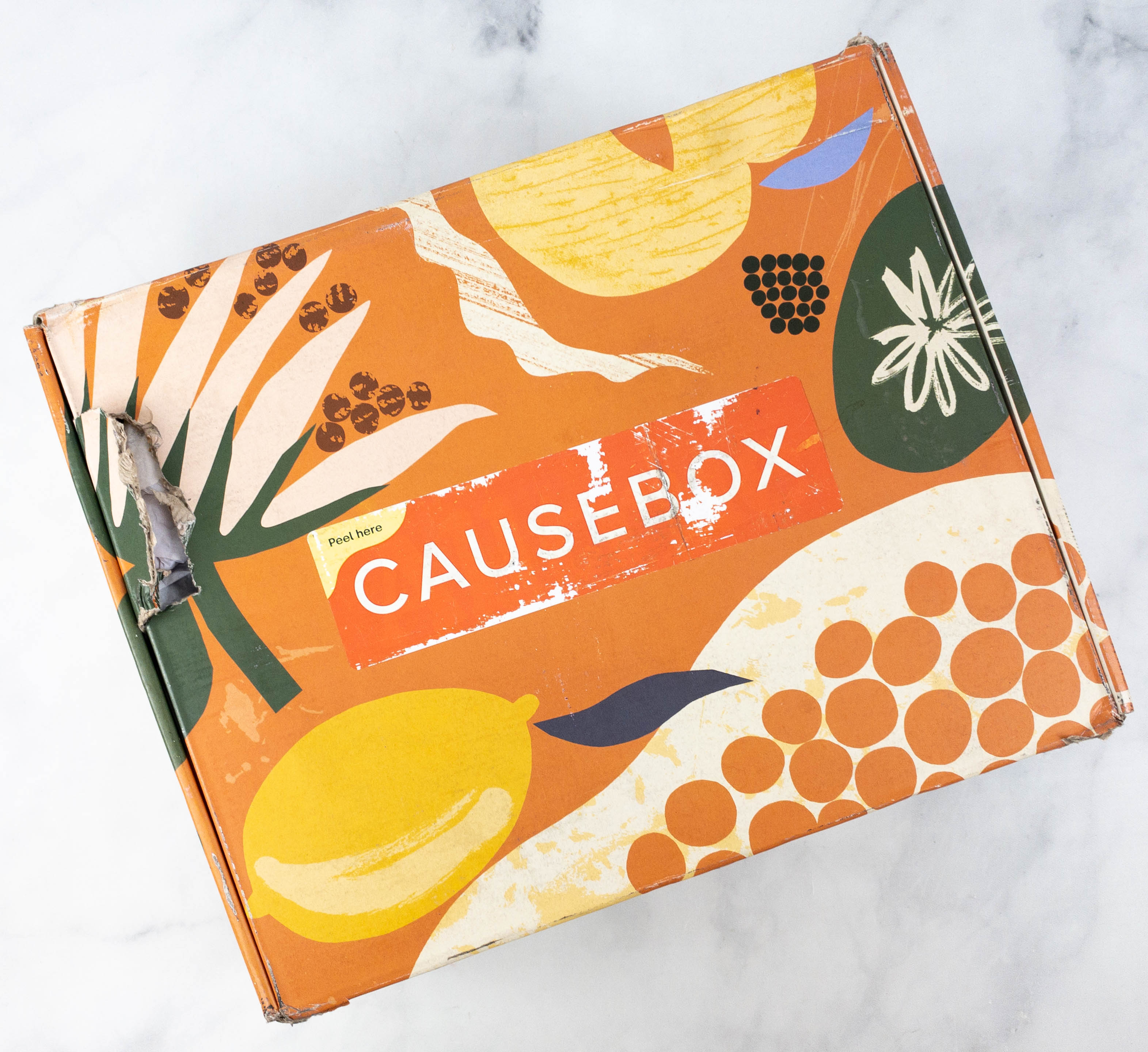 Alltrue, formerly known as CAUSEBOX, offers a "membership that matters" with a quarterly subscription box curated with full-size socially conscious products for women. In each box, you'll receive 5-8 seasonal lifestyle products that are focused on ethical and sustainable production, donate a percentage of profits to charity, or aim to inspire and empower others. They also offer "seasonal markets, inspiration for intentional living, and a community that cares." Starting with the Summer box (Fall, if you're joining with the intro box), you can upgrade your subscription box to include Alltrue's editorial print magazine All Good Things for $7.95/quarter. You can also upgrade to a carbon-neutral shipping option for $1/quarter. This subscription is a reader favorite and made it on your list for best subscription box for women
DEAL: Save 20% ($10.99) on your first box when you use this link and coupon code SU20!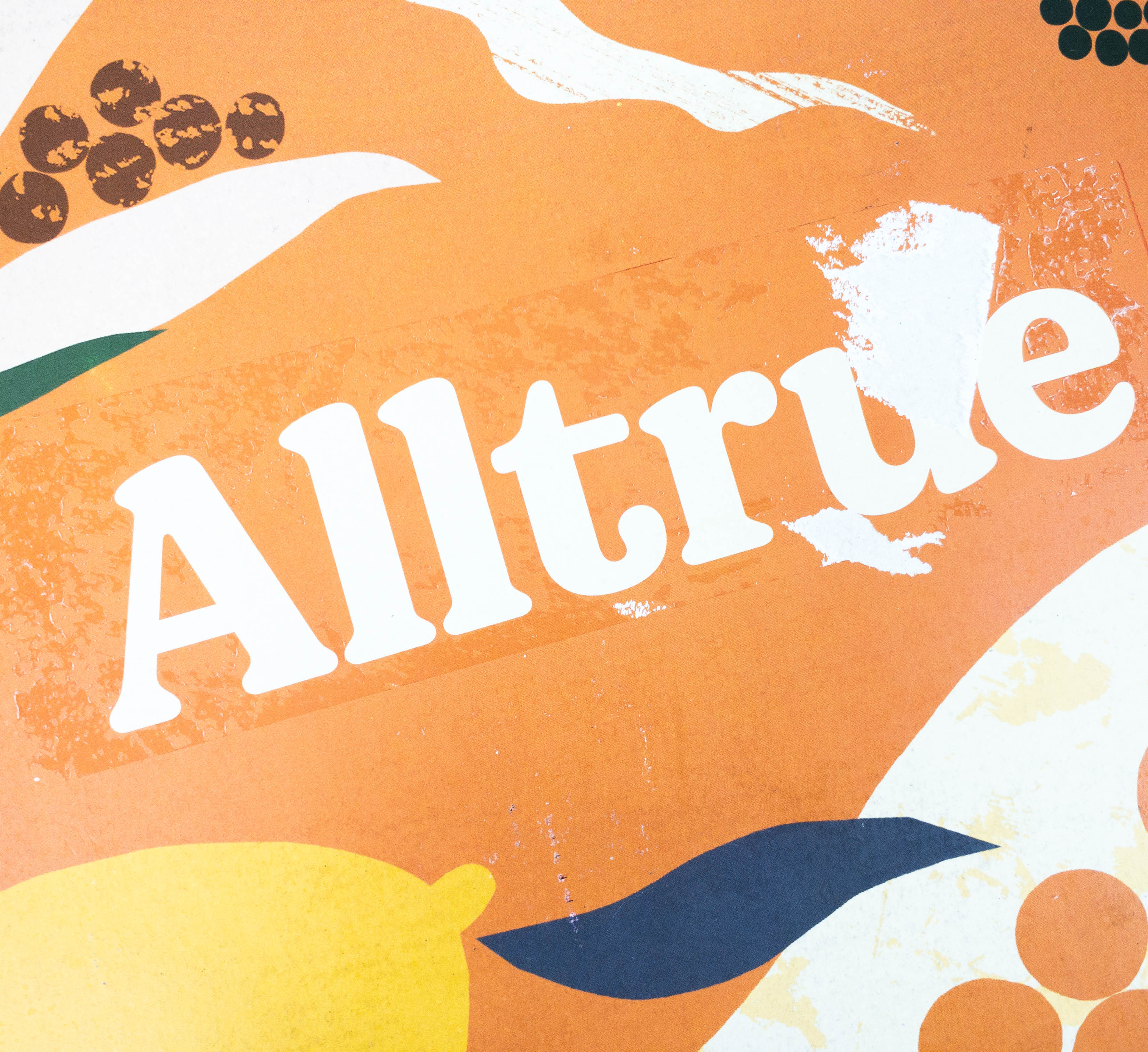 Peel off the CAUSEBOX sticker to reveal Alltrue! My box was pretty dinged up and the sticker reveal was not perfect.
There's even a tear on the left side but I'm so glad to see that everything inside is in good condition. The items came wrapped in tissue.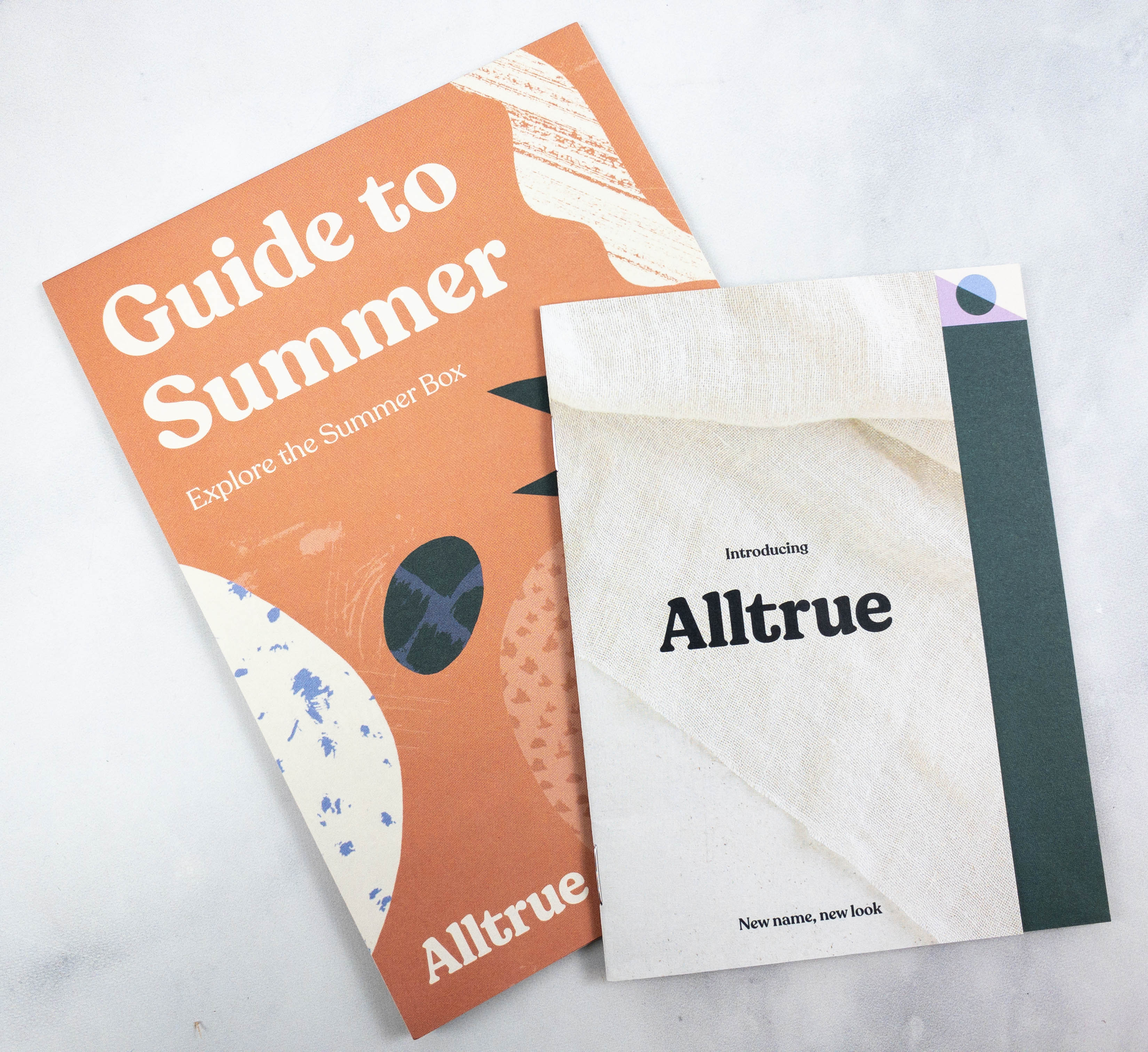 There were some cards on top of the items along with a mini magazine.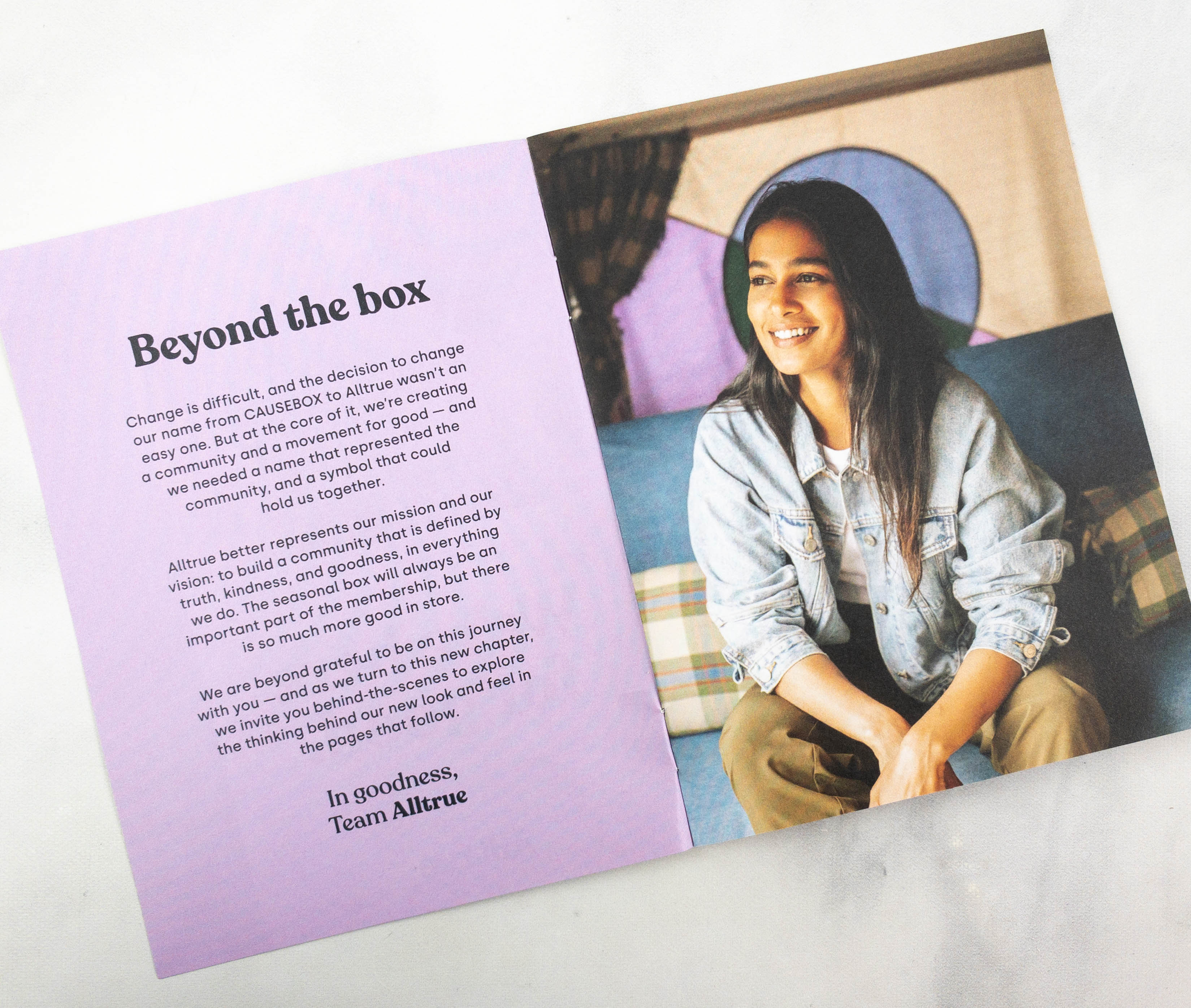 Here's a message from the Alltrue team!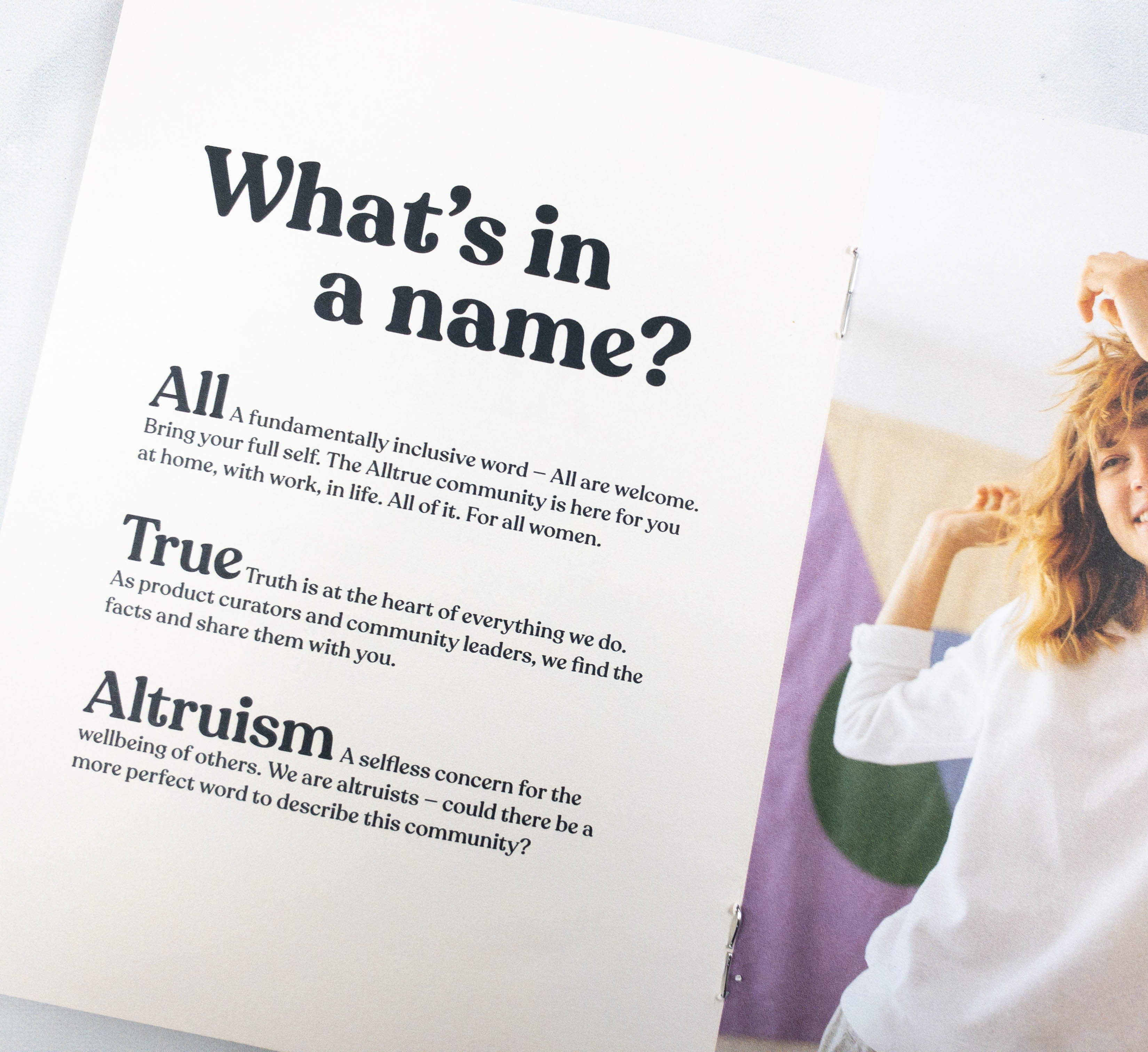 They also shared the meaning behind their new brand name.
All A fundamentally inclusive word — All are welcome. Bring your full self. The Alltrue community is here for you at home, with work, in life. All of it. For all women.

True Truth is at the heart of everything we do. As product curators and community leaders, we find the facts and share them with you.

Altruism A selfless concern for the wellbeing of others. We are altruists — could there be a more perfect word to describe this community?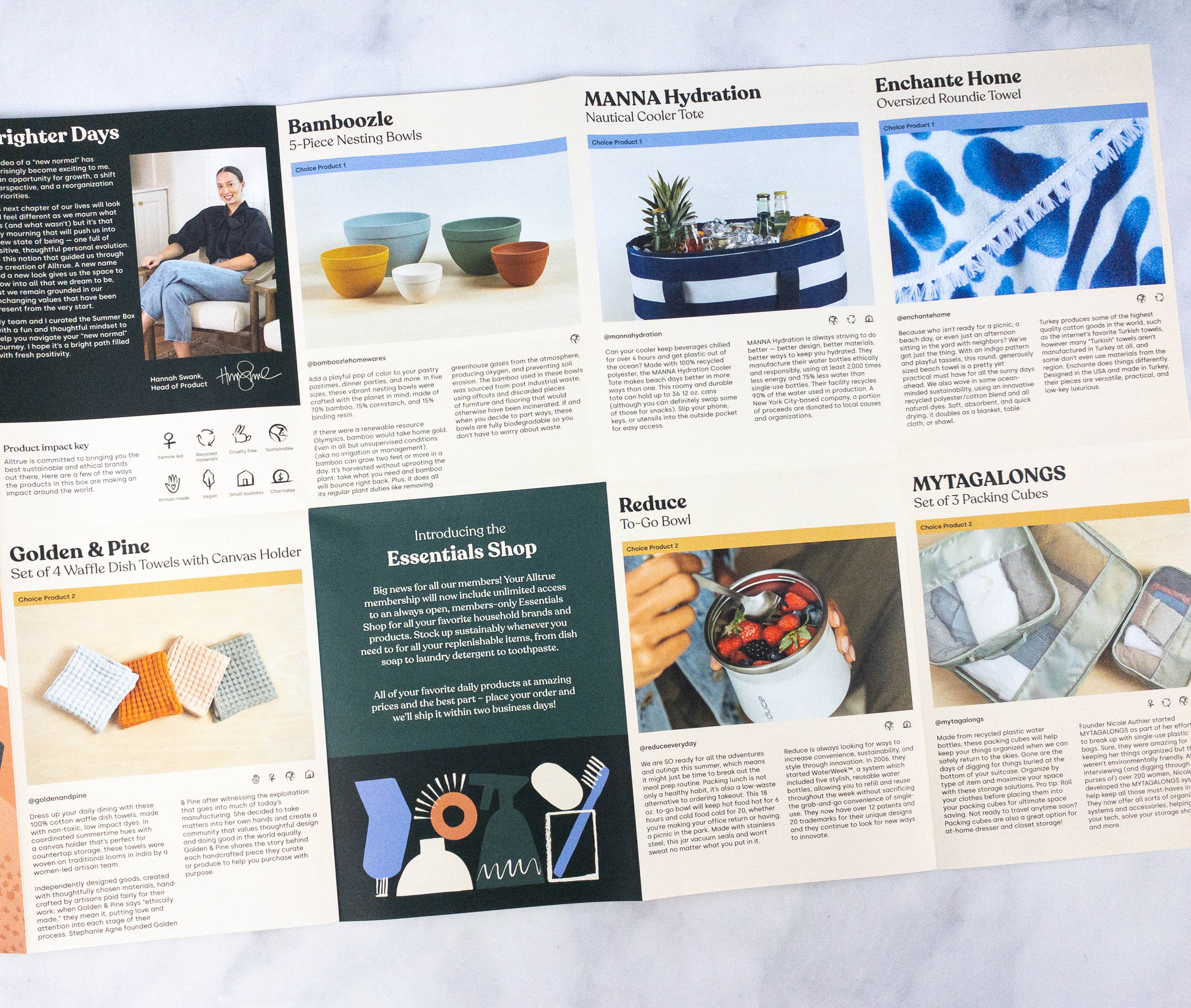 On a foldout leaflet, there's a list of all the products in the box, with descriptions and photos.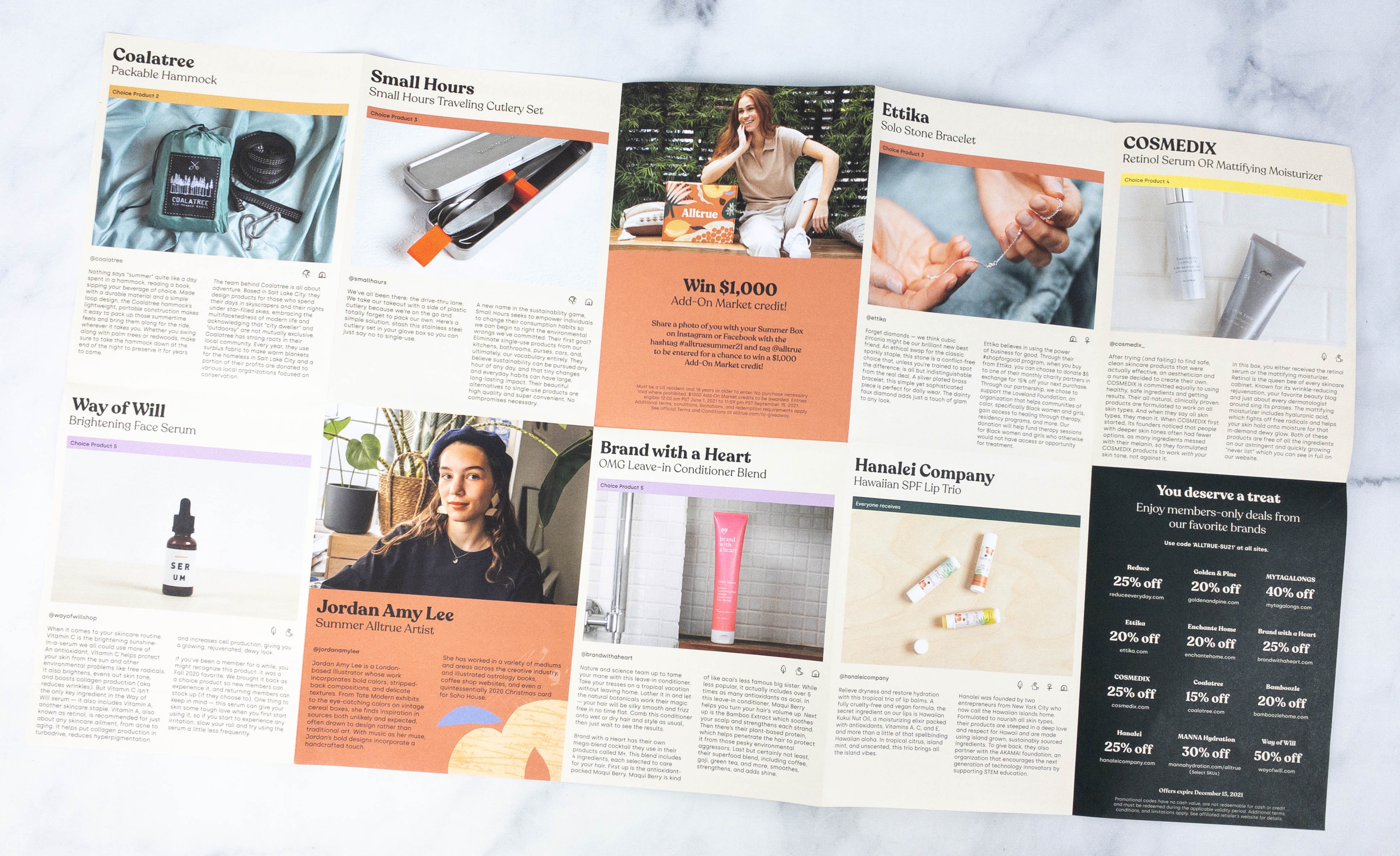 Aside from the product information, there's also a short feature about the Summer Altrue Artist, Jordan Amy Lee. One the bottom right part, there's a coupon code which can be used for discounts on different online shops.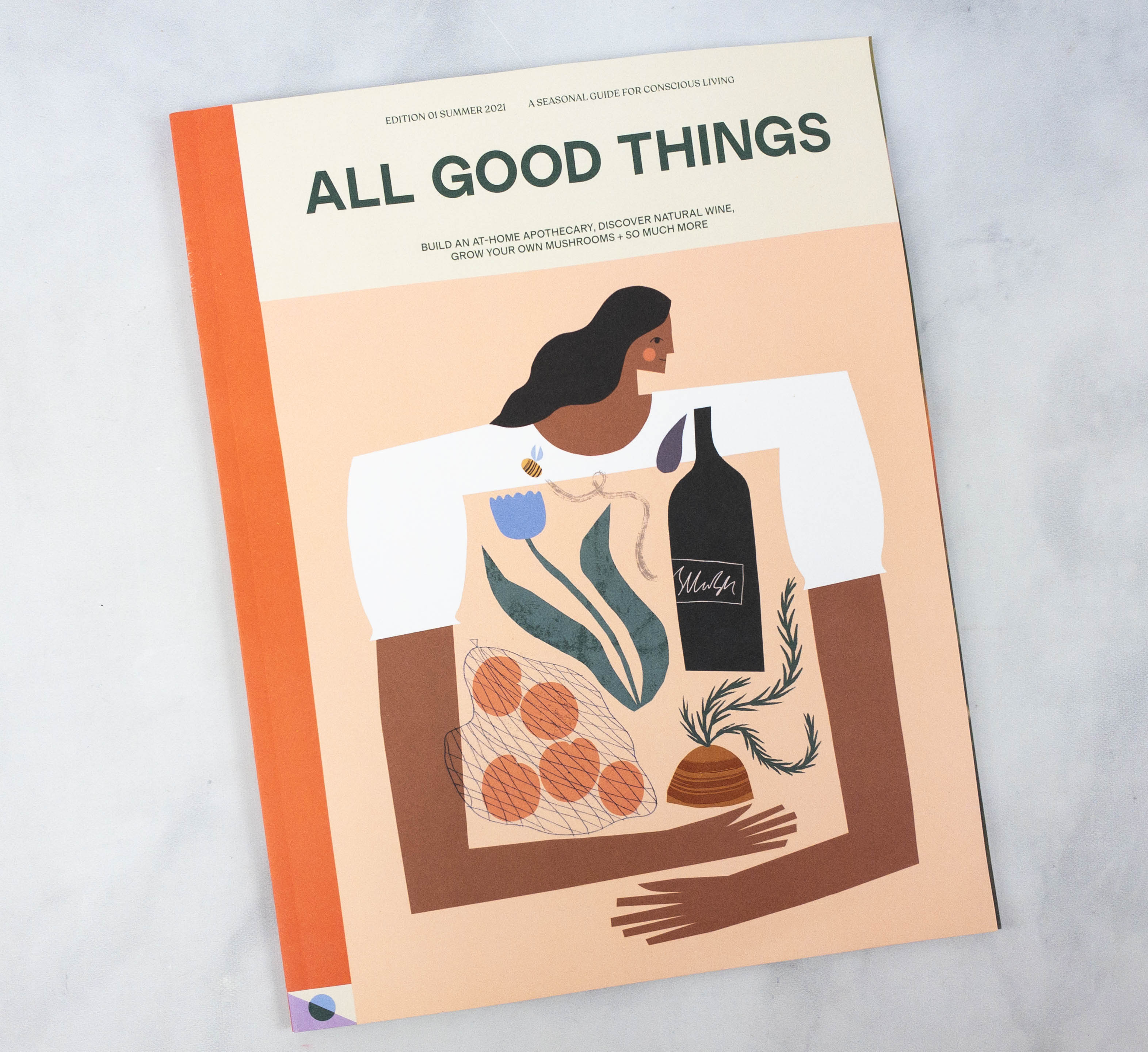 Their monthly magazine is now called All Good Things!
All Good Things is a seasonal guide for conscious living.

In each issue we unearth stories, products, and projects from around the world that inform and inspire. All Good Things is For anyone pursuing the good life: an existence rooted in consideration, compassion, and the potential for collective change.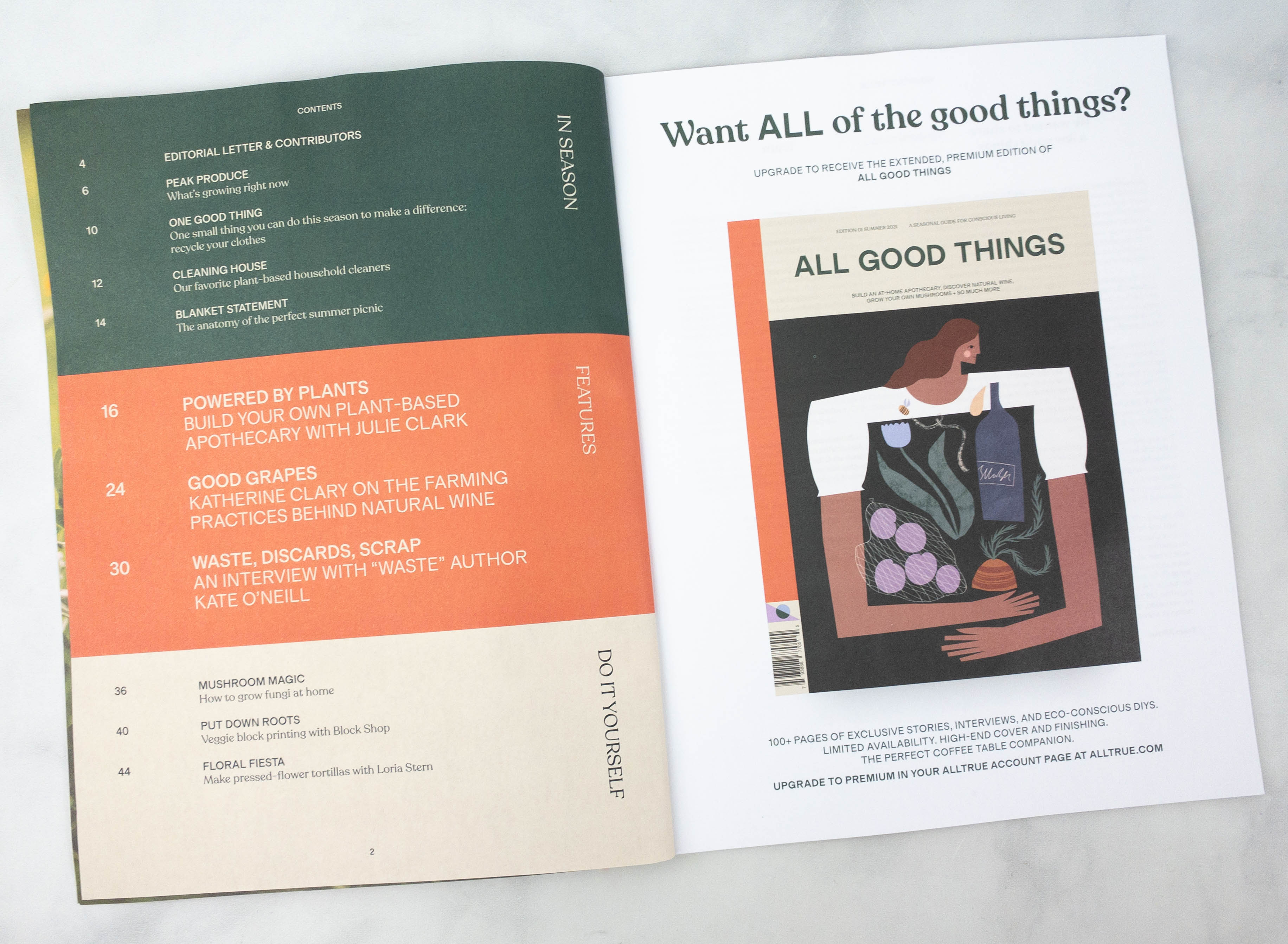 There is a table of contents so you can easily navigate through the magazine. If you want the full premium edition of the magazine, you'll need to upgrade your subscription. This isn't really the way I see things going in 2021 and beyond.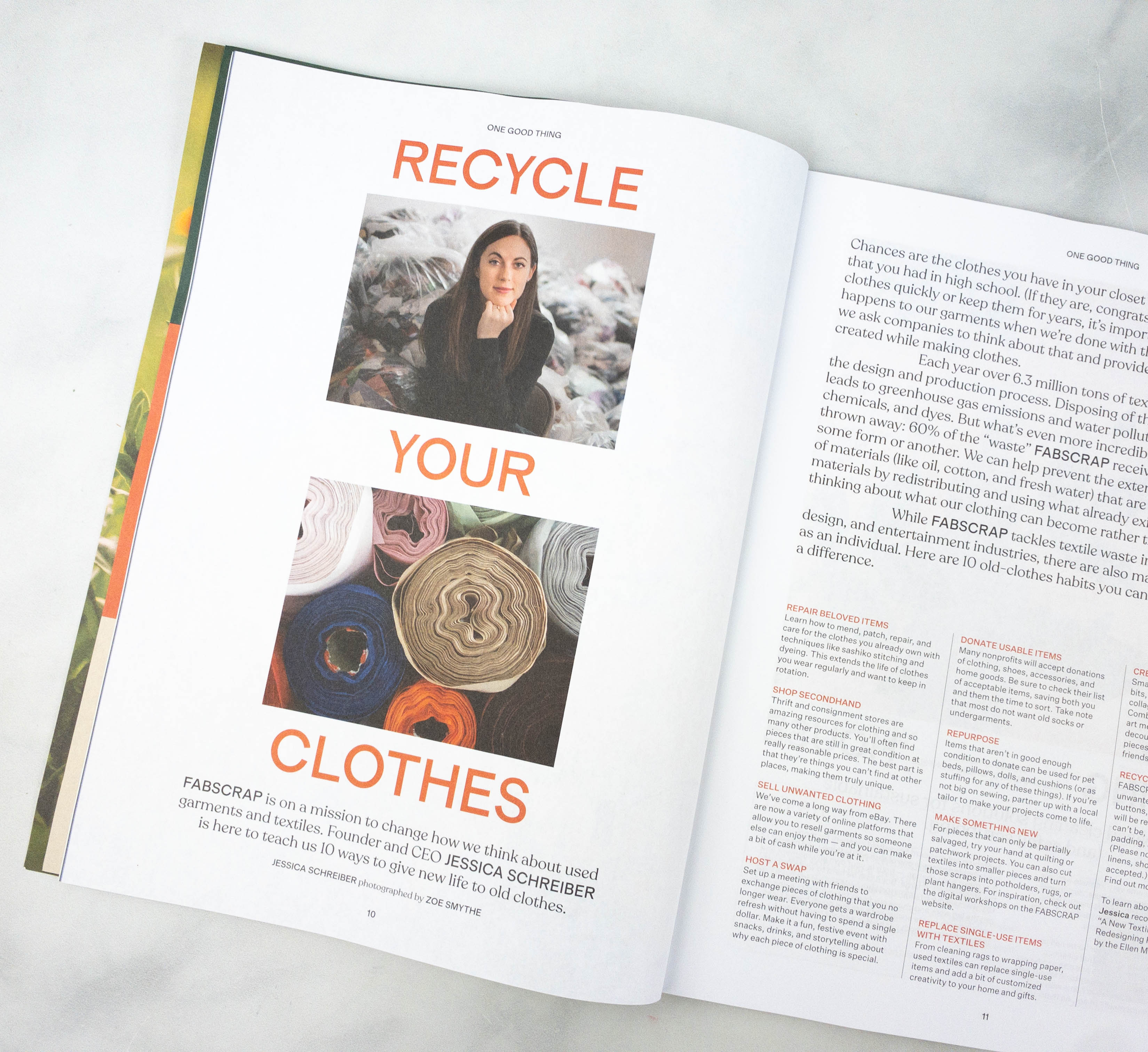 Here's a feature about FABSCRAP, where founder and CEO Jessica Schreiber shares different ways to give new life to old clothes.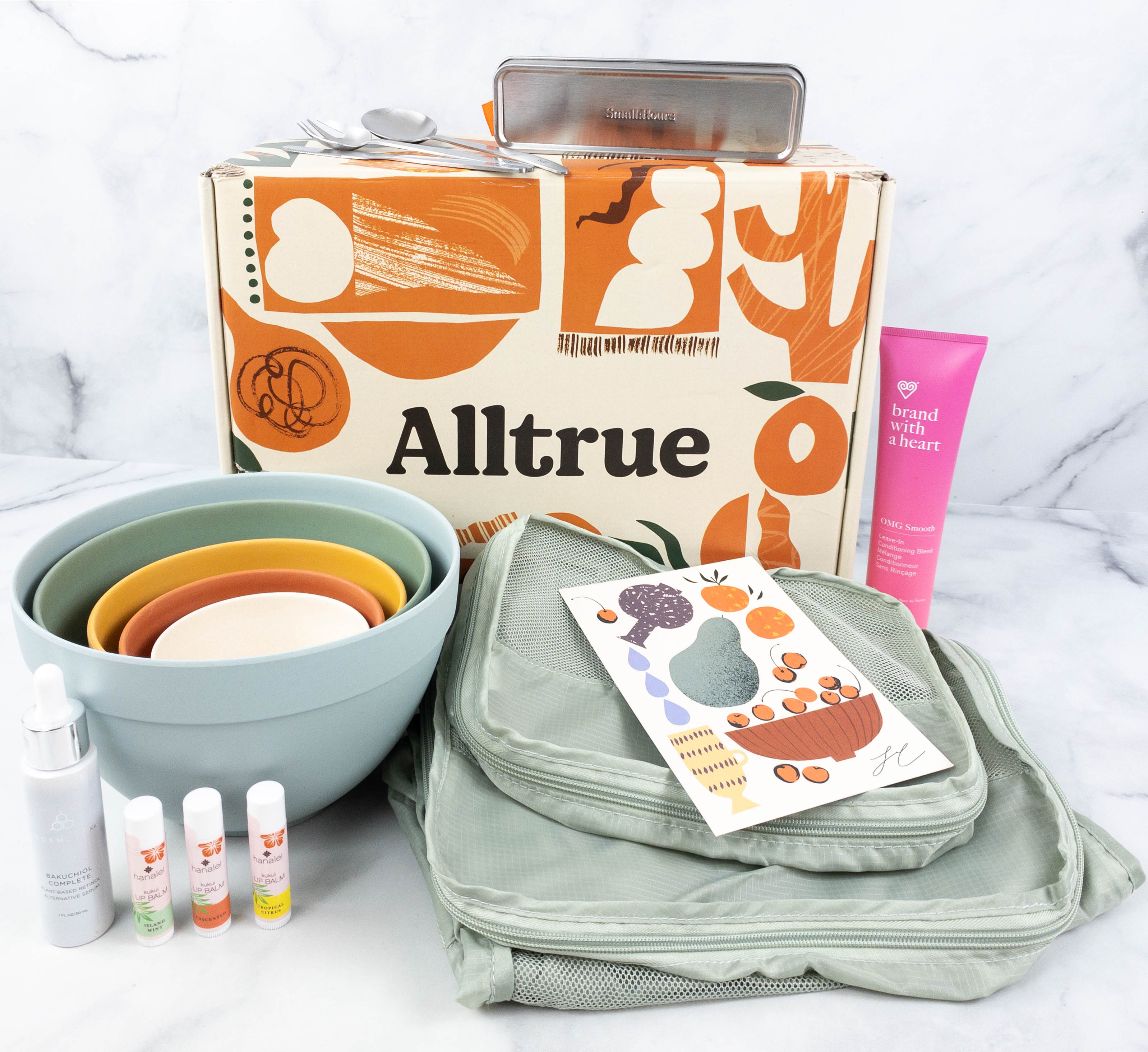 Everything in my box!
Note – I actually had the chance to customize my box, because I'm constantly checking the site during spoilers time and I generally update my picks with every choice. We'll post a customization reminder for the Fall box – we know lots of people somehow didn't get a customization reminder at all, because we have heard that in the comments. I recommend subscribing to our reminders for this box. You can turn off coupons notifications if you're already a subscriber, and even digest your notices so you only get one email a day from Hello Subscription notifications [if you're an email subscriber, those emails are in addition to the notification emails].  It's totally customizable, even if your Alltrue box is not 😉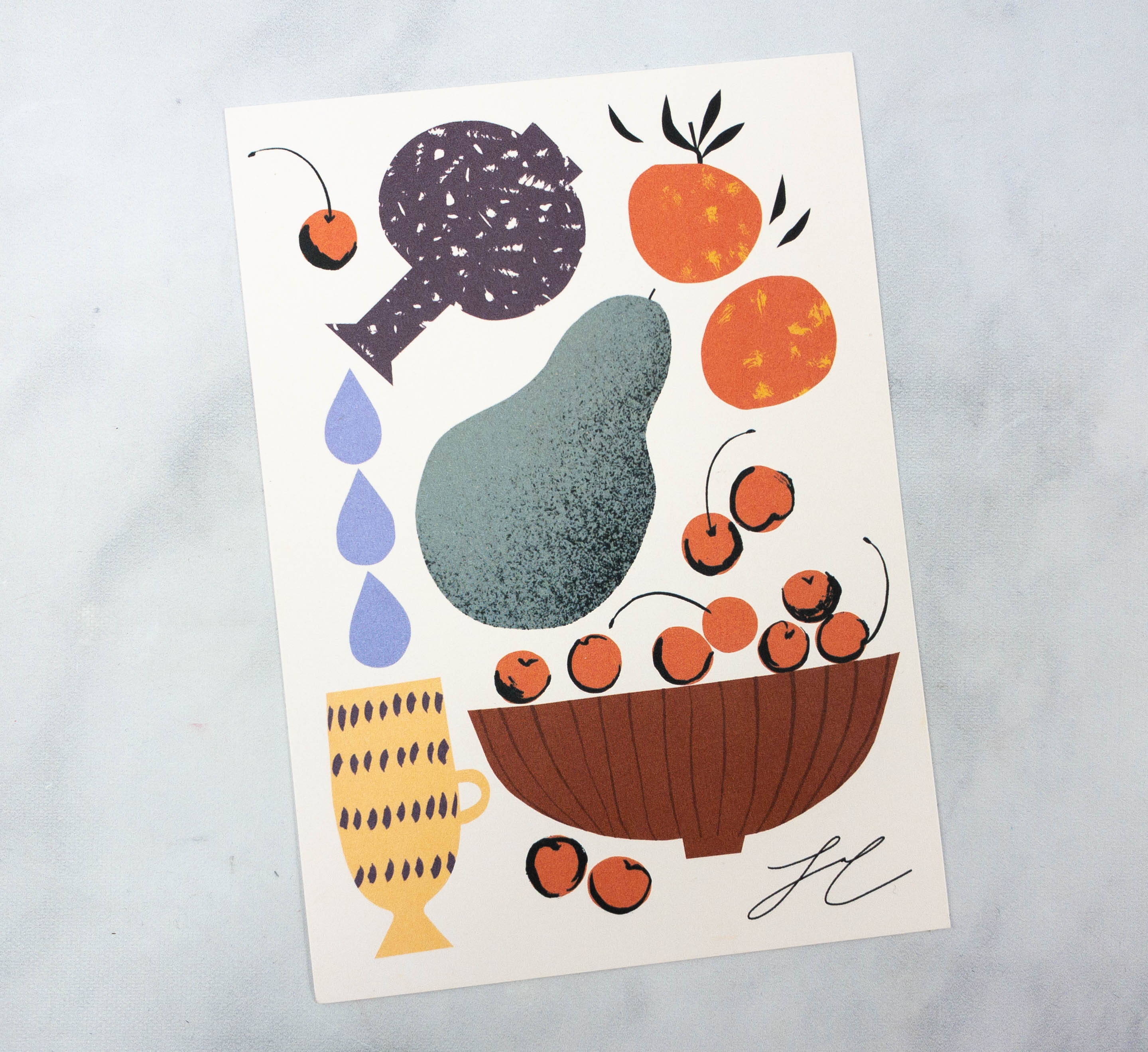 Postcard. The postcard was designed by this quarter's featured artist, Jordan Amy Lee. It features fruits and some homeware, in warm colors. It also has the signature of the artist on the lower right side of the card.
At the back, there's a space for your message and the receiver's information.
Brand with a Heart OMG Leave-In Conditioner Blend ($22) To give our hair some love, here's a leave-in conditioner with a chock-full of super fruits including maqui berries and bamboo extract plus a protein complex. Together, they help restore hair and keep it from completely drying out. Another thing to love about it is its pina colada inspired scent, which is perfect for summer! I picked this, because it was not a repeat item!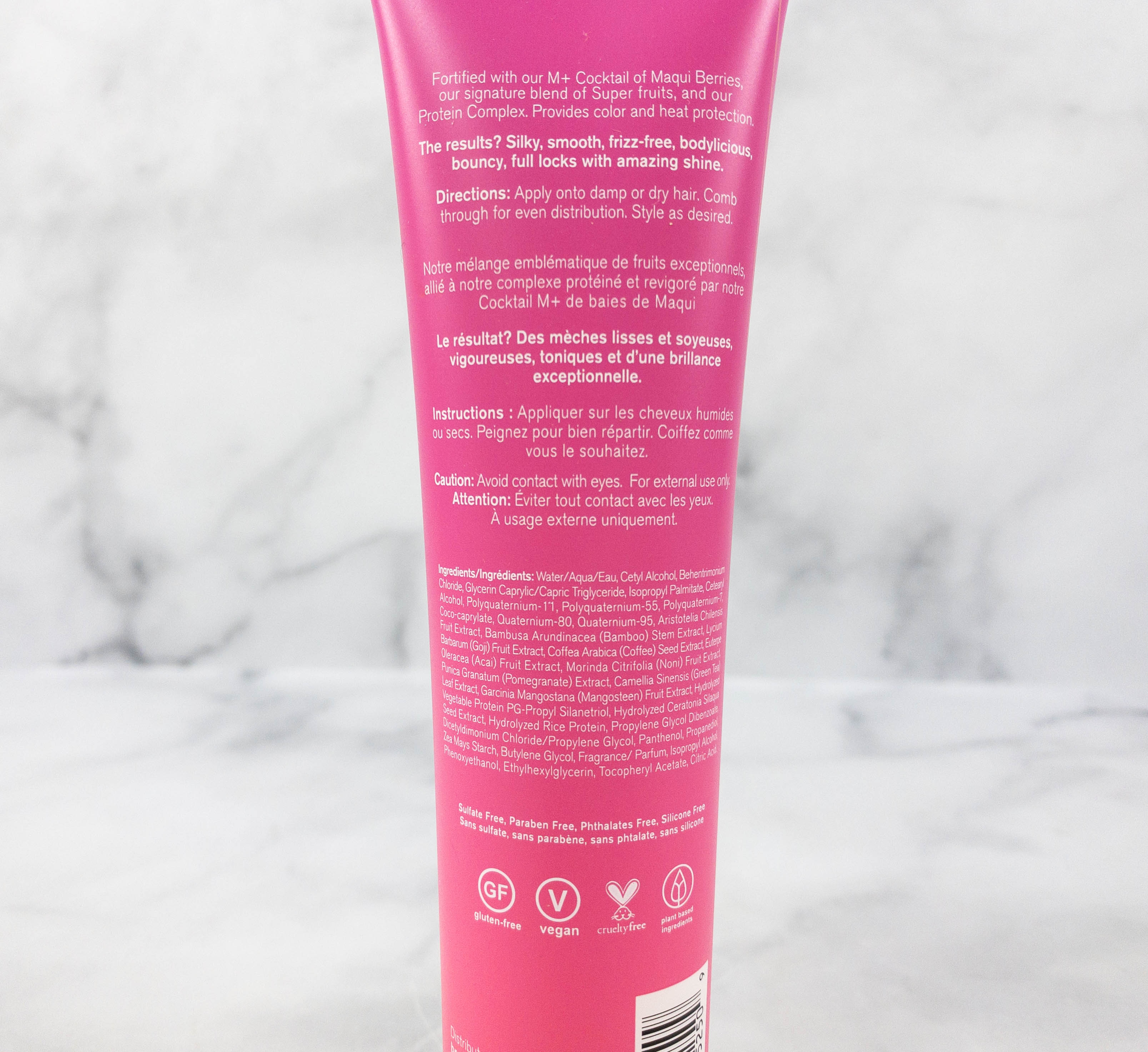 This conditioner can be applied whether on dry or damp hair, just make sure to comb through for even distribution of the product. Then, you can style your hair the way you want. I like that it helps nourish hair and eliminate tangles. It also leaves hair smooth and silky soft while keeping it very manageable. I also feel good using it, knowing that it's cruelty-free!
COSMEDIX Bakuchiol Complete Plant-Based Retinol Alternative Serum ($80) Bakuchiol is one of the main ingredients of this serum. It's a retinol alternative, which helps brighten the skin and improve skin tone minus the adverse effects. Bakuchiol is not a retinol or retinoid, but does help turn over your skin cells and maybe diminishes dark circles. It's combined with hydrating squalene, as well as jojoba seed and moringa seed oil which are known for their skin balancing properties.
I was surprised to see that this is a limited edition and not part of their ongoing product line.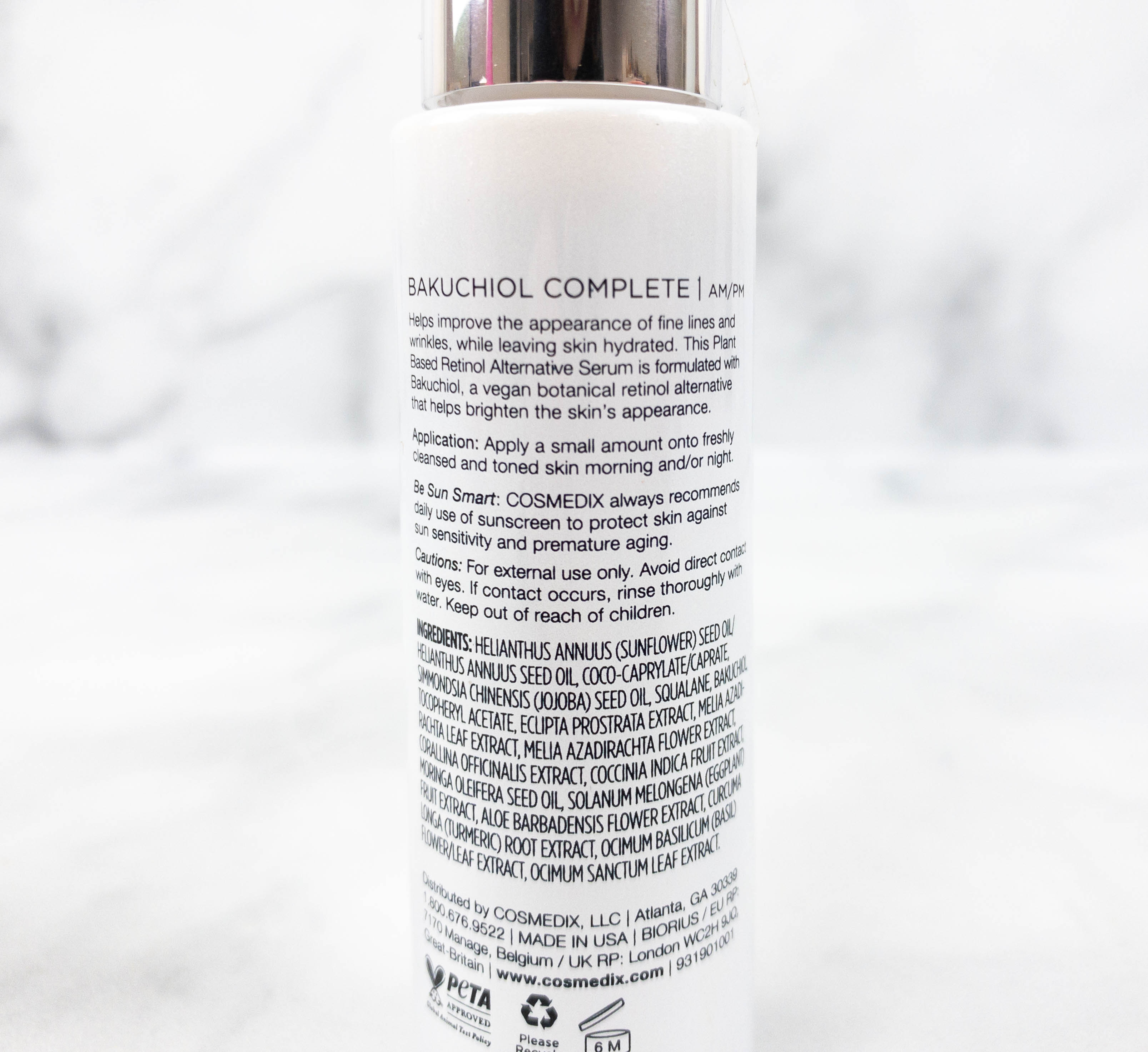 It can be used whether day or night! Still, they recommend applying sunscreen to avoid sun damage. The serum comes with a dropper applicator that makes it easy to dispense the product. Just get a small amount and apply after cleansing and toning. The formula is lightweight and it easily sinks into my skin, leaving it smooth, soft, and nourished! I'm particularly interested to see if longer term use assists with photodamaged skin.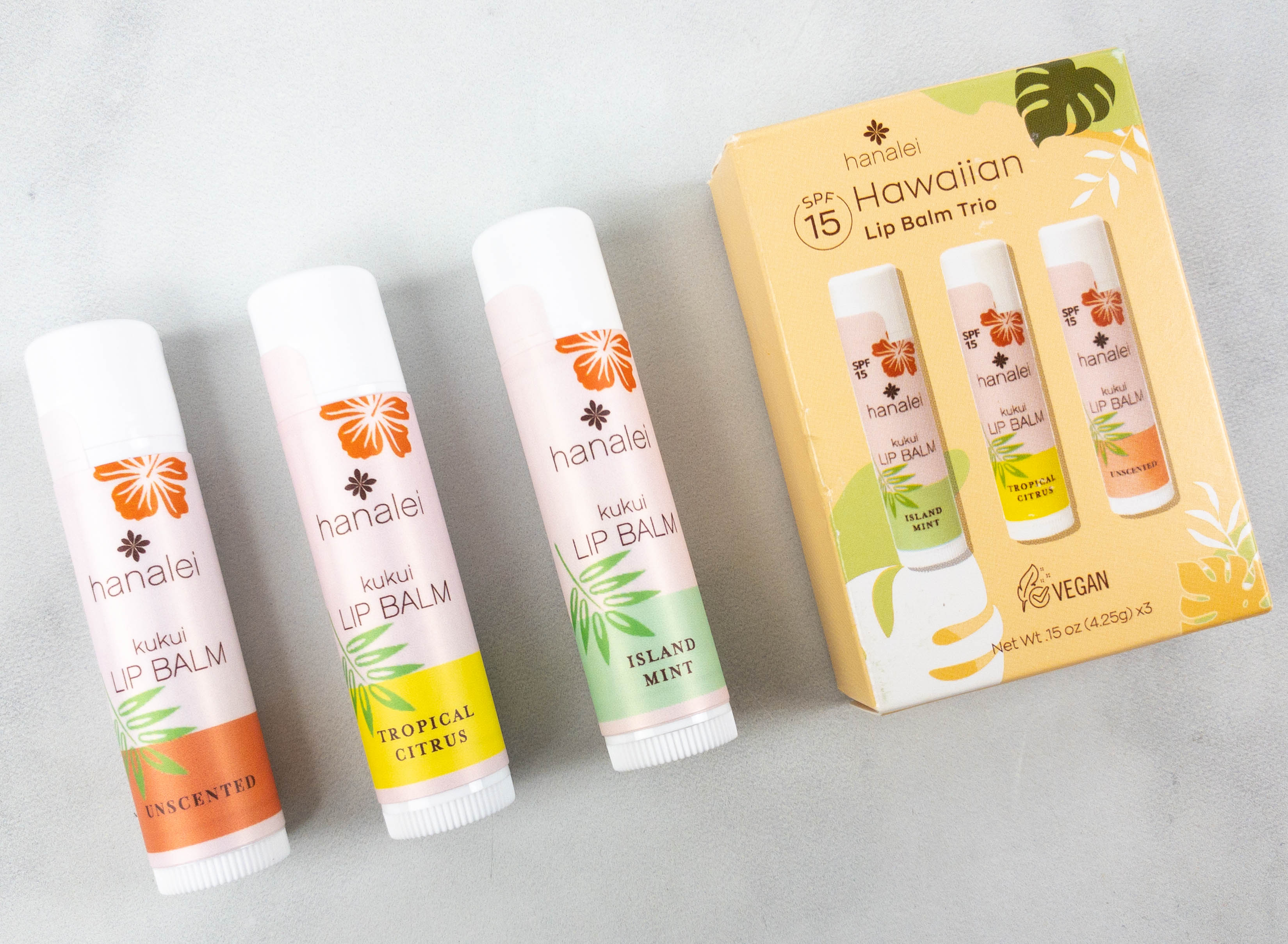 Hanalei Company Hawaiian SPF 15 Lip Trio ($20) I also received this lip balm trio which came in different variants: Tropical Citrus, Island Mint, and Unscented. These are great to use when heading outdoors because they contain SPF 15. They help protect the lips from the harmful rays of the sun, and they even eliminate dryness and chafing.
My favorite is the Tropical Citrus whenever I'm wearing it on its own but I prefer using the Unscented variant if I'm putting it under other lip products.
Small:Hours Traveling Cutlery Set ($25) Here's a cutlery set in its own stainless steel container! I love it because it's convenient to bring whenever I'm on-the-go.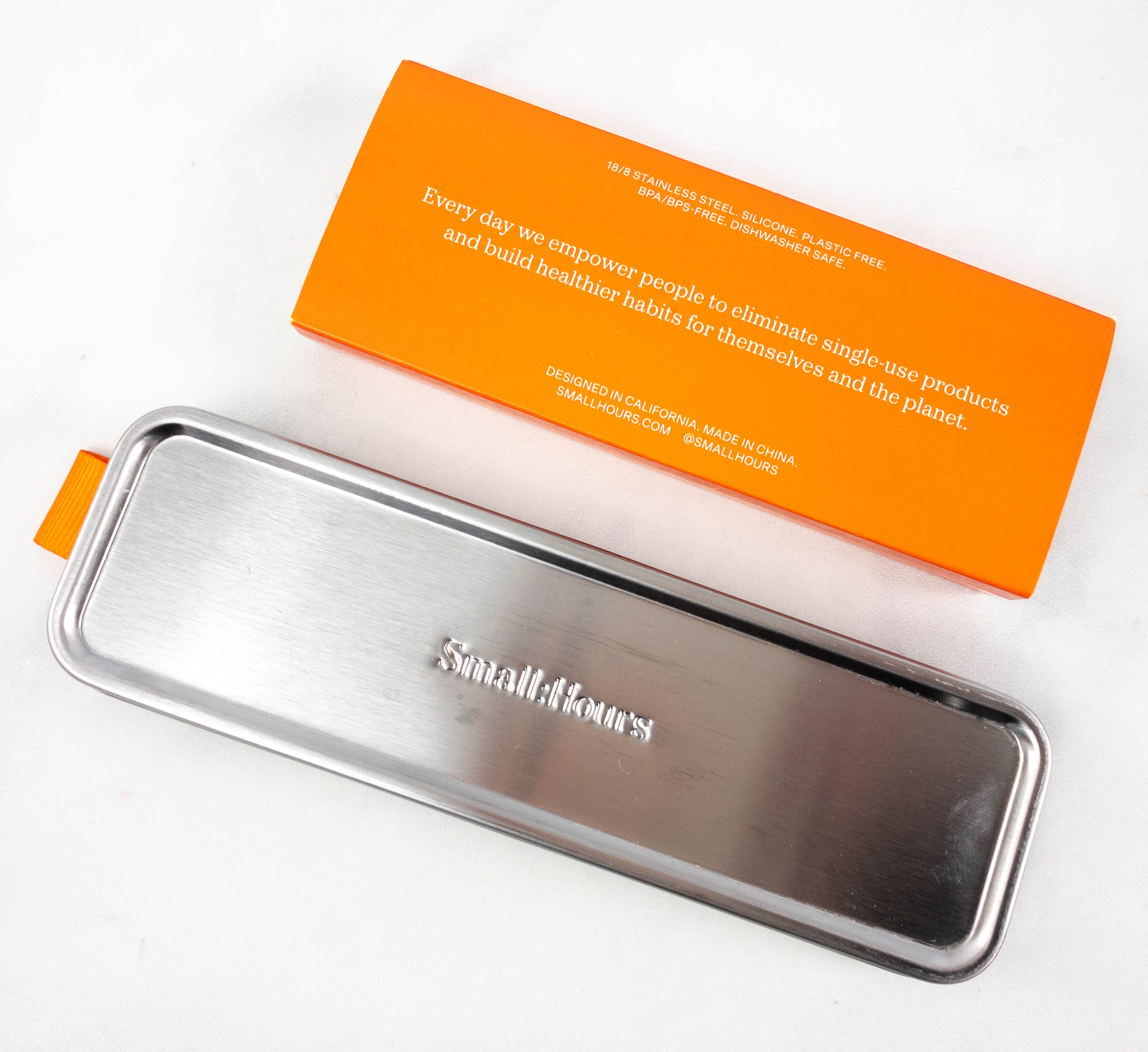 These reusable cutlery make a great alternative for their single-use counterparts. Using them means less waste!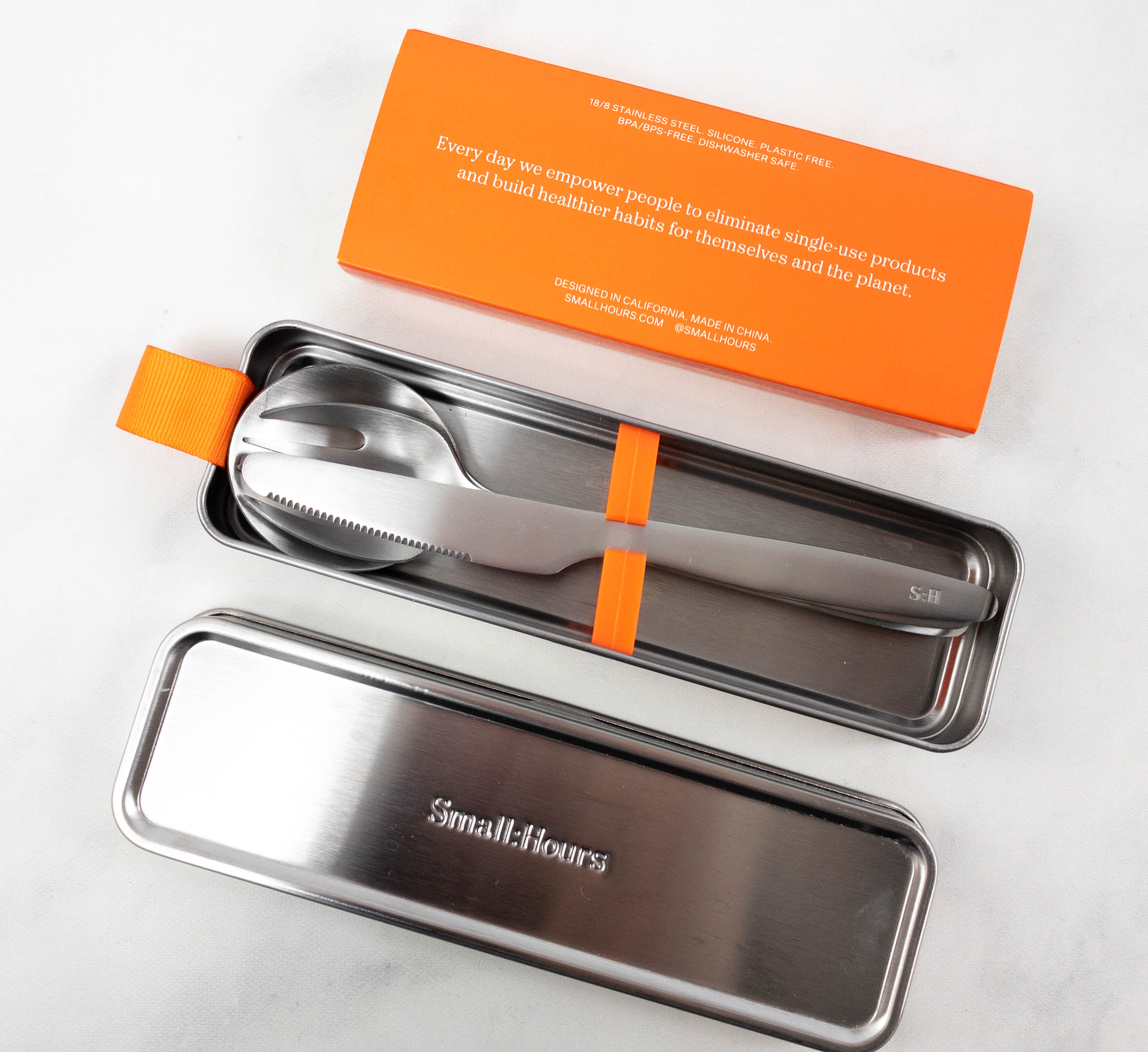 Inside, the utensils are also held together by orange silicone clasps to prevent them from getting all over the place. There's also a short orange strap attached on one side of the container, which enables you to hang or attach the container to anywhere you can easily grab it.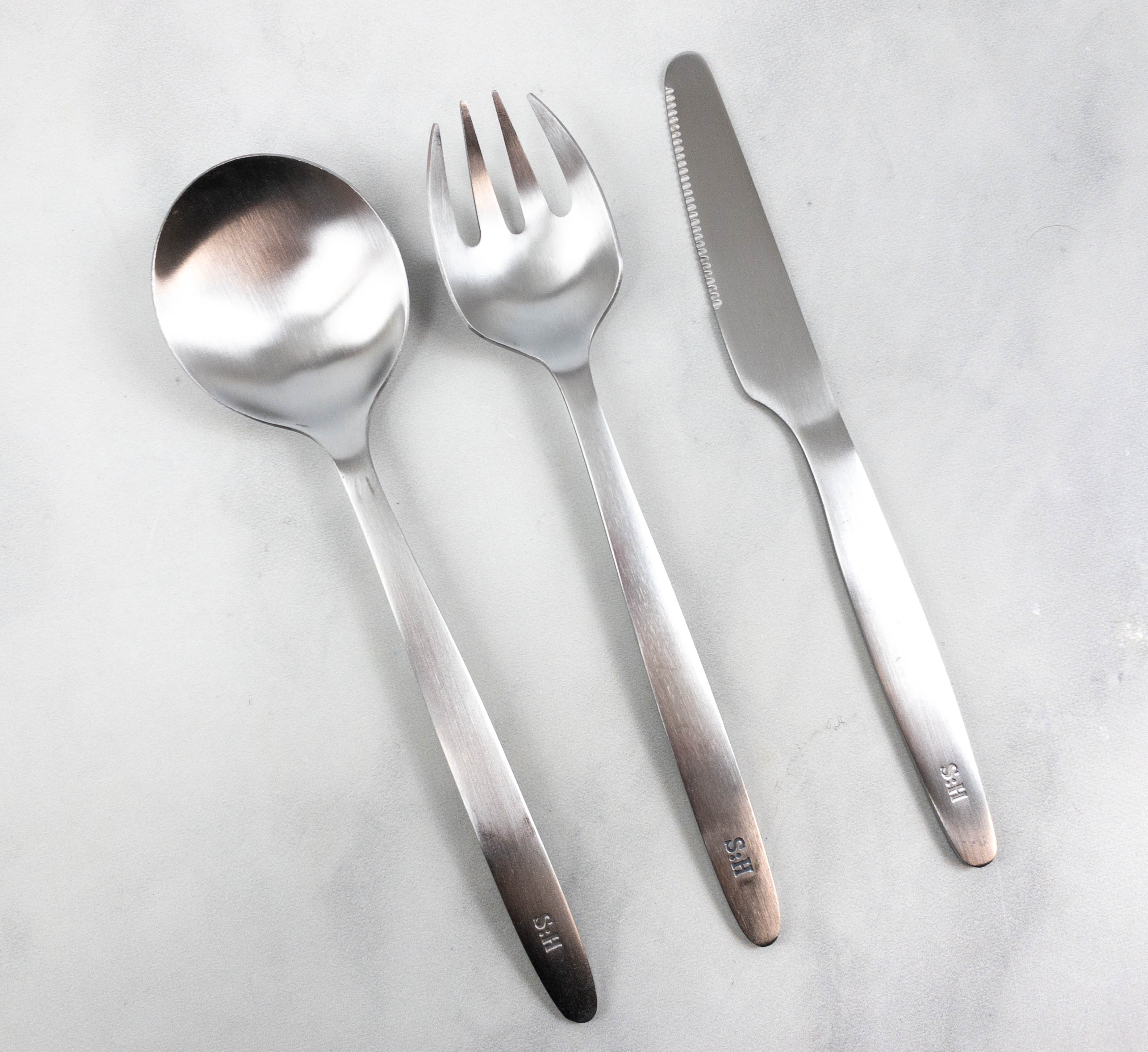 The set included a spoon, a fork, and a knife. Since they are made with stainless steel, they are easy to clean and maintain so they're always ready whenever you need them. I don't have to worry about them breaking either! I thought these were pretty impressive, and not flimsy. A great desk set so you can pass on the plasticware.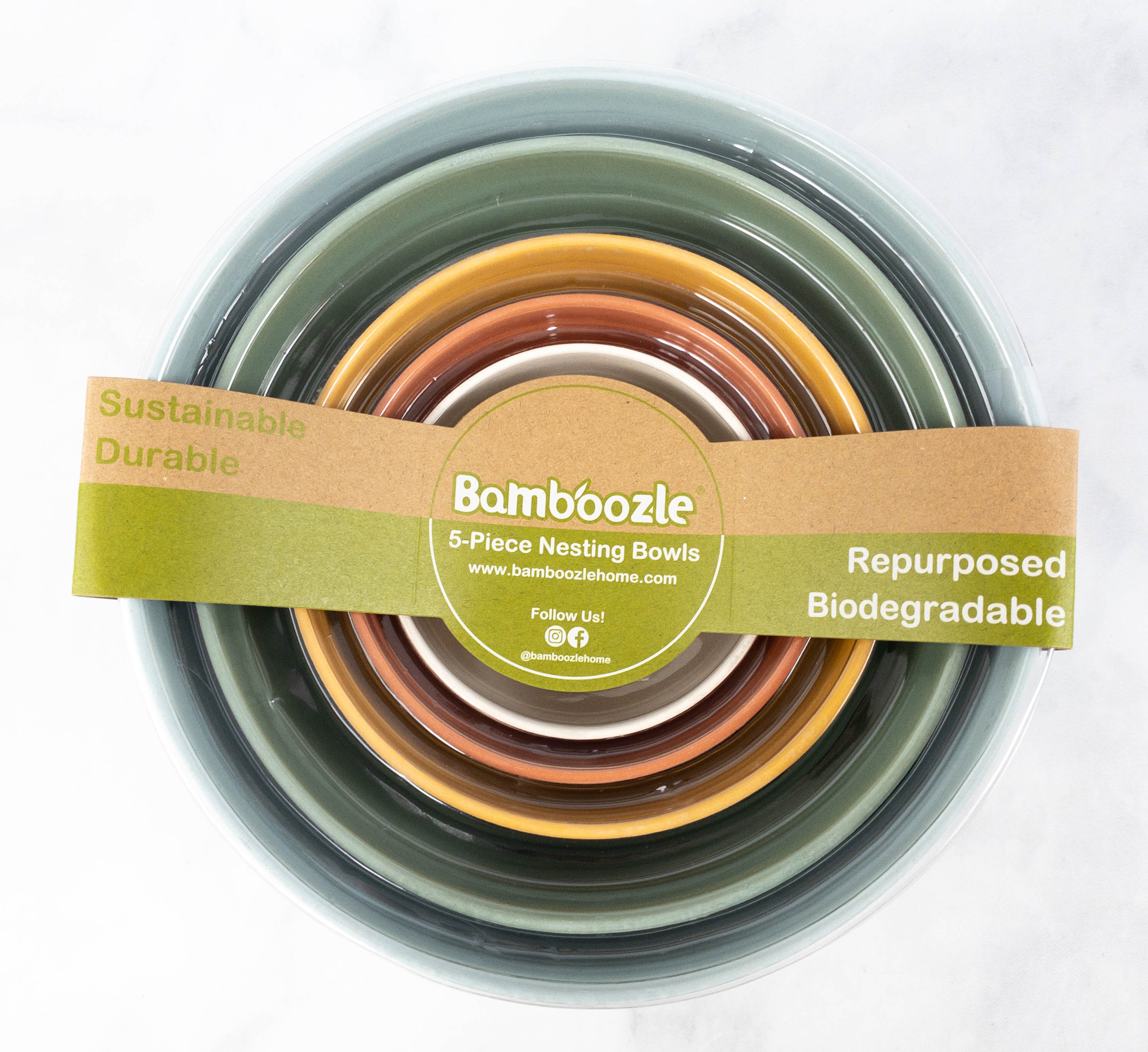 Bambóozle 5-Piece Nesting Bowls. Since I received cutlery, it also seems fitting to receive new bowls! I have 5 pieces in this set and they came in different colors.
Each bowl is made with sustainable materials like bamboo fiber, cornstarch, and resin so they're eco-friendly and biodegradable.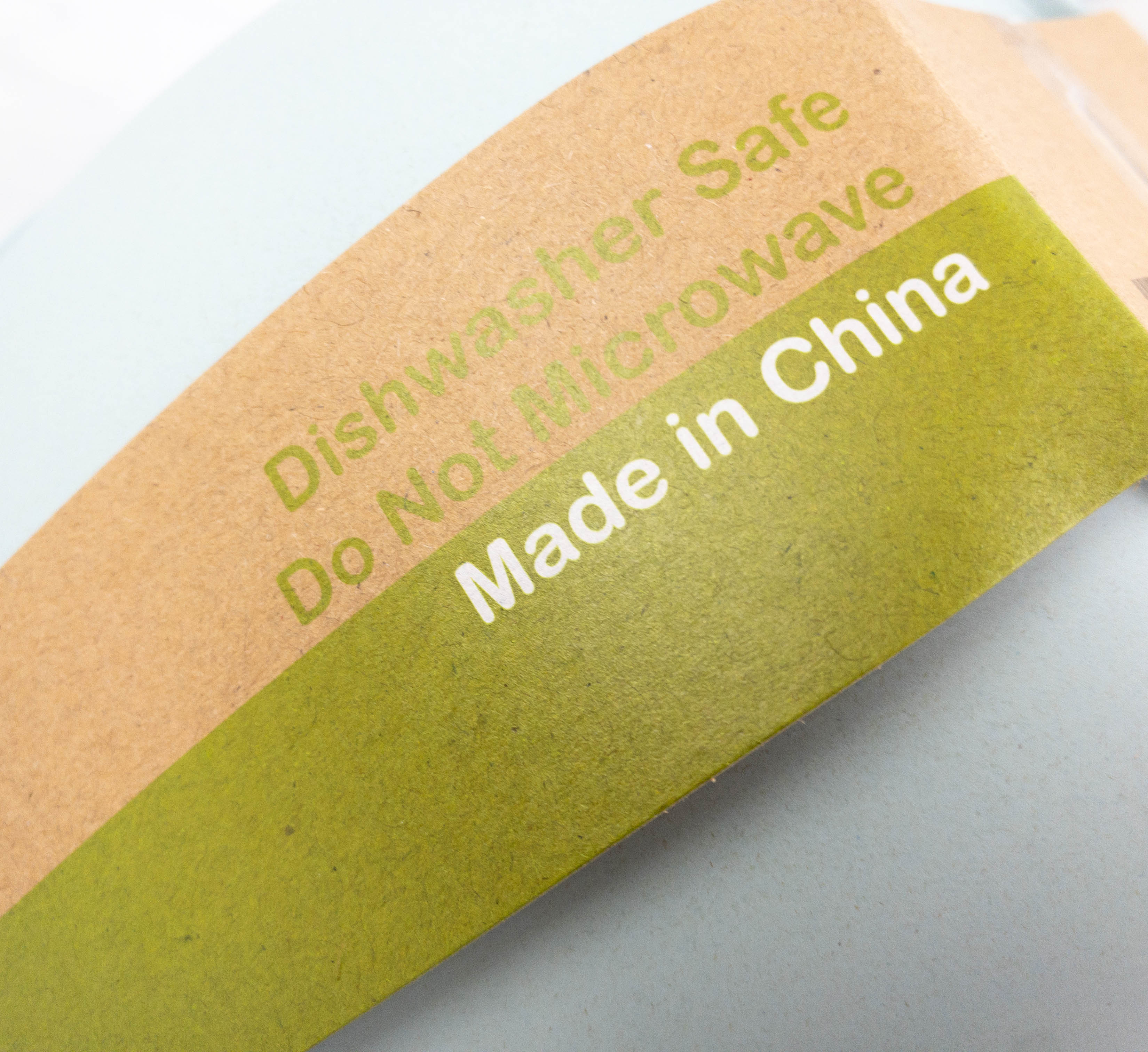 These bowls are also dishwasher safe so they are easy to clean up.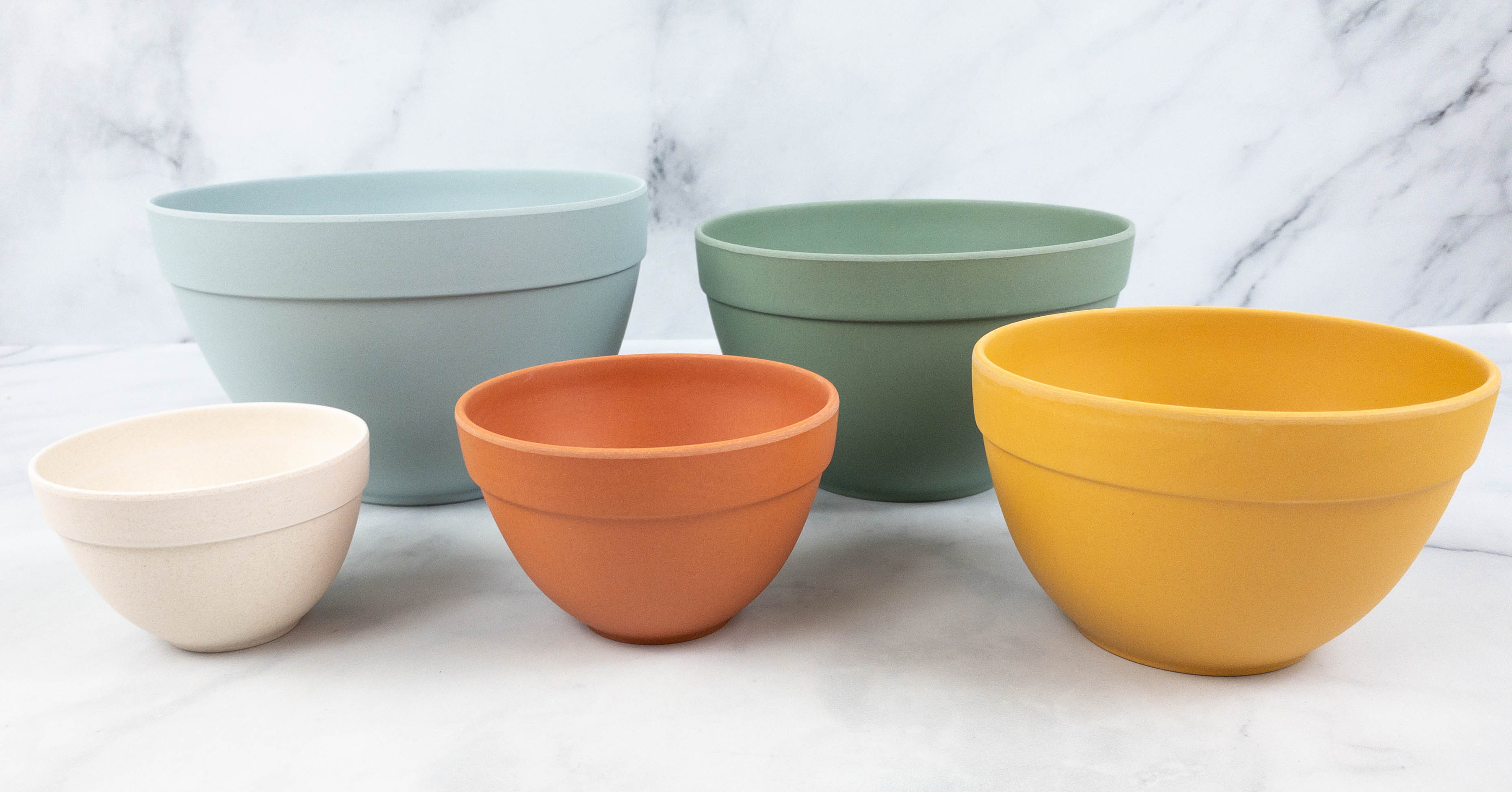 I like that they came in different sizes because I can easily find one that's suitable for my needs.
Whether I'm having a bowl of noodles or just needing a container for my dipping sauce, there's a bowl from this set that I can use.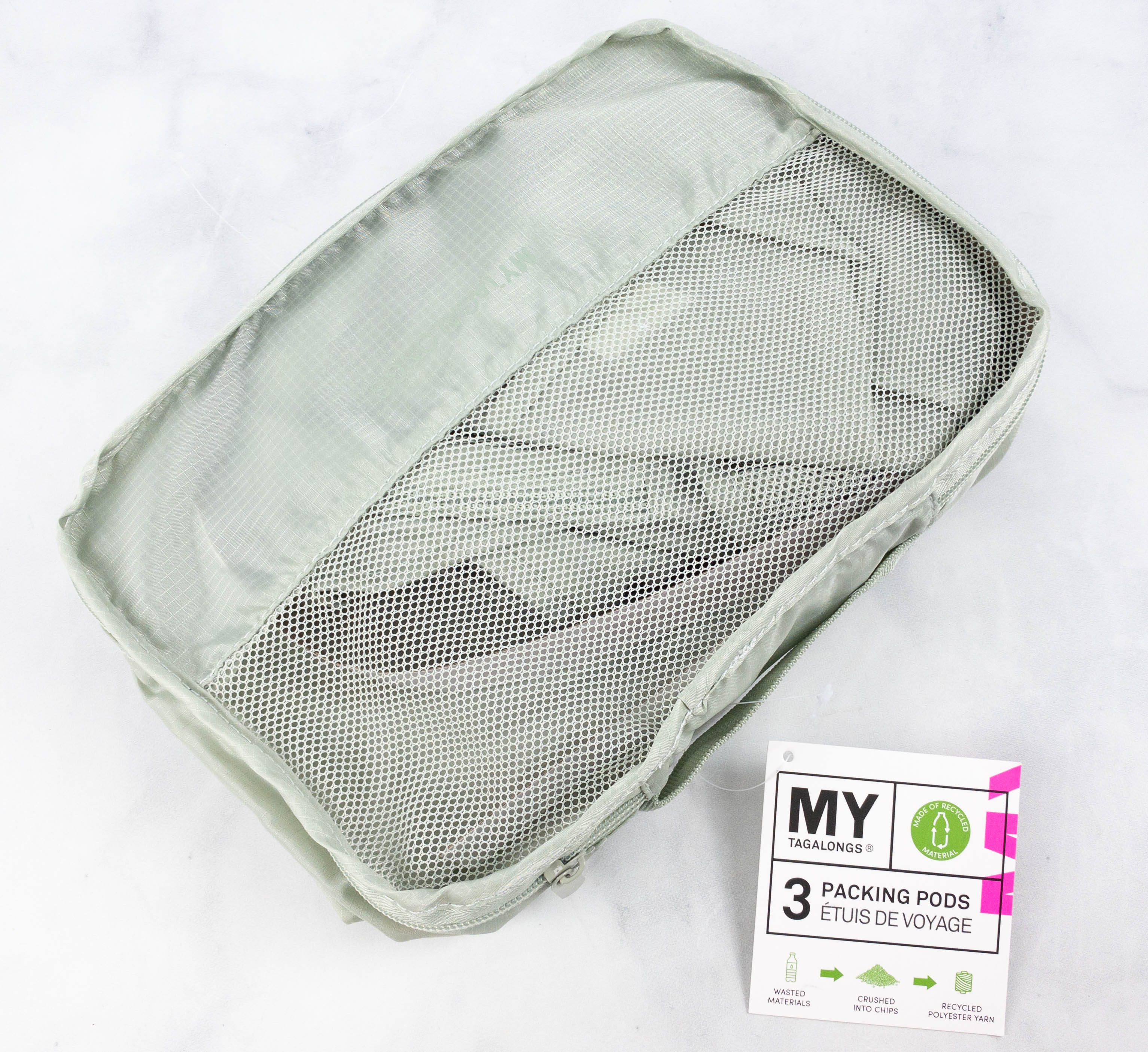 MYTAGALONGS Set of 3 Packing Cubes ($42) Packing cubes make it easy to organize stuff that I need to bring when traveling. They sent a set of 3 in this box, and they are all eco-friendly as they are made from crushed plastic bottles.
Each packing cube expands and can hold quite a lot of items! On top is an easy to carry handle. They aren't the sturdiest or most structured cubes I have, but they will do the job (and with 6 family members total, I will nearly always select a packing cube as a customization item when available!).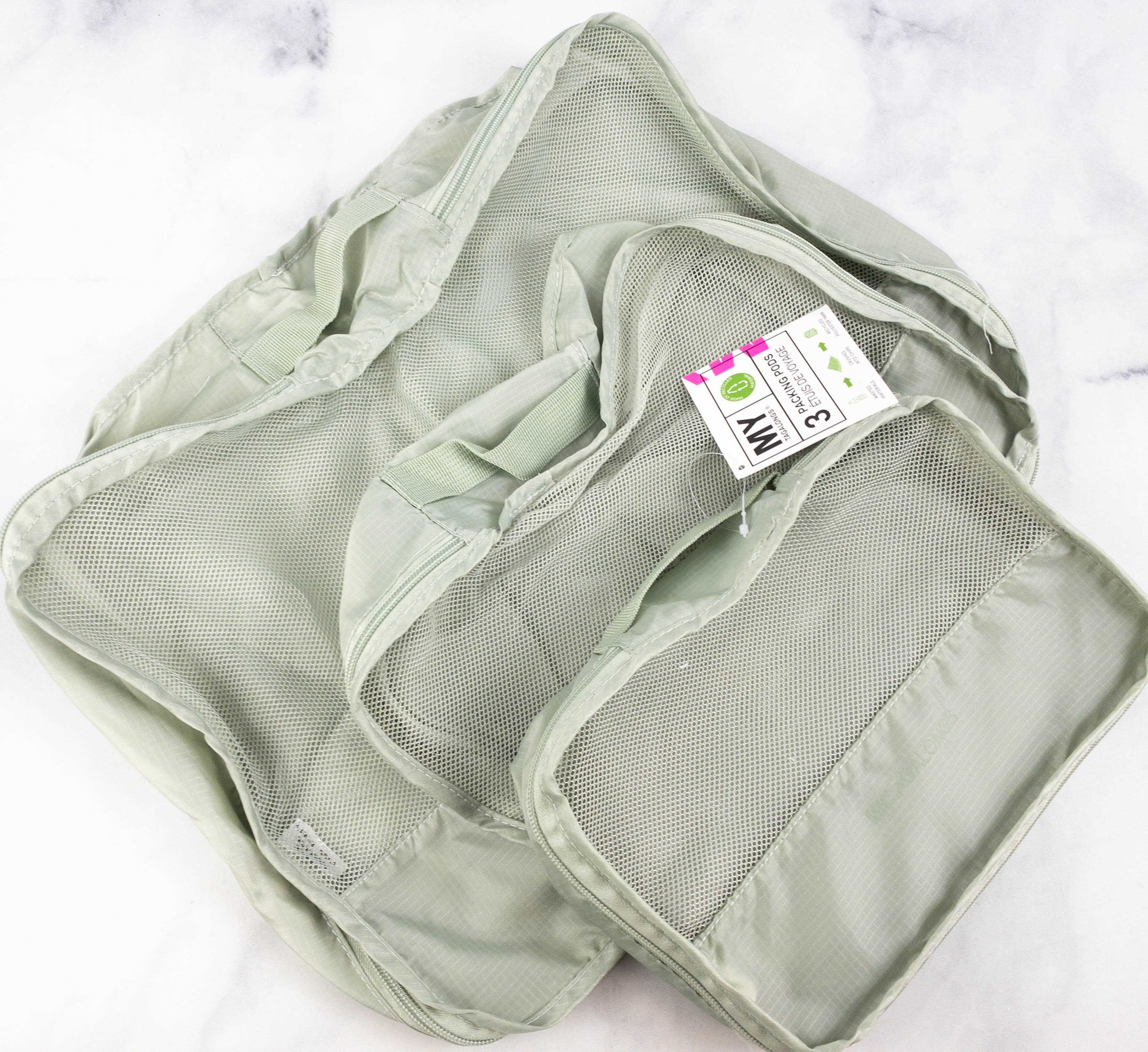 The cubes came in different sizes as well. I like that a part of the cube is mesh because it makes it easier for me to spot which cube has the items I need.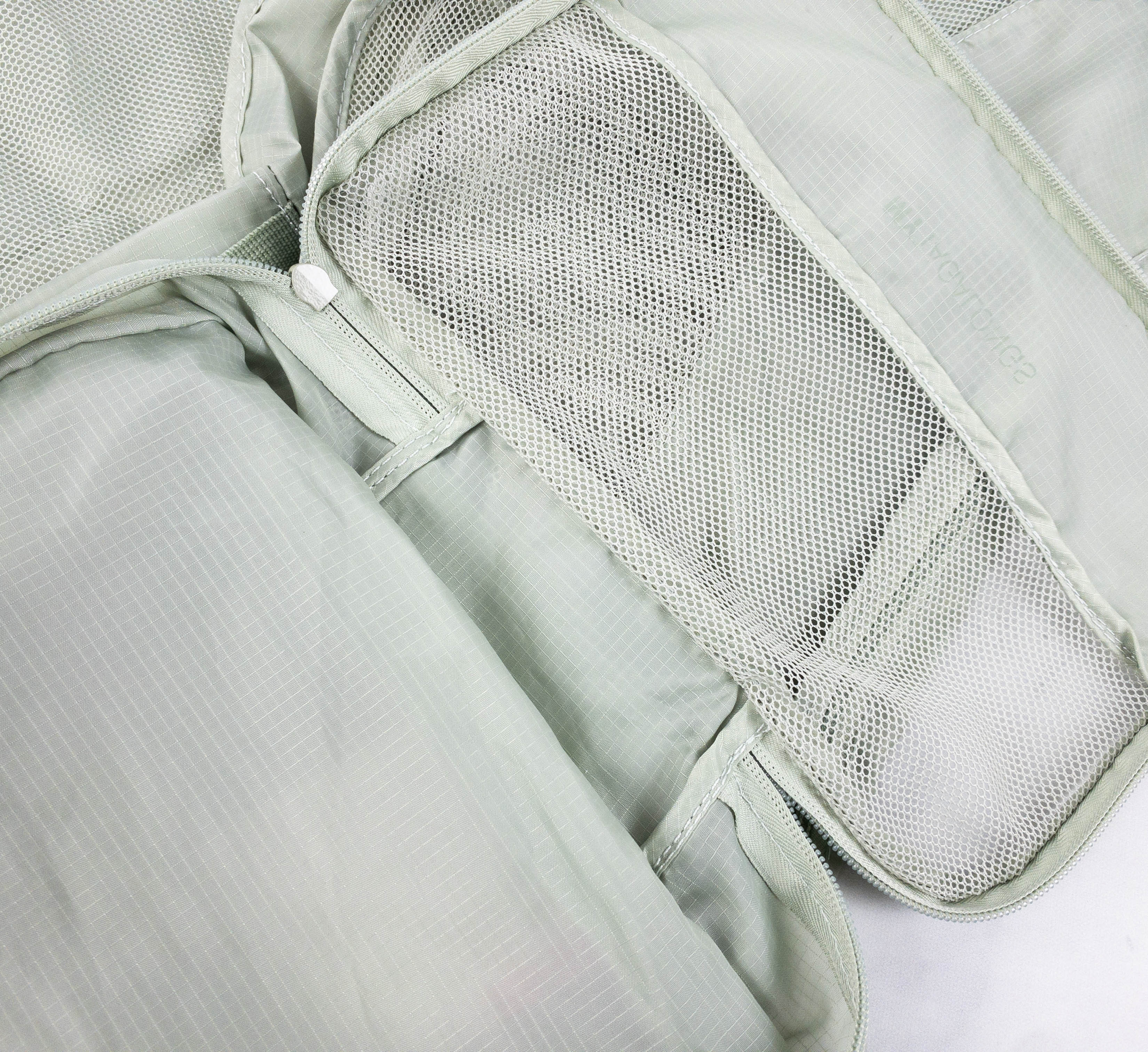 Whenever they are not in use, I can easily fold them up and store them without taking too much space.
The first Alltrue box has interesting products, ranging from personal care to homeware to travel must-haves! I like that it's packed with eco-friendly items as well as cruelty-free ones. They were able to stay true to their values while keeping the curation cohesive, even if the name is a tad confusing (how many times have I typed Allure? Too many to count). For my summer travels, I can use the packing cubes to organize my things and the stainless steel cutlery set so I don't have to use single-use plastics. The lip balm is also ideal to use during this season as it has SPF 15 that protects the lips while keeping it well hydrated. Even the leave-in conditioner smells a lot like summer, and I'm here for it. As for the home, there's a nesting bowl set which helps me save space in my cupboard. This was a jampacked box! Alltrue made a great impression and I'm looking forward to the future boxes! It really bummed me out to hear that so many subscribers had difficulty customizing their boxes, and I think Alltrue should do better at data-driven customer care: they can monitor customization rates and re-ping subscribers that don't customize in time.
What do you think of the Alltrue box?