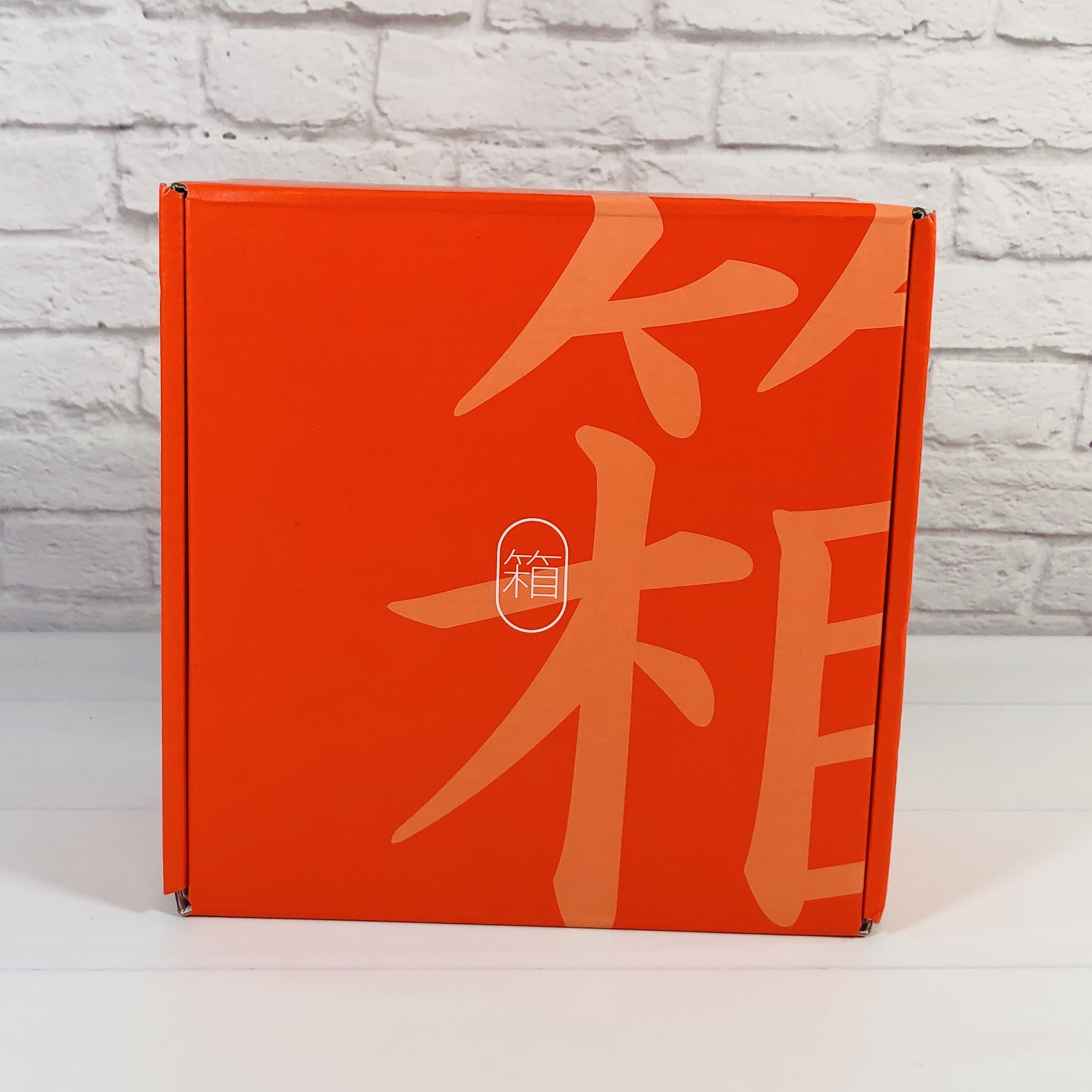 Bokksu is a premium snack box that features authentic Japanese snacks, as well as a tea pairing to go with it. There are two levels to choose from: Classic Bokksu ($44.99 USD) includes an assortment of 20-25 premium Japanese snacks and a tea pairing; Tasting Bokksu ($29.99 USD) includes 10-14 premium Japanese snacks and a tea pairing. Both boxes offer a discount for longer terms. The snacks sent are not easily found outside of Japan and this subscription ships internationally from Japan. Shipping is already included in the price.
Other Japanese snack subscription services use mass-produced mainstream snacks that can be readily found in most Asian markets outside of Japan. Bokksu directly sources its artisanal snacks from local snack makers in Japan (some of whom have been around for over 200 years!). We only curate high quality and gourmet snacks, never filler items. We are also the ONLY service that handselects a tea pairing for each box to complement that month's flavors.
DEAL: Save $5 on your first box with coupon code HELLO.
Bokksu's authentic Japanese snack subscription box was voted as a top subscription in the 2021 list of our readers' favorite snack subscription boxes!
Your first box will be the Seasons Of Japan box. I am reviewing the Classic Bokksu.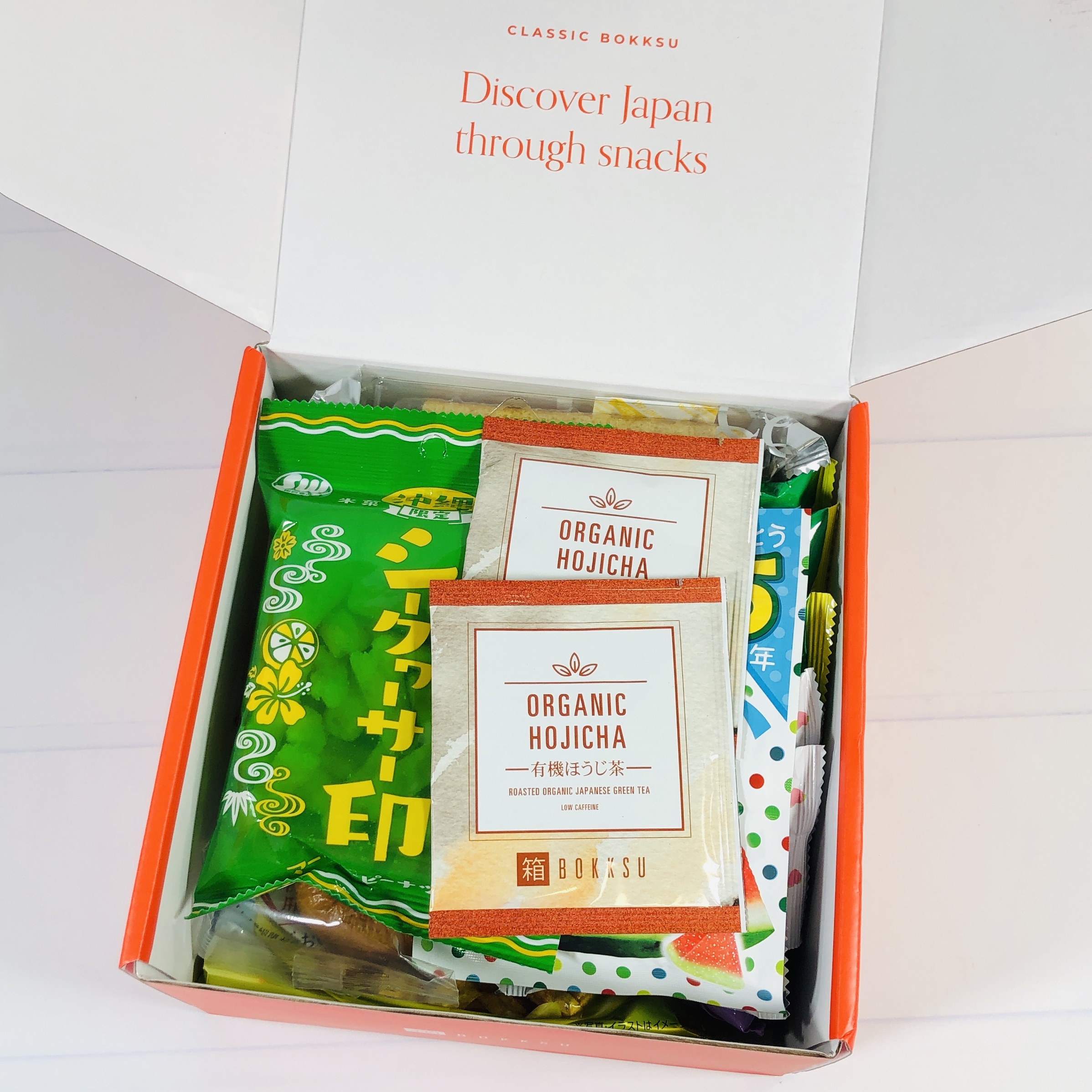 As always the snacks are packed in there so nicely.
I received a thank you card.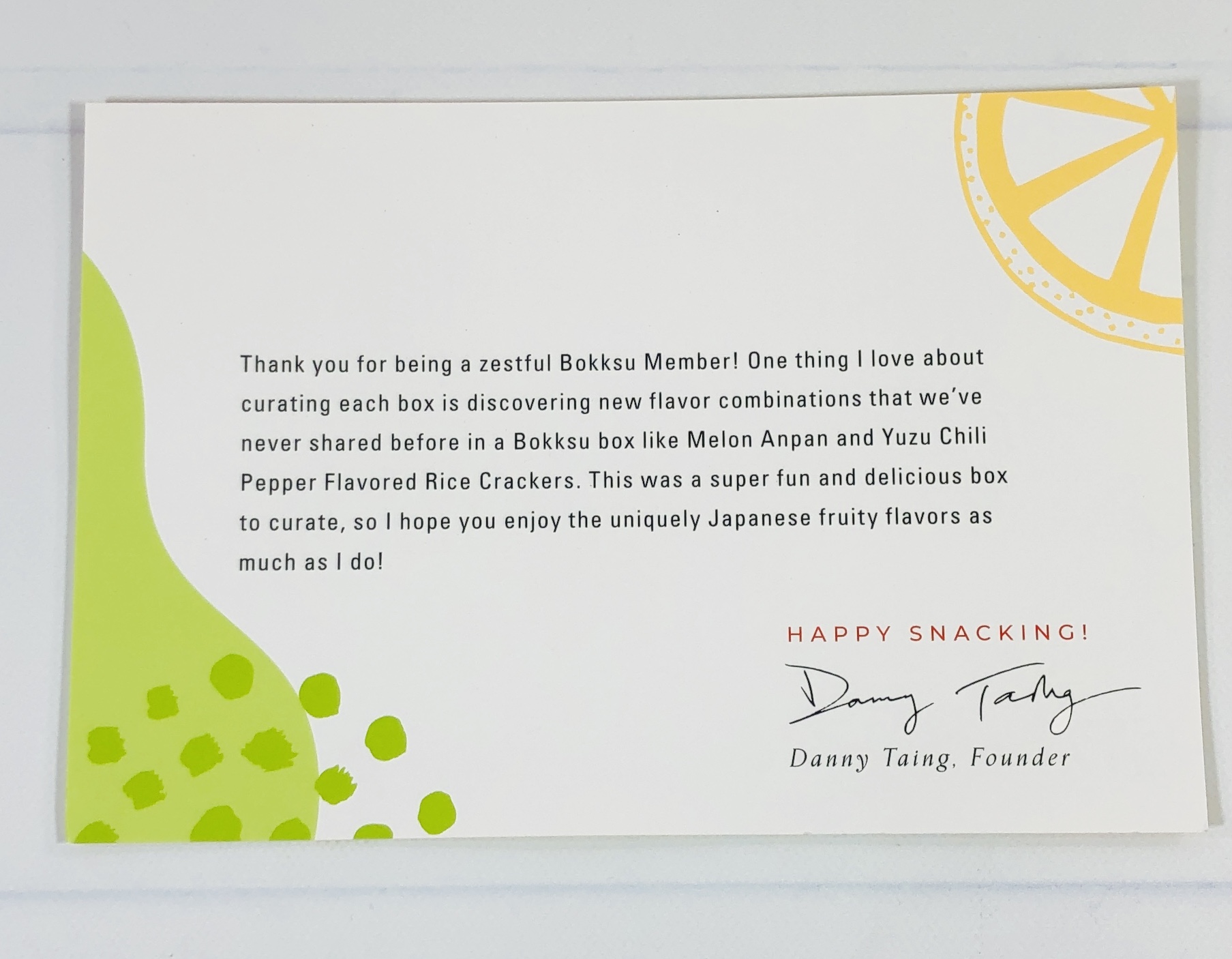 The back of the card discussed a couple of new flavors that you can explore in this box.
Bokksu provides a beautiful full-color info guide in every box.
July's theme is Summer Fruits! There's a map showing where in Japan each snack originated.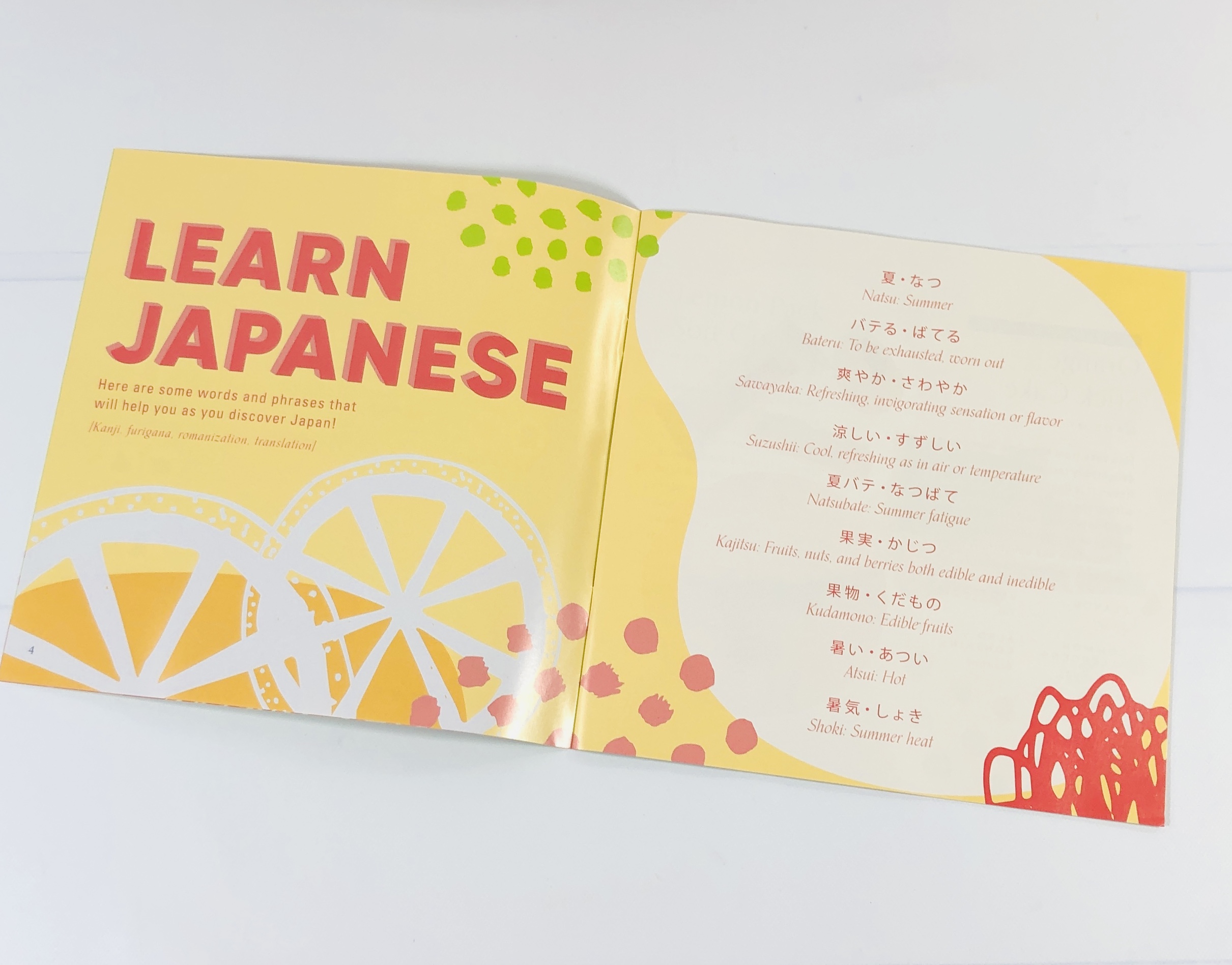 Here are a few words in Japanese.
There is a picture and description of all of the snacks. You will find the brand name, common allergens, and a description.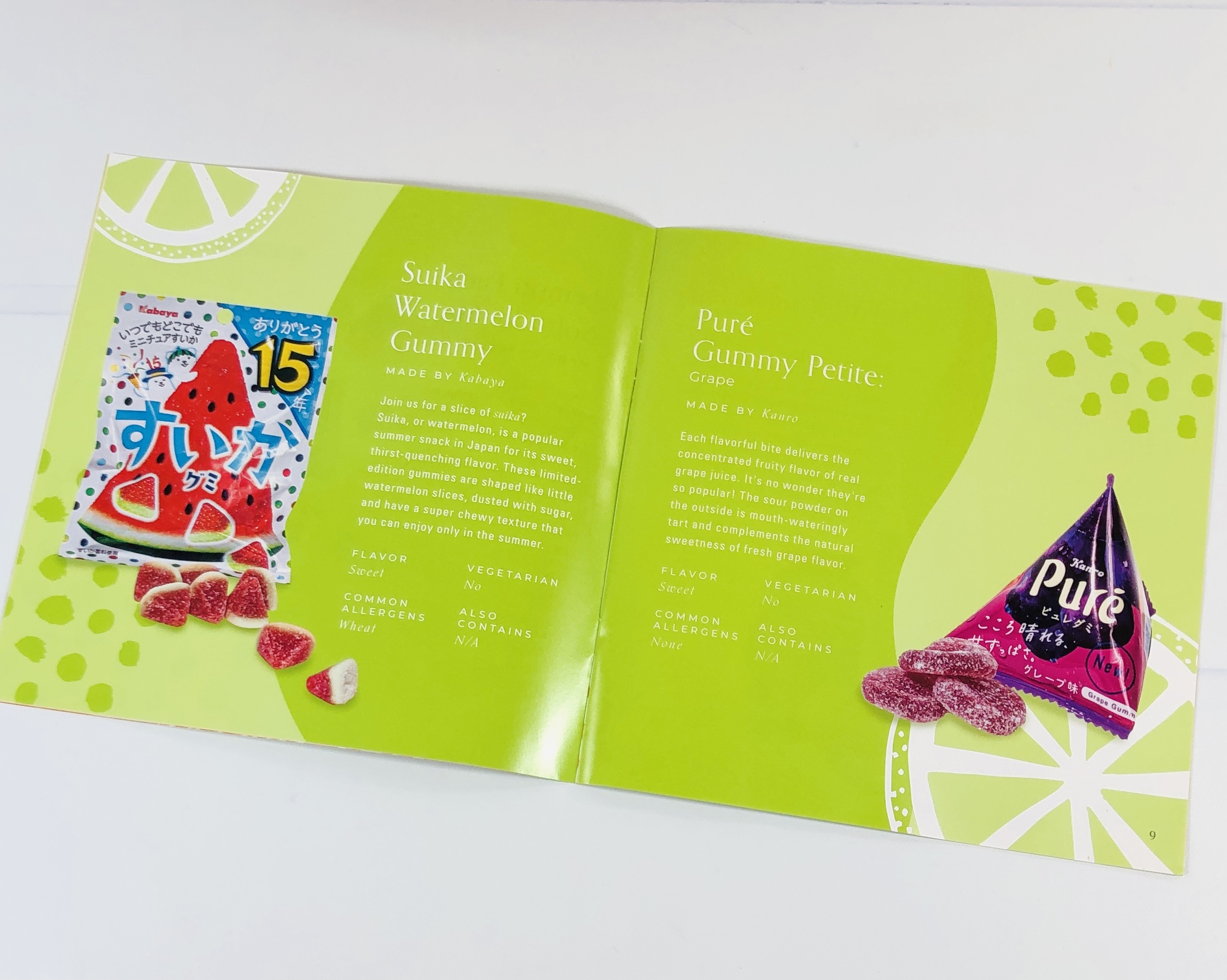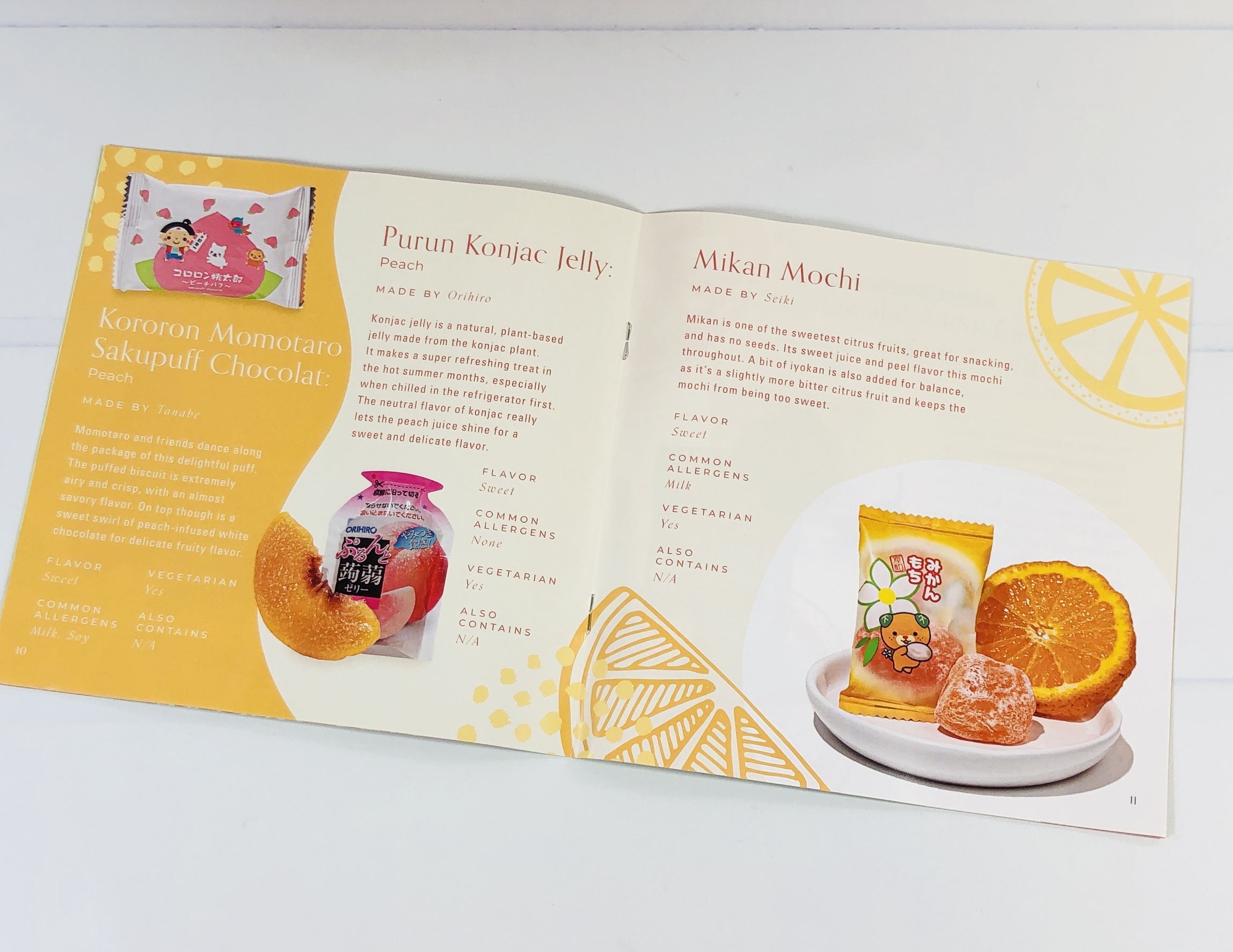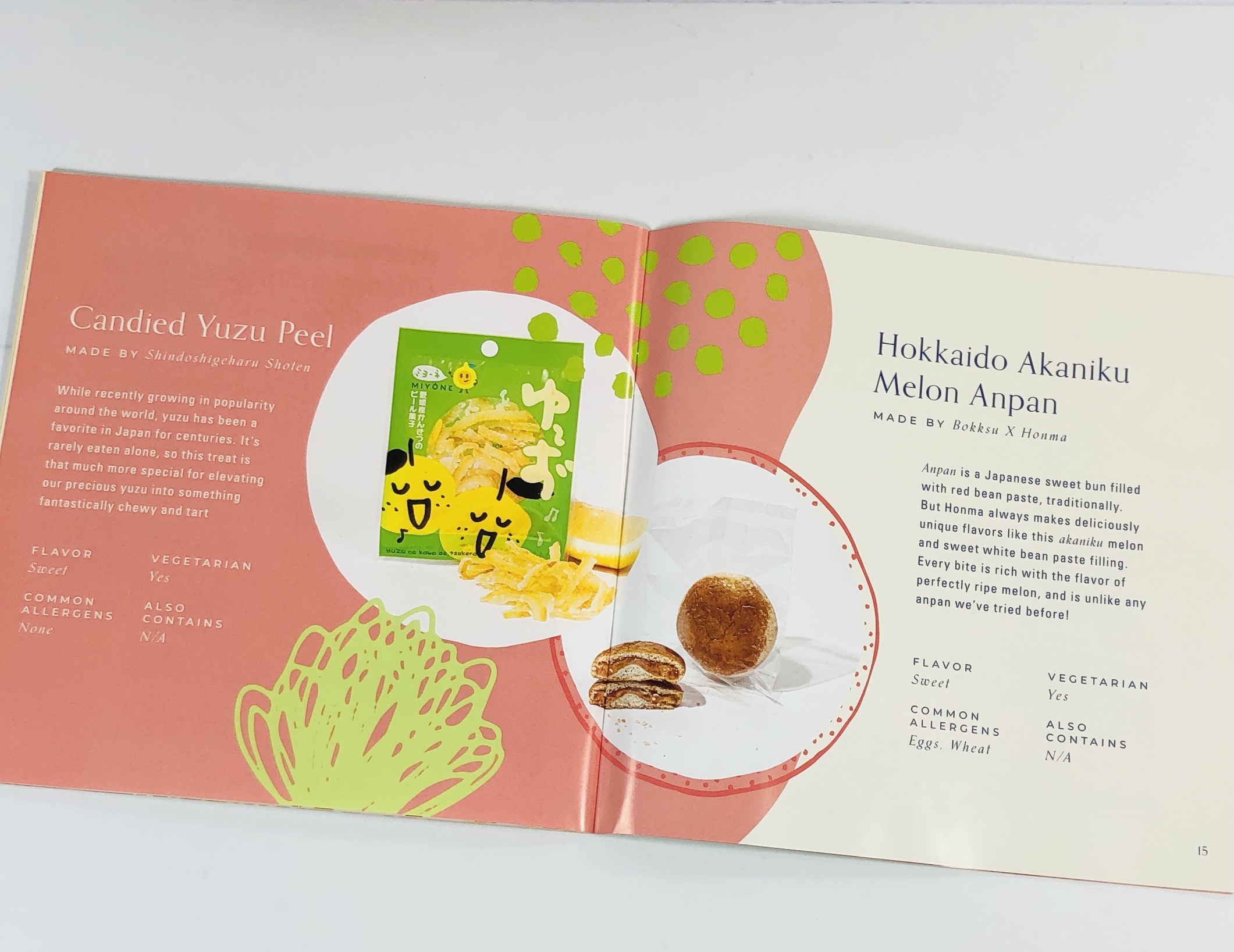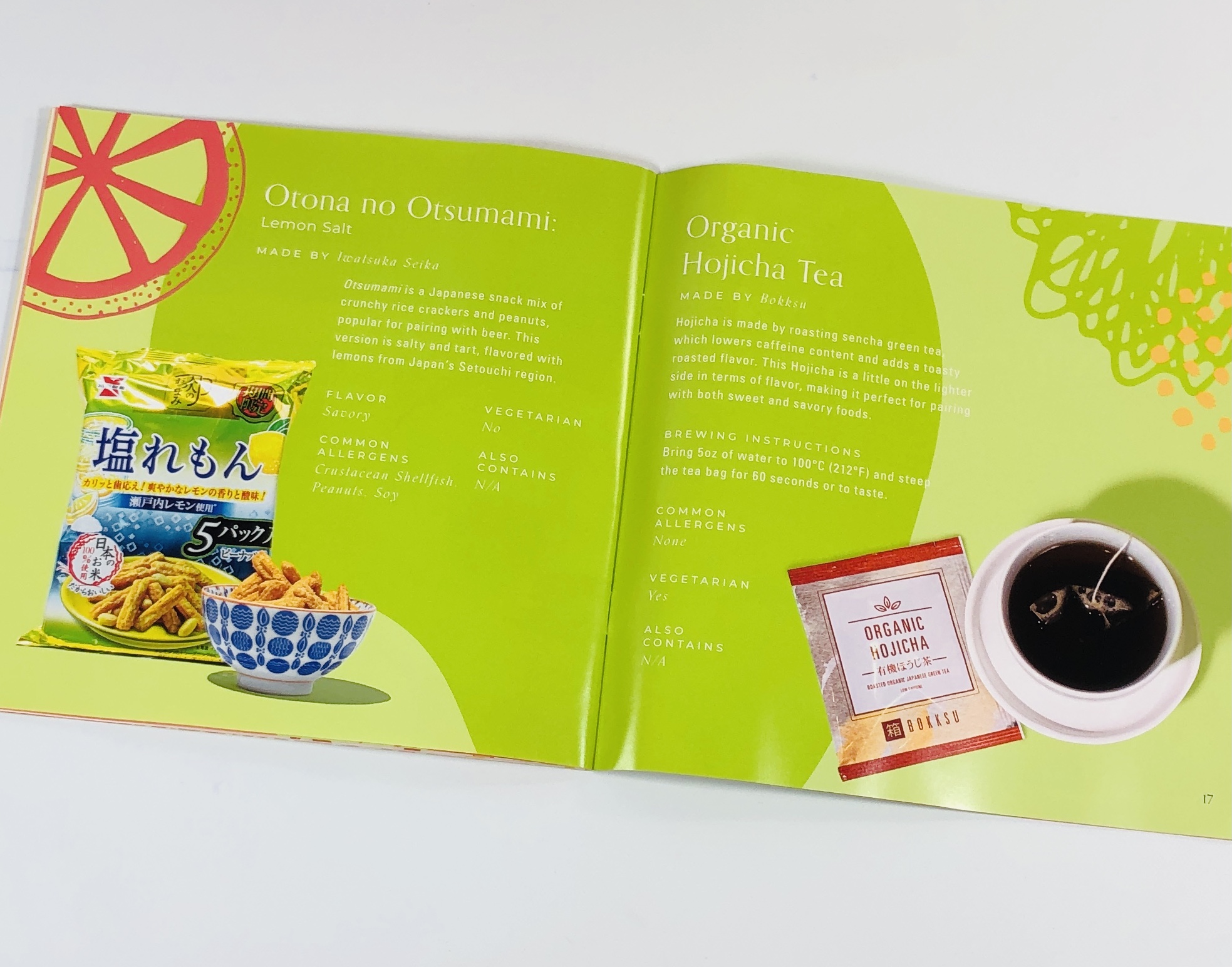 There was a little history lesson about one of the anpan makers.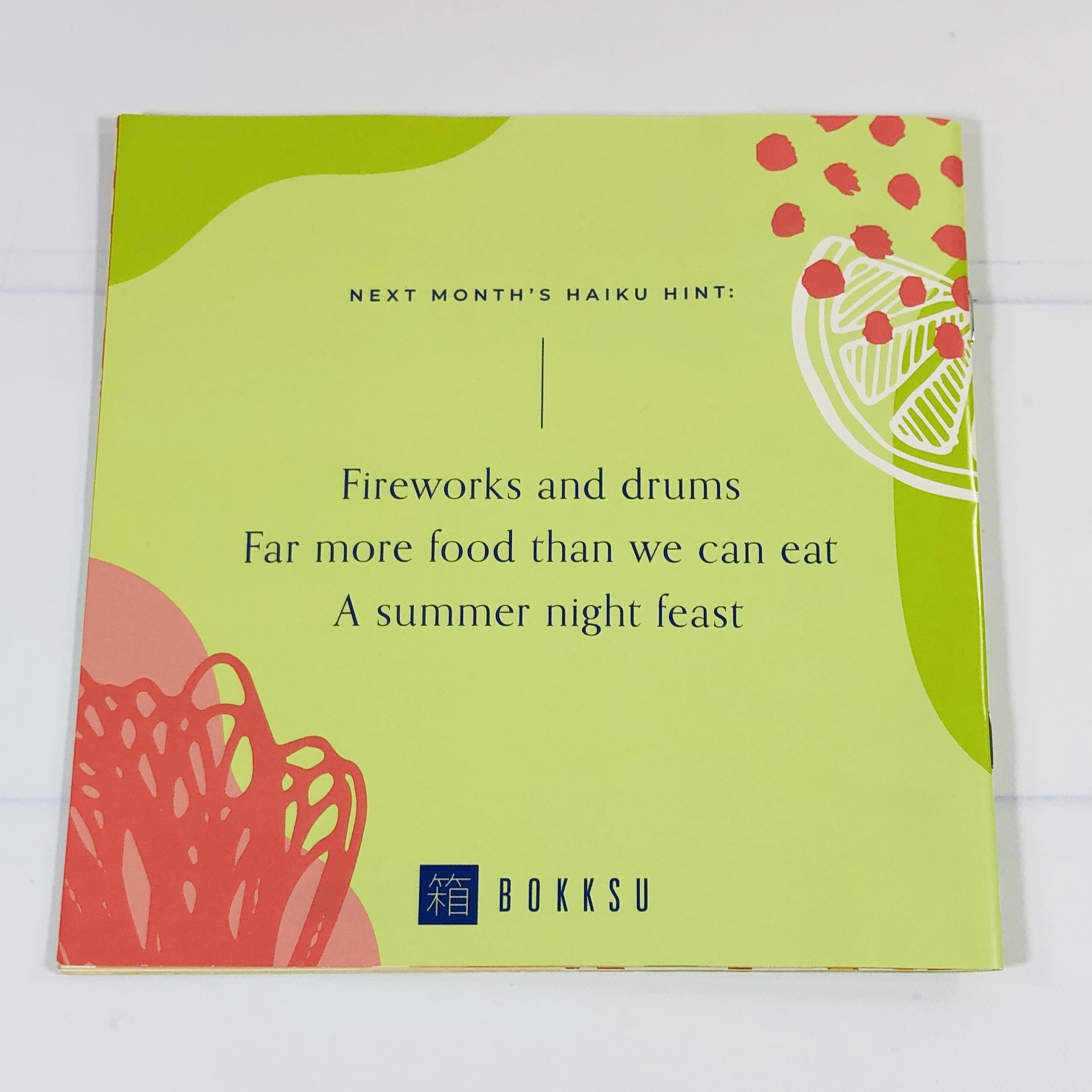 The back of the mag had a glimpse at the next box theme!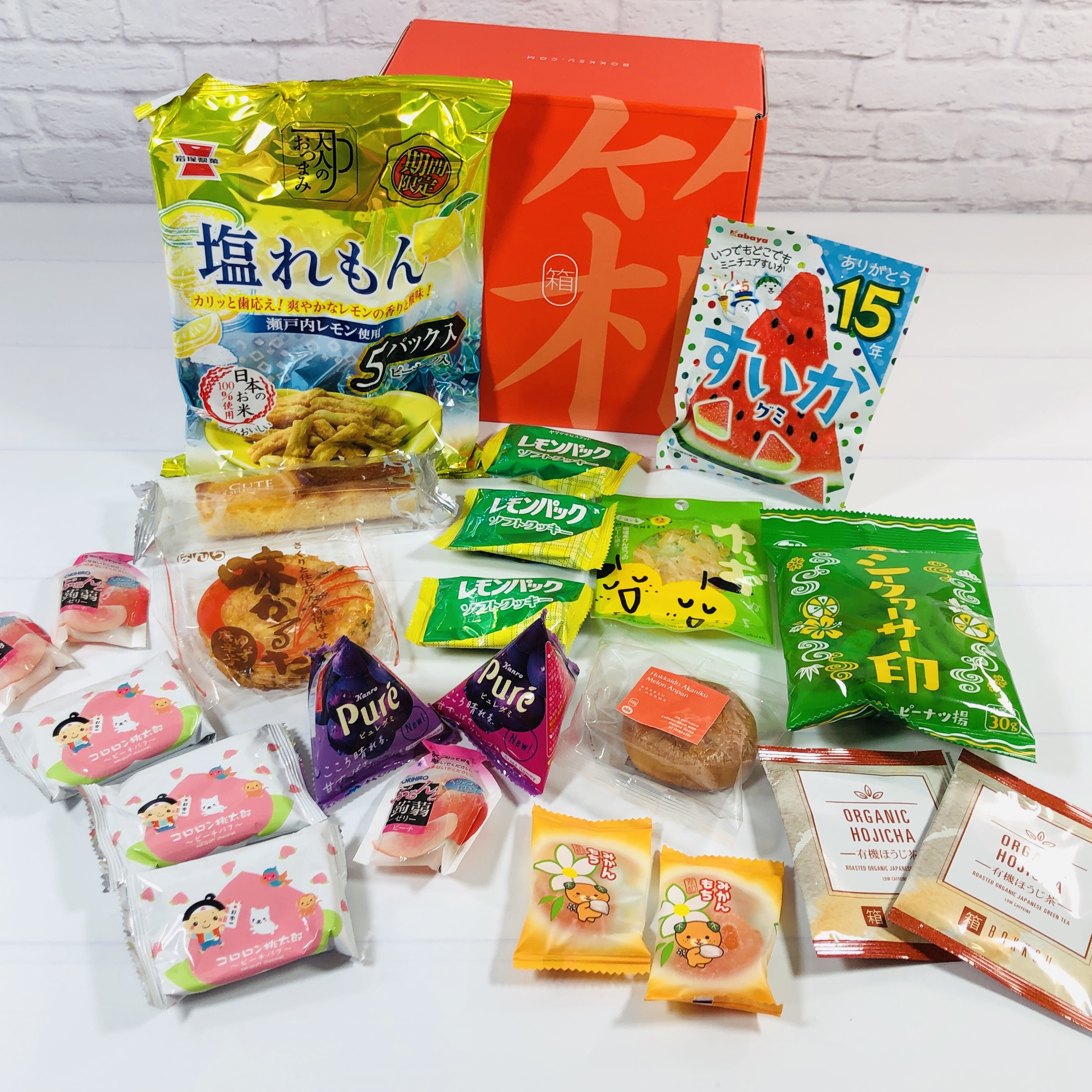 Everything in the July 2021 Classic Bokksu!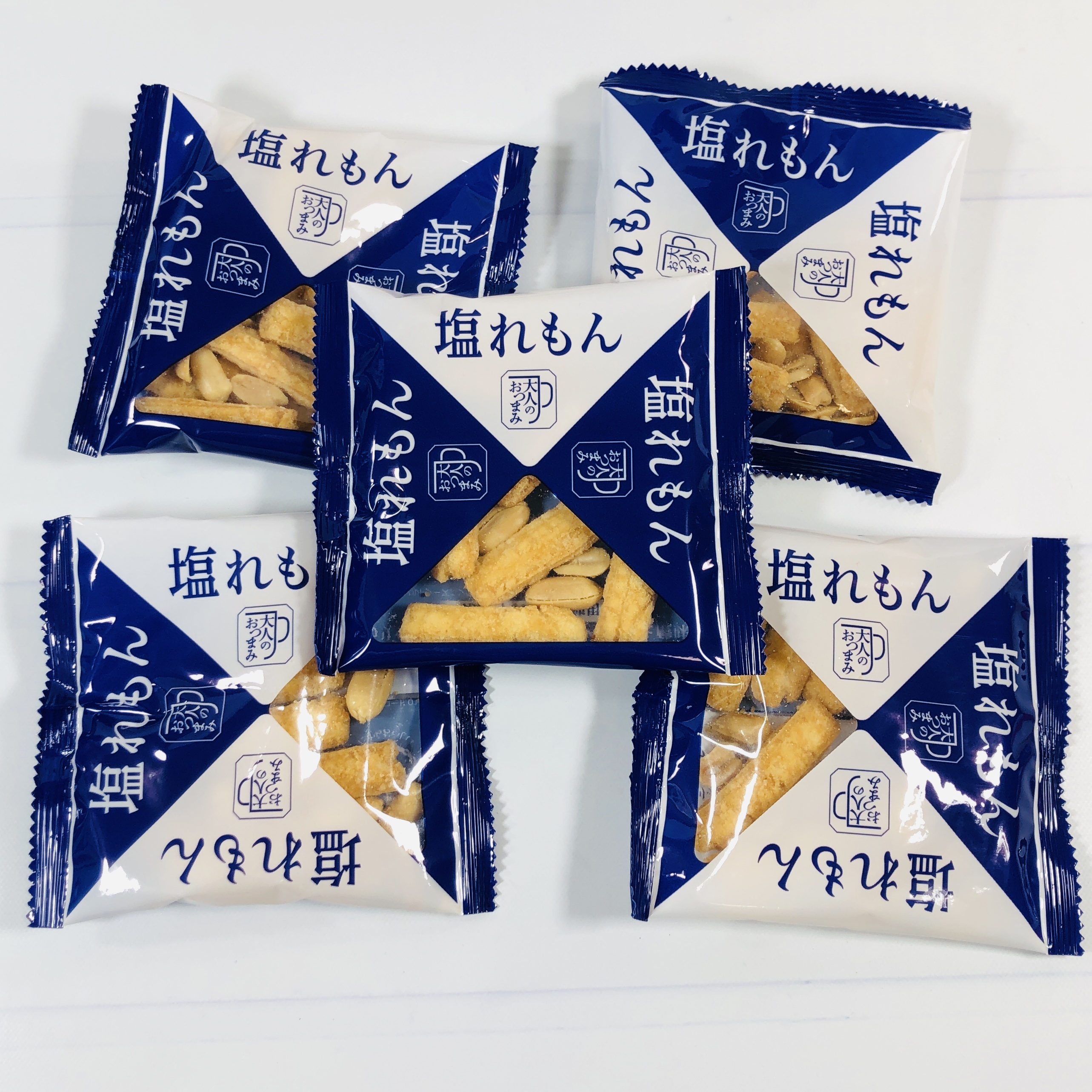 Otona No Otsumami: Salt Lemon There were five individually wrapped snacks in this package, so you could take them to work for a snack or lunchtime treat. There are salted peanuts and salted lemon crunchy fried crackers that have a hint of something fishy, perhaps shrimp, and it's a pretty tasty combo!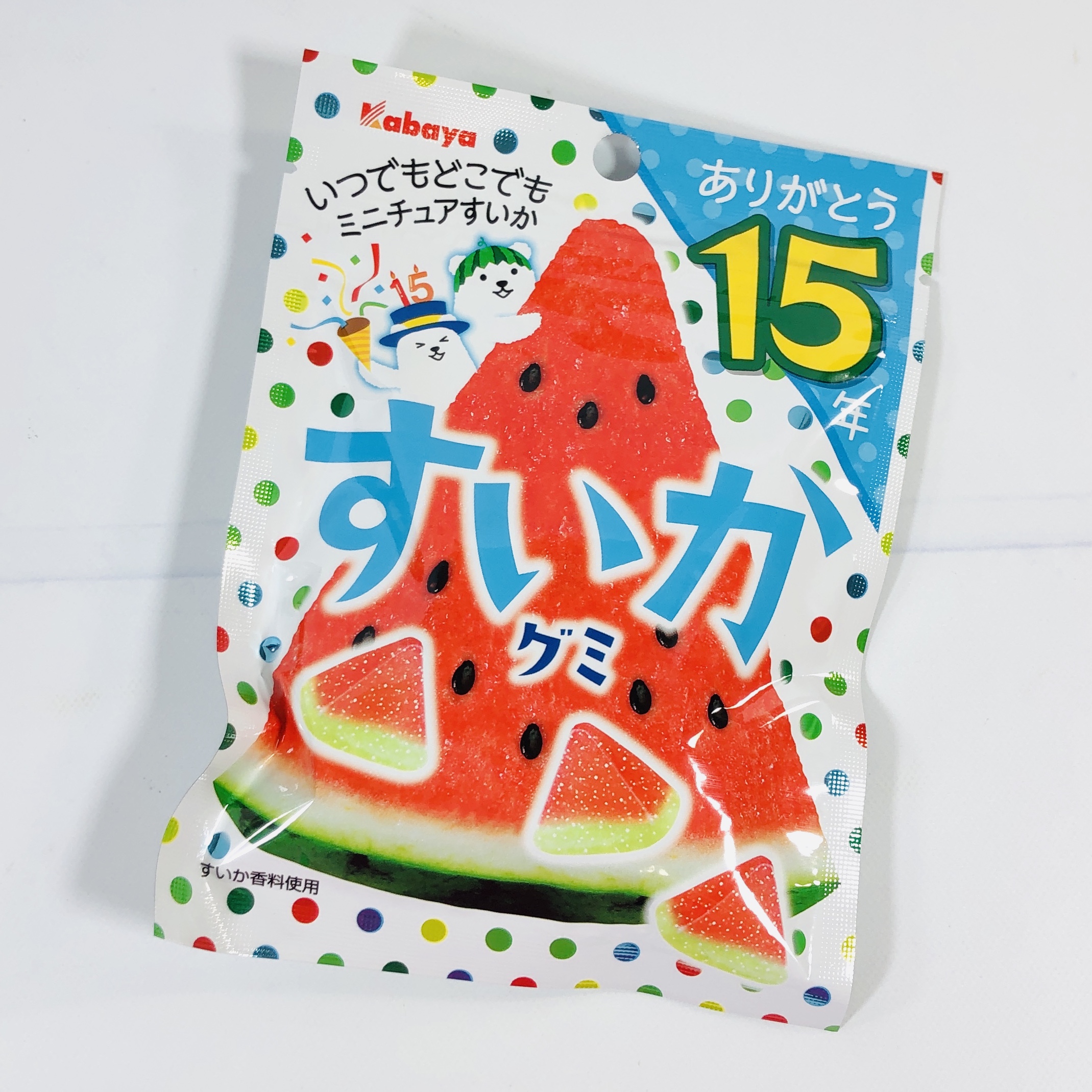 Suika Watermelon Gummy are exactly what they sound like — watermelon flavored gummy candies that are sweet and tart and covered with sugar. They come in a resealable bag for taking on the go.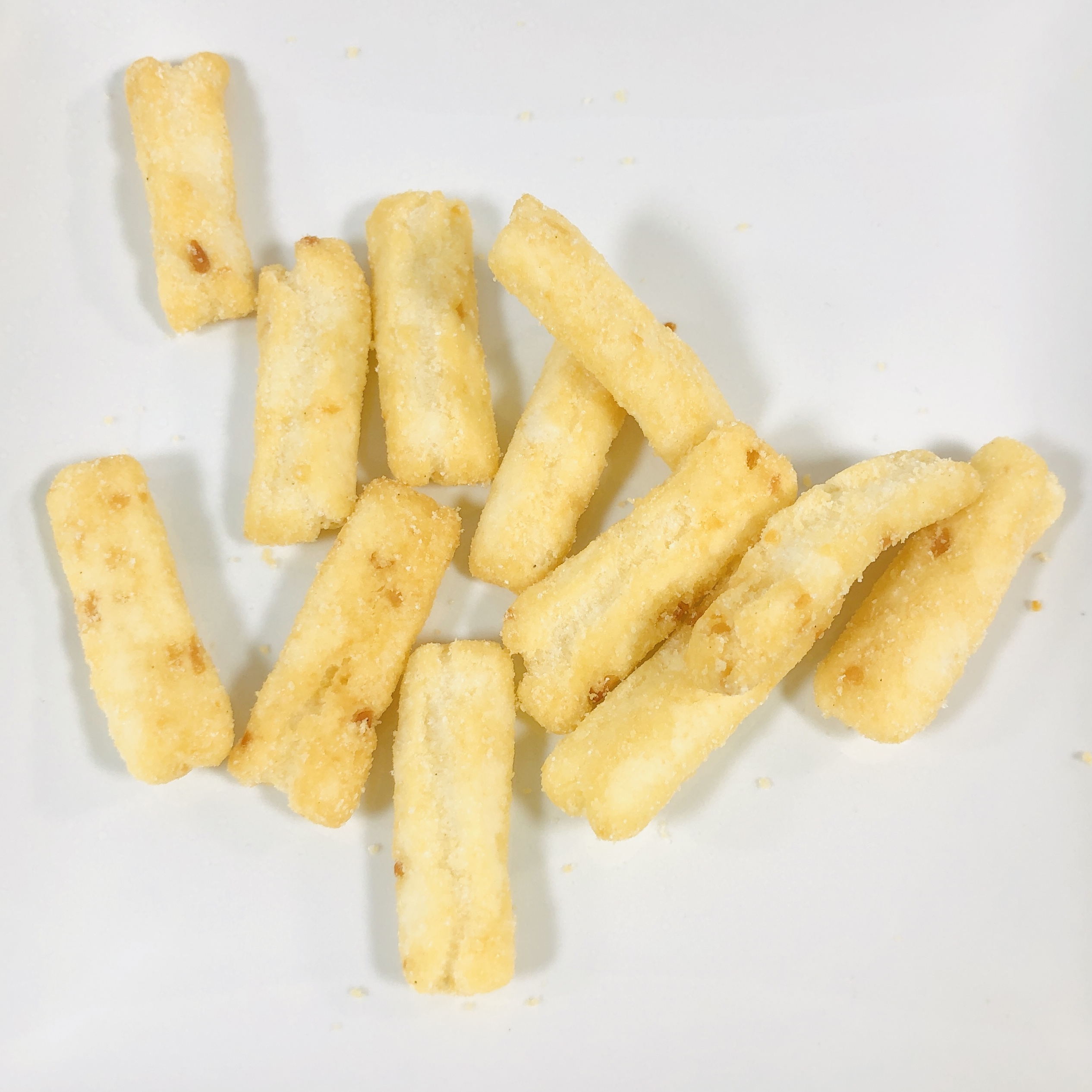 Okinawa Shiquasa Fried Rice Crackers and Peanuts Ha, don't be like me and look for peanuts in the bottom of this bag — they are already incorporated into the cracker! The crackers are fried and buttery and crunchy and they have a salty lemon flavoring on the outside.
Lemon Pack Soft Cookie Sorry, I placed these on a plate and then ate them before taking a picture! They are soft-baked vanilla cookies with a lemon filling in the middle and for some reason they remind me of a Girl Scout cookie, the lemon flavor is spot on.
Candied Yuzu Peel I love this treat, it's like gummy fruit but it's made out of real fruit peel vs whatever gummy fruits are made of. In this case the peel is from the yuzu, a type of citrus fruit, and it has a sweet and sour sugary coating and tastes fresh, like the fruit was just stripped of its peel.
Hokkaido Akaniku Melon Anpan Every time I see the word "Anpan" BTS starts singing in my head (I'm a new generation AN PAN MAN). Anpan is a sweet bun filled with bean paste but in this case the filling also has a type of melon mixed in there too. The filling makes me think of sweet potatoes for some reason, I think it's the texture of the beans, but this was also very flavorful and sweet, you could taste the melon in there.
Aji Karuta Yuzu Chili Pepper Rice Cracker I think this snack has just about everything I could ask for in one complete package. It's a fried crunchy rice cracker with a sweet and spicy glaze that also has that umami touch. Like eating tempura dipped in sauce but without the vegetables or shrimp.
Orange Stick Cake I think the name says it all here — it's a slice of an orange-flavored sponge/pound cake hybrid and there's a slice of orange on top that adds some sourness and style. It was very moist, had a hint of alcohol, and was perfect for an afternoon snack with tea.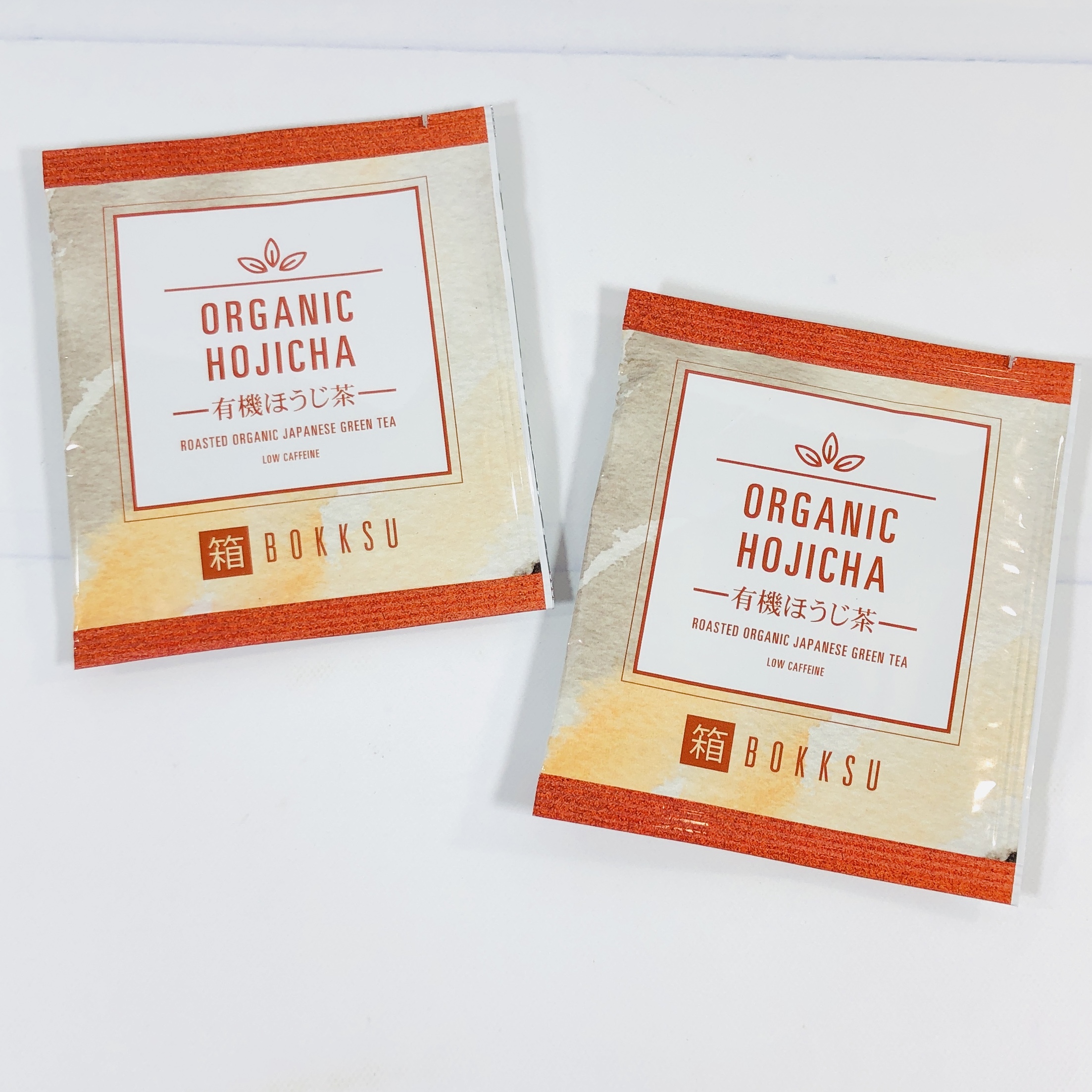 Organic Hojicha Tea I used 5 ounces of boiling water to prepare this tea, which is made of roasted sencha green tea. I like sencha better this way, it doesn't taste vegetal but it is deep and toasty. I added sugar and enjoyed it hot.
Puré Gummy Petite There were 5 heart-shaped gummies in each bag. They taste like classic grape-flavored candies or gum and they have a sweet and sour sugary coating on the outside. A classic for sure!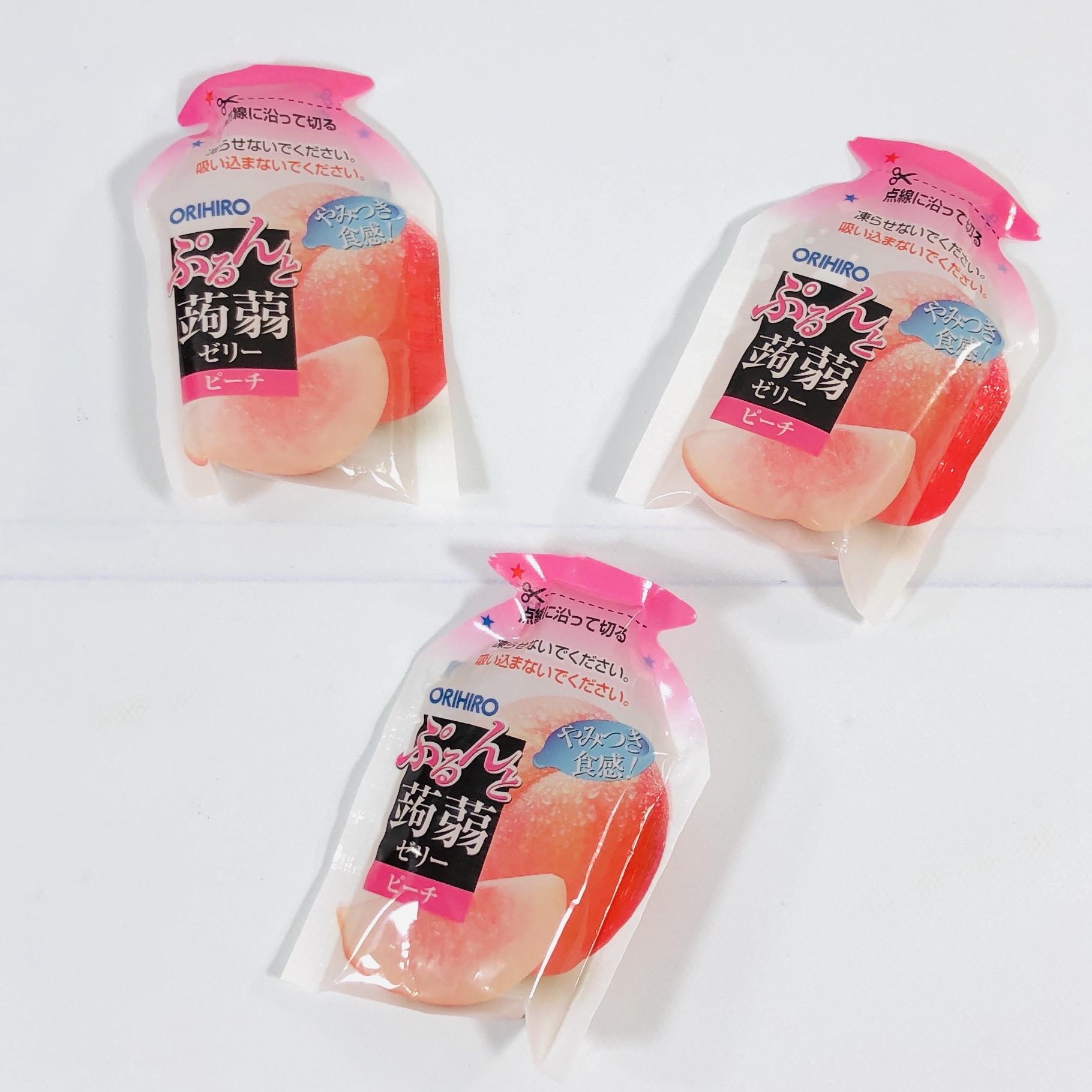 Purun Konjac Jelly I frequently receive konjac sponges in beauty subscriptions and have stated that they can feel kind of gelatinous, but in this case it's been turned into an edible jelly! You trim the top of the pack and then squeeze or suck the jelly out of the packet to eat. It tastes like peach flavored candy and is mostly sweet and almost perfume-like, with a hint of sourness.
Kororon Momotaro Sakupuff Chocolat I have never heard of Momotaro before but his name translates into "Peach Boy"! The inside is the crispiest corn puff snack I've ever tried, and oddly it kind of tastes like Umaibo Corn Potage turned down to a one. The outside (which looks like it melted in transport but was otherwise fine) is white chocolate that I think is supposed to be flavored with peach. It's a hot mess but guess what, I liked it a lot!
Mikan Mochi Here is a chewy mochi that tastes like oranges or tangerines. The texture more closely resembles a jelly candy and isn't as thick or glutinous as other mochis that I have tried. There are pieces of mikan fruit rind in there (sort of like orange peels) and overall the flavor is very delicious.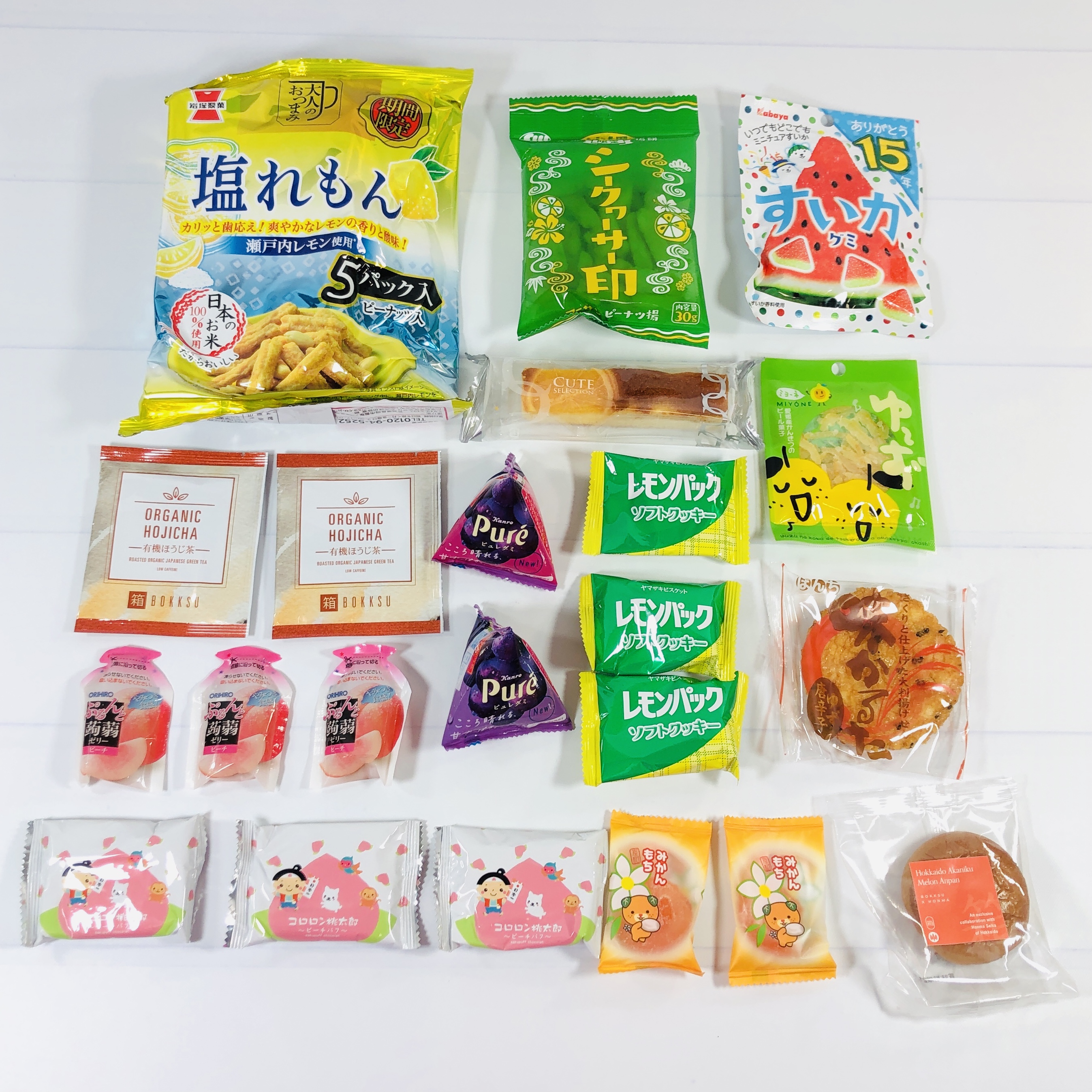 I thought the juicy fruit-flavored snacks in my July Bokksu were super tasty and as always, very interesting! There is surely something here to please everyone and most snack cravings — salty, sweet, chewy, soft, crispy. My favorite was the candied citrus peels, they were so sweet and also sour and peels tend to have antioxidants in them! I think the theme was perfect for summer and everything was good, I shared it with my family and they liked all the treats too!
What's your favorite snack from this month's box?