Wohven is a monthly t-shirt subscription service that sends you premium quality t-shirts at a fraction of the retail price. They make tees for men, women, and children.
The blank t-shirt subscription starts at just $9 a month and you can choose one of 12 colors (charcoal, light gray, navy, black, white, royal, brown, red, pewter, olive, mint, cardinal, or midnight), or let them surprise you. For $10 a month, they will make your t-shirt a v-neck (same color choices but no olive, mint, cardinal, or midnight) and for $15 a month, they will send you a graphic tee every month ($16 for a graphic v-neck). Go up to a long-sleeve graphic tee for $18 per month. Sizes range from small to XXL.
This is a review of the Wohven Men and Women graphic tees, which you can get for $15/month each.
DEAL: Get 30% off of your first month with coupon code HELLO30.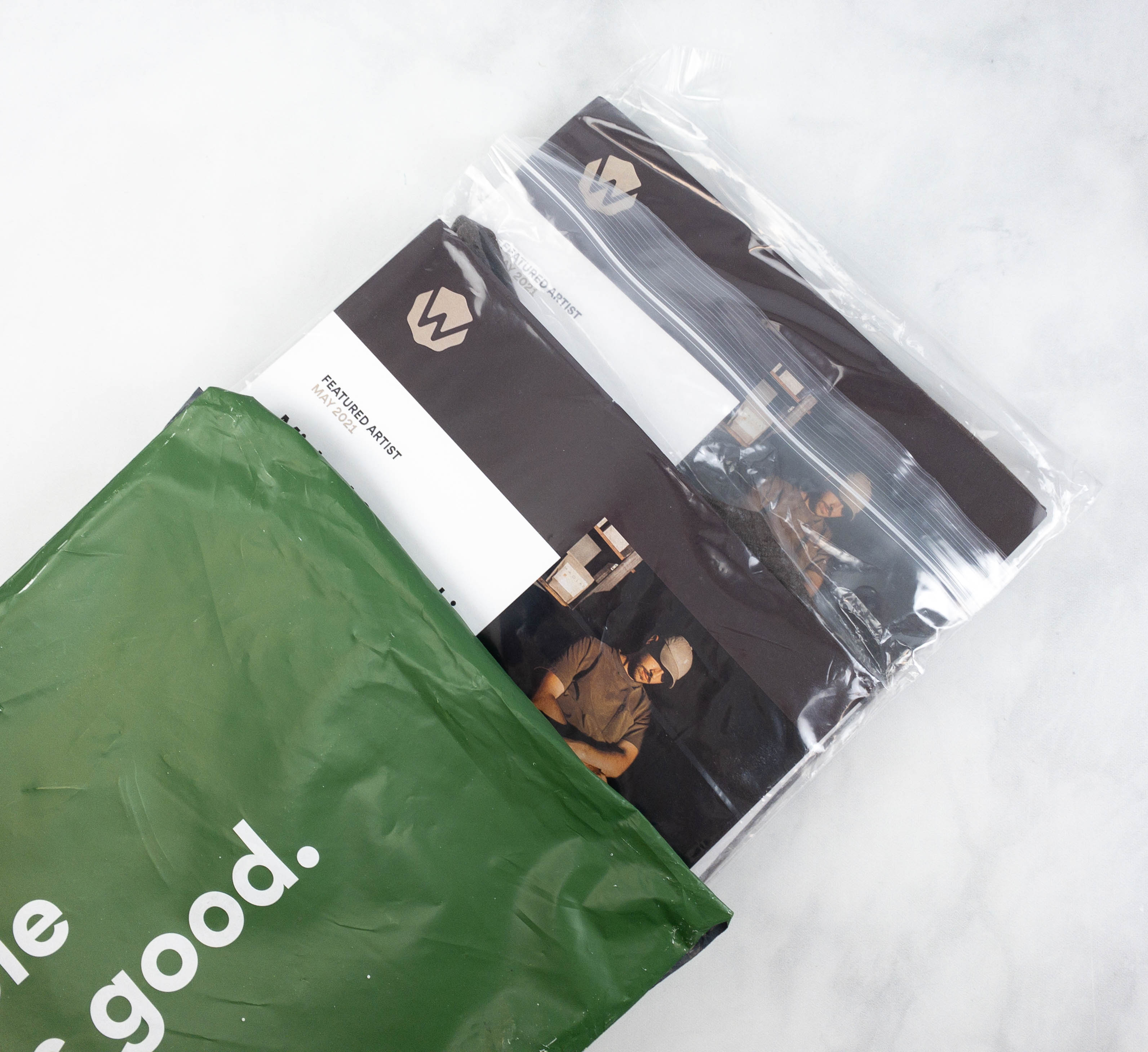 The shirts came in Wohven's classic green plastic mailer.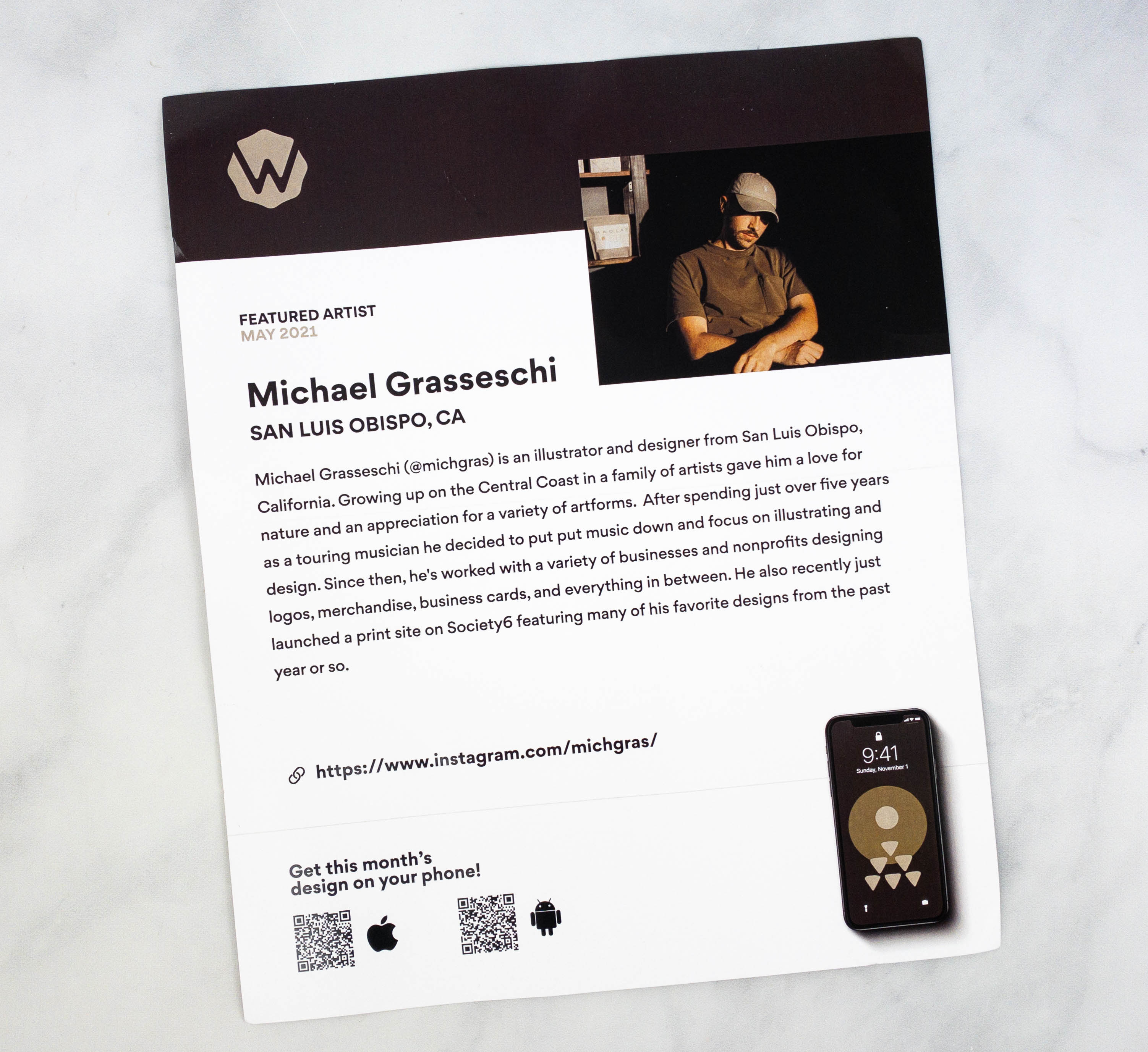 Each mailer includes a poster that features the designer of the shirt. This month's featured artist is Michael Grasseschi from San Luis Obispo, CA. He is an illustrator and designer that recently launched a print site on Society6.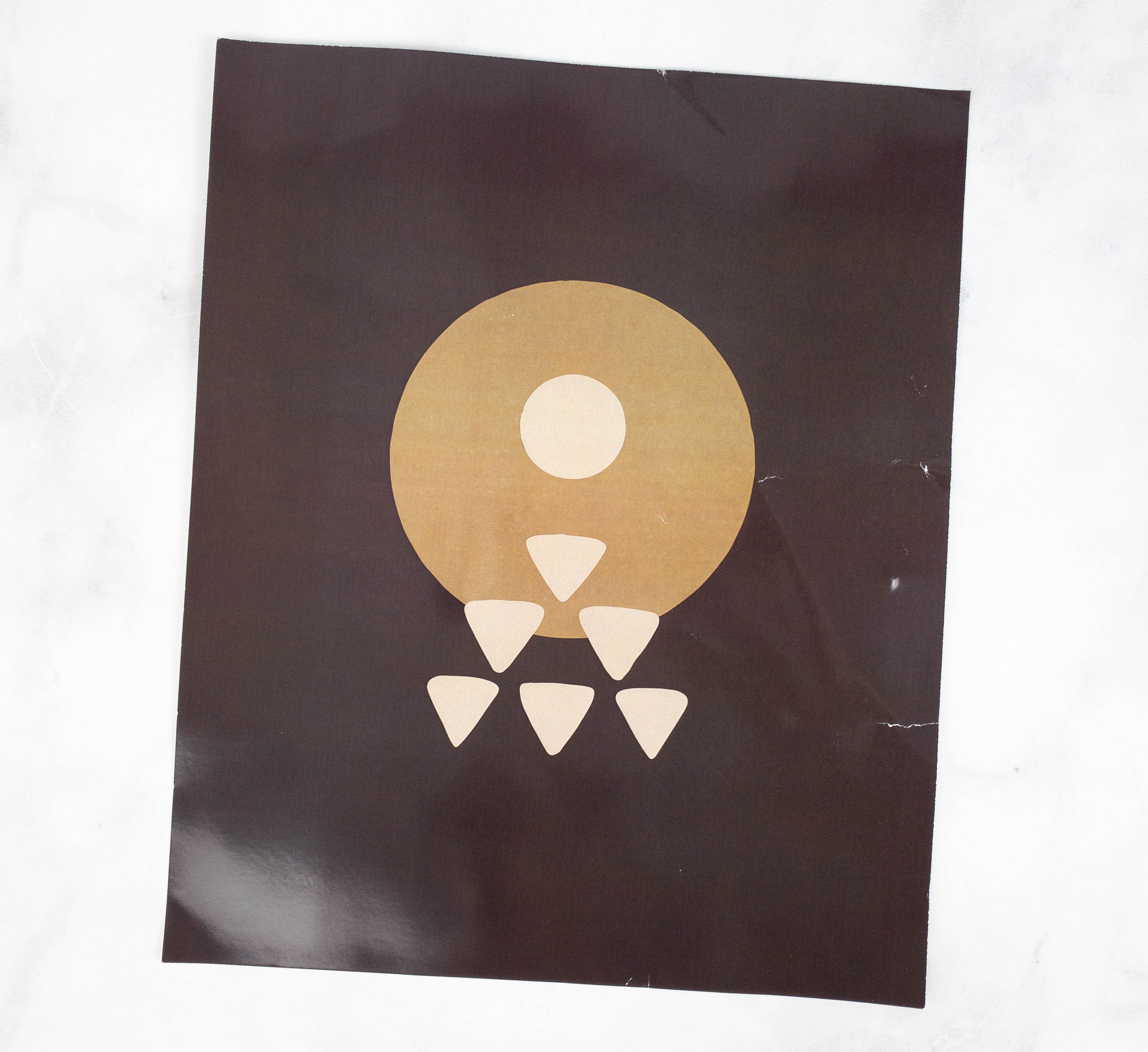 The other side of the poster features this month's shirt design!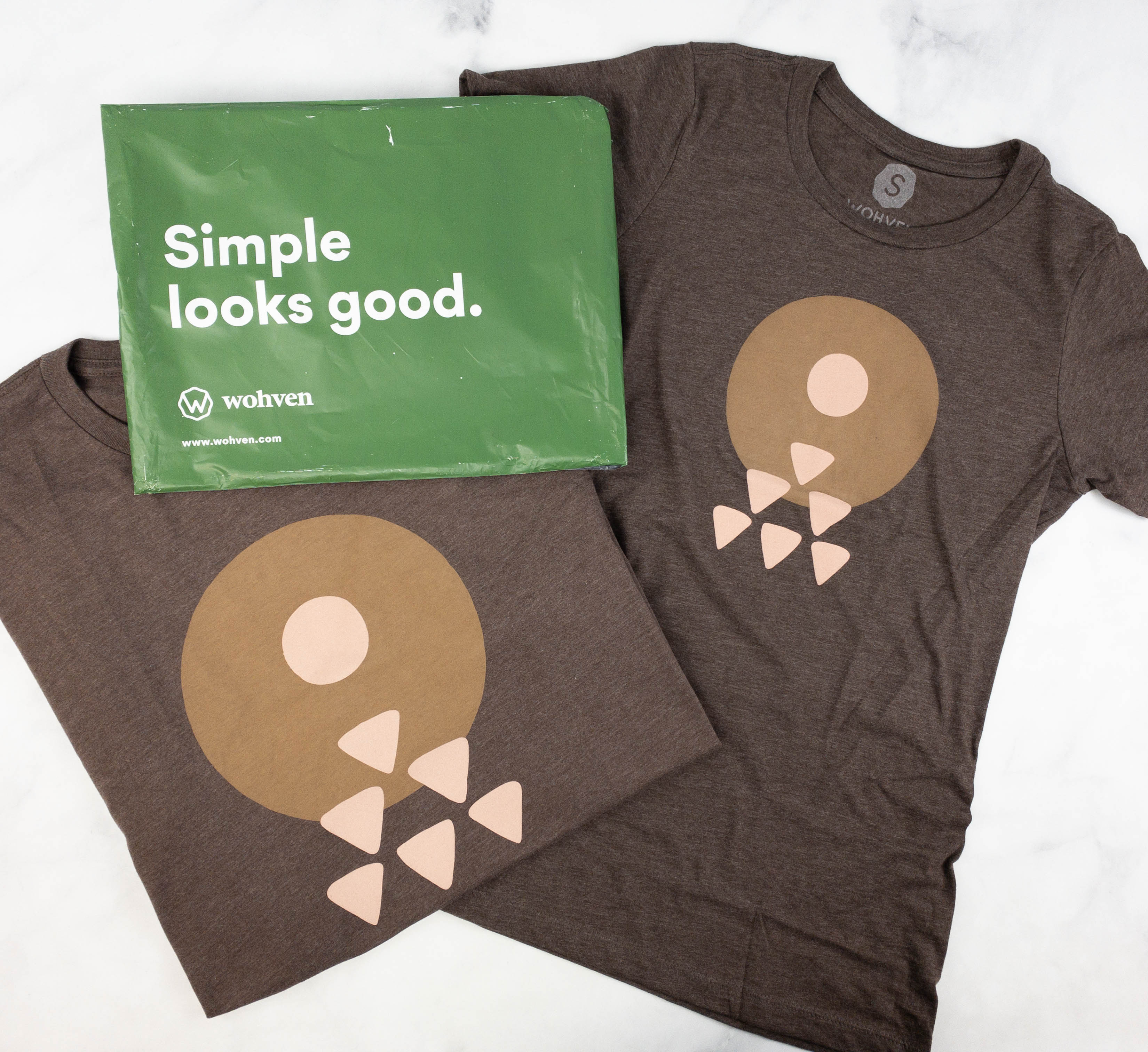 Everything in my May 2021 package!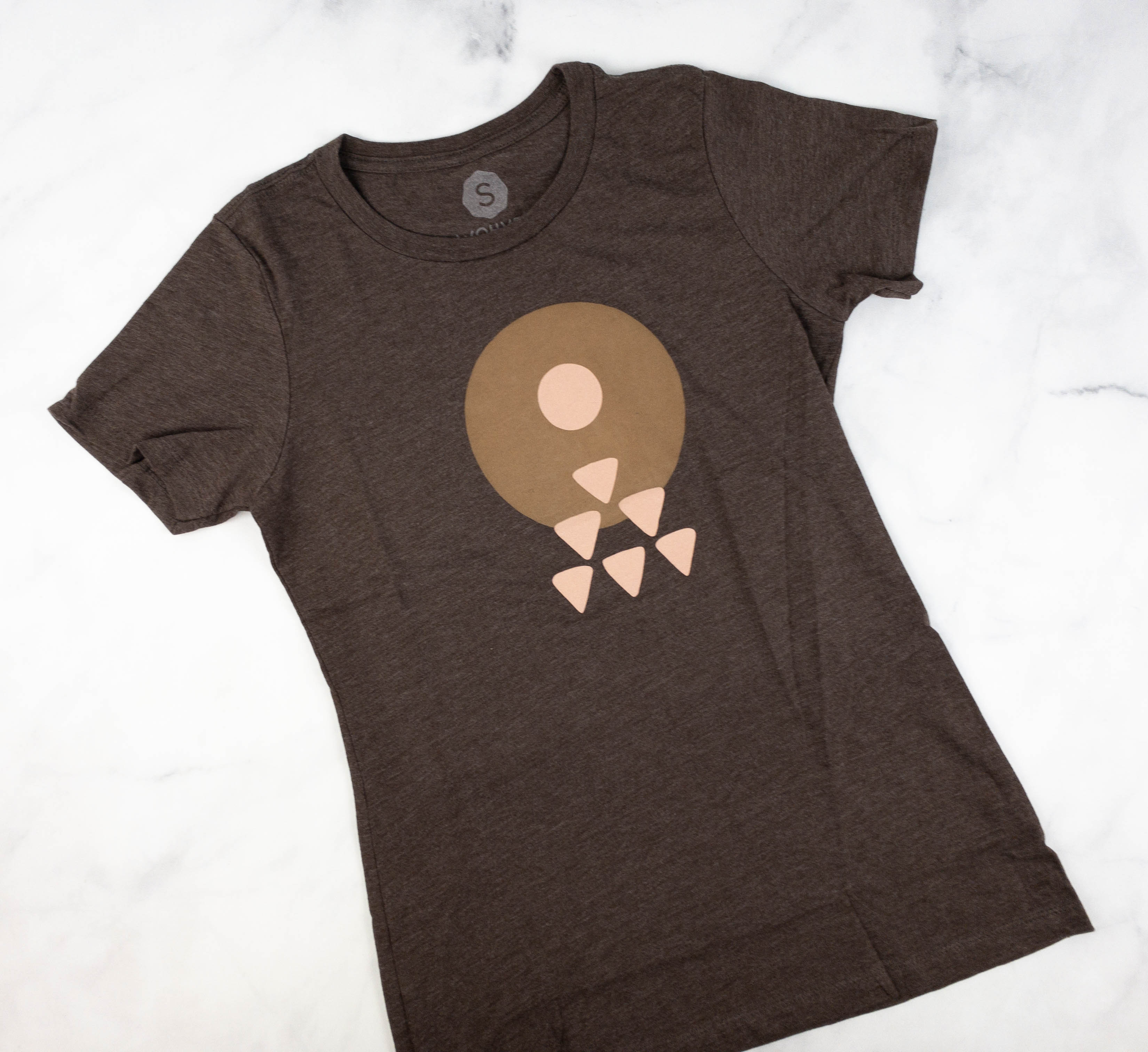 First up is the women's t-shirt, made from high quality cotton and polyester fabric. It's in brown and it has a defined waist that emphasizes the curves of the wearer.
The print uses simple shapes and colors, combined to create an interesting and eye-catching design!
Here's the men's t-shirt, which comes in the same brown color but has a relaxed fit. This top is made with the same materials as the other tee, making it lightweight and breathable.
It also has a geometric print that stands out from the brown base color.
Wohven has been consistent in sending high-quality tees for both men and women. This is a great way to expand a graphic tee collection, or even to get matching t-shirts with your loved ones. This month's tees feature a print made by Michael Grasseschi. It's made up of simple shapes and neutral colors, but it's still a unique one. Based on the past tees from this subscription, the quality of Wohven tees remains the same even after many washes. The materials used are also soft and lightweight, so they keep the wearer comfortable. In case you prefer plain tees, they offer that on a subscription as well!
What do you think of Wohven?