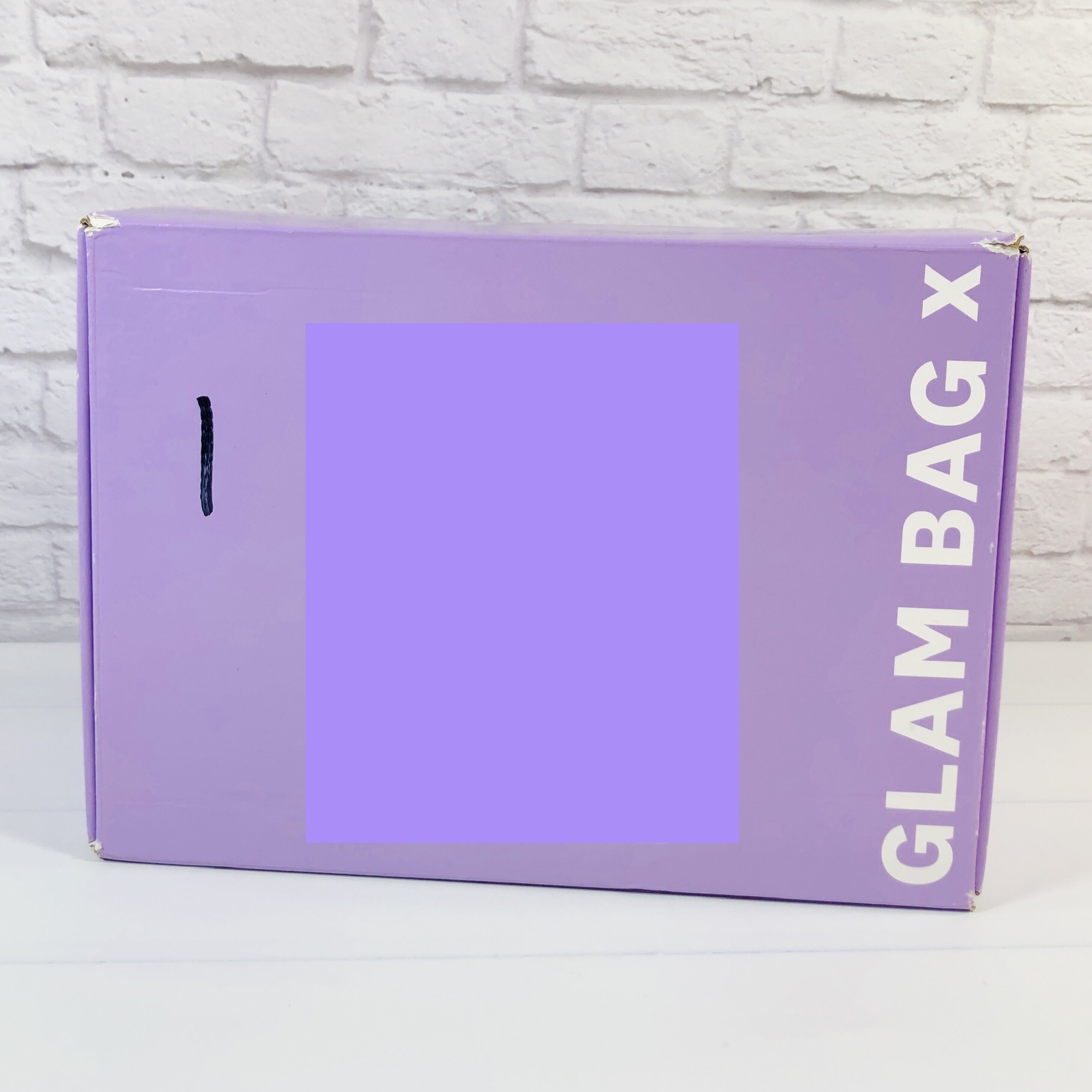 Ipsy Glam Bag X is the upgraded version of the monthly Ipsy Glam Bag! If you subscribe to the regular $12 Glam Bag, you would pay $43 extra and this will replace your usual bag for the month ($55 total). If you are a Glam Bag Plus only member, then this will replace that bag for a $30 upcharge (again, $55 total). If you subscribe to both of those bags, this will replace the Plus bag and you will also get the $12 bag, unless you skip. This will ship in the months of February, May, August, and November.
Think of it as your all-access pass to the most-coveted brands, hottest launches, and need-to-try products in beauty. Your Glam Bag X includes seven to eight full-size products (worth up to $350) specially curated by beauty's biggest tastemakers and celebs, and you'll even get to choose three from a personalized assortment—which, BTW, includes dibs on exclusive product drops you won't find anywhere else.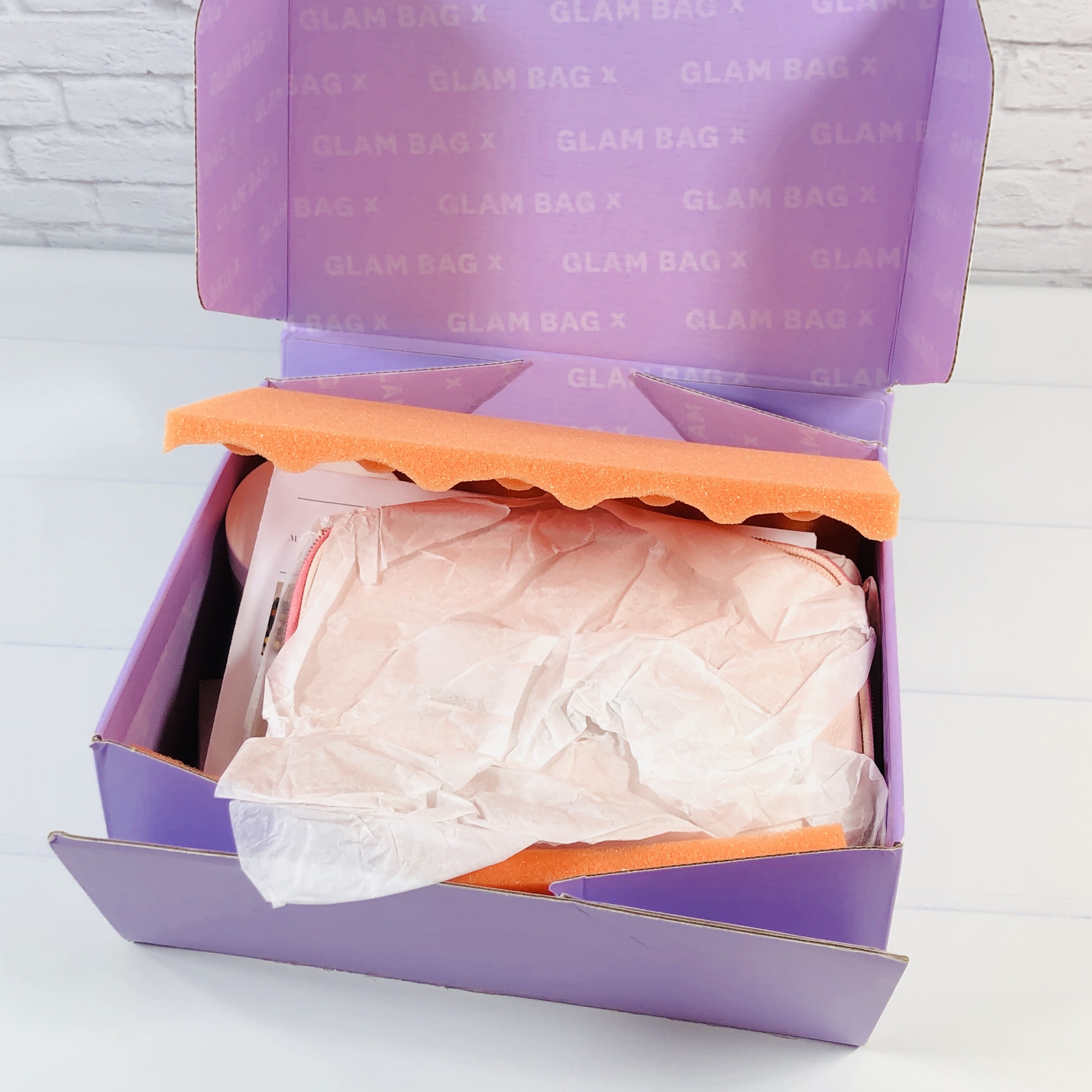 The presentation is simple, just egg crate for cushioning and tissue paper to cover.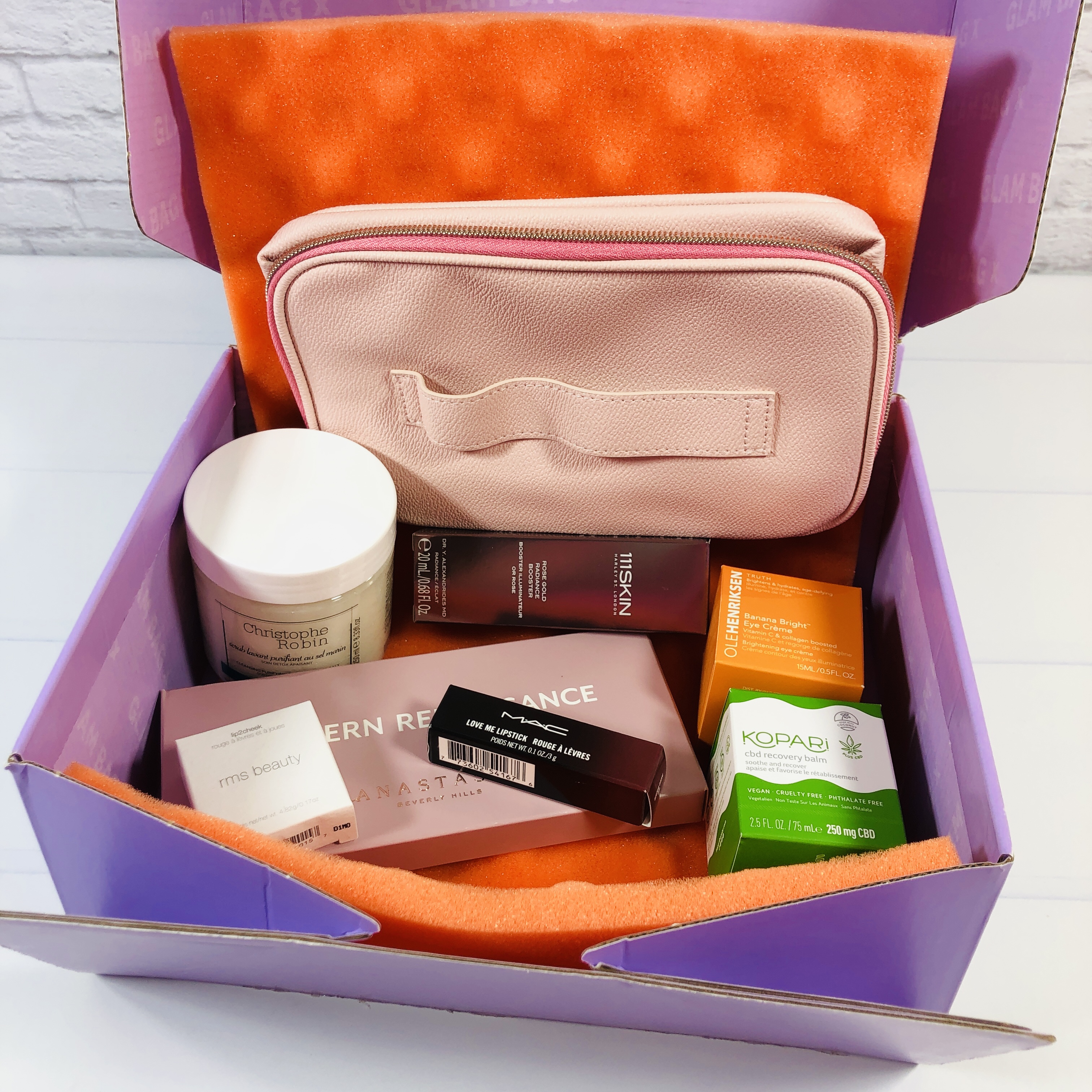 Looking good!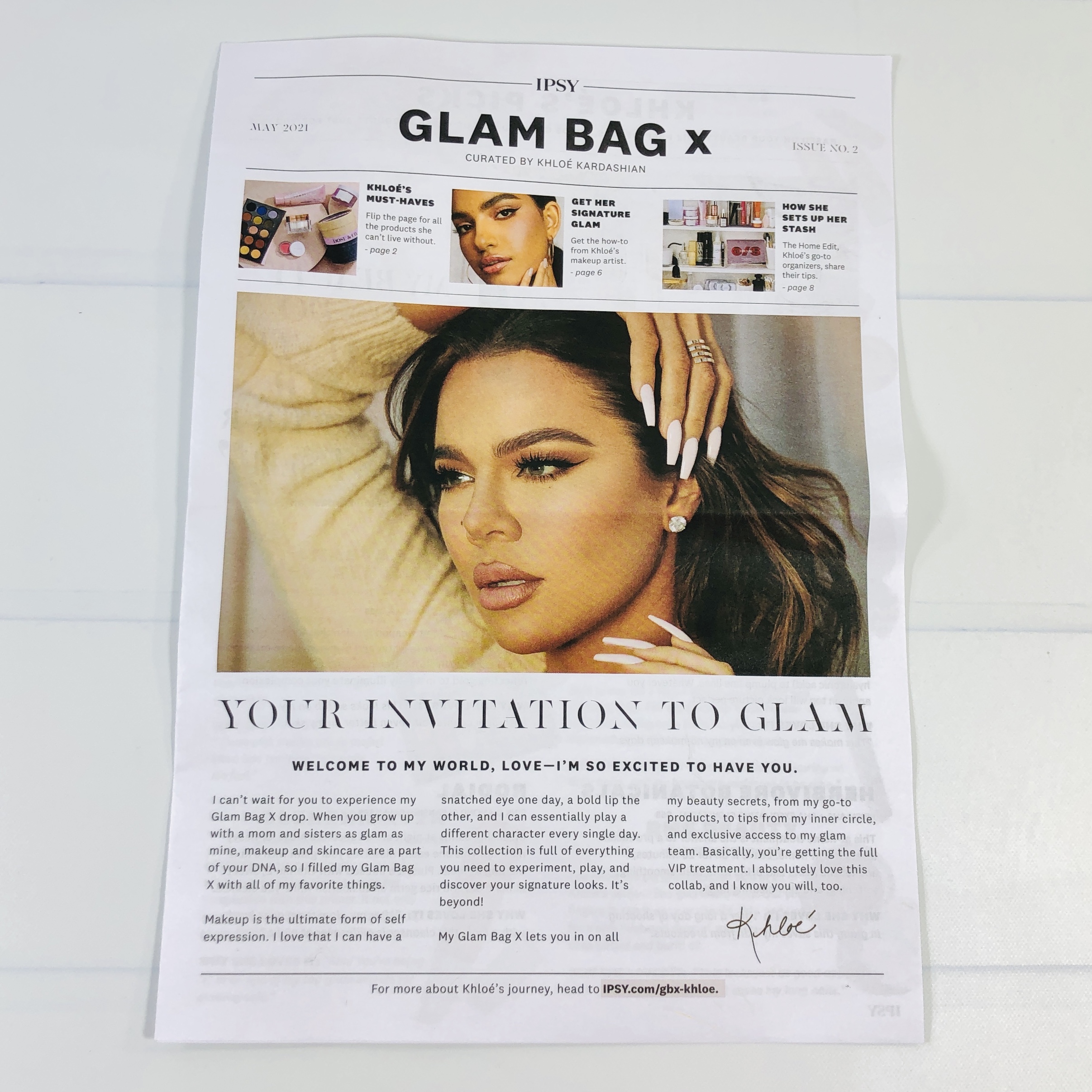 The product info guide was in the form of a newspaper! The curator for this cycle is Khloé Kardashian. She describes her look as "snatchural".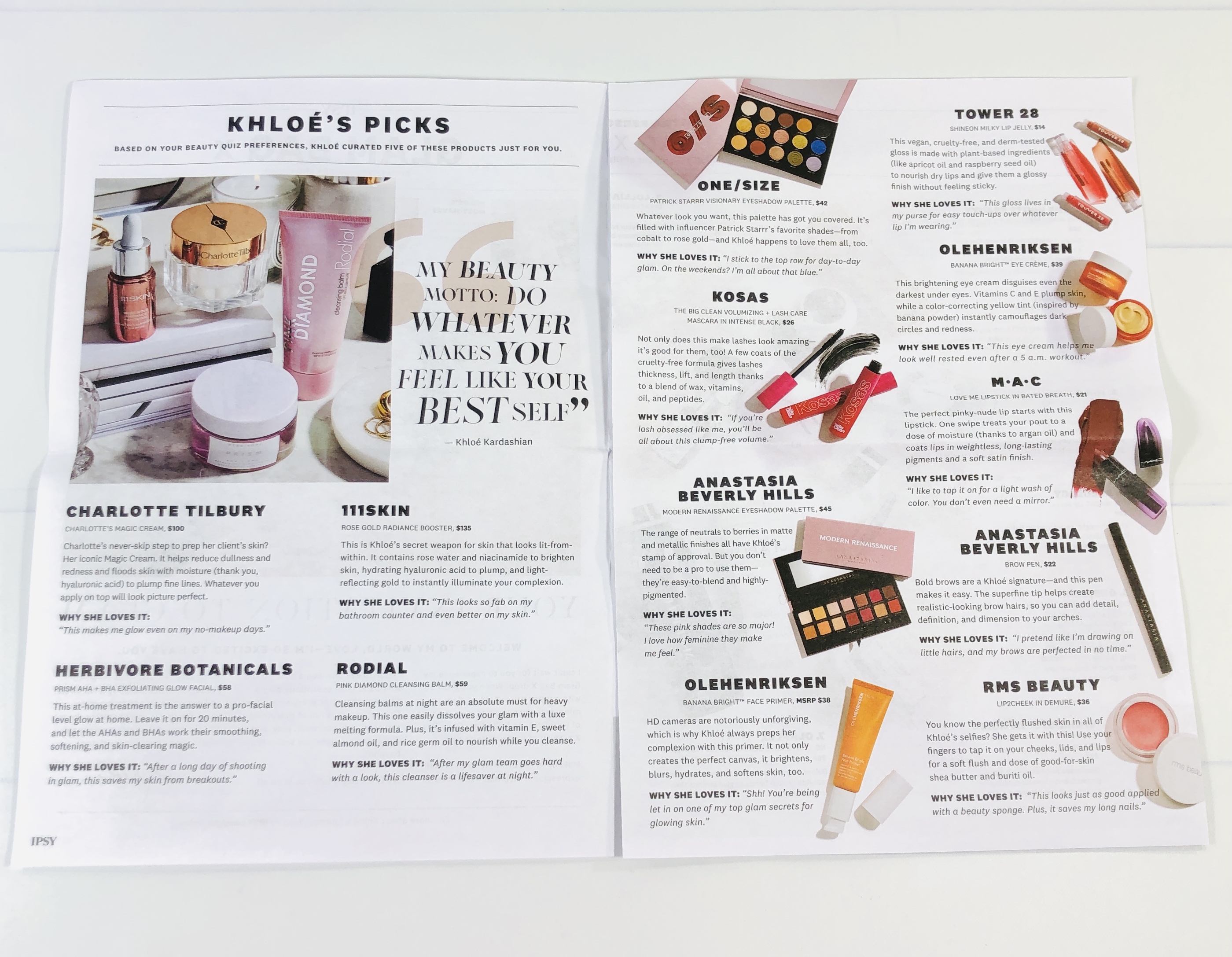 It listed all of the items that would be in all versions of this cycle's Glam Bag X; please keep in mind that not all of them will be in your box.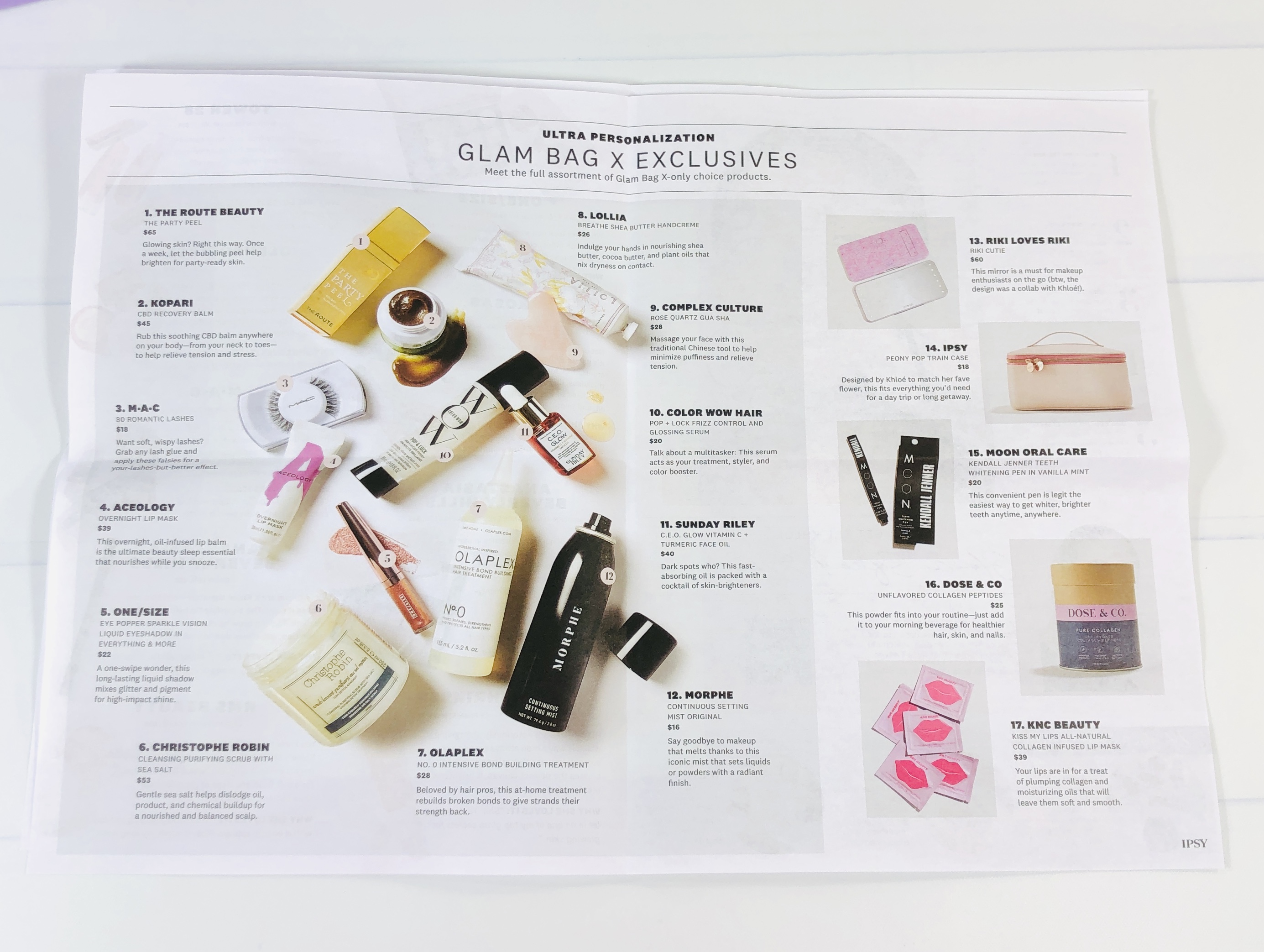 Some of the items are Glam Bag X products only, and in this case I think they mean that you won't find them in the standard Ipsy bag or the Plus.
Learn more about Khloé and a makeup routine here. There was a discount code for jeans too.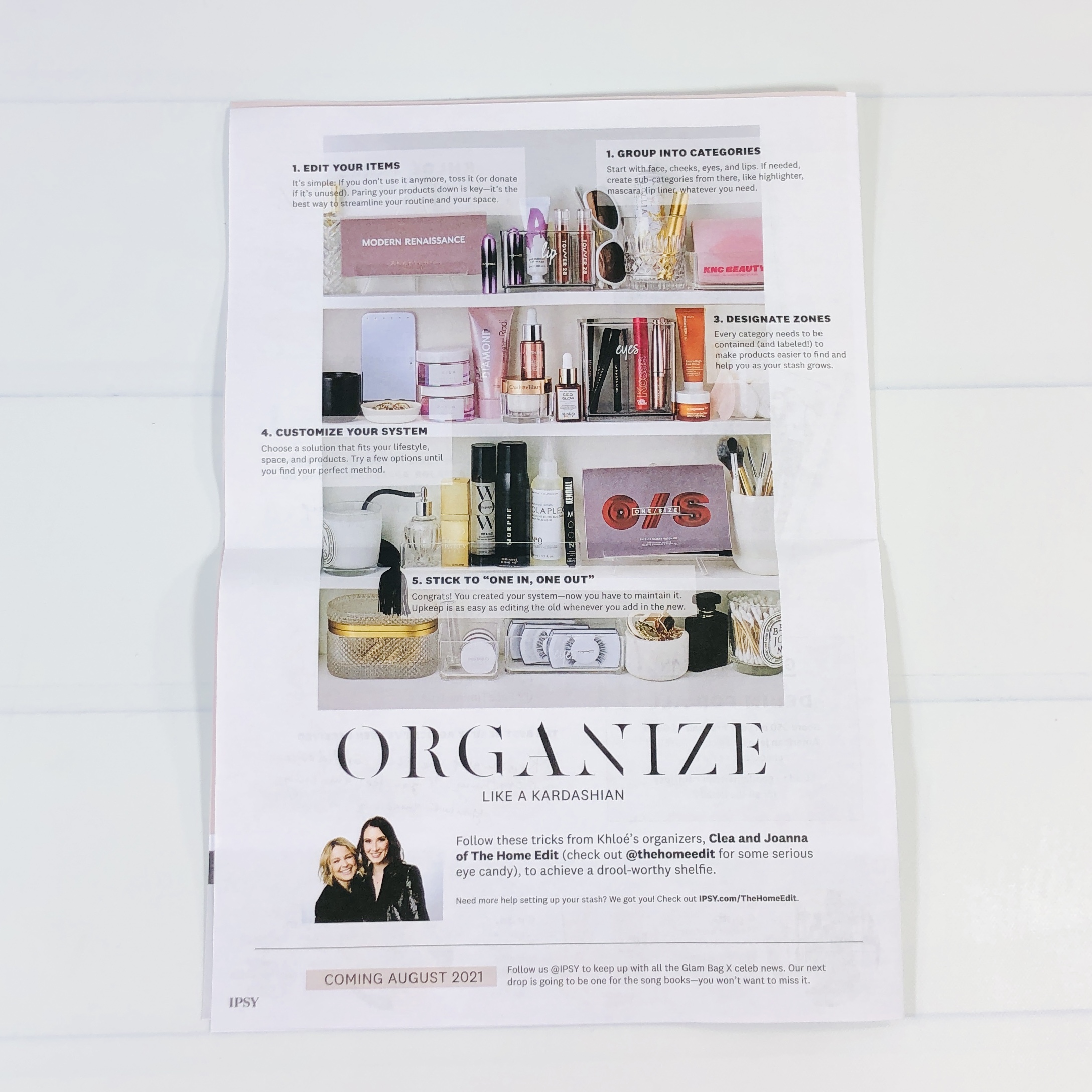 Here's how to organize your beauty products so you can snap the perfect #shelfie.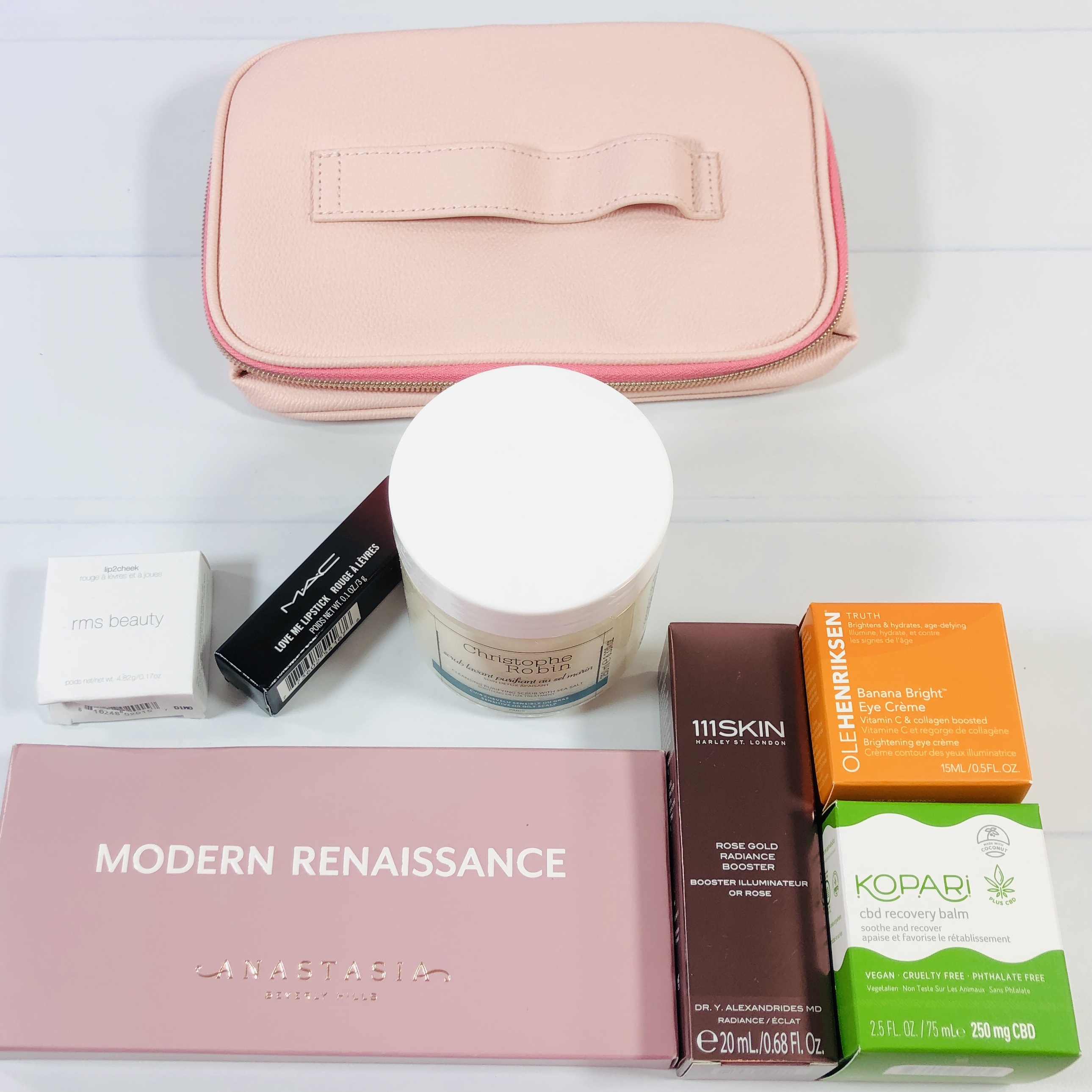 Most of the items came in their original boxes.
Everything in my box!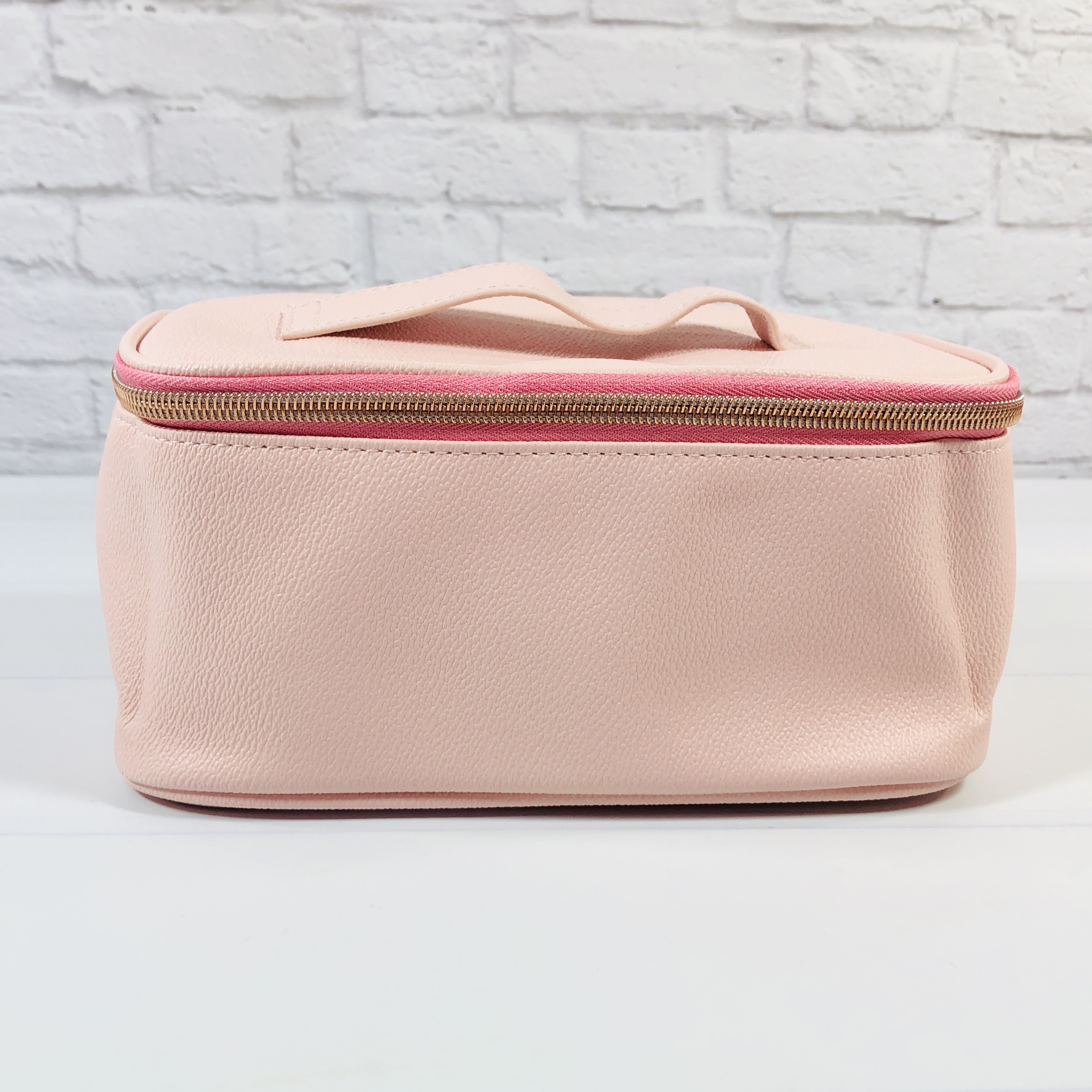 Ipsy Peony Pop Cosmetic Train Case ($18, I picked) I used to subscribe to the now defunct Ipsy Glam Bag Ultimate but it was replaced by the quarterly Glam Bag X. One of the items I always looked forward to was the cosmetic bag, and I'm glad it's now a choice item!
This bag has a fine pebble texture on the outside and is light pink with a slightly deeper pink contrasting zipper tape, and the zipper itself is rose gold.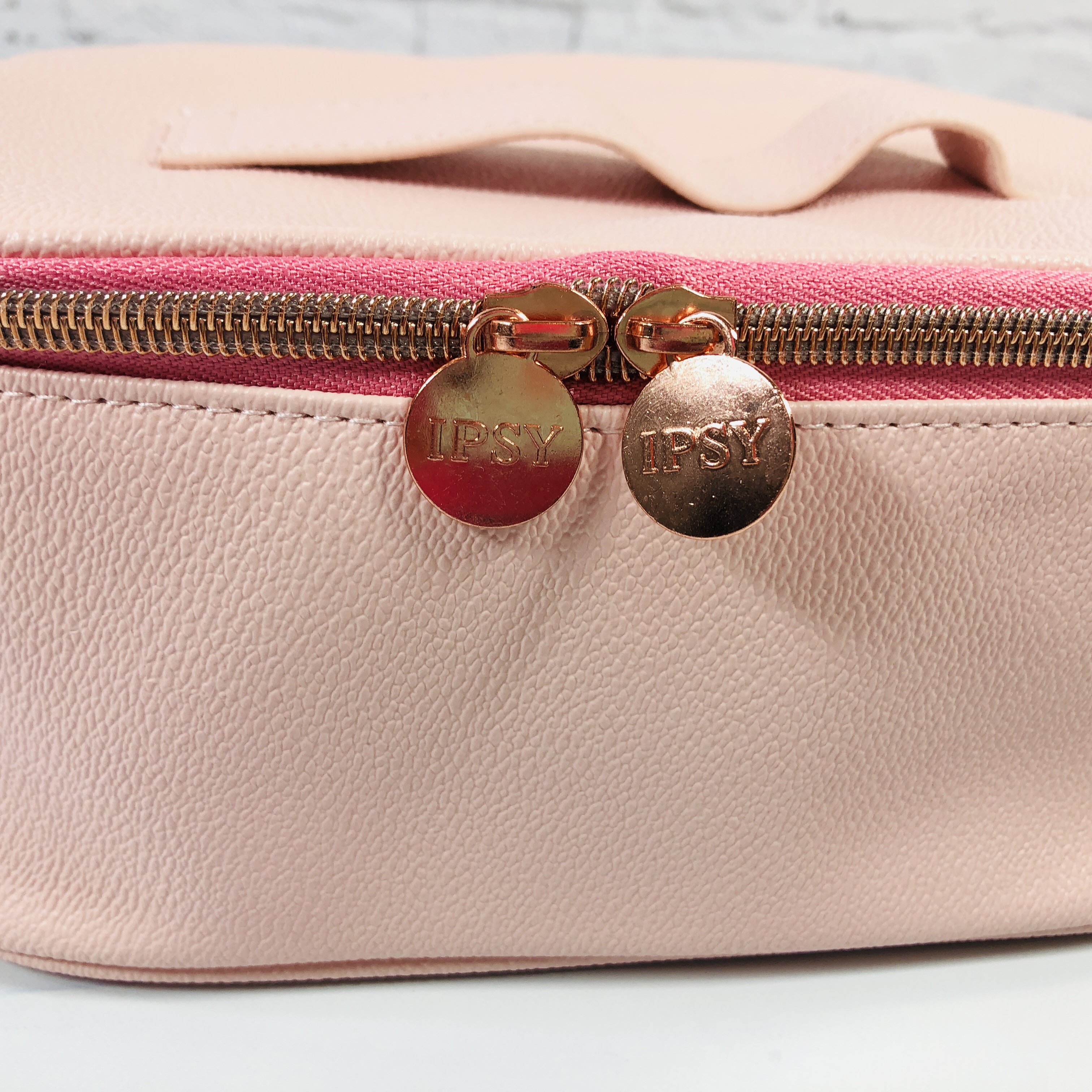 The zipper pull says IPSY and there is a carrying handle.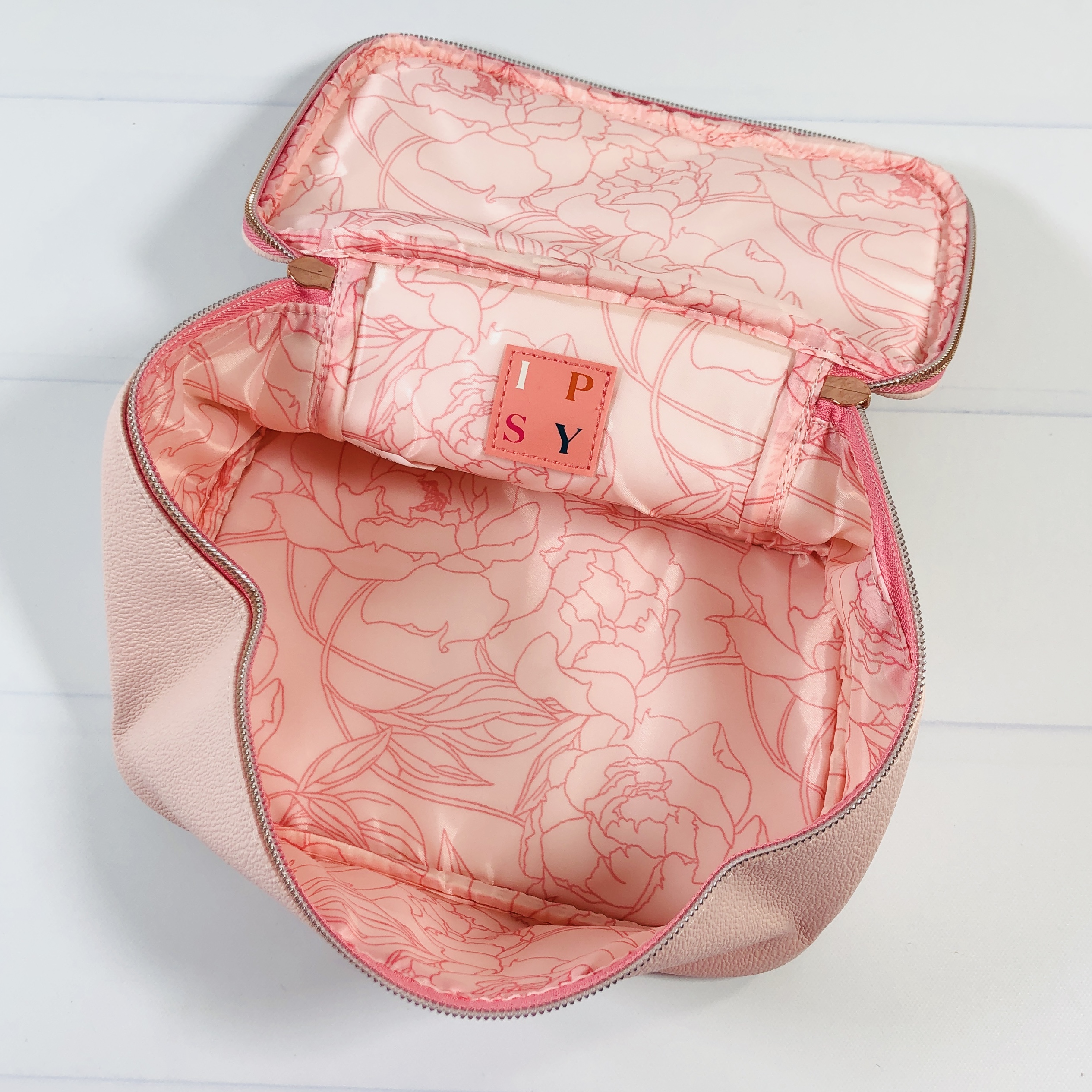 The inside is lined with pink polyester that can be wiped clean and the fabric has peonies all over. The Ipsy logo is inside. The bag measures about 4″H x 8″L x 5″W.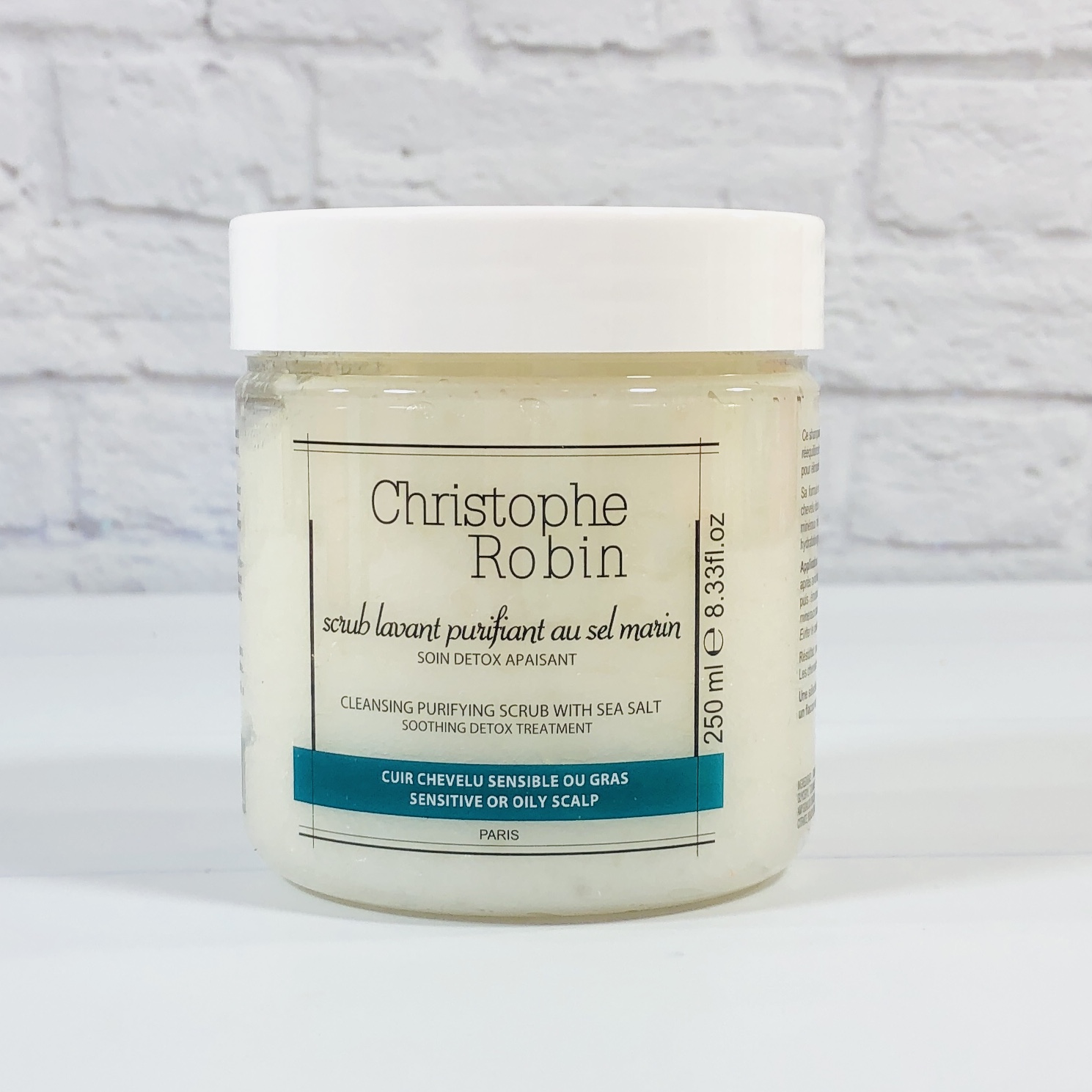 Christophe Robin Cleansing Purifying Scrub with Sea Salt ($53, I picked) I went with a hair product that is supposed to remove buildup from the scalp.
The ingredients include sea salt, hydrated silica, and sweet almond oil. I usually have bumps on my scalp but they weren't irritated by the salt, which is odd because I once used a salt scrub on freshly shaved legs and it burned so badly.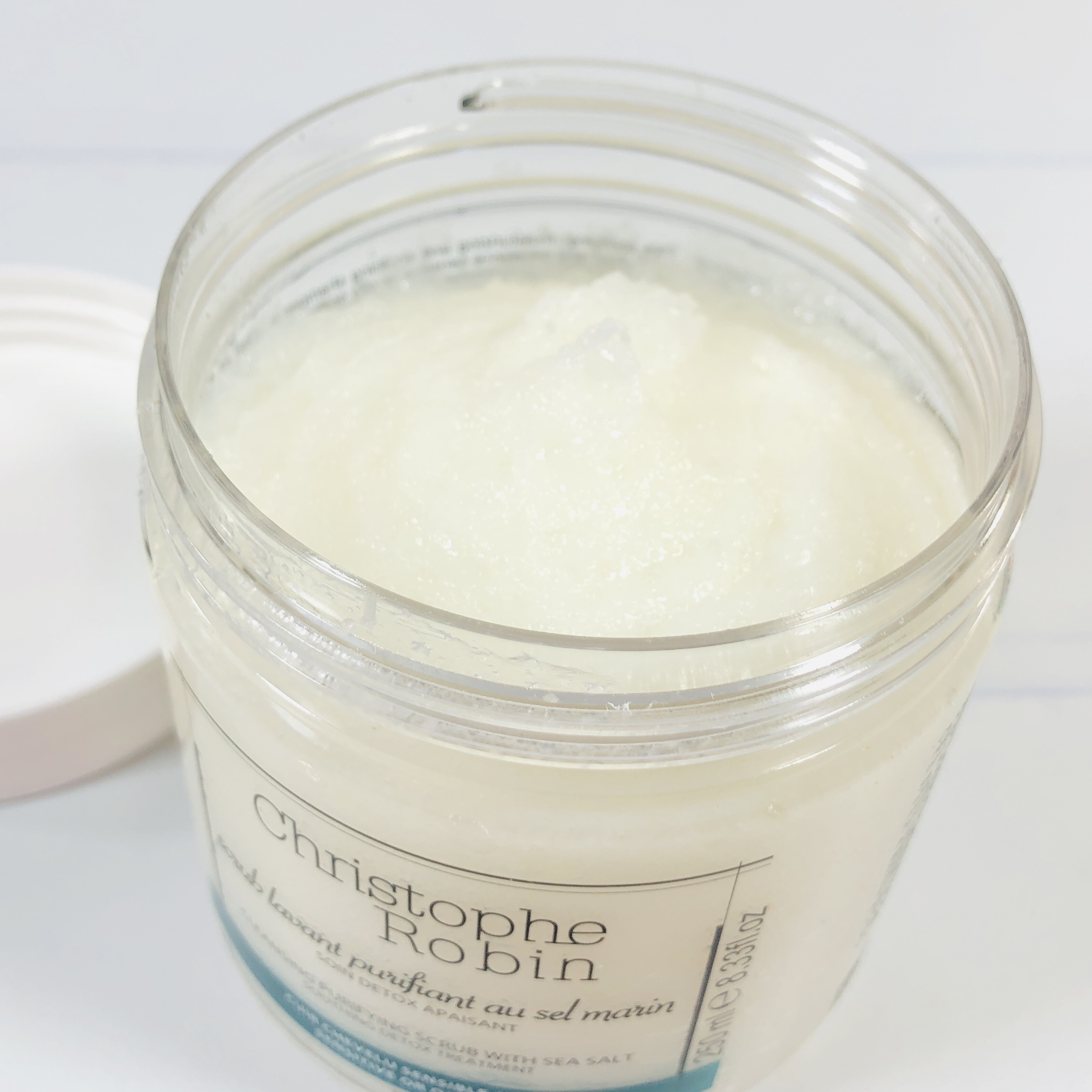 The instructions say to use a tablespoon and that was way too much for my hair. I applied it to wet hair and then worked it in and it had scrubby bits and lathered really well. It smelled a bit like a unisex perfume. I rinsed it out and then used conditioner but my hair was still tangled, I think it might be best to use a deep conditioner afterwards. I styled as usual and had no problems, my hair looked great and didn't feel greasy or weighed down.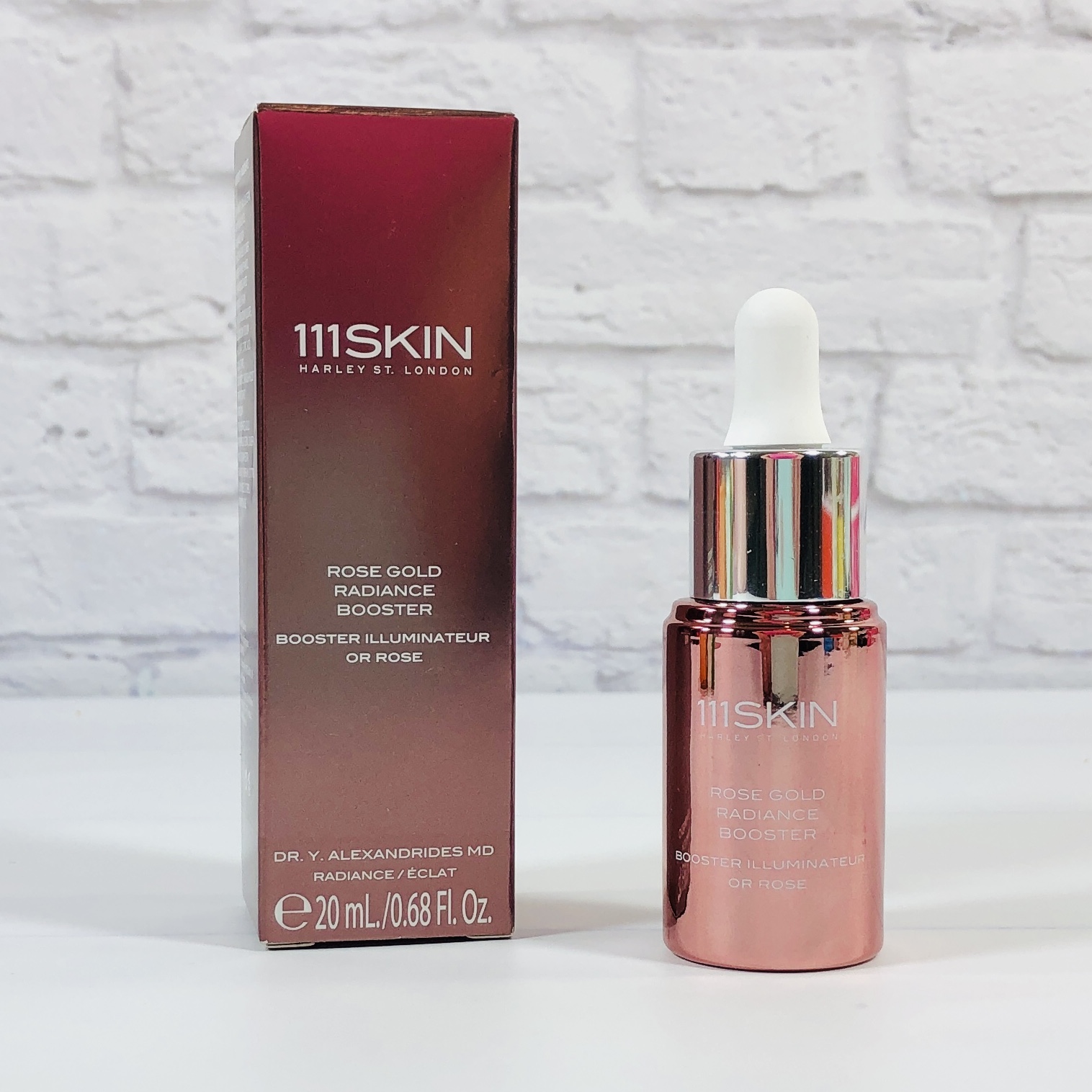 111Skin Rose Gold Radiance Booster ($135, Ipsy picked) I think everybody got this product for May. It's a serum that is supposed to give the face a radiant glow.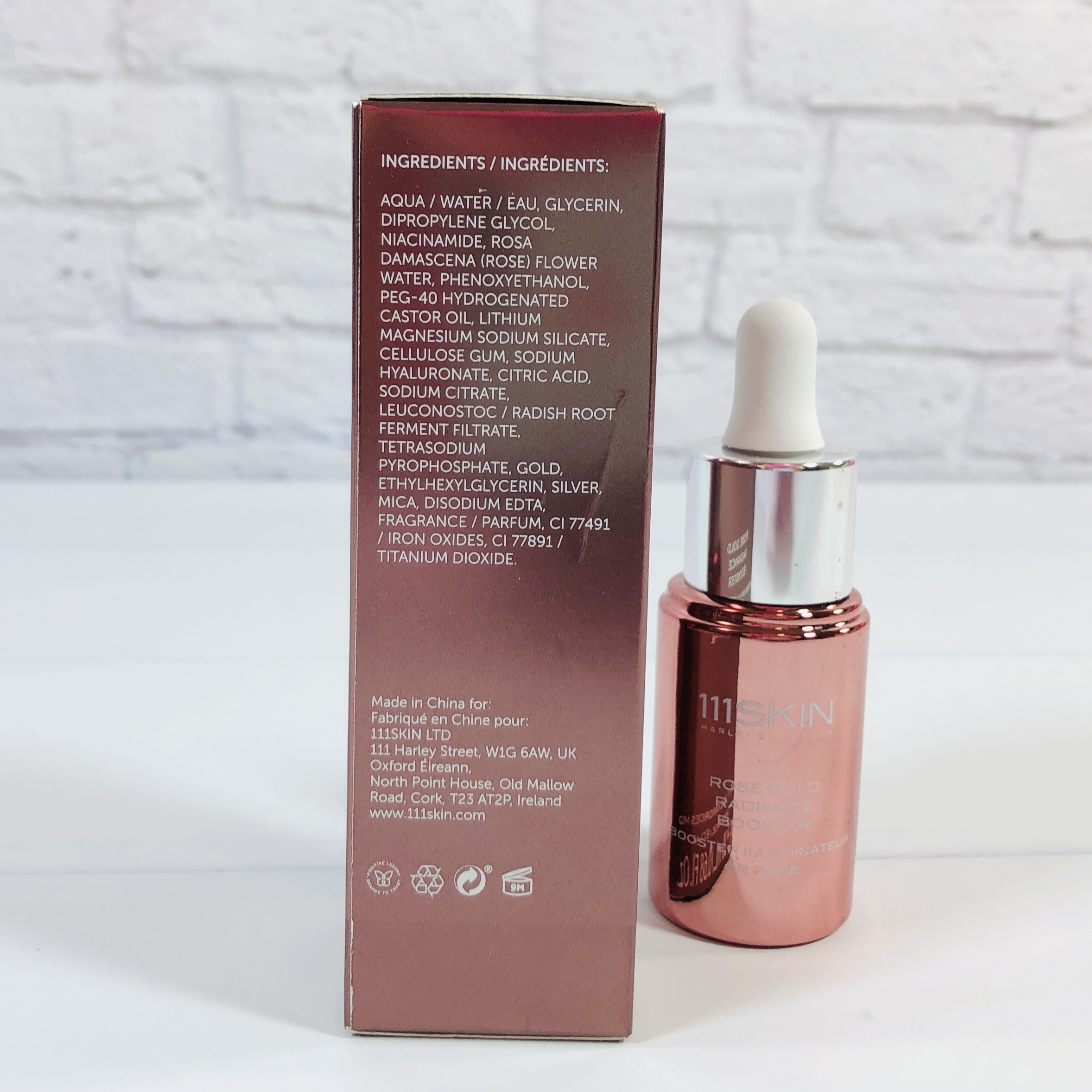 Glycerin, niacinamide, rose water, and sodium hyaluronate are some of the skin helpers in this serum, providing moisture and fighting redness. There's also actual gold and silver listed in the ingredients.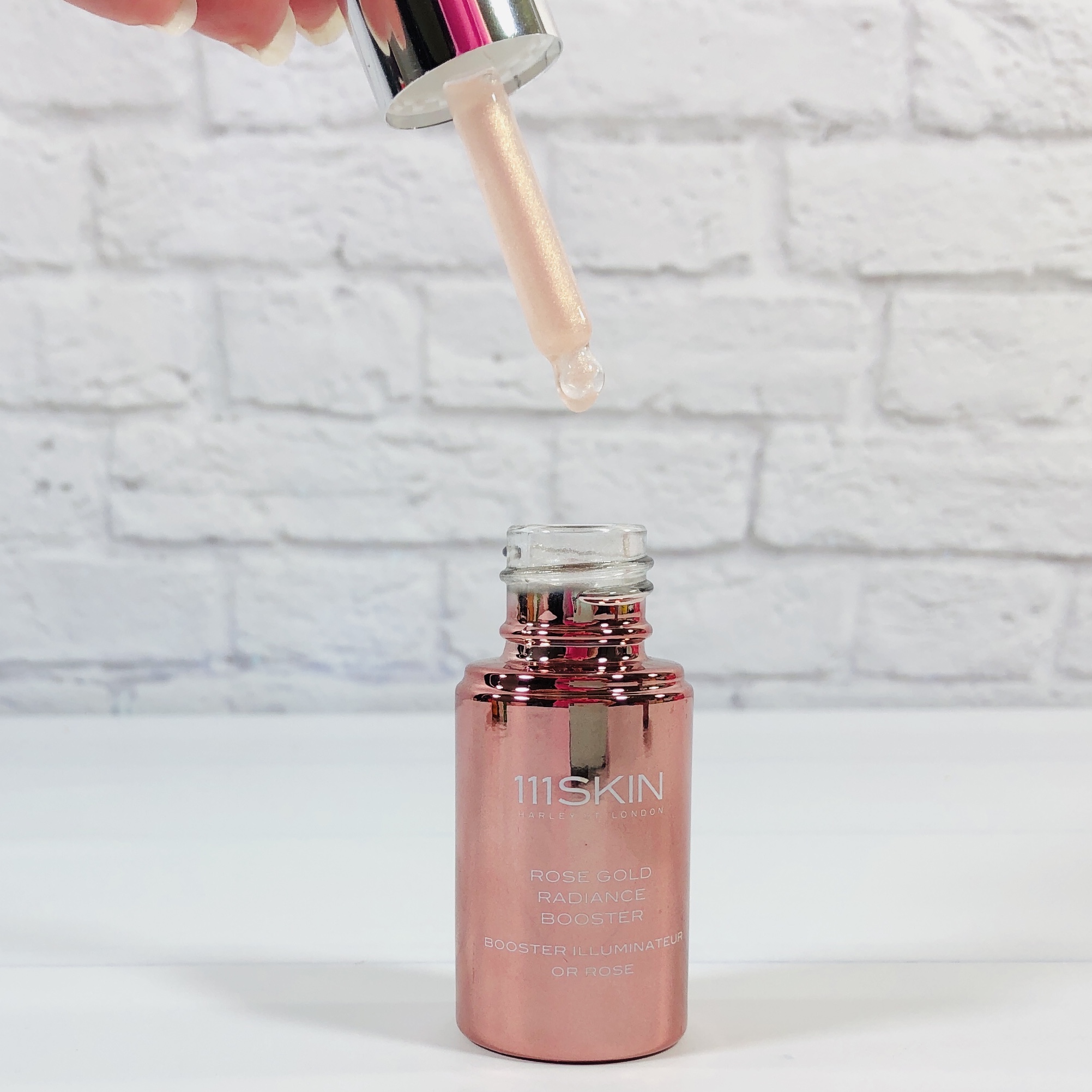 The rose gold bottle contains a shimmery golden pink serum that has a light floral fragrance. You can apply it as is or mix it into moisturizer. It doesn't make me super shiny but of course, as soon as I cover it with my powder foundation, you can't see the shimmer anyways. It feels slick and then a touch sticky as it dries and then it leaves my skin moist.
OleHenriksen Truth Banana Bright Eye Crème ($39, Ipsy picked) I have bags and darkness under my eyes but generally I don't try to do anything other than moisturize the area. The idea behind this product is to not only add moisture, but to hide imperfections with the help of a bit of yellow tint in this silky cream.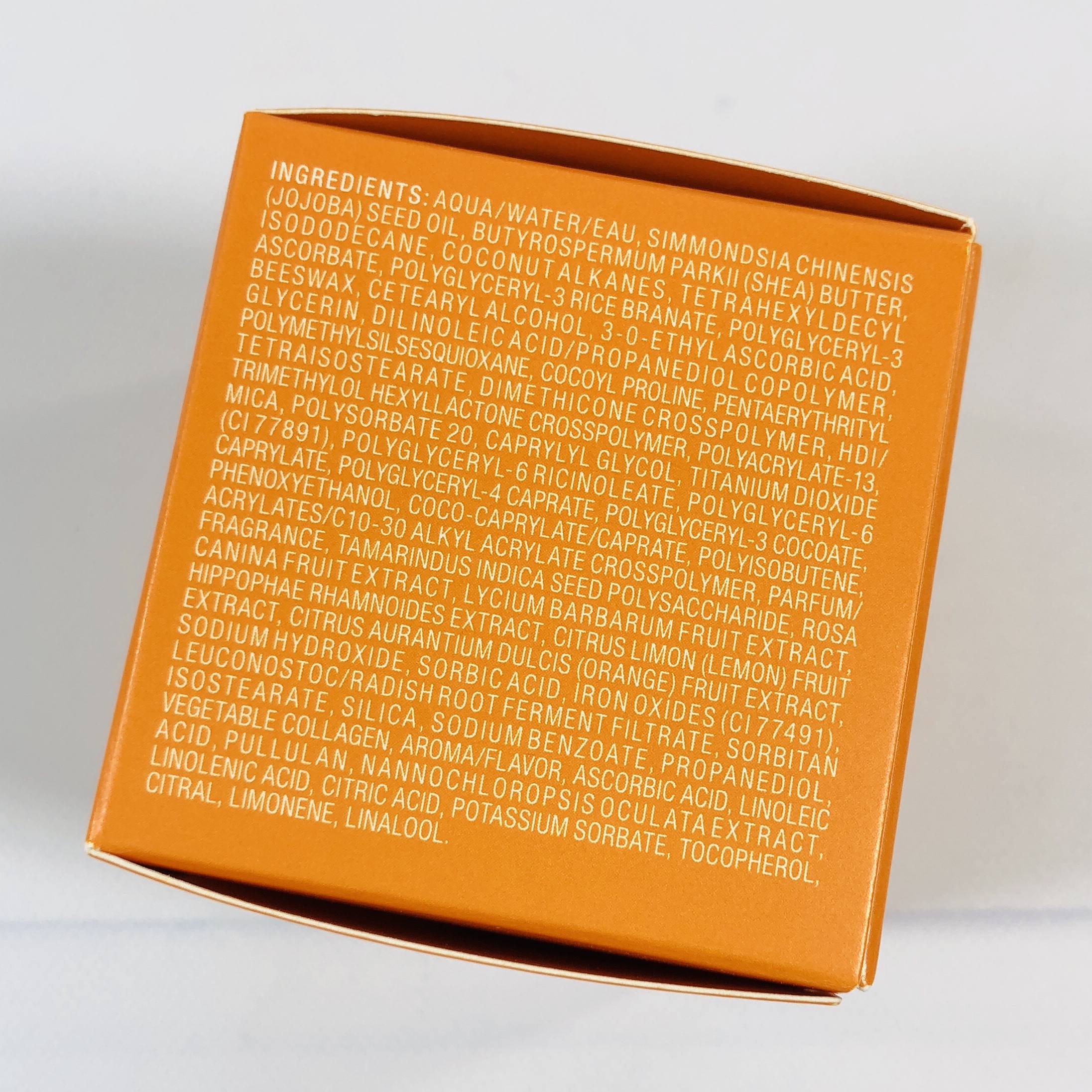 Water, jojoba, and shea butter are the first couple of ingredients but there's also parfum, titanium dioxide, and essential oils. There's no bananas – it gets its name from banana face powder, a makeup artist secret that is supposed to flatter the skin.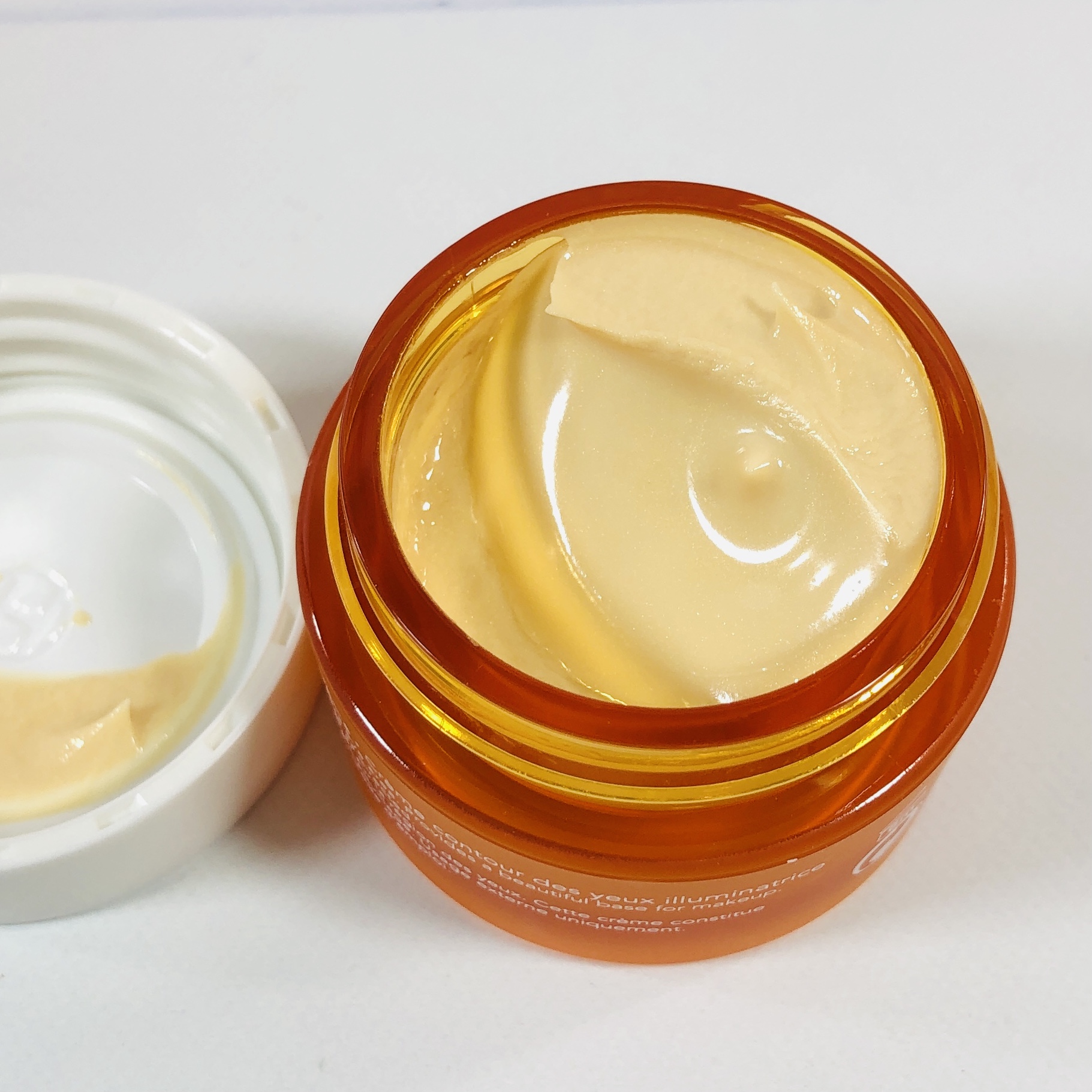 The product has a light citrus scent and it adds a touch of brightness to the undereye area. I don't think there's enough in here to really change the appearance, color wise, but it adds a dewy glow. It is supposed to help makeup glide on smoothly but I rarely wear concealer but I bet it would help somewhat.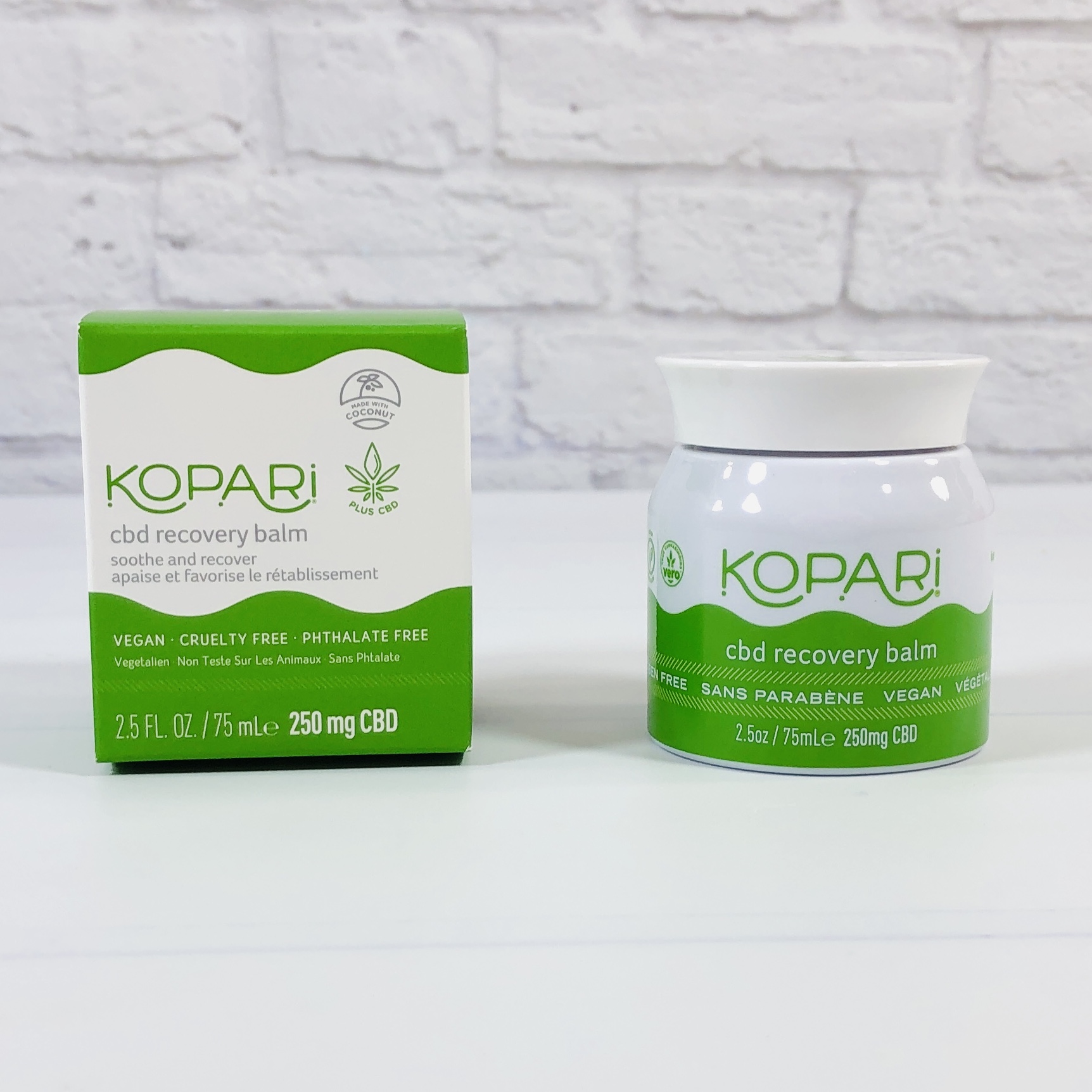 Kopari CBD recovery Balm ($45, I picked) I generally like Kopari products so I chose this recovery balm in the hopes that it might help my lower back feel better.
Ingredients include coconut oil, shea butter, hemp powder, and peppermint oil.
Coconut oil is liquid at room temp so be careful when opening!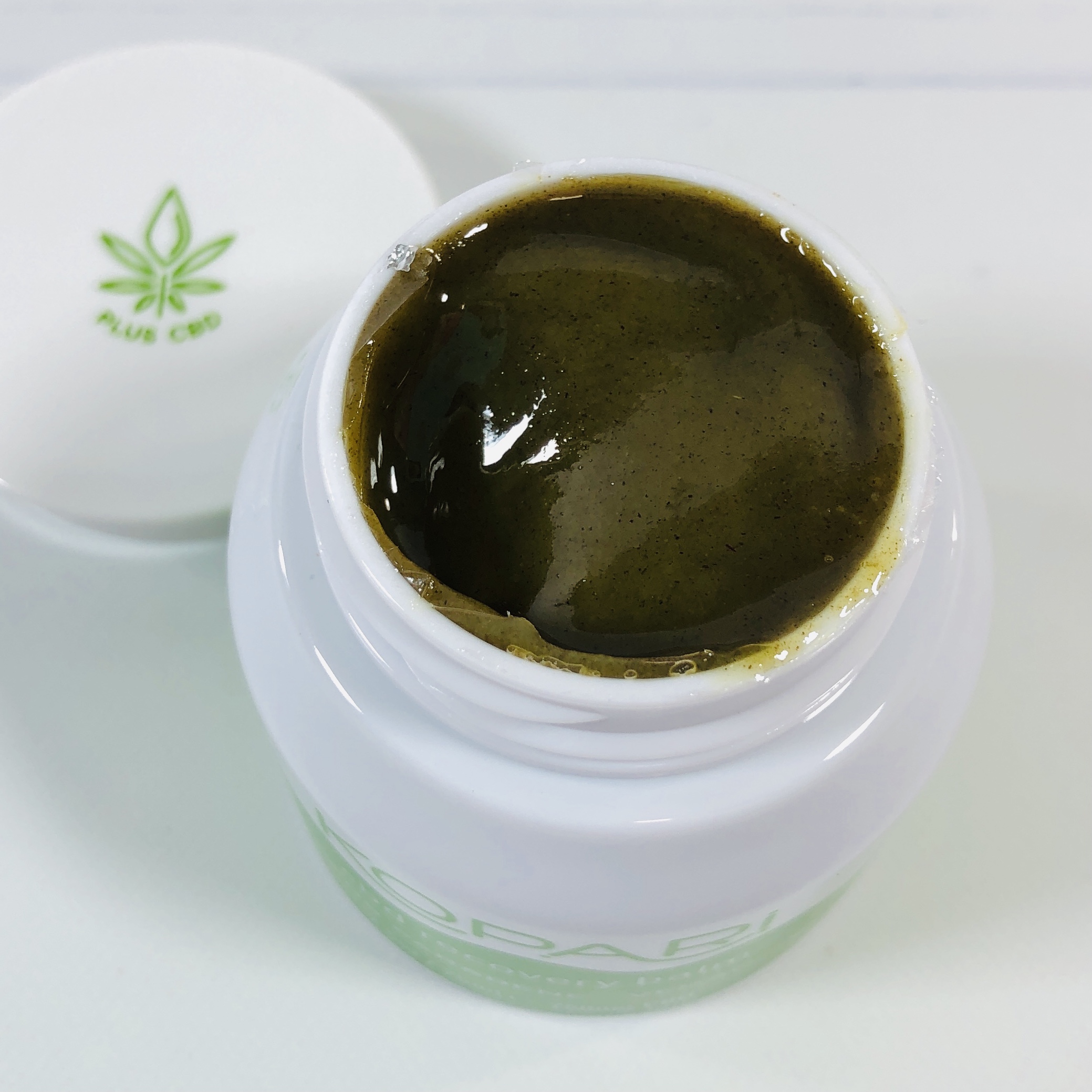 It has a slightly gritty texture and smells different at different times, but mostly like peppermint tea. I rubbed it on my lower back and hoped I would get an icy hot sensation like with the other product I use, but I really didn't feel any difference at all, no cooling effect, and no pain relief. The coconut and other oils are very moisturizing so I rub it on my elbows, heels, and even my chest (for the vapors).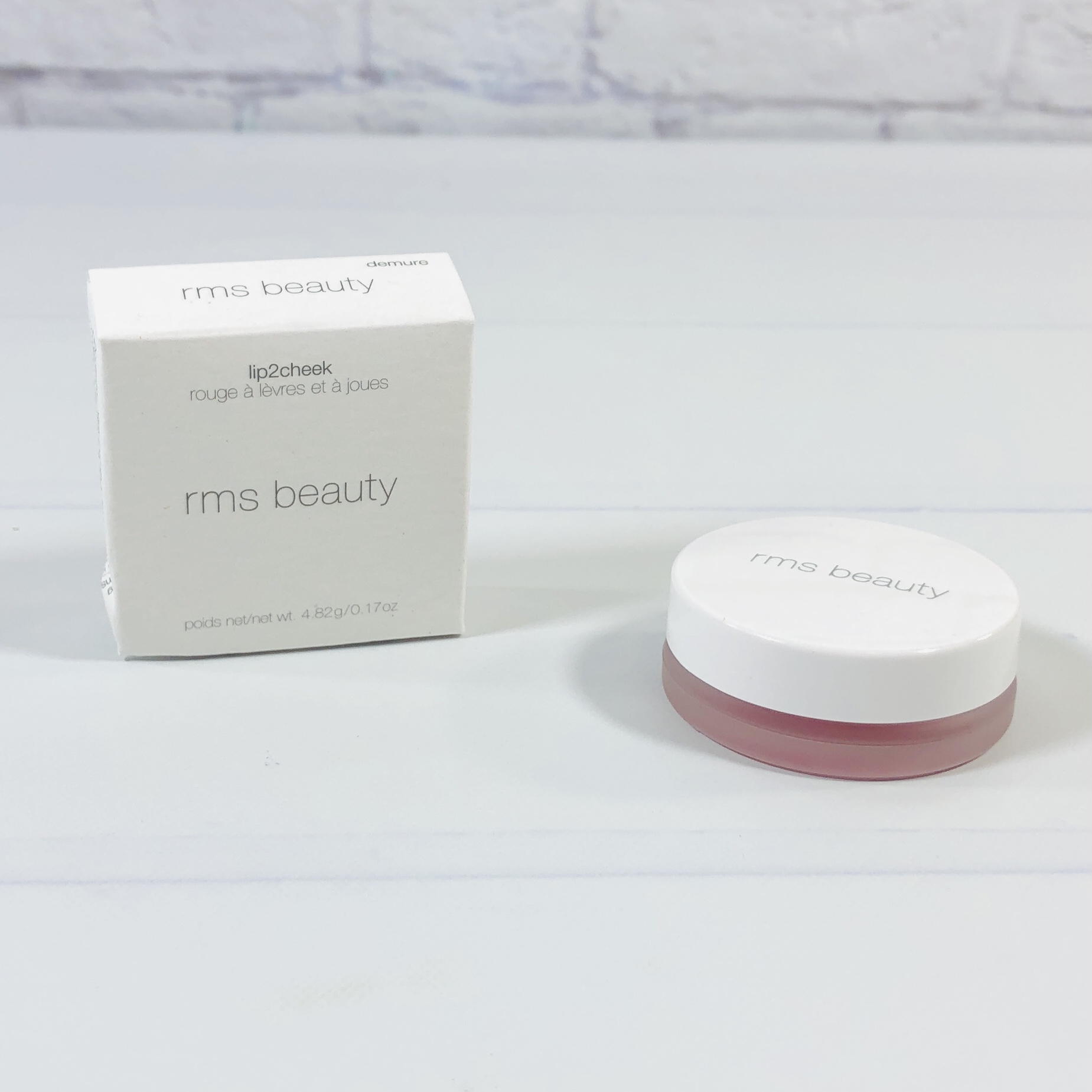 RMS Beauty Lip2Cheek in Demure ($36, Ipsy picked) Here is another product I was happy to receive, although after using, I think I would have preferred a darker shade. Now that I know I like it, I can pick the shade I prefer when I purchase it in the future.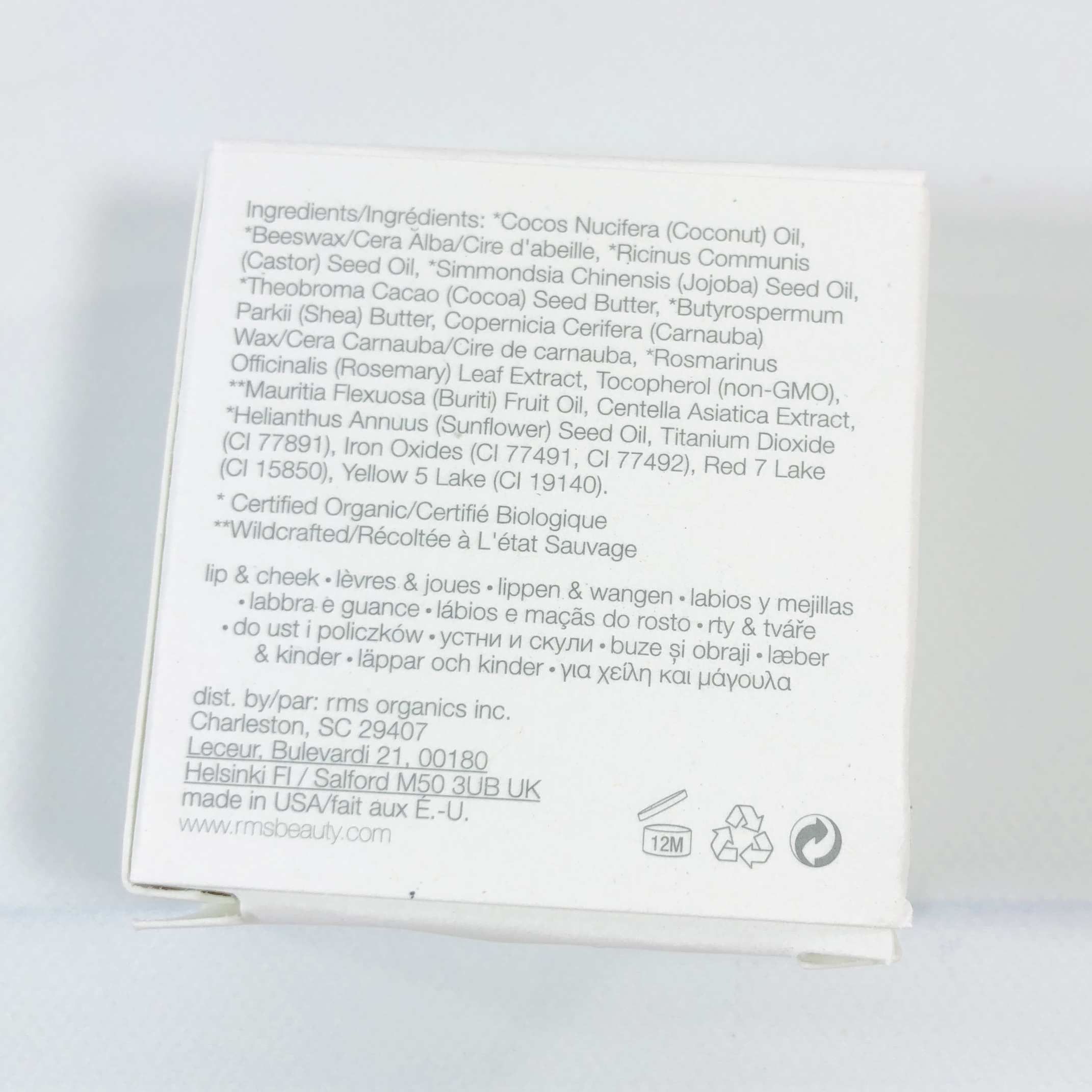 The product is coconut-based and it also has beeswax, castor seed oil, and other seed oils and butters. It is pretty solid at room temp so the warmth of your finger is what helps it soften for application.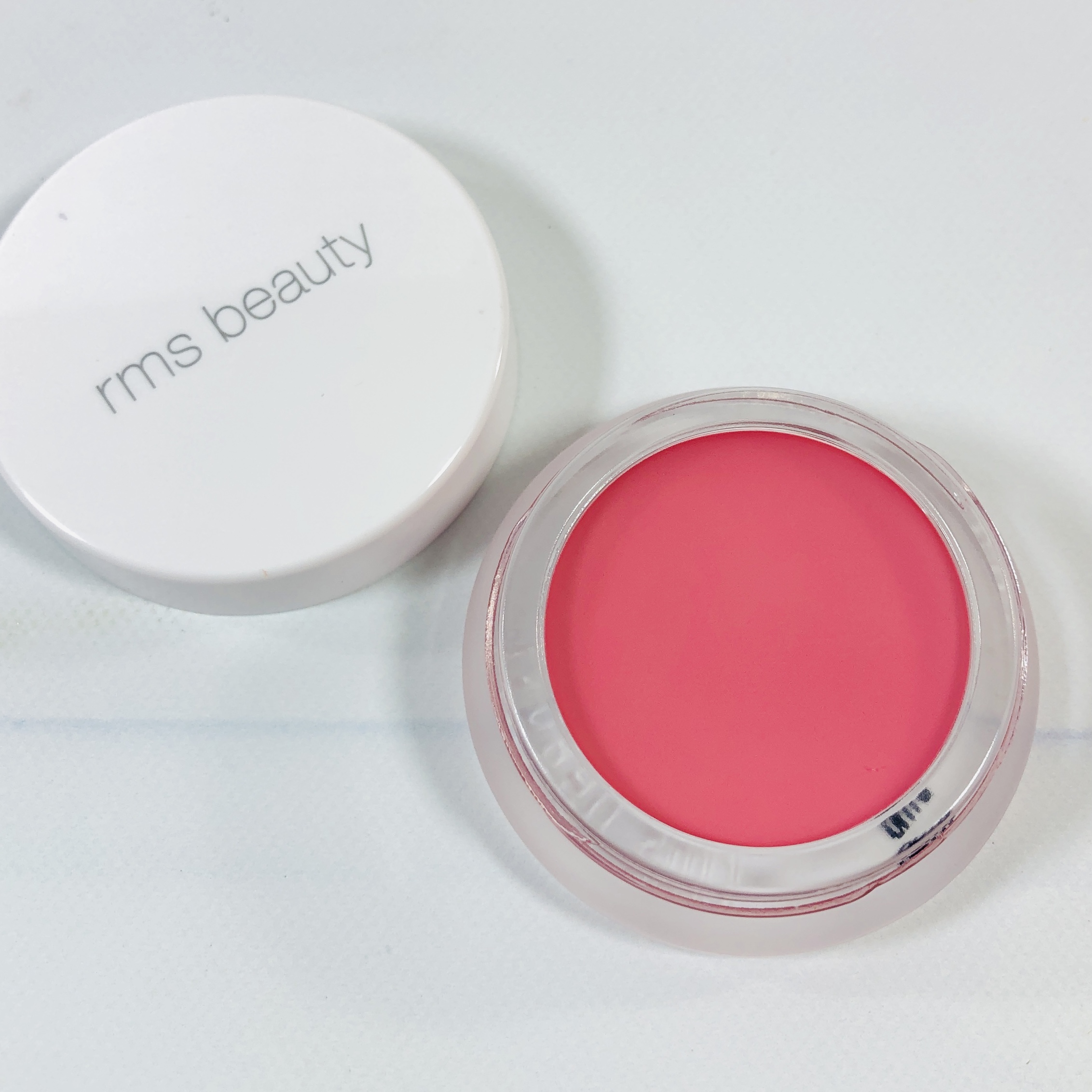 The shade Demure is described as "a soft pink rose with a hint of mauve" and it is just as described. It adds a pop of color to my cheeks but is too light for my lips, although it can be mixed and matched with similar products so you can come up with unique colors. It felt good on my lips, like lip balm. Swatched below.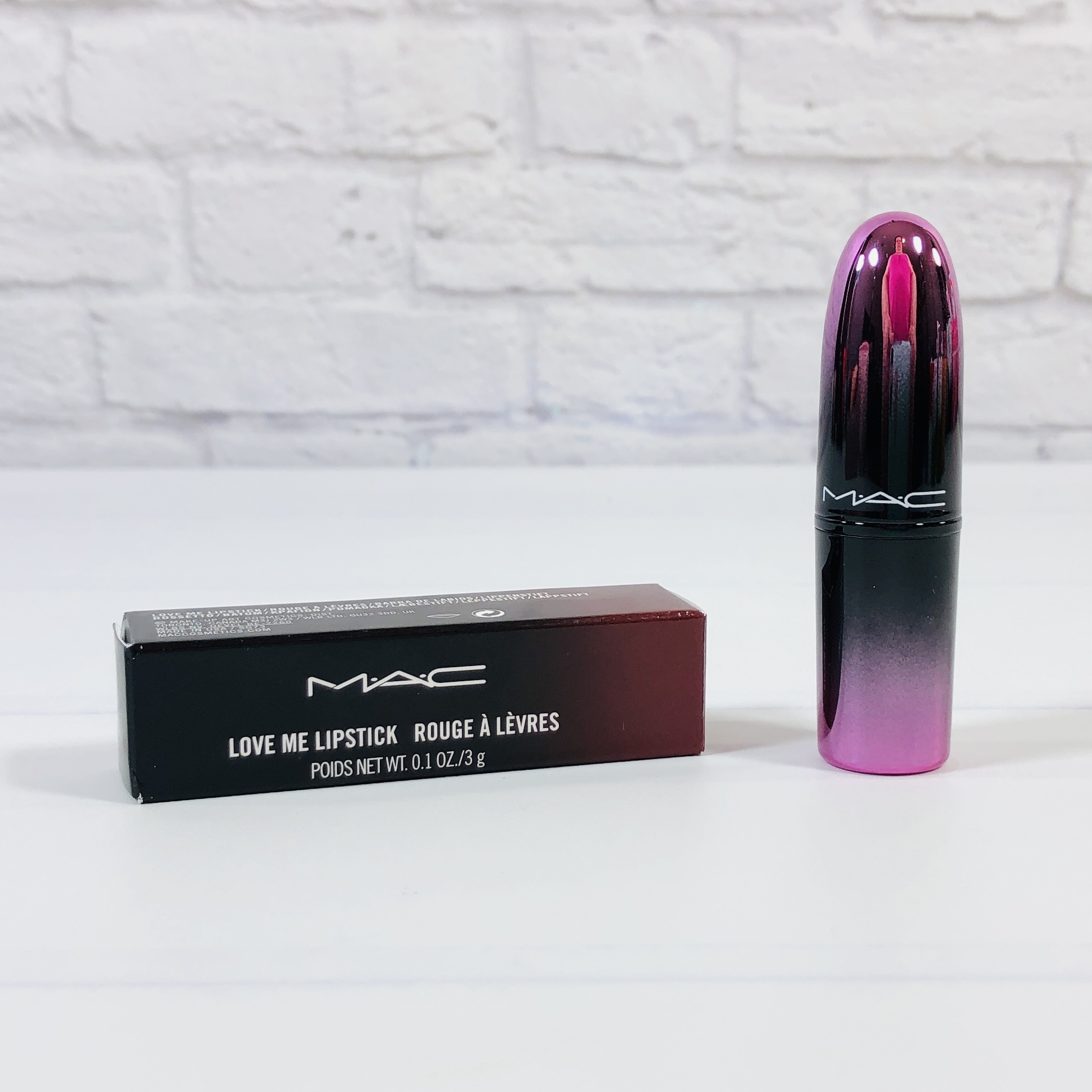 MAC Cosmetics Love Me Lipstick in Bated Breath ($21, Ipsy picked) MAC is a popular beauty artist brand, and is usually long-lasting — my daughter wears it for dance team performances.
Bated Breath is described as a warm pinky brown and I have been wearing it with warm toned eyeshadows and blushes. It feels like classic lipstick, it stays moist on the lips and doesn't dry down to one of those matte, long-lasting, drying types. Swatched below.
MAC Bated Breath is swatched on top and RMS is below.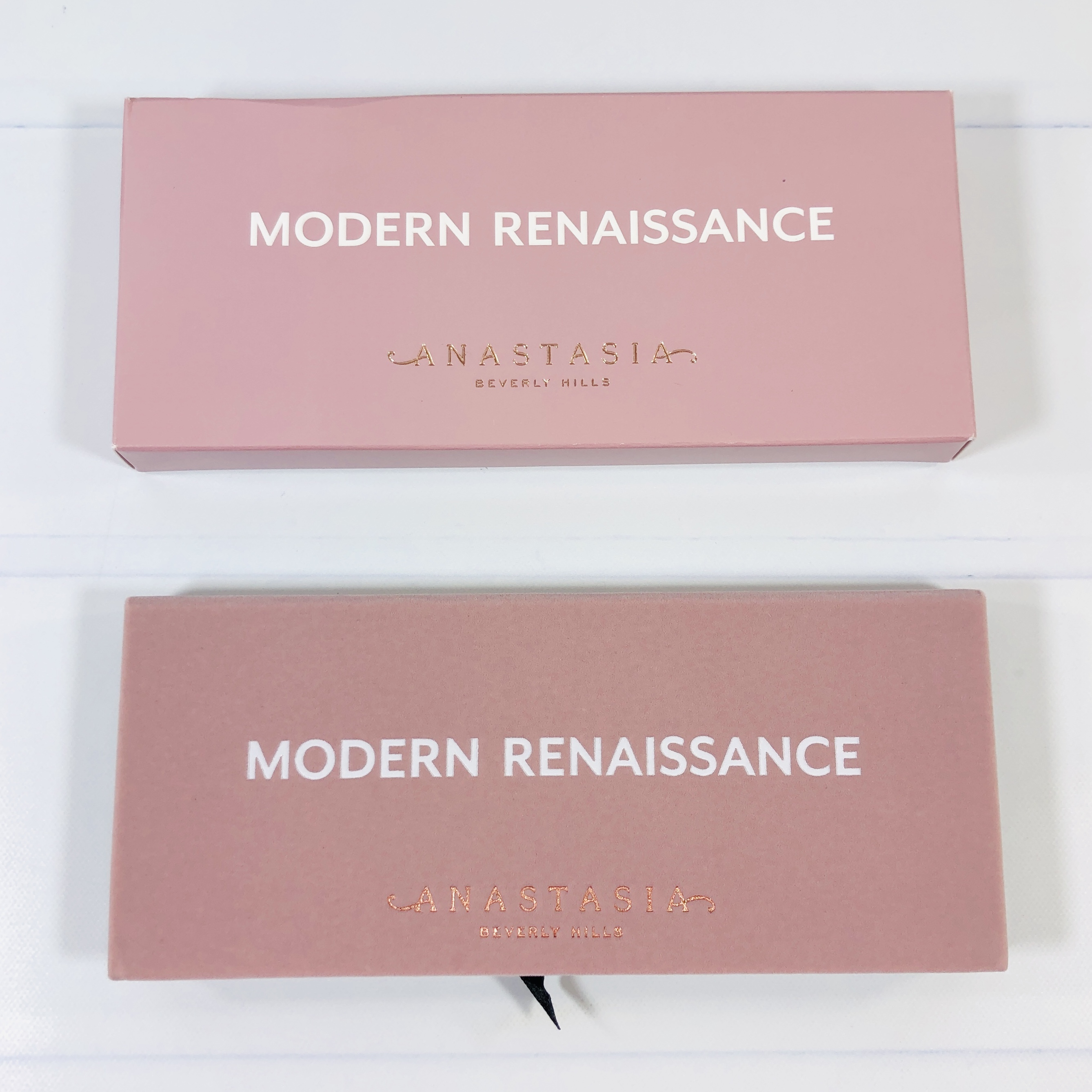 Anastasia Beverly Hills Modern Renaissance Eyeshadow Palette ($45, Ipsy picked) I was excited when I saw I was getting this palette, but I wasn't expecting the case to feel so velvety!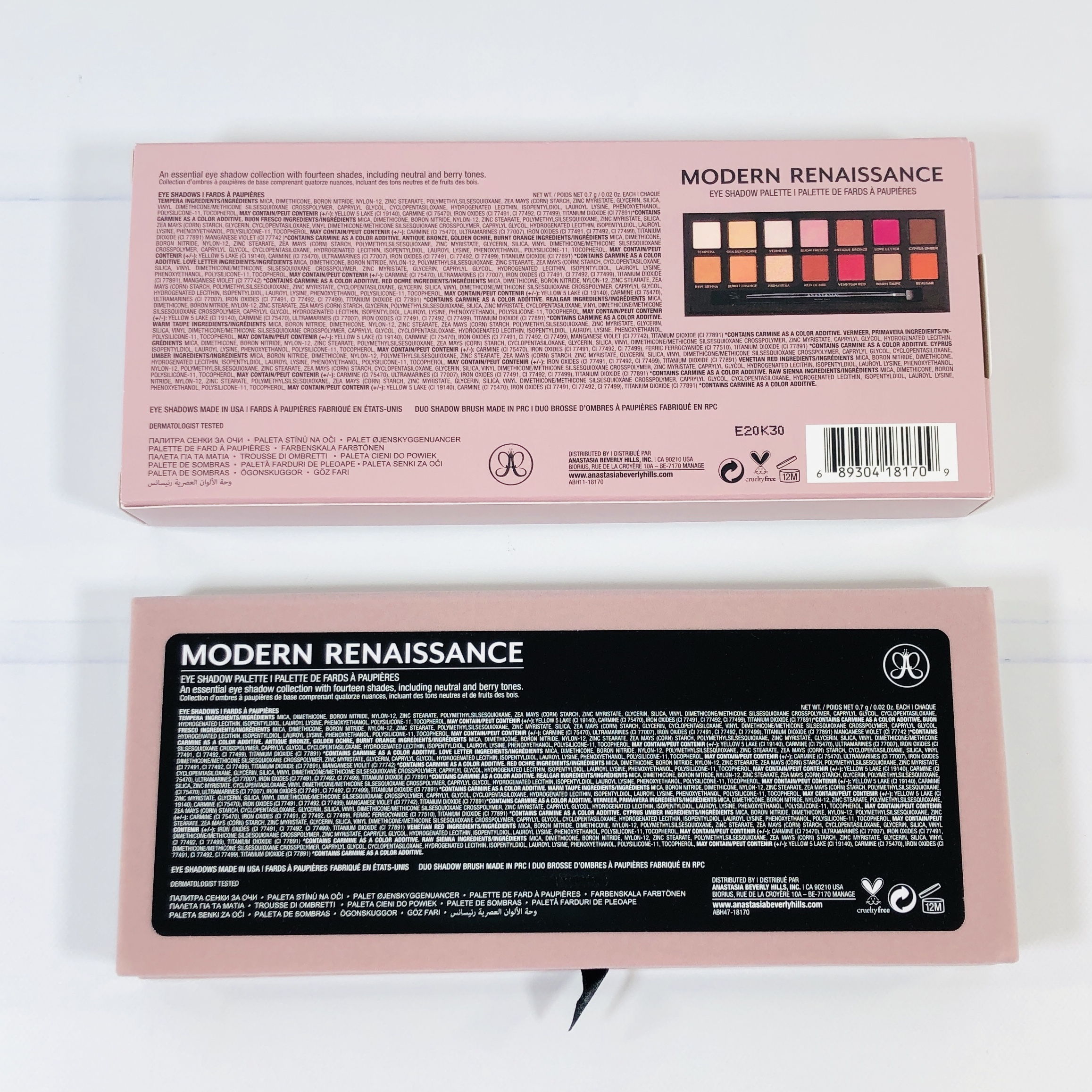 Ingredients were on the back.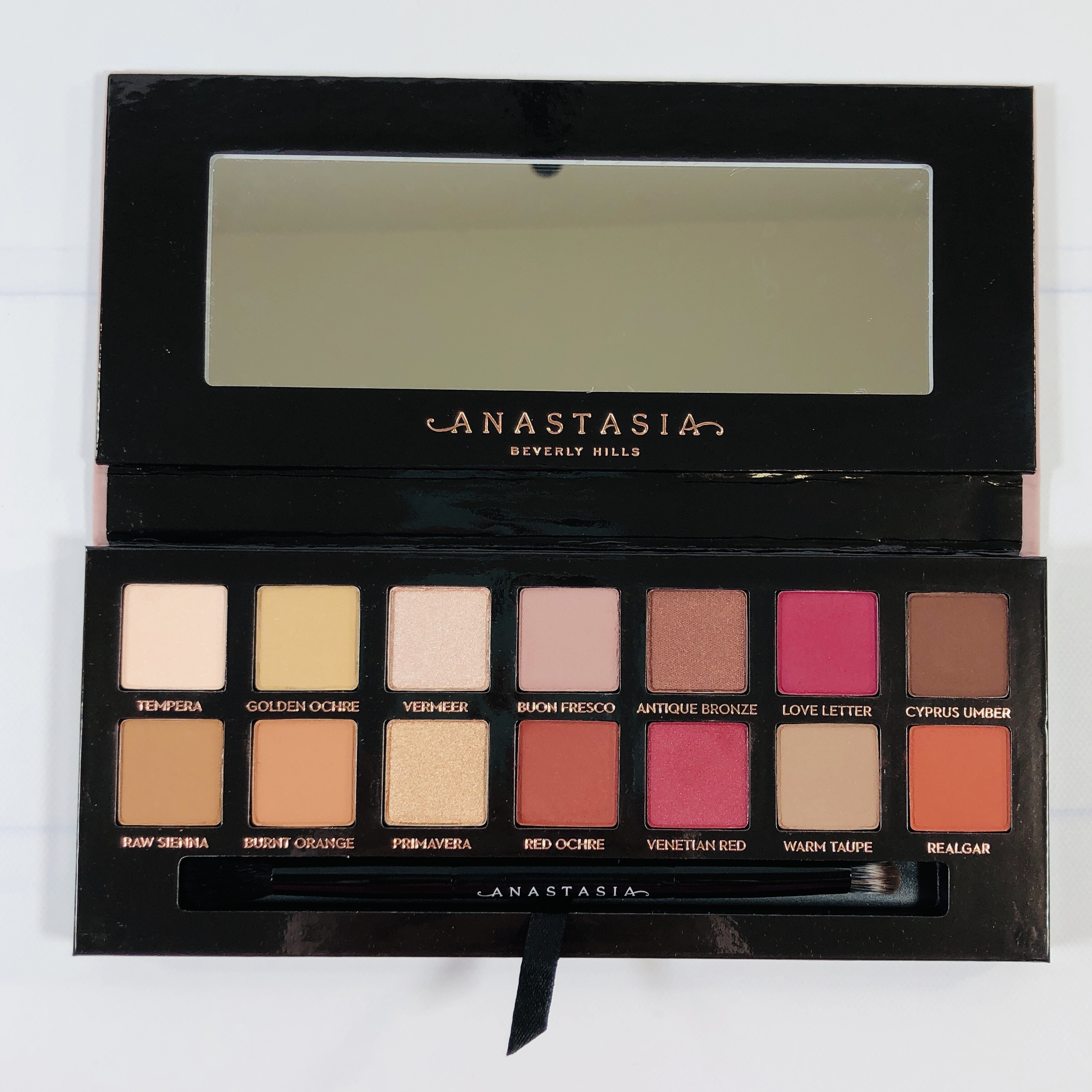 The shades were listed on the inside and the lighter colors were on the left, the deeper ones on the right. There's not a really dark color though — I prefer a darker brown for my crease but these sure are pretty.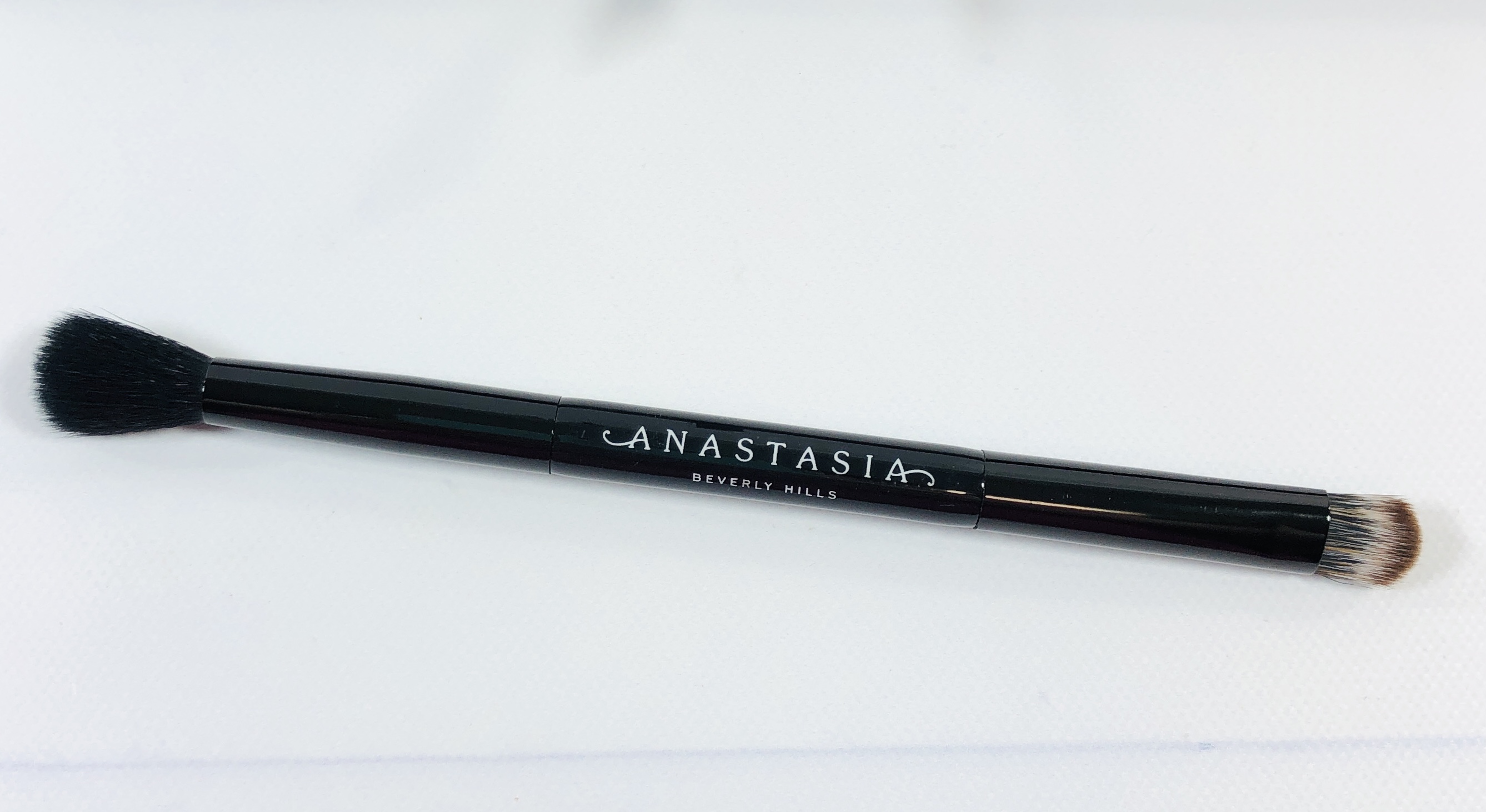 It even came with a decent brush. I prefer to use my own collection of makeup brushes but if I was on a weekend trip then this would be fine.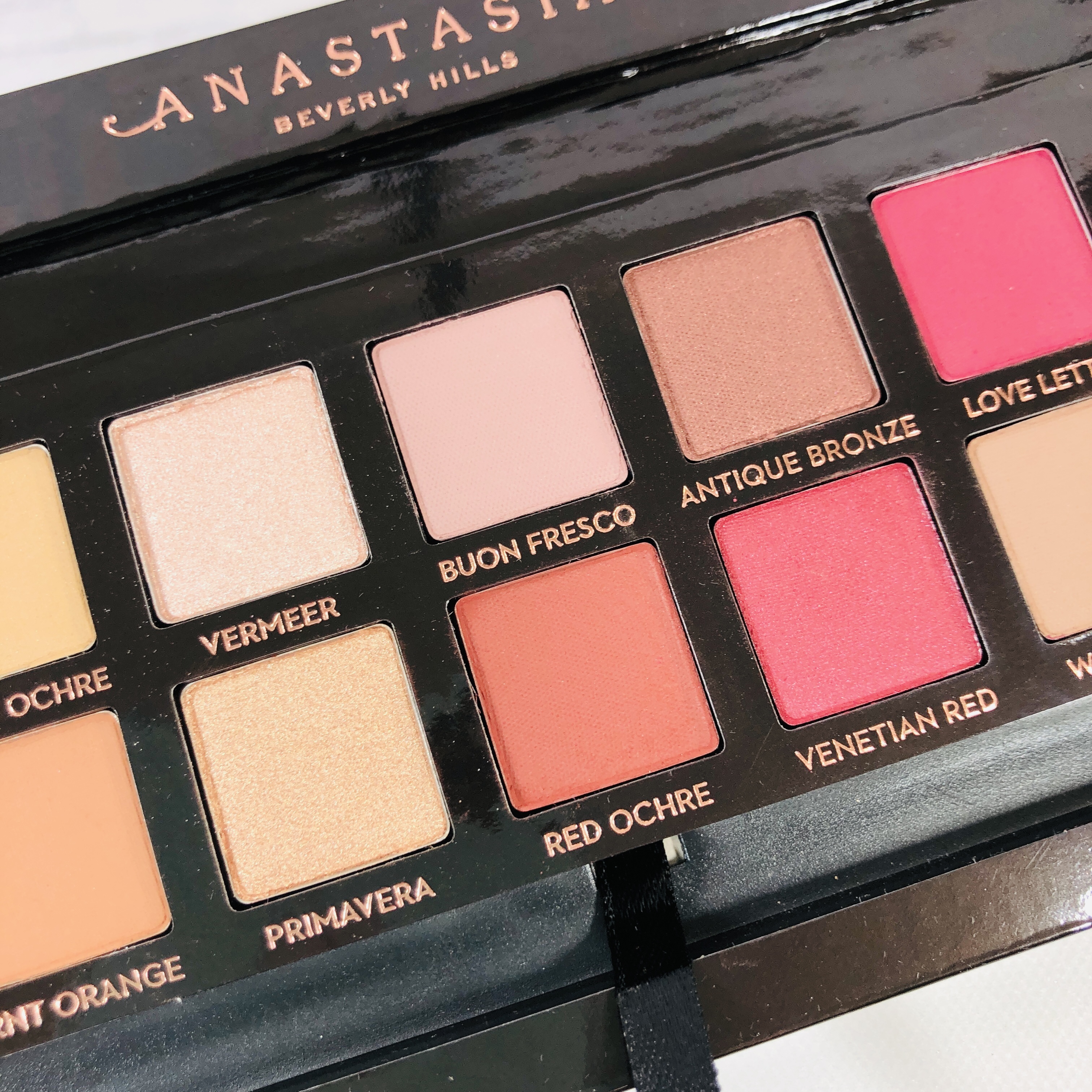 Here's a closer look at some of the colors. Some of them are mattes, some shimmers. I used both the included brush and my own to apply and either way I had fall out, especially with the matte shades. They wiped away pretty easily though with a fluffy brush.
Here's the first row swatched.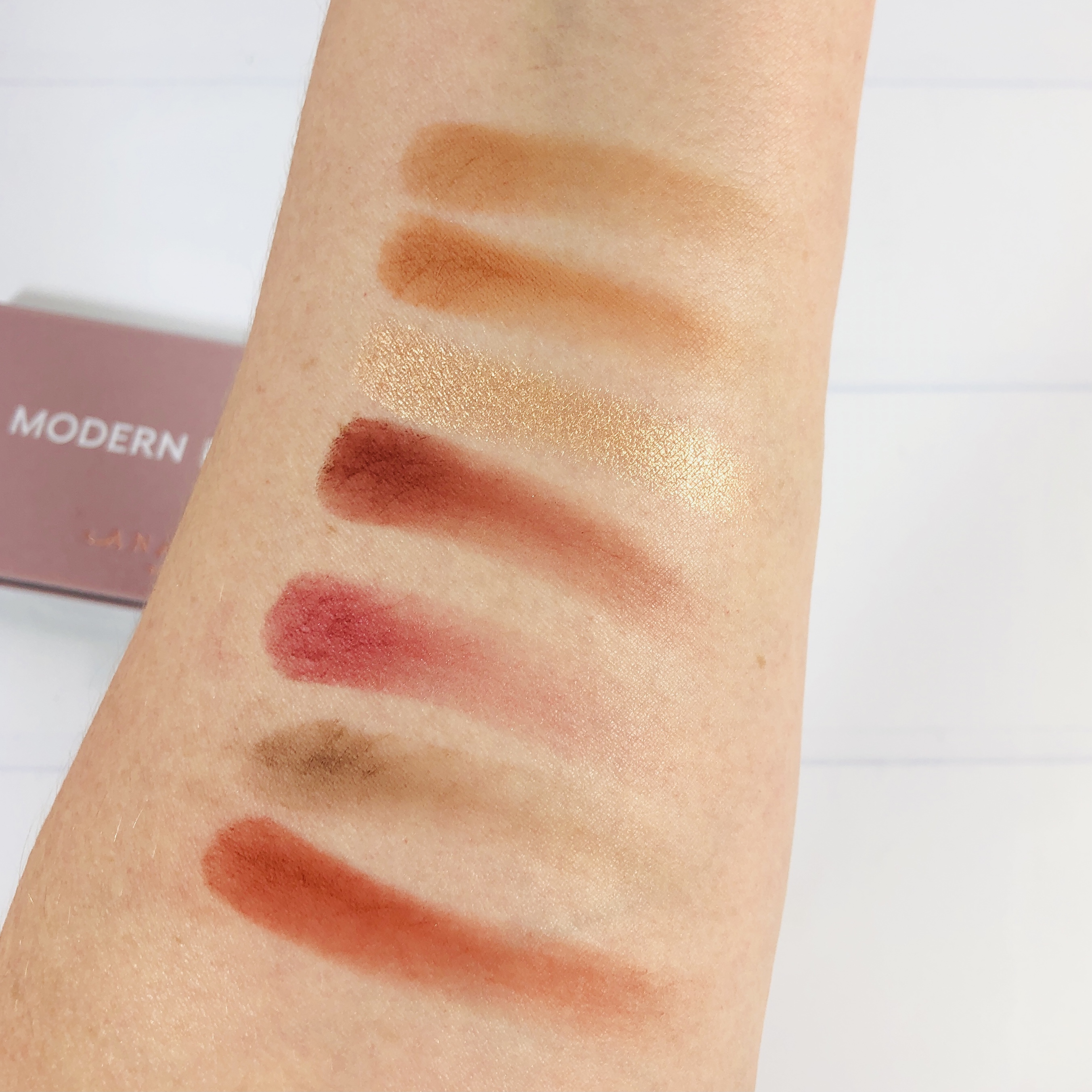 Here's the bottom row.
I had fun choosing some of the items in my May Ipsy Glam Bag X! I was also happy with the choices Ipsy made for me, there were several I was hoping to get and I actually received most of them! I was pleased with the assortment — I received haircare, skincare, and makeup plus a cute bag in which to store them! I'm having a hard time picking a favorite product, they are all helpful in their own way. The lipstick worked well with the eye palette, and the lip/cheek product matches the lighter shades of the palette. The Kopari balm is moisturizing and the eye cream provides a bit of a filter. The value for my collection is around $392; another way to look at it is that each of the 8 products cost about $6.88, which is fabulous! The curator for the August Glam Bag X is Halsey!
What do you think of this month's Ipsy Glam Bag X?