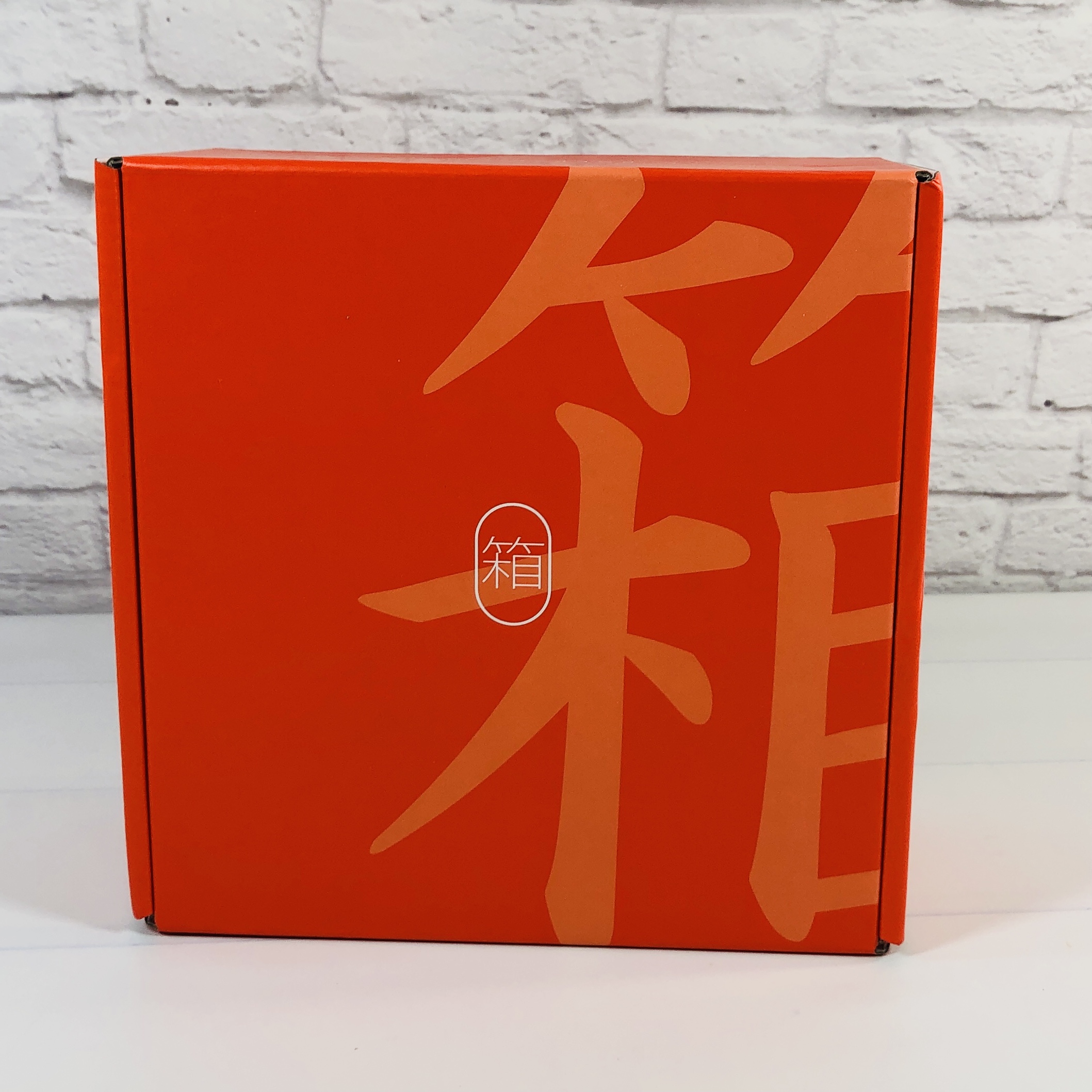 Bokksu is a premium snack box that features authentic Japanese snacks, as well as a tea pairing to go with it. There are two levels to choose from: Classic Bokksu ($44.99 USD) includes an assortment of 20-25 premium Japanese snacks and a tea pairing; Tasting Bokksu ($29.99 USD) includes 10-14 premium Japanese snacks and a tea pairing. Both boxes offer a discount for longer terms. The snacks sent are not easily found outside of Japan and this subscription ships internationally from Japan. Shipping is already included in the price.
Other Japanese snack subscription services use mass-produced mainstream snacks that can be readily found in most Asian markets outside of Japan. Bokksu directly sources its artisanal snacks from local snack makers in Japan (some of whom have been around for over 200 years!). We only curate high quality and gourmet snacks, never filler items. We are also the ONLY service that handselects a tea pairing for each box to complement that month's flavors.
DEAL: Save $5 on your first box with coupon code HELLO.
Bokksu's authentic Japanese snack subscription box was voted as a top subscription in the 2021 list of our readers' favorite snack subscription boxes!
Your first box will be the Seasons Of Japan box. I am reviewing the Classic Bokksu.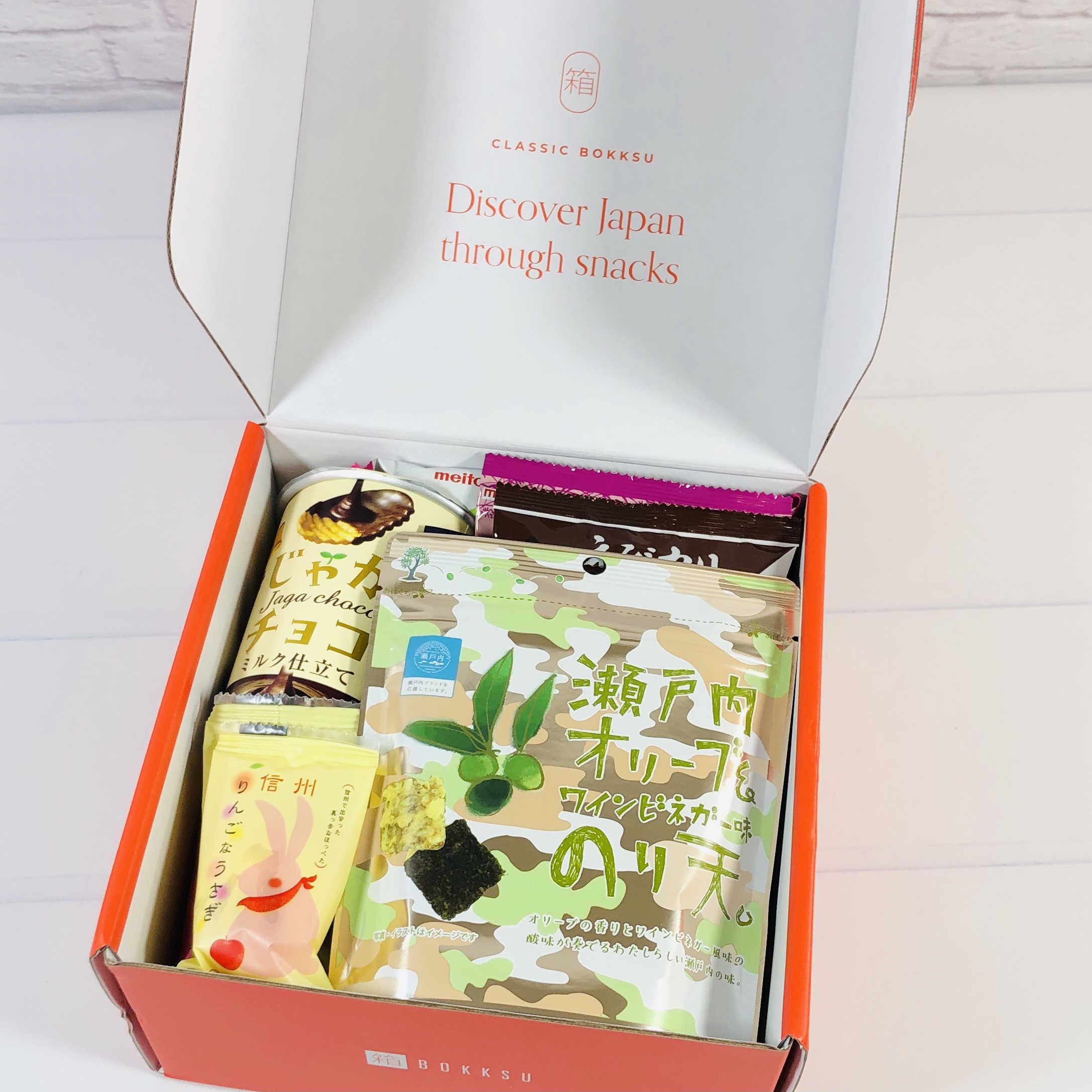 As always the snacks are packed in there so nicely.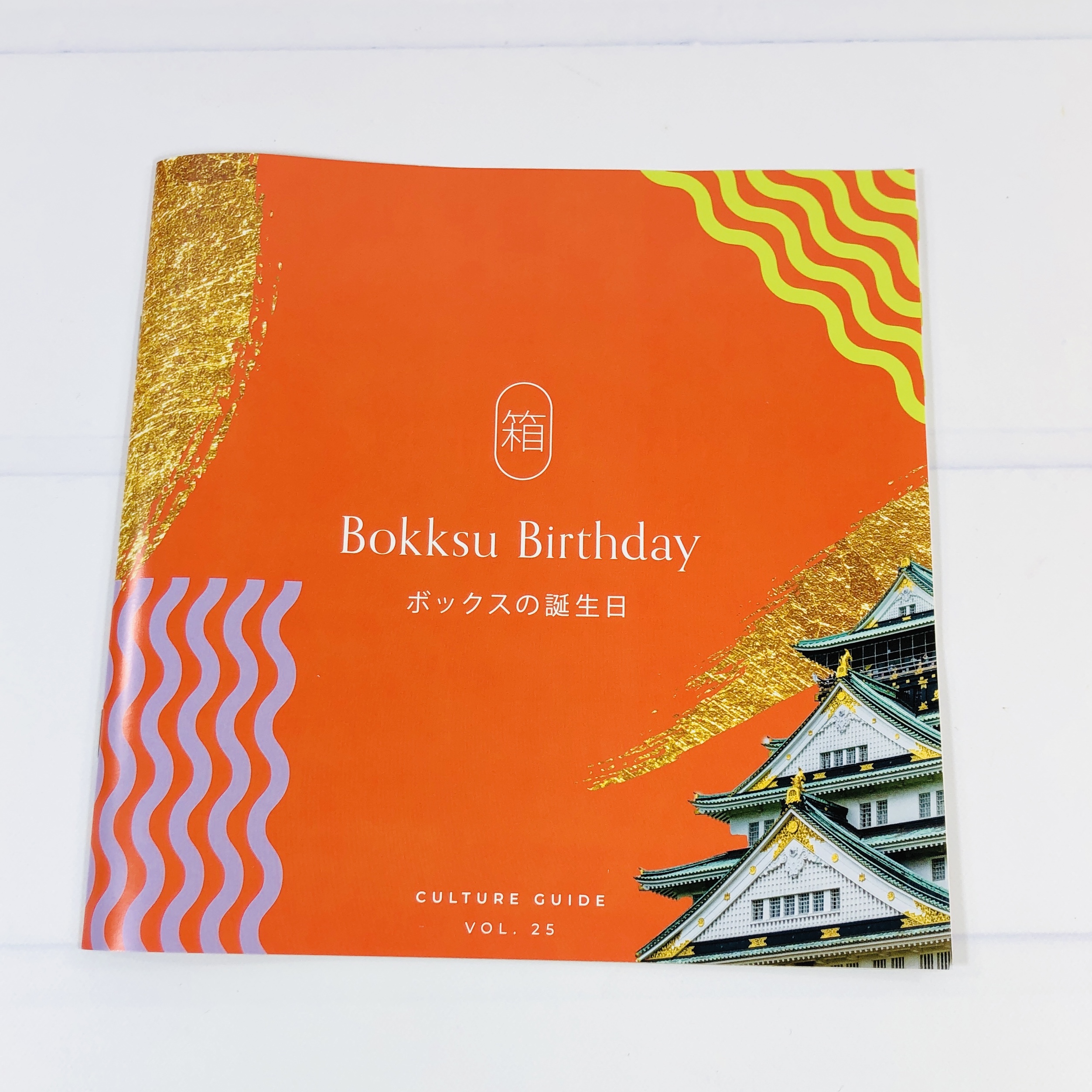 Bokksu provides a beautiful full-color info guide in every box.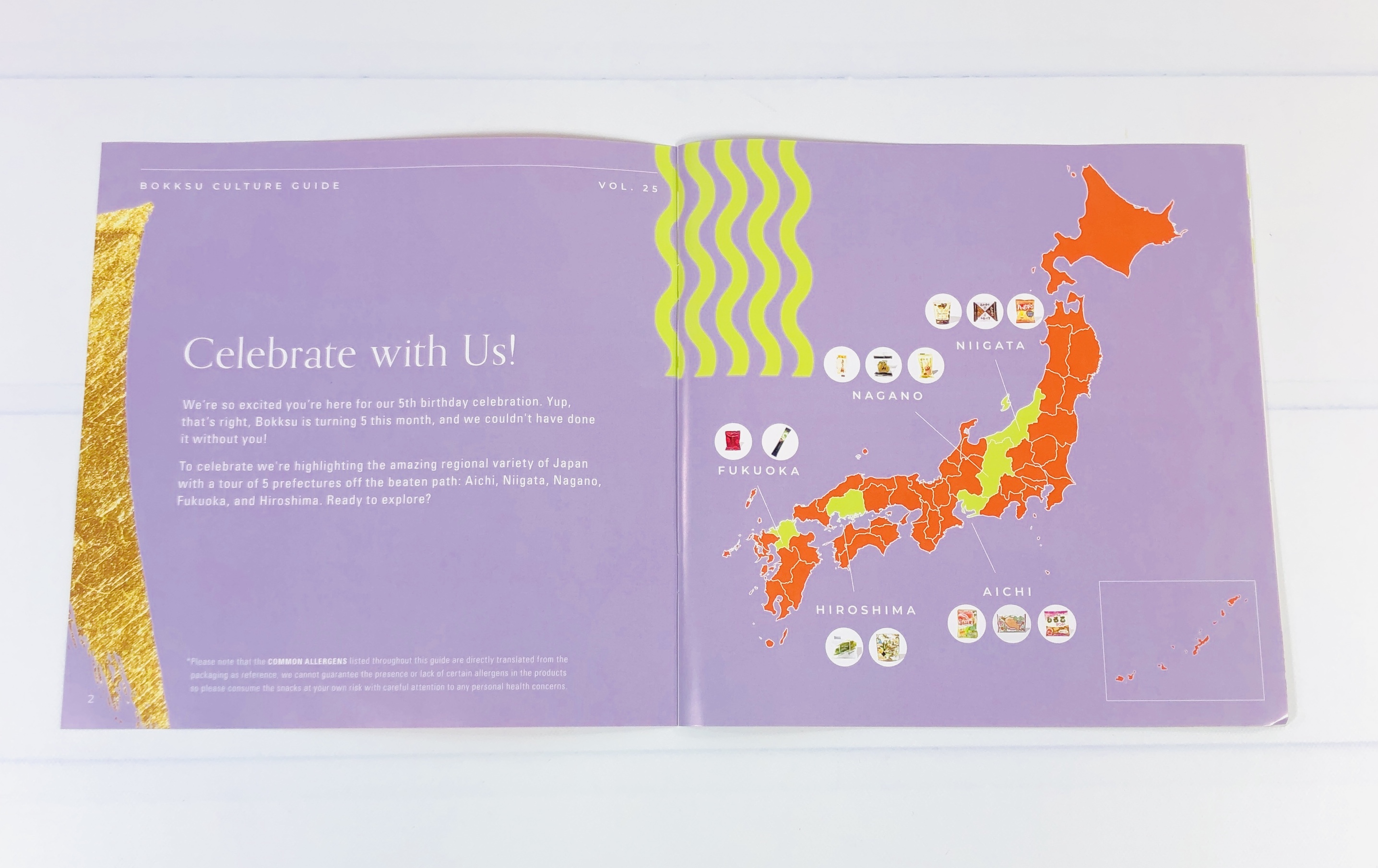 May's theme is Bokksu Birthday! The box features snacks that are from five prefectures that are "off the beaten path". There's a map showing where in Japan each snack originated.
Info behind the theme was presented by the Bokksu founder. Then we have a picture and description of all of the snacks.
Each product was shown and lists brand name, common allergens, and a description.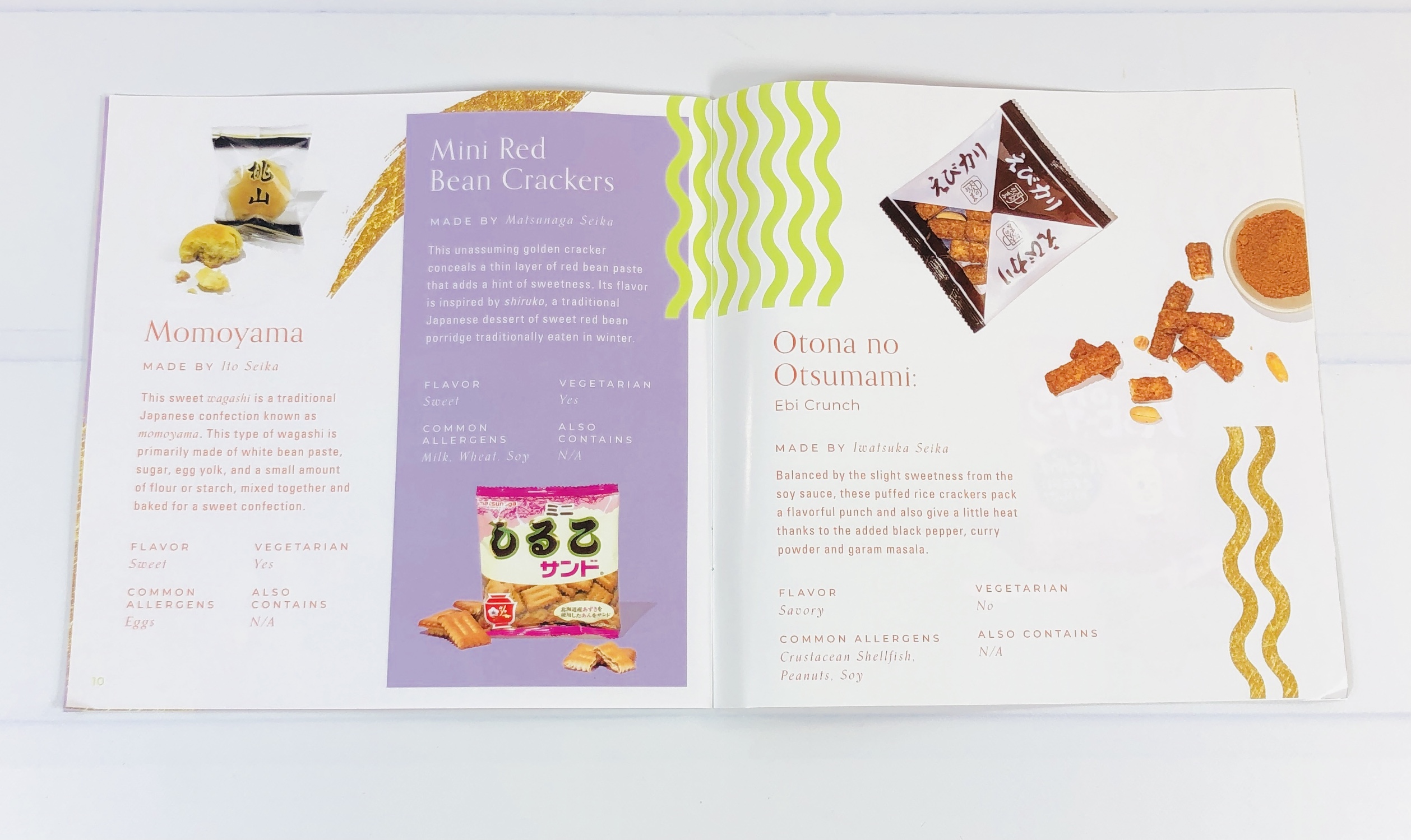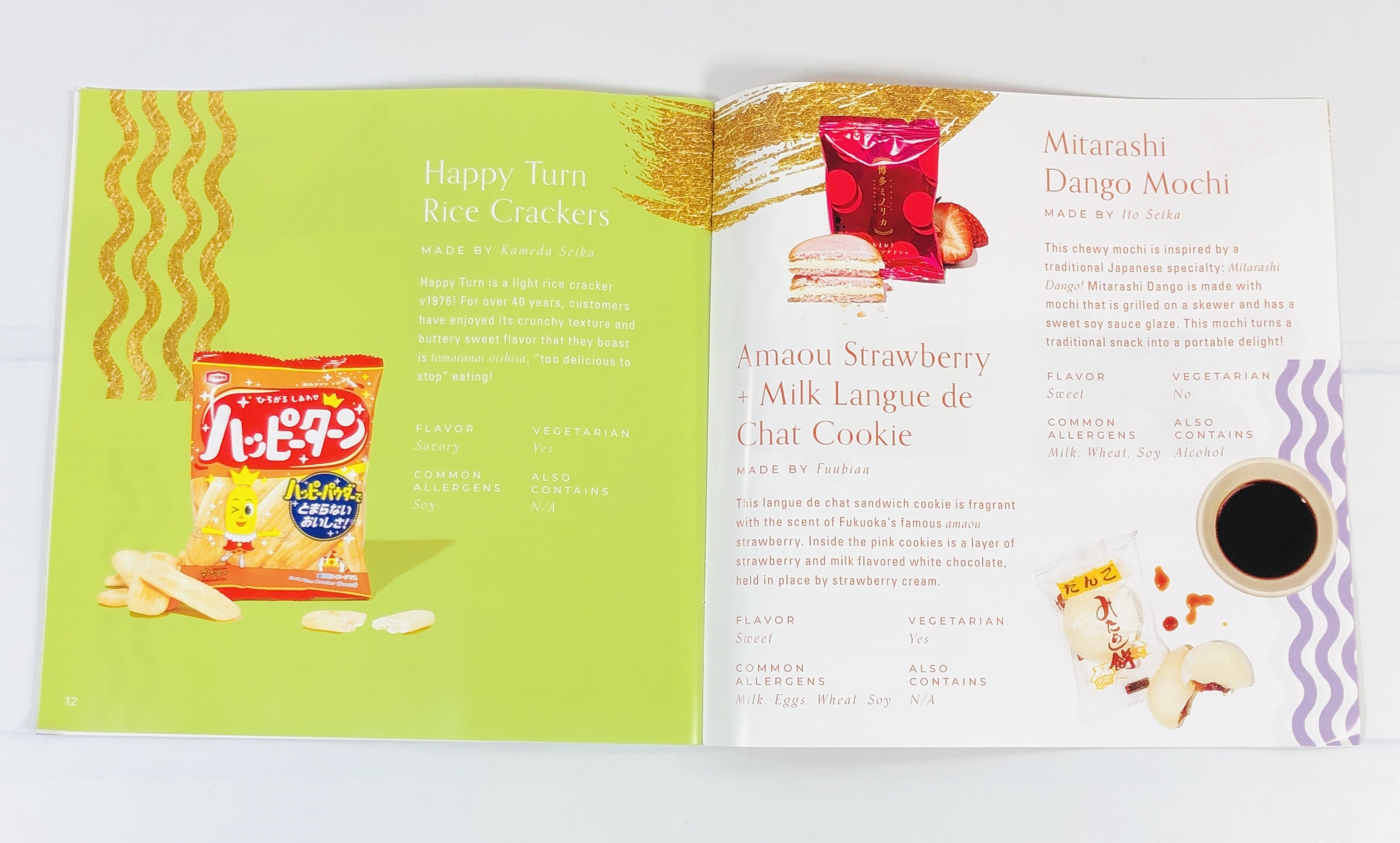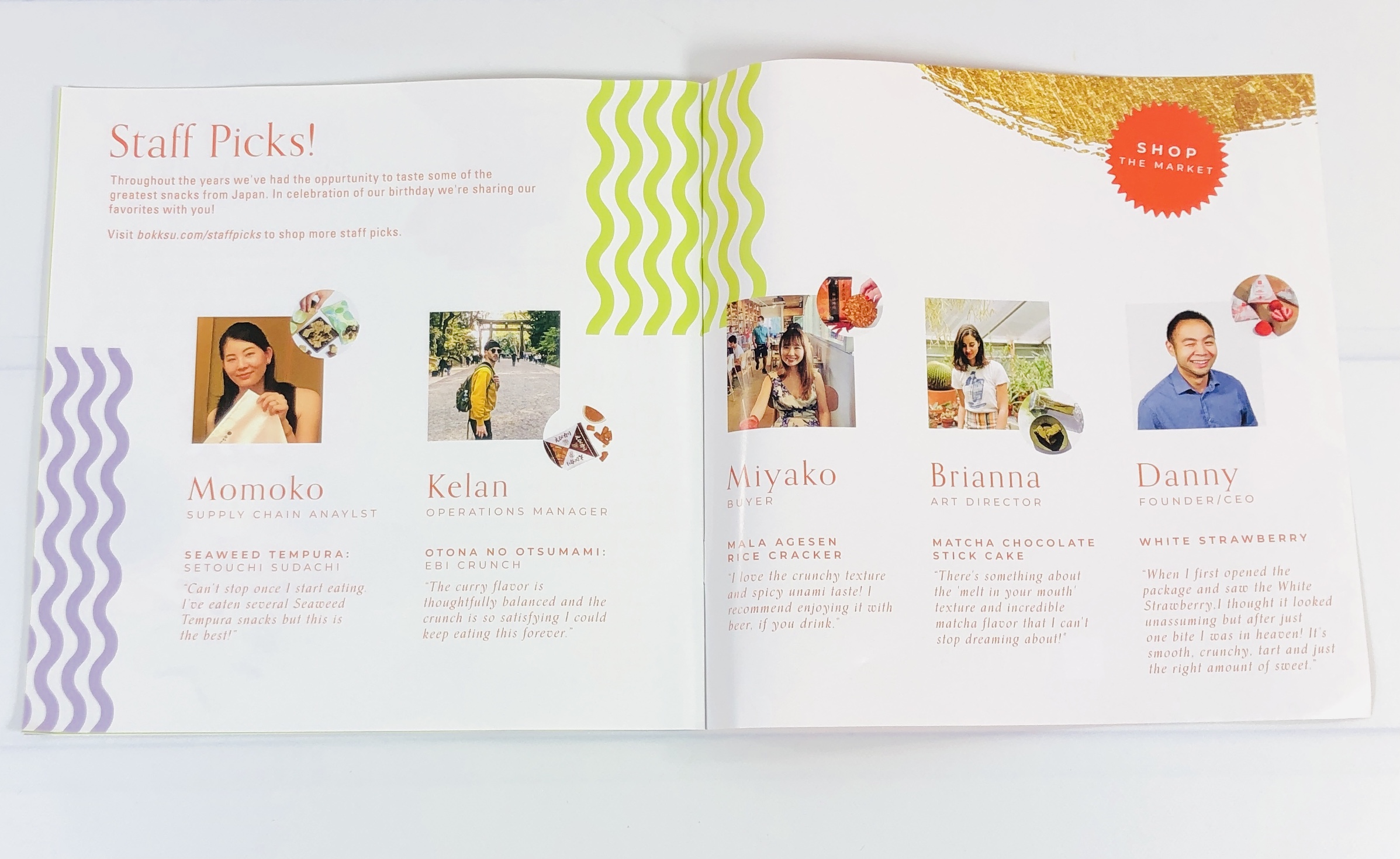 The staff shared their favorite snacks with us.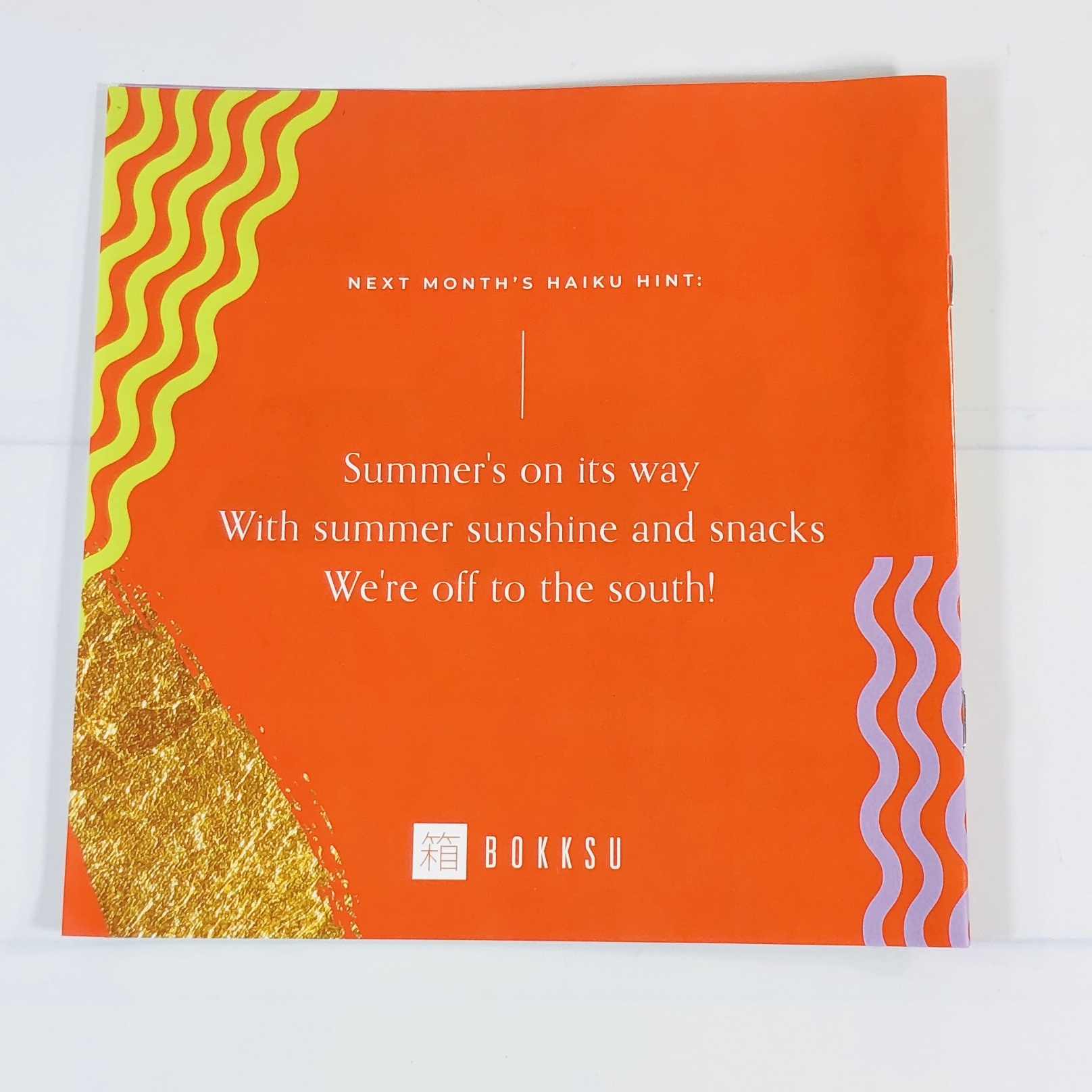 The back of the mag had a glimpse at the next box theme!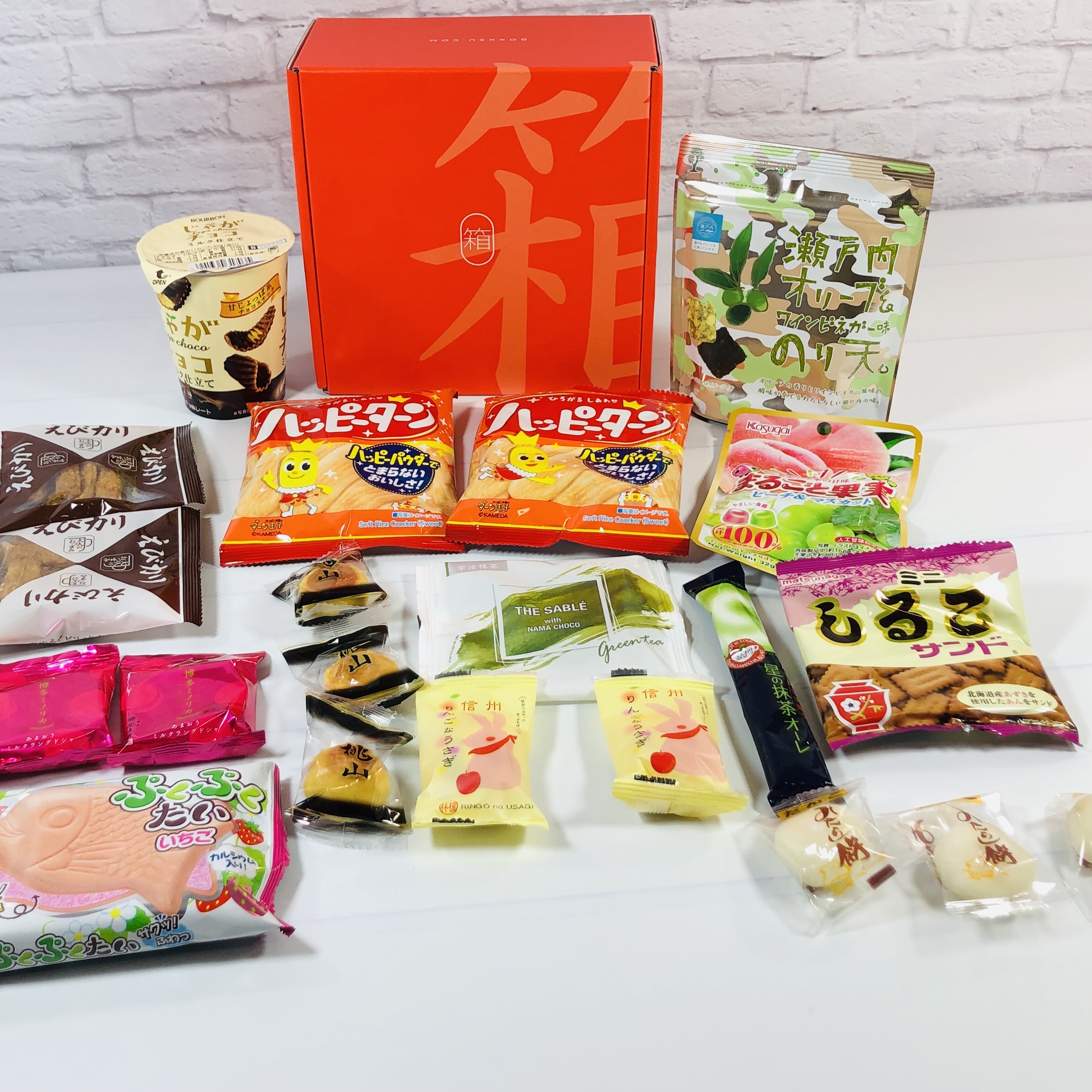 Everything in the May 2021 Classic Bokksu!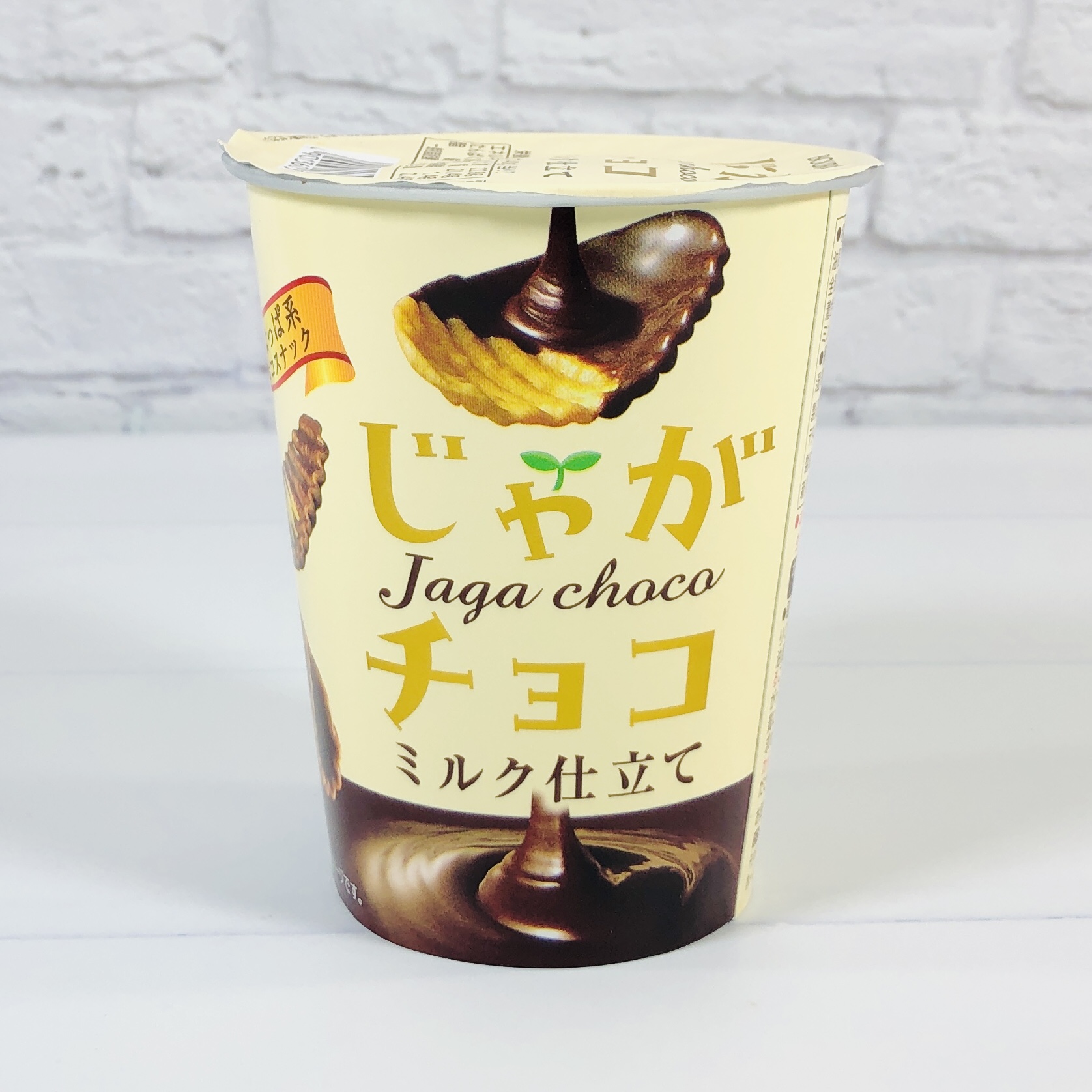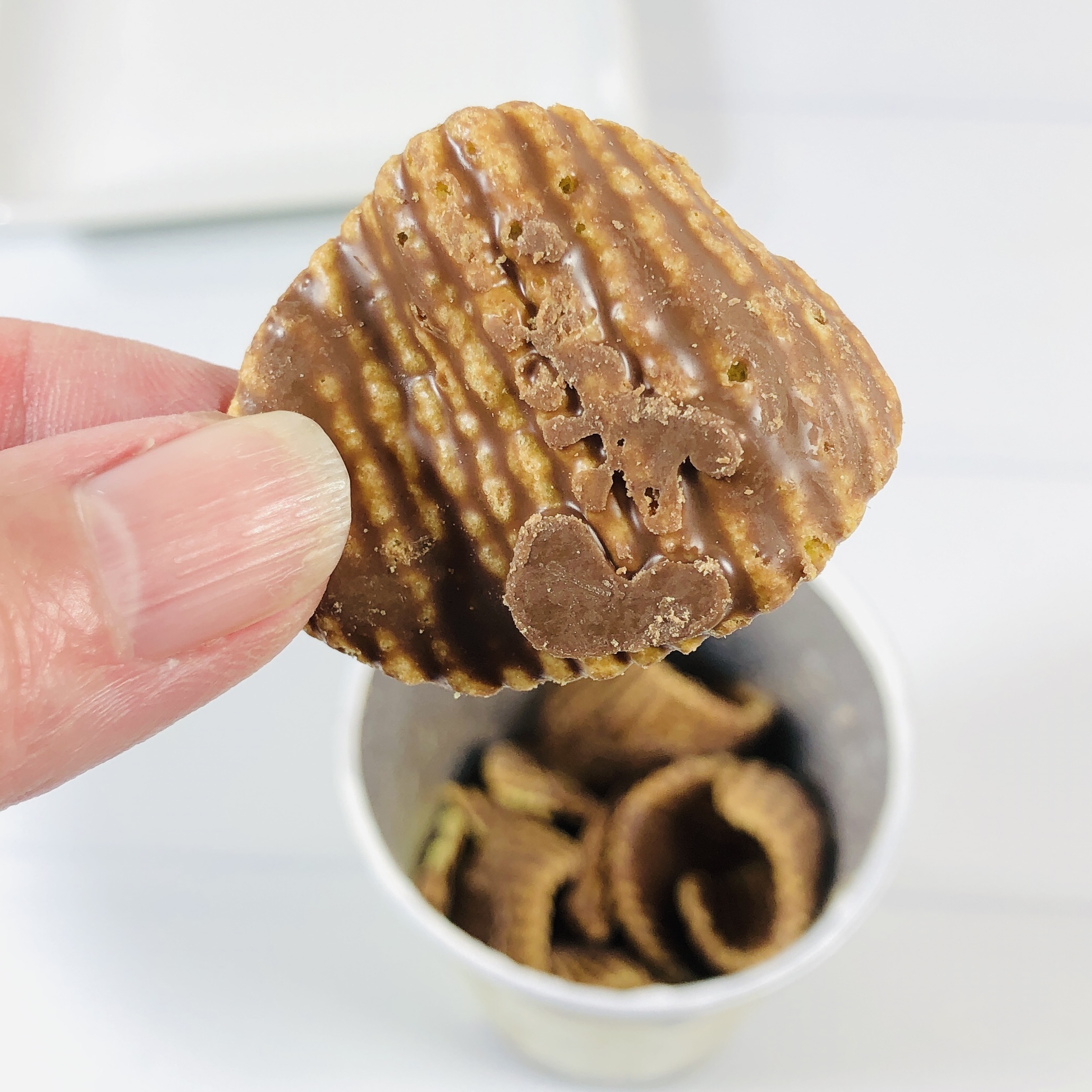 Jaga Choco Potato Chips I know this says chocolate covered potato chips but it isn't what I would imagine a potato chip dipped in chocolate might taste like. I think that the discord comes from the fact that these are not potato chips cut from a potato, like Lays or those kettle-cooked brands, but a crunchy, ridged, potato starch-based fried cracker, and it's covered in a chocolatey coating. It's tasty for sure!
Momoyama is a two-bite cookie that is made of white bean paste and that melts in the mouth. They have an interesting texture thanks to the bean paste and are very sweet and otherwise bland. It would go well with tea or coffee.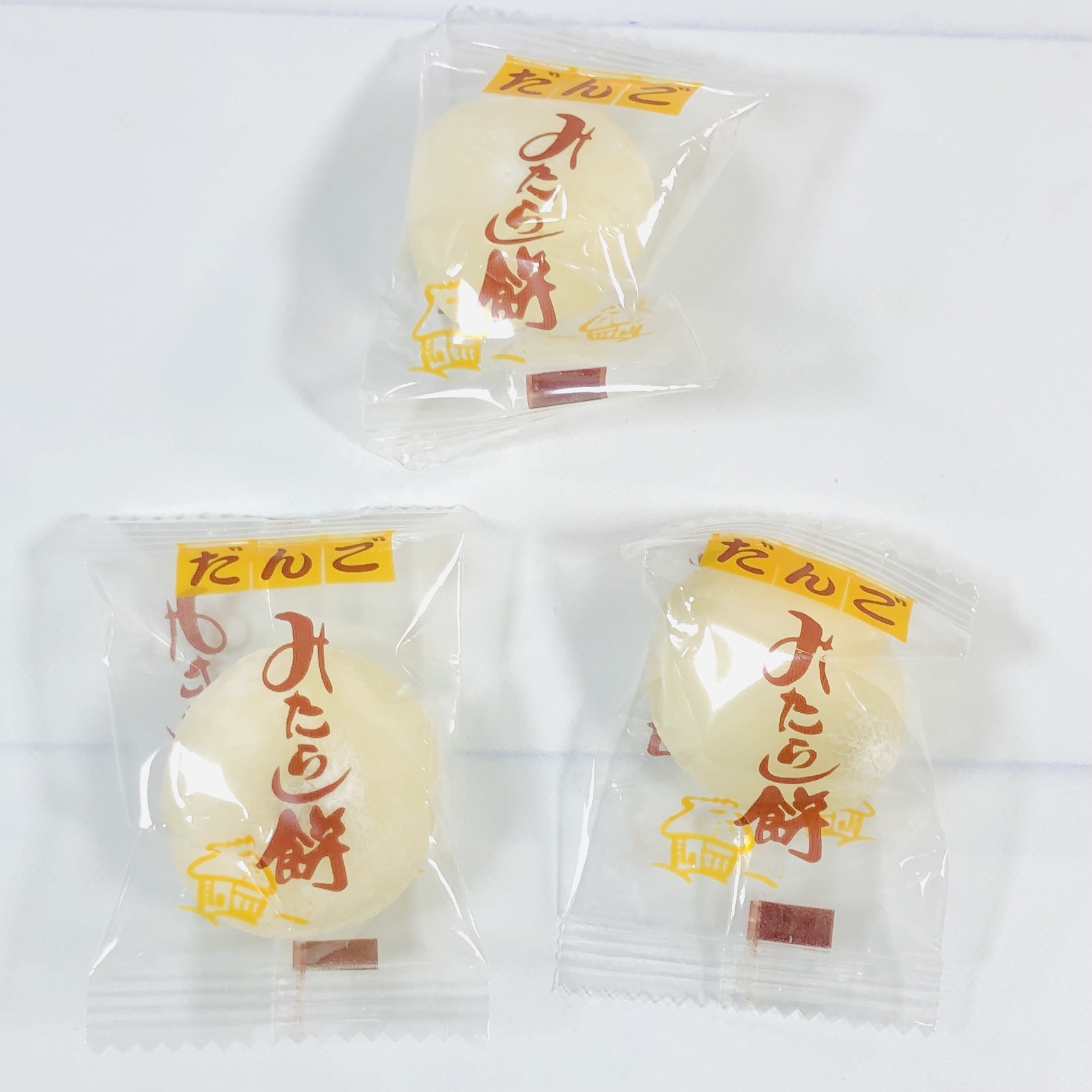 Mitarashi Dango Mochi I am starting to like mochi more and more and this flavor, which is a sweet soy sauce that's tucked into the middle of the chewy mochi, is actually really tasty.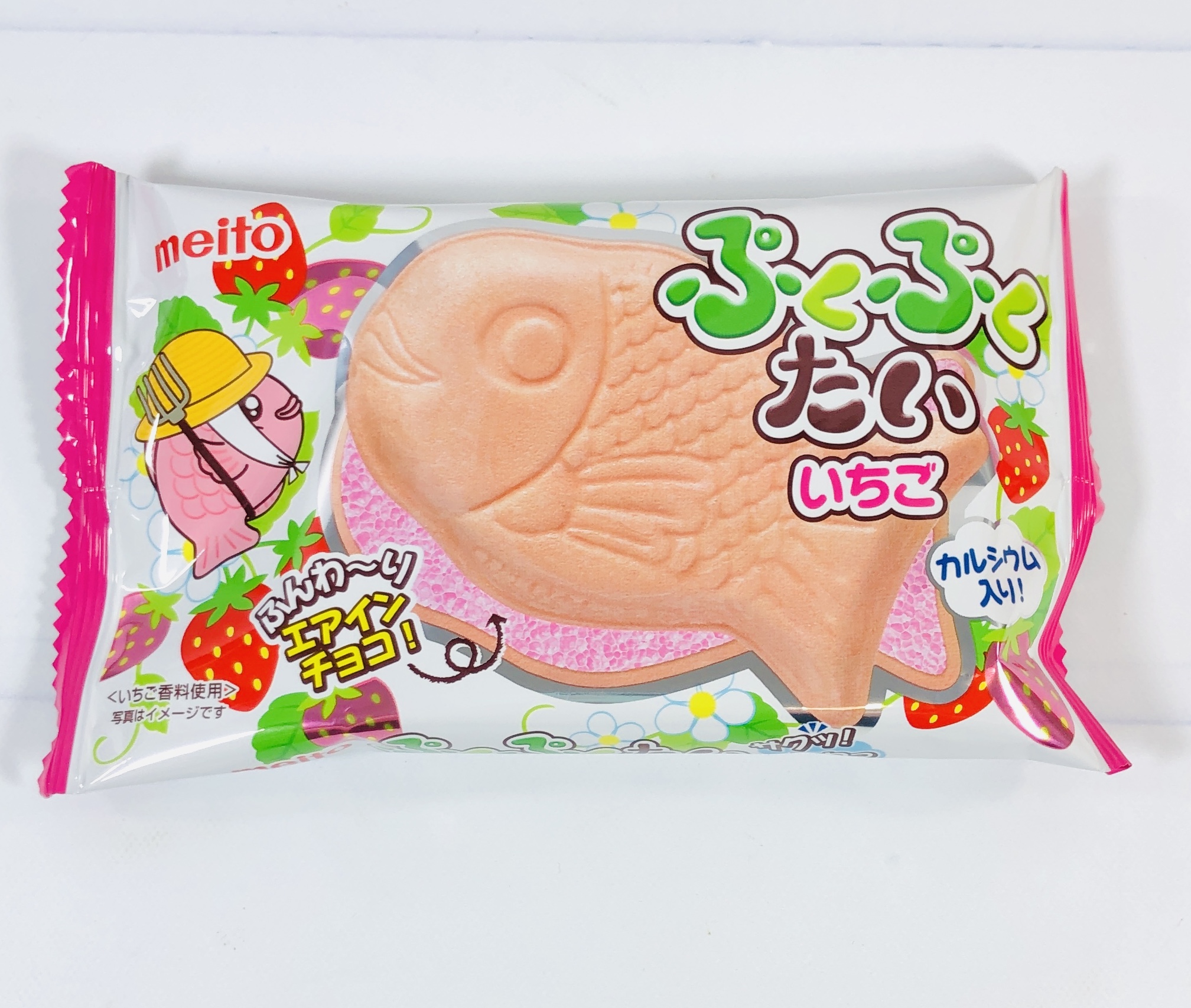 Puku Puku Tai Strawberry One year I ate nothing but Carnation Instant Breakfast before school and the aerated "mousse" (possibly white chocolate?) in the middle of this wafer cookie that is shaped like a fish reminds me of that breakfast drink.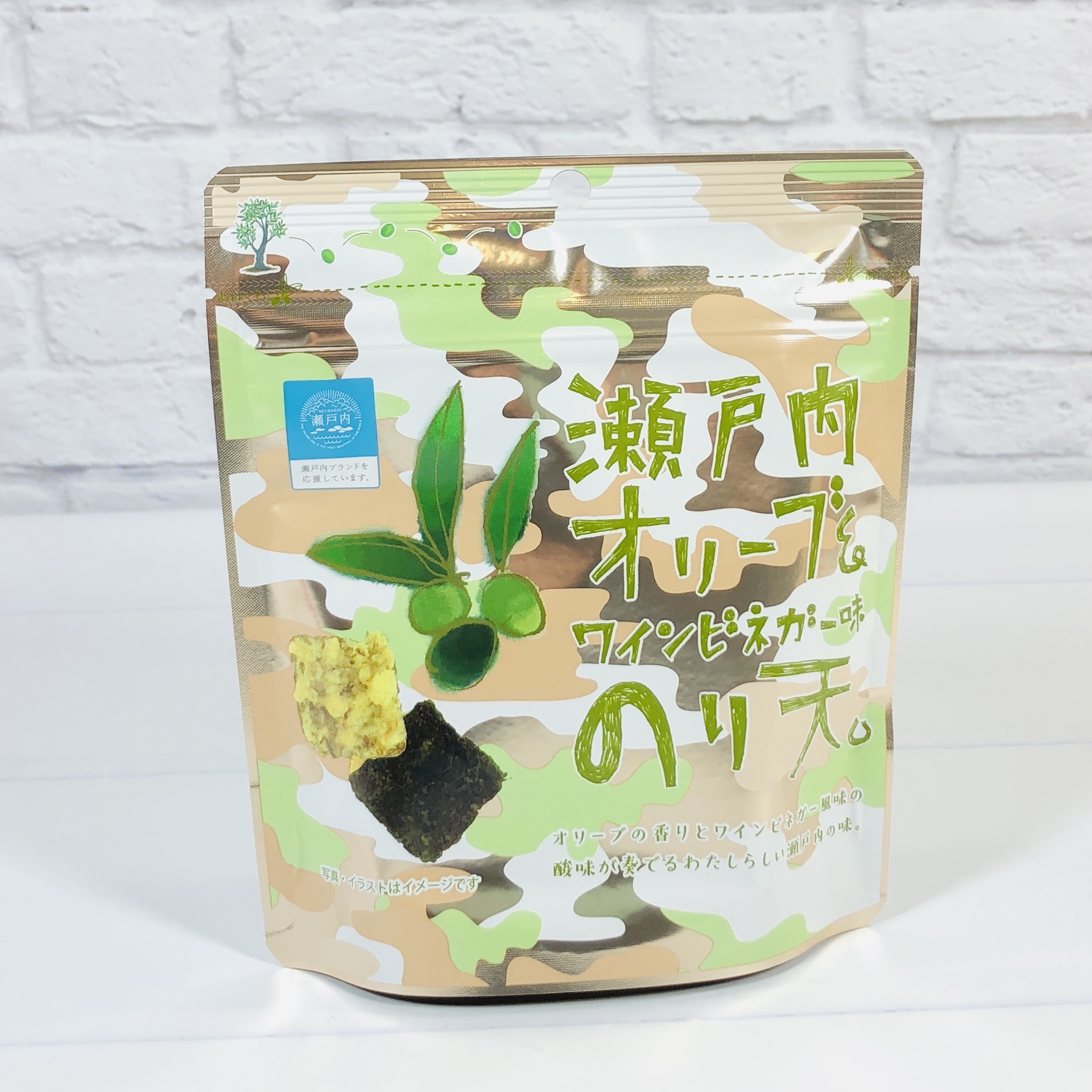 Seaweed Tempura: Setouchi Olive & Wine Vinegar is an odd combo but then I'm not a big fan of seaweed, and my husband said they are too much. I liked the sweet and salty, tangy taste of vinegar and the snack is very crispy without feeling oily.
Amaou Strawberry + Milk Langue De Chat Cookie I'm wondering if I got a cookie that was "off". It's supposed to be a cookie (like a Milano) with a strawberry and white chocolate inner part and normally I would love that but something about mine tasted weird and I had to spit it out. My husband said his was weird and my daughter said her cookie just tasted like artificial strawberry so I don't know.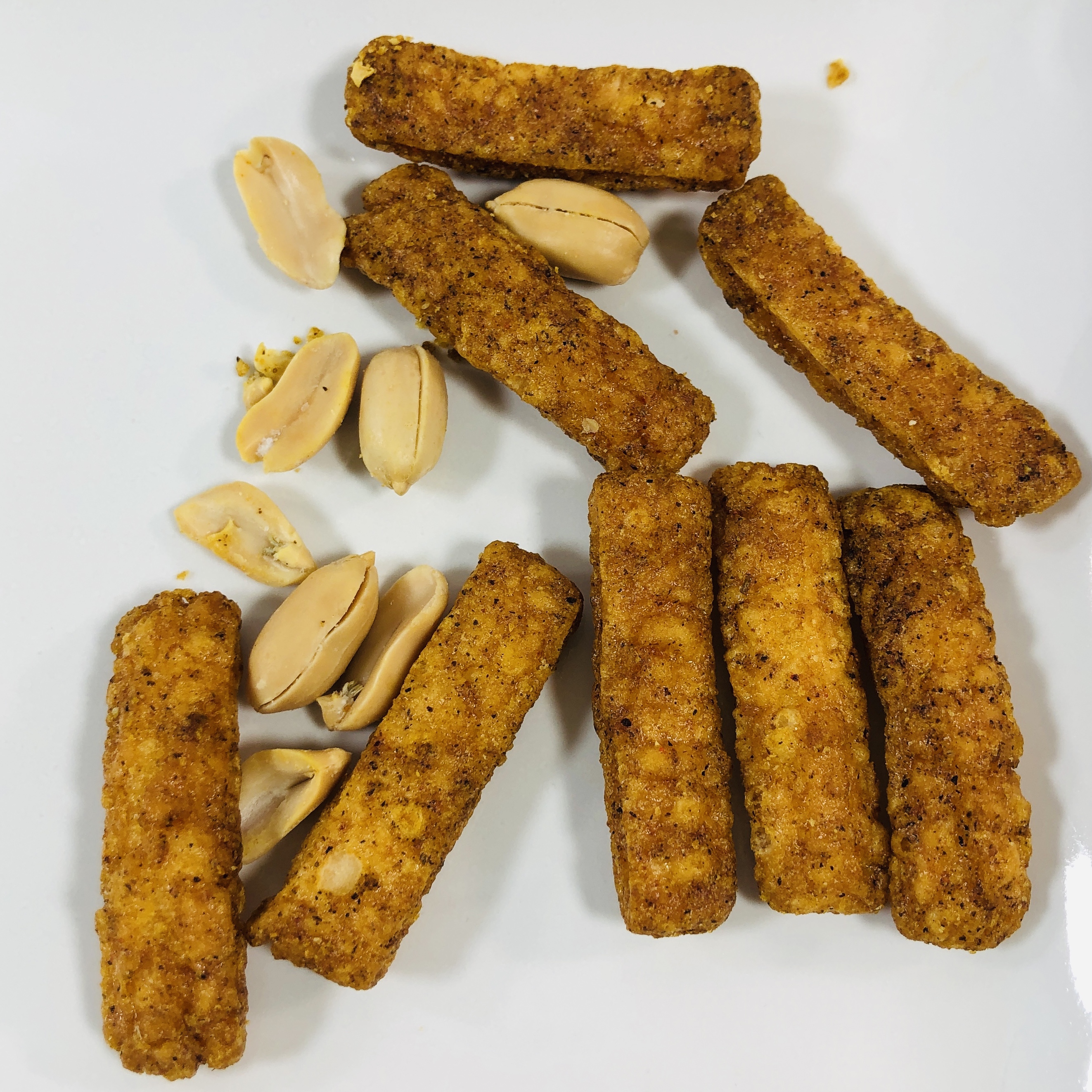 Otona no Otsumami Ebi Crunch I am a big fan of crunchy rice crackers and these are supposed to taste like fried shrimp! I don't think they were very shrimpy at all but they were slightly sweet and had a lot of flavor from curry powder. I liked the peanuts too!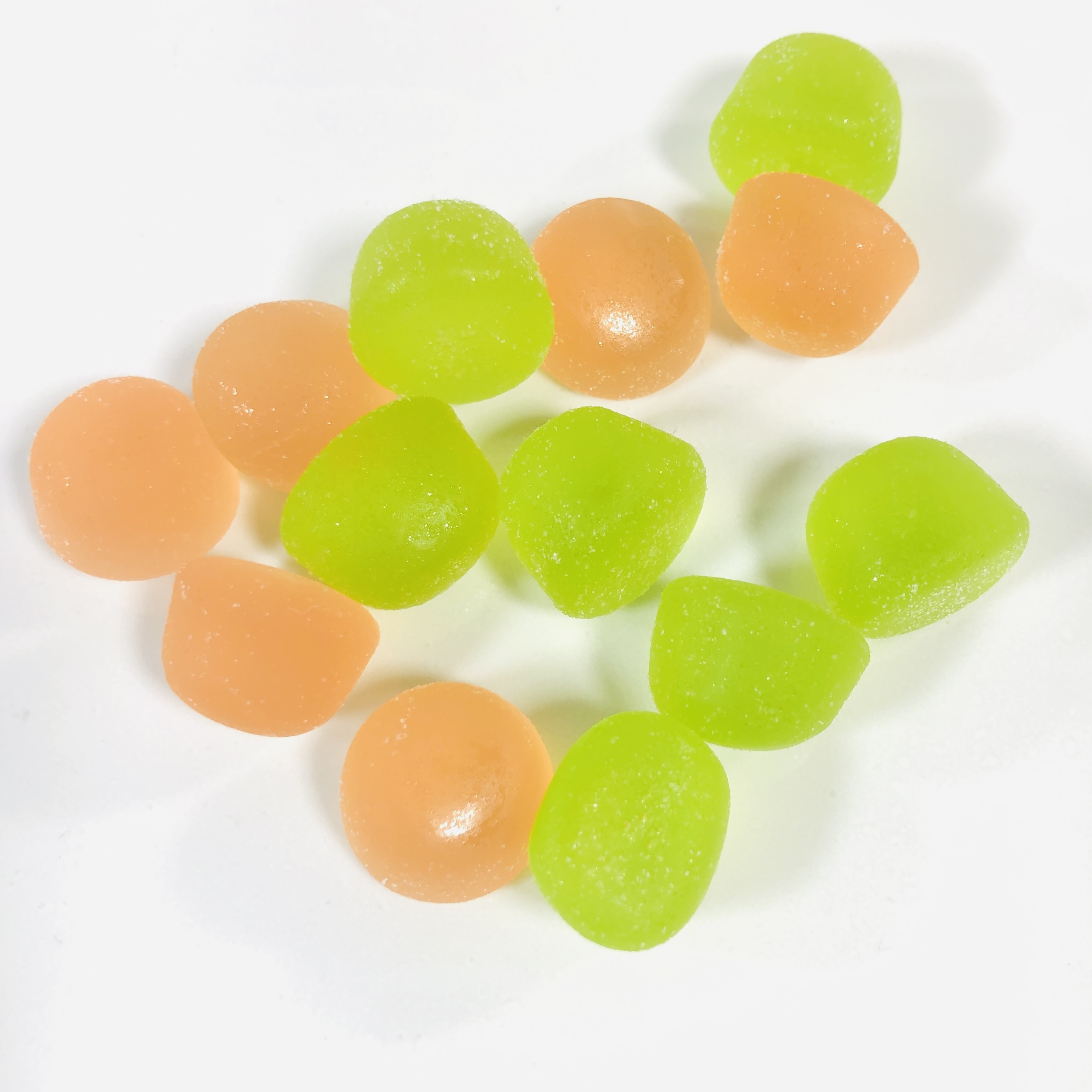 Marugoto Kajitsu are gummy candies flavored with muscat grape (green) and peach (pink). The grape candy tastes just like purple grape candies/sodas/popsicles. The peach candy has a milder flavor but it's still fruity and sweet. These are not very sour but are tasty and I like that the bag can be zipped up to keep them fresh.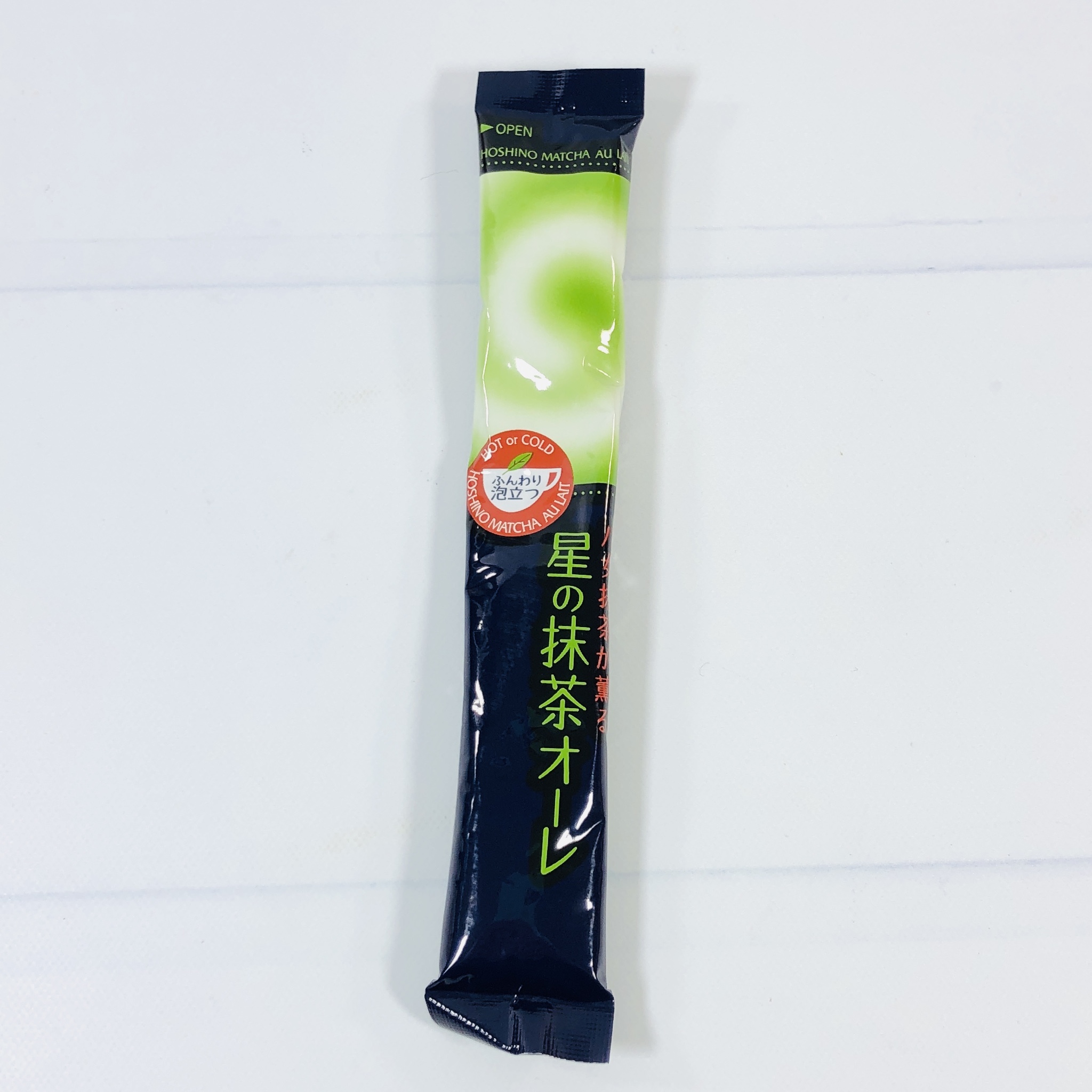 Hoshino Matcha Latte I mixed this instant drink with 1/2 cup of cold water and it's important to let it sit for a while before drinking otherwise it's kind of grainy — once it dissolves completely it's creamy, like a matcha latte. It's also already sweetened and it can also be made with hot water for a hot drink.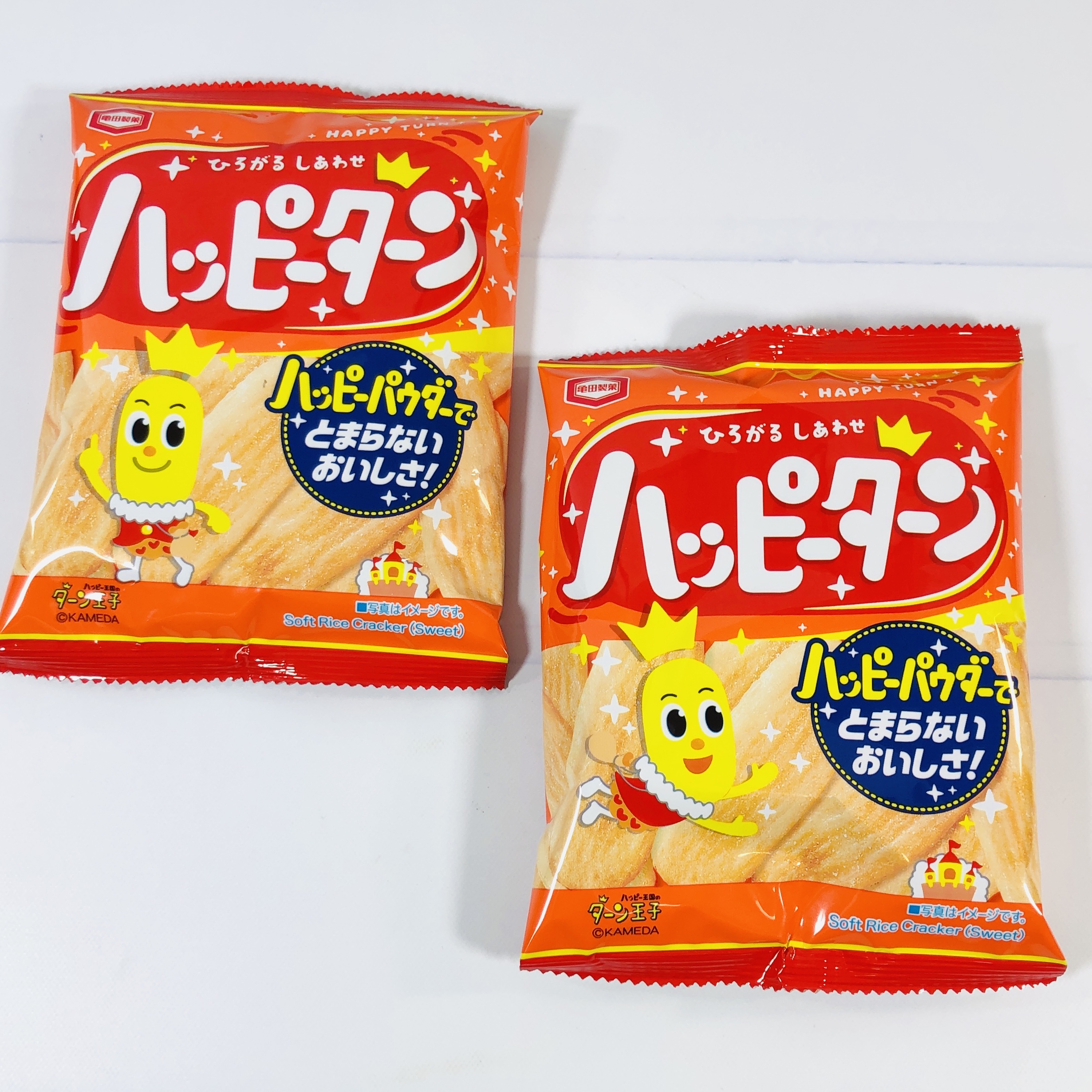 Happy Turn Rice Crackers I was slightly shocked when I placed this cracker in my mouth. I was expecting it to be sweet, but it was also incredibly salty. I guess that is the "happy powder" on this senbei cracker that is also crunchy. Besides sweet and salty, it also tastes buttery, like pancakes with maple syrup.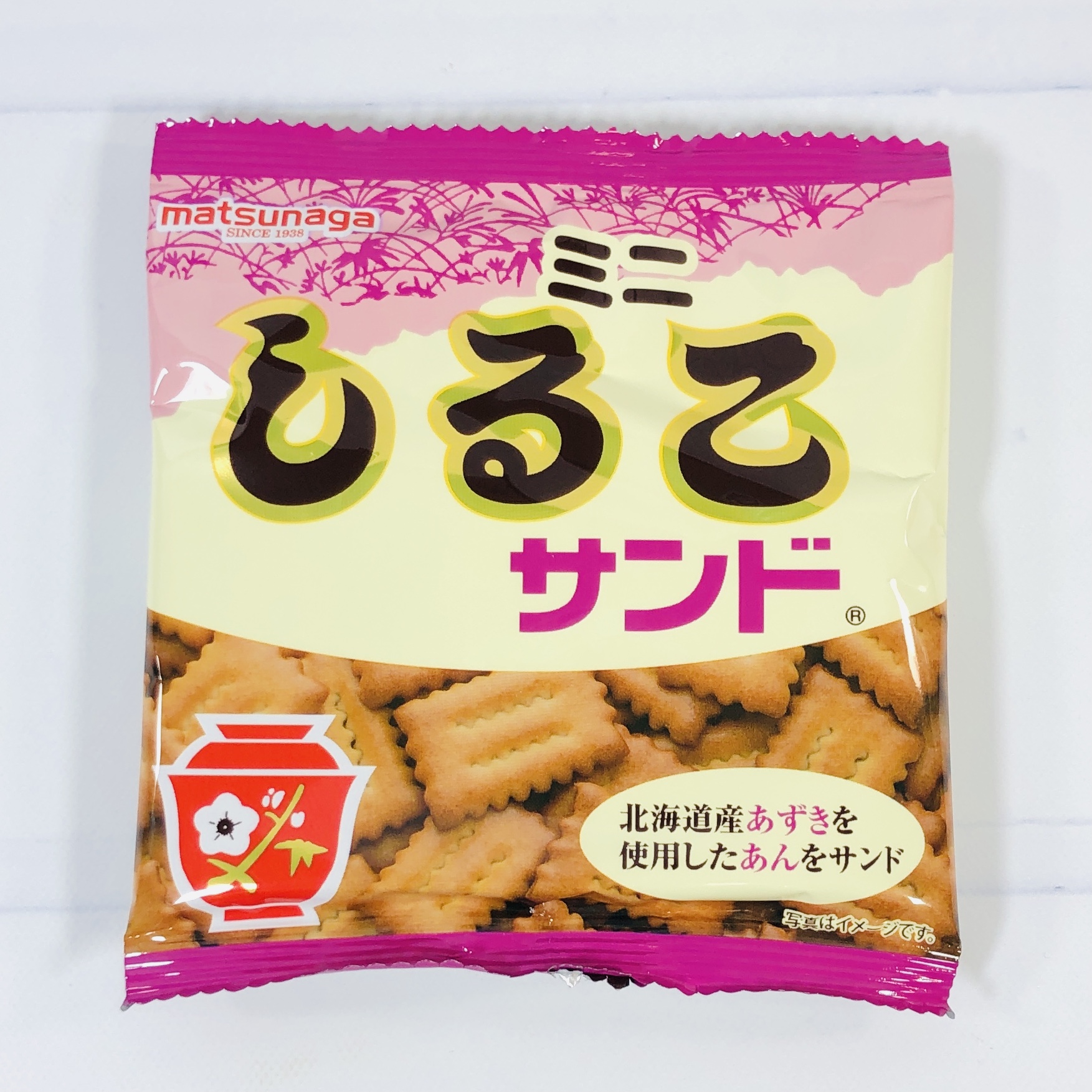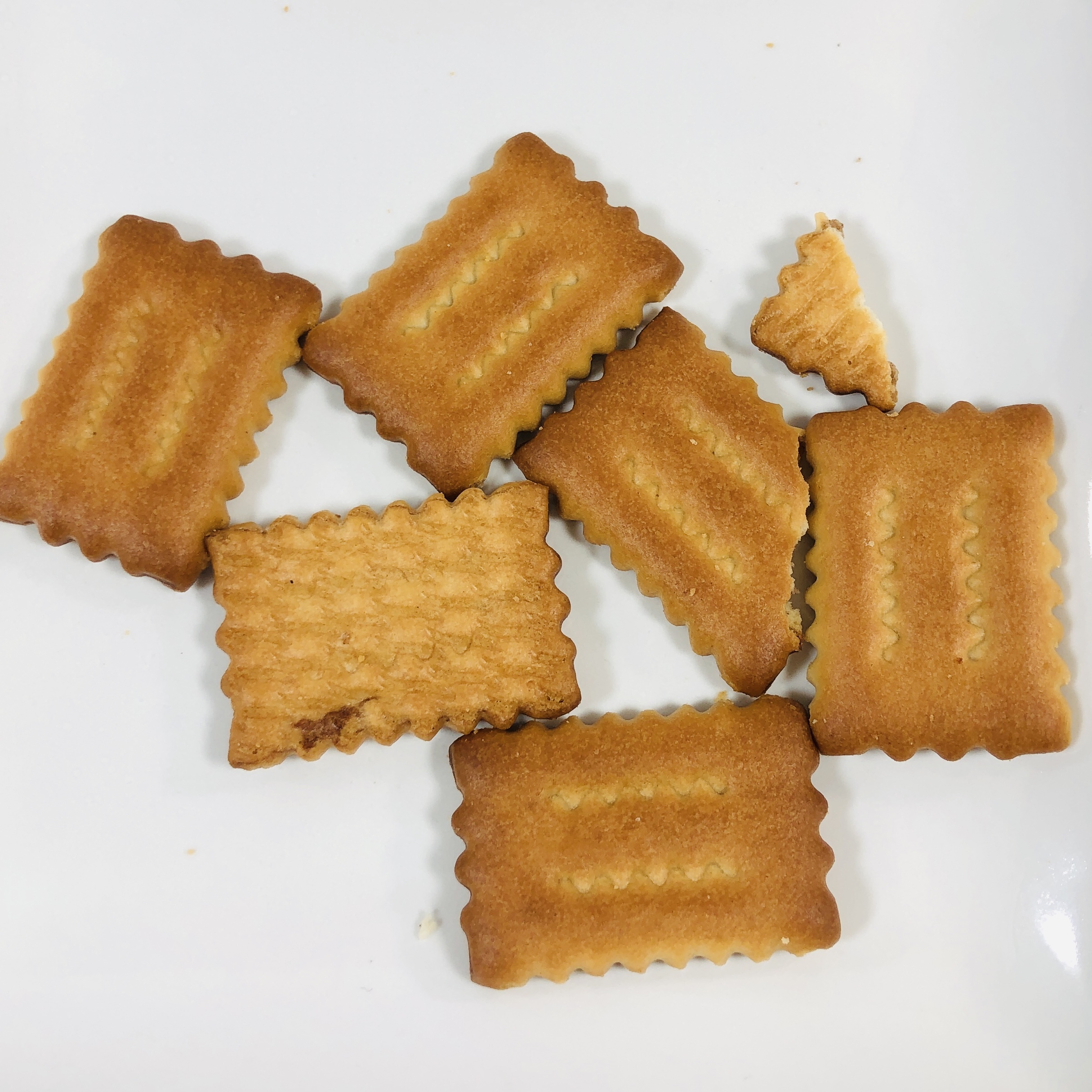 Mini Red Bean Crackers are lightly sweetened crackers and I couldn't tell that they had red beans in them, they were just crunchy and tasty.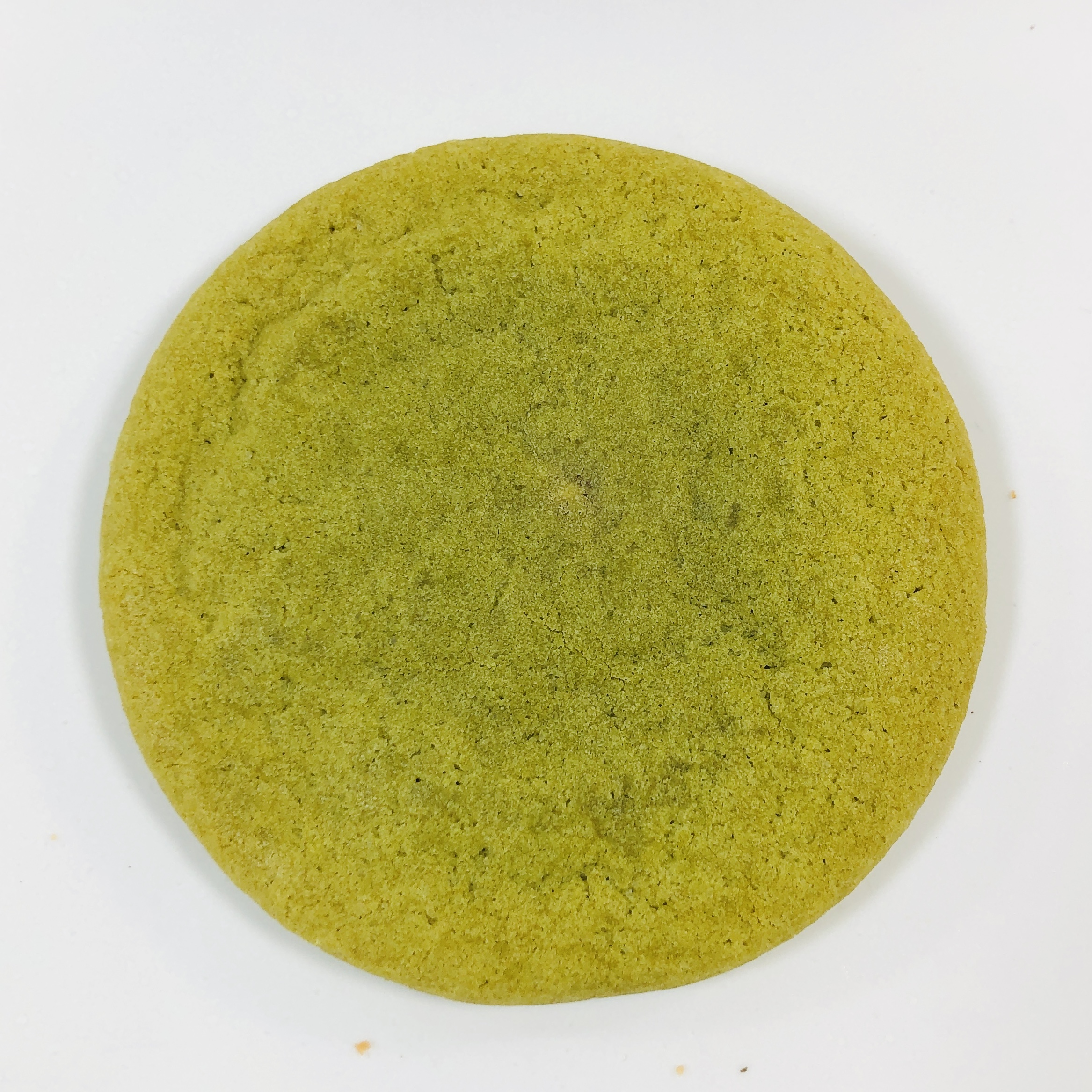 The Sablé is a sugar cookie that is soft and chewy. It has matcha tea in the batter and a thin layer of melty chocolate on the inside. The matcha flavor was very mild, I wouldn't have known it was there if not for the color. Very buttery and sweet.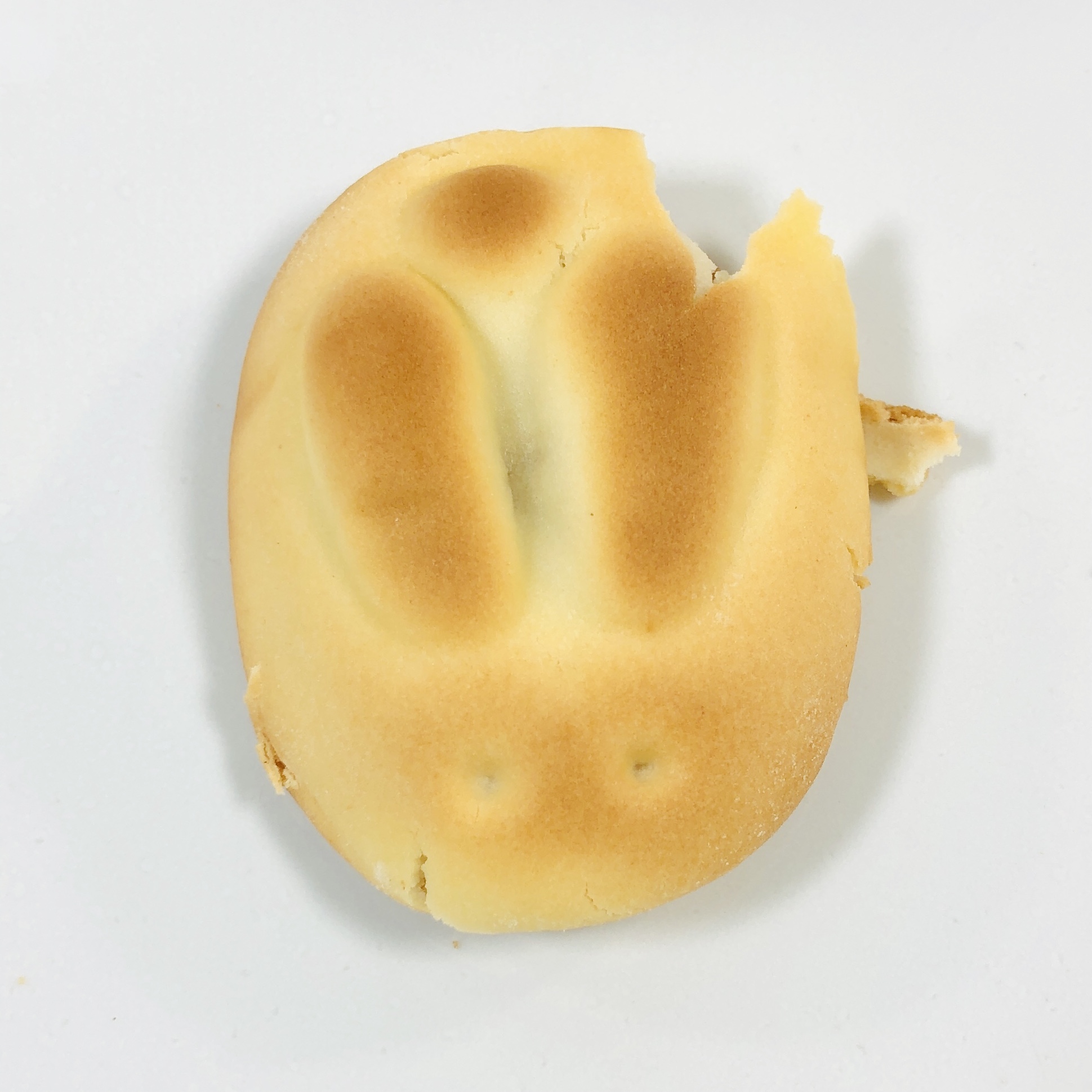 Shinshu Apple Rabbit Manju is a soft, bland cookie with an even softer white bean paste middle that is supposed to taste like apple but I don't think it does.
I hope Bokksu has a very happy birthday and I enjoyed the snacks they sent in their May box! There's always a good assortment of snacks, like chewy, crisp, sweet, sour, salty, and a whole lot of umami. I think my favorite item this month was the shrimp crackers with peanuts, so gooood! My daughter loved the fish cookie and gummy fruits and my husband likes anything that's salty. I'm looking forward to my June box and can't wait to see what Bokksu will put in here next!
What's your favorite snack from this month's box?